In the gap since last year's event to this one, Istanbul Park has gone from 'like driving on ice' (Lando Norris 2020) to 'the grippiest track on the calendar' (Valtteri Bottas 2021).
The water blast to which the surface was subjected last week seems to have done the trick in spectacularly increasing its abrasiveness.
But that has formed an extreme test of the teams' pre-event simulations. They knew of course it would not be like last year, but by how much would the grip have increased? Add into that the complication of Pirelli bringing a range of tyre compounds one step softer than in 2020 and everyone arrived here far less confident of what they were about to find.
What we have found on the evidence of Friday practice is that Mercedes seems to have made its educated estimate pretty much bang-on and Red Bull may not have. That said, the particular problem posed by a bigger than forecast level of grip – understeer – is more easily triggered on an extreme high-rake car like the Red Bull than on the more benign low-rake Mercedes. So yes, Mercedes got its simulation more correct but it may be that it was easier for it to get it right…
Mercedes brought a range of options so the car's downforce levels could be tailored to whatever the grip level turned out to be, but the basic traits of the car are said not to have been substantially different throughout this range. A high-rake car, with inherently a lot more movement of the aerodynamic balancing point, tends to be more sensitive and though both cars were troubled by understeer, the Red Bull was visibly more so.
In-car footage from Max Verstappen shows a rear end which in the slow corners looks simply too powerful for the front. Interestingly, the AlphaTauri of Pierre Gasly looked very similar. Through Turns 4 and 5, for example, they are forced to apply more steering lock as the understeer builds. Then as the front finally fully bites part-way through the turn, there will be an oversteer snap as the fronts have too much lock on for their grip. Both states cost a bleed of lap time.
Normally the Red Bull displays a very positive response in slow turns as the aero centre of pressure moves much more radically forwards than on a low-rake car as it slows. But at Istanbul on Friday at least, the rear end's grip looked powerful enough to overcome that – and so suddenly Sergio Perez wasn't troubled by the rear end instability which Verstappen uses to aid his rotation but Perez cannot. With this car in this state, Perez was run-for-run as quick or quicker than Verstappen.
The question we are left with after a Friday in which Lewis Hamilton dominated the timesheets, around half-a-second faster than Red Bull, is how much of the latter's ballpark set-up estimate is correctable for the rest of the weekend?
"I think the characteristics of the circuit are somewhat different to where they were 12 months ago," said Christian Horner. "I think it's just a matter of dialling the car into the asphalt, the way it's behaving, and the nature of this circuit, so it's going to be a busy evening for the engineers, both here and back in Milton Keynes."
Is it just, as Horner was suggesting, a case of bringing everything together overnight and putting itself back in play? Or is it a Hungary-like situation where they just cannot get the car balanced around their high-downforce rear wing (which is absolutely needed here)?
Whatever happens, Verstappen will likely still be starting ahead of Hamilton, of course, on account of the latter's 10-place grid drop for the new power unit. But as things looked today, Valtteri Bottas looks the heavy favourite and that should worry Verstappen on what should be a very fruitful weekend for his championship hopes.
The two Mercedes drivers were split in overall fastest times by Charles Leclerc's Ferrari. He was gushing with how nicely balanced his car felt on a day where such a balance seemed elusive for everyone else, but it also looks as if the team was running its new-spec power unit (introduced on his car in Sochi and on Carlos Sainz's here) in a high mode to test its robustness.
It was typically slower than either the Mercedes or Red Bull at most corner apices but faster at the end of the straights despite a visually comparably high downforce wing level.
"Even though there's a lot more grip than last year," said Leclerc, "the feeling is similar. You are sliding around to do the time. When the rear is moving like that it works for me, helps me to rotate the car. I like it."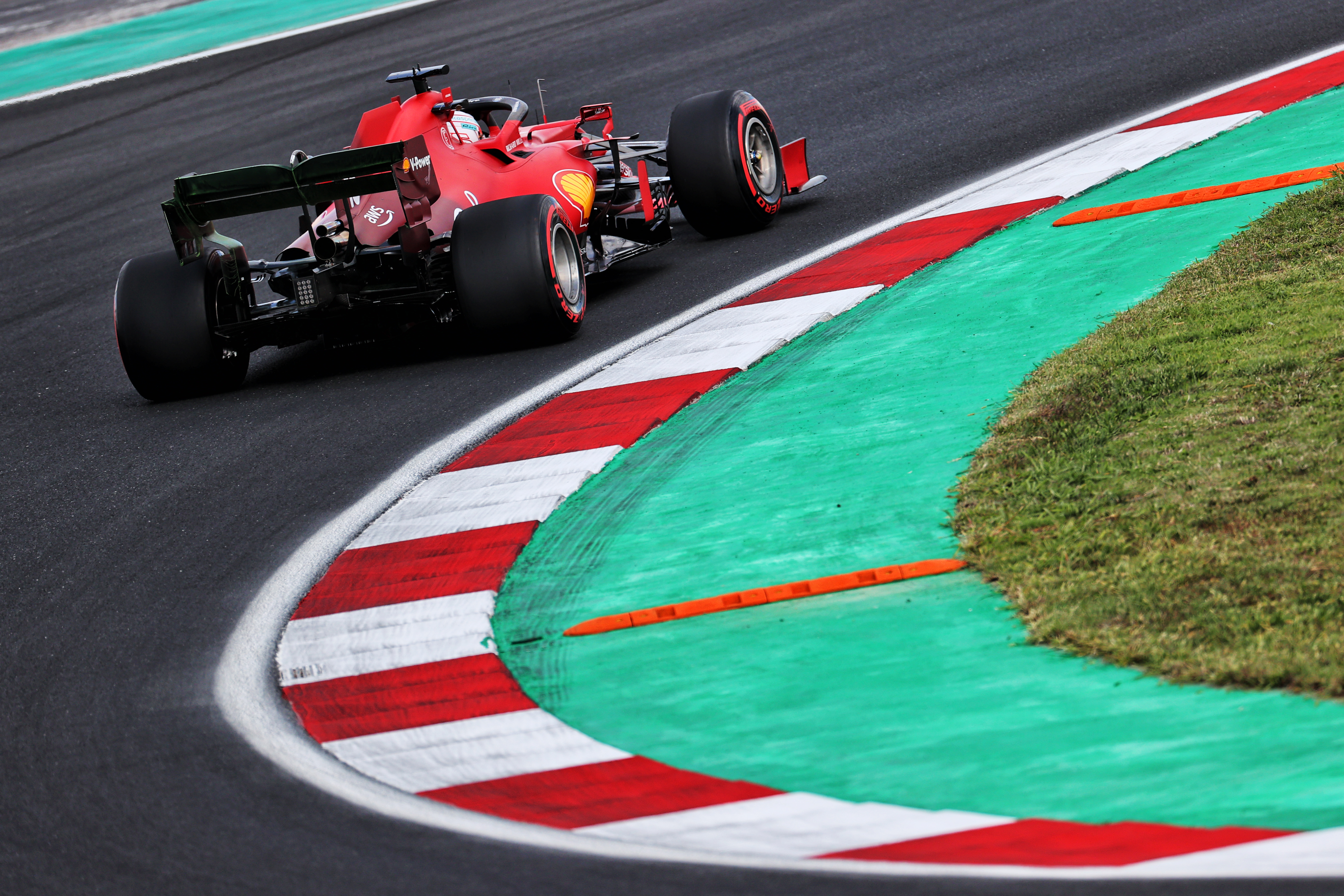 On an understeer day, Leclerc was enjoying the oversteer. There is a significant possibility of on/off rain showers for Saturday so all of this may turn out to be moot. But if the track grip falls as a result of being cleansed of rubber build-up by the rainfall, it should in theory bring a balance to those suffering with understeer and so we should maybe not get too carried away with Leclerc's Friday form.
He certainly isn't getting carried away and feels it's inevitable that Mercedes and Red Bull will find more time than he can tomorrow.
---
Leading Long Runs FP2
Medium tyres unless specified otherwise
1. Hamilton Mercedes 1m 27.878s (11 laps)
2. Bottas Mercedes 1m 28.109s (10 laps)
3. Verstappen Red Bull 1m 28.220s (9 laps)
4. Leclerc Ferrari 1m 28.525s (9 laps)
5. Perez Red Bull 1m 28.537s (8 laps)
6. Russell Williams 1m 28.743s (13 laps) Hard
7. Sainz Ferrari 1m 28.782s (19 laps)
8. Norris McLaren 1m 28.814s (5 laps) Hard
9. Stroll Aston Martin 1m 28.855s (14 laps)
10. Ocon Alpine 1m 28.892s (10 laps) Hard
11. Alonso Alpine 1m 29.007s (5 laps) Soft
12. Ricciardo McLaren 1m 29.017s (5 laps) Soft
---
McLaren is nearly always under-represented in these Friday sessions and Lando Norris tomorrow can be expected to be better than his sixth in single lap and eighth on long runs today made him look.
Given that he devoted his long run to the hard tyre, McLaren is possibly looking at a one-stop on what for the others may be a two-stop sort of Sunday. Williams and George Russell (who did a very good hard-tyred long run) may be thinking the same.
The tyre picture is quite complex. The C4 soft is too soft for here – as the poor long-run attempts by Alonso, Ricciardo and Gasly confirmed.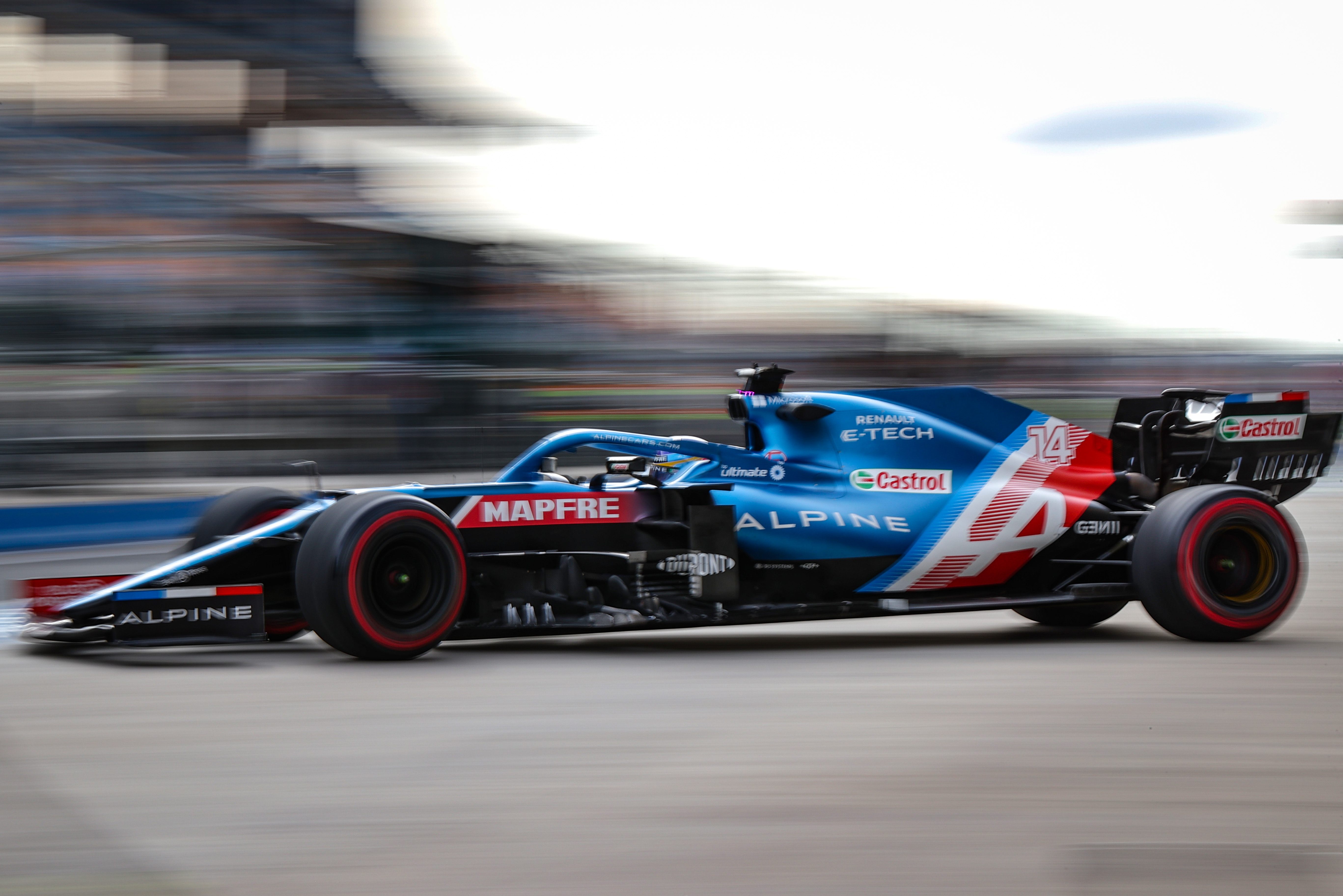 It grains the right-front quite badly. But it is still prone to being under-temperature (at the front) at the beginning of the lap. Most of the best single lap times were set on a second flying lap on it, by which time it would be tending to be overheating the rears around that traction sequence at the end of the lap.
As such, it seems barely any faster than the medium even over a single lap (though the wind was at its worst when most teams were doing their qualifying simulations on it). But don't be surprised to see even mid-grid cars trying to get through Q2 on the medium.
That could make the difference between the theoretically faster one-stop or a two. All three compounds are graining and tyre wear here is high. So even those able to start the race on the medium may not be able to get through on a one-stop. Ironically, the high wear helps get through the graining phase of the tyre more quickly. But maybe with not enough tread left to do the necessary one-stop stint lengths.
This looks all set to be a very different Turkish Grand Prix to last year.