In what was surely the most showbiz event Formula 1 has ever staged, the new Miami Grand Prix delivered the appropriate spectacle courtesy of those usual gunslingers Max Verstappen and Charles Leclerc.
The Red Bull's end-of-straight advantage gave Verstappen the tool with which to relieve the lead from polesitting Leclerc's Ferrari once the latter's front medium compound tyres began to fade, just as at Imola. Verstappen's win looked increasingly secure as he built a buffer much bigger than any undercut threat through that first stint.
Even as they then each got onto the hard tyre for the second stint (of what was a one-stop race) and the Ferrari became as quick as the Red Bull once more, Verstappen's cushion and his end-of-straight advantage looked likely to be decisive.
But their dice was reignited by a late safety car. The upside of the Ferrari's slightly harder usage of the fronts is that it gets them up to temperature quicker. Upon the restart with 10 laps to go, this allowed Leclerc to renew his attack to electrifying effect.
But again that Red Bull end-of-straight speed proved to be the weapon which allowed Verstappen to defend for long enough for his own tyres to come up to temperature.
"Unfortunately, there was no DRS for the first two laps after the restart," explained Leclerc regretfully. "By the time it was enabled he seemed to have his tyres working."
Nonetheless, they continued throwing everything they had at each other and on more than one occasion Leclerc's aggression over the tight Turn 14/15 chicane kerb as he gave his all looked a little like the late stages of Imola, where he'd spun under almost identical circumstances. But not this time.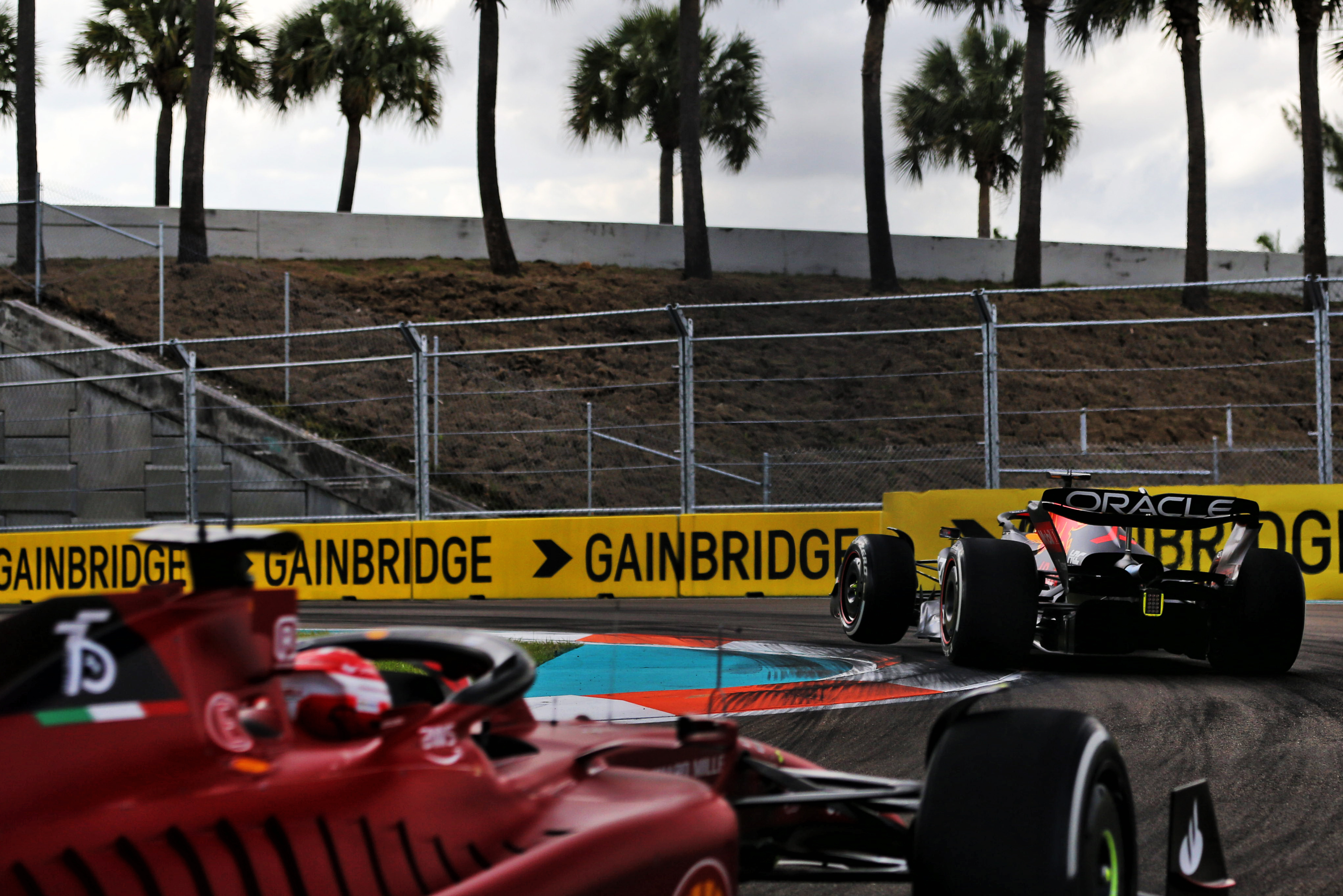 In the humid Florida late afternoon heat, they continued racing flat-out – as so many times before. It was relentless, physically demanding and Verstappen in particular was feeling the strain afterwards. The two gladiators were sweat-soaked and a little breathless afterwards after a great display.
The dynamics of their battle were put in place by the Red Bull's ongoing slightly brittle nature – which deprived Verstappen of most of Friday practice thanks to an overheating gearbox and a subsequent complication from that – but it's clear it's a truly formidable piece of kit so long as the team can keep it running.
It was that lack of track time which ultimately blunted Verstappen's challenge in qualifying and helped Ferrari lock-out the front row. He was vying with them both for pole on the final Q3 run when he took just a little too much speed into the fast Turn 4/5/6 sequence and ran wide, not having dialled himself as fully into the car as he would have liked.
Carlos Sainz too was a little down on cockpit time, having crashed on Friday afternoon. It gave him a sore neck for the rest of the weekend and ultimately his Q3 best lap was 0.19s behind his team-mate. On the less grippy side of the grid, he was out-accelerated by Verstappen by just enough to allow the latter to force his way through in Turns 1-2.
That was the first part of Verstappen's task completed, preventing Ferrari from using Sainz as a buffer. The second part was to pressure and pass the tyre-troubled Leclerc. Tick. The third task was to pull out enough of a gap that Leclerc couldn't apply undercut pressure. This was achieved after around 15 laps, with Leclerc triggering the stops on lap 24 and Verstappen responding two laps later.
That was Verstappen's track position secured into the second stint and ordinarily that should have been enough. But then Pierre Gasly and Lando Norris – fighting over eighth place – crashed at Turn 8, inducing a VSC, quickly replaced by a full safety car.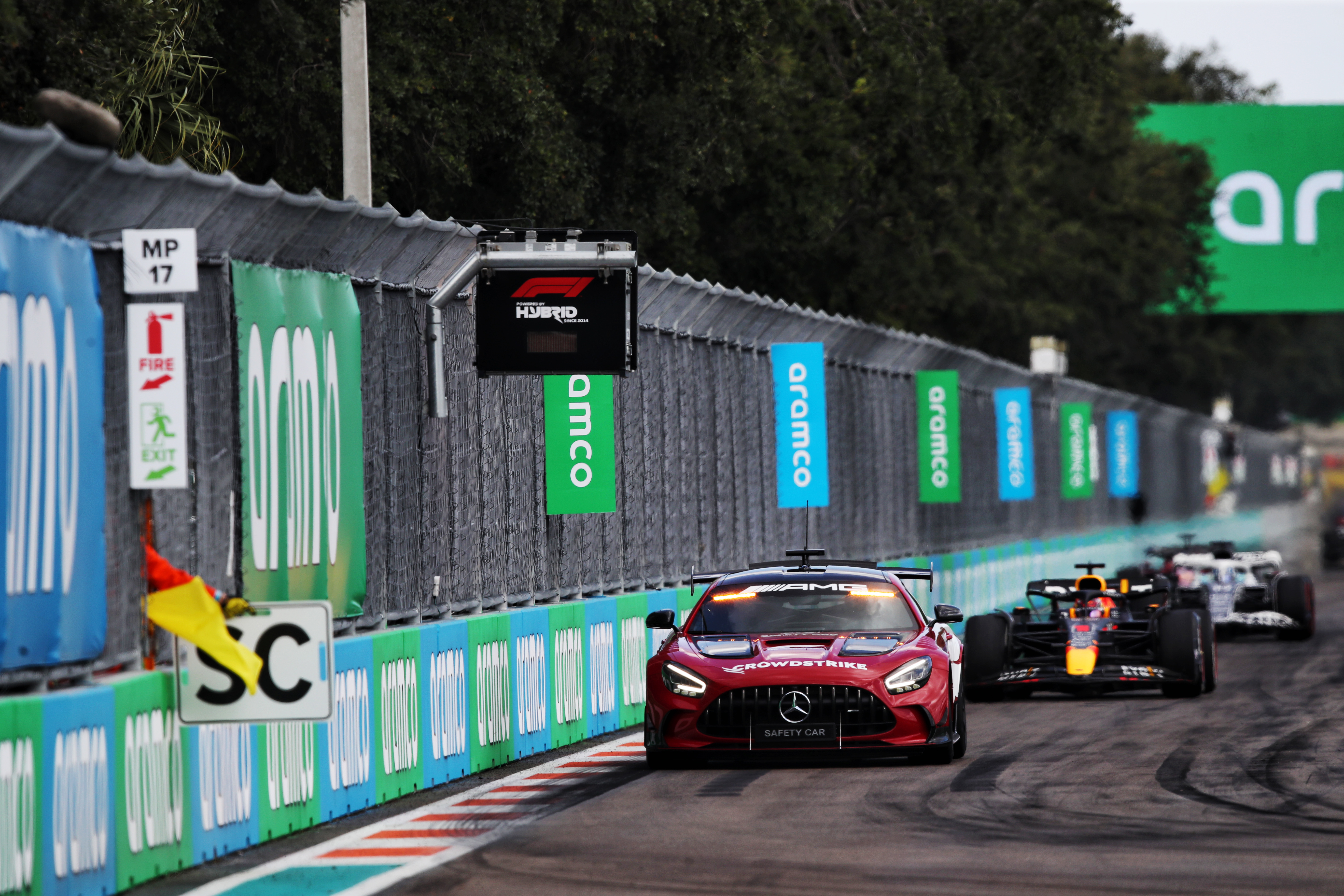 The reward of Verstappen's great work was in jeopardy at this point. The VSC was replaced by a safety car just as he had passed the pit entry road – potentially putting Ferrari into position to pit both Leclerc and Sainz and have them rejoin the queue right behind the Red Bull on new tyres versus Max's old ones. There was huge relief on the Red Bull pitwall when Ferrari chose not to do that.
"We only had fresh hard or old soft tyres in the garage," explained Mattia Binotto. "We felt that the warm-up of the tyres we had on would be better – and that is what you saw."
The hard took an age to reach working temperature, would then overheat for a time until worn and eventually – after about 20 laps – it would be terrific. The soft would give instant performance but overheat wildly after about two laps. Neither would have been suitable.
In those late post-safety car stages the crowd was spoilt for choice in where to look – for as well as the lead battle Sainz was very busy fending off a Sergio Perez attack for third – with Checo even going ahead for a few metres but being unable to get the car slowed enough – while a little further back Lewis Hamilton on old tyres and George Russell on new went hard at it in their mystifying Mercedes (which had been genuinely competitive on Friday before reverting to being almost 1s off the pace for the remainder of the weekend as the track surface evolved).
Perez could count himself as unlucky that he hadn't earlier been able to take advantage of a slow Sainz pitstop (front-right delay), having dropped a sudden 5s to a power loss just as he'd been closing the third place Ferrari down.
The power unit was brought back online with a sensor reset (which cost around 25bhp) but the delay meant he was unable to capitalise on what transpired when Sainz pitted.
But the safety car allowed Red Bull to bring Checo in for the new set of mediums which were waiting for him. With these he was able to hassle Sainz for the remainder of the race, with Carlos feeling the strain upon his sore neck and having fallen off the pace of Leclerc in the second stint as a result.
It was an achievement just to be able to take the final podium slot given how complicated his weekend became once he had that heavy Friday crash.
Without the safety car, Valtteri Bottas would probably have taken a distant fifth for Alfa Romeo and Hamilton would comfortably have finished ahead of Russell in sixth. Bottas had outqualified his old team and ran ahead of Hamilton, with slightly better pace.
As in Australia, a safety car before he'd pitted gave Russell a big advantage, putting him right on Hamilton's tail on fresh medium tyres rather than 15s behind – and with the pair of them now queued behind Bottas.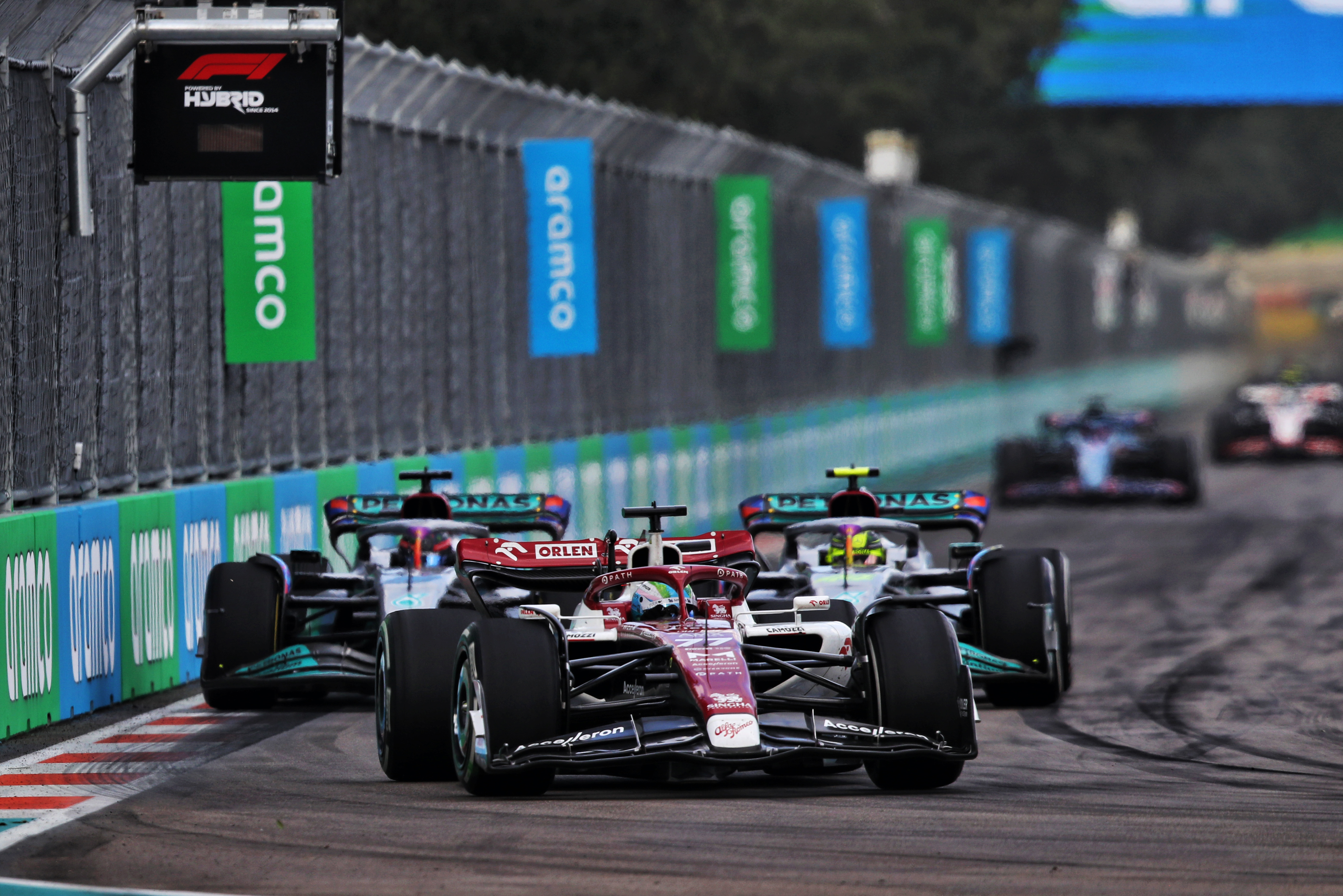 It was as Valtteri was watching his mirrors into Turn 17 that he was maybe a metre late with his braking, running out onto the marbles – and allowing both Mercedes to flash past.
On his old hards, Hamilton was resigned to the fact that Russell on his new mediums would be coming past. Lewis had been given the choice of whether to pit for fresh rubber, and deferred to the team – which left him out. There were no suitable tyres – a set of new hards which would have taken an age to reach temperature or a set of softs which would have overheated. This way, he had the possibility of at least fighting Russell for position.
George got past – albeit outside of track limits – and set chase for the down-on-power Perez. Two laps later race control informed the team he must hand the place back to Hamilton. He did so, then made a clean repass with the aid of DRS, by which time Perez was long out of reach.
At no stage in the race were the Mercedes anything like as competitive as they'd looked on Friday (despite near-identical settings) for reasons the team is struggling to understand.
Fernando Alonso's eighth place across the line became 11th after a 5s penalty for gaining an advantage by going off track. Alpine team-mate Esteban Ocon took that eighth place officially after a very good drive from the back, having not run in qualifying courtesy of his heavy FP3 accident. Like Russell, he ran the hards long enough that he could make his stop after the safety car and thus vault several places.
Alex Albon produced another great drive in getting the Williams in the points with an official ninth ahead of a similarly tenacious Lance Stroll who – like team-mate Sebastian Vettel – had to start from the pitlane after a procedural error at Aston Martin led to its fuel being over-cooled to below the permitted temperature.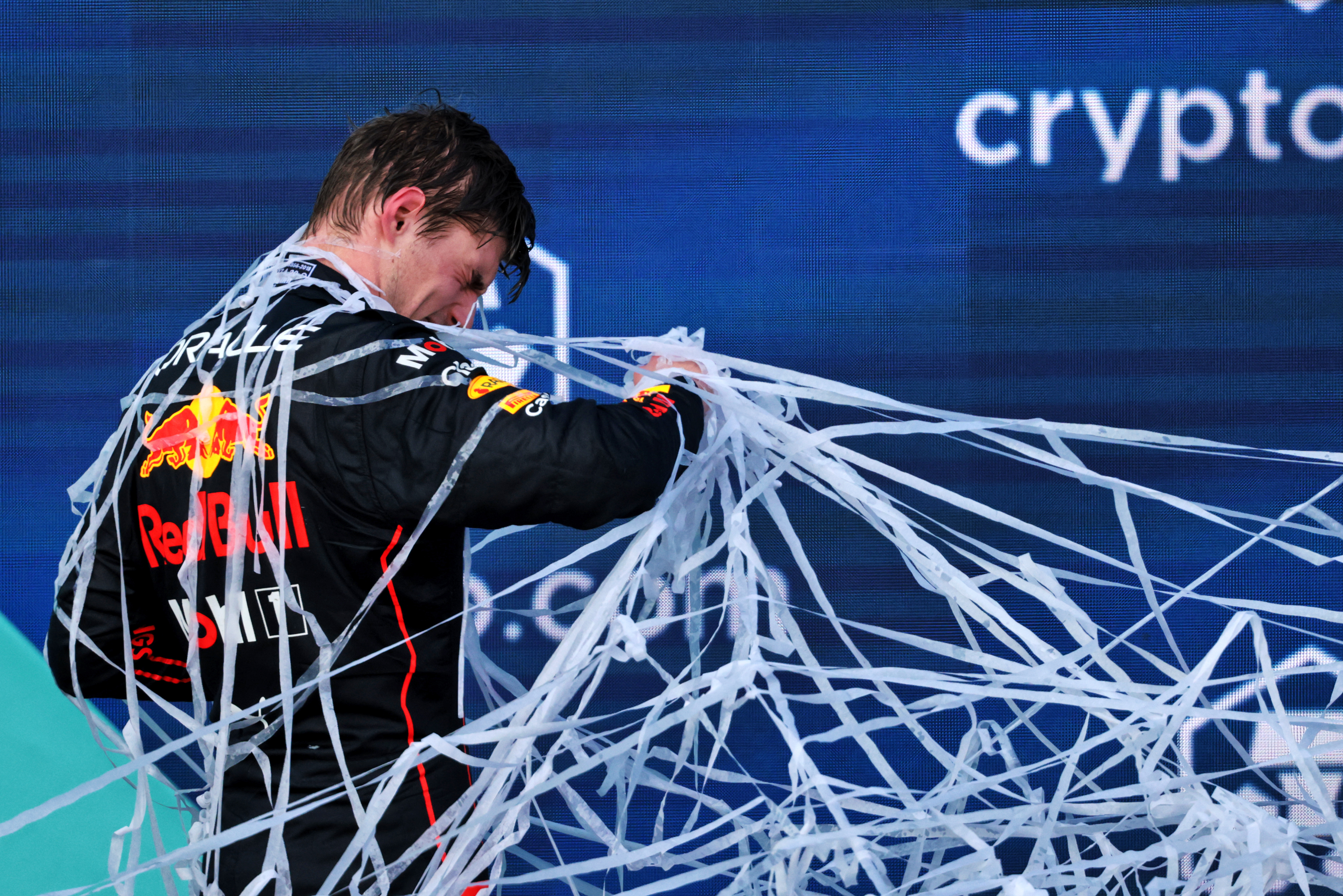 Verstappen has won every race he's finished this year but is still significantly behind Leclerc on points. But he's enjoying the task in hand.
"I like the position I'm in at the moment, knowing that the car is quick. And for example, end of last year, of course, I was the one who was being hunted. And that was actually not a great position because I knew that we didn't have the pace anymore."
They do now.