We were quite possibly denied one of the truly great Monaco Formula 1 pole laps.
The one that Charles Leclerc actually delivered was pretty impressive, his Ferrari a quarter of a second clear of the pack. But the one he was in the process of producing – he was at Tabac when the red flags came out for the Sergio Perez/Carlos Sainz accident at Portier – was 0.4s up even on that and with no one else was looking like making anything close to such an improvement.
It just encapsulated how Leclerc had built to a brilliant crescendo around a home track where his speed has always been searing even if his finishing record is non-existent (albeit not always through his own fault).
Put him in what was the fastest car around here, give the Red Bulls a slight reluctance to turn in, a bit of compromise in Sergio Perez's Q3 run sequence, take the Mercs out of the equation with a severe mechanical bouncing issue, and Leclerc's only likely rival for pole was team-mate Carlos Sainz.
From the start of the weekend, Sainz looked very close to his team-mate's pace as they each tuned into the track's special rhythm but when it came for that time to progressively step it up in qualifying it was Leclerc who was able to stray further into that abyss.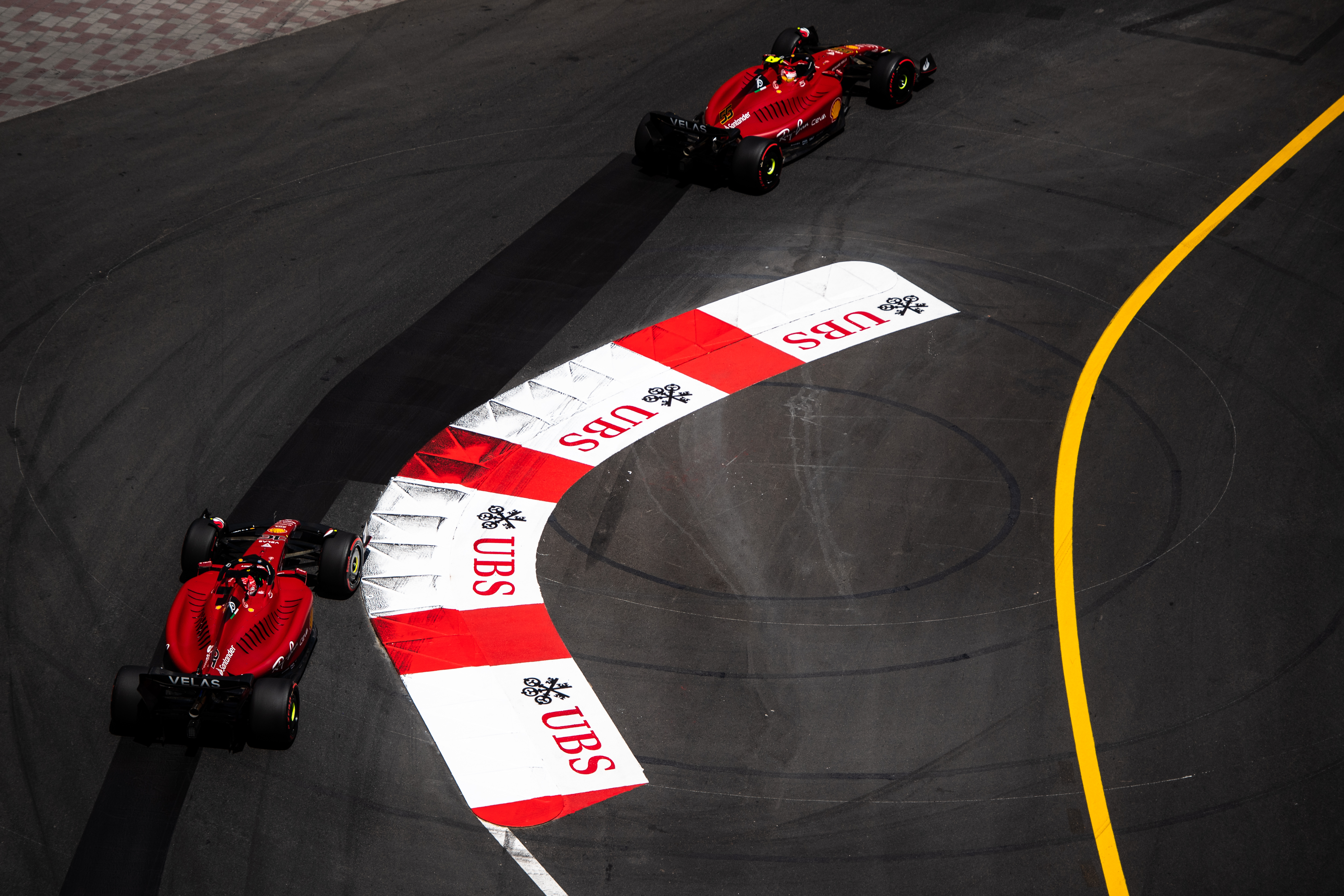 Leclerc had 0.225s over him in the first Q3 runs and was already that far clear of him after sector 1 of the aborted final laps, Sainz's tyre prep not falling ideally.
Leclerc didn't in reality have a serious rival. Only himself and circumstance. As he relaxed into the F1-75's benign oversteer, he had the perfect tool with which to dissect the track with ever-more commitment. His progress through the swimming pool section, in particular, was extraordinary.
Sainz too was hugely impressive through there. But Leclerc's way of getting the car into Ste Devote and Casino, the way he was manipulating the brakes to aid that, ultimately gave him his decisive advantage over Sainz. The reasons behind that oversteer balance with which Leclerc is so comfortable had other advantages here.
We looked yesterday at how the Ferrari's strengths are particularly powerful around this track – the great punch out of the turns, its valuable ability to ride the kerbs better than other cars, but also its balance.
The 2022 generation of Pirellis are relatively weaker at the front than the rear. The Ferrari places greater loads on the front than the Red Bull. This may be why there have been races this year – Imola, Miami – where Leclerc's fronts began to open up earlier than Verstappen's, allowing the Red Bull to pass and win. But it's also a contributory factor to all those Leclerc poles – it fires the fronts up quicker than the Red Bull.
Around Monaco, a track with such low cornering and frictional stresses, that distinction was exaggerated. There just was not a happy place for the Red Bull's front tyres but those of the Ferrari fired up just fine.
Both Verstappen and Perez needed at least one preparation lap in addition to the out-lap. Verstappen even frequently tried two. The problem was obviously most acute at Ste Devote, Turn 1.
Not at any point in the weekend could Verstappen brake as late as he wanted to or take as much speed in there as the car would normally be capable of. Perez – who spent last season struggling to get anywhere near Verstappen in a Red Bull which rotated too fast for his liking – is much more comfortable with the more benign RB18.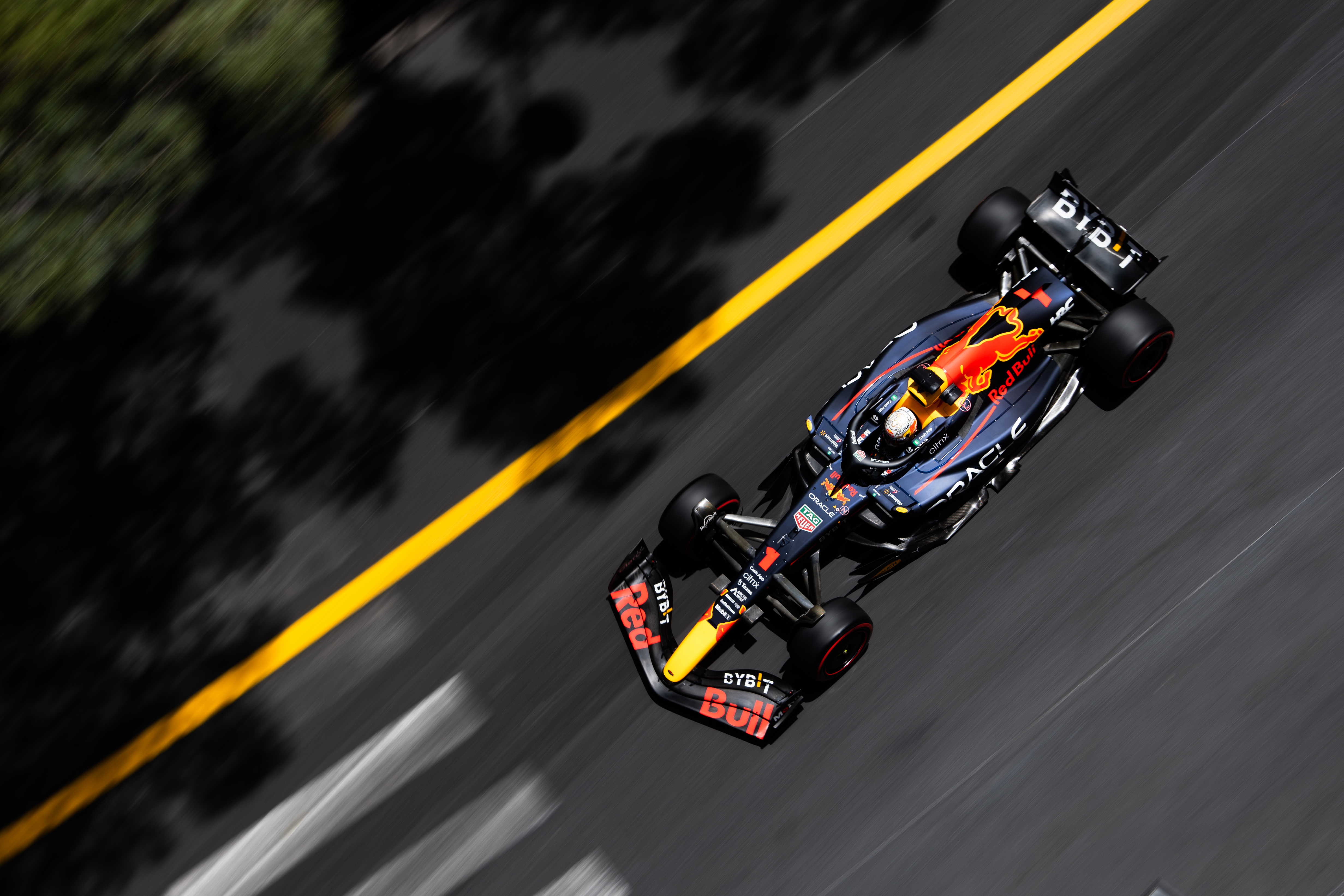 The rotation of the car into the turns at Monaco was too slow for Perez too, but he was apparently more comfortable dealing with it than Verstappen who trailed Checo through most of the practices and in Q1 and Q2 too.
The operational complexities this brought to Red Bull's runs just amplified Ferrari's advantage. Perez was critical afterwards of the choices made in Q3.
"I think we had more pace than we were able to show," he said.  "But we just couldn't challenge, because of the strategy with the tyres, especially that final set. It wasn't up to temperature. I almost lost it into Turn 1, in hindsight…we didn't get it right today."
What he's referring to is this multi-lap first Q3 run didn't leave time for a double prep lap on his second run. It was a tricky balancing act for Red Bull to know whether it was better to a) stay out after setting a time to do a cool down/recharge lap and then try again, with the tyres older but at least up to temperature or b) To come straight in after one attack lap, giving you time for a longer second run.
Red Bull tried option a) for Perez and option b) for Verstappen. In hindsight, Perez's first run, during which he set the time that would stand as third-quickest, was simply too long.
It comprised an out lap, a prep lap, the hot lap, a cooling lap and a failed second hot lap. This gave him time only for one prep lap on his final run. On this lap, he had to pass Verstappen on a cool-down lap and Sainz in a Ferrari requiring a slower prep lap, followed by a very slow last sector because of the traffic build-up ahead.
This was a disastrous preparation for a Red Bull and sure enough, he had understeer into Ste Devote, and a squiggly power overseer out of it.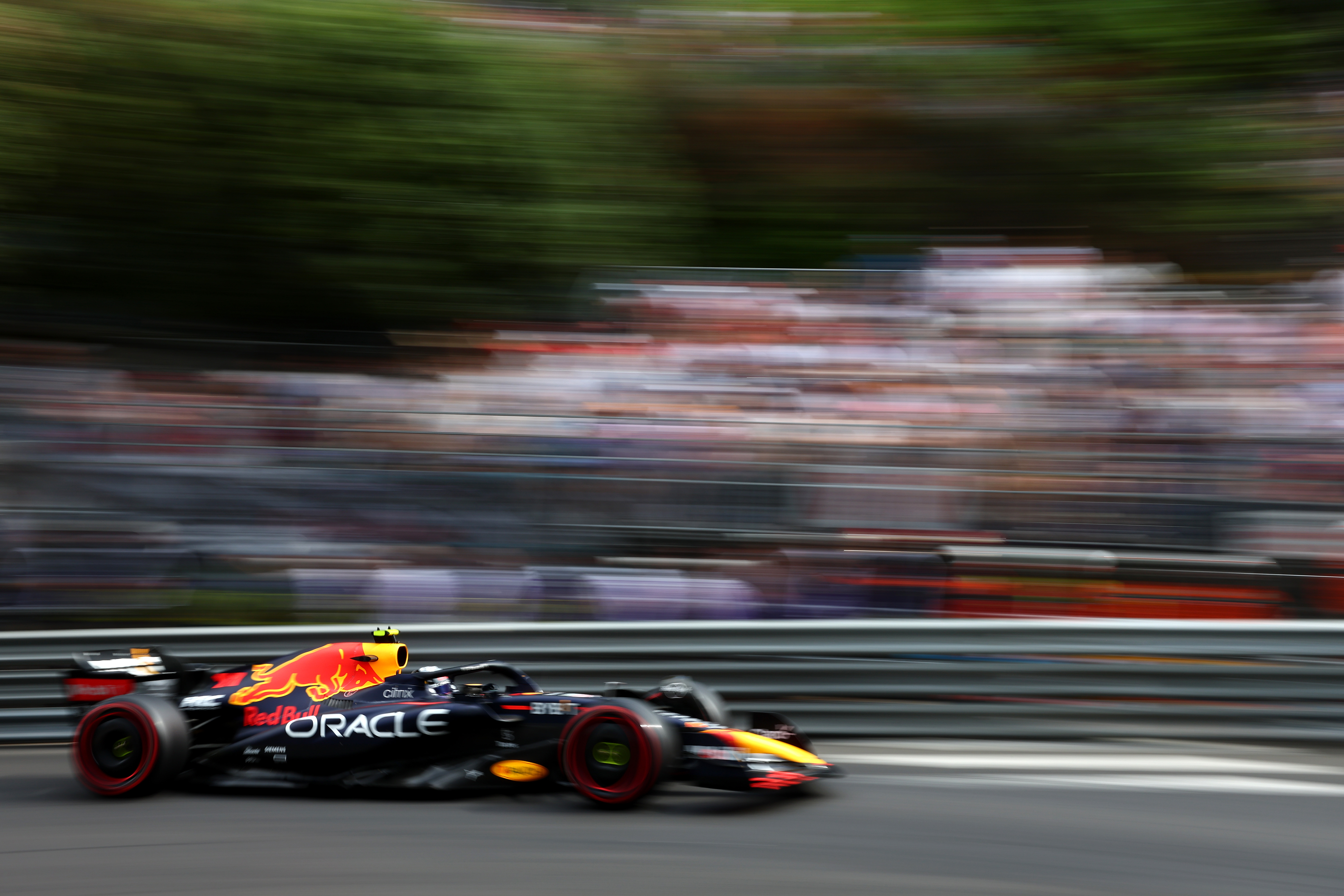 Even by Casino, Perez was still needing two steering inputs to make the apex. He was already slower than he'd been on his first run.
Pressing on, trying to make the deficit back up, he approached Portier. "That turn has been a difficult one for me throughout the qualifying session," he said. "I was trying to anticipate and get quite early on the throttle but as soon I touched the throttle, it felt like rear tyre was not gripping in and I lost it."
A few seconds later Sainz arrived on the scene and inflicted further damage, the two cars blocking the track, thwarting Verstappen on his final flyer and bringing out the red flags. Leclerc was down at Tabac by this time and hugely frustrated that what was shaping up into such a beautiful lap was denied him. Even though the red flag secured his pole, in reality, it reduced the margin by which he took it.
Verstappen, having come straight in after his first Q3 run to give himself an extra prep lap for the final run, was shaping up to probably finally eclipse Perez, having trailed him up to that point. He'd just done his best sector one time, his tyres more fully up to temperature than Perez's. But he was already trailing Leclerc by 0.147s at the end of sector 1.
---
1st Q3 Monaco runs
| | | | |
| --- | --- | --- | --- |
| Driver | Sector 1 | Sector 2 | Sector 3 |
| Leclerc | 18.872s | 33.738s |  18.766s |
| Perez | 18.909s | 33.891s | 18.829s |
| Verstappen | 18.897s | 33.827s | 18.852s |
| Sainz | 18.964s | 33.738s | 18.899s |
2nd aborted Q3 runs
| | |
| --- | --- |
| Driver | Sector 1 |
| Leclerc | 18.707s |
| Perez | 18.918s |
| Verstappen | 18.854s |
| Sainz | 18.996s |
---
He had not previously been closer than 0.089s to Leclerc through sector 2 or 0.86s through sector 3. It seemed unlikely therefore that Verstappen was suddenly going to find the 0.147s and the combined extra 0.175s even over what Leclerc had previously done through sectors 2 and 3, let alone what he looked set to do.
Had it been completed, his lap may have got him ahead of not just Perez but Sainz too, the latter having been compromised on his out-lap by being caught behind the two Mercedes, which required a gentler out-lap than either Ferrari or Red Bull.
In the moment, Verstappen was angry that the red flag had left him fourth when he felt on the point of improving upon that – and that it had been caused by his own team-mate.
"I was on a good lap until the traffic jam," Verstappen said. "I could've done better than fourth. Not pole position, Charles was too strong today. But at least would've been nice to be second. It is irritating and a pity of course that the one who put it in the wall was my team-mate. But in the end you don't get a penalty for that."
But the only reason he was vulnerable and being at the mercy of such incidents was that the RB18 was just not as good around here as the fast-but-demanding Ferrari – and that Leclerc is far too good not to make maximum use of that.
The only thing which threatened his serene progress through the sessions was being called to the weighbridge after his first Q3 lap. He missed the signal, but the team didn't – and pushed him back. They then got him out early for the final lap, confident enough in their pace to opt for track space over ultimate track evolution.
"I had quite a bit of oversteer," he said, the adrenaline still coursing through him. "I struggled to put the tyres in the right window in the last sector [of the prep lap] because there was a bit of traffic, and so the rear was a bit loose, but still the lap time came and I was improving quite a bit… But to be honest, the car felt amazing.
"The first corner was quite a bit better than before. I got a snap… Basically, I got snaps everywhere but the lap time was coming really, really good. So yeah, I was surprised by how much pace there was, because the balance was really, really tricky on that lap, but yeah, it felt really good."
They say pole at Monaco is 75% of the job…