After finishing second to Max Verstappen in the Saturday sprint race, Charles Leclerc seemed confident, bordering on certain, that he would have the pace to beat the Red Bull in the Austrian Grand Prix. It wasn't an assessment anyone else was making.
After taking his first dry track pole of the season, Verstappen dominated the sprint, seemingly with performance to spare. His searing pace at the start of the Saturday event convinced Leclerc the Red Bull would be struggling with tyre deg before the end even of this short race – but it didn't seem to be. Yet on Sunday, on the same medium compound tyre, it was.
Verstappen took off into the lead of the main race, pulled comfortably out of Leclerc's DRS reach even before it was enabled – and the general expectation was this would be the foundation of a routine one-stop victory drive. It wasn't a one-stop and it wasn't a victory.
Instead, Leclerc was right back into the DRS zone by the third lap and Verstappen just could not get comfortable. No front end one lap, OK the next. Just no consistency. The Ferraris, by contrast, were feeling just fine, with Carlos Sainz keeping Verstappen/Leclerc company just out of turbulence range and waiting to see what developed.
The trio quickly put distance on the rest, especially so since that group was led by George Russell's Mercedes, which had taken endplate damage after contact with Sergio Perez at Turn 4 on the opening lap (which put Perez in the gravel, from which he emerged with a big chunk of floor missing and later retired).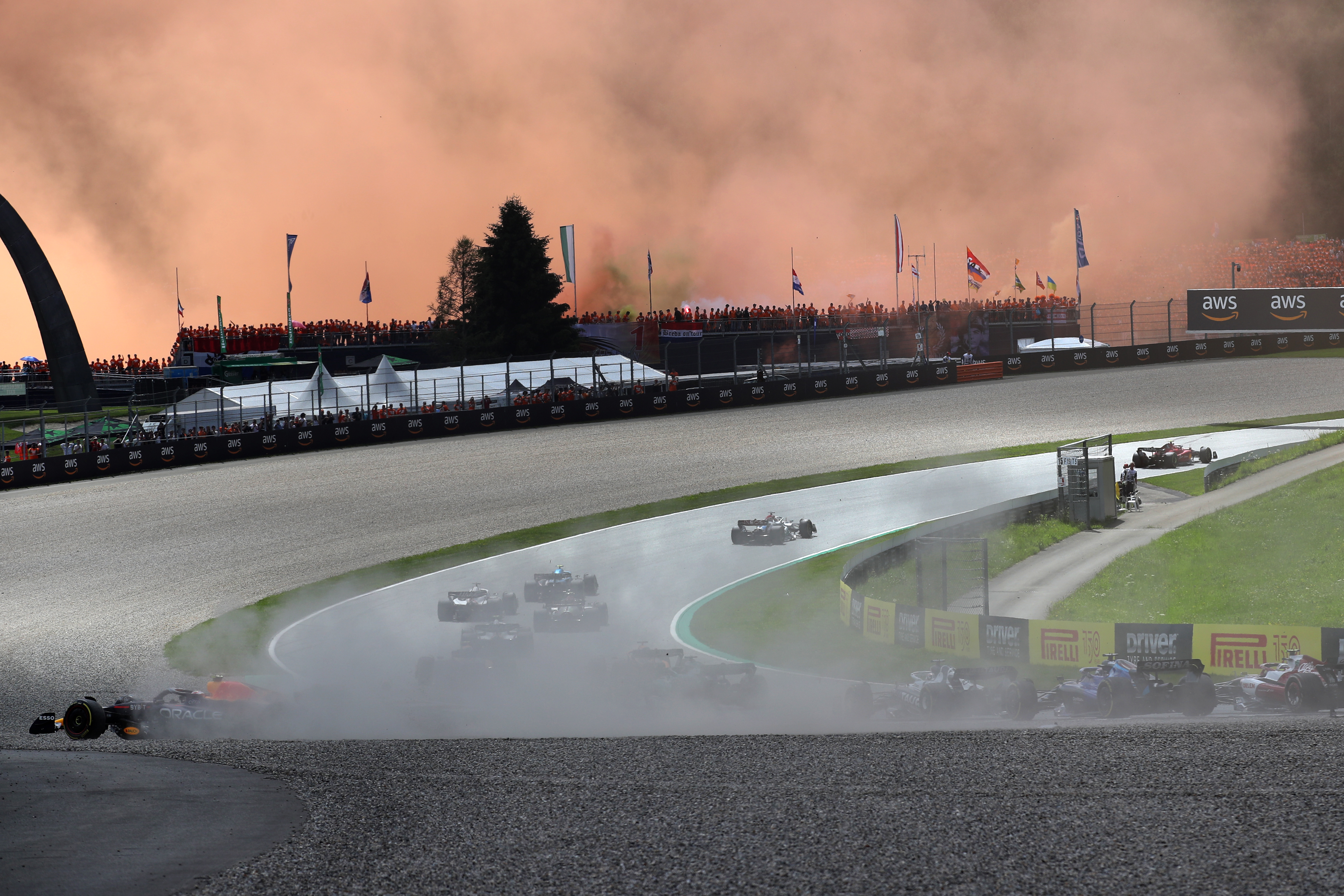 So there were no complications to run interference with the Red Bull/Ferrari comparison. This was straight, unencumbered, sustained dry-track performance, the sort of contest which might usually be expected to favour Red Bull as the Ferrari eats harder into its front tyres.
But this is a more rear-limited track – and on this day, with the track a few degrees cooler than on Saturday, with the early morning rain having washed the surface, the medium just wasn't as happy on the Red Bull as it had been the day before. So Leclerc hovered, moved around in Verstappen's mirrors as he began complaining about his struggles and the team began to think about pitting him as early as possible for a two-stop. In a race which had previously been assumed to be a nailed-on one-stop. And a nailed-on Verstappen win. It was neither.
Quite aside from the change in the track surface, it may also have been that Verstappen just hadn't been pressed hard enough on Saturday to reveal the problem. Certainly, Sainz had been puzzled about why Leclerc had been saving the tyres from early in the sprint when, pre-race, it had been agreed there would be no degradation issue and the plan had been to attack.
Leclerc had judged things differently when he saw Verstappen's opening lap sprint pace, and thought the only way of winning it may have been to conserve in the early laps. He did feel he had an advantage at the end, but it wasn't enough to have put Verstappen under serious pressure. Perhaps had he stuck to the original plan, he may have revealed that the Red Bull had a rear tyre deg issue even on Saturday.
"Their tyre deg was more evident today," said Leclerc on Sunday, "but it was there yesterday too, I felt. Yes maybe in hindsight if I'd pressured Max from the start of the sprint, it would have been clearer."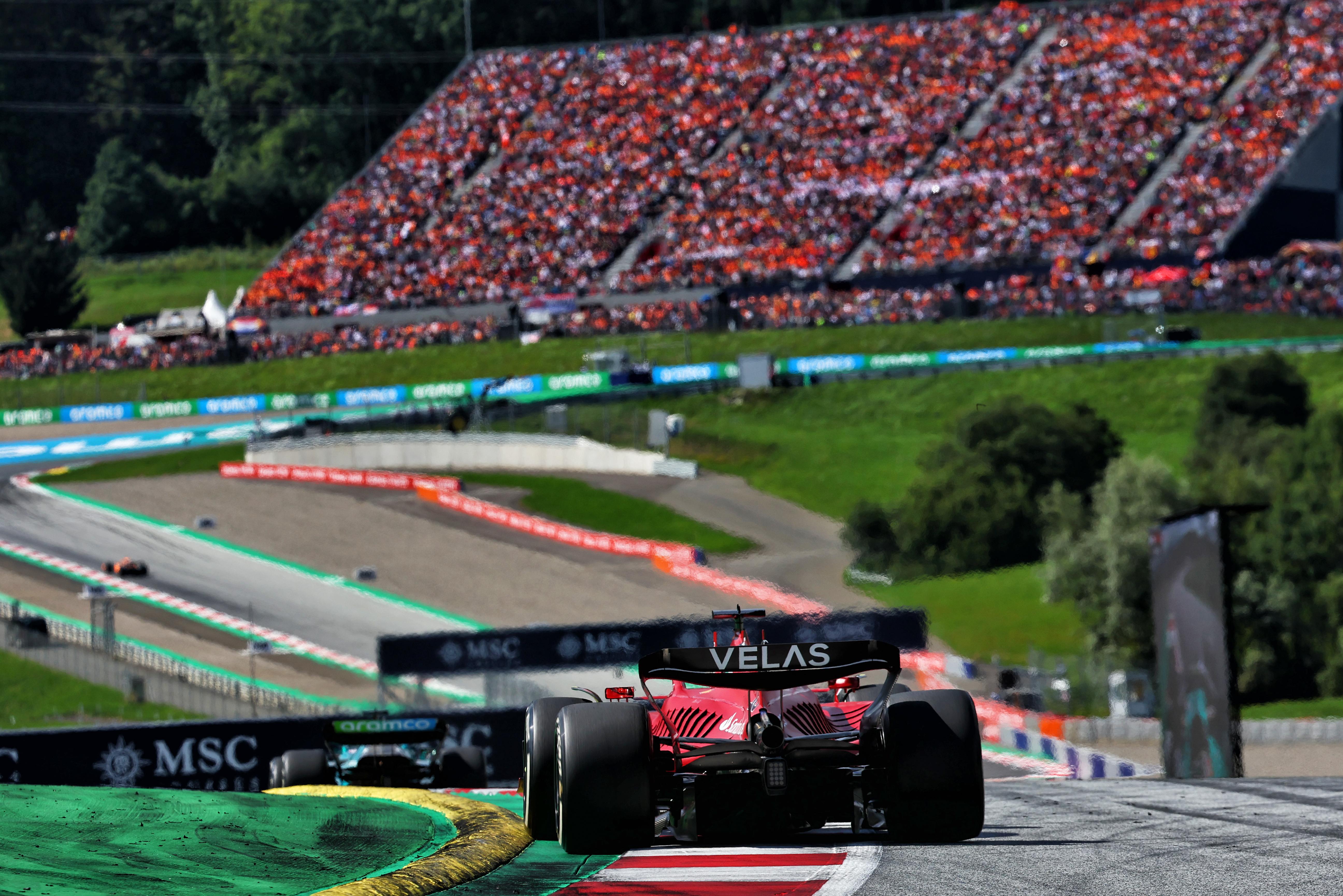 Running the more efficient, slightly lower downforce rear wing introduced on Leclerc's car in Canada, the Ferrari was every bit as quick as the Red Bull on most of the straights, only losing out a little at the end of the pit straight because of an earlier clipping of the power unit.
So the whole dynamic of the Red Bull/Ferrari race day battle we've become used to this season had changed. We'd seen a hint of this at Barcelona where the limitation swung between front and rear. We can note also that at the rear-limited tracks of Bahrain and Monaco the Ferrari was faster. Here was a rear-limited track but this time with no straightline speed difference between the cars.
By the eighth lap Leclerc was positively swarming over the Red Bull, getting side-by-side with it up to Turn 3, threatening down the inside into 4. Two laps later they were close to touching down there. But it was still too early for Verstappen to be brought in; he needed to establish a gap to drop into first. "I cannot hold this for long," he warned. A lap later and Leclerc was past, with no resistance, into Turn 4.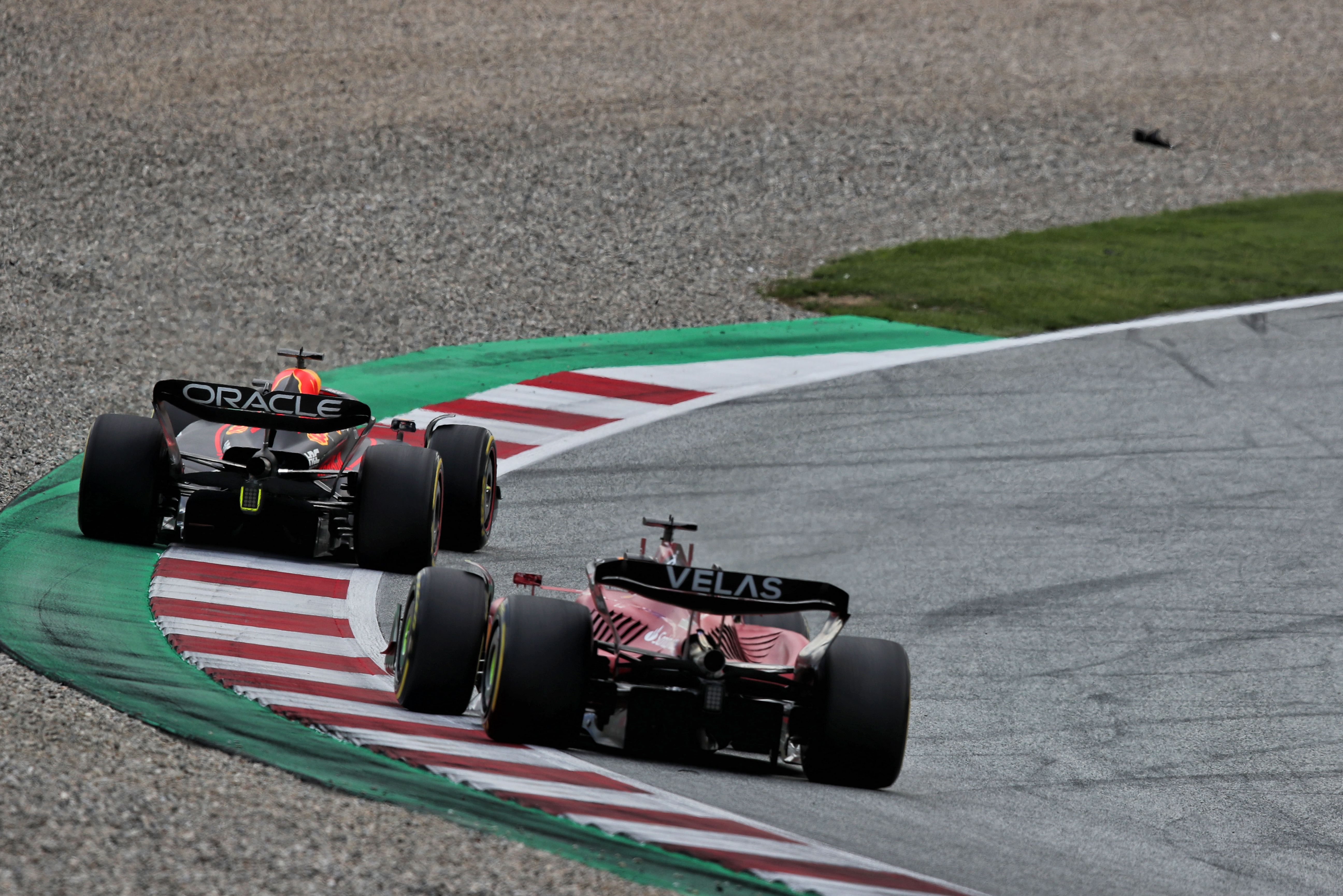 A lap after that – with Daniel Ricciardo's McLaren having pitted out of the way of where Verstappen would be rejoining – Red Bull brought Max in switched his old mediums for new hards. That was the end of lap 13 and with 58 laps left that put him unambiguously on a two-stop.
Ferrari chose not to respond to that. It had no need, at this stage, to switch to a two-stop and was now filled with confidence it was better on the tyres so could dictate its own strategic destiny. That straightline speed equality surely added to its confidence. Had Ferrari's use of this wing traded some qualifying pace for better raceability? Was that why Verstappen was able to take his first dry track pole of the season? Just the smallest of changes between the two cars can alter the picture significantly.
As Ferrari ran 1-2, Verstappen on his newer tyres got back up to third – passing Mick Schumacher and Lewis Hamilton along the way – and had both red cars within less than a pitstop's gap ahead of him. But even in the 12-lap window between his first stop and Leclerc's, his new tyre advantage over the Ferraris was reducing the further into the stint he got, as rear tyre deg again became an issue. At this rate, the Ferraris would emerge behind after their first stops but with no further stops needed and Verstappen still needing to stop again.
But it didn't quite work out that way. So much higher was tyre deg than expected that the two-stop began to emerge as the quicker strategy for everyone, not just Verstappen. Ferrari had already decided to switch to it even as Leclerc and Sainz were brought in for their new hards on lap 25 and 26 respectively. The giveaway was how Leclerc did not just sit himself within a couple of seconds of Verstappen and wait for him to pit out the way, but immediately launched an attack on him, passing the Red Bull for the second time on the 33rd lap. Leclerc had rejoined 5.5s behind and it had taken him only seven laps to catch and pass.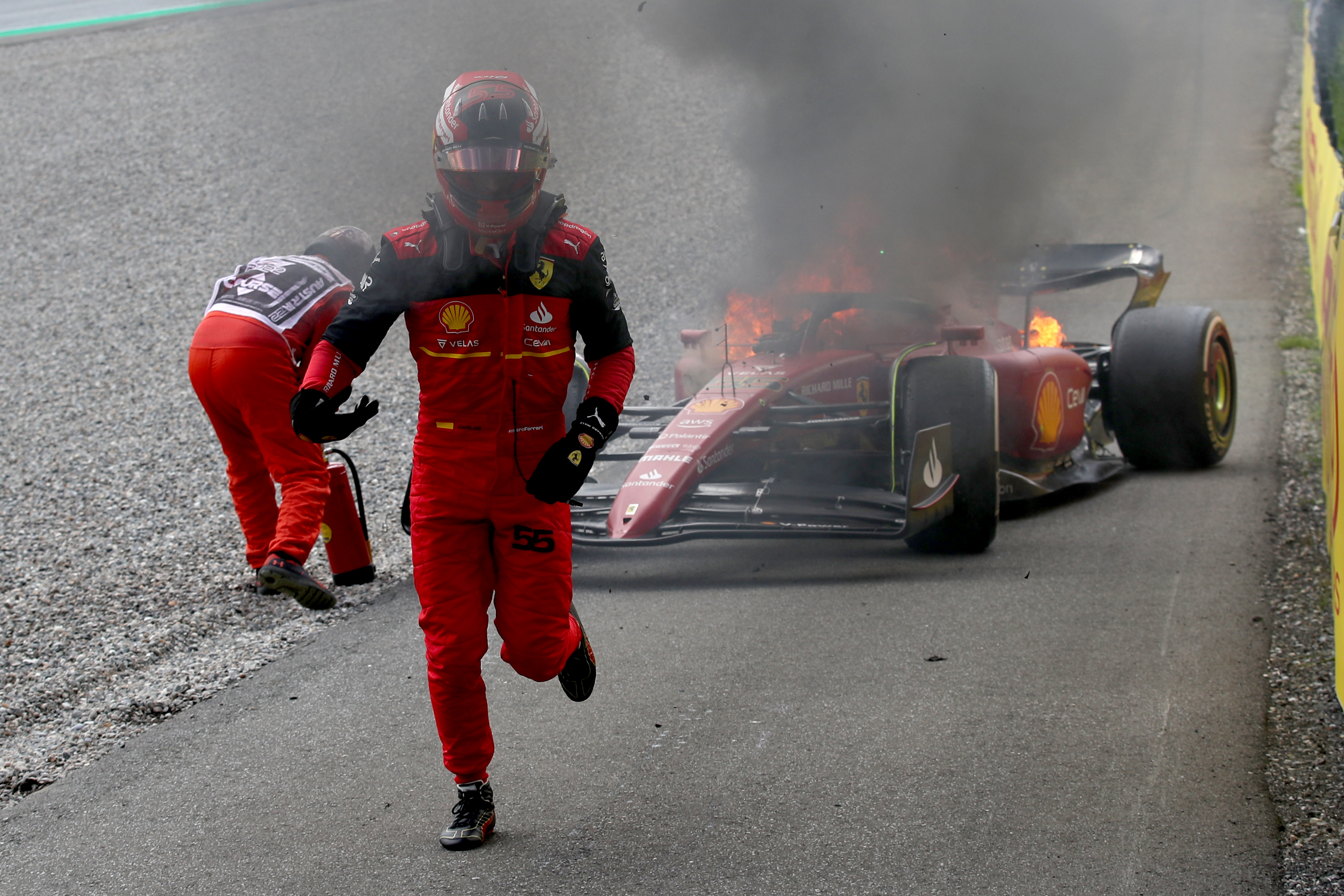 Had Ferrari stayed on the one-stop there's every chance Verstappen's two-stop would have beaten its cars. It made the right call to switch. Ferrari's better tyre deg allowed a much better spacing of those two stops and as they ran out of synch so Verstappen would assume the lead once more as the Ferraris made their second stops 12 laps after his – then for the third time, Leclerc on his fresher tyres, was able to simply catch and pass the Red Bull without much trouble.
Sainz was just on the verge of doing the same on lap 58 when his power unit let go in much the same way Leclerc's had in Baku. With the rear end quickly engulfed by flames it briefly looked like a safety car would be necessary. As it turned out, only a VSC was given as the fire was brought quickly under control and the car wheeled away.
Both Leclerc and Verstappen pitted under the VSC for new mediums and upon the resumption of racing, Verstappen was briefly quicker than Leclerc and cutting into the Ferrari's four-second lead, setting the race's fastest lap as he did so.
More worryingly still for Ferrari, Leclerc was reporting a throttle problem. It briefly cleared then returned – it wasn't cleanly releasing as he lifted his foot for the braking zones. This in turn was delaying the downshifts and Leclerc had to adapt his driving accordingly. Must've been quite difficult to do while keeping fingers and toes crossed as well. It held out and Leclerc returned to the podium's top step for the first time since the Australian GP in April.
More than half-a-minute behind Leclerc and Verstappen, Hamilton emerged to take another podium with the car Mercedes rebuilt around the spare tub after his crash in Q3 on Friday. The poor grid position resulting from the crash put him in the inevitable DRS train in the early laps and he had a reprise of his sprint race dice with Schumacher, fighting over seventh.
Getting crossed up on the exit kerb of Turn 1 on the fourth lap lost Hamilton a place to the Haas and it would take him another 10 laps to find his way back ahead of it before then immediately picking off Kevin Magnussen.
Running long so as to get some clear air, he emerged from a slow first stop just behind Esteban Ocon's fourth place Alpine and passed it the following lap. The Sainz retirement converted that to a podium.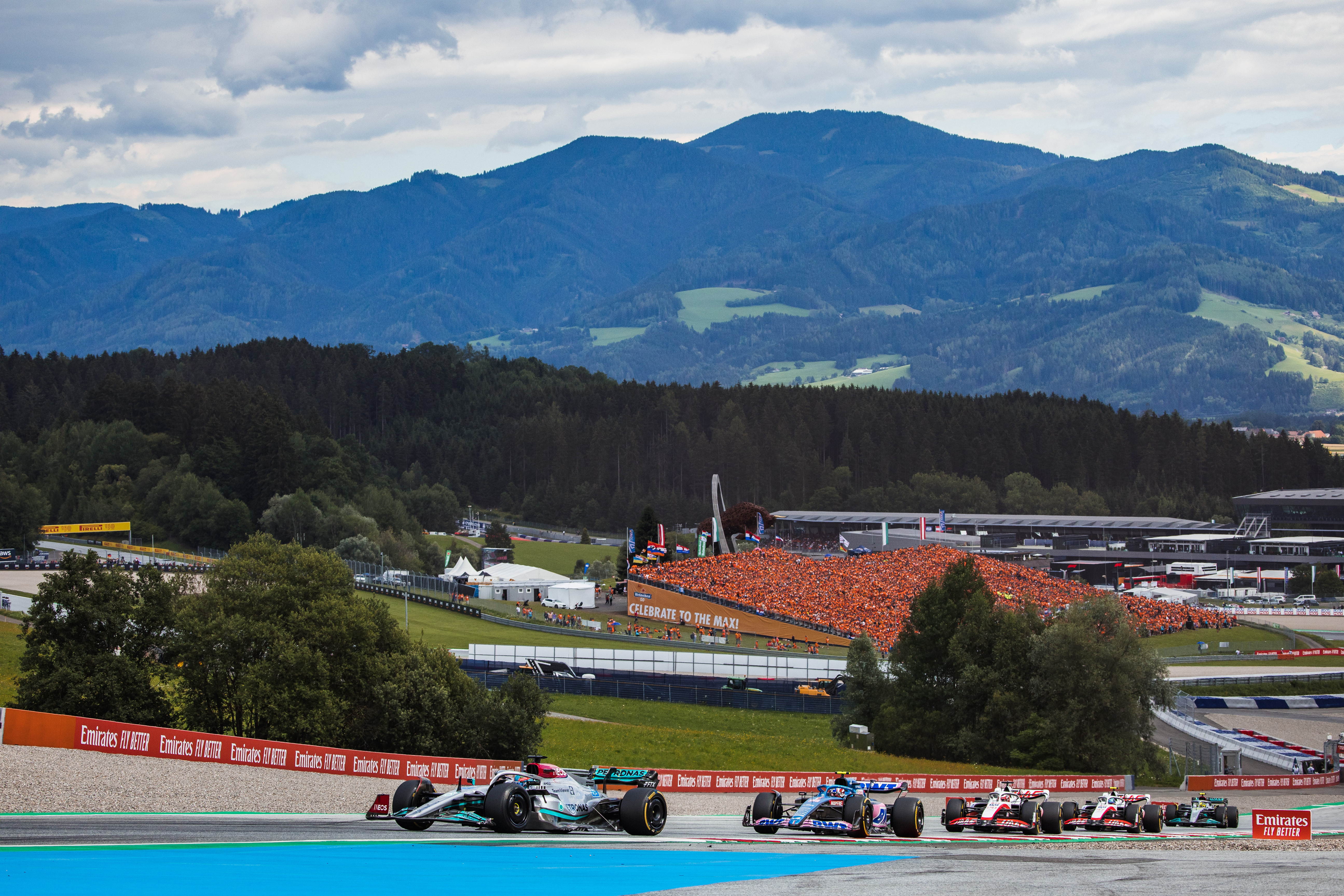 Team-mate Russell's damage from his lap one hit with Perez lost him a big chunk of laptime, the team bringing him early and converting to a two-stop, but not really getting the clear air benefit of that as everyone else migrated to the same strategy. He was fourth from Ocon, Schumacher, Lando Norris, Magnussen, Daniel Ricciardo and Fernando Alonso, the latter having started at the back and been delayed by a double stop under the VSC to attend to a vibration. He recovered to take the 10th place point from Valtteri Bottas' Alfa Romeo on the last lap.
"I definitely needed this," smiled a relieved Leclerc, who has had four victories taken from him this year through no fault of his own.
"Of course whenever I get to a new race since five races I have a smile on my face and I kept being optimistic, but obviously it's hard race after hard race and it just felt like everything was against me."