A thriller of a Formula 1 race with so many facets, the main one being – once the adrenaline of the post safety car scrap at the front had faded – that Zhou Guanyu is uninjured following his horrific-looking accident within seconds of the start.
Carlos Sainz's first grand prix victory was only put in place by a safety car 14 laps from the end. Without that, he'd have finished the race in fuel-saving mode trying to defend his second place from an attacking Lewis Hamilton in a Mercedes that was every bit as quick as the Ferrari once it had got its tyres up to temperature.
Charles Leclerc, leading, was probably set to win the British Grand Prix – though he may have faced a challenge from Hamilton if the latter had dealt quickly with Sainz.
But Esteban Ocon's broken-down Alpine adjacent to the old pits put paid to that. Ferrari – running 1-2 and with Leclerc just rounding Stowe as the safety car was declared – had the trickiest decision to make in this moment.
The chasers were bound to pit for new softs, ready for the restart. But Ferrari couldn't pit both cars, as Sainz was too close to Leclerc and would need to have been stacked, which would almost certainly have lost him positions.
So it could only pit one car. If it was Leclerc, the fear was the closely-following Hamilton would have stayed out and on tyres which were only four laps old would probably devour Sainz on his 18-lap-old rubber.
Ferrari had only 6s to make the decision: it told Leclerc to stay out and Sainz to come in.
It was a decision informed not only by that fear but also an imperfect assessment of the relative performance level of the various tyres, rather like during the wets-to-inters changeover in Monaco. Hamilton followed Sainz in, with both rejoining on their new softs.
"Can we still box?" asked Leclerc as he circulated behind the safety car. "Or it's too late now?
"It's too late now. Sainz and Hamilton behind on new softs."
"That's gonna be hard. What's the tyre advantage?"
"I'll come back to you….. We believe the soft will be 0.5s faster on lap one and then have higher deg."
That was nowhere near accurate.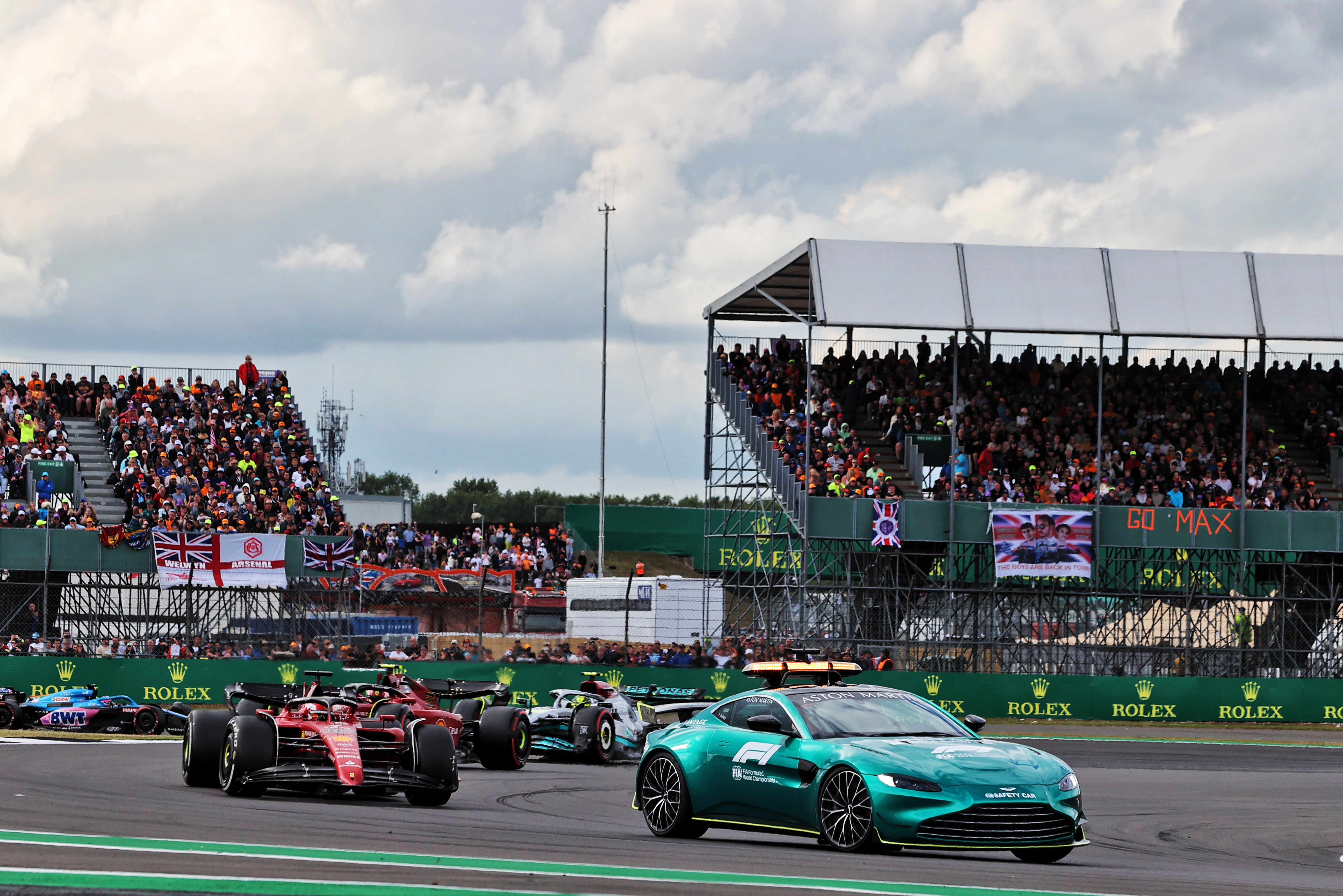 Leclerc's 13-lap-old hards would be more like 1s slower than new softs, probably more – and there was no reason to suppose the softs were going to rapidly deteriorate so late in the race when fuel loads were low and the track was rubbered in.
Sainz absolutely knew he was going to be able to pass Leclerc pretty much immediately. Ferrari had inadvertently surrendered the race-winning chances of its title contender and favoured its support driver.
But Sainz absolutely nailed this opportunity. Just as he had in taking his first pole the previous day. Not the fastest man on track – and struggling with an understeer which had not been there on Friday when he actually was fastest – but fighting his corner with grit and intelligence.
He took pole with the help of Leclerc's spin also delaying Max Verstappen. He took the victory with the help of Verstappen losing taking a huge hit to the floor from AlphaTauri debris just a lap after taking the lead. With the help of Ocon's retirement. With the help of Ferrari's flawed reasoning in the split-second pressure moment of decision.
He took it also with his own fighting of his corner within a team focused more around Leclerc. He sat delicately on the cusp of working for the team and looking after his own interests.
His reasoning why he shouldn't be forming a defensive block for the old-tyred Leclerc upon the restart – and he instead should be allowed to pass, leaving Leclerc to form a defensive shield for him – was flawless. And showed real strength of character.
He was doing his best for the team and himself. Just as had been the case in Monaco when he was urging them to get him straight onto slicks from wets. This is the smooth operator from which his nickname is derived. It's his own weapon against the searing speed of Leclerc within a still-developing team less than sure-footed in its operations.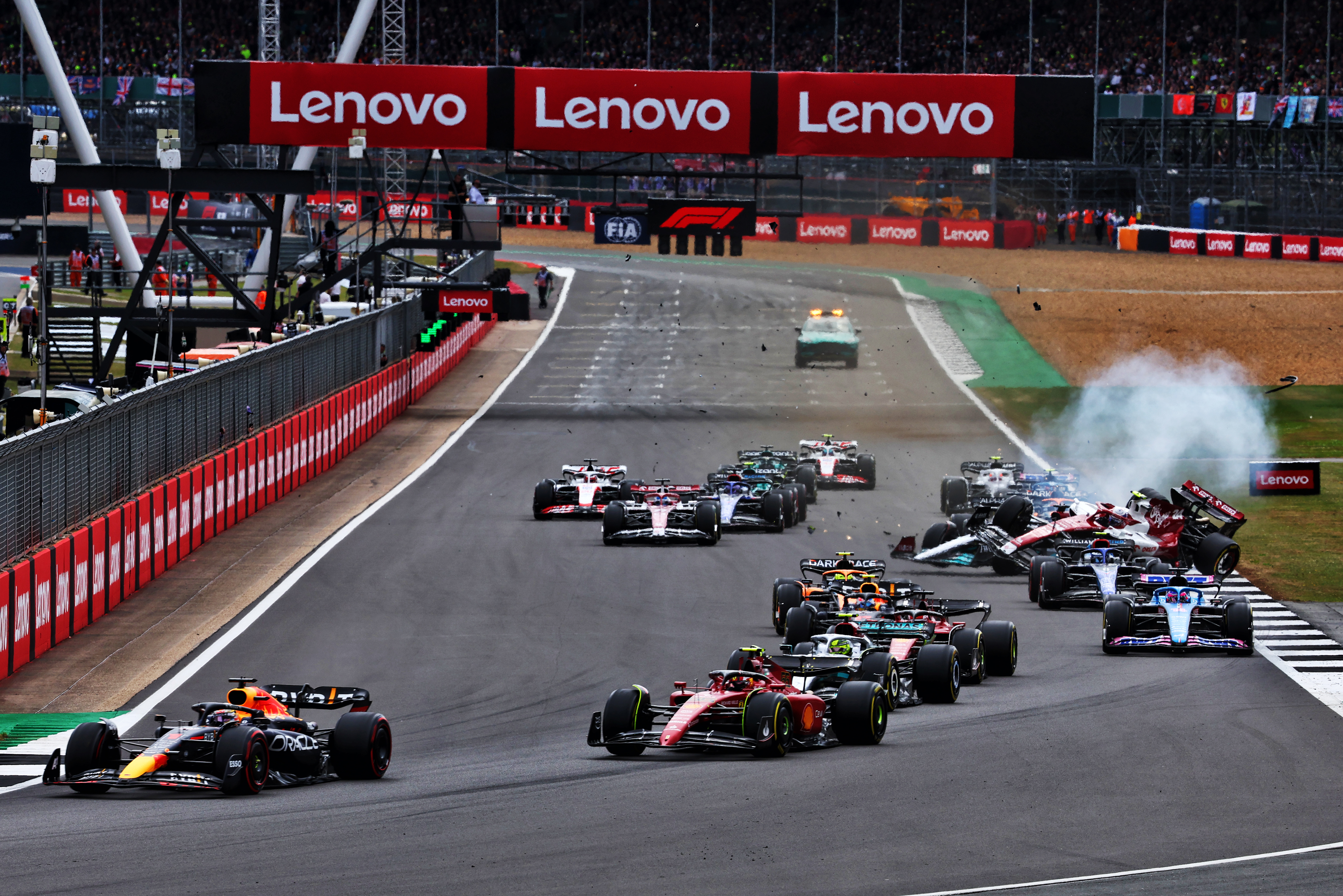 The first race which might have been was the one where Verstappen had chosen to start on softs and had out-accelerated the medium-shod Sainz uncontested into the lead, with Hamilton getting the better of Leclerc to go third in a Mercedes which worked really well here, just as it had at Barcelona.
That was almost certain to put Verstappen on a two-stop strategy and probably with the raw performance in the updated RB18 to make it work against a likely one-stopping Ferrari under pressure from an aggressive Hamilton.
The Red Bull was much the fastest car from Saturday morning onwards, once the team had fine-honed the set-up around the revised spec. Verstappen could do a 1m27.9s in FP3 when Ferrari and Mercedes were on 1m28.3s and 1m28.5s respectively.
It could also switch on its tyres instantly, even more so than the Ferrari and way more so than the Mercedes. It was also super-fast on the straights. Had Verstappen got a clear run he'd likely have walked it, even after being denied pole by Leclerc's last lap Q3 spin.
But that's not the race we got. Not once the hard-tyred George Russell was swamped off the start. It was as Pierre Gasly tried to follow Nicholas Latifi through the gap between Russell and Zhou just as Russell began to move left which threw the Mercedes hard into the Alfa Romeo which flipped and began its terrifying flight. Then the follow-up accidents accounted for Alex Albon's heavy hit into the pitwall and secondary and tertiary hits with others as he rebounded.
For the restart – which was formed with the original qualifying grid minus the missing three cars, because the whole field had not passed the SC2 line as the red flag was thrown – Verstappen changed to mediums. With the same compound tyres, Sainz this time was able to pin Verstappen in against the wall, compromising the Red Bull's entry into Abbey, allowing him to pass it in a committed fashion as they exited.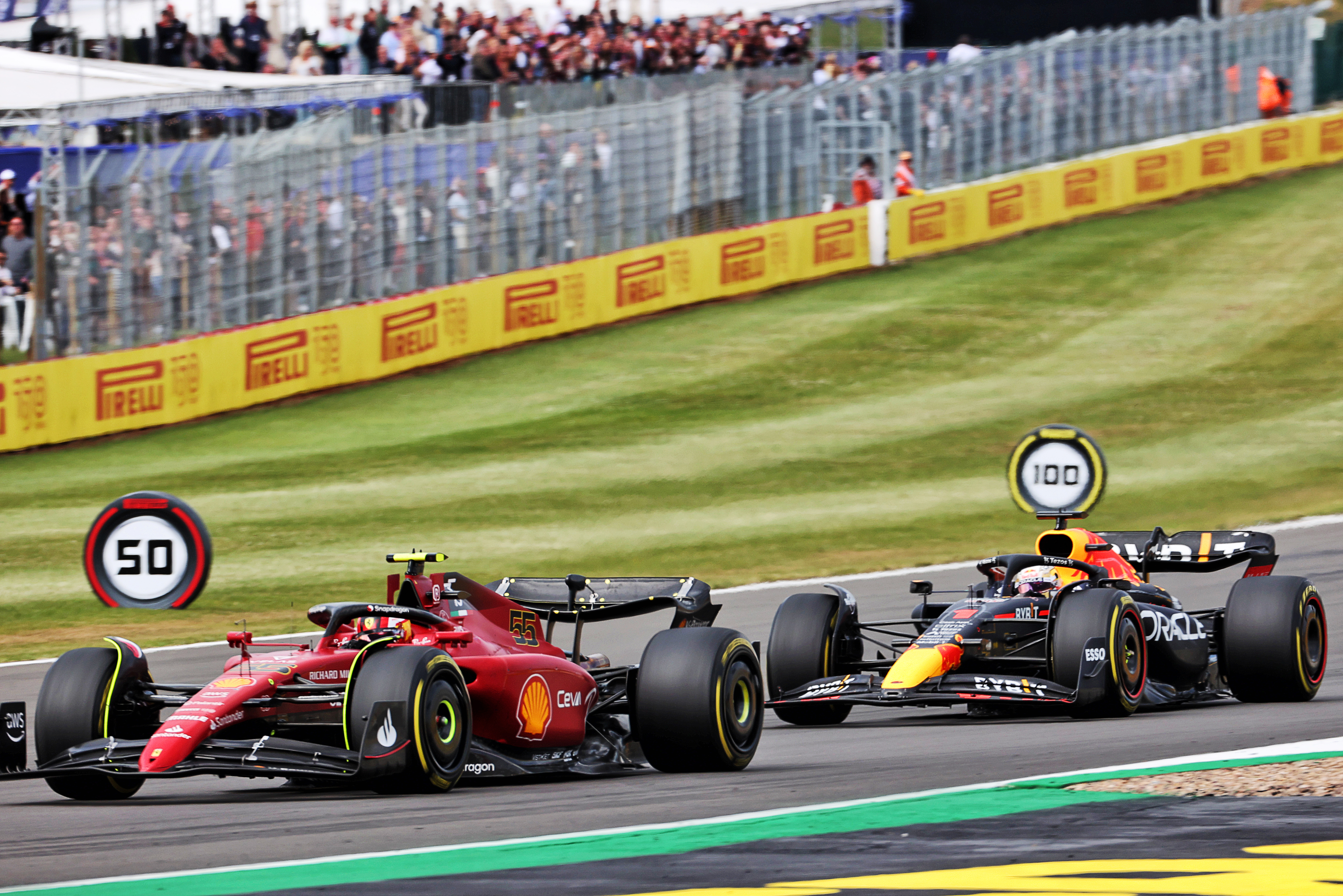 But after seven laps of intense pressure, reality dawned on Sainz. "He's a bit quicker," he reported.
Another lap and Sainz, pushing hard to stay ahead, ran onto the run-off around Becketts-Abbey, and Verstappen sailed past. That looked like that – the basis of a straightforward Verstappen victory.
But that's not what we got either. Gasly and team-mate Yuki Tsunoda clashed at the Village loop and left debris all round the place. Verstappen picked a great lump of it up just a lap after taking the lead.
"The whole left-hand side underneath is completely ruptured," he reported after the race.
"Like, everything is gone. Because, once I got into the lead after Carlos made a mistake, like a few corners later in Turn 5 there was a piece of carbon, but by the time I was there and it was on the racing line, I could not drastically move left or right, so I tried to just hit it head on, but instead it just went into my floor and it just destroyed everything."
So into the next phase: the Sainz-Leclerc struggle, the latter clearly faster despite missing much of his right-hand front wing endplate from contact with Sergio Perez on the second start.
"When I broke the front wing and I thought that was over," recounted Charles. "There was quite a lot of understeer, then I managed to play around with my toggles and managed to have a bit more of a strong front, and the pace came back and we were very strong."
Strong enough – as recounted – to be allowed past Sainz under team orders.
Leclerc's touch with Perez had brought Checo into the pits for a new nose on lap four and his afternoon was then a long slog from low down but coming on increasingly strong and then given the present of the safety car for his late tyre stop.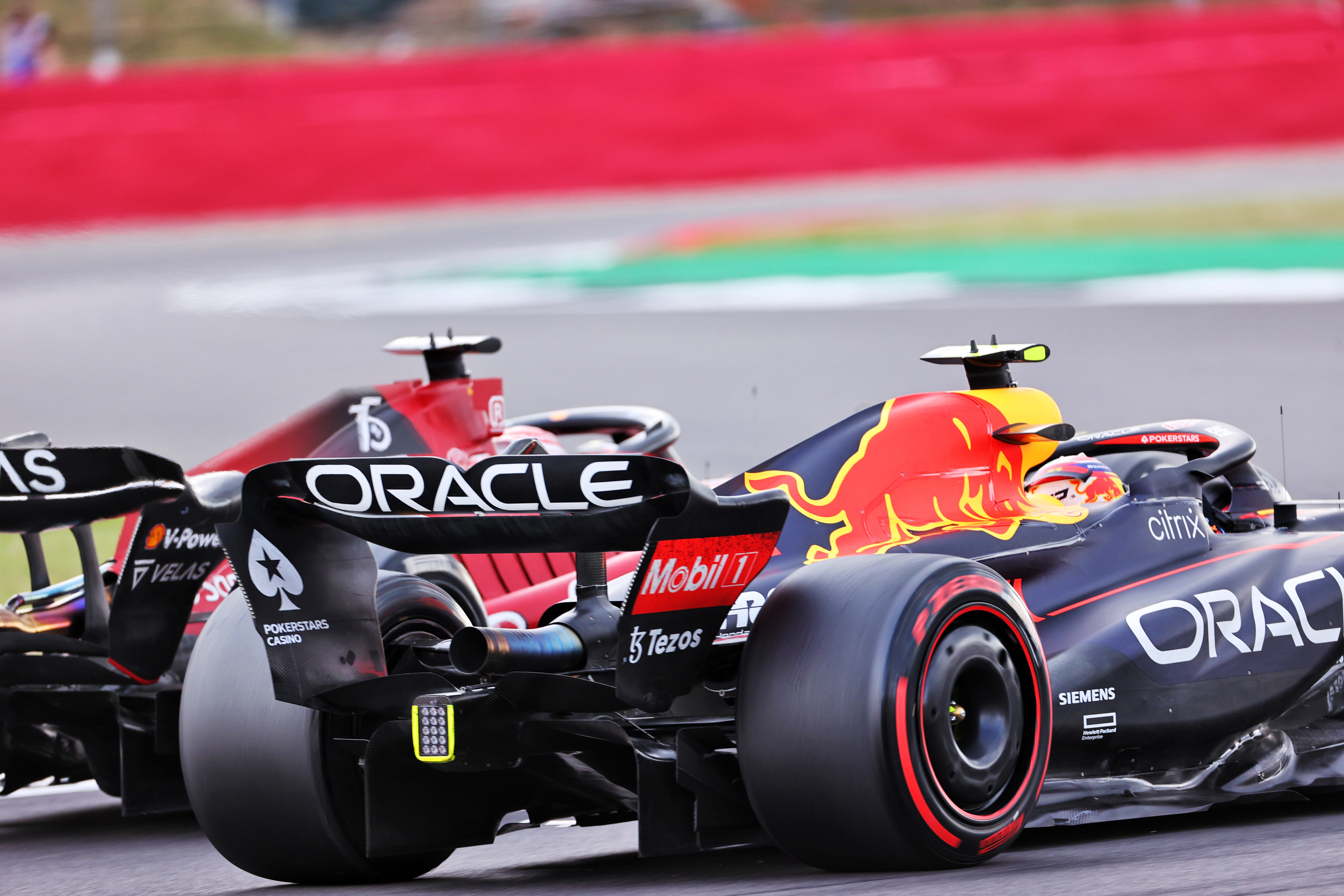 With tyres that switched on instantly and strong straightline speed, he was dynamite on the final restart, scything past Hamilton and eventually forcing his way by his first lap nemesis Leclerc to take a great, feisty second. Not always polite in battle, and taking a shortcut in his dice with Leclerc which received no sanction. But tough and resilient, as always.
But he was never a threat to Sainz who took only three corners to pass Leclerc once the race was underway again on lap 43, with just nine laps to go. Leclerc's amazing – but ultimately doomed – defence against the new-tyred Perez and Hamilton gave Sainz all the cushion he needed to sprint away to that first victory at the 150th time of asking.
"I struggled quite a bit with the balance, especially on the first stint, with the medium tyre. Max was forcing us to push through the high-speed. I opened the front left, but even with all that, I stayed believing that it could still happen," related F1's latest race-winner.
"I needed to stay in the race, like I was trying to, and then all of a sudden the safety car gave me the opportunity to get back on it and yeah, we did it. You can imagine the nerves on that safety car restart knowing it was my chance and getting it done."
Leclerc could – and did – feel that Ferrari's choices lost him a heap of race time unnecessarily. Fourth place was poor reward for a sometimes heroic drive, notably his around the outside repass of Hamilton at Copse, corrected easily enough by Hamilton under DRS a few corners later.
Leclerc resisted the chasing Alonso and Lando Norris at the flag, while Verstappen took seventh place points, fending off Mick Schumacher's Haas (his first points), with Sebastian Vettel and Kevin Magnussen completing the scorers.
But it was Sainz who got it done. With that monkey off his back, what might he go on to achieve?