The first time George Russell had a winning calibre Formula 1 car was at Sakhir in 2020 and only a puncture prevented him from instantly converting that to victory.
Mexico two weeks ago was the second time but that chance was blown with the wrong tyre strategy.
Around Interlagos the Mercedes was just as good as at Mexico City, but with the added bonus this time of the correct tyre choice – and of a Red Bull some way out of its sweet spot. That just left Lewis Hamilton to deal with…
Russell had outqualified him, used that as the foundation to beat him in the Saturday sprint race, beat him off the line on Sunday, left him to have a clash with Max Verstappen which lost Hamilton many places.
Hamilton recovered and eventually got himself back up to second, but he was a long way behind so all looked serene for Russell. He really was going to take his breakthrough grand prix victory.
Then came a lap 55 safety car for Lando Norris's broken-down McLaren and suddenly that comfortable margin was gone.
"Are we racing?" Russell asked the team as they circulated waiting for the restart, the two Mercedes now glued together, "or are we taking the 1-2?"
It was a fair question and worth an ask but he knew what the answer was going to be, because this exact situation had been discussed in that morning's debrief.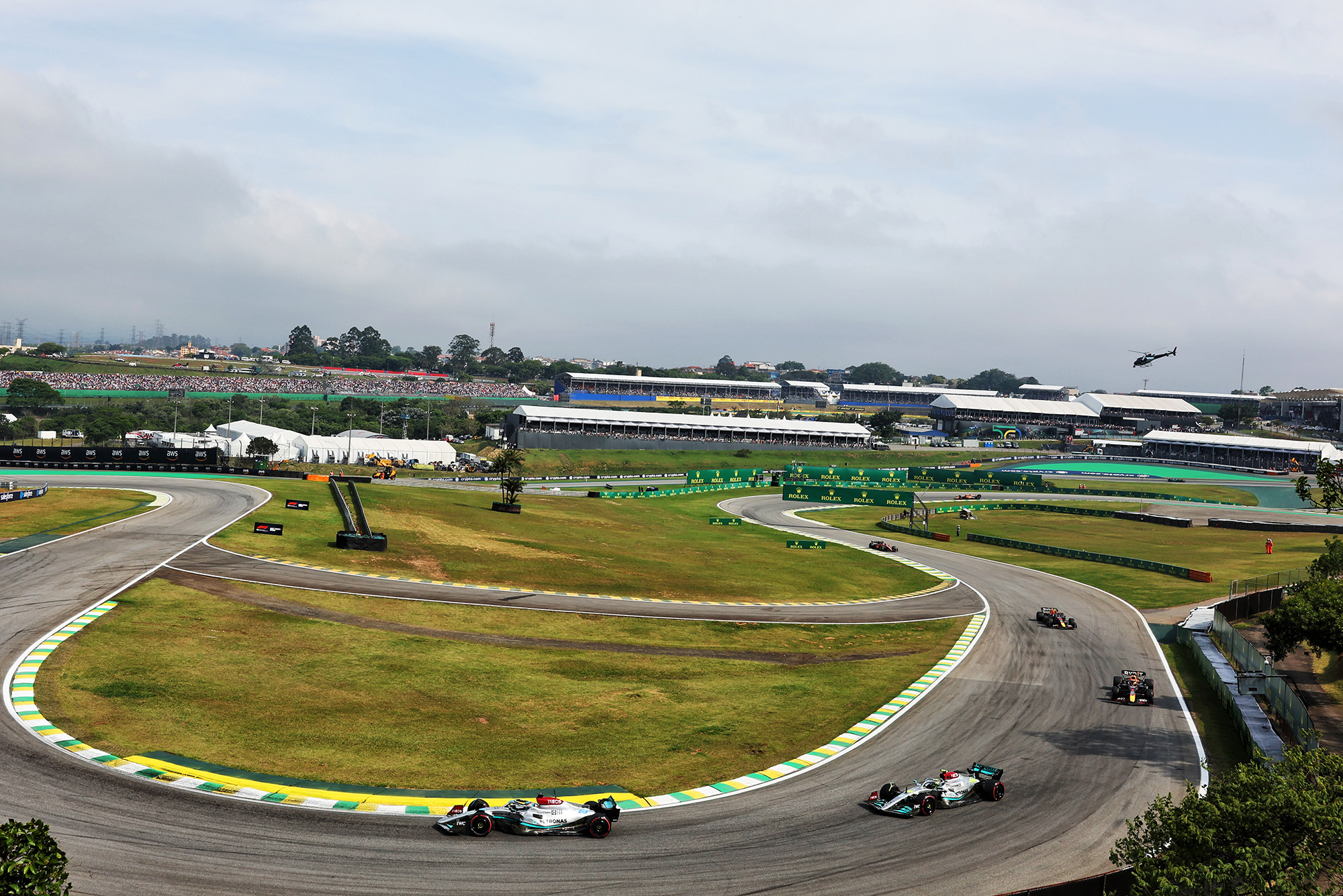 Eleven laps to go, the only thing between you and your first grand prix victory: Lewis Hamilton in the same car on similar age tyres right behind you, with a lower wing setting and no team orders… it was a time for calm but steely resolve.
But before we get to how that played out, there's the matter of how come Mercedes was in a position to even be discussing in the pre-race debrief what would happen if it was running 1-2?
Sure, it had secured the front row courtesy of Russell's sprint win, Hamilton's third and the five-place power unit penalty of the car which split them in that event: Carlos Sainz's Ferrari. But where was Red Bull this weekend?
The RB18 was in an unhappy place and so ultimately was the team. Verstappen's refusal to hand back the sixth place Sergio Perez had given him to aid his chase of Fernando Alonso at the end – for reasons he'd already explained to the team back in the summer, he said – caused some internal ructions. They talked it all through afterwards and cleared the air, so they said.
But the bigger point was, why they were scrabbling about behind Mercedes? Had the Mercedes become even better than in Mexico?
The W13 was in the exact same specification as at Austin and Mexico City. Recall that in Mexico it was pretty much as fast as Red Bull but Russell blew his final lap on Saturday and the team chose the wrong tyres on Sunday.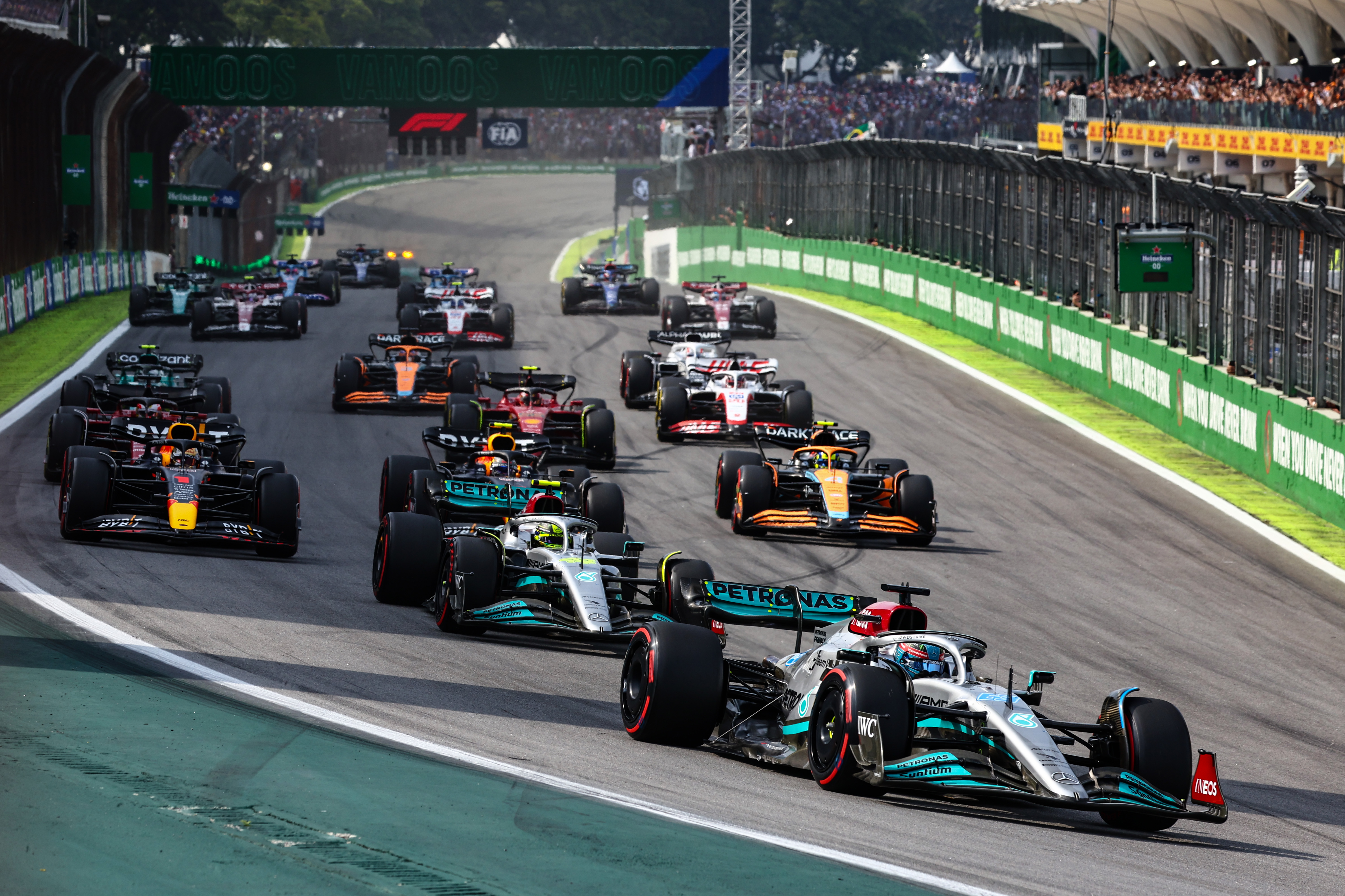 Here was the rematch, but this time the Red Bull had no front end, could not get the front and rear tyres working in harmony. So we had a fully fit Mercedes versus an out-of-sorts Red Bull, both Verstappen and Perez bemoaning that their front tyre degradation was way too high.
Hence Verstappen's choice of medium for the sprint – which only compounded his problem, because the medium was not a good tyre here. It just meant he had an initially slow tyre and too much degradation. Hence his fourth place in the sprint, having led the early going.
But starting the main event from row two, and this time starting on the softs, he was running an initial third. There was a safety car for the accident resulting when Daniel Ricciardo optimistically tried to pass Kevin Magnussen for ninth place into Turn 8 on the opening lap. It lasted for six laps and the restart played a decisive part in shaping the race.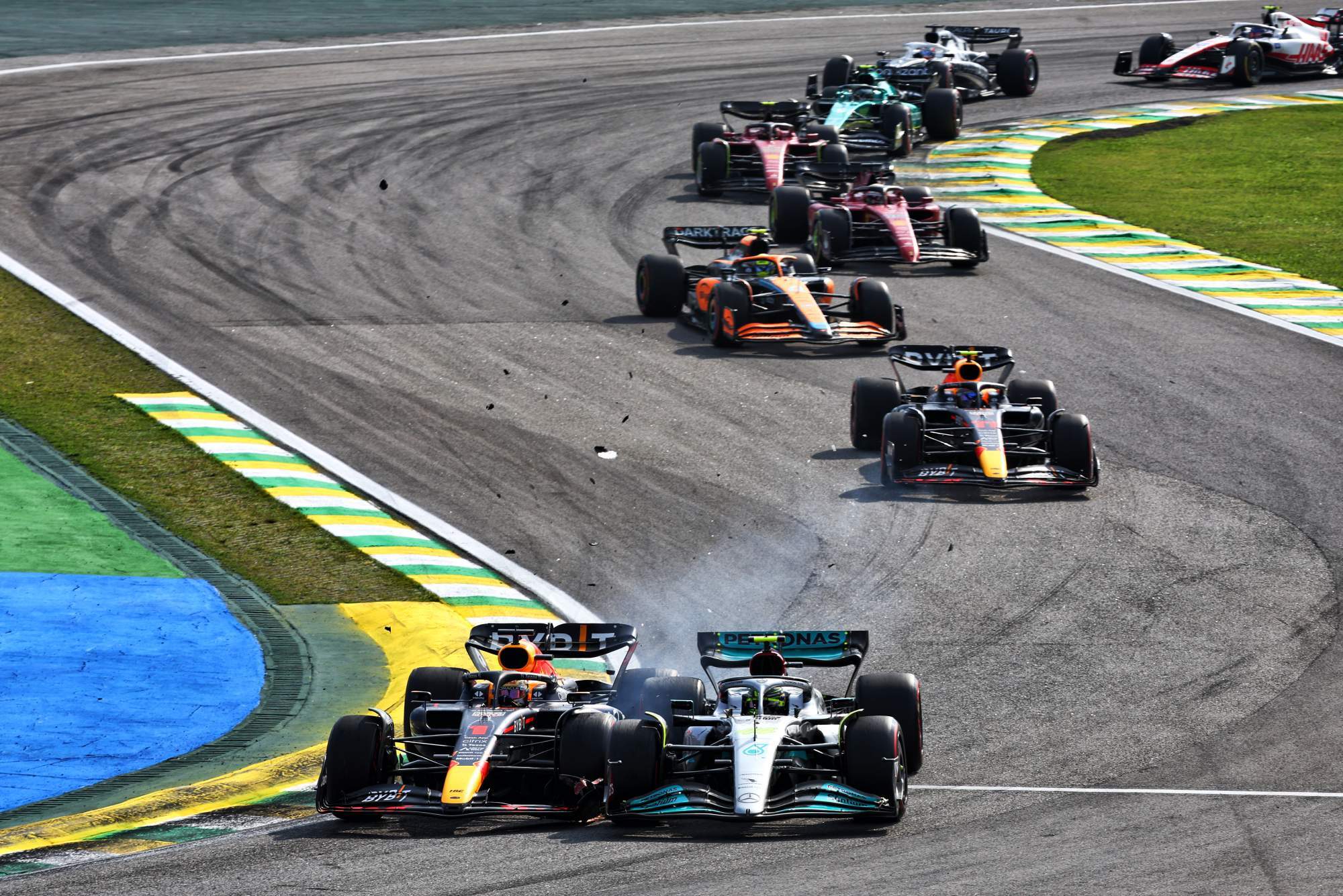 The collision resulting from Verstappen's attempt at taking Hamilton's second place around the outside of the first part of the Senna S and Hamilton refusing to give him room into the switchback of Turn 2, took Verstappen completely out the picture, sending him pitwards for a new nose. Although the nose was changed in just 10s he rejoined at the back along with Charles Leclerc's Ferrari which had been pitched out of fifth place into light contact with the Ferradura barriers on the restart lap by Norris. Hamilton lost only a few places, and he quickly repassed the slower cars to be running fourth.
But in Verstappen's comeback drive, did we see the pace which would have won him the race were it not for the incident? No, we didn't – and Verstappen insisted the car wasn't damaged. That's just the pace it had, a vital couple of tenths off Mercedes. Unbalanced and with poor tyre usage. Coming out of Juncao at the bottom of the hill slower than the Mercedes, without as much traction, it took until almost the end of the pit straight before its lower drag was allowing it to travel faster. So it wasn't even making its usual gains on the straight.
Even the Ferrari had the edge on the Red Bull here, with Sainz taking a good third, hanging on not far behind the Mercedes with an unusual offset tyre strategy and three stops.
Both Ferraris started on the mediums, the team believing the hotter conditions of race day might have made the soft a little delicate on full tanks. But the others showed that not to be the case.
From his penalised seventh place grid position Sainz benefited from the Hamilton/Verstappen and Leclerc/Norris incidents, quickly picked off Norris and ran behind the soft-tyred Perez, who was running an increasingly distant second to Russell and dreading the fact that his next two stints would be on the mediums because these were his only set of softs. That would later prove to be an expensive misjudgement.
Sainz meanwhile could feel he had a braking problem, could feel the right-rear tyre overheating and the team could see the right-rear brake temperatures rising. A visor tear-off had become stuck in the brake duct. He didn't like the mediums anyway and so was relieved to be called in early (on lap 17 of 71) to have the blocked duct attended to – and to take his new set of softs. But coming in so early meant a three-stop now looked necessary.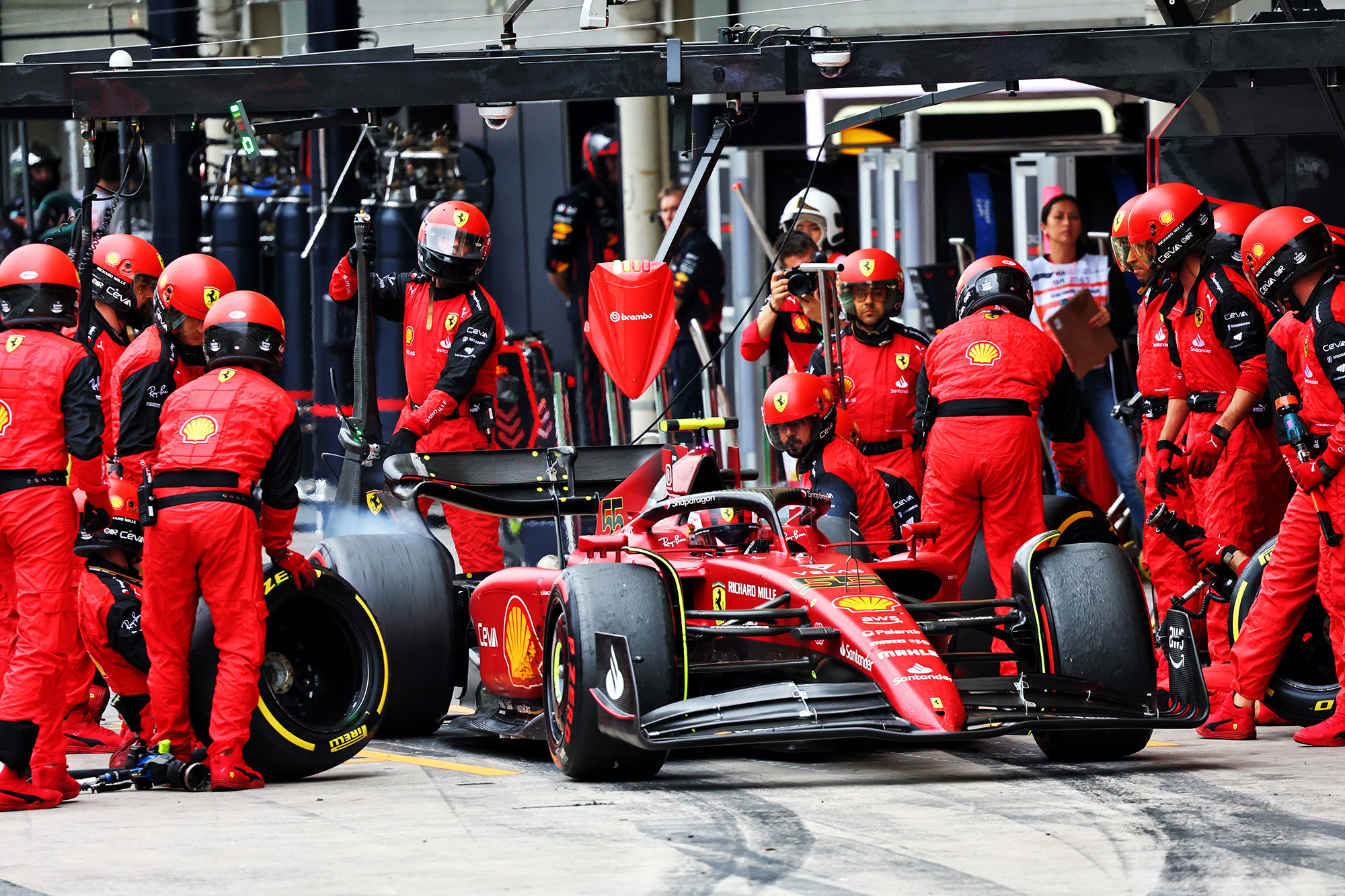 He didn't have the pace to hold off the advancing Hamilton – and neither did Perez. Sainz lost position to the Mercedes when in the pits but Perez was passed in the second stint on-track. With 26 laps to go Hamilton had got back to where he'd been before the Verstappen incident (for which the Red Bull driver took a 5s penalty, served at his next pitstop).
But Perez's race was really damaged by having to take another set of mediums at his second stop while the Mercedes were able to go soft/medium/soft. As the Mercedes left him well behind, Perez's ongoing struggle was with Sainz as their differing strategies interweaved. Sainz was ahead after the second stops but knowing he would be taking a third.
A VSC on lap 53 for Norris's dead McLaren to be moved allowed Sainz to take that third stop at a 10s saving. When that VSC became a full safety car as the marshals struggled, so Sainz on soft tyres was right on the medium-tyred Perez's tail. Checo would be a sitting duck.
But would Russell? Here's where we came in, with Russell having asked his question and received the answer he was expecting: "You are racing." For the win, for the first grand prix win of his career. For the status of who would record Mercedes' first victory of this difficult season.
"Yeah, definitely tricky, for sure," he said. "But you just have to go through the process and treat it as if it's any other. There was a sort of a moment in the race where I was looking a lot at my mirrors, you know, seeing Lewis there, but I sort of realised I just need to look forward now.
"And the only way I'm going to win this race, is by looking ahead, driving as fast as I can, making no mistakes. And my engineer was on the radio, giving me the gaps, probably four times a lap. And it was always between 1.1s and 1.3s, 1.1s, 1.4s, 1.1s. I just wanted that little extra half a second buffer. It was only when I came into sector 3 on the last lap that I knew we'd got it."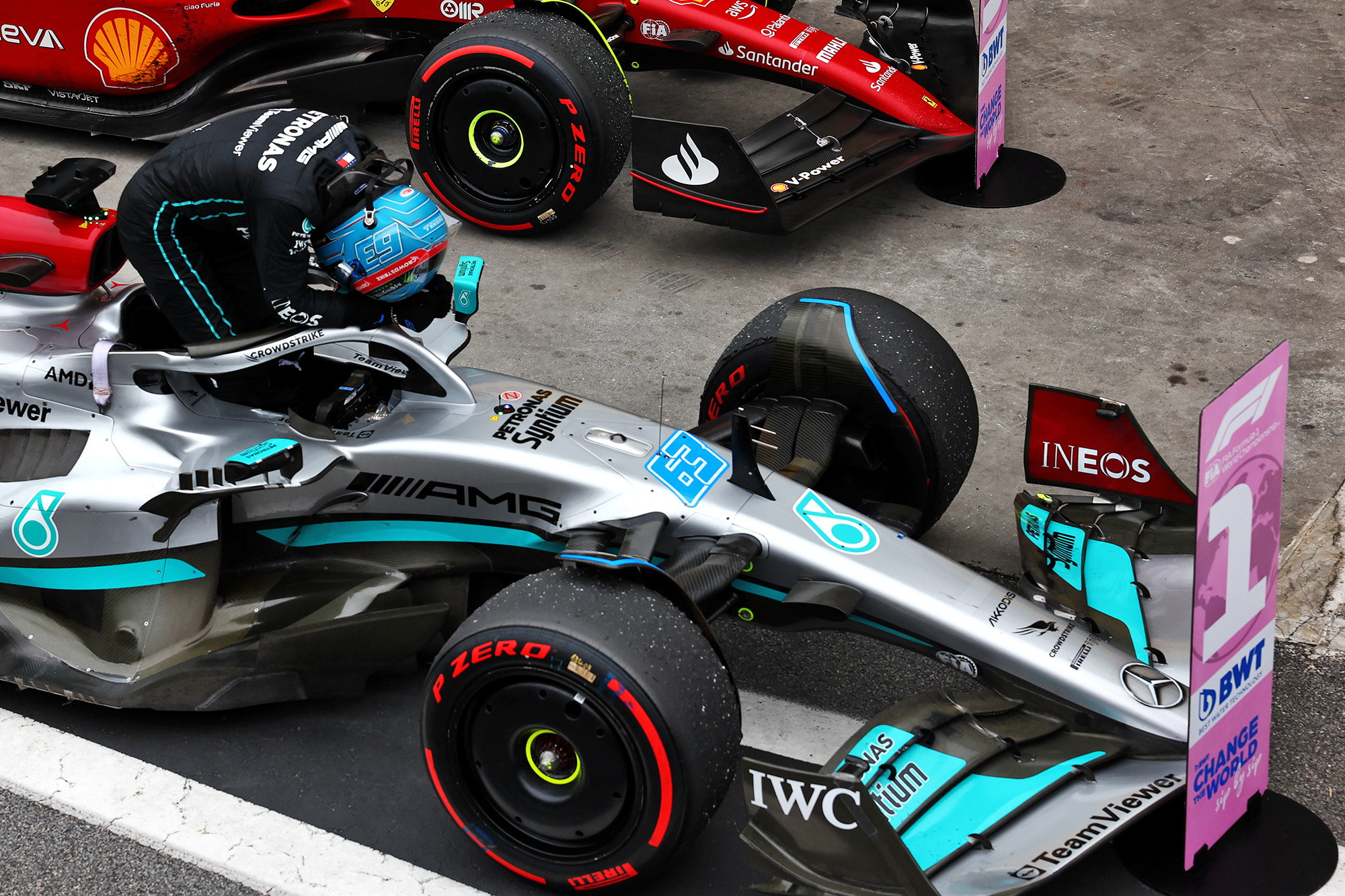 It was an impressive piece of mind management as he literally got his head down and squeezed a sequence of qualifying-style laps from the car, with Hamilton flat-out in his wake, never quite within DRS reach.
That safety car had been a great present to Ferrari, for it brought the recovering Leclerc into play too. He'd made it up to a distant sixth, behind Valtteri Bottas's Alfa Romeo. But that sixth place was no longer a distant one and upon the restart he quickly dispensed with Bottas and followed Sainz through past the gripless Perez before then requesting the team it move Sainz aside, a request that was refused.
Perez wasn't the only one left reeling at the restart. The Alpines of Esteban Ocon and Alonso mugged the medium-tyred Aston of Sebastian Vettel for seventh and eighth. Seb would subsequently be passed by Verstappen and team-mate Lance Stroll and thereby bundled out of the points.
After passing the Aston Martin, the new-tyred Alonso was then allowed past by Ocon (under stern instructions after their double clash in the sprint). They both then passed Bottas, with Alonso demoting Perez a further place.
The bad news just kept coming for Perez as he was asked to allow Verstappen – who'd just picked off Vettel – past through on the promise he'd get the place back if Max couldn't get by Alonso. A broken promise.
But Russell's promise was finally delivered on. It was a flawless performance delivered from the front.