Max Verstappen's Red Bull Formula 1 car was so overwhelmingly faster over a race stint than Charles Leclerc's Ferrari that it didn't really matter that the former started seventh and the latter from pole at the Italian Grand Prix.
The power unit grid penalty Red Bull had decided to take even made its race day advantage greater as it relieved the pressure to fight for pole, making the bigger wing choice and the greater tyre protection it brought a yet-more comfortable one.
But Ferrari had a few thin hopes to cling to.
It may have taken Verstappen too long to clear the traffic between him and the Ferrari: it didn't. Verstappen was up to third by lap three and past George Russell's Mercedes two laps after that. At which point Leclerc, on the same soft tyres, was only 2s ahead.
The Ferrari may have been as quick as the Red Bull once Verstappen was up to third and on the same soft tyres. It wasn't. The Ferrari was degrading its left-front far faster than the Red Bull and that's only partly about the respective wing levels each car was carrying.
There was a brief couple of laps where Verstappen wasn't catching, but that was just him recharging his battery and not being able to fully deploy. Thereafter he was catching fast and surely about to devour the Ferrari.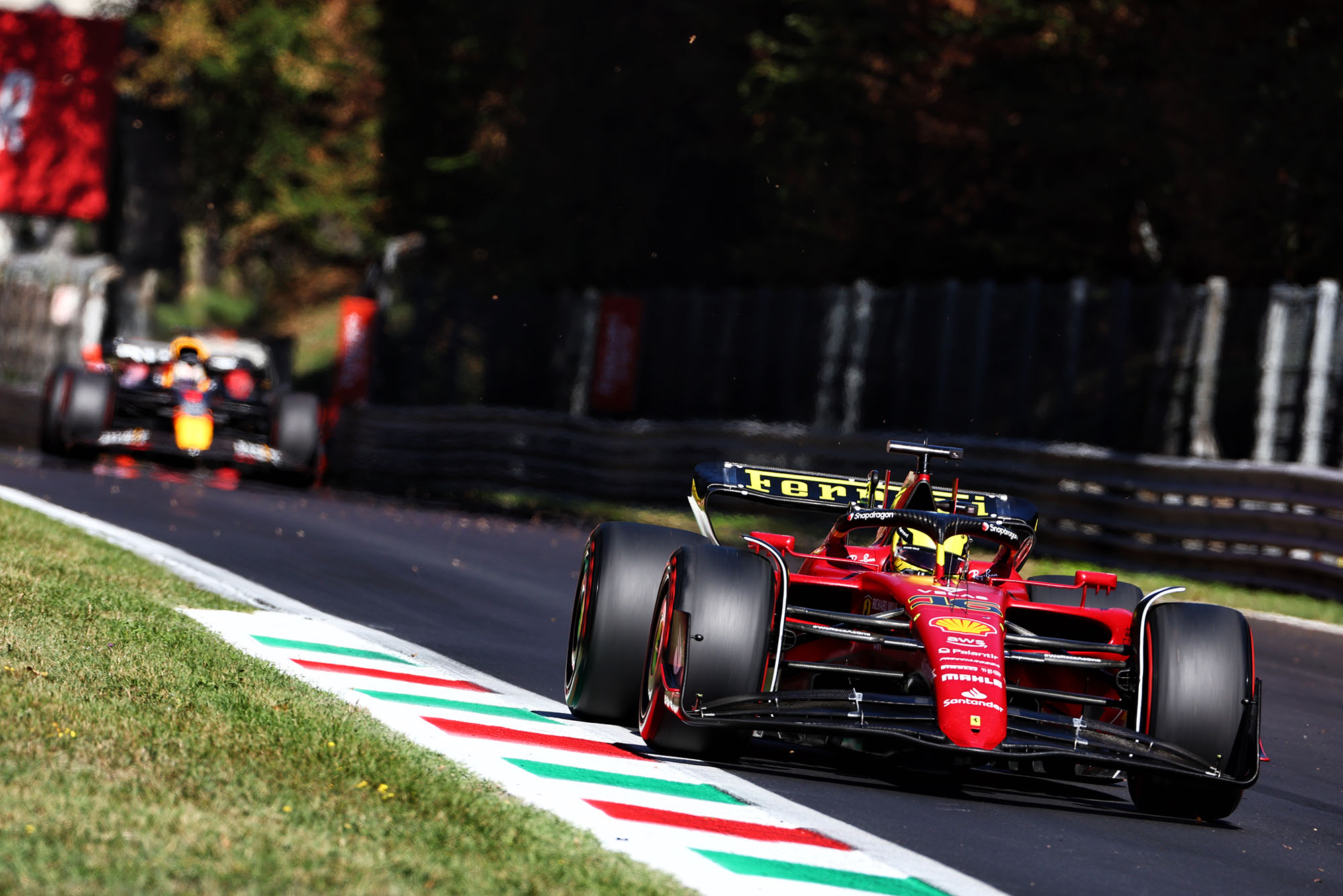 Ferrari may have been given a race-winning break by the lap 12 VSC for Sebastian Vettel's broken-down Aston Martin. Just as Verstappen was getting into DRS reach, the VSC allowed Leclerc to pit at a saving of 10s over a normal stop – and with Verstappen (and everyone else) staying out, it may have allowed him to maintain track position after Verstappen pitted, 13 laps later. It did – but: his medium tyres 13 laps newer than those of Leclerc, Verstappen was cutting into what was a 10s advantage at between 0.5-1.0s per lap.
With half the race to go, no more stops, newer tyres and much lower tyre deg, he was comfortably going to catch and pass the Ferrari well before the end.
Surrendering on staying ahead of the Red Bull while remaining on a one-stop strategy, Ferrari – with Verstappen once more having got to within DRS range – pulled Leclerc in 20 laps from the end, switching to a two-stop late enough to get him onto softs.
On tyres of a softer compound and seven laps newer, this may have been enough to have caught and passed Verstappen. It wasn't. Nowhere near. The Ferrari on new softs was barely any faster than the Red Bull on older mediums, a tenth here and there, no more.
That was the extent of Verstappen's performance superiority, in his big-winged (for Monza), tyre-preserving and – above all – aero-efficient Red Bull.
Despite Leclerc's pole, Ferrari wasn't even within reaching distance. It was an illusion the tifosi could enjoy for a while only thanks to Verstappen's grid penalty. The reward for which is an extra power unit in his pool for the remainder of the season, without it even costing a victory.
"We've honed the car, managed to understand it pretty well," said Christian Horner.
"It's very efficient on the high-speed, lower-drag circuits. Spa was very good for us, here the car was strong.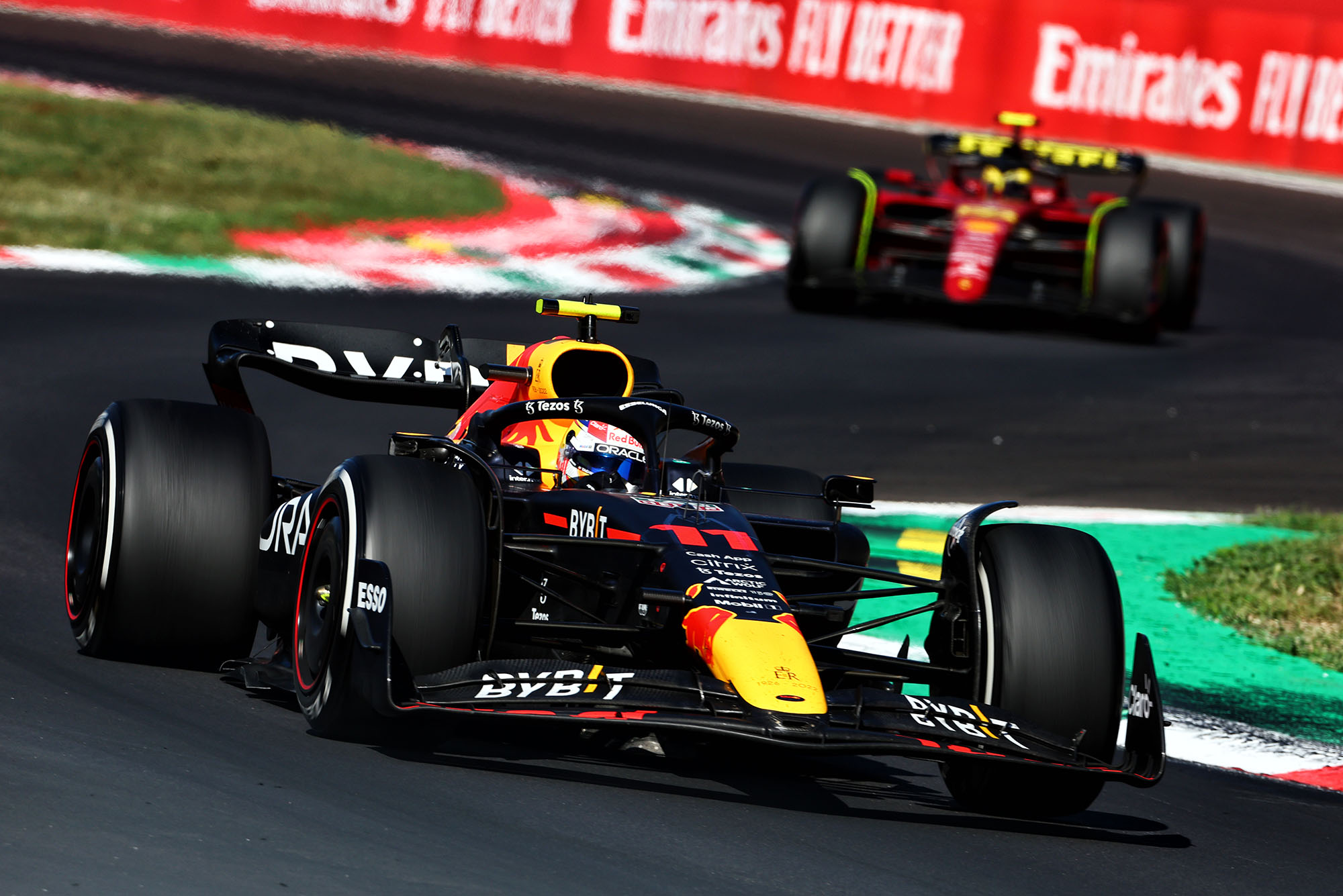 "We compromised qualifying a little bit knowing we were going to take the penalty and that paid off well. We had tremendous pace and the tyres were in good shape."
That aero efficiency allowed the bigger wing which in turn contributed to tyre degradation so much lower than Ferrari's. And accentuated by the Ferrari's difficulty with the front-left.
Russell took a somewhat uneventful third, in no man's land, the Mercedes not the Ferrari-match it had been at Zandvoort and with Lewis Hamilton starting the other car in 19th after various power unit penalties, the final podium was always likely to be Russell's.
Like Leclerc and Verstappen, he started on the softs. He was forced out over the kerb at Turn 1 by a ruthless Leclerc, was easily outdragged by Verstappen a few laps later then just settled into his own race.
Mercedes put him on a set of hards just to be different. But the C2 was not a good tyre here, capable of doing the whole race but simply slow.
"We weren't planning on running the hard originally," explained George. "But we just felt like we had to do something different to Max and Charles."
On these tyres he was being caught at around 1.3-1.5s per lap by a soft-tyred Carlos Sainz from 8s behind with seven laps to go. Which was a good Sainz recovery from his penalised 18th on the grid.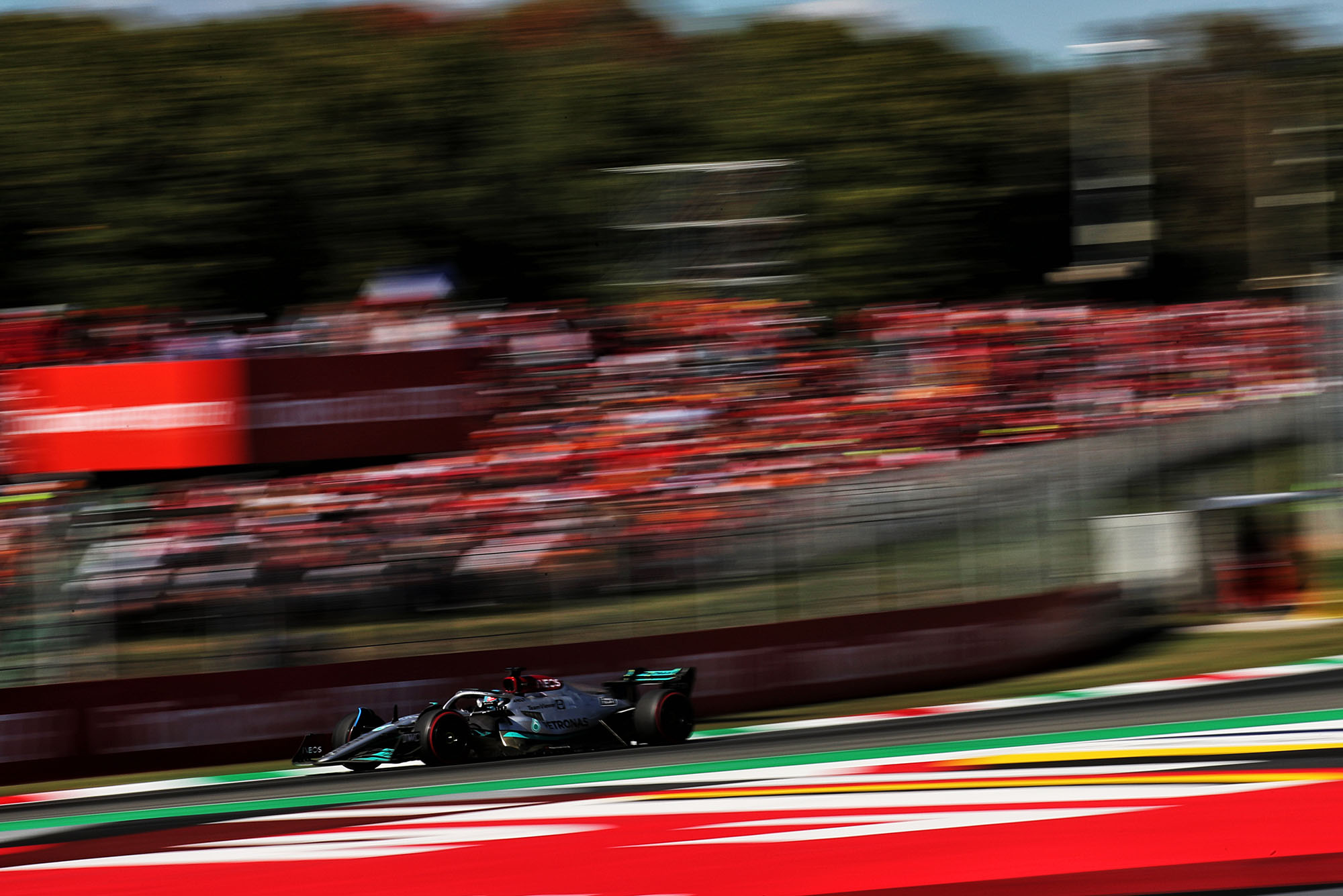 "I think we had that pretty well covered," says Russell. Sainz – who wanted to get onto the softs far earlier than he did, on lap 30, disagrees and Ferrari's numbers suggested it would have been neck-and-neck across the line for third. But then…
A similar crescendo-at-the-end sort of contest was brewing between Hamilton – who'd gone long enough on his original mediums to switch to softs – and Sergio Perez (starting from a penalised 13th) for fifth.
Hamilton's recovery from the lowly grid position had gone a lot more smoothly than Perez's. Checo got caught up in an early dice with Sainz during which time he'd badly locked his front tyres. The resultant flat spot-induced vibrations were taking the tyre's construction to dangerous levels. That and a piece of debris blocking his front-right brake duct led to him being pitted as early as the seventh lap, which put him last by a long way and with several lift-and-coast laps to prevent the on-fire brakes from disappearing altogether.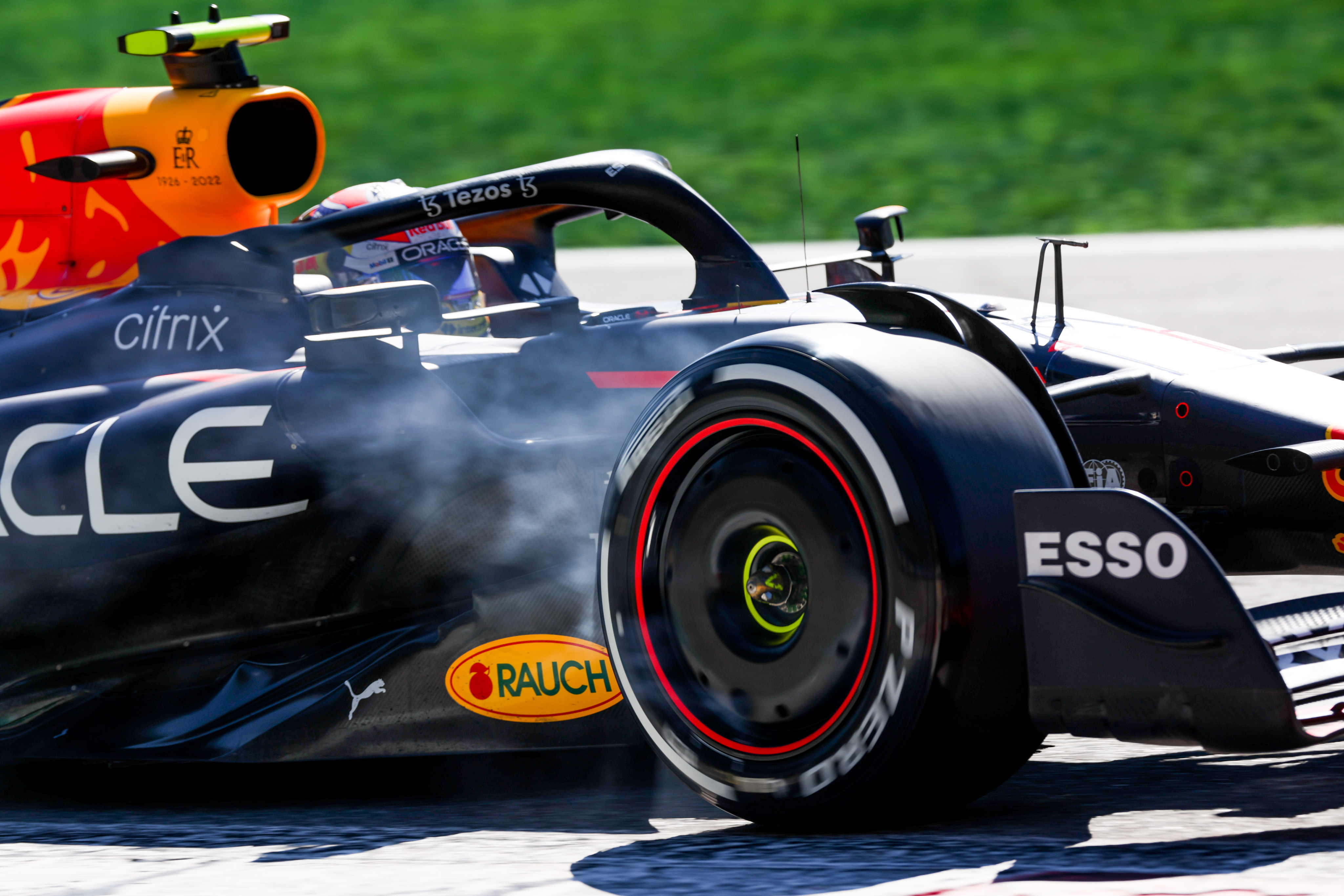 He did a very long stint on the hards planning to one-stop but with the newer soft tyred Hamilton gaining on him, he was brought in again for a set of softs. On rubber nine laps newer than Hamilton's he was catching fast enough to have been somewhere near at the end. But then…
But then. What's this? Another sliver of hope for the tifosi? A safety car for Daniel Ricciardo's broken-down McLaren, which has chugged to a halt stuck in gear, between the two Lesmos with five laps to go.
So that was Verstappen's hard-won 16s lead wiped away. Could this present an opportunity for Leclerc to steal it on the restart? It would have been a long shot, what with the other driver being Verstappen and the fact Max had a brand new sets waiting for him as almost everyone took the opportunity to pit, while Leclerc's fresh softs had been used in qualifying.
As it was, even that small hope of the crowd was extinguished when the safety car procedure swallowed up all the remaining laps, complicated by it picking up third-placed Russell initially and the delays that caused in bunching the field.
The gap between the flat-bed truck with cherry picker being deployed (lap 51) and the end of the 53-lap race, plus the requirement for the bunched field to do a lap behind the safety car (ie what did not happen in Abu Dhabi last year, but which the rules did require) meant they ran out of time and the race finished to cat calls under the safety car.
So that didn't rescue Ferrari's day any more than any of the other slim hopes had.
Verstappen was booed on the podium and for sure he felt that, but it had been a fantastic day for him regardless.
"Today was very hot and we could really look after our tyres," he said.
"Of course, it helped a lot that I had a great first lap, and I could clear most of the cars before they got into, let's say, a DRS train.
"And, yeah, from there onwards, basically, both tyres sets felt great and I could extend the first one a bit. And even on the mediums, everything worked out really well."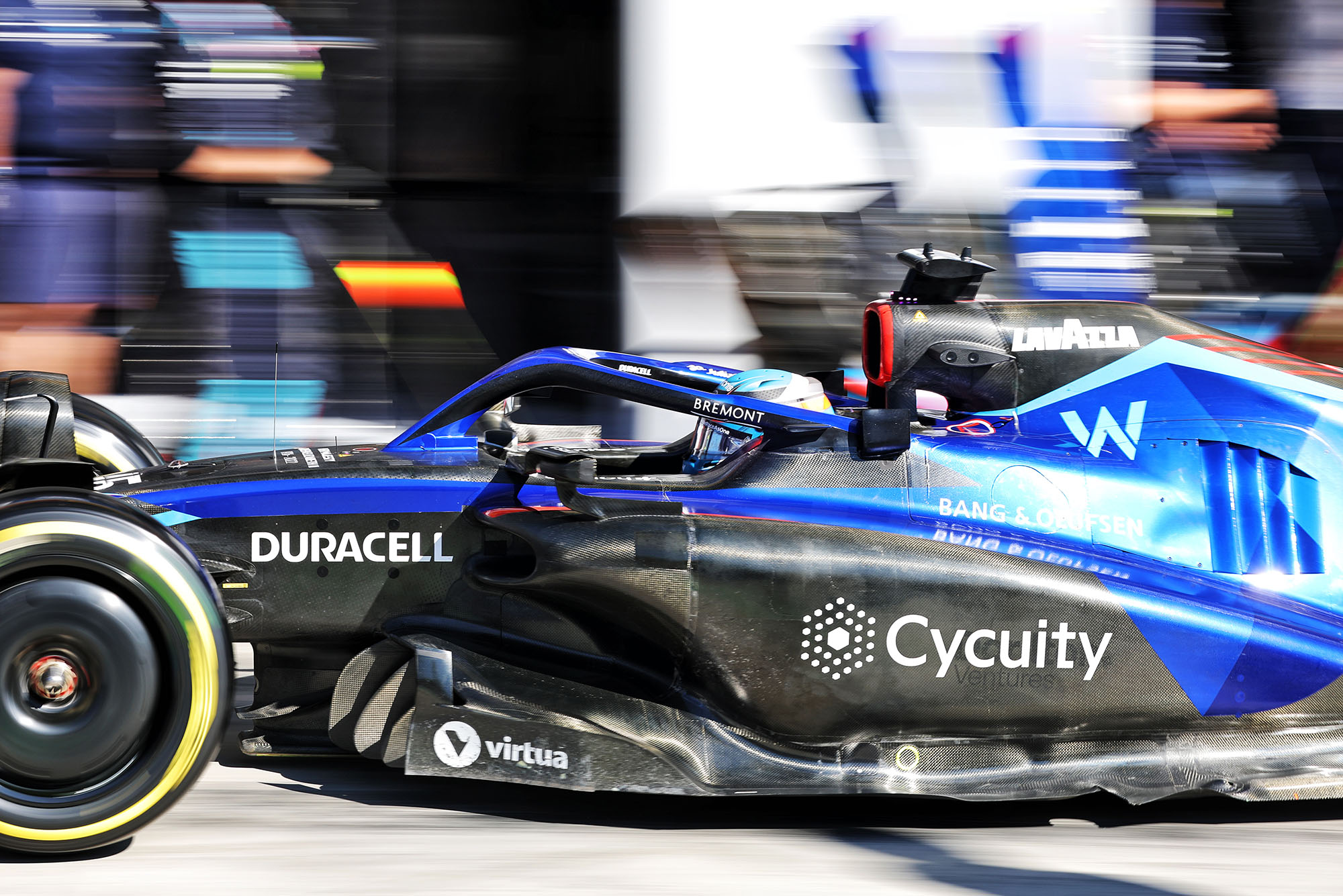 He was also very happy for his friend and countryman, grand prix debutant Nyck de Vries. His late-notice stand-in for the incapacitated Alex Albon at Williams was incredibly impressive and garnered him a ninth place finish, having kept company with Lando Norris (software-induced bad start and subsequent recovery), Fernando Alonso (water leak-led retirement) and Pierre Gasly ahead of him while fending off Zhou Guanyu.
All this and getting the start right, keeping the tyre temperatures monitored, outqualifying team-mate Nicholas Latifi to make Q2, he truly grabbed the opportunity with both hands and has probably ensured he will be an F1 regular next year as a result.