Esteban Ocon "gave a little back" to Fernando Alonso with his hindering of Sergio Perez during the Qatar Grand Prix, helping his Alpine team-mate – who had asked him to "defend like a lion" to take a first Formula 1 podium finish in over seven years.
The debt Ocon repaid some of was to Alonso's 11-lap defence against the charging Lewis Hamilton in the Hungarian Grand Prix. The time Alonso cost Hamilton was crucial in protecting Ocon's lead, and therefore key to the Frenchman's first grand prix win.
While Ocon's defence in Qatar was more perfunctory, the track configuration and tyre offset meant he had little chance to do more. But he estimated it cost Perez around three seconds – a significant figure given Alonso's advantage at the chequered flag was just under that margin.
"I came on the radio saying how far in front is Fernando and the team said 'all you need is to basically defend now'," said Ocon. "I said 'yeah, that's why I was asking, I am aware of the situation' – so I wanted to do my best to try and slow down Checo as much as possible for him not to be able to attack Fernando towards the end.
"The virtual safety car came in the end, so there was no need of that but I slowed him down a good three seconds and that was what we needed.
"It was not as easy to defend as Budapest because the straights are longer and he [Perez] was on fresher tires, so it was a different set of circumstances. But I'm glad that I played my part and I gave a little bit a bit back of what Fernando gave me in Budapest."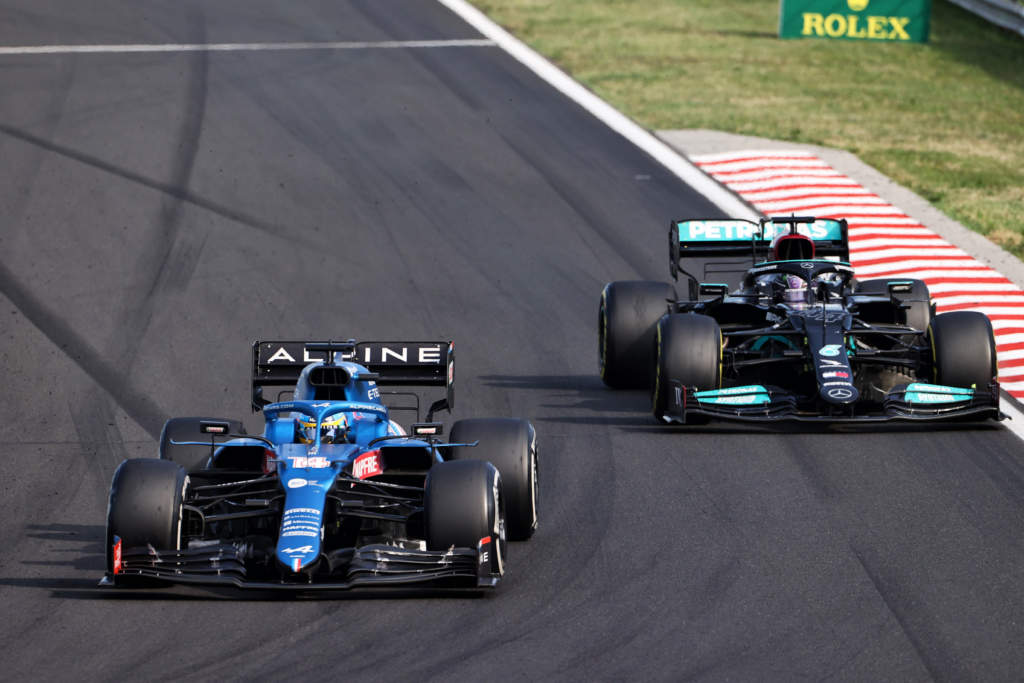 So how much difference did Ocon really make? It's not as easy to quantify as what Alonso did at the Hungaroring, where the gap between Hamilton and Ocon clearly flatlined for 11 laps, but there was a genuine effect.
Perez dropped into Ocon's sphere of influence when he made his second pitstop at the end of lap 41, dropping from third place to seventh behind Ocon and Lance Stroll's Aston Martin.
While Perez complained about the decision to commit to a two-stop strategy over the radio and felt it cost him third, he did say after the race that "we played it safe with the explosion of the tyres".
When Perez left the pits, he was just under 4.5s behind Stroll, with Ocon a further two seconds up the road. At this point, Alonso was in third place and 20s ahead, but on 18-lap-old hards compared to Perez's mediums, which had just three laps on them from qualifying.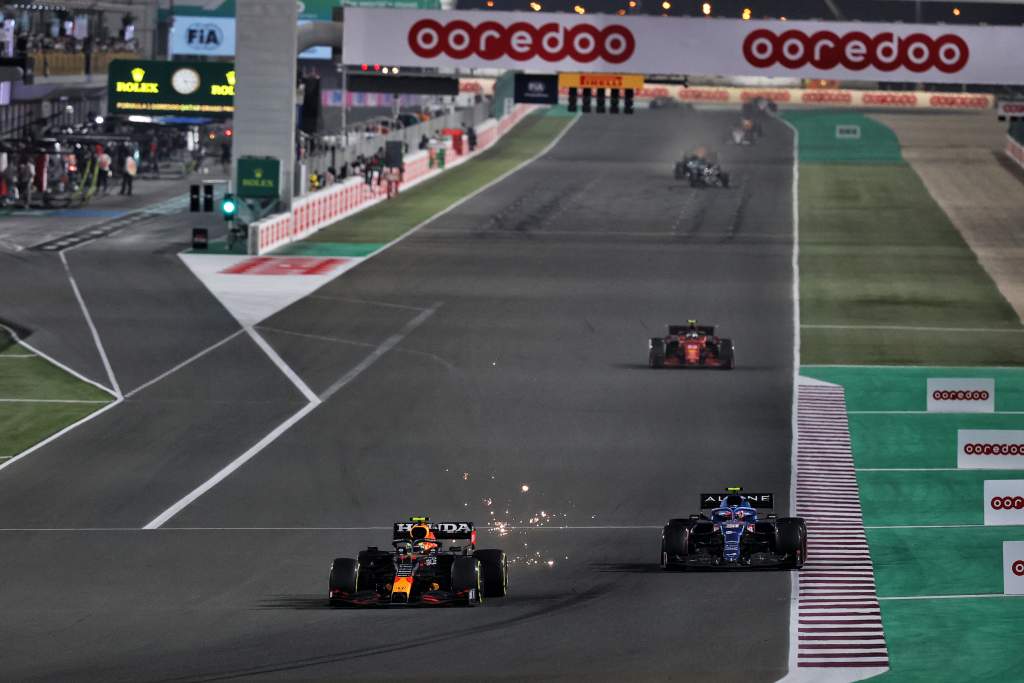 Realising the situation and the potential for his team-mate to assist him, Alonso said "tell Esteban to defend like a lion". The phrasing echoed what Ocon had said in the post-race press conference after winning at the Hungaroring, where he described Alonso as "fighting like a lion" against Hamilton.
With Stroll around between 1.5 and 2s behind Ocon, the Alpine driver was dictating his pace. It didn't take long for Perez to close the gap, picking up the DRS for the first time at the end of lap 45. He overtook Stroll using the DRS at the start of his 46th lap, at which point he was one second behind Ocon.
Perez then attacked Ocon using the DRS approaching the first corner next time round. Ocon defended the inside line, forcing Perez to go around the outside. Although he appeared to have made the move, Ocon had a good exit and was able to come back at Perez around the outside of Turn 2.
That move didn't come off, but it did mean he was in a position to attack again around the outside of Turn 4. Again, that didn't work but it did cost Perez time. So the defence, while brief, did mitigate the time Perez took out of Alonso, as well as forcing the Red Bull driver to be a little more aggressive on the tyres than he would have liked to be – and deplete his battery. Ocon had certainly made good on the instruction he was given to get his "elbows out".
Once he'd made the move, Perez was 16s behind Alonso so had still closed the gap on the Alpine driver while working his way past Stroll and Ocon. But without the hindrance, it's not unreasonable to suggest he could have been two or three seconds closer.
Perez did rapidly close on Alonso (and Norris before the McLaren driver suffered a puncture) and was seven seconds behind when the virtual safety car was deployed when they were on their 54th lap. This neutralised the battle for just under two laps, with Perez resuming the chase and crossing the line 2.849s behind – albeit after Alonso had driven an ultra-cautious last lap given the age of his hards.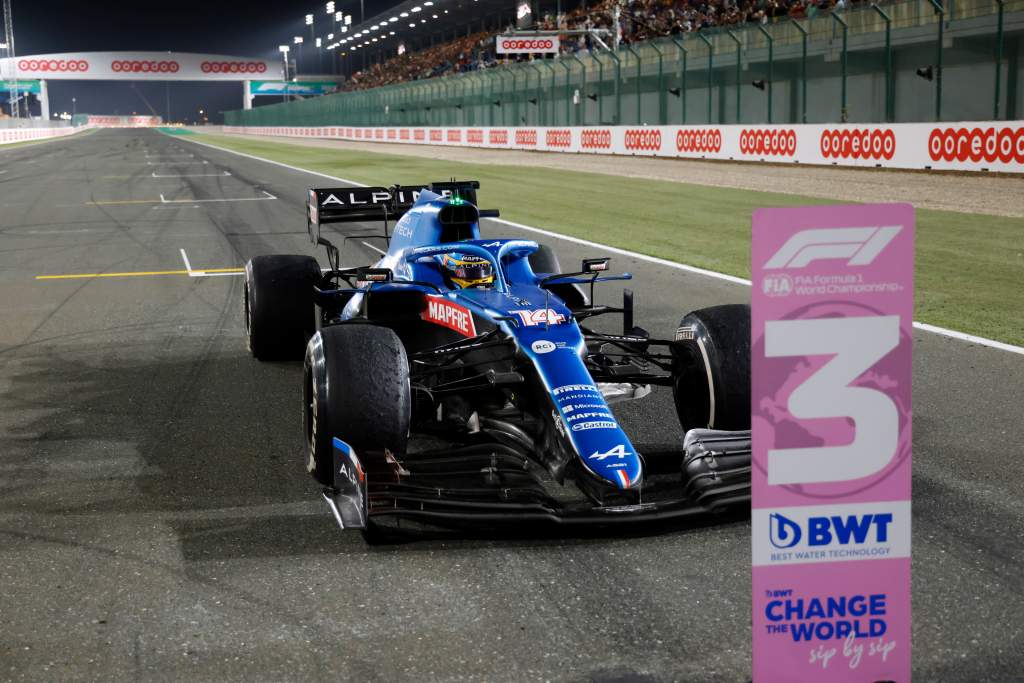 It would be stretching a point to say that Ocon's hindrance of Perez was as decisive in this battle as Alonso's was of Hamilton in Hungary, but it certainly made the chase a little more difficult. But in the final reckoning, as Ocon himself pointed out, the VSC was the key factor given it paused Perez's chase at a crucial moment.
"It actually prevented us and probably helped Alonso not get a blowout," said Perez.
"I'm happy to give [up] the podium [because] it's Fernando. He drove a fantastic race."