Red Bull's Christian Horner emphasised the frosty relationship between Formula 1's title-fighting teams by stressing he doesn't need "go to dinner with" Mercedes counterpart Toto Wolff or "kiss his arse".
With Max Verstappen leading Lewis Hamilton by just 14 points and Mercedes edging Red Bull by 11 in the constructors' championship, both F1 titles are in the balance with three races remaining.
The fierce on-track fight between seven-time world champion Hamilton and championship leader Verstappen has been augmented by an increasingly bitter rivalry off-track between their two teams.
Horner and Wolff have traded blows several times this season and at times it has become quite hostile. That has continued in Qatar, where the FIA set up a terse head-to-head by pairing the two in Friday's press conference.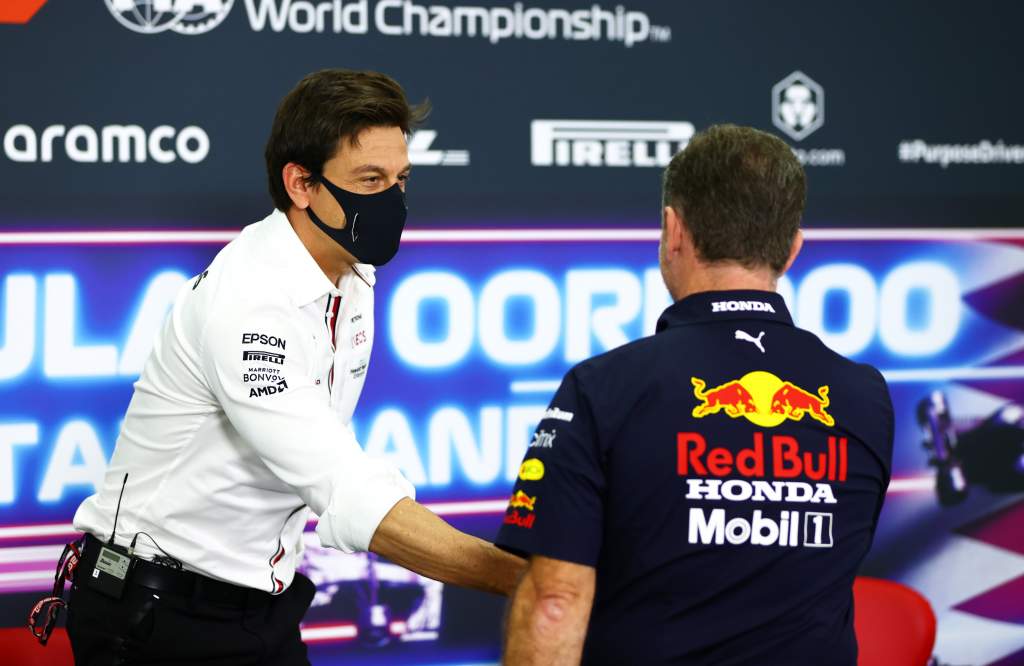 In an early answer that started by referencing the high intensity of the title battle but was focused on explaining Mercedes' ultimately unsuccessful effort to review an incident between Verstappen and Hamilton in Brazil, Wolff mentioned his concern that the stewards' decision had set a precedent that meant "overtaking from the outside is pretty much not possible anymore".
That was a 250-word monologue from Wolff before the question was put to Horner to react to Mercedes' request to review – but Horner could not resisting delaying his answer to state: "Just referring to Toto's comments there about 'overtaking on the outside isn't possible'. I think Max demonstrated clearly it is, in Mexico, into the first turn."
It was telling that Horner felt compelled to counter such an off-hand remark in the middle of a longer answer, especially with a comparison that seemed ill-fitting given Verstappen's excellent move on lap one in Mexico came as the two Mercedes drivers ensured he was given space on the outside whereas in Brazil Verstappen carried way too much speed into the corner at Turn 4 and went off-track himself.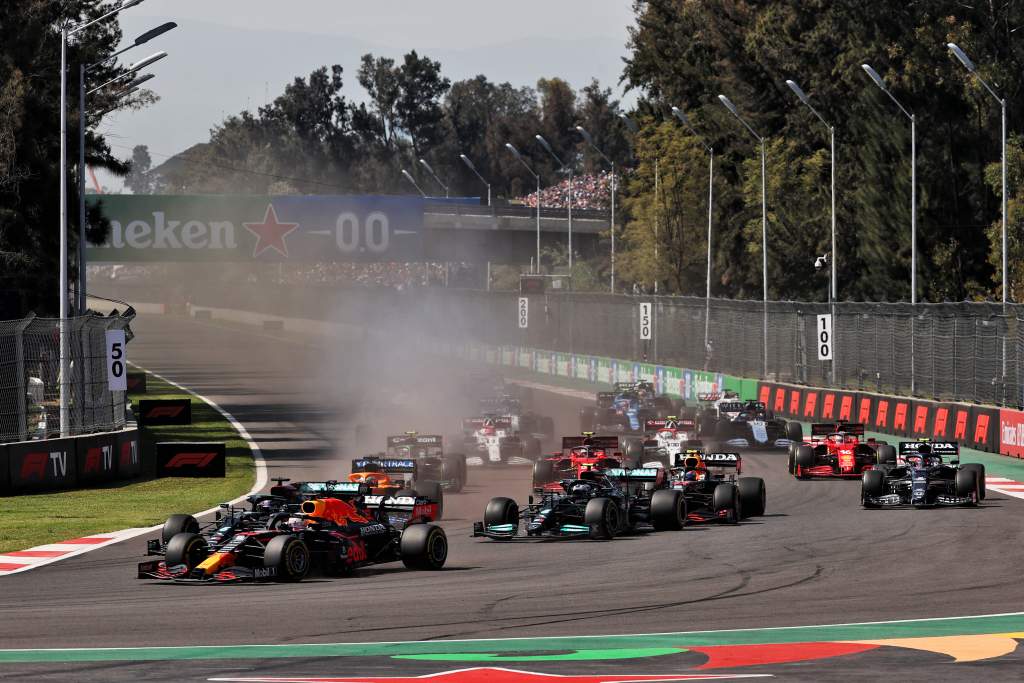 Horner and Wolff did briefly find some common ground when discussing the potential for the right of review process to become corrupted from its original purpose if teams lodged frivolous reviews, and both were critical of how long the process had dragged on for.
But the rift between these two principals became even clearer thereafter, especially when asked about the legality of their respective packages – in the context of Red Bull making pointed remarks about Mercedes' rear wing and threatening a protest – and whether there was still mutual respect between the two teams.
Wolff, who said he'd make a "diplomatic speech", replied: "Nobody would show up at the track with an illegal engine or an illegal rear wing. The world is too transparent for that and you would be mad if you take decisions in a team with such a visibility that is illegal – 100%.
"As far as the punches between the teams, there are many great people working in Red Bull and obviously many great people working in Mercedes and it's a hell of a fight.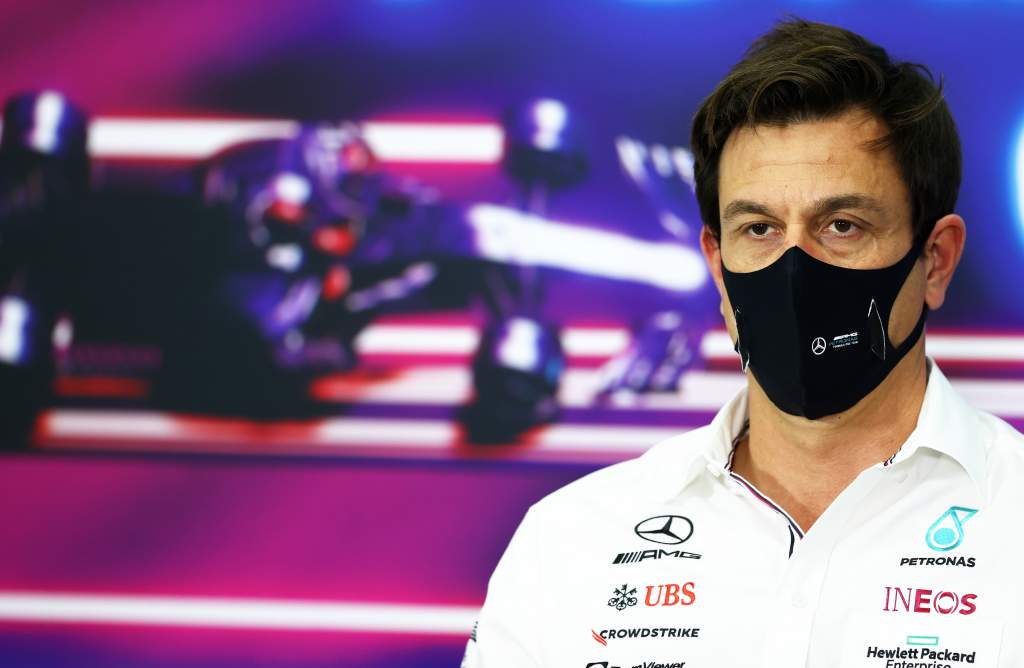 "There is a respect for the capability that Red Bull has, definitely. And it's clear that this is tough.
"It's the world championship of the highest category in motor racing and what started as Olympic boxing went to pro boxing and is now MMA, but that's OK. We are in the ring there trying to do the best job possible. Elbows are allowed now because the rules say so, the gloves are off and nothing else is to be expected."
If Wolff went for diplomacy, Horner was not interested in following suit.
"There is no relationship," he said. "There is a competition and I think it was interesting to hear Toto's views after the sprint race last week on his team radio."
That was a reference to Wolff's declaration of "f**k them all" after Hamilton's stirring drive from 20th to fifth in the sprint race in Brazil, after a disqualification from qualifying for a rear wing irregularity – not the one that has Red Bull's attention – stripped Hamilton of pole and left him and his team feeling hard done by.
And Horner didn't stop there, taking a dig at Mercedes' conduct during the 2021 season.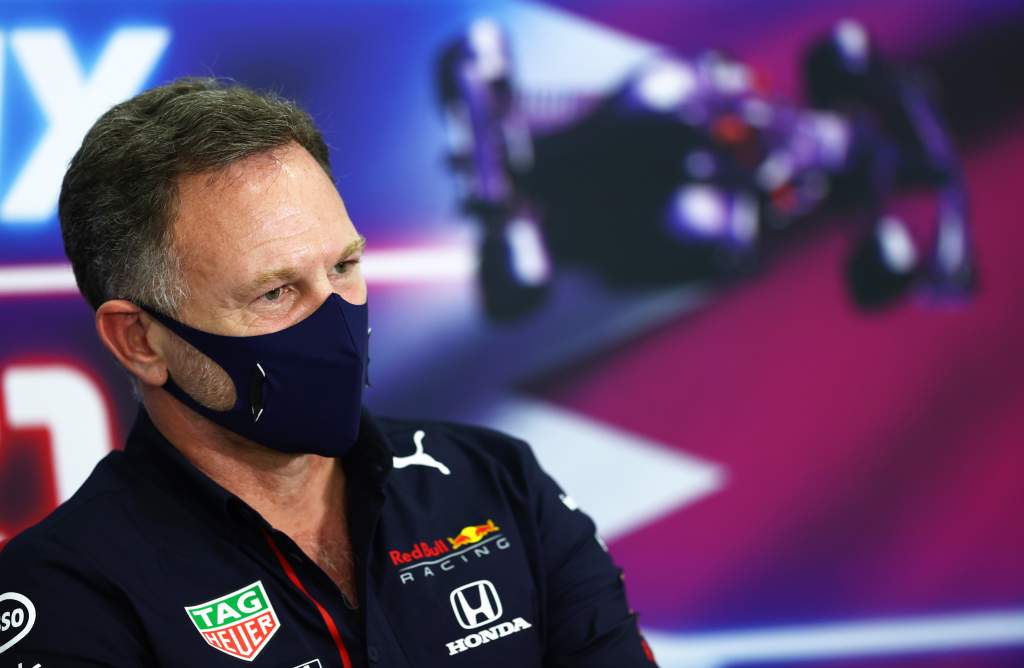 "Look, we are going to push to the maximum," he continued.
"We worked hard to get into this position. It's the first time they [Mercedes[ have been challenged. It's interesting to see how people react when they are under pressure, when they are challenged.
"It's by far the most intense, political title fight we've been involved in in our time in the sport.
"Does our car comply with the rules? Absolutely. Do we have concerns about the gains in straightline speed we have seen since Budapest, but which have been exponential in the last couple of races? Absolutely.
"Do we expect the FIA, as the scrutineer and the policeman of the sport, to ensure that all the cars are compliant? The rules are a complex set of regulations so we rely very, very heavily on the FIA to ensure that it's absolutely scrupulously fair, because what we absolutely want going into these last three races is a fair fight.
"Whoever comes out at the end of this on top, it shouldn't be in the stewards room or in a court of appeal, it needs to be done on track.
"We just want to ensure that going into these last three races that these cars are being scrupulously policed and are in full compliance, because there is too much at stake.
"You've got two teams and two drivers that are fighting for the biggest prize in sport and the stakes are incredibly high and you want to make sure the playing field is level."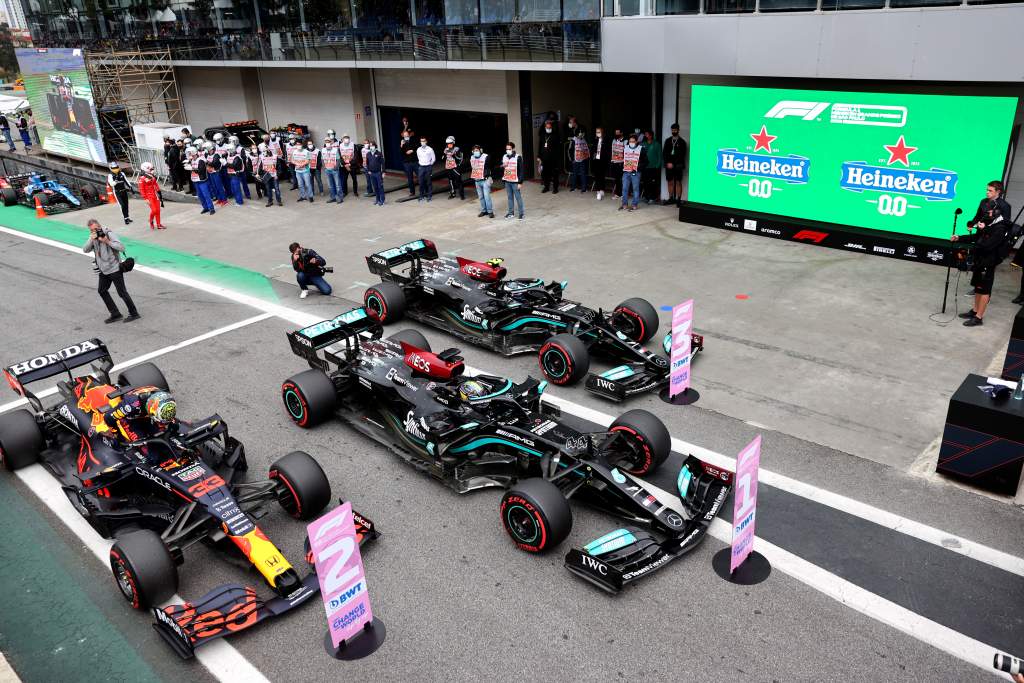 After that answer Horner was brought back to how he had started it – and was asked if there is "no relationship" between the two teams, is there respect?
"Relationship and respect are two different things," said Horner.
"Of course there is respect for everything that Mercedes have done and everything that Lewis Hamilton has done, but I don't need to go to dinner with Toto. I don't need to kiss his arse, or anything like that.
"There are a few other team principals that might.
"But from my perspective it's a competition and I think it's great that we're in this position, that we're fighting for the world championship, we're fighting for the constructors' world championship.
"It's the first time in seven year they have been challenged, so that intensifies it and I think the sport is a big winner out of this.
"I just hope that we have a hard and fair fight between now and the end of the season."
Both sides have willingly thrown punches this season but on this occasion Horner appeared the more antagonistic while Wolff generally avoided being goaded into a response.
But when asked where the apparent dislike of one another stemmed from, Wolff said: "The competition is just too high.
"You cannot expect that you are going to dinner with your rival or with a rival team or with your enemy in that sporting competition, irrespective of the personalities and the characters, nothing else.
"Everything else would be not normal and that's as simple as it is. No negative emotion or positive emotion. The emotions are pretty neutral."
Horner followed that up with: "Look, Toto and I are very different characters and you know we operate in different ways.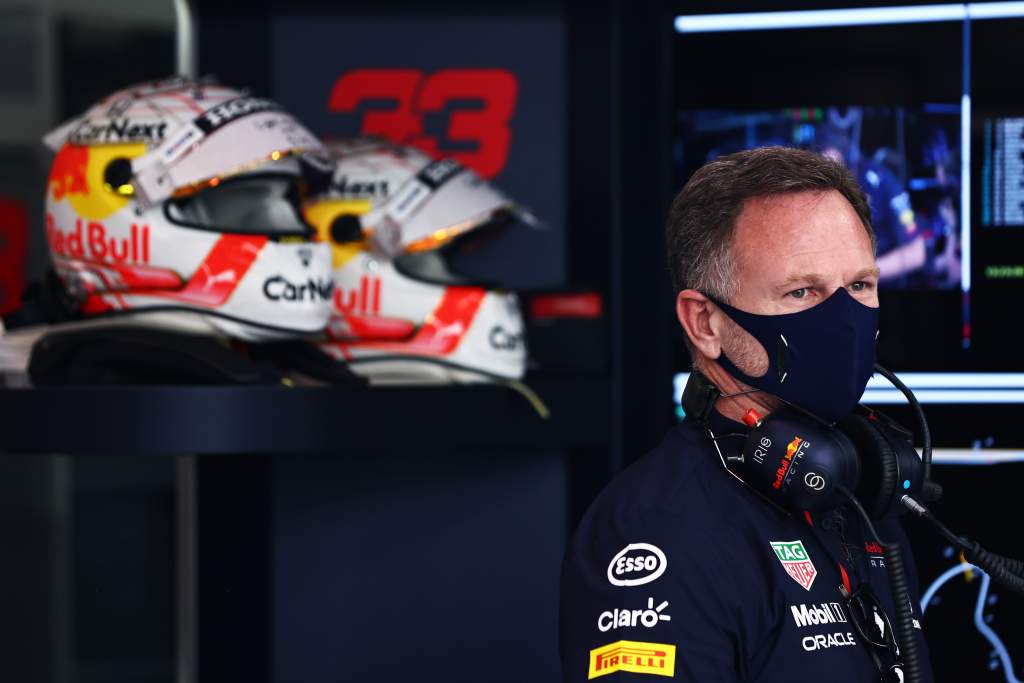 "Am I going to be spending Christmas with Toto? Probably not, unless you're in panto this year, I might take the kids."
That was a throwback to their recent back-and-forth around the Mexican GP, when Horner said Wolff could be the "pantomime dame".
The suggestion they would not spend Christmas with one another prompted to Wolff to interject by declaring that a "shame", before Horner finished: "From my perspective it's a tough competition and that's Formula 1.
"You don't have to be best mates with your opponents. How can you be? I
"I think that would be dishonest in many respects, to fake a façade when you are competing against each other."