Alfa Romeo may have only hung onto sixth in the Formula 1 constructors' championship by the skin of its teeth after Aston Martin finished level on points, but the team's novel strategic approach, focused on maximising "interaction" with its rival team, ensured it claimed the lucrative prize at the Abu Dhabi Grand Prix.
Each position in the constructors' championship is understood to be worth in the region of $11-12million (the exact figure depends on F1's final figures for 2022), so this was a crucial battle for the Sauber-run team and should ensure it can run at the cost cap next season.
That's why, despite being the lowest-scoring team over the past 13 races with just four points and Zhou Guanyu and Valtteri Bottas lining up 15th and 18th respectively on the Abu Dhabi grid, Alfa Romeo did everything it could to get in the way of the Aston Martins at Yas Marina.
"It was not so much about performing to achieve the points," said head of trackside engineering Xevi Pujolar of the team's approach to the Abu Dhabi GP. "Our target was, 'OK, if it [points] are possible, yes', but priority number one was to make sure that they lose time behind us.
"The drivers did a fantastic job on that, especially Zhou. Every second they will be delayed would make it more difficult to achieve what they needed to achieve to get sixth. Then, sixth was for us. Both the drivers and the whole team can be very proud of it."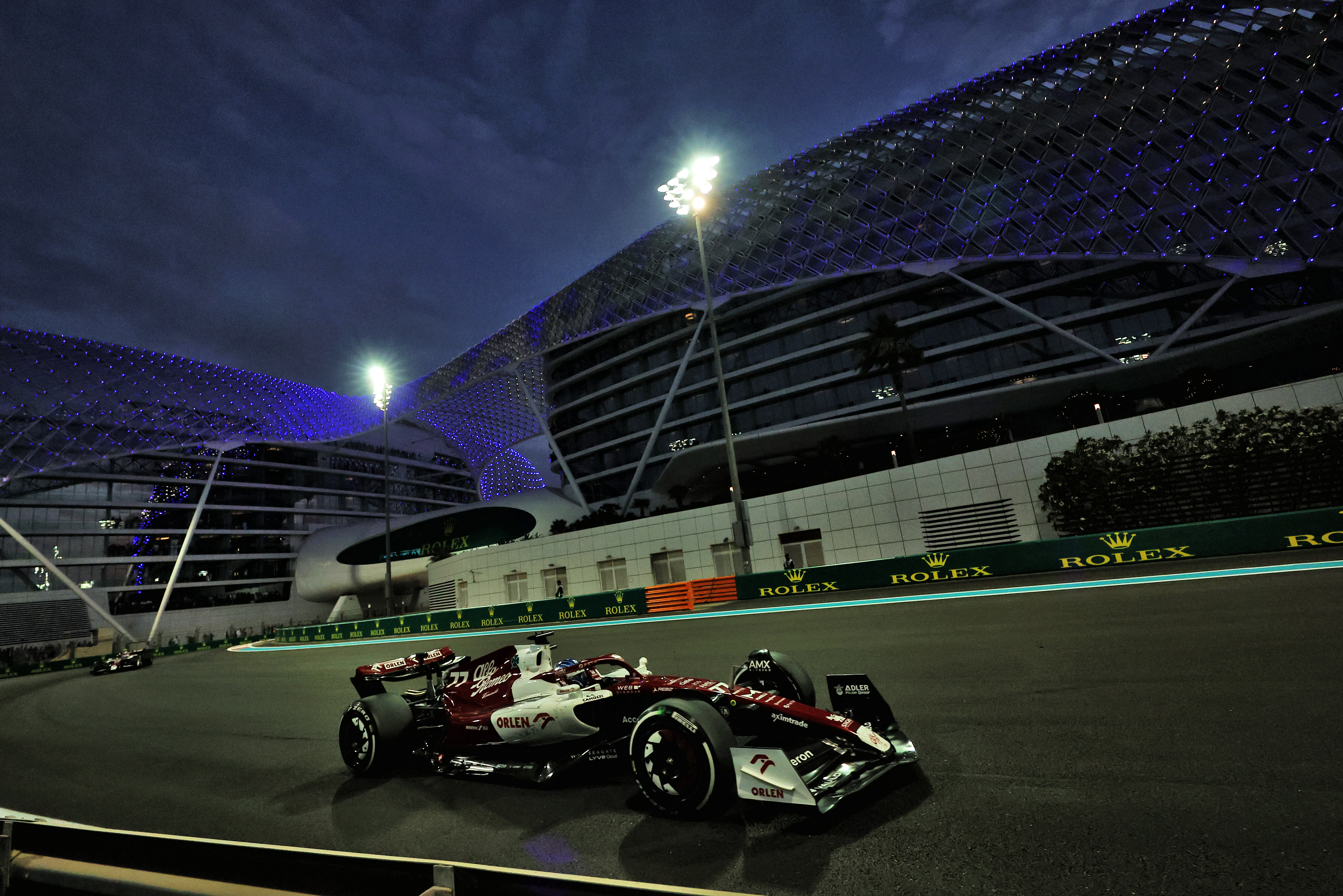 Bottas was one of only two drivers, the other being Haas's Kevin Magnussen, to start the race on hard-compound Pirellis. He said that the reasoning for the decision was "to wait for the Astons to pit and then make their life difficult once they catch me".
The Finn's first opportunity to trouble Aston Martin came after Lance Stroll pitted at the end of lap 13. Stroll emerged 10 seconds behind Bottas, but soon reduced the gap and cleared the traffic separating them. He quickly passed Bottas using the DRS approaching Turn 6, and despite not having any battery power left to deploy on the second back straight, repulsed Bottas's attempt to repass him on the outside into Turn 9 on lap 21.
Bottas continued to circulate on hards, with Vettel emerging behind him after his one and only stop on lap 25. By lap 29, Vettel was with Bottas and a lap later he used the DRS to pass him into Turn 6. Bottas dived back up the inside, but went deep and only just stayed on the track, meaning Vettel got back ahead.
That was the last opportunity Bottas had to trouble the Aston Martins as Stroll came out of his second pitstop well ahead. He finished 15th.
"We ultimately didn't have too much pace and also my strategy was very different, keeping the green cars behind for as long as I could," said Bottas.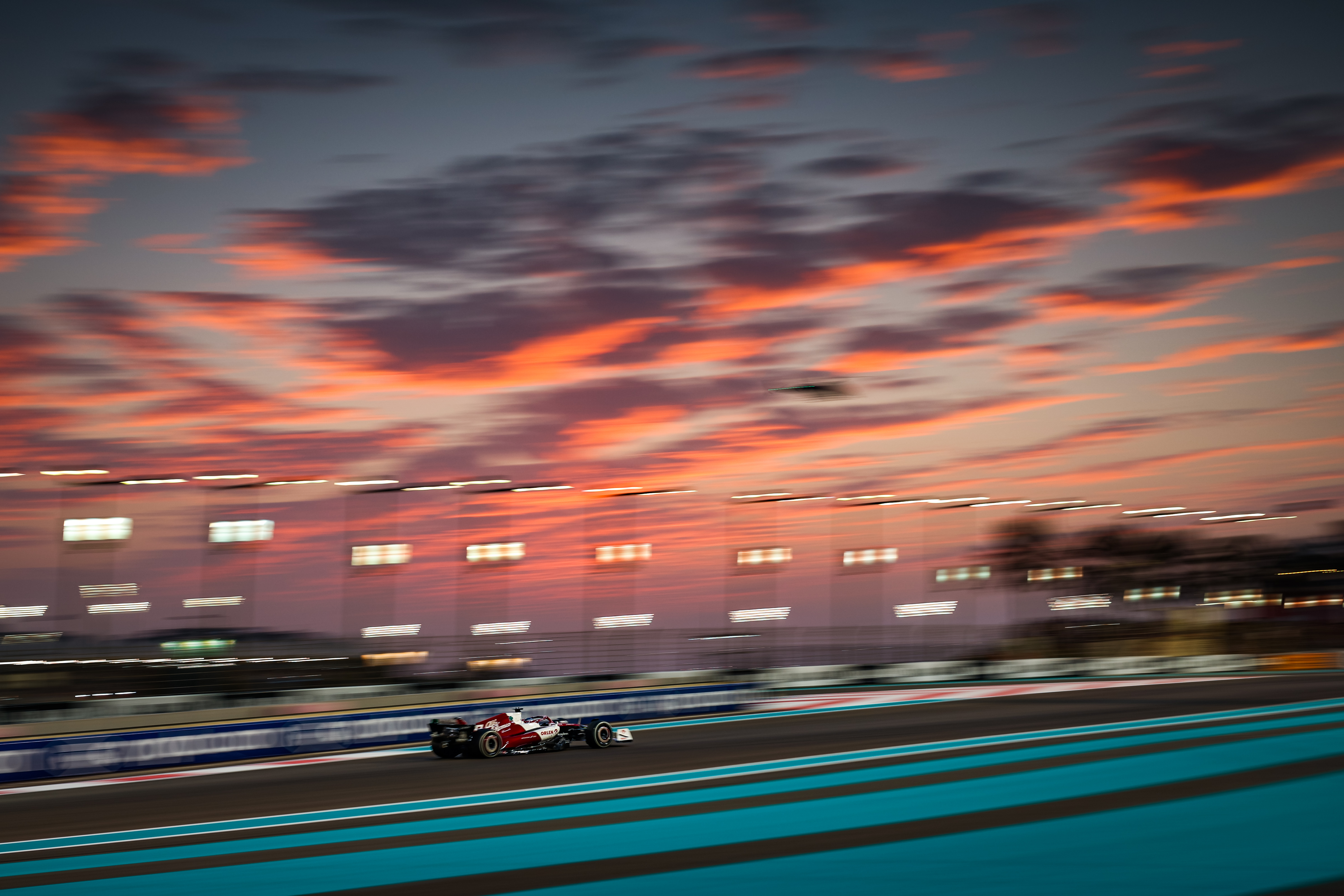 "In the end, it was really close in the points with them. At one stage, it looked like they were going to take us."
While Bottas's contribution was relatively minor, making little difference to Stroll's race but contributing to the length of time it took Vettel to close on Daniel Ricciardo in what proved to be the decisive battle for ninth and 10th, Zhou was able to play a more active role.
He started on the medium-compound Pirellis and held 14th in the early stages. Stroll's early pitstop meant Zhou wasn't able to undercut him, although he did make his first stop on lap 15, two laps after Stroll, with the aim of undercutting Vettel. The team was aware the lead Aston Martin, then on a trajectory that would have allowed him to finish eighth, might go for a one-stopper so while well out of direct undercut range, the eight-second gap was easily bridgeable if Vettel did go long.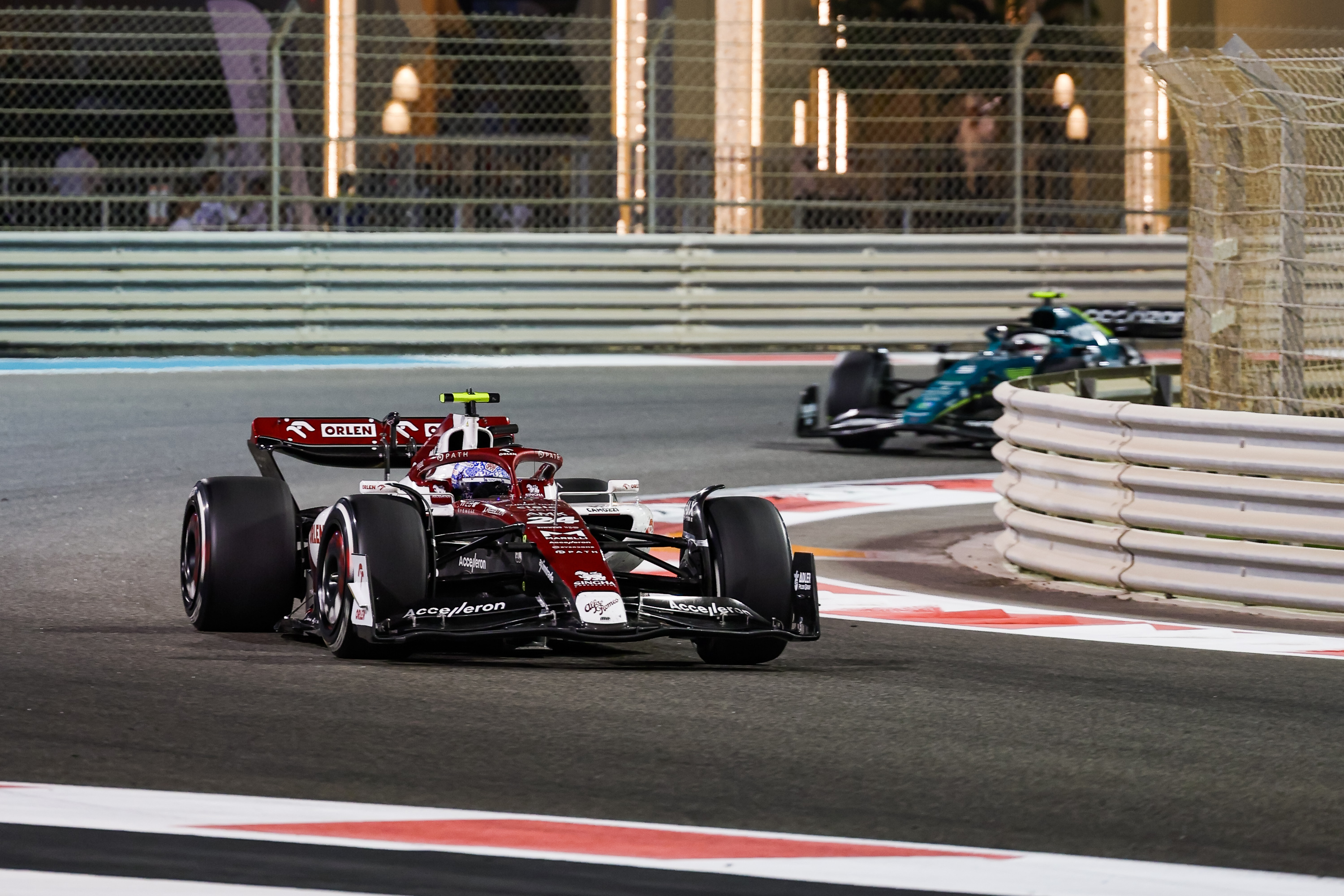 This paid off, with Vettel not stopping until lap 25. Crucially, that was six laps after Ricciardo had, meaning he slipped behind the McLaren. That proved to be the key battle, so the best shot for the Alfa Romeo drivers was to delay him from catching Ricciardo for as long as possible.
Vettel came out of the pits down in 19th place and eight seconds behind Zhou. Although the Alfa Romeo driver did run ahead of Ricciardo for a while, the McLaren driver soon got past him. At that point, Zhou was allowed to use "mode attack" in case he could attempt to repass the McLaren, but that was then made "not available" as the team realised hindering Ricciardo would not help its cause.
Vettel caught Zhou, who started to defend for the first time on lap 41. It took until lap 43 for Vettel to get ahead. The hinderance provided by first Bottas and then Zhou to Vettel potentially also contributed to Esteban Ocon being able to make his second stop in this phase of the race and emerge in front of Vettel.
With Stroll following Vettel past Zhou and being let past to then catch and pass Ricciardo, that ensured he had ninth place sewn up. However, Alfa Romeo's situation took a turn for the worse when Hamilton retired late on, moving Stroll up to eighth and Vettel to 10th. But Aston Martin still needed one more point thanks to Alfa Romeo having the superior best result – Bottas's fifth at Imola – which meant Vettel had to overtake Ricciardo for ninth.
Vettel quickly closed on Ricciardo and chased him for the final 10 laps of the race, but was unable to make the pass. That ensured Alfa Romeo hung onto sixth place in the constructors' championship.
"The whole race it was quite clear to see the situation," said Zhou. "If we can't beat them on track then we will sacrifice positions to let the McLarens and Alpines get a clear window. That was the case.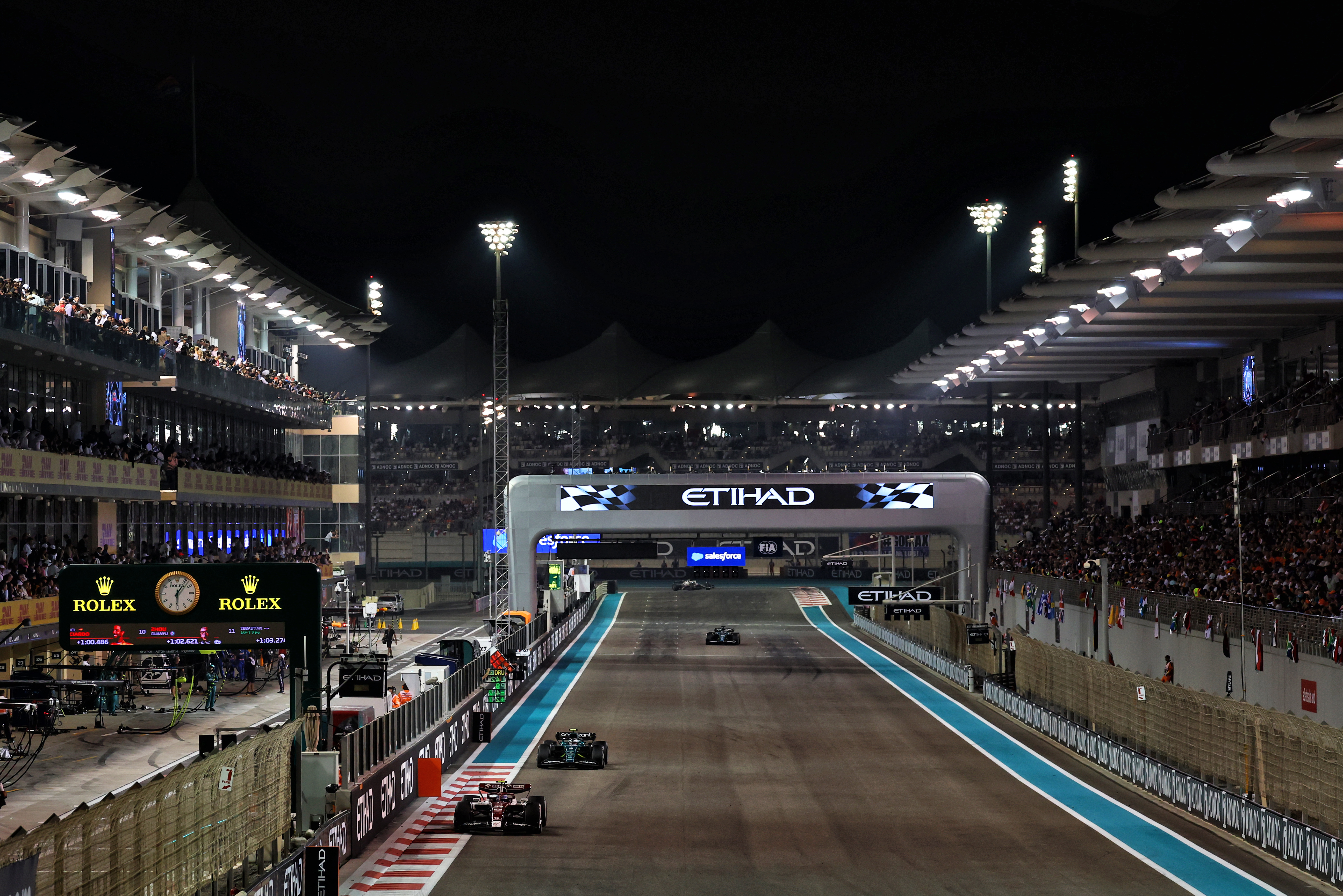 "We stopped early while the tyre was still fresh, then we can undercut Sebastian and Lance [at the second pitstop] and tried to basically hold them up as much as possible for a more clear window for others, which I think is very important.
"I really gave everything out there and really happy for the team.
"In the end, it was super-close – equal on points – but I knew that every small margin makes a difference so it's really important for the team for next year."
Given Alfa Romeo potentially compromised its overall results to pursue this strategy, there was an element of risk involved. For example, had one more car in the top seven retired, it would have promoted the Aston Martins with Zhou still one place shy of the top 10.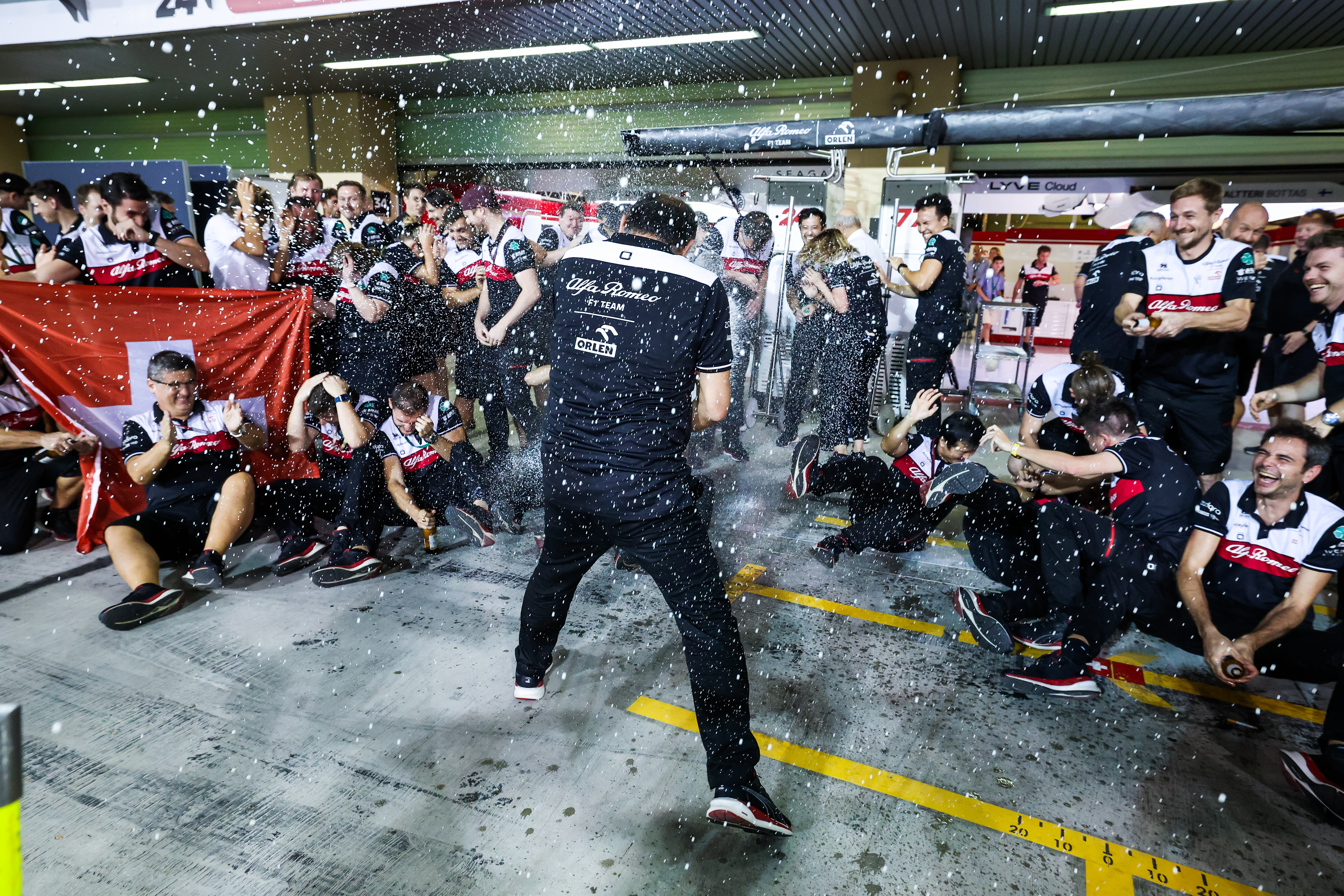 But Pujolar argued it was the right approach and that had the race started differently, the team could have modified its strategy to challenge for the top 10.
"If after lap one, we found ourselves very close to the points then we change our approach, for sure for Zhou because he was further up so we left it a few more laps to see how everything was working," said Pujolar, when asked by The Race about the risk of such a strategic approach.
"For Valtteri, from where we started, that's why we started with the hard tyre just to make sure that we could extend with him and then to have as much interaction as we could with the Aston Martins when they box. We could start to cause some traffic.
"So that's how we did initially with one car. But then when we saw that there was some risk that they scored points and for us it will be difficult and we tried to interact with both cars. It was quite successful."
Aston Martin team principal Mike Krack said it was no surprise Alfa Romeo opted to build its strategy around getting in the way of his team's cars.
But despite describing some of the Alfa Romeo moves as "borderline" – presumably a reference to Stroll's annoyance that Zhou ran him wide out of Turn 9 when they battled – he insisted he was not disappointed.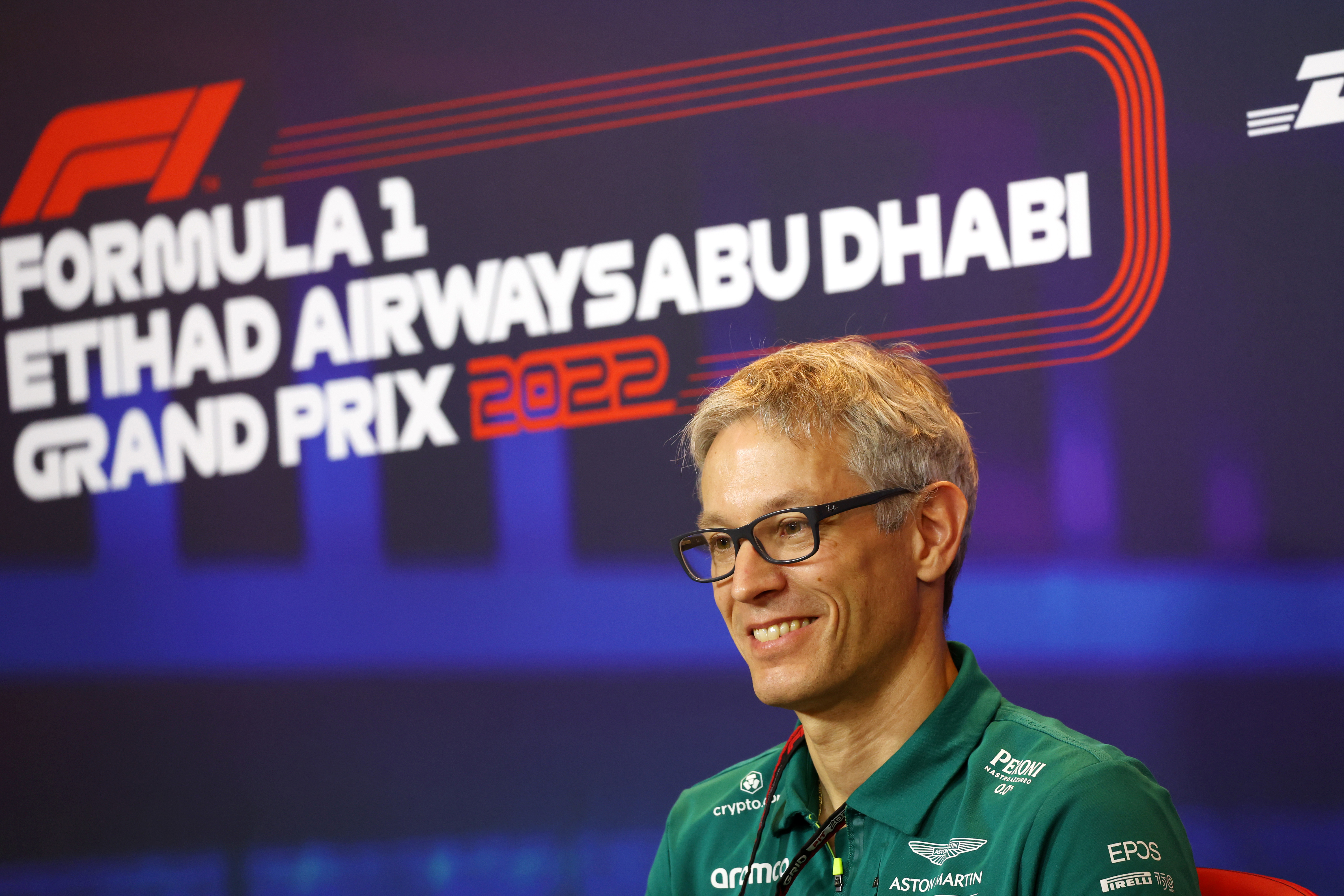 "We had a great end of the season overall and it could have it could also have balanced in the other direction," said Krack. "So I think frustration would now be not appropriate.
"For me, they focused completely on us. Some of the manoeuvres were a bit borderline, I think. But we were anticipating that this could happen.
"We knew to be conservative when we passed them and I think both drivers handled it properly."