Red Bull Formula 1 team boss Christian Horner believes rival team chiefs are deliberately encouraging their drivers to make a big fuss about the ride quality of the 2022 F1 cars.
Horner, speaking after the Baku race his Red Bull team scored a 1-2 in, didn't mention any teams in particular. But it is notable that the two drivers most vocal about the potential health effects of bouncing and porpoising – Grand Prix Drivers Association director George Russell and former Red Bull protege Carlos Sainz – are employed by Red Bull's main rivals in Mercedes and Ferrari respectively.
Russell in particular has been pushing for the FIA to consider changes to the current rules to prevent cars from running so close to the ground and drivers' backs from taking a beating from the resultant bouncing.
Yet while he has been very keen to stress that his lobbying isn't a bid to find more performance, and has stressed that the drivers seemed to overwhelmingly agree – with many having indeed conceded to media that their cars in 2022 are not comfortable to drive – Horner isn't so convinced.
"The easiest thing is obviously to raise a car. So… you know, the team has a choice to do that," Horner said.
"You have a choice where you run your car, don't you? And you should never run a car that's unsafe. But… I think that's more for the technical guys – because there's certain cars that have issues, and there are some cars that have few issues.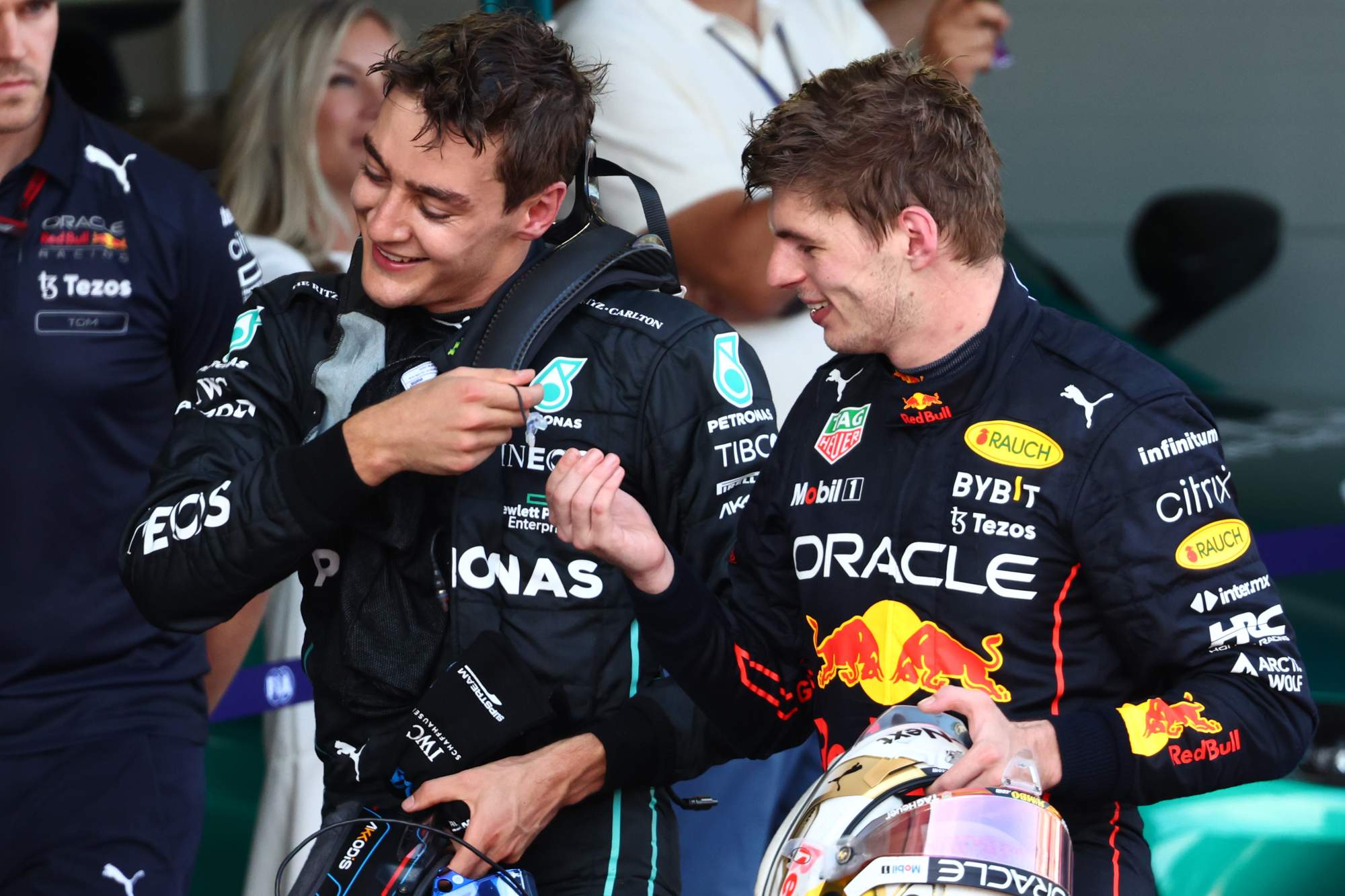 "It would seem unfair to penalise the ones that have done a decent job versus the ones that have perhaps missed the target slightly."
Red Bull seems unencumbered by bouncing relative to Ferrari and particularly Mercedes, and when asked what he'd tell his drivers to say if the RB18 had displayed the same characteristic, he said: "I'd tell them to bitch as much as they could on the radio, and make as big an issue out of it as they possibly could. It's part of the game."
Asked then whether he thought that's what some teams were indeed doing, he said: "Of course it is. I mean, look, you can see it's uncomfortable – but there are remedies to that. But it's to the detriment of the car performance.
"What's the easiest thing to do is to complain from a safety point of view – but each team has a choice."
Horner continued: "I think if it was a genuine safety concern across the whole grid, then it's something that should be looked at. But if it's only affecting isolated people or teams, that's something that that team should potentially deal with."
Meanwhile, Russell has revealed it's not just the Mercedes and Ferrari drivers complaining of the bouncing, but that Red Bull driver Max Verstappen had also remarked how difficult it was.
"Nobody is trying to say this to get any advantage, you've got the Ferrari drivers and even Max has said how tough it is," Russell told Sky after the race.
"You've either got porpoising and the car is hitting the ground or if you have no porpoising, you're able to run the car millimetres, less than 1cm to the ground and you're smashing the bumps. whichever way you've got it, it's not great and something will happen, no doubt about it