Lewis Hamilton called Max Verstappen's racing style "over the limit" in the Saudi Arabian Grand Prix and put their contact down to his Red Bull rival "obviously brake-testing" him.
The 2021 Formula 1 world championship rivals had multiple incidents in the Jeddah race, with Verstappen twice being judged to have gained an unfair advantage when either repassing or resisting Hamilton.
"I really had to try and keep my cool out there, which was really difficult to do," Hamilton told Sky.
"I've raced a lot of drivers through my life, in the 28 years I've come across a lot of different characters and there are a few at the top who are kind of over the limit. Rules kind of don't apply [to them], or they don't think of the rules.
"Today I just tried to do my talking on the track, keep the car between the white lines and do it the right way. So many things were sent at us.
"We got the pole then we lost out then we got back past then he passed over the kerb. There were just so many different, crazy curveballs.
"Then he obviously brake-tested, I think, to try and get the DRS into the last corner to overtake me again back into Turn 1. I thought that I lost my wing."
Asked if he counted Verstappen as one of those 'over the limit' drivers, Hamilton replied: "Yeah. I've avoided collisions on so many occasions with the guy and I don't always mind being the one that does that because you live to fight another day, which I obviously did."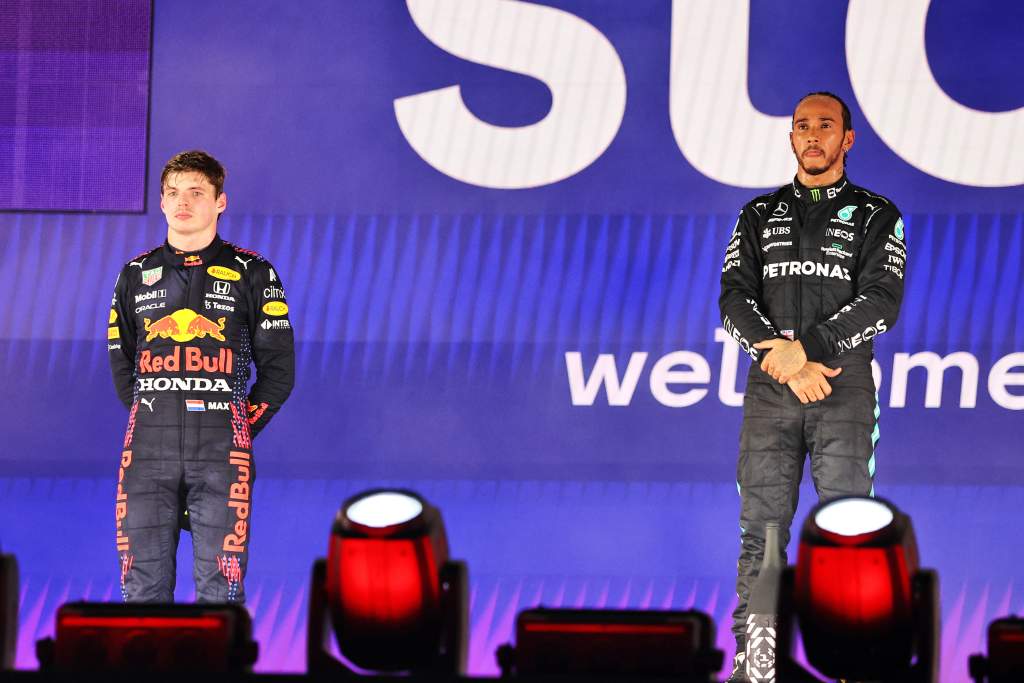 The contact between them, which Hamilton described as the brake test incident, came when Verstappen had been asked to let the Mercedes past because race director Michael Masi felt he had stayed ahead unfairly by cutting across the Turn 1/2 run-off area as he braked ultra-late down the inside when Hamilton was going down his outside.
"At this point, obviously I knew that Max had overtaken the two of us by going over Turn 2, which at the beginning of the race we were told wasn't allowed," Hamilton explained.
"But I hadn't yet had the information yet that he would be backing off, so all of a sudden, he started slowing down into into [Turn] 27 where the DRS zone is.
"But it wasn't quite clear for me, it was a bit confusing and then all of a sudden he slowed down at a rapid pace and that's when I had to avoid going completely up the backside of him.
"So I felt grateful that I obviously didn't take us both out."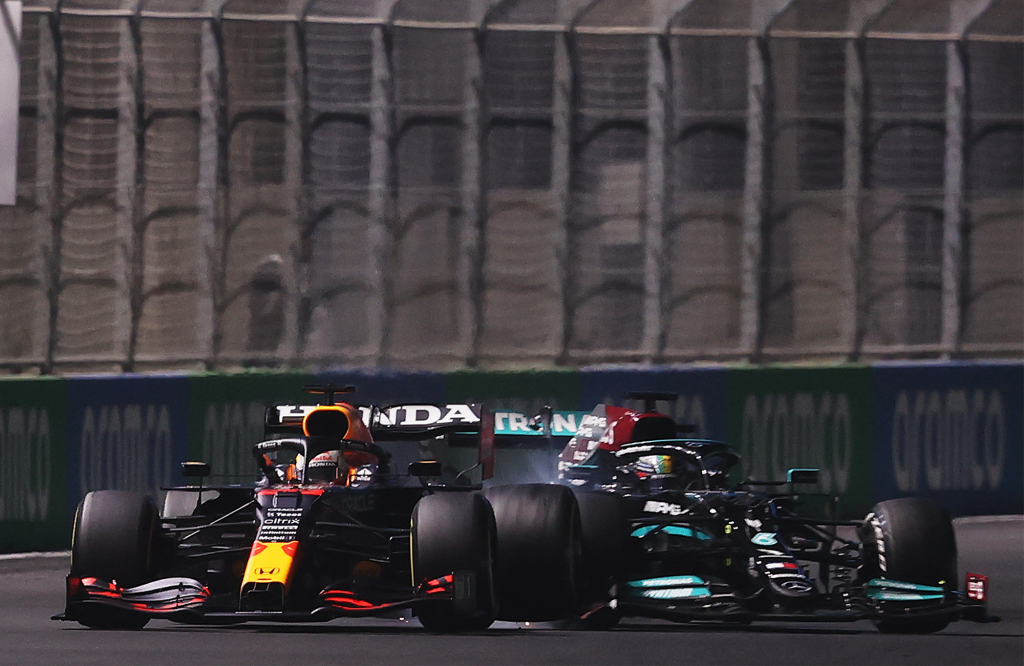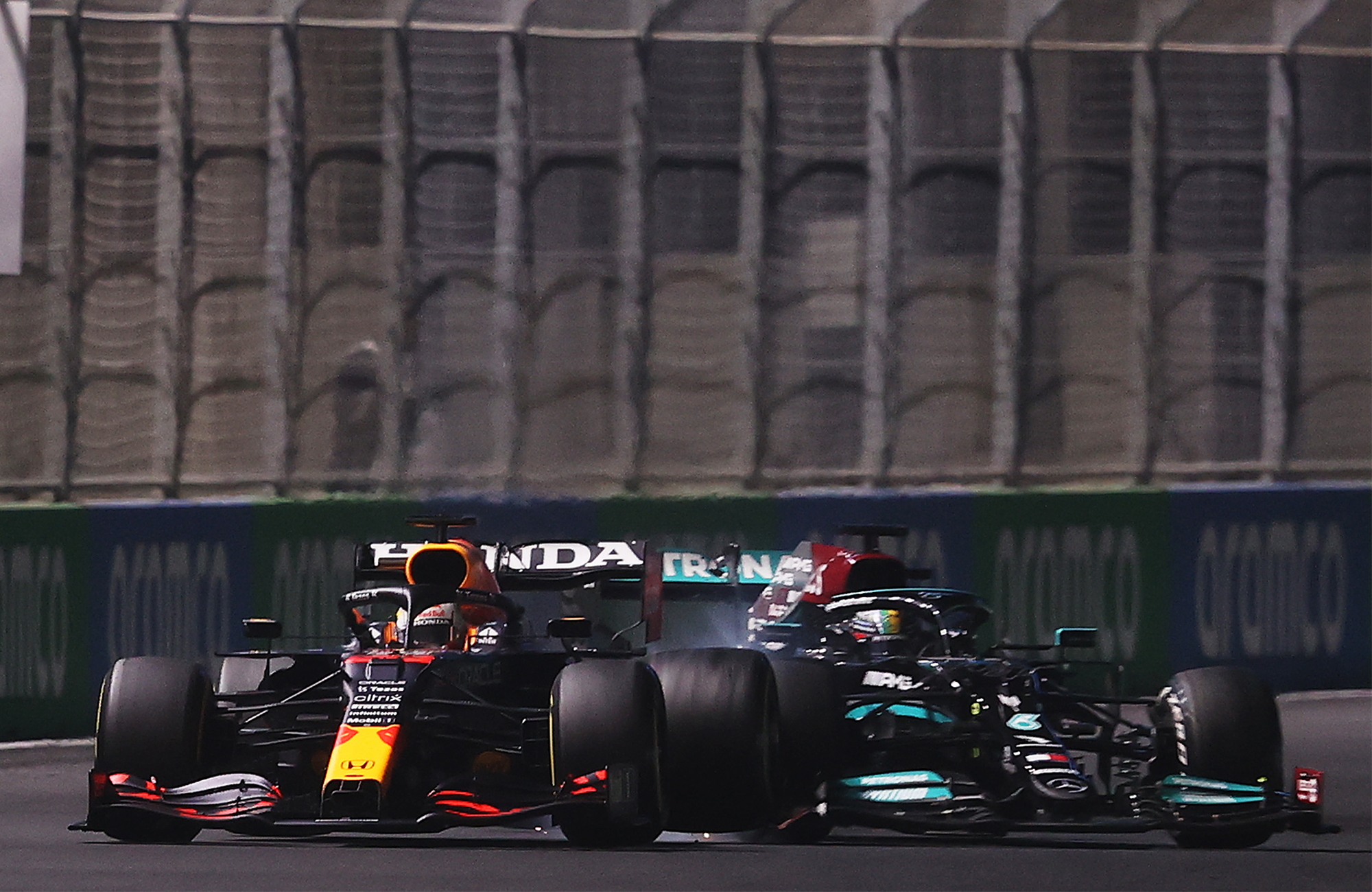 Asked why he hadn't just driven straight past the slowing Red Bull, Hamilton suggested the confusion partly arose because Verstappen was trying to lull him into overtaking just before the DRS line to create an immediate repassing opportunity.
Verstappen successfully deployed that tactic shortly afterwards, allowing the Mercedes through but immediately overtaking it again with DRS – only to then be given a 5s time penalty and let Hamilton back past on track again too.
"It really wasn't clear. There's two scenarios," Hamilton said.
"One, that wasn't clear to me, I didn't get the information.
"And then it became apparent that he was trying to let me pass, which was what he, I guess, had been asked to do, but before the DRS zone.
"So then that would would mean he would just DRS back past me through coming through the last corner following me and then DRS me into Turn 1. So that was the tactic.
"But the worst part was just the the steep, heavy braking that then happened at one point. That's where we collided. That was the dangerous part."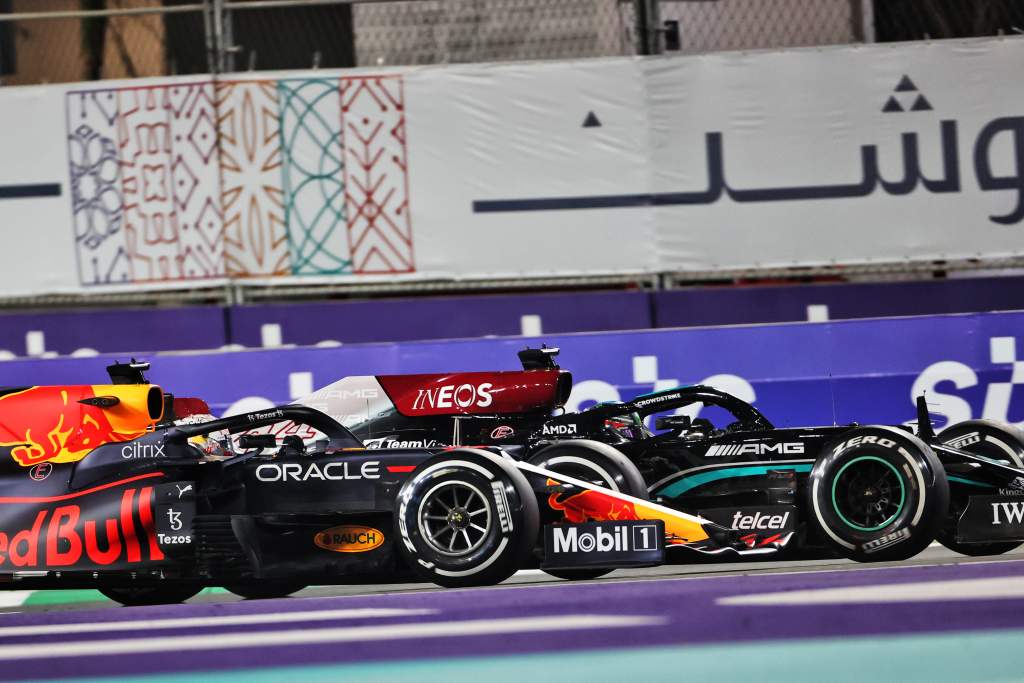 Verstappen was adamant he had not been trying anything untoward and was simply slowing for Hamilton to drive past him.
"They told me I had to give the position back," he said.
"That was I think, just before [Turn] 22 and then after 22/23 I went to drive to the right side, and I slowed down and I was braking, downshifting, and he just stayed super close behind me.
"And I don't really understand why, I was just trying to let him by.
"And then I'm just going slower and slower pulling the downshift and then we had… I don't know a miscommunication or whatever.
"And he ran into the back of me."