All 10 Formula 1 teams are now well and truly committed to the initial version of their 2022 cars that will run at the start of pre-season testing.
While there's no doubt there will be lots of controversial rule interpretations, and plenty of upgrades by the time they go out for the first practice session at the season-opening Bahrain Grand Prix, what we see before that will be all about which team, or teams, have the best design data banks and ability to see beyond the way the rules are written.
This new set of rules is all about reading and re-reading the text to understand what is possible. Everything is defined using X-Y-Z coordinates, and there's nothing wrong with that. But until you draw every part of the car in its prescribed window, it's very difficult to understand what the end result will be and where you might be able to take it.
There was a time when you could spend a couple of hours reading through the technical regulations and from that you would get a reasonable picture of where you would go with your concept. I'm sorry to say that's all gone out the window and decent lawyers might be as important, if not more so than, decent design personnel.
Initially, it will still be down to a gut feel and vision. Yes, engineering should be all about research and development and optimisation, but before you can get there it all comes from a conceptual vision in your mind. Some teams have those people in excess, but unfortunately, there is not enough of them to go around.
So with more than a month to wait before we see the real 2022 cars start to emerge, I'm going to run through each of the teams and attempt to identify their strengths and weaknesses heading into this year.
It's not about being critical of any specific team as every team has positives and negatives. But it's simply a question of evaluating what happened in the past to try and predict what the future might bring.
To remind ourselves of where the teams have come from, also included are the history of the teams in their various guises stretching back to the start of the 21st century.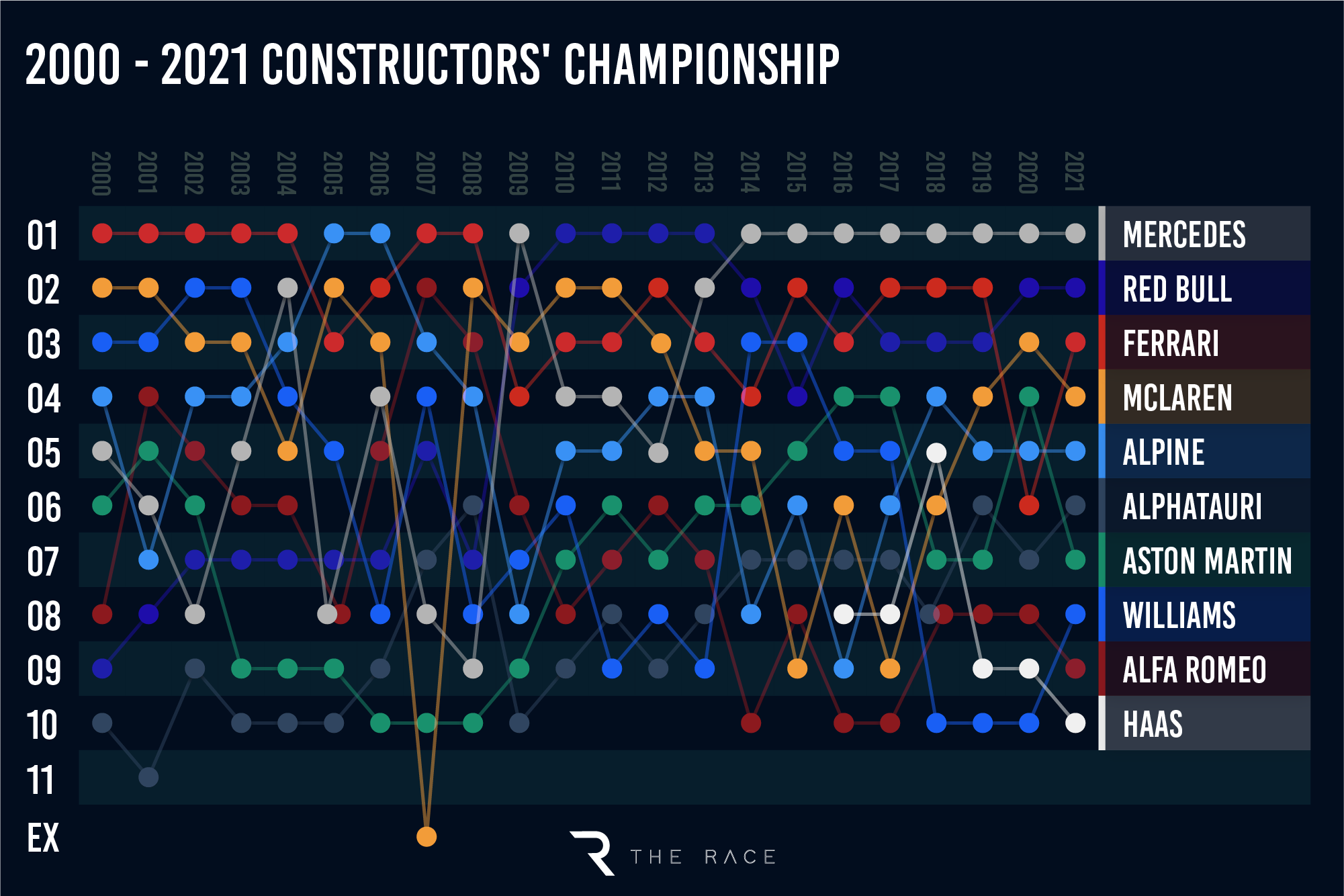 MERCEDES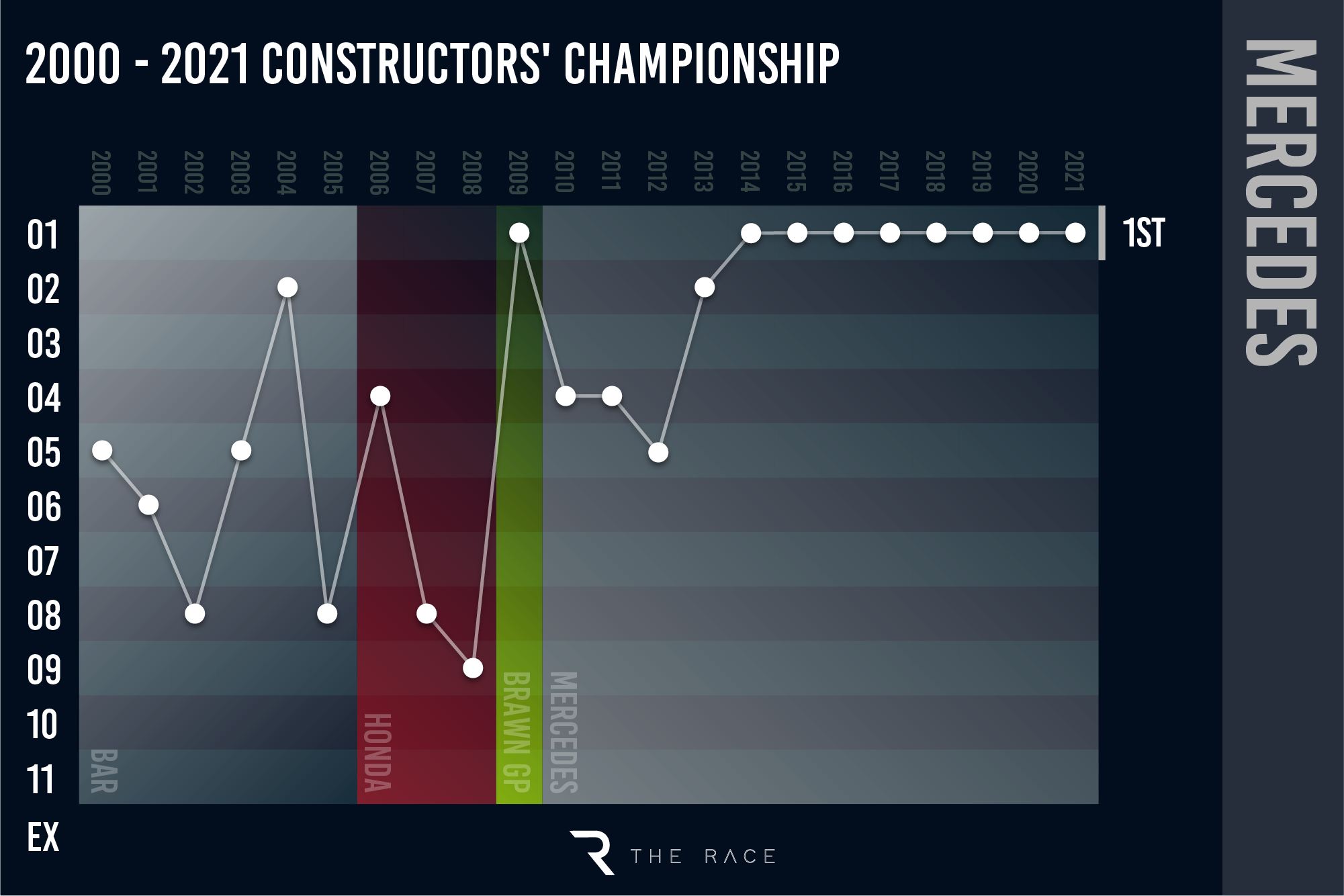 It's difficult to doubt the ability of Mercedes to ride the storm of regulation changes. After all, it's a team that has carried its dominance through a major rule change – the switch to wider, high-downforce cars in 2017 – and always reacts in a very positive manner.
Mercedes has often had the best car, but even when it hasn't it has usually still been able to get it into a winning position.
One of its main assets is the infrastructure and stability. We always hear about people being poached from other teams, but the chassis side of Mercedes is very stable. This is critically important when it comes to getting a group of people working together consistently.
Former team principal Ross Brawn needs some credit for putting this infrastructure together before he left at the end of 2013. He was driving the direction of the company for the first three years after Mercedes bought his eponymous 2009 championship-winning team. And since then, Toto Wolff has kept the politics well away from the people who are actually responsible for the technical side, which is also critical to stability.
The Mercedes engine group, based 28 miles up the road in Brixworth, has also played a major role in eight successive constructors' championships. Without a doubt, Mercedes has had the best engine package over that period, but now the performance levels are more equal in that area, it's going to be more about the chassis for 2022.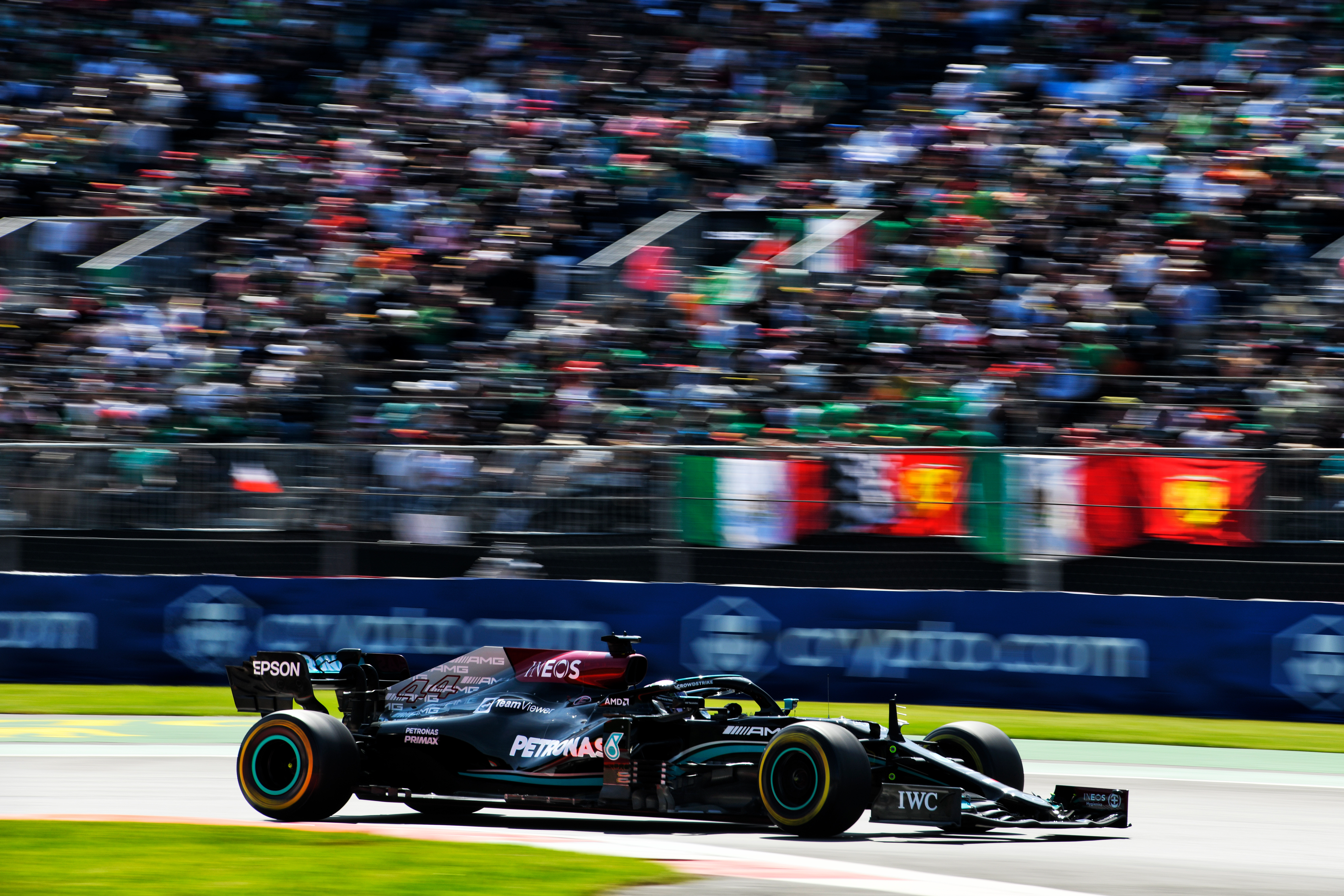 Mercedes didn't have the half-second advantage over the rest that it enjoyed previously in 2021, but still showed the ability to win plenty of races. So I would expect Mercedes to have the depth of knowledge to be right up there and fight for the championship with the all-new car in 2022.
The big question is how much Mercedes had to stretch itself in its fight with Red Bull in 2021, especially after its difficult first half of the season. Anything that distracted from the research for 2022 could prove very expensive.
That, together with having to work entirely within the ATR restrictions limiting wind-tunnel and CFD work and a cost cap for the first time (last year's car ran under the cost cap but wasn't originally designed in those conditions) mean it will have to do the same as normal with half as much money. That's not easy.
RED BULL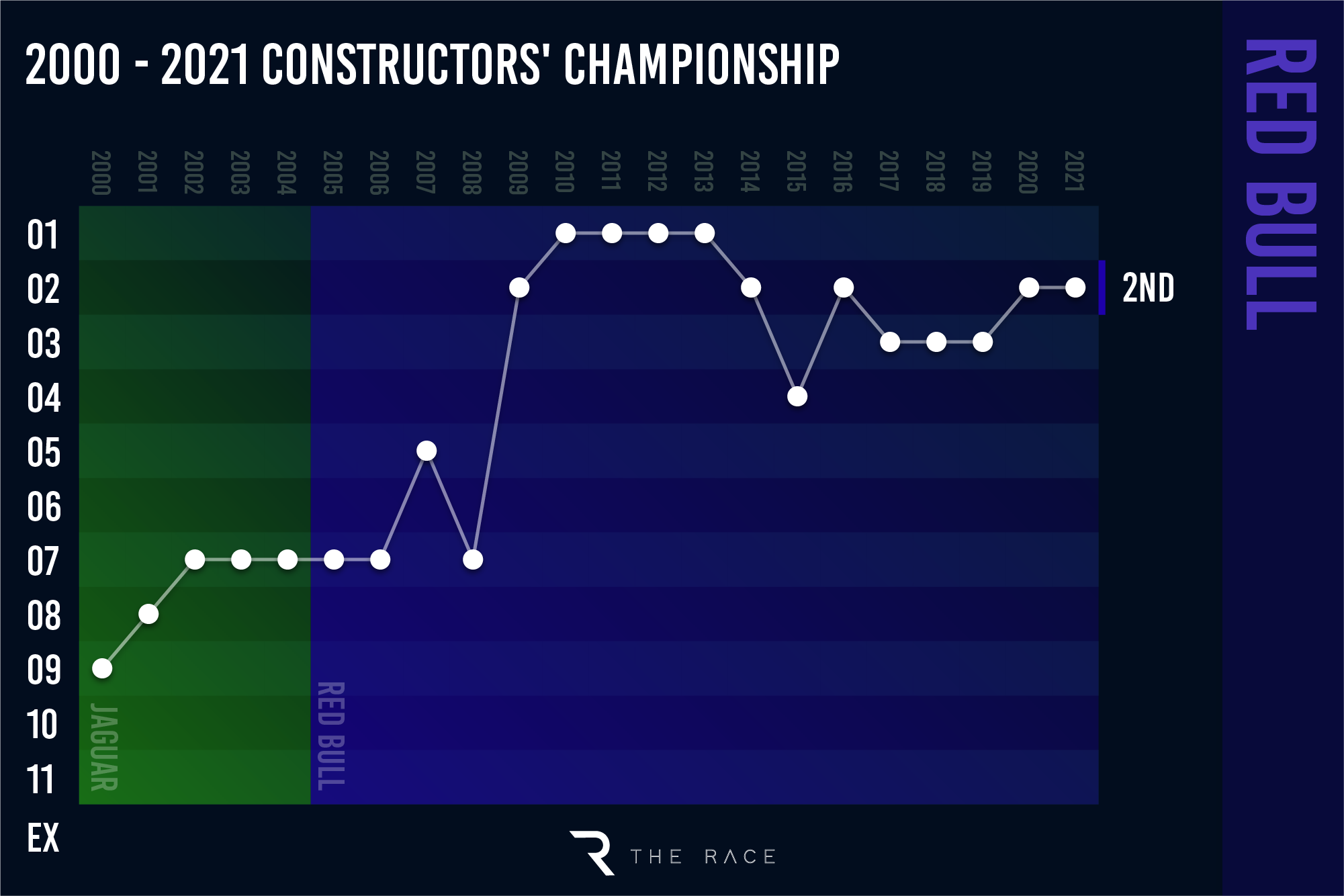 If I were to put money on who would find the best solution to a new set of chassis and aerodynamic regulations, it would be Red Bull. There's a good reason why it's often said that Adrian Newey can 'see' airflow, even though I don't agree with that statement it's certainly true that he has an inspirational vision and commitment to concept.
Adrian will commit to a concept that initially doesn't look like it is giving the returns, but understands that optimising it is just around the corner. As I said above, gut feeling still has a lot to do with what direction you initially go in, even though proving it on paper can sometimes be a bit more difficult.
Newey and the team around him will be buoyed by their drivers' championship success last year. If Sergio Perez can be in a stronger position, then the constructors' championship might just be around the corner.
Red Bull might not start the season as strongly as it would like, but as in the past, it has the ability to work magic in terms of development. The cost cap will also have implications for Red Bull, but although it has spent zillions of dollars on F1, it is not the biggest spender so should find it just that little bit easier to comply with this new regulation.
Honda will play a big part in that. Yes, it has pulled out of F1 for 2022 and beyond, but it has done plenty of work on this year's power unit package.
Optimising the engine for the new E10 fuel is no simple task, but I'm pretty sure after the 2021 success Honda will still be involved from a distance – or at least until it is satisfied it has done its best with the handover process.
FERRARI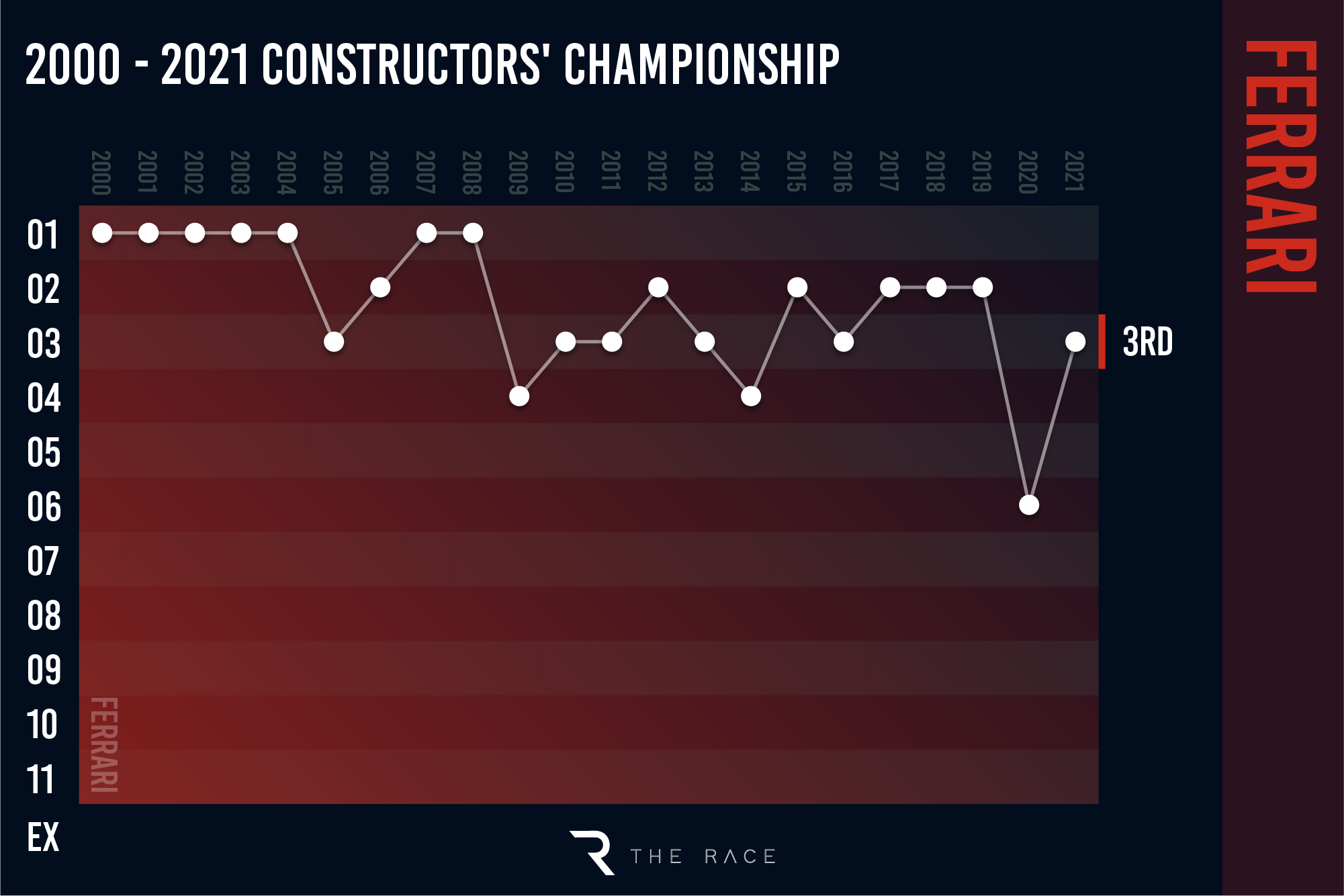 Ferrari superficially seems like the most stable team of all over the last 20-odd years given its consistent identity, but that is not really the case. In reality, Ferrari is probably the most unstable as for many years it has had a philosophy of either succeeding or holding someone responsible for the failure and pushing them aside.
The new upper management at Ferrari seems to have settled this down a little now. There have not been many firings with just a few people moved sideways.
Mattia Binotto still rules the roost and as team principal also effectively oversees the technical side as well. To do both of these is a push but the structure behind him, which has been changed several times in recent years, needs to start to count. Now is the time for Ferrari to recover that lost ground.
After the last major rule change in 2017, I was very impressed with what Ferrari came up with. Ferrari found the solution to the shorter sidepods before anyone else, so does have the vision within the company to react to a changing situation.
Something derailed that and it had to throw away 2020 to recover from pushing the limits too far on its rule interpretation for the hybrid power unit. It more or less recovered from that for the 2021 season but the limit on development did the team no favours.
Ferrari needs to dig deep now because all of Italy sees these changes as a new opportunity for Ferrari to be successful. If not, it will very quickly go back to the old ways of working and we will see some heads roll.
McLAREN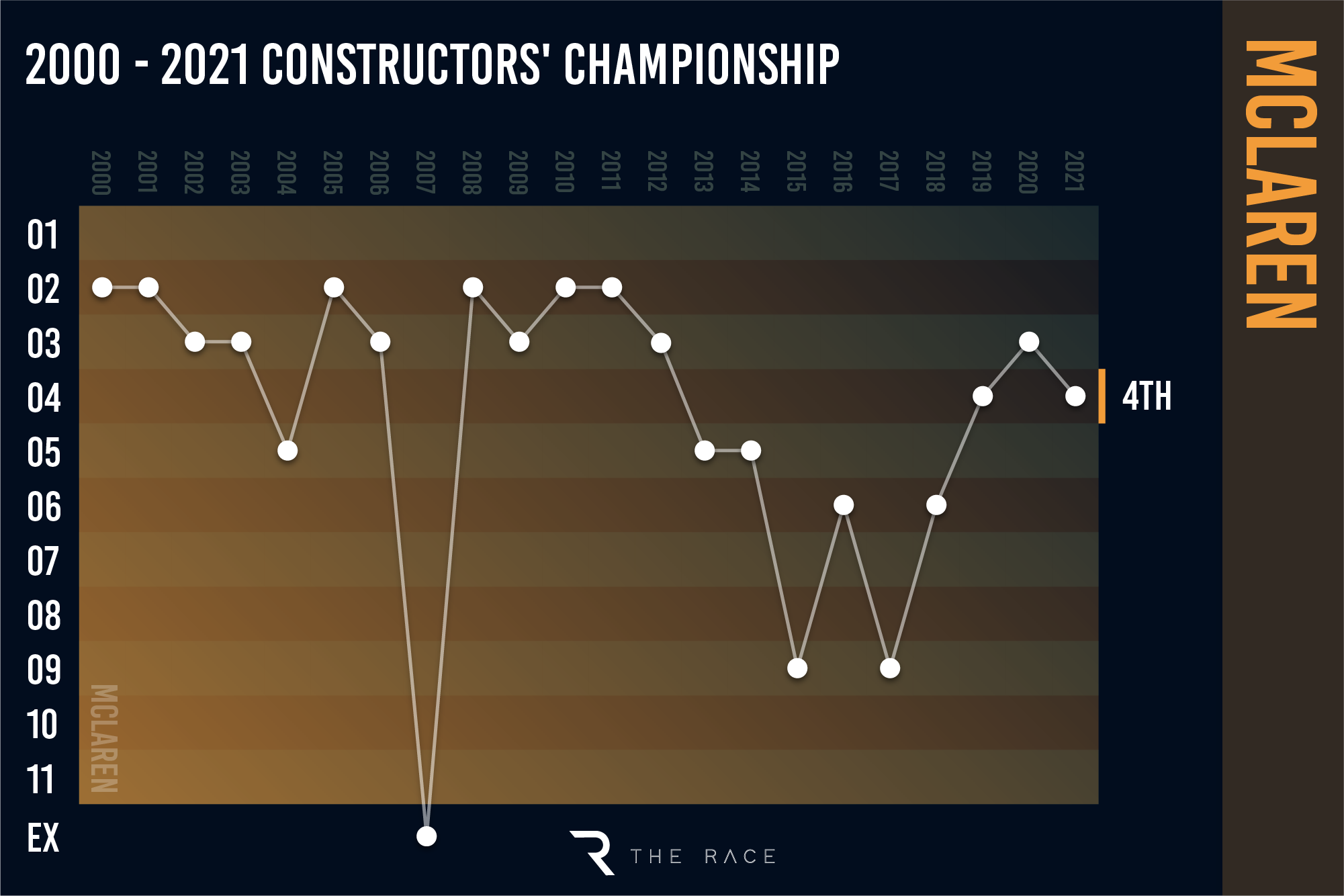 Like Ferrari, McLaren has endured plenty of instability and is in a rebuilding phase. It's also a completely different team 'under the counter' with Ron Dennis, Martin Whitmarsh and Newey – three people responsible for many of its successes in the late 20th and early 21st century –  disappearing for different reasons, but it was mainly politics that drove them out.
With Zak Brown now running the show, Andreas Seidl as team principal and James Key as technical director, McLaren now has a group of people that appear to understand their position in the company and accept each other's working methodology.
Key is a very clever individual with a very wide band of understanding of all aspects that make a car fast. He was touted for a long time when he was with Toro Rosso as a potential Newey replacement, but that didn't happen so he moved on. In McLaren, he has found a good home and a company that has recognised it went about things wrongly in the past and is now working its way back to the front.
The rule changes for 2022 gives that new management structure a new lease of life and will allow them to express themselves without the burden of the past hanging over them.
ALPHATAURI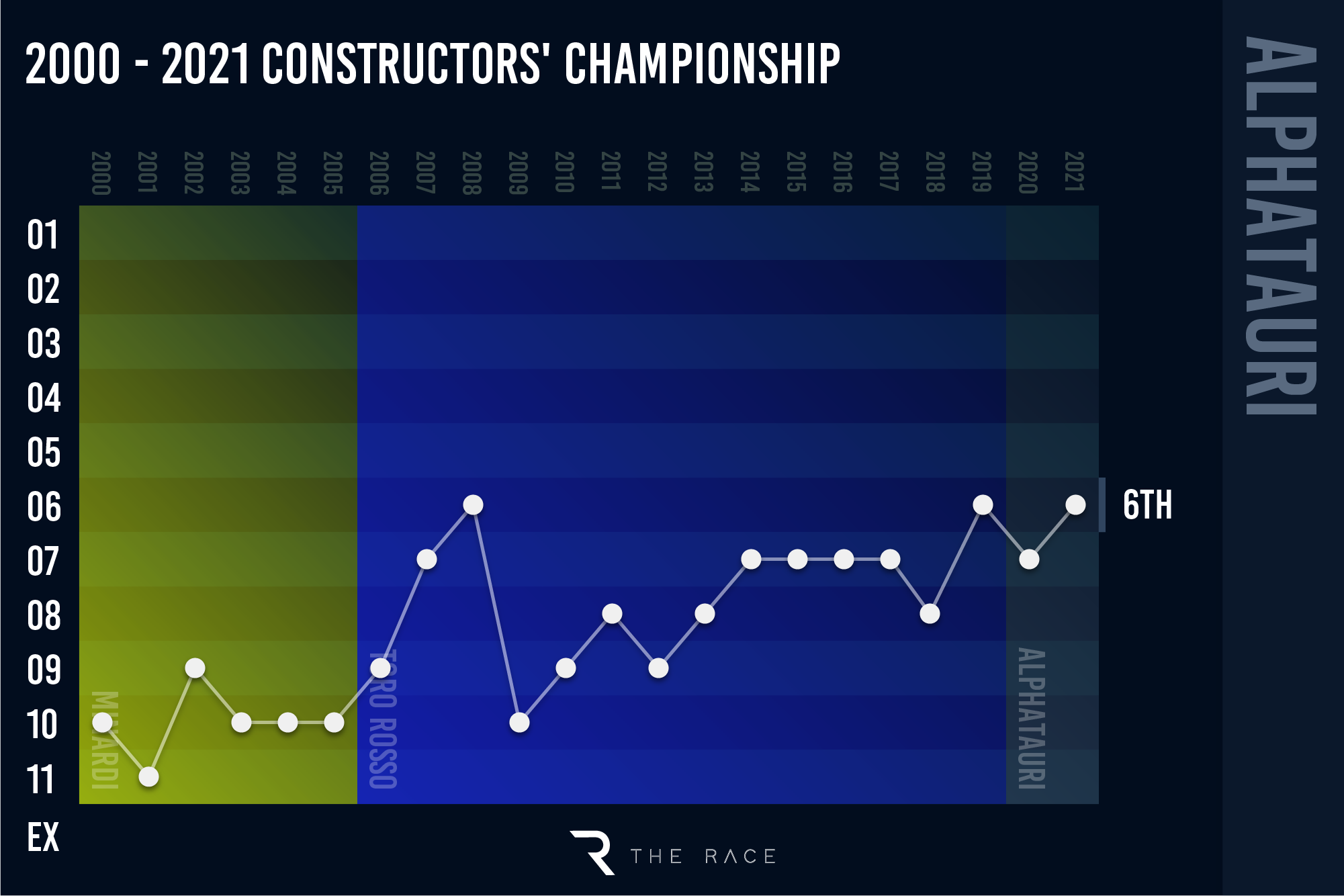 This team started the 21st century struggling in its Minardi guise and became Red Bull's junior team from 2006. That worked for a while and it 'discovered' Sebastian Vettel, Daniel Ricciardo, Max Verstappen and Pierre Gasly – all race winners and two of them world champions, which is not a bad haul.
Team principal Franz Tost has run the show there from the beginning and is an excellent tutor for new drivers. He takes no prisoners, but he does understand the mental side of things. He also works closely with Red Bull motorsport advisor Helmut Marko, who you could say is the 'hatchet man' as he is the one that seems to be making the big decisions on who gets a chance and who doesn't.
Key was previously the technical director at the team and helped to bring the Honda PU package back from the grave that had been dug with McLaren. He and the Toro Rosso way of working suited Honda while the Japanese manufacturer got its confidence back and it was this that led to it partnering with Red Bull.
James always wanted the team to be standalone and responsible for its own destiny. When that changed and the upper management felt it was time to lean more on Red Bull, he decided it was time for him to move on.
The situation now is that they have a very close working relationship with Red Bull and more of a technical transfer than ever before. This could very well backfire for 2022 as I'm pretty sure the first year of these new regulations will be a year of transition and constant improvements.
To do that you need to be on top of what you have and where it can take you, so following along behind Red Bull might not be the best place to be.
ALPINE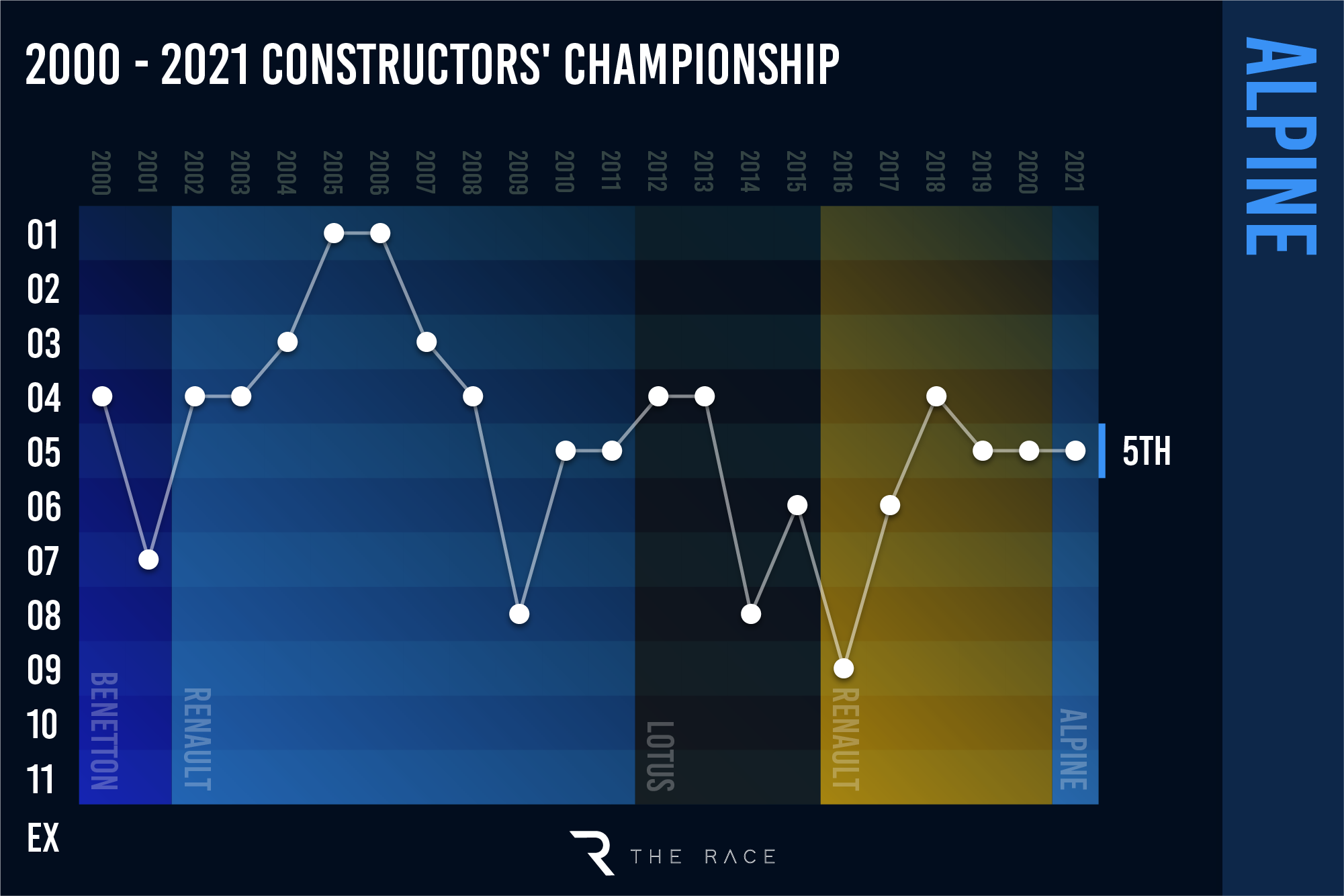 Alpine is the definition of instability given it has had multiple changes of ownership and identity. But the Renault Group-owned team has certainly underachieved in recent years. After all, it's a works team and when you take on the responsibility of representing a manufacturer, results are everything. This team has not produced those top results since 2005 and 2006, when it won back to back world championships with Fernando Alonso.
It now has an older and more experienced Alonso back on board, but as with any driver he needs the tools to achieve success. He probably has a couple more years in him, so Alpine need to get on with it.
What concerns me is that there doesn't appear to be much evidence of a focused direction. It's as if it has been going through the motions, on top of that, the team has also struggled more than the other three hybrid power unit manufacturers to produce the necessary performance level. The Renault engine is not far away, but it has always been one of the weaker engines.
As for the chassis, last year it was reasonable at some events and pretty bad at others. For most of the season, I don't think even Alpine knew what was going to happen come Friday practice. That doesn't bode well going into a new era of regulations where you need to make decisions daily, if not hourly.
To address this, you need to have confidence that the direction you are going in is the correct direction. That commitment to a concept is everything because if you doodle around then time runs out on you and you end up worse off than if you had committed in the wrong direction.
I think the reason for this is that there are too many chiefs and everyone is protecting their own little bit of turf. If you don't make a decision, then you can't make the wrong one.
ASTON MARTIN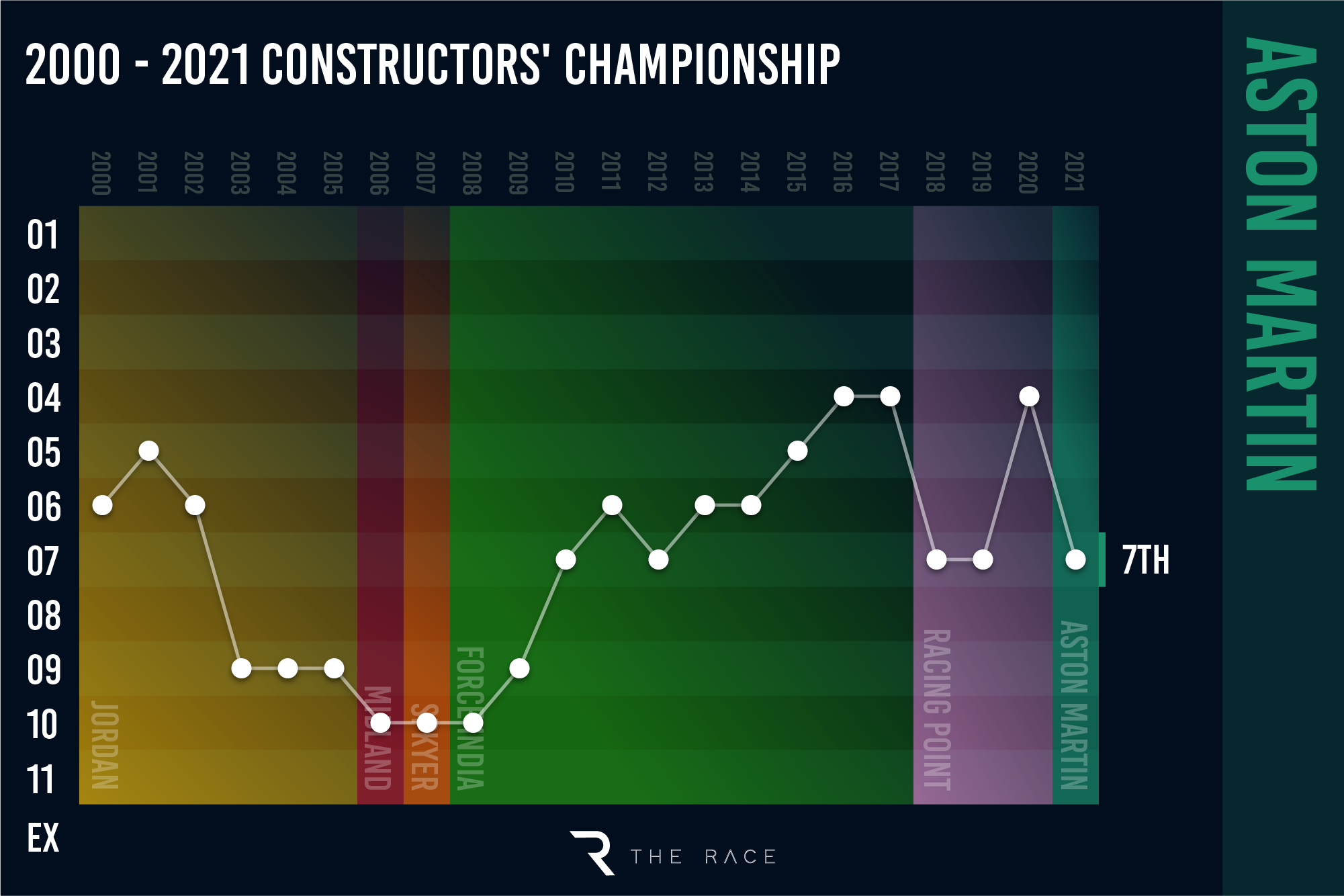 Historically, this team punched above its weight. As Force India, the focus was on being a good, well-run small team and as a result it overachieved – particularly finishing fourth in the 2016 and '17 constructors' championships.
But financial problems meant the team went through a couple of lean years and then along came Lawrence Stroll who renamed it Racing Point, then Aston Martin. He was seen as the saviour of the team and it meant proper budgets to work with and a real plan for the future, but Stroll is also fairly impatient.
This impatience led to the team cloning the 2019 Mercedes for 2020 and the result was instant success. That earned the tag the 'Pink Mercedes' and there were a few battles with the FIA regarding its legality. But in the end, it was all OK and a first win since the last Jordan victory in 2003 was the result.
It all looked good for 2021 and it was fairly gung-ho before the season started, but the aerodynamic regulation changes that were introduced to reduce the load on the tyres seemed to (debatably) hurt the low-rake cars more than the high-rake cars.
Mercedes got on top of the problem, but Aston Martin, having cloned the car, didn't seem to have the depth of understanding to do the same despite what I expected to be the advantage of having experience of both low and high rake cars.
This doesn't bode well for 2022. I hope I'm wrong as some of the personnel there are still from the Jordan days and they are a good bunch of people, but with Stroll's impatience and the fact that Otmar Szafnauer has departed as team principal doesn't bode well for stability within the team.
This, and the fact it is hiring anyone and everyone that it can lay its hands on just shows the impatience for results. In F1, you can't buy success – you must earn it.
WILLIAMS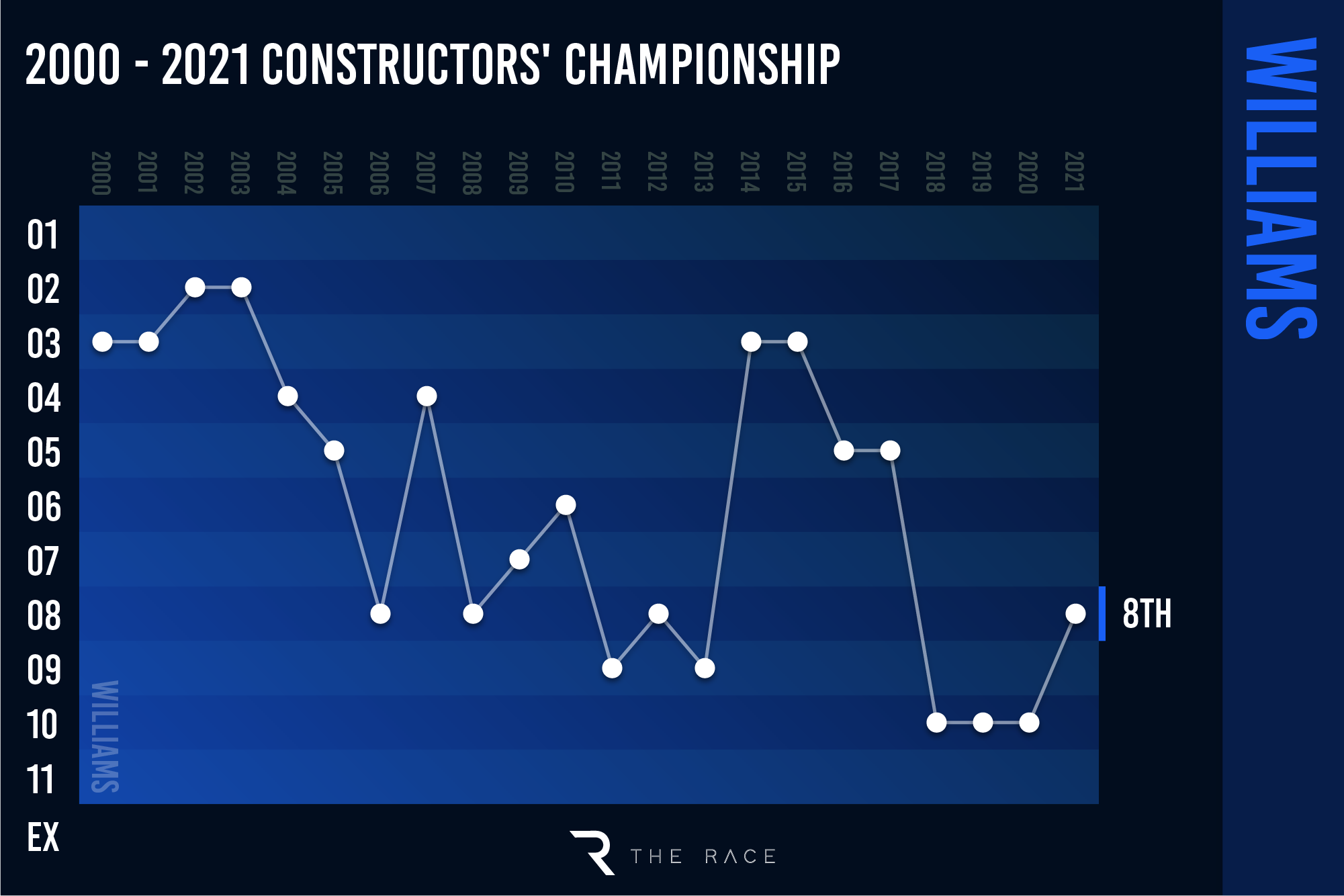 It's good to see the name above the door staying the same, even if everything else has changed. Frank passing on at the end of last year is the final part of the Williams story, so now it's down to new owners Dorilton Capital to write their own story.
I used to call the Williams of old an engineering company that went racing. Now, it is an investment company that is going racing. This is very different and the objectives will have shifted. Success at any cost was all that Frank Williams knew, but now it will be about the numbers on the bottom of a spreadsheet.
Williams was on a slippery slope after a strong start to the V6 turbo hybrid era in 2014. Having done a very good job then to challenge Mercedes, it went backwards and hit rock bottom in 2019. The last two years have started the recovery and they have been putting a new management structure in place. It seems to be working, but Rome wasn't built in a day so this is a long-term project.
These new rules give Williams an opportunity to move on with new people and a fresh approach. But it's too early to demand Williams produces a car good enough to fight for wins on merit and 2022 is just one step as it works its way back to the front.
ALFA ROMEO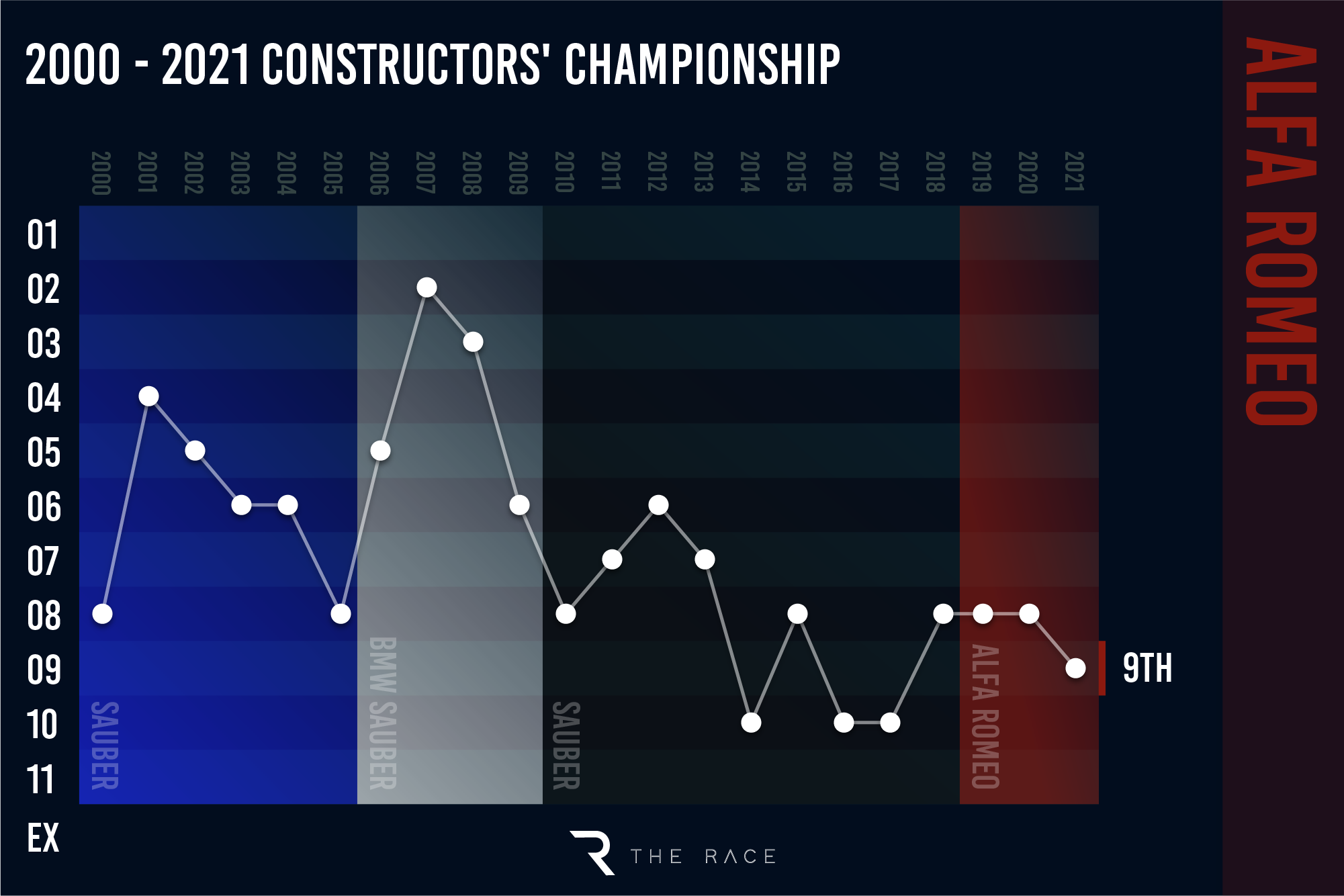 Sauber has been privately owned throughout this period, save for the period when BMW took it over in the second half of the 2000s. The team has stuck to its guns and stayed in Switzerland, which has been one of its disadvantages because it's difficult to get people with families to move there to work.
Over the last few years, Alfa Romeo has been a team that looks like it is just going through the motions. I see very little evidence of frustration with the results and I firmly believe sometimes you need to show how much it matters to you – even if what we saw from Toto Wolff late last year was a little over the top on that score.
Heading into a new set of regulations, I don't see why they will be any different from what they have been over the last couple of years. Yes, it has different drivers but the old drivers weren't the real problem, they just didn't have the tools to do the job with.
HAAS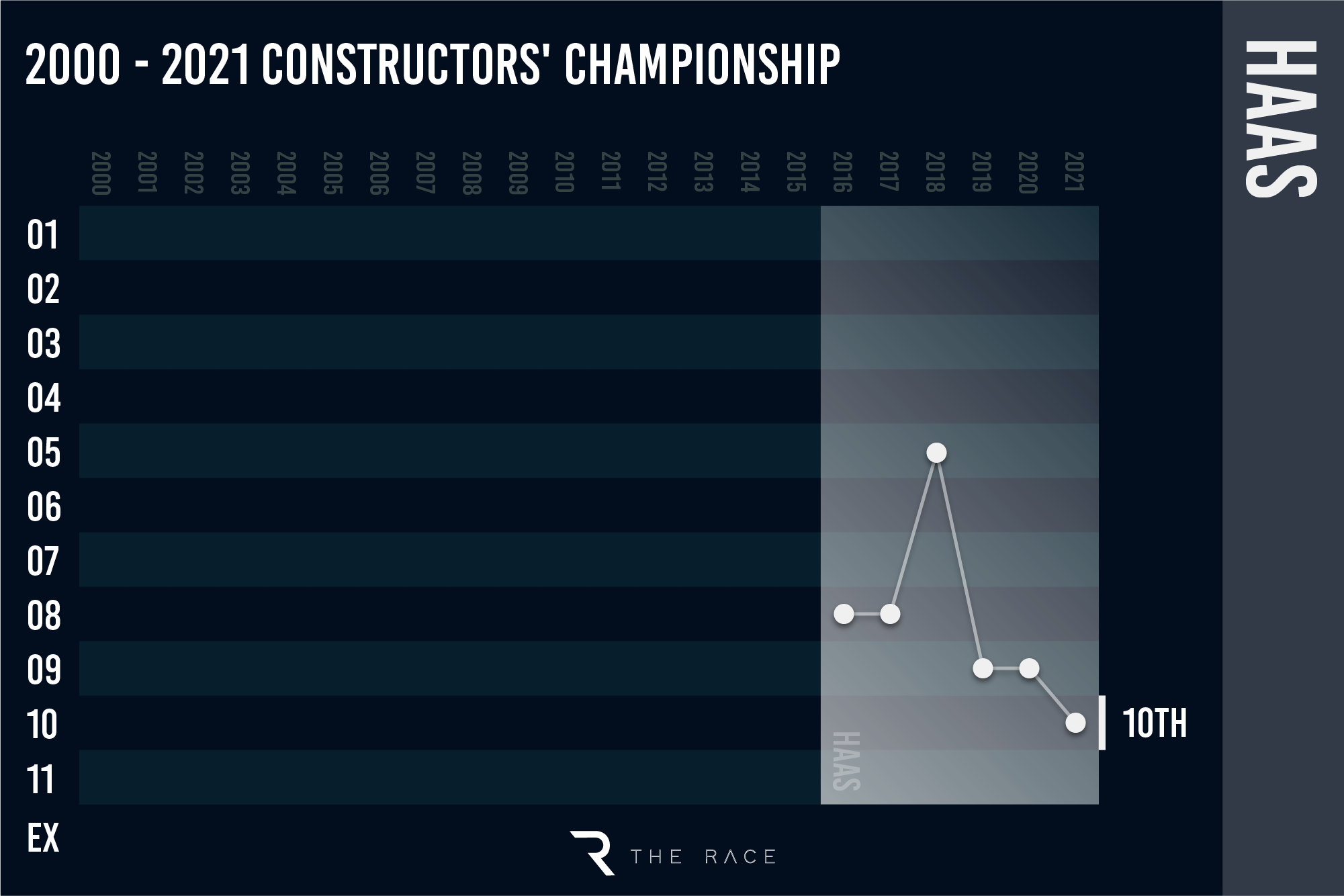 Haas is F1's youngest team and does things in a different way. It has a strong technical partnership with Ferrari and buys as much as possible from it, with Dallara involved on the design side.
It's not that this is the wrong way to go about things, it's just you don't have out and out control of anything. You are not going to get the latest gizmo from Ferrari until it has enough for themselves and while other teams were optimising and reducing their manufacturing time so it allowed them to make more parts faster, Haas has been reliant on outside suppliers.
Haas simply went racing in 2021 with its uncompetitive car and said that allowed it to focus all its efforts on 2022. As part of that, it also has more Ferrari personnel embedded – including technical director Simone Resta, in the expanded technical office that has been built at Maranello. That all points in a positive direction, but it will need to pay off quickly to prevent Gene Haas from getting a little fed up at signing so many cheques.
It's going to be an interesting season. The rule changes are not changes within a set of existing aerodynamic regulations but have been created from a clean sheet of paper. As such, some teams will go in the right direction and others will struggle.
I don't see any real reason to expect anything much different in the pecking order from what we saw in 2021, although hopefully Ferrari and McLaren might just close the gap that little bit to the front runners – who once again will likely be Mercedes and Red Bull, or will it be Red Bull and Mercedes?
Perhaps someone will find that magic bullet and surprise us all. But if that happens, it will surprise them even more than the rest of us.