During the frantic closing stages of the Russian Grand Prix caused by the late rain, it was difficult for those watching the race on television to keep track of what was going on.
It can be the same on the pitwall in situations like that and having experienced both, my advice to any team is that you have got to detach yourself from the excitement of the moment and focus on the big picture. I definitely found what happened on Sunday more relaxing sitting at home, even if it was less rewarding than making the right call at the key moment.
We all went into the race with excitement thanks to the mixed-up grid, with Lando Norris on pole position ahead of Carlos Sainz and George Russell. The big question was how long these young whippersnappers could hang on before the Mercedes steamroller came through to the front and ruined their illusions of victory. It proved to be a lot longer than anyone expected, but the race still had a sting in its tail.
To everyone's surprise – McLaren's included – Norris was still hanging on in the lead on lap 46. He did a tremendous job looking after his tyres and pitted on lap 28, which was two laps later than Lewis Hamilton. Even though the Mercedes driver was just behind him in second place, Norris seemed to have him covered and was able to stay just outside of the DRS range.
Catching a very quick-on-the-straights McLaren is one thing, passing another, so if he didn't make any mistakes Norris would have been on the top step of the podium. But that's where it all started to go wrong. On lap 46, some light rain hit, so let's have a look at how the race situation should have played out on the McLaren pitwall in terms of the timing information that it needed to have factored in.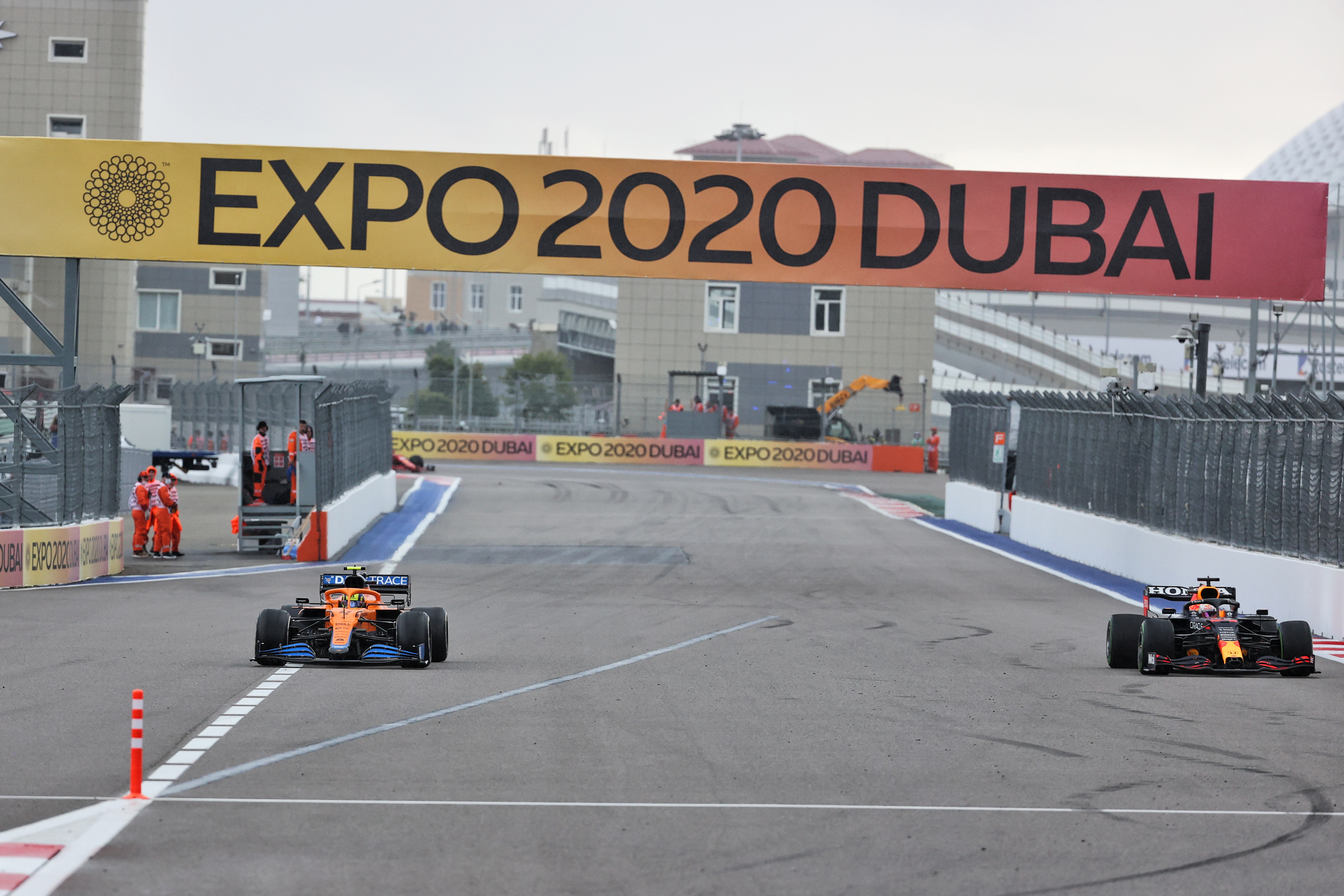 When conditions change like this you need to focus on the impact of that change and really delve deeply into your weather prediction system. You need as much information from the driver as possible and you need to look at all the driver's sector times and lap times. In changing conditions, it very seldom rains over the complete circuit so it is usually just a small section, at least to begin with.
It shouldn't be up to the engineer to request information from the driver. They are your only conduit to these changing conditions, so they need to be giving you information on what they are seeing and feeling.
At the end of lap 46, the running order, including leader's lap time and gaps was: 1 Norris (1m39.120s); 2 Hamilton, +1.167s; 3 Sainz, +37.187s.
On lap 47, it was 1 Norris (1m42.783s); 2 Hamilton, +0.996s; 3 Perez, +40.892s. This means there was no desperate need to change tyres. While the lap times were starting to drop off, the two at the front were still faster than their close opposition – as well as having plenty of time in hand.
At the end of lap 48 it was 1 Norris (1m54.639s); 2 Hamilton, +2.087s, Perez +49.387s. Sainz, along with Max Verstappen and Daniel Ricciardo, pitted for intermediates and fell away from the leading trio. So from lap 46 to lap 48, Norris's lap time dropped by 15.519 seconds. This is where McLaren needed to start looking more closely, although as Hamilton's pace loss was actually larger it's clear it wasn't just a simple mistake at this stage.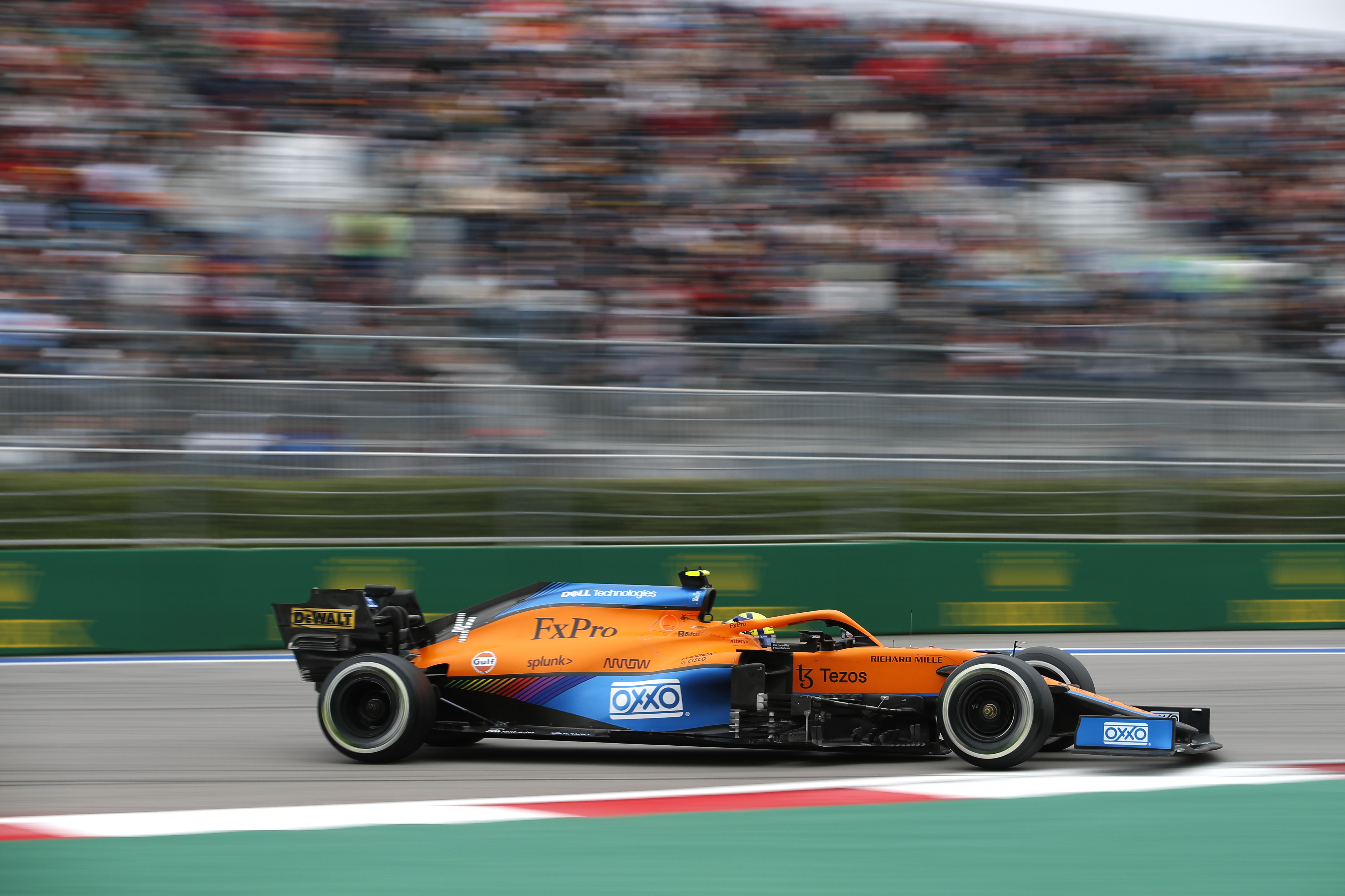 As I said above, when it's only raining on part of the track you need information and feedback from the driver to the pitwall. This is where Norris should have been in constant dialogue. I know he was concentrating on not making any mistakes and keeping a seven-times world champion behind him, but he also needed to be reading the big picture. This is why Sainz, Verstappen and Ricciardo pitted. They felt it was bad enough in some areas and that survival on slicks would be difficult.
Mixed track conditions are always difficult when it comes to making a decision on tyres but survival with slicks in the wet is a lot more difficult than intermediates in the dry, making the inters survive in the dry sections would mean keeping them cool in the wet sections and this could be controlled by the driver, spearing off the road in the wet sections is down to the luck of the gods.
By the end of lap 49 it was 1 Norris (1m52.785s); 2 Hamilton +6.181s (includes time lost in coming into the pits); 3 Alonso +49.885s. So Norris set a slightly faster lap time than on lap 48 and I'm pretty sure that he felt the conditions had improved just that little bit. He was still leading and holding his own, but crucially behind him, Hamilton pitted for inters.
Initially, he didn't want to and ignored the call, but the team informed him that they believed the rain was going to intensify so he reluctantly pitted. This key call is what tells you the problem is not with the drivers but the pitwall – Mercedes called Hamilton in when he wanted to stay out but McLaren never told Norris to pit.
It was on lap 50 that the writing was really on the wall for what needed to be done. But the decision needed to come from the team as the pitwall should have been studying the sector times of any car that was on inters. The wet parts were around Turns 7 to 10, so there was plenty of information from those mini-sector times and plenty of time to react in the pits and call their driver in for inters.
By the end of lap 50, Norris was still in the lead, Hamilton was in second and only +14.995s behind. Now, you don't have to be a brain surgeon to know you are in trouble in this situation and it was clear that if Norris did stop, he would lose the lead.
After Hamilton emerged from the pits, he was 25.845s behind but started making gains very quickly. By the time he finished sector 2, he was just 18.464s behind – so had gained 6.812s in the trickiest part of the lap. When he crossed the line, he had gained 10.850s on Norris since he rejoined the track. At this stage, Max Verstappen was in third, 68.769s behind at the end of the 50th lap.
The team not using the sector times to get an overview of the situation is what led to this defeat. He had two laps to go, a lead of just under 15 seconds and was losing time. If you are looking very closely at the sector times, even with Hamilton behind him, McLaren had time to recognise the time loss in the middle sector and bring Norris into the pits. After all, given this was Hamilton's outlap you would expect the pace difference to be even bigger next time round.
Yes, if Norris had pitted on at the end of lap 50 he would have given Hamilton the lead, but a sure second place was on the cards. He was never going to hang on with the rain intensifying and was now in danger of losing far more positions. The fact the rain came a lot heavier is immaterial because the damage was done by not accepting they got it wrong at the end of lap 49 and that second place could be saved had he come in at the end of lap 50.
If Norris had pitted at the end of lap 50 (one lap after Hamilton), it would have left him three laps on intermediates and even if the sun had burst through the clouds, he and the other drivers running at the front would have been on the same tyres. With a bit of care, they would have lasted to the end.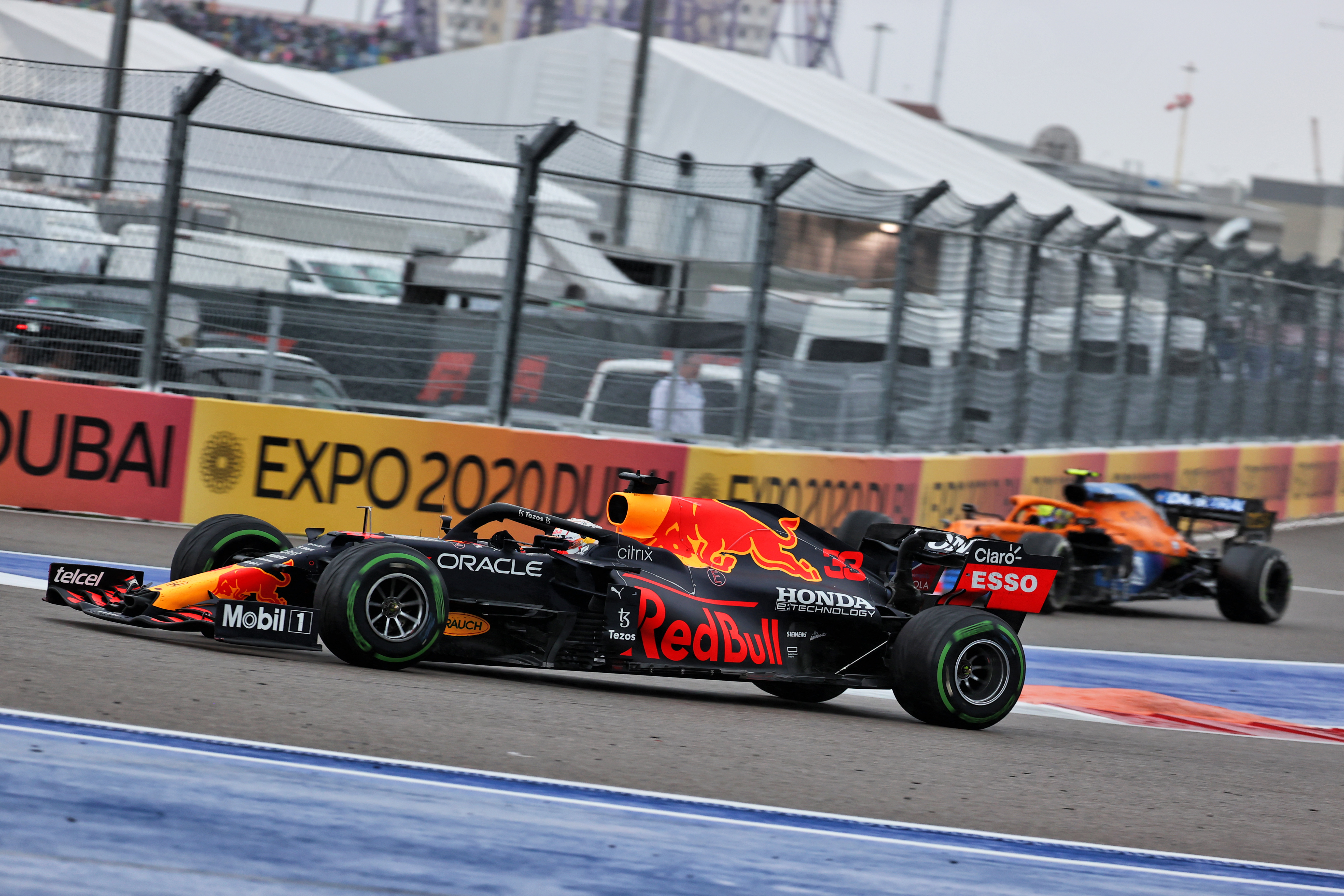 In the end, Hamilton won. His last lap was a 1m51.465s, with Verstappen 53.271s behind and Sainz 62.475s down. Like everyone, the top three all finished the race on intermediate tyres.
Just to back all this up, in Q2 on inters Norris did a 1m45.827s and Hamilton 1m45.129s, so the teams knew that was the sort of time that was possible on inters, so a 1:54.639 on slicks on lap 48 should have rung the alarm bells pretty loudly. Even if they didn't want to react immediately given he was in the mid-1m50s on lap 48-50, that should have been a clear warning that the time was right to get onto intermediates.
When I was involved in these decisions, I would always study the sector times and let the driver's race engineer get on with running the car. That would allow me to get involved when things required an outside pair of eyes.
It's very easy to get excited in the moment but on the pitwall someone needs to keep a level head and stay detached from that excitement it's also very easy to let things unfold themselves.
After all, by making a decision you run the risk of making the wrong decision and you shouldn't put that pressure on the car's engineer. There needs to be someone looking at the global picture and taking that responsibility and you just hope you get it right more times than you get it wrong.
It's very easy to say this is all in hindsight and it's easy after the event to be critical, but I was calling for tyres on lap 49 so the evidence was there.
If I was to allocate blame, first of all, it would be that Norris didn't or at least we didn't hear him communicate enough with the team when it started to rain on lap 46. He should have been giving them updates on how the track was changing four or five times a lap without them asking for it. I would also have a word with him with regards to his manner over the radio to his engineer.
Secondly, from lap 48 when others started to pit the team wasn't looking at the big picture. In these conditions they can glean information from every car that is still running, sector times and lap times for cars on different tyres are there for them to study. The driver doesn't have access to that information he only has his own understanding of what's happening and that of the cars around him.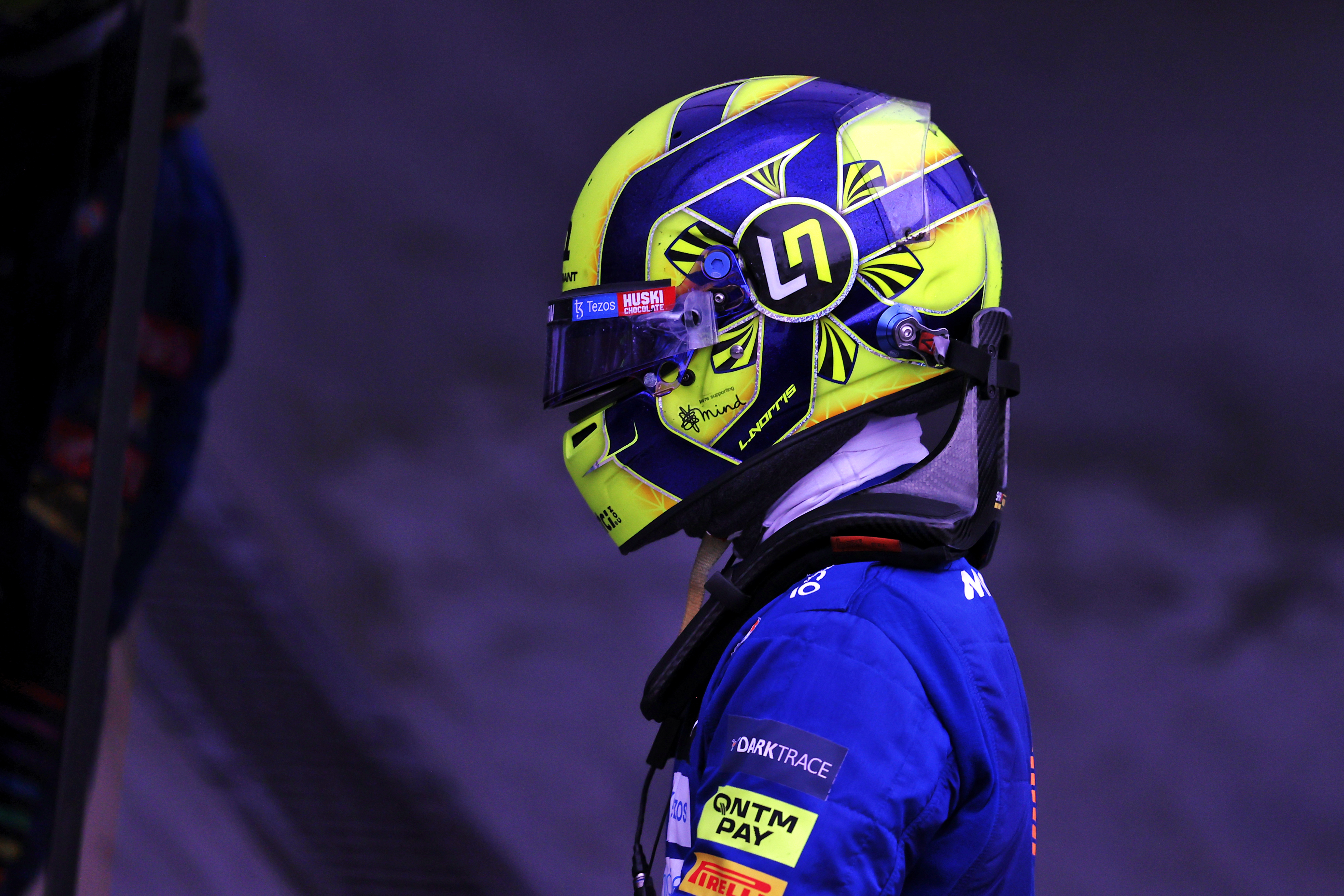 Nearly 20 years on from when I was last on the pitwall, I would have thought a team like McLaren would have had all this information automated and the simulation tools would be plotting predictions and solutions to any given situation.
But no, it doesn't look like that technology is being used properly. It seems the main problem is that it has also forgotten how to use the abacus as well as how to work it out.