"We're dominating, we're unstoppable" – that was a smiling Lando Norris's very tongue-in-cheek remark after Russian Grand Prix qualifying, in which McLaren had scored pole position 13 days after winning the Italian Grand Prix.
Some 24 hours later, Norris could have won at Sochi and given McLaren a shock pair of victories in a row. Of course, we all know how that turned out thanks to the rain that inserted a late twist.
The reason for Norris's light-hearted remark on Saturday though was that in specific circumstances, McLaren had briefly become a repeat contender at the front. It went back even further: remember in the Belgian Grand Prix he could, maybe should, have been on pole. That's three times in four races we've talked about McLaren as a frontrunner, not just 'best of the rest'.
Unfortunately for McLaren the missing race in that run, the Dutch GP, was a sobering affair – the team was "destroyed", in team boss Andreas Seidl's words, and that meant even when Daniel Ricciardo won at Monza, McLaren remained firmly grounded.
These peaks have not occurred purely by chance. They have required certain conditions – the track layouts at Spa (where the weather also helped), Monza and Sochi (where the weather played a vital part in the qualifying result) – but these conditions have put McLaren and its drivers in a position to excel. What they did with that opportunity was down to them.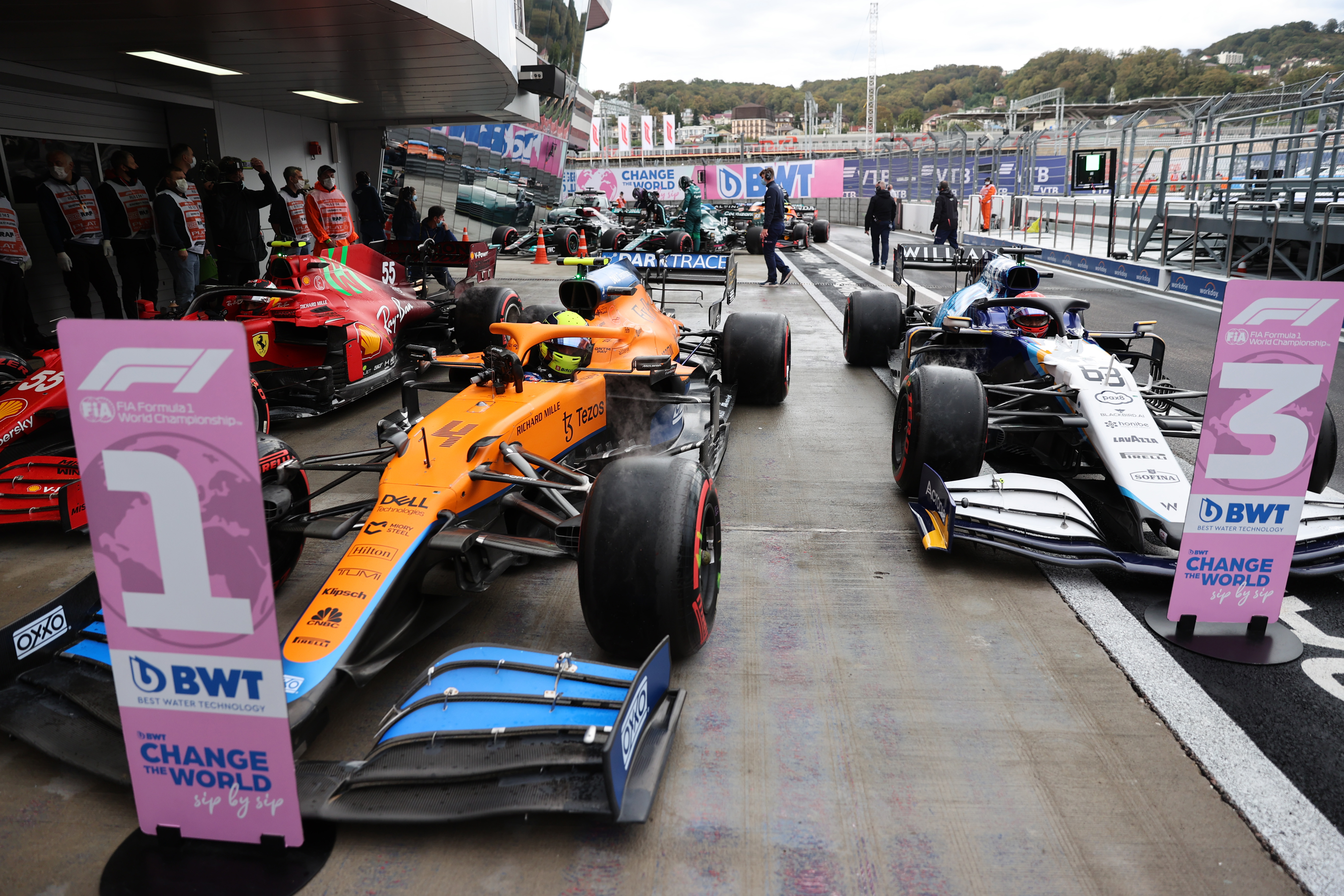 Because of the underlying pace deficit that exists most of the time, we rarely (if ever) see the likes of McLaren in a straight fight with the big guns. We know McLaren isn't yet an outright 'top team' again in pure car performance. But in races like Monza and Sochi, we can see whether a team that doesn't quite have the car to match Mercedes and Red Bull regularly may be considered a 'top team' operationally.
McLaren still has some way to go in this regard and it's tempting to use Russia as a clear example of that.
Daniel Ricciardo's race was compromised by a slow pitstop and then Norris's otherwise perfect bid for victory was wrecked when the team hesitated on making a firm call to pit for intermediates in the closing stages and its young driver wanted to be left alone to manage the conditions on-track.
Compare that to Mercedes and Lewis Hamilton, who McLaren and Norris were fighting for victory. Hamilton, a seven-time world champion and the definition of 'experienced', had the same view as Norris: he wanted to stay out on slicks. He even ignored a call from Mercedes to pit.
But Mercedes was adamant more rain was coming and instructed its driver again – Hamilton, recognising that a persistent call like this was a sign of Mercedes' assurance, duly boxed at the end of the lap. It won him the grand prix.
There are undoubtedly lessons for McLaren and Norris from this defeat and Seidl believes it will make the team and driver "stronger".
McLaren's progress has been obvious since its 2018 nadir and while it proved it can win again at Monza, ultimately this is a team that has not fought regularly for victories since 2012. That's an eternity in F1 and there will inevitably be some catching up to do on the details of being a regular race-winning force.
Italy was proof McLaren is absolutely capable of being a top team: "In a race where we had the ultimate pressure like in Monza, the team actually could pull off the quickest pitstop," Seidl says. But Russia showed immediately how even the tiniest slip can be the difference.
It's only one point of data of course and from an extreme case study. We've seen both Mercedes and Red Bull make the wrong strategic calls before – in fact, Red Bull had its own pitstop problem with Perez at Sochi that ruined his podium chances before the rain hit. No team is perfect. In mitigating Ricciardo's problem, Seidl contests there's a clear trend of pitstops being worse since the FIA technical directive that tweaked protocols mid-season from Belgium onwards.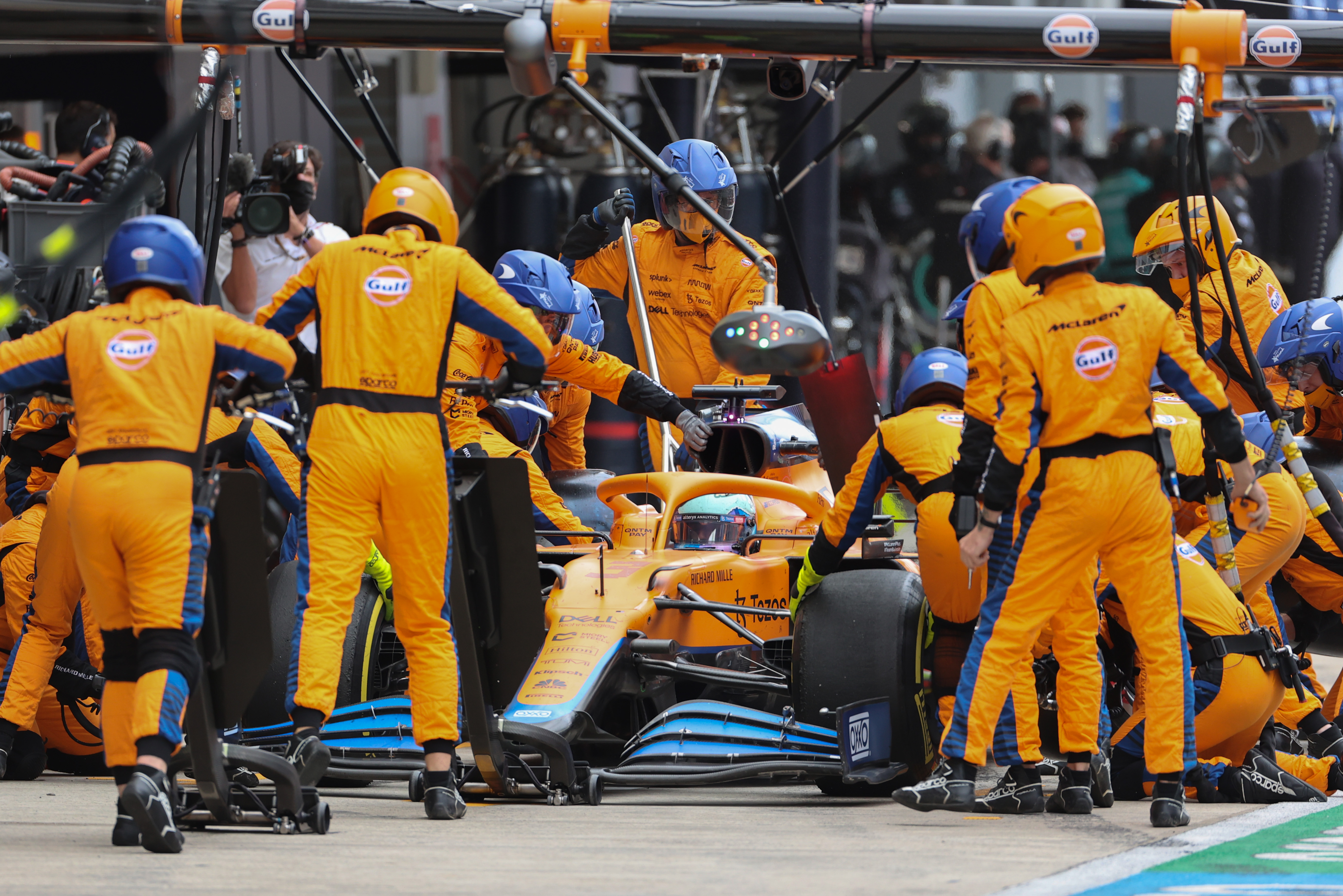 "Just relating to pitstops would be wrong because I think you can see throughout the pitlane that the spread in terms of pitstop times we see throughout the pit lane is quite big," says Seidl. "As there's a lot of issues happening.
"We still need to analyse what happened. But it is clear when I look back the last two and a half years we made big steps forward in terms of execution and the operation as a race team during race weekends.
"A big part of that is simply the stability we have now in the team in terms of personnel. We are building this up together, we are learning from the mistakes that were happening.
"That's what you see the end in terms of results. I don't want to say too much but we have a great run of reliability, which is obviously key to score these points all the time.
"Despite what happened at the end of the race, we have a race team that is most time spot on with the strategy, with tyre usage during the race, so I'm very happy with the progress we're making.
"But of course, compared to the teams that are ahead of us in the championship, we still have deficits in all areas.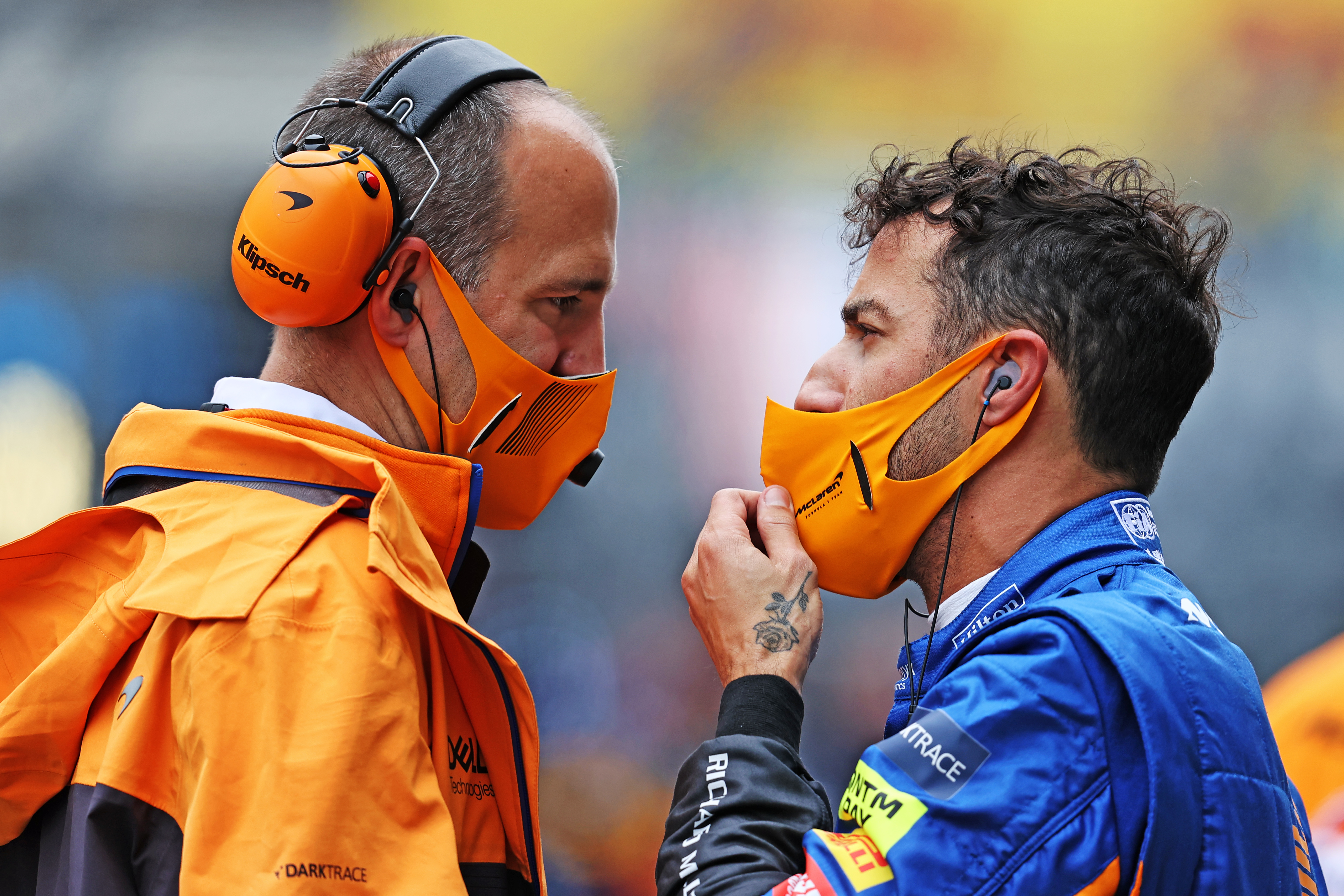 "That's why it's important after a weekend like Monza, for example, or after a pole position, that the first thing you have to do is analyse what you could have done better because there's always something you can do better.
"The moment you are satisfied with what you have achieved, that's the start of the decline."
Seidl's pragmatism means you can take him at his word when he says what happened in Russia doesn't automatically mean McLaren makes bad strategic choices or is still weak at pitstops. And there are always case studies that can be found to either support or contest an argument.
Monza is the ultimate example of McLaren's operational potential. Even before Hamilton and Max Verstappen collided in Italy, McLaren was looking good for a one-two. Ricciardo had got the jump on Verstappen at the start, then Mercedes and Red Bull fluffed their pitstops to open the door for Norris to take second. The car was quick enough and a win looked on the cards regardless of the title rivals removing themselves from the picture.
McLaren managed the jeopardy around the pitstops and the potential for under/overcuts to perfection and the most important pitstop of Ricciardo's season turned out to be the fastest stop of the entire grand prix. It's an indication McLaren is entirely capable of operating at the very highest level.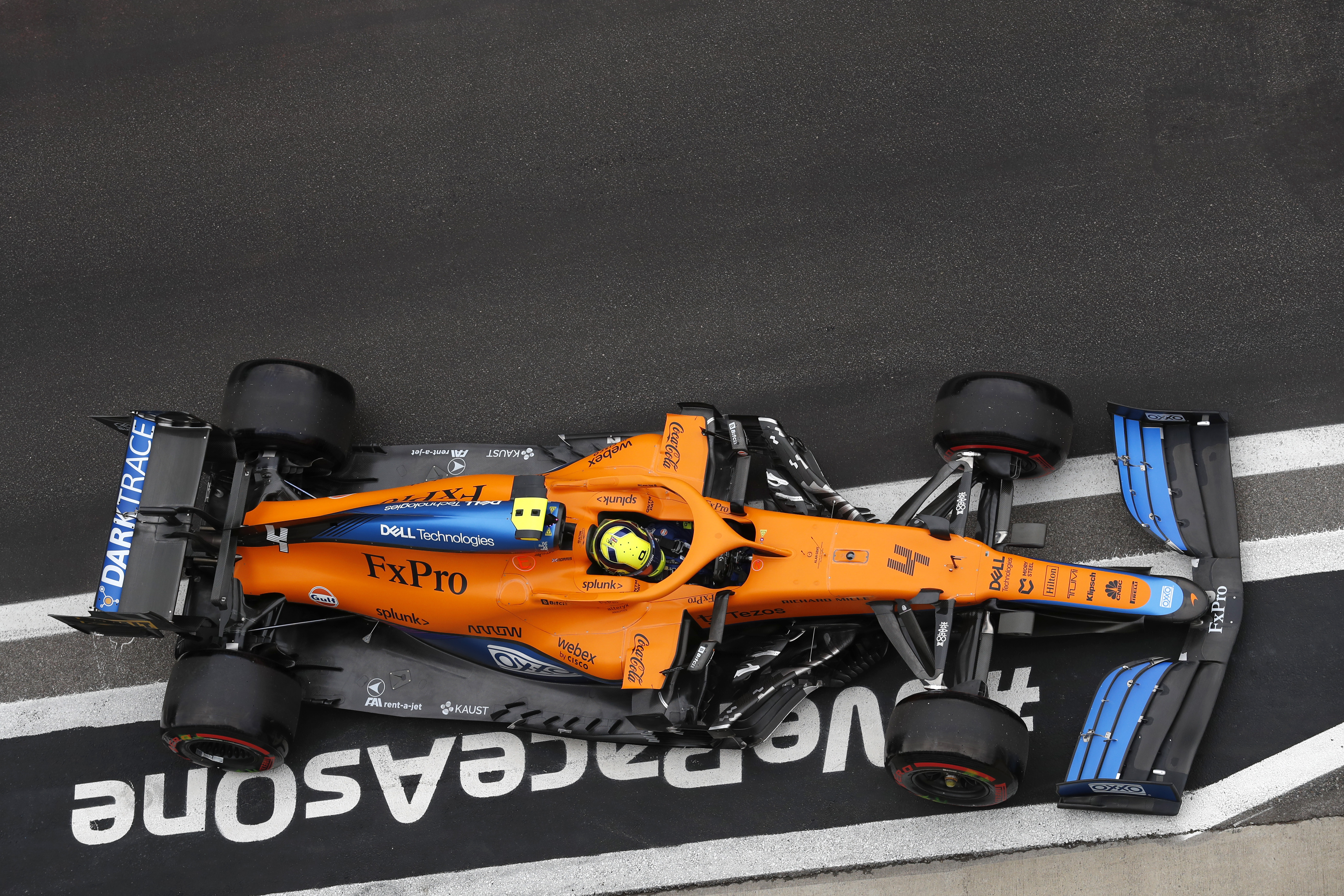 But it is not at that level consistently enough, yet. As Seidl admits, McLaren is still inferior to Mercedes and Red Bull in "all areas". Even if he was not talking in broad terms he would almost still mean pitstops. There has been an improvement, which was essential given it was McLaren's most glaring weakness.
"We started to update our pitstop hardware, because we are simply not at the level of the top teams here in Formula 1," says Seidl.
"That was causing some really catastrophic pitstops where we sent the car again in the pitlane with wheels not being tight so it was very important that we get these updates in order to help the team.
"Then it was simply important to work together with the team on the execution of the pitstops and in order to do that, you also need to create first of all stability on the team side in terms of personnel and that's what we could achieve in the last two and a half years different to the past.
"It is one of the key elements I think that we have pitstops now that are a lot quicker and a lot more consistent as well. We're still not there, but I'm very happy with the progress we could make."
In 2019, an average McLaren pitstop was 3.1s compared to 2.55s for Red Bull and 2.82s for Mercedes. In 2020 the gap grew. McLaren's average was 3.54s, while Red Bull's shrunk to 2.41s. Mercedes also got slightly slower at 3.04s.
Prior to the technical directive introduced at Spa, McLaren's 2021 average was down to 2.99s. And its consistency also took a noticeable step: the standard deviation among McLaren's pitstop times this year (pre-Spa) is 0.77s – down from 1.033s last year.
McLaren's numbers are still some way from the Red Bull benchmark but they are a lot closer to Mercedes, which this year boasts an average pitstop time of 2.82s and a standard deviation of 0.63s.
McLaren has taken a step. It is still not the standout operator in F1's midfield but it's at least no longer trailing a long way behind – pre-Spa, it had the seventh-best average, ahead of Ferrari, AlphaTauri and Haas but behind the rest of the midfield.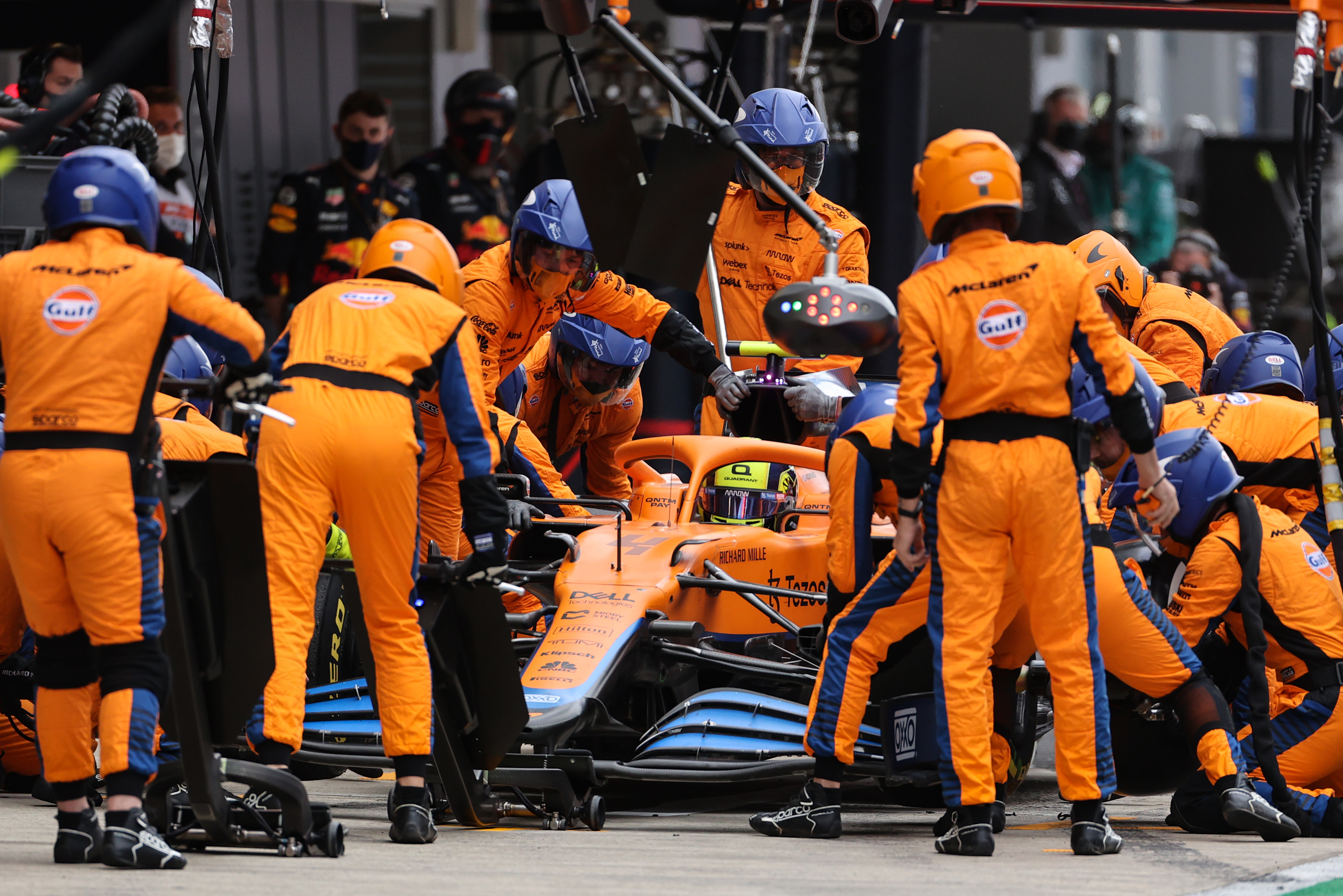 That means McLaren is still going to be outperformed by a rival in the pits slightly more often than not. And in that regard, it cannot yet be considered a top team.
Did this get exposed in Russia? That would stretch a single data point too far. What we might say is that it correlates with an existing, known weakness, one that is being improved but is still very much there.
Whether Russia was a relevant test case or an outlier in extreme conditions doesn't change the fact McLaren's deficit to the very best in F1 is not limited to outright car performance. But it knows that better than anybody.