Mercedes realised the problems with its 2022 Formula 1 car "much too late" because it was relying too much on its Bahrain test upgrade, according to Toto Wolff.
It ran in a different configuration at the opening Barcelona test before bringing a significant upgrade package to the second pre-season test in Bahrain, which included the strikingly minimised sidepod concept.
But Wolff said that caused the reigning constructors' champion team to "stumble upon circumstances which made us realise that we had an issue much too late".
Mercedes was left grappling with porpoising problems that made the W13 a difficult car for Lewis Hamilton and George Russell to tame and a package that looked far slower than Red Bull and Ferrari.
Knowing the Bahrain test package was coming left Mercedes "looking at the results and the data from the first test in maybe not the same way you should be" according to Wolff, in an apparent hint it wasn't looking close enough at the car to discover its underlying problem at Barcelona because it had so much faith in the upgrades that were coming.
"When we put the car on the road in Bahrain we were really surprised with the problems that we had," Wolff explained.
"It took a while to understand them, now we're in the process of dialling them out. But dialling it out means just applying the science and the scrutiny and the hard work, physics not mystics."
When asked if Mercedes should revert to its Barcelona package, Wolff firmly said "No we've committed to the current concept and we strongly believe that it's the right way".
Given the fears Mercedes had in testing, Wolff said the team was a "little upbeat" to discover it had the third-fastest car in qualifying in Bahrain, where Hamilton starts fifth between the Red Bulls and Ferraris.
On Friday new signing Russell had suggested Mercedes was a second off the pace and it would be fighting the Alfa Romeos and AlphaTauris.
This turned out to not be far from the truth as Alfa Romeo's Valtteri Bottas outqualified the man who replaced him at Mercedes and booked a spot alongside his former team-mate Hamilton on the third row.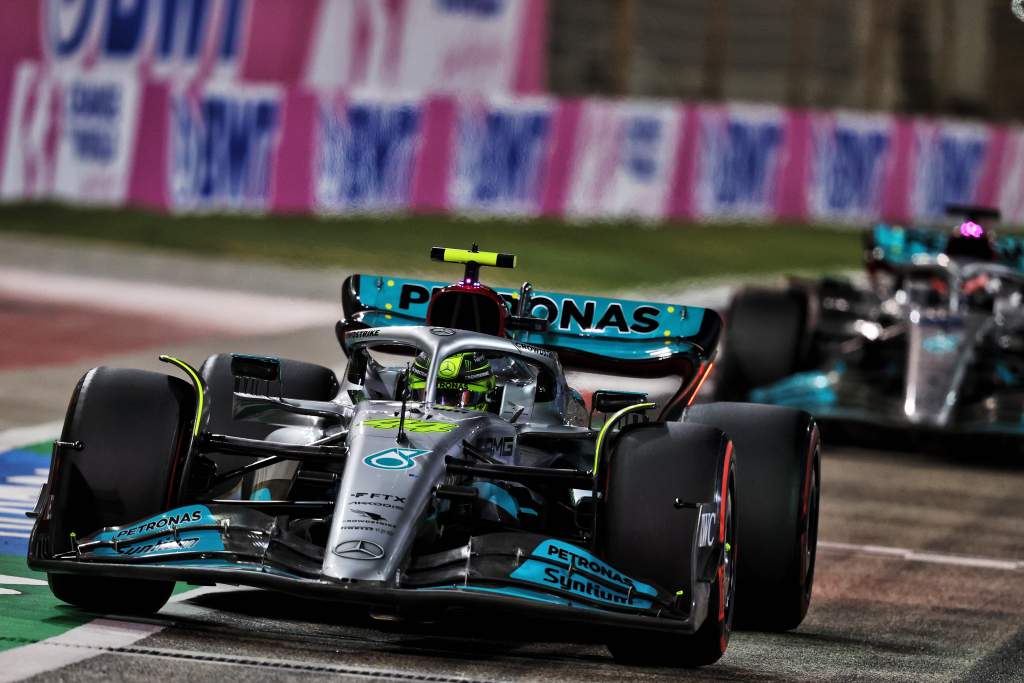 "One of the strengths in our team is to be very realistic about where you stand and today we've seen our new baseline," Wolff said.
"It isn't catastrophic but it's putting us in front of a very different challenge to all the previous years.
"We've had to fight Ferrari engines and we've had to fight regulatory changes like last year with Red Bull and we've still been able to win the championships and be very close and now there's a new challenge.
"We're third on the road. We're a little bit upbeat about where we've been able to consolidate ourselves in qualifying and if you'd have told me that last year, I'd have said that's simply not satisfactory but where we are today, that's the harsh reality. Now we know where the target is."
Hamilton was almost seven tenths adrift of polesitter Charles Leclerc while Russell was only ninth after what Wolff described as "shortcoming of the team" as it instructed him to push hard on his out-lap which meant his tyres were too hot when he arrived into Turn 1.
"We're probably lacking half a second in terms of the single lap today," he estimated.
"It was more on the timesheets but we only had one run on the new softs [in Q3]. That's probably where we see ourselves, but we know where we're losing. Now the catch-up game has started."
Fifth and ninth is Mercedes' worst qualifying result in an F1 season-opener since Nico Rosberg and Michael Schumacher qualified seventh and 11th for the 2011 Australian Grand Prix.