The Aston Martin Formula 1 team believes problems with porpoising are costing it almost three quarters of a second, as it suffered a double Q1 elimination in qualifying for the Bahrain Grand Prix.
Aston Martin was one of the first teams to switch focus to the 2022 car last year and it hoped F1's new regulations would give it a chance to return to the front of the midfield fight, having slipped from fourth to seventh in the constructors' championship in 2021.
A low-key pre-season test created little expectation for the Bahrain season-opener, although some suspected it was yet to show its hand.
However, in qualifying, Aston Martin lost both cars in Q1 with Nico Hulkenberg and Lance Stroll 17th and 19th as the team was forced to compromise its set-up to deal with the porpoising problem.
"We are still a way away from solving it the way we want to solve it," Aston Martin's chief technical officer Andrew Green explained.
"We've had to make quite a few compromises to the car, car set-up, to be able to run without it.
"We've started some things yesterday, we tried some things in testing as well. We're making progress but I think it's still going to be several races before we end up with a solution that gives us the performance we need and gives us the aerodynamic stability we need to go with it.
"We've got performance in the car if we can get rid of the porpoising, that's where we'll try and aim for the next event.
"It's going to be a few races before we really get on top of it and get something that's really performing."
When asked how much time Aston Martin was losing with the set-up compromises, Green said "we are losing in excess of half a second, probably closer to three quarters of a second.".
As was the case for many of its rivals, Aston Martin's porpoising problems were made more challenging because it wasn't able to anticipate the issue while developing the car in the windtunnel.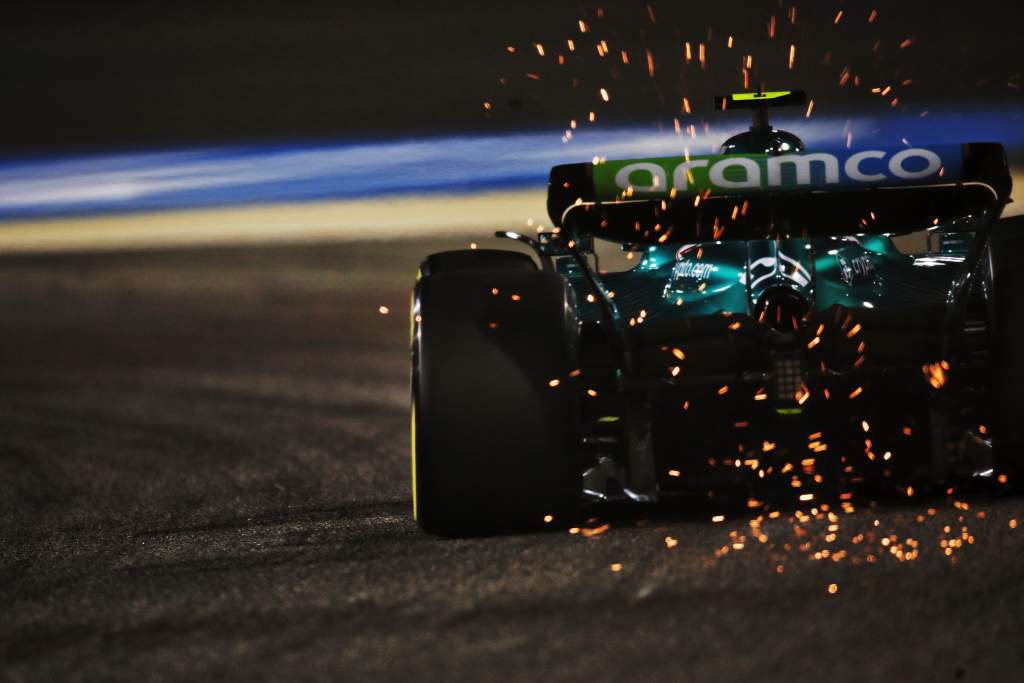 "The car is relatively raw in its development and we can sort of expect these sort of things and it wasn't visible to us until we started running," he added.
"So we didn't get eyes on it until quite late. And then to understand what the problem is between the first Barcelona test and second Bahrain test, before we really got to understand right where is it actually coming from and what's actually causing this, and then to put that into the development cycle and develop it into the car and get the performance, it takes time.
"These are complicated cars and some of these parts are really quite large and they take a lot of time to design and manufacture. So it's going to take a while."
It marks the second successive season where Aston Martin is grappling with a problem that it believes has cost it a sufficient chunk of time.
At the beginning of 2021, it was the aerodynamic changes that hurt the low-rake cars, a problem Aston Martin elected against solving mid-season and instead switched focus to the development of its 2022 car.
Hulkenberg, who is standing in for COVID-hit Sebastian Vettel, was able to outqualify regular Aston Martin driver Stroll in his first F1 qualifying session since the 2020 Eifel Grand Prix, and was pleased with his own personal effort.
"It's also always relative isn't it?" he said.
"You drive to what the car offers you and as a team we've got some homework to do, some pace to find.
"Personally for me, in quali now it was important that I delivered the laps clean.
"In practice, it's always easy with new tyres to get a clean lap when there's no pressure so for me in quali that was my main thing: that I came out of quali saying I produced a lap.
"There was no mistakes, I got everything from the table, and I feel I achieved that. That gives me satisfaction for today."
Stroll the lack of pace was a "surprise" and believed it could have been down to changes the team made after final practice.
"We just didn't have grip," he admitted. "I didn't have much grip to extract a lot out of it.
"We're learning at this stage. We looked good in FP3, the car felt much better than it did now in qualifying so we've got to figure out why."