The modern Nurburgring may forever be regarded as a circuit in its predecessor's shadow by some, but it's so far proved incapable of hosting a truly dull Formula 1 race.
Its wildly unpredictable mixed-weather thrillers have entered F1 legend, but even on its flatter F1 days, the Nurburgring's managed to be at least quite interesting or slightly odd.
Think we're being too generous?
Here's our evidence: every (New) Nurburgring grand prix ranked from worst to best.
18 – 2004: Sato!
Like most of 2004, this was a Ferrari 1-2 with Michael Schumacher storming away and Rubens Barrichello finishing second.
But because this was the Nurburgring, the route to that Ferrari 1-2 featured an array of incidents elsewhere in the field that bordered on self parody in some cases, including:
* Takuma Sato getting his only F1 front row start, losing ground with a wheel-banging first lap battle with Jarno Trulli, fighting back to challenge Barrichello for second, throwing it away with a ludicrous first corner lunge that smashed his front wing and then almost immediately having a massive Honda engine failure.
* Juan Pablo Montoya punting Williams team-mate Ralf Schumacher into a spin and consequent comedy collision with Cristiano da Matta at the first corner.
* McLaren looking set for a breakthrough in its miserable start to the season as Kimi Raikkonen ran second at first, before he suffered a Mercedes engine failure – just like team-mate David Coulthard did having got up from 20th to eighth.
17 – 2001: Schumacher vs Schumacher
How the Schumacher siblings raced each other was a common talking point in early 2000s F1, with Ralf often criticised for going too easy on his big brother and Michael often criticised for being too relaxed about squeezing his little brother towards walls.
There was a touch of that off the line as they set off from their family front row sweep. Though Michael then made a break, it was shortlived – the Ferrari's Bridgestones starting strongest but the Michelins on Ralf's Williams far quicker as their grooves wore down.
That generated a gloriously tense first half of the race as Ralf hunted down then hounded his brother.
But Ralf getting a 10s stop/go penalty for crossing the pit exit white line after his first stop dumped him to an eventual fourth behind canny one-stopper Coulthard and dumped this race to 17th out of 18 in this list, with rookie Montoya not quick enough to pick up where his team-mate left off and chase down the Ferrari this time.
Other Nurburgring quirks in this one included Michael Schumacher trying his spare car on a reconnaissance lap only for it to break down and force a pre-race dash back for the car he'd always planned to race, Eddie Irvine's Jaguar hassling a muted Mika Hakkinen's McLaren for sixth and Jean Alesi throwing his Prost into the Dunlop curve gravel in a penultimate lap bid to take 10th from Kimi Raikkonen.
16 – 1984: Lauda's big save
This wasn't considered a cracker at the time: Alain Prost was half a minute clear at the peak of his dominance up front, and everyone thought the new Nurburgring was at best dull and at worst an insult to the Nordschleife.
But the intrigue came from eventual champion Niki Lauda's dogged progress from 15th to fourth place.
It could've been Lauda's coronation race as he arrived 10.5 points clear of McLaren team-mate Prost in an era of nine-point maximum scores and with just two rounds left.
Instead Friday fuel injection problems followed by Saturday rain left Lauda starting 13 places behind Prost. Even for a man whose qualifying average that year was 7.7 and who didn't start above third all season, that wasn't ideal.
Lauda had to dodge a first-corner pile-up triggered by Ayrton Senna mounting Keke Rosberg and recover from a spin while trying to lap Mauro Baldi's Spirit.
He was helped by the Renaults of long-time second-place man Patrick Tambay and Derek Warwick breaking down, but his eventual fourth could've been even better.
Second and third runners Nelson Piquet and Michele Alboreto both ran out of fuel in the final corners and had a spluttering slow-motion race to the line, won by Alboreto's Ferrari.
Lauda had eased off too much to catch them, missing out on what would've been an easy extra two places.
15 – 2006: Schumacher turns the tables
A race of high tension, with a crowd-pleasing result. For the first two thirds of the grand prix, title rivals Fernando Alonso and Michael Schumacher ran barely one second apart in their lead battle.
Ferrari had been wrong about Renault running light to get Alonso on pole – he pitted for the first time just one lap before Schumacher and came out still fractionally ahead.
But it was right that it had the superior pace. Schumacher unleashed some monster lap times when he stayed out three laps longer than Alonso at the second stops, and jumped the Renault to secure a second straight victory that proved it was game on in the title fight after Renault's season-opening hat-trick.
Alonso only just managed to fend off the second Ferrari of Felipe Massa and Raikkonen's McLaren for second.
14 – 2002: When Barrichello was allowed to win
Ferrari came to the Nurburgring with the FIA hearing over its Austrian GP team orders looming, and found itself with Barrichello leading from Schumacher again.
Barrichello had got himself there with a splendidly aggressive first lap charge from fourth on the grid to first.
The Williams-BMW implosion was rapid that day: Montoya and Ralf Schumacher had filled the front row but their Michelins were way off the pace of Ferrari's Bridgestones and they immediately began to go backwards. Montoya spun into a deeply unamused Coulthard at the brand new tight Turn 1 while trying to keep going on very dead tyres, and Ralf tumbled to fourth behind Raikkonen.
In the two laps between the Ferraris' passes on Ralf Schumacher, Barrichello had managed to build a 3.5s lead over his team-mate. And if Michael was expecting to be let past again, it didn't show as he had a high-speed spin while trying to catch back up.
Into the final laps, Schumacher eradicated the gap and was right with Barrichello. Team boss Ross Brawn crackled over the radio and said…
"Rubens, can you do me a favour?
"Can you win the race…"
He duly did.
13 – 1997: Bad day for M
c

Laren and the Schumachers
A race of notorious wipeouts.
Both Jordans and both Schumachers brothers out in a three-car first corner tangle as Giancarlo Fisichella and Michael sandwiched Ralf.
Both McLarens out with Mercedes engine failures one lap apart while absolutely dominating – the still-to-win Hakkinen from his first pole and on his 29th birthday, team-mate Coulthard having leapt from sixth to second at the start even before everyone around started crashing.
Less famously, both Stewarts of Barrichello and Jan Magnussen out with mechanical trouble after they'd dodged the chaos to put themselves on course for a first double points finish.
And it could've been both Williams out before Turn 1 too after championship leader Jacques Villeneuve and Heinz-Harald Frentzen banged wheels going into the braking zone.
Villeneuve escaped unscathed and took an easy win once the McLarens blew. Frentzen accidentally switched his ignition off then came back from 13th to third once the car restarted, between the Benettons of Jean Alesi and Gerhard Berger (charging from 15th after the first corner mess) in a Renault-powered 1-2-3-4.
12 – 2013: Vettel vs Lotus
Sebastian Vettel has only won once in Germany, and it was one of his harder-earned Red Bull wins.
In a race of tyre headaches – using rapidly produced new Pirellis fitted with kevlar belts after a spate of failures at Silverstone just a week earlier – poleman Lewis Hamilton's Mercedes went furiously backwards and Vettel found himself under race-long pressure from a pair of Lotuses that were handling the tyre situation much better than the rest of the field.
Despite having either Romain Grosjean, Raikkonen or both on his tail for pretty much the entire distance, Vettel held on to take a narrow win over Raikkonen even with the Finn taking fresh softs with a very late final stop.
Vettel's team-mate Mark Webber would've been in this mix too had he not shed a rear wheel as he accelerated out of his first pitstop, leaving a TV cameraman with a broken collarbone and ribs.
This race also featured a bizarre safety car interruption when Jules Bianchi's Marussia-Ferrari started trundling backwards down the track by itself after Bianchi had parked it in a cloud of smoke and flame.
11 – 2003: Williams's revenge
After painful Nurburgring defeats to Ferrari in the previous two years, Williams turned it around with a 2003 1-2 that raised hopes of a title shot and featured a sub-plot of Montoya/Michael Schumacher controversy.
It probably would've all happened in poleman and dominant early leader Raikkonen's wake had the McLaren-Mercedes not had an engine failure just before half-distance.
That left Ralf Schumacher free to take a win that made up for being beaten in the previous two rounds after taking poles and his previous Nurburgring pain.
Williams team-mate Montoya's late surge provided the entertainment: he jumped Barrichello for third at the second stops, then hammered off after Michael Schumacher. As Montoya passed the Ferrari round the outside of the Dunlop curve, Schumacher touched the Williams and spun.
Given that Montoya was ahead and Schumacher had enough room to not hit him, Ferrari boss Ross Brawn's "not a classy driver" jibe at Montoya was an unpopular view.
With its rear wheels stuck in the gravel, the Ferrari got going again with help from the marshals – which raised rivals' eyebrows.
Also in the eyebrow raising category was the incident in which Coulthard went flying off the road at high-speed approaching the chicane while trying to pass an early-braking Alonso, who later denied the recovering Michael Schumacher fourth place.
10 – 1985: Alboreto hits team-mate then wins
"I'm so sorry. I thought 'oh no, anyone but Stefan…'"
This was a great day for what at the time seeming like a promising Ferrari title bid (one that would eventually unravel with its championship hope Alboreto scoring zero points in the final five races).
But it started with Alboreto inadvertently wrecking his team-mate Stefan Johansson's race by hitting the sister car at the first corner and giving it a puncture, amid a wild start in which surprise poleman Teo Fabi's Toleman went from first to eighth – which was where fast-starter Alboreto had qualified.
Alboreto spent the first part of the race working hard to fend off Elio de Angelis's Lotus and title rival Prost's McLaren for third, while Keke Rosberg and Ayrton Senna produced an excellent Williams vs Lotus lead fight.
The Lotuses didn't last: Senna losing a driveshaft not long after taking the lead from Rosberg, de Angelis suffering a massive Renault engine failure while convinced he was quicker than Alboreto.
Rosberg's Williams-Honda was eating its tyres and was caught by Alboreto and Prost, with the Ferrari grabbing the lead with a wheel-banging move and the Williams dropping to third before pitting for tyres and later going out with brake troubles.
Prost had those too, and a misfire, and spun while grappling with it all, leaving Alboreto free to win despite a smoky oil leak in the closing laps.
9 – 2009: Webber wins despite penalty
Given the general themes of Webber's career, it's not a surprise that his first F1 win didn't come easy.
On paper a pole-to-victory triumph, on the way he had to overcome a drivethrough penalty for wheel-banging into front row partner Barrichello's Brawn as he lost the lead off the line.
Circumstances played out beautifully for Webber, though. Rather than the penalty dumping him into the traffic, the fact his Red Bull only needed two tyre stops while the tyre-munching Brawns needed three, the slow McLaren of Heikki Kovalainen holding up a pack from third early on, and then the long-running Ferrari of Massa doing the same in the pit sequence all added up to give Webber a load of clear air in which to build enough of a gap to make his penalty irrelevant.
While Vettel made it a Red Bull 1-2, things got furious at title rival Brawn – with Barrichello absolutely raging at the team as he slipped from that early lead to fifth, behind team-mate Button as well as Massa and Nico Rosberg's Williams.
"They made me lose the race basically," ranted Barrichello of his team. "I wish I could just get on a plane and go home now. I don't want to talk to anyone in the team, because it would be a lot of blah, blah, blah, blah… And I don't want to hear that."
A long pitstop that Barrichello interpreted in the cockpit as a race-saving move to a two-stopper turning out to be just a fuel rig problem hadn't helped his mood.
Fun cameos in this one included Hamilton launching from fifth to first for a few moments at the start thanks to McLaren-Mercedes' KERS, then clipping Webber and disappearing out of contention with a puncture, and Alonso spinning his Renault on the parade lap but doing the race's fastest laps in the closing stages as he chased the Brawns for fifth and sixth, then declaring he could've won.
Adrian Sutil also gave a big hint of what Force India would do later in the season by qualifying seventh and looking capable of a home podium before Raikkonen's Ferrari turned in on him.
8 – 2000: Schumacher in rainmaster mode
This would've counted as one of Michael Schumacher's epic pieces of wet weather domination, but for the fact that Hakkinen was almost as good. They lapped everyone else, including team-mates Coulthard and Barrichello.
Hakkinen had burst between front row men Coulthard and Schumacher to lead at the dry start, then led under pressure from Schumacher despite carrying a heavier fuel load than the Ferrari.
Schumacher's pass for the lead, as drizzle began, was perhaps a little too easy, but it was a combination of pitstop delays, ill-timed traffic and McLaren going a bit too long in its tactic of pitting later that denied Hakkinen a chance to properly come back at Schumacher in what became a huge downpour.
Superstar underdog of the day was Arrows' Pedro de la Rosa, who ran as high as fourth before finishing sixth. Team-mate Jos Verstappen looked good too, before a heavy crash half a lap after playing a role in the race's oddest retirements.
Irvine spun his Jaguar while trying to pass the Arrows, prompting the close following Ralf Schumacher to spin his Williams in avoidance and effectively reverse into the Jaguar – which continued despite losing its rear wing and promptly spun off at the next corner.
7 – 2011: A three-way thriller
Vettel may have won 11 races in 2011, but at home he was a muted and overshadowed fourth as Hamilton, Alonso and Webber put on an absorbing McLaren vs Ferrari vs Red Bull race-long, three-way tussle without him.
While Vettel was passed for third by Alonso early on then spun, Hamilton led but jeopardised it by messing up the chicane on lap 12. Webber dived ahead into the final corner but a compromised exit let Hamilton pounce and reclaim the lead into Turn 1.
Though Webber did grab the lead successfully at the first stops, he couldn't shake off Hamilton and Alonso at all.
The McLaren got ahead of the Red Bull at the second stops, then fended off some firm Webber bids to repass while it was on cold tyres.
Alonso leapfrogged both of them by pitting later, only for Hamilton to drive right around the outside of him in the complex in what proved to be a race-winning pass. While things calmed down from there, a proper lead battle had been just what 2011 needed.
6 – 1996: Hill's first hiccup
Damon Hill came to the Nurburgring having won all three races so far and duly took pole by 0.8s over rookie Williams team-mate Villeneuve.
But the start turned this one inside out: Hill went backwards to fifth, Coulthard – who'd been having a shaky first McLaren season up to then – launched from sixth to nearly first before Villeneuve fended him off at Turn 1, and Barrichello brought his Jordan from fifth to third ahead of Schumacher's Ferrari and Hill.
Surprisingly Schumacher proved easiest for Hill to pass, and things got far more lairy against Barrichello's nippy Jordan-Peugeot. Hill was still behind Barrichello when he lost more ground with a slow first pitstop as Williams checked for a reported car problem, before a scruffy tangle with future Arrows team-mate Pedro Diniz took them both through the gravel.
Hill eventually made it back to fourth – passing Barrichello successfully in the end, but not quite able to deny Coulthard a first McLaren podium despite assertive efforts. It may well have been Hakkinen on the rostrum, had a pitlane speed limiter malfunction not caused two penalties.
Meanwhile Schumacher jumped clear of the pack with a great first stop and then tore off after Villeneuve, demolishing the Williams's 13s lead in a Ferrari really not competitive enough to do that on merit yet. They were right together throughout the second half of the race, with Villeneuve clinging on to take his first F1 win by 0.8s.
Hill's start had been far from the worst in the field. Benetton's 'handbrake' grid system jammed on, leaving Alesi and Berger grinding off the line with locked wheels. Alesi's recovery drive was brief: his pass on Verstappen's Arrows on lap two was so enthusiastic he harpooned straight into Mika Salo's Tyrrell just ahead.
5 – 2005: Raikkonen's cruellest loss
In the year when tyre changes were banned, locking up and causing a flatspot was a bad idea.
But having turned around a tough start of the season with back to back wins in the previous two grands prix, Raikkonen and McLaren felt they couldn't afford to throw away a race lead now they were making inroads on Alonso and Renault's championship cushion.
So Raikkonen, who'd already been off over the grass once, pressed on, even as the damage on his left-front tyre caused a bigger and bigger vibration, even as Alonso – who'd been 22s behind early on having been down in fifth on lap one – closed in.
In a piece of very Nurburgring drama, Raikkonen's right-front hung on until the braking zone for Turn 1 on the very last lap, when the shaken suspension gave up and shattered, pitching the McLaren into a high-speed crash.
Alonso cruised past and won, with Nick Heidfeld – who'd taken his light-fuelled Williams to what would be his only F1 pole at home – second.
The Ferraris were caught on the wrong side of a Montoya/Webber/Ralf Schumacher first-corner mess and had to come from the back of the field to third (Barrichello) and fifth (Schumacher) as Coulthard equalled the new Red Bull team's best result so far in between them.
4 – 1998: The day Hakkinen really won the title
You might feel we're over-rating this one. It wasn't a piece of wild wet-weather madness, and the pass for the lead wasn't on track.
But the pressure on the protagonists and what Hakkinen's win led to made it an epic. It wasn't Schumacher's stall and puncture that meant Hakkinen took the 1998 title, it was Hakkinen's relentless driving at the Nurburgring one race earlier.
You'd have expected Hakkinen to crumble in the early laps. Coming after being embarrassed by Schumacher's superb Hungary win, a silly early spin into Johnny Herbert's path at Spa and brake woes at Monza (all of which eradicated his once decent points lead), now Hakkinen was down in third at the Nurburgring, trapped behind Schumacher's rear-gunner Irvine as his title rival sprinted away with the race.
Irvine had actually jumped Schumacher off the line from the all-Ferrari front row, before an untidy chicane approach on lap one meant the inevitable switch came early and naturally.
Schumacher was 9s clear when Hakkinen finally passed Irvine for second on lap 14 with what had to be a much more robust move.
He only managed to trim that to 5s in the 10 laps before Schumacher pitted, but then Hakkinen unleashed the stint of his life over the next four laps to stun Ferrari by emerging in the lead following his own stop.
Schumacher never gave up, and was glued to the McLaren through the next stint. But Hakkinen was not going to crack this time, and even got away for a bit in the closing laps before Schumacher mounted one final attack.
Hakkinen's re-established four-point lead was one thing, the confidence boost from proving he could handle title pressure and pull off a turnaround like that was vast.
The rest were nowhere: Coulthard half a minute back in third, Irvine a minute away in the end and only just ahead of Frentzen and the Benettons.
3 – 2007: Alonso's greatest M
c

Laren moment (and Winkelhock)
Possibly the Nurburgring's high point of sudden rain madness. The field set off from a bone dry grid, slight drizzle began.., then became an outright downpour that was particularly intense at Turn 1.
Leader Raikkonen lost control in the pit entry, ended up back on the track and had to do another slicks-in-the-very-wet lap, seven cars including Hamilton and Button plunged into the Turn 1 gravel (Vitantonio Liuzzi's Toro Rosso just missing the safety car and tapping a recovery tractor as it did so), and DTM midfielder Markus Winkelhock – making a one-off F1 start for Spyker at home – found himself with a 20s lead having nipped in for intermediates at the end of the parade lap.
The red flag and the sunshine came out soon afterwards. Winkelhock was eaten alive at the restart, and as the track dried out it became a close but not thrilling Massa versus Alonso lead battle.
Then the rain returned just as suddenly in the closing laps, forcing a mass switch to intermediates and reignited the lead chase as Alonso hunted down Massa, passed him around the outside after a wheel-to-wheel battle then engaged in some parc ferme finger-wagging because Massa had slid into him while being defeated.
It was a wild weekend for rookie championship leader Hamilton. Tenth on the grid after a big qualifying crash, he stayed in his car and kept his engine running having slid off in the first downpour. Judged to be in a dangerous position, he was craned out of the gravel and allowed to restart at the back, and had many adventures before just missing out on a point.
2 – 1999: The strangest Nurburgring result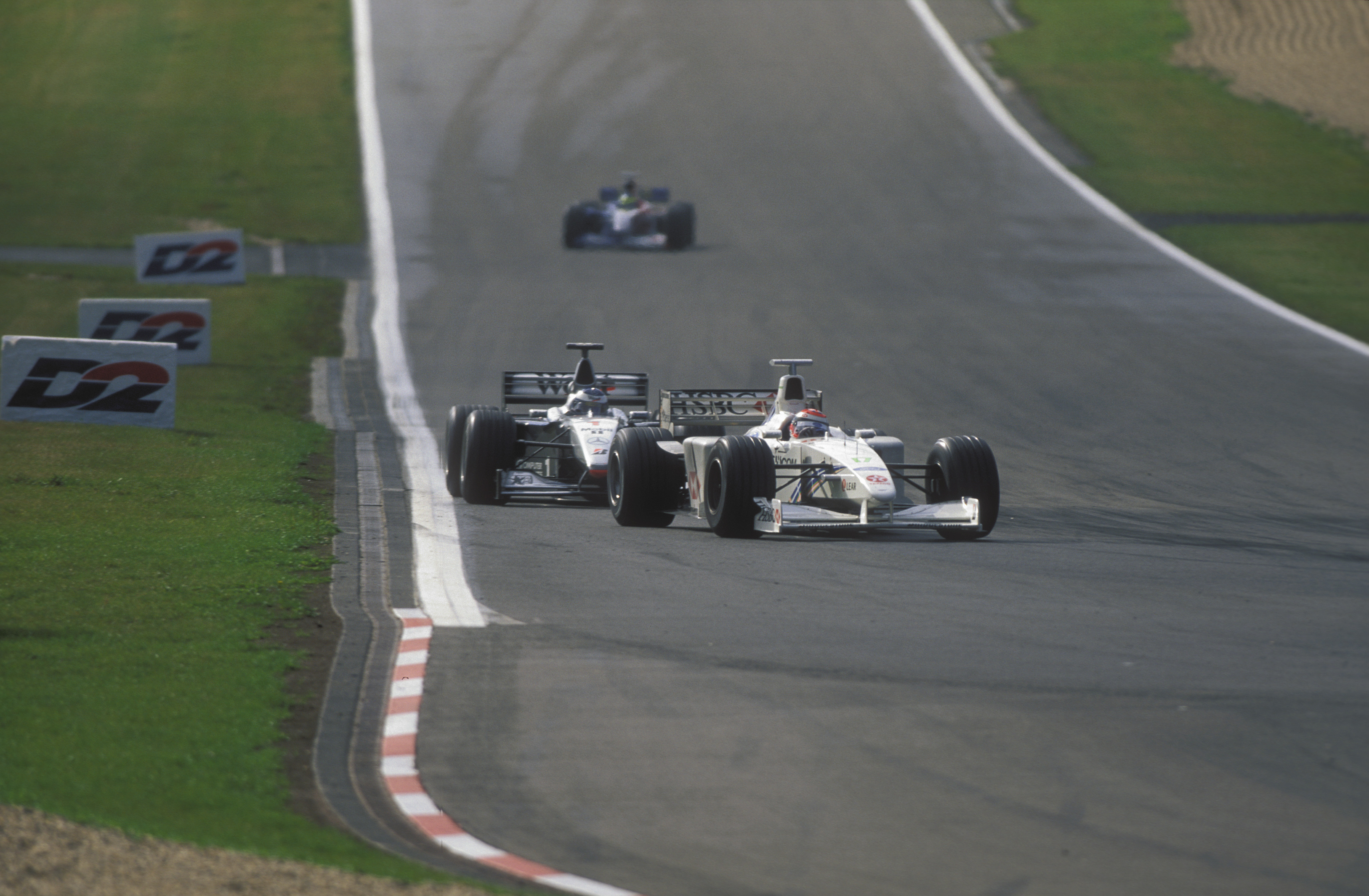 There's an argument for a three-way tie at the top of that list. But that would be a cop-out.
Still, putting 1999 only second feels contentious, because this one had everything. An early shower, where the right call was to brave it out on slicks, but title rivals Hakkinen and Irvine didn't. Then a much bigger later downpour where the right call was to get in quick and get wets, but too many tried to brave it out and failed.
Herbert, Trulli and Barrichello made all the right decisions, drove beautifully, and came from 14th, 10th and 15th on the grid to create a stunning Stewart-Prost-Stewart podium.
Before then, Frentzen had proved his and Jordan's title bid was serious after their Magny-Cours and Monza wins by emerging from a troubled build-up to snatch pole in a drying qualifying session, then lead under enormous pressure from the McLarens of Hakkinen and Coulthard and the sensational Ralf Schumacher's Williams.
But Frentzen's car agonisingly switched off as he rejoined in the lead after his first pitstop because he forgot to reset a launch system, just as team-mate Hill's had at the start and triggered a terrifying accident that sent Wurz into Diniz and the Sauber into a rollhoop-breaking upside-down landing.
Coulthard could've won, but crashed. Ralf Schumacher probably deserved to win but had a puncture. Fisichella could've won but crashed.
Luca Badoer was running an extraordinary fourth for Minardi, then collapsed in tears as his gearbox broke 13 laps from the finish. Minardi still had a consolatory point from Marc Gene, who was only just beaten by Hakkinen and managed to resist Irvine.
Title contenders fighting for scraps with Minardis summed this race up rather well.
1 – 1995: Schumacher vs Alesi
Not as mad as 2007 or 1999, but an absolutely enthralling pure race featuring genius from two men about to swap seats: Ferrari's Alesi and Benetton man Michael Schumacher.
At first, the hero was Alesi.
Ferrari and McLaren both started their cars on slicks on a still-damp track. To put the boldness of this into perspective, it was 10 laps before the other leaders felt confident enough to pit.
To put Alesi's mastery of the conditions into perspective, he left team-mate Berger 15s behind early on, was leading the race by 40s at half-distance, and the McLarens struggled so much on slicks that Mark Blundell and Hakkinen were battling with Diniz's Forti at first. And Alesi did all that with a mammoth one-stop fuel load against much lighter cars.
Schumacher had been stymied early on behind polesitter Coulthard, who'd spun his Williams off on the reconnaissance lap (two races after his Monza parade lap blunder) and switched to an unfamiliar spare in which he wasn't especially quick.
Coulthard did brilliantly to fend off Schumacher and Hill, who'd had to fight back past Irvine's Jordan after a poor start, through a tense early laps that also featured minor Hill/Schumacher contact and angst. Both passed Coulthard following the pitstops for slicks and he then faded.
Hill – as was the 1995 trend – took himself out of the hunt by colliding with Alesi and breaking his front wing when the Ferrari's first pitstop put it briefly into the Williams's range as Hill was yet to make his second stop. A bone-cracking subsequent crash from fourth ended Hill's day completely.
And then it was all about Schumacher. On lap 35 of 67, he was 29s behind Alesi as the Ferrari rejoined following its sole fuel stop, seemingly cruising to victory.
But Schumacher was still running relatively light and took off after the Ferrari, entirely demolishing its lead and getting right on Alesi's tail before pitting for his third stop with 15 laps to go.
He rejoined 22s behind Alesi. Could he do that charge all over again?
Yes, he could. Three laps from the finish, Schumacher had not only re-caught Alesi, but was passing him with a brilliant tough wheel-banging outside move at the chicane to secure a victory that he didn't really need to take with title rival Hill out.
It left no doubt over who deserved the 1995 championship, and left Ferrari very excited about what it was getting for 1996.
And for Nurburgring oddness points: the race also featured British Touring Car champion Gabriele Tarquini popping back from his Alfa Romeo Super Tourer to stand in for Ukyo Katayama at Tyrrell following Katayama's big Estoril startline crash. Three years after his last F1 appearance, Tarquini qualified a quite decent 19th and finished six laps down in 13th, but beat Pacific driver Jean-Denis Deletraz.