Most Formula 1 teams end in failure, to modify a well-known phrase usually applied to political careers.
Few eras of grand prix racing have produced so many failures, whether heroic, tragic or tragicomic, as the 1990s when a plethora of teams tried to crack F1.
So when Fearghus Butler from The Race Members' Club asked us to rank all of F1's backmarker teams from the late 1980s to the late 1990, how could we resist?
The first question is: what criteria should be used to select the teams?
To start, the period has been narrowed down to 1989-1999, which we can refer to as the 1990s by way of shorthand. The ban on turbo engines in 1989 creates a neat starting point, especially as that season was the high-water mark for entries with no fewer than 39 cars turning up for some races.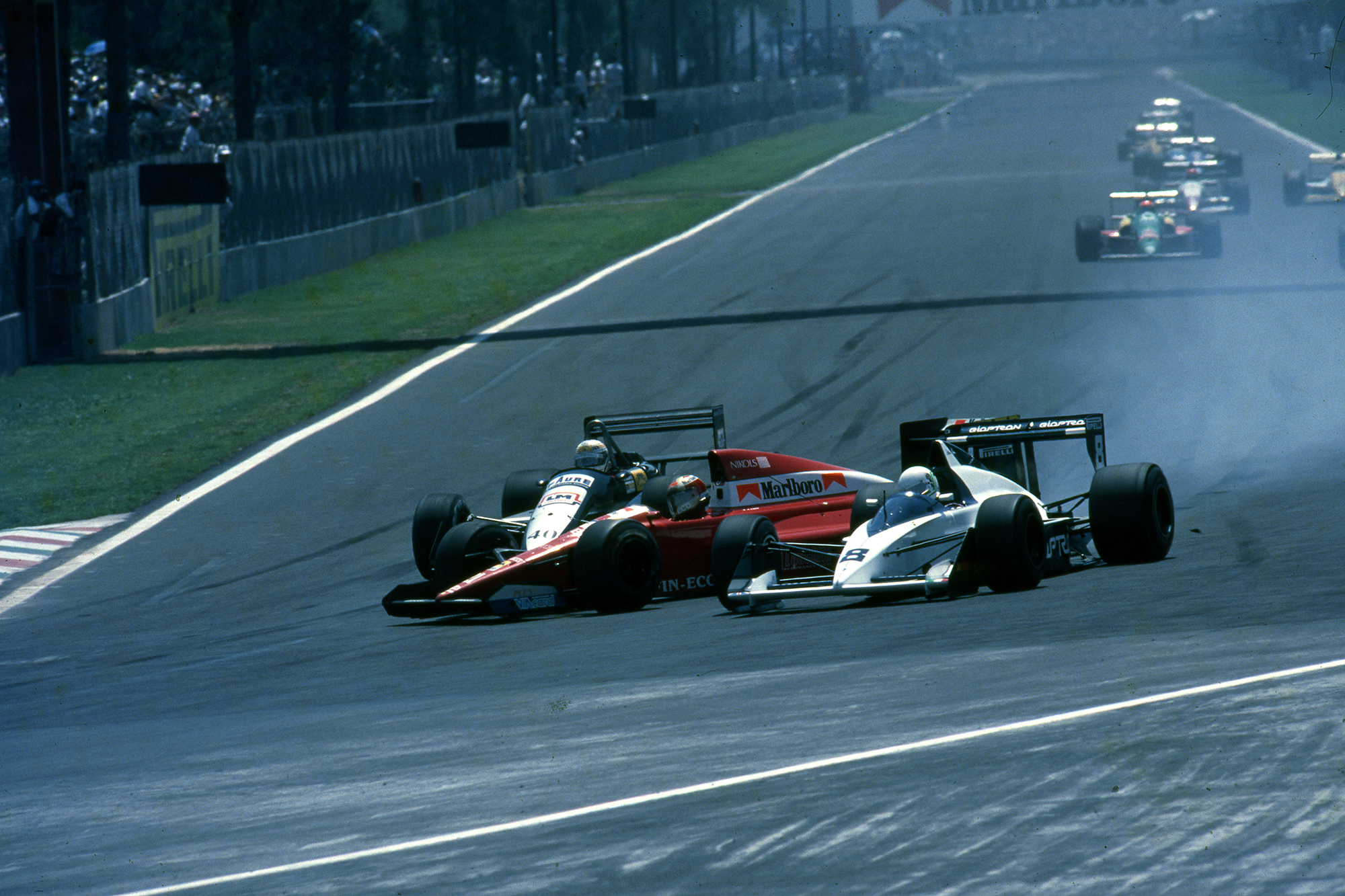 Secondly, we need to select the eligible teams. Pre-qualifying is a useful way to pick out the majority, with 18 different teams running in the standalone Friday sessions from 1989-1992. So they are all in – even the big names.
To that, we also add any team that went through a season without scoring a point, as well as any new teams that appeared and those that closed their doors during this period.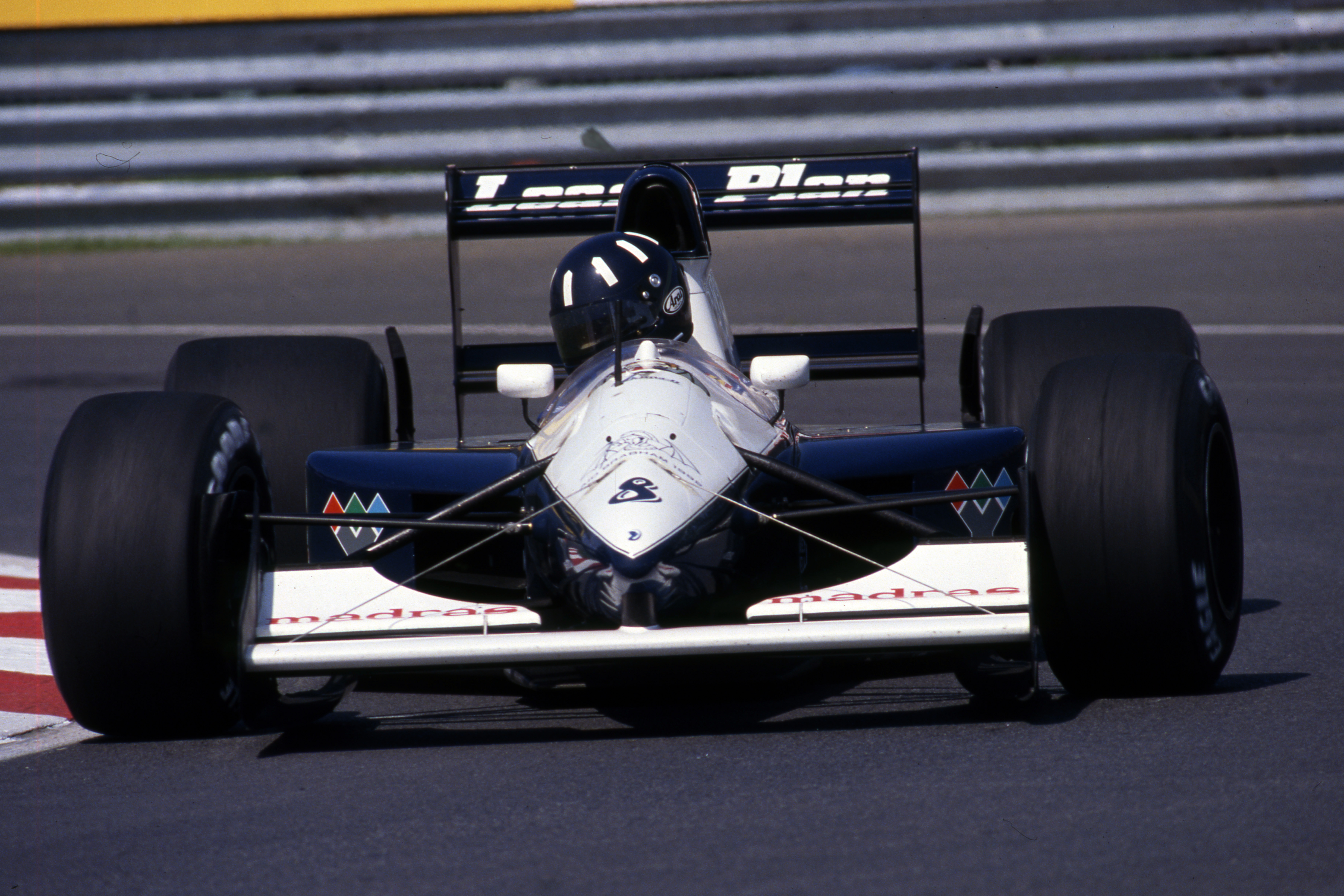 The ranking is based solely on performances in 1989-1999, regardless of their achievements before or after that. Brabham for example, is ranked only judging by its form in reduced circumstances this period, rather than for its illustrious past.
Oh, and given one of the joys of this era of F1 is these failed teams, we are of course ranking them according to how terribly they did. So we start with the most respectable and count down to the most shambolic.
24 JORDAN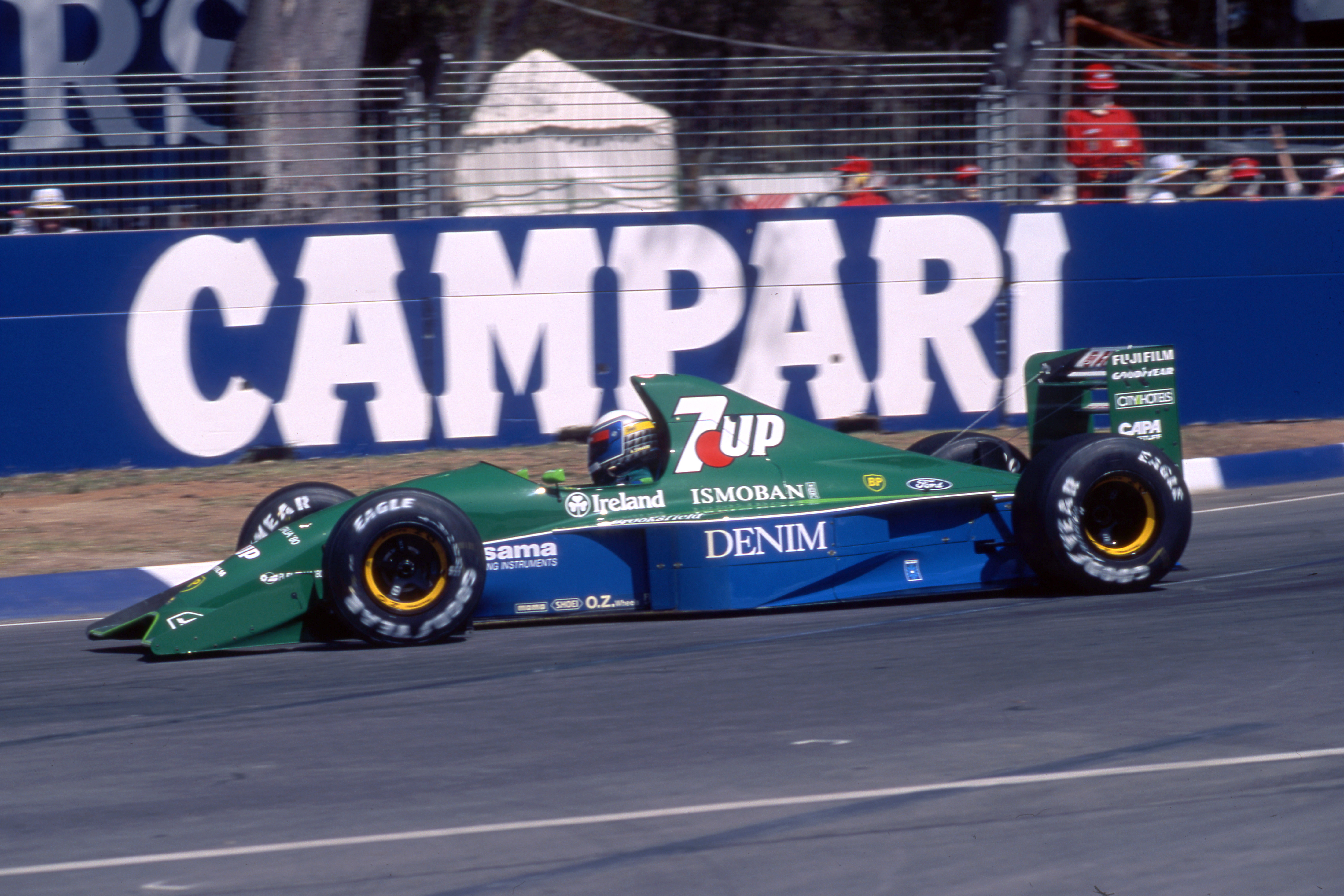 The Race has to declare an interest seeing as Gary Anderson is our technical expert, but what Jordan achieved both in its first season in 1991 and throughout the decade was remarkable and blew the rest of the teams we're looking out of the water.
It started off having to pre-qualify, but by its fifth race in Mexico Andrea de Cesaris and Bertrand Gachot finished fourth and fifth.
Despite a couple of difficult years, initially with a financially-enforced move to Yamaha engines (Gary often uses the phrase 'boat anchor' to described that one), it emerged as a race winner in '98 and even a title threat with Heinz-Harald Frentzen the following year.
As it's the high water mark for small teams in this era, it's only logical it's ranked last by our criteria.
23 LIGIER/PROST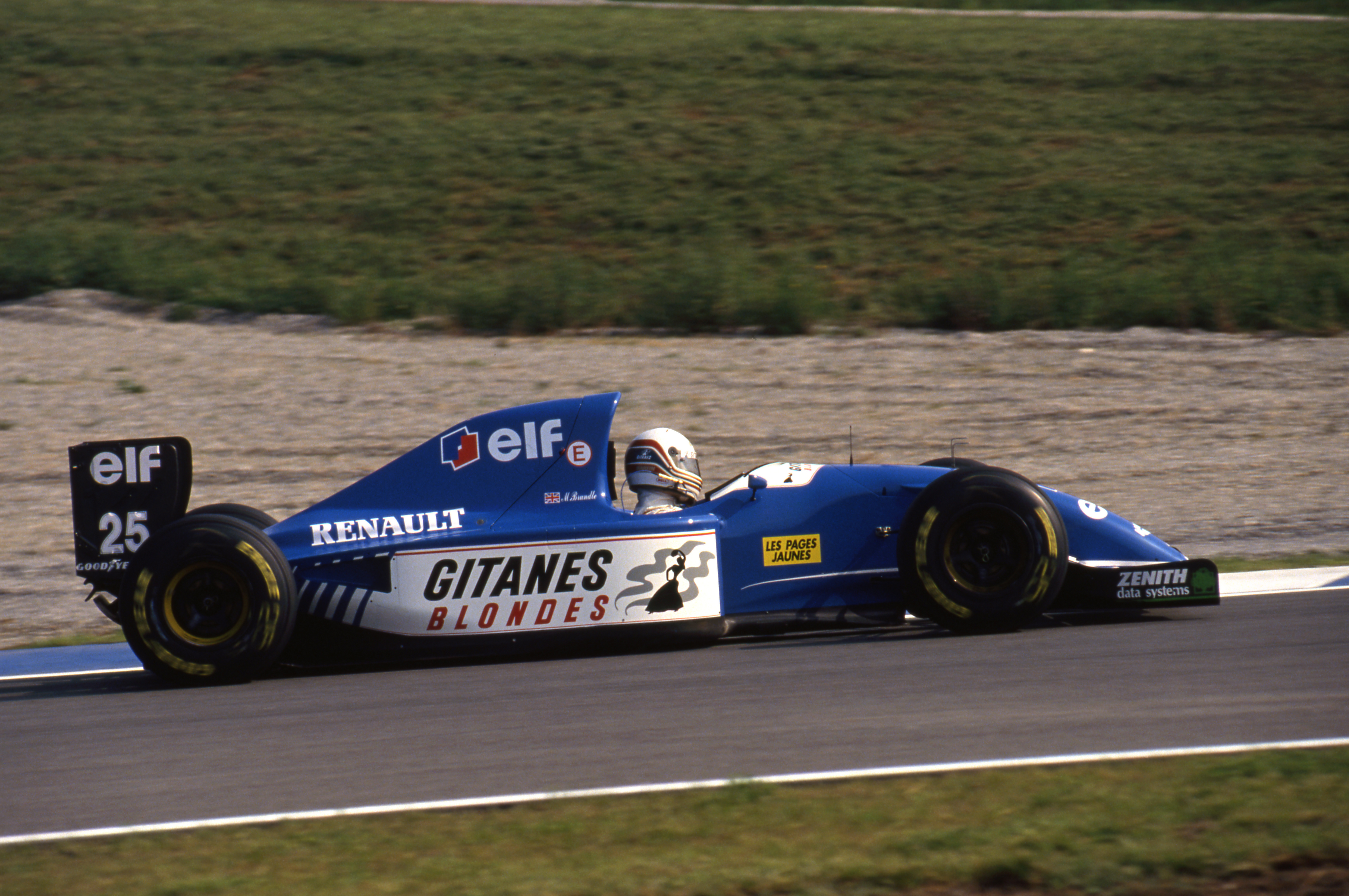 Ligier struggled in the late '80s and early '90s, even slipping into pre-qualifying in the second half of 1990 – hence the famous team's appearance here.
But the team's decade was largely one of unfulfilled promise – save for the day of days at Monaco in 1996 when Olivier Panis took a sensational win.
Even so, the de facto French national team's usual job was to frustrate despite high expectations, with Renault works engines not being made the most of and even the long-awaited takeover by Alain Prost and the partnership with Peugeot that it led to proving to be a failure.
Les Blues had their occasional moments, but the potential was never realised.
22 SAUBER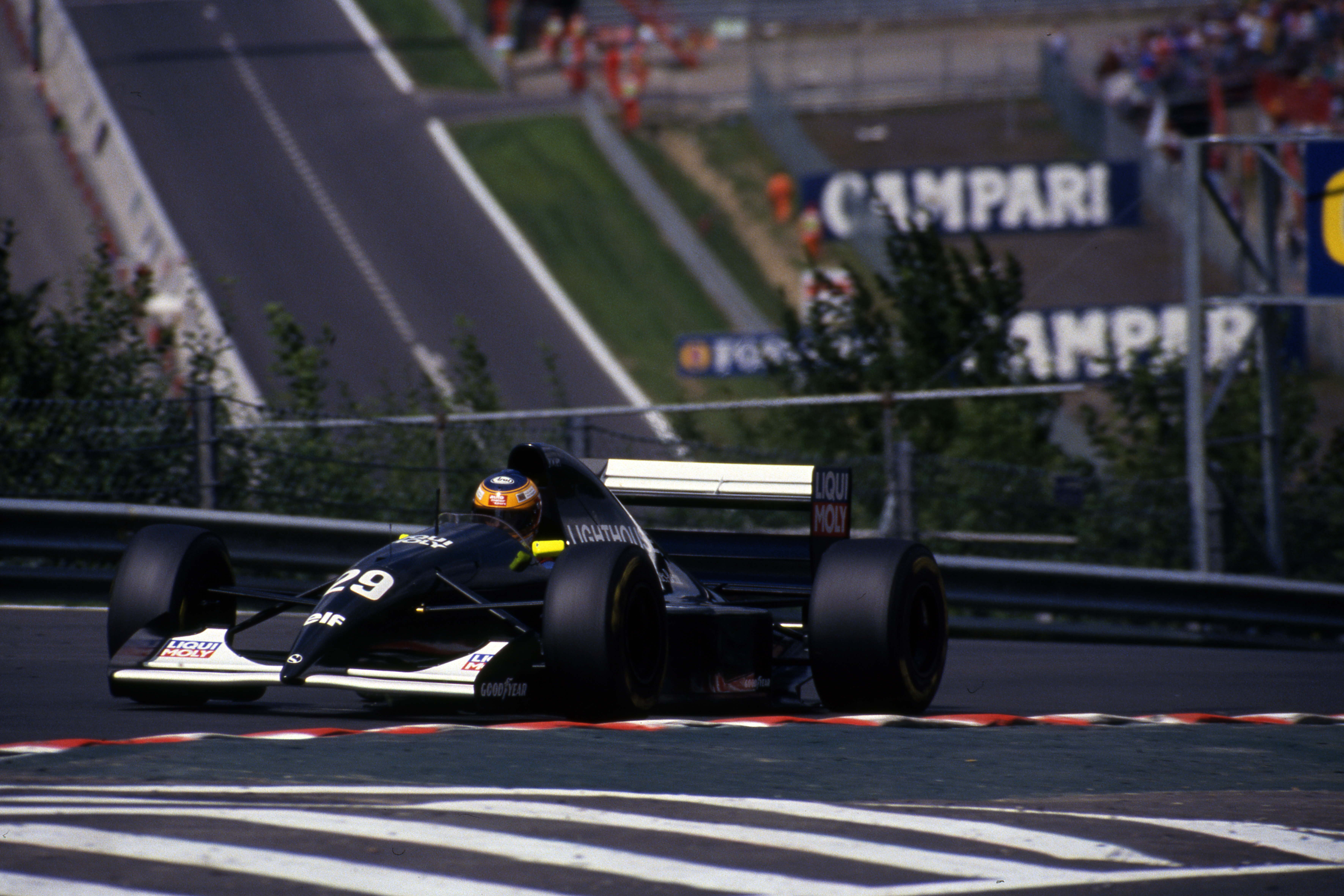 Sauber gained instant credibility with the sleek, black C12 on its F1 debut in 1993, with Karl Wendlinger and JJ Lehto completing the team's first racing lap running fourth and fifth at Kyalami.
Despite its expectations of becoming a full works Mercedes team being thwarted, Sauber established itself as a well run, consistent midfield force, always finishing between eighth and sixth in the constructors' championship during this era.
There was the occasional podium finish as well, meaning Sauber never really got into the spirit of a '90s struggler.
21 ARROWS/FOOTWORK
Any regular listener to the Bring Back V10s podcast will know that this team regularly had some grand ambitions – its ill-starred Porsche deal and a dalliance with trying to sign Nigel Mansell among them.
In the period in question, Arrows was generally a plucky underdog, finishing between seventh and ninth in the constructors' championship every year – save for 1991 when it started the season with an overweight, underpowered Porsche V12 and failed to score a point, dropping into pre-qualifying as a result.
But the team, which was acquired by Tom Walkinshaw in 1996, never quite broke through, even when it signed world champion Damon Hill and produced the most agonising late defeat of the era in the 1997 Hungary Grand Prix.
Arrows made it to the 21st century, but only just and closed down in the middle of 2002.
20 LEYTON HOUSE/MARCH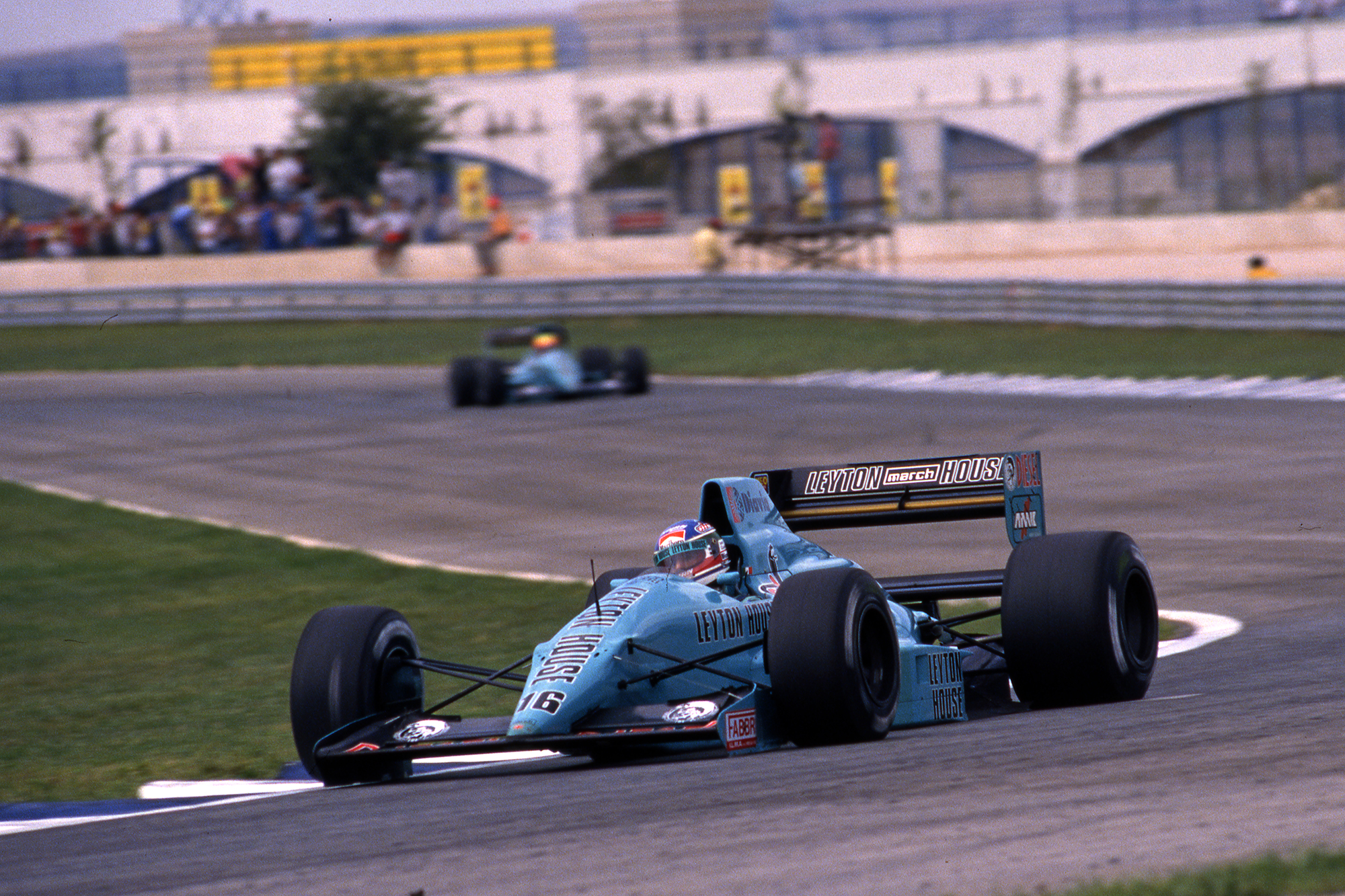 Makes the list by dint of closing ahead of the 1993 season after a difficult campaigns when the heights of earlier years, when with Adrian Newey as technical director Ivan Capelli had come close to winning the 1990 French Grand Prix.
Even in that last season it was a points scorer, with Wendlinger finishing a remarkable fourth in Canada.
But the need to take on pay drivers like Paul Belmondo showed that the team was struggling after it lost the backing from Leyton House and the once enormously promising team, which had enjoyed success in the 1970s, faded to nothing.
One of the big what-might-have-been stories of the era.
19 TYRRELL (BAR)
Another fallen giant, Tyrrell slid from being good enough to finishing in the top six in the constructors' championship from 1989-1992 to being only an occasional scorer thereafter prior to its sale to British American Tobacco.
F1 effectively outgrew Tyrrell, but it remained sensibly run to the end and was worth just over £30million when it was sold in 1997 prior to effectively being reformed as a start-up team, BAR, in 1999.
Given BAR, which has to be considered a new team, had little time to thrive in this period, we've included it with Tyrrell.
Tyrrell was a reminder of F1's days past and occasionally popped up with a big result to remind everyone that all hope had not been lost, taking its last podium finish courtesy of Mark Blundell in Spain in 1994, but the hoped-for revival never came.
18 MINARDI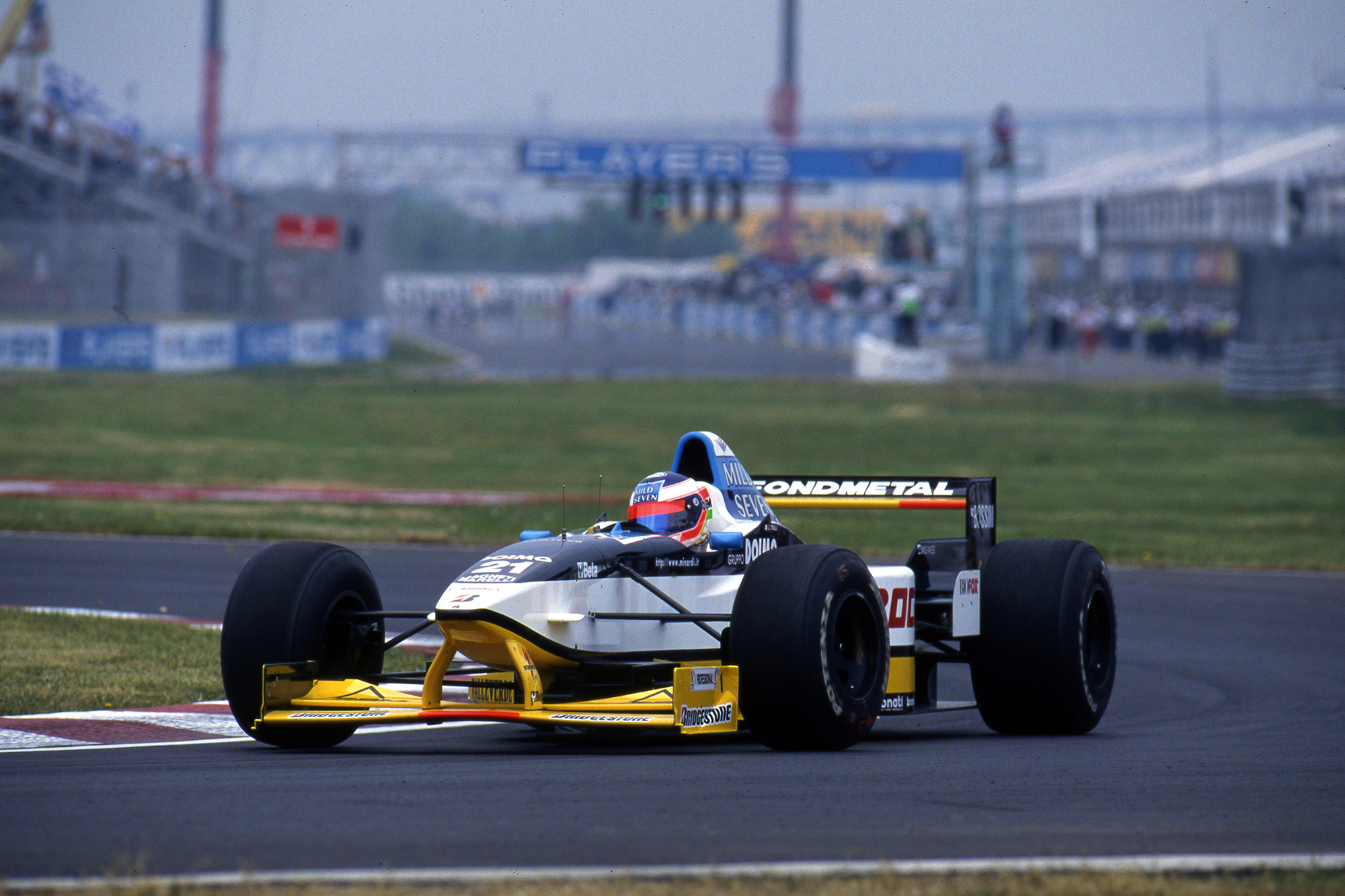 Minardi is F1's most celebrated minnow of the era, and for good reason.
While the Italian team spent most of its time struggling, there were occasional points finishes and even some sensational days – such as when Pierluigi Martini led the 1989 Portuguese Grand Prix and qualified on the front row in Phoenix the following year.
That Minardi survived throughout the 1990s at times when others were struggling, despite various changes in the ownership structure, is testament to the determination of Giancarlo Minardi and the industrious members of a team that still lives on today as AlphaTauri.
Its sheer endurance during this period of rising costs and professionalism earns it legendary status.
17 LOTUS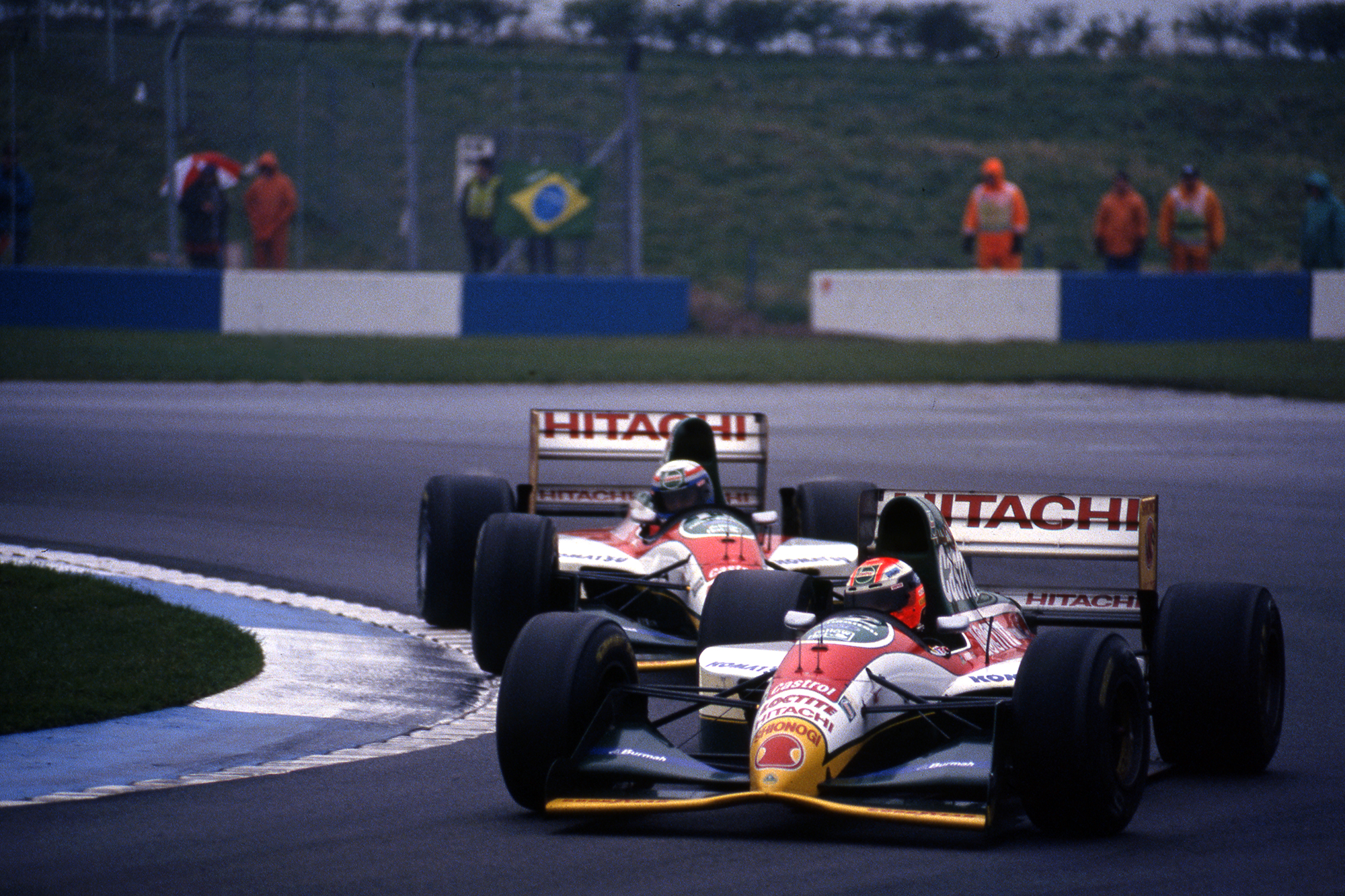 Lotus was a shadow of its former greatness by this era, but it still managed to finish in the top six of the constructors' championship three times in its final six seasons before shutting its doors at the end of 1994 – although the name did live on with Pacific for another year.
Ahead of 1991, the team was bought by Peter Collins and Peter Wright, but despite their best efforts Lotus could not recapture past glories for financial reasons.
The Chris Murphy-designed Lotus 107 of '92 and its B-spec the following year were tidy upper-midfield runners that Johnny Herbert and Mika Hakkinen produced some good performances from.
There was even a flash of promise in '94 when Herbert used the upgraded Mugen-Honda engine to qualify fourth for a Monza race he believes he might have been able to win, but for being hit by Eddie Irvine at the start and having to take the restart in a spare powered by the old engine.
But increasingly in this period, Lotus's story was of financial struggles as a giant that once dominated F1 fell into oblivion.
16 LARROUSSE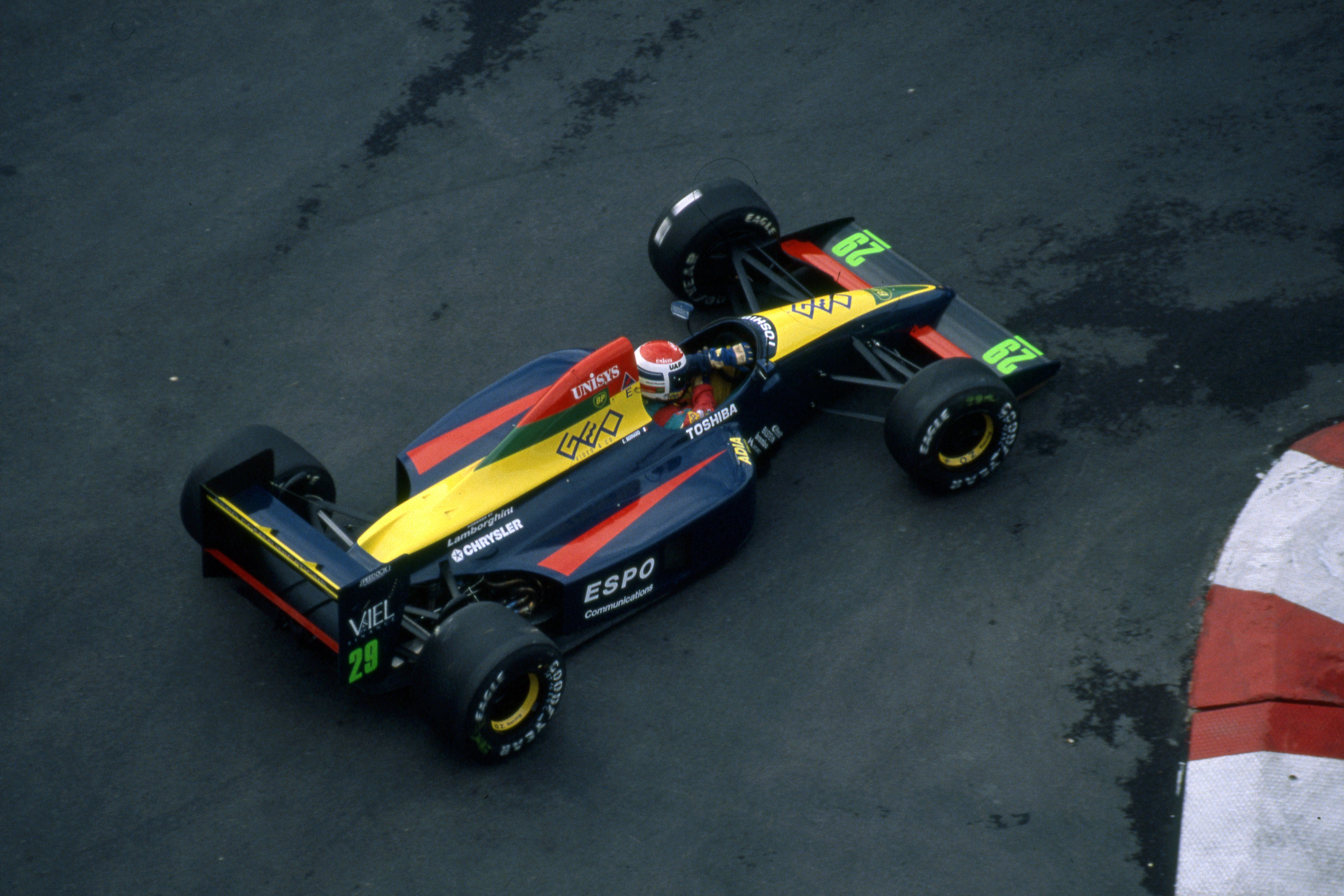 Pleasingly multi-coloured, likably French and occasionally genuinely quick, Gerard Larrousse's team showed real promise in F1 but was always swimming against the tide given French companies were generally nudged towards Ligier.
Larrousse's day of days came at Suzuka in 1990, where Aguri Suzuki finished third in a tidy Lola chassis, another Murphy design, – although ultimately the Lola association caused problems with the FIA as Larrousse declared on entry that it had produced the car.
But with various changes in ownership structure, points were few and far between in the following years – including one season when it ran as Venturi – and the team closed in early 1995 after failing to agree a merger with another operation.
15 ONYX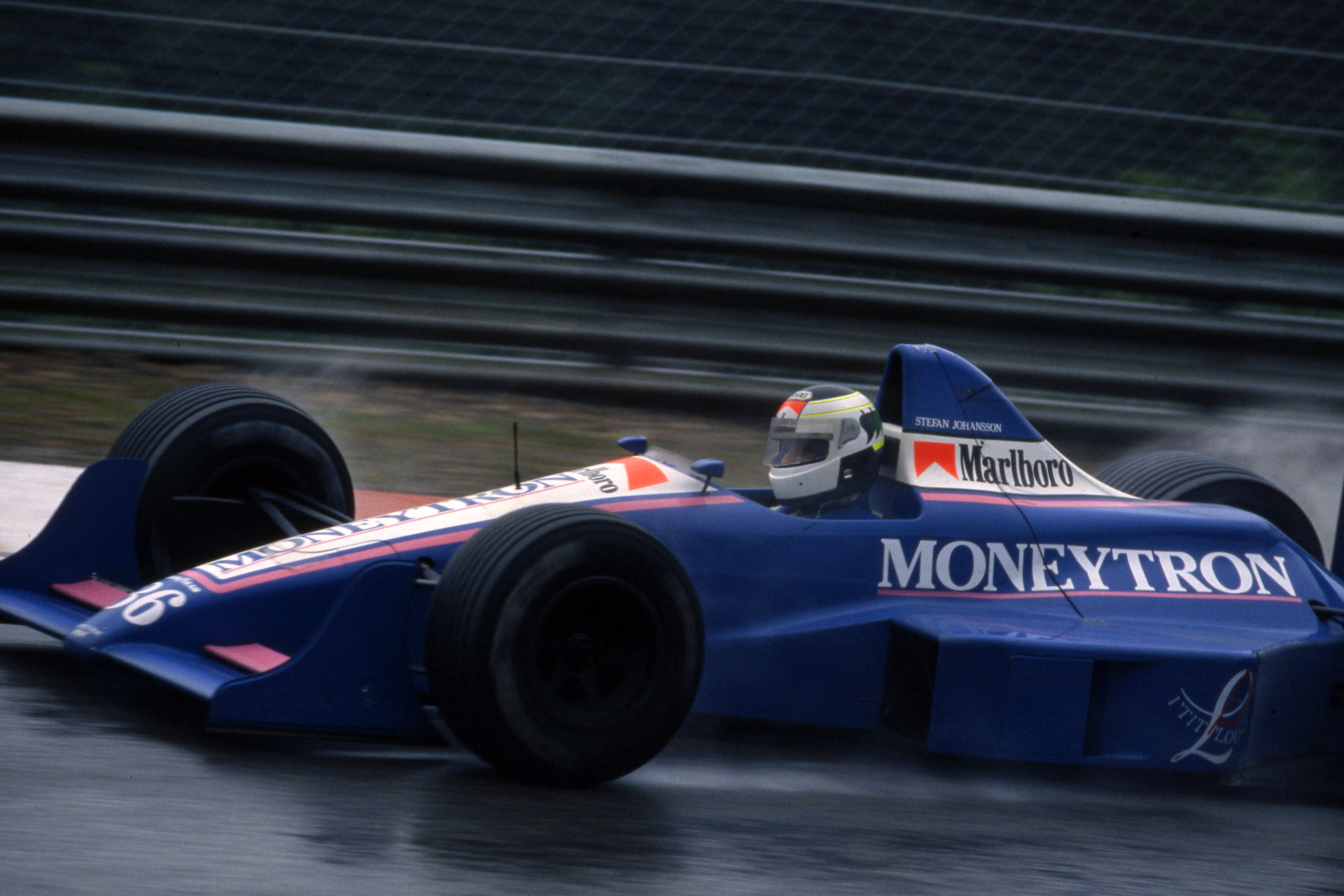 Of all the minnow start-ups that lacked financial stability but showed real promise in this era, Onyx was the one that shone the brightest before things fell apart when the money dried up.
Run by Mike Earle, things didn't start well for Onyx but soon the Alan Jenkins-designed car started to show a tidy turn of pace, with Stefan Johansson taking a famous third place at Estoril in 1989 to add to his fifth at Paul Ricard.
But flamboyant owner Jean-Pierre Van Rossem lost interest after the failure to land the costly Porsche engine supply deal that Arrows disastrously picked up, selling the team to Swiss Peter Monteverdi.
The team lasted 10 races of 1990 on a tiny budget before inevitably dropping off the grid.
14 SCUDERIA ITALIA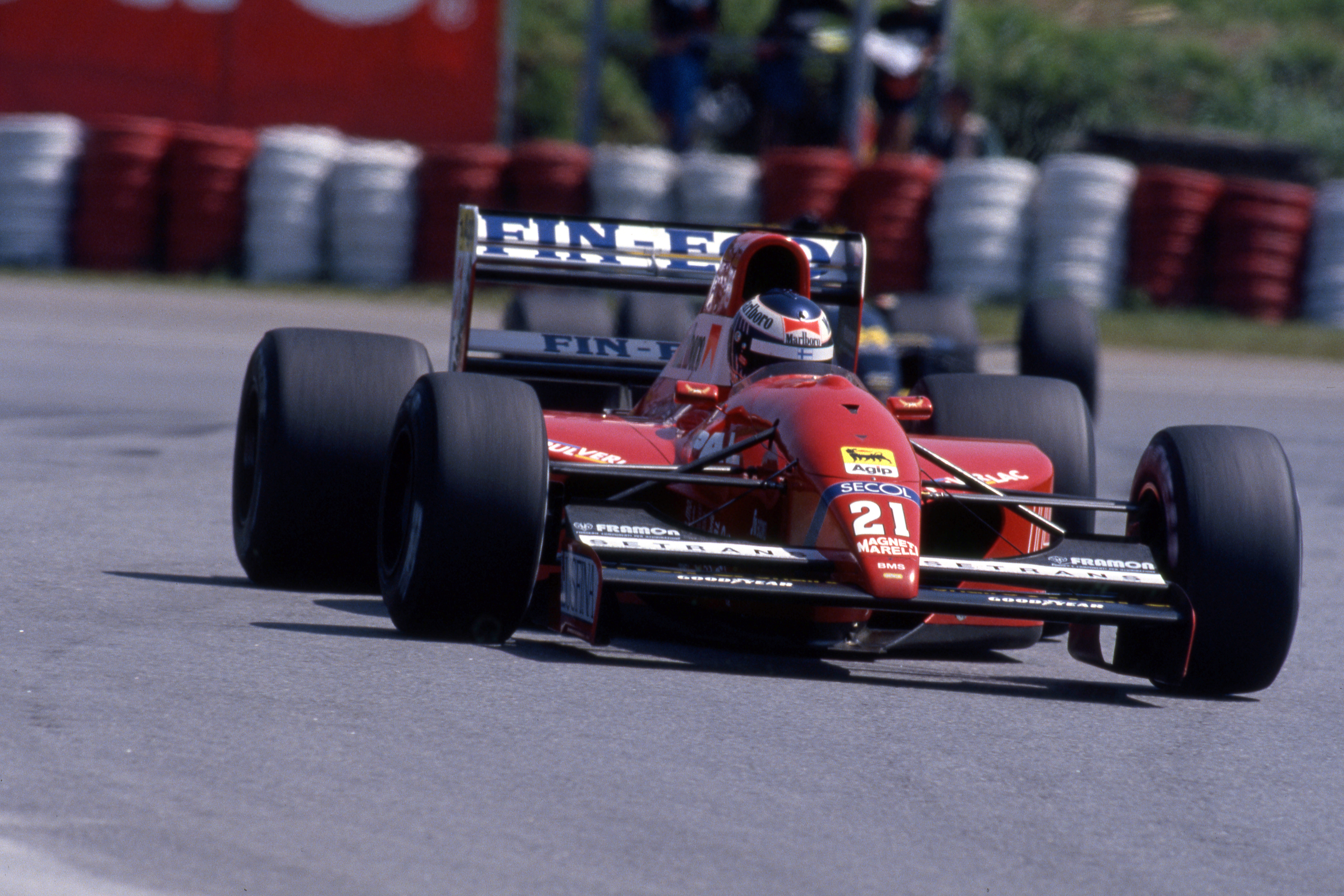 Something of a Haas of its day, the Italian team ran Dallara machinery from 1988-1992 prior to a switch to Lola in '93 that was supposed to be the start of something big but brought about the demise of the team in F1 – although it continued to race in sportscars.
While Scuderia Italia managed only seven points finishes, de Cesaris took a third place in the '89 Canadian Grand Prix, with Lehto making it through pre-qualifying and finishing third at Imola two years later.
An effective, well-run team that was ultimately let down by Lola's rushed and therefore desperately undercooked '93 car.
13 BRABHAM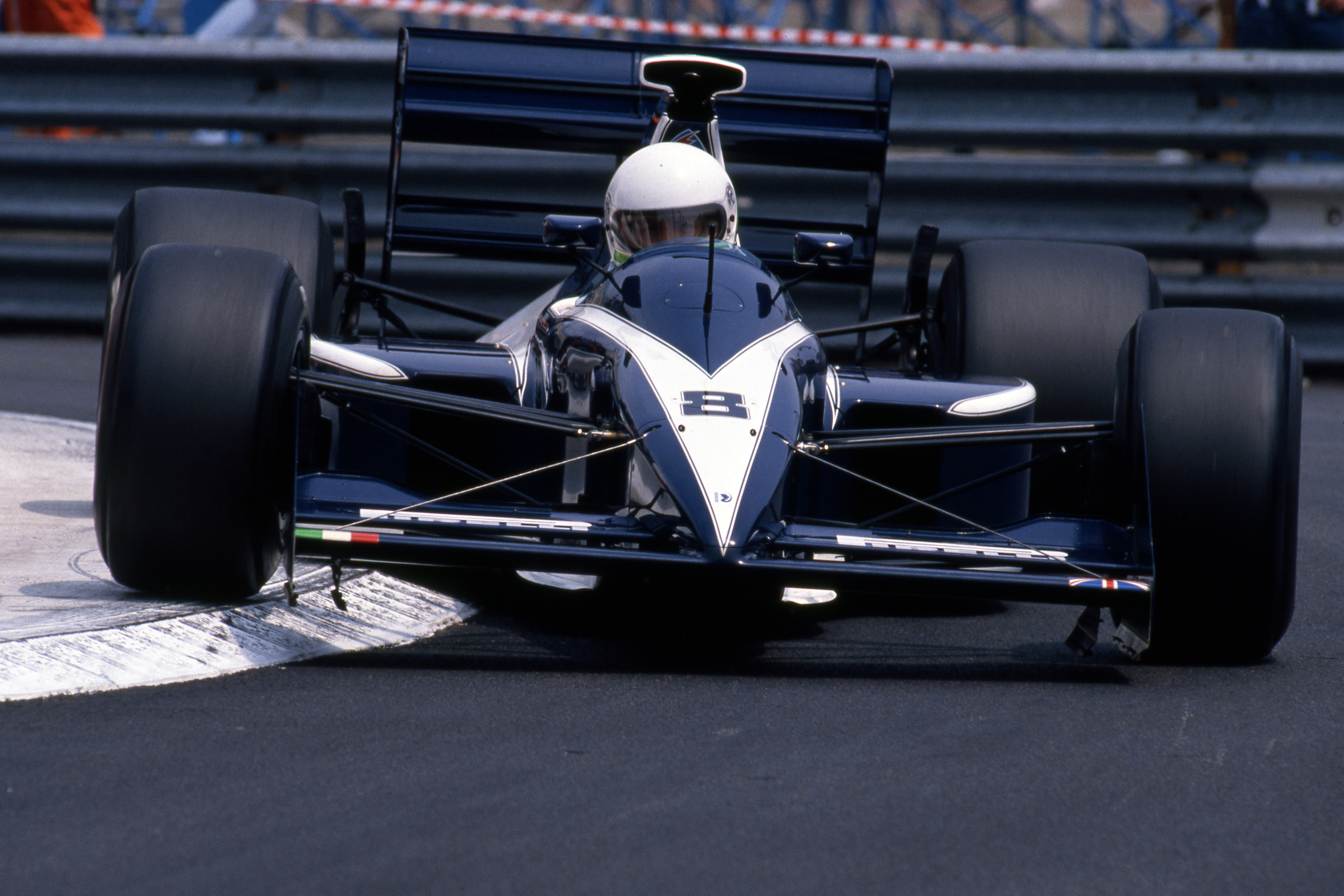 One of F1's most most famous marques was actually revived for 1989 having dropped off the grid the year before with owner Bernie Ecclestone's attention firmly on the wider world of F1.
But the revived team only lasted until the closing stages of the 1992 season, with its revival a tale of disputed ownership and lack of budget.
Despite that, there was the odd flash of form, particularly in Monaco in 1989 where Martin Brundle and Stefano Modena both qualified in the top six and the latter finished third. But generally, it was a struggle.
Owner Middlebridge Group had struggled to fund the team for some time and, by 1992, it was running on a shoestring and unable to make repayments to finance company Landhurst Leasing, which led to Brabham closing its doors.
12 AGS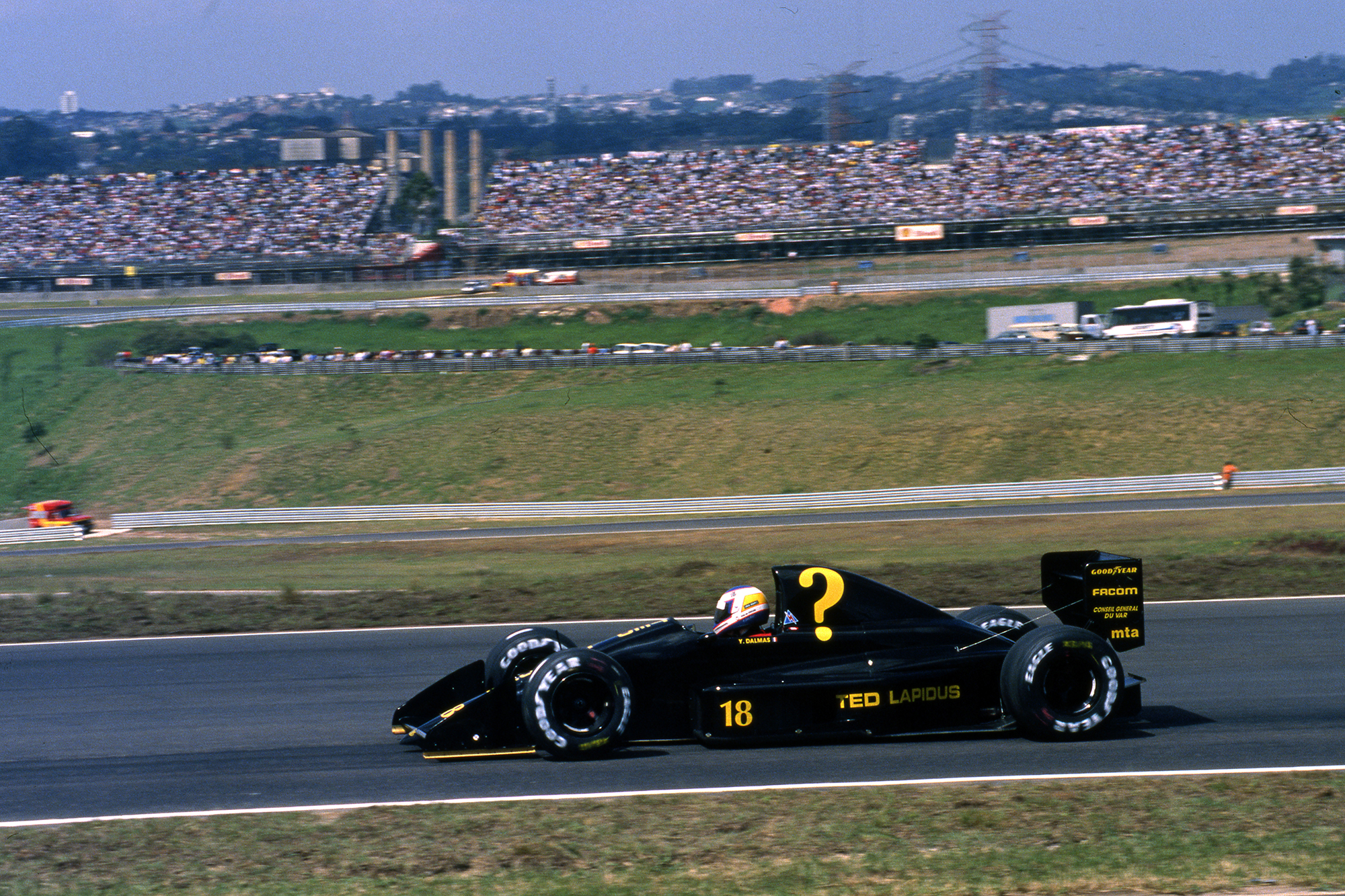 A true French minnow created by sometime F3 racer Henri Julien, there were grand ambitions when future Ligier owner Cyril de Rouve bought the team after 1988.
AGS even had its own test track thanks to its base at the Le Luc circuit in the south of France. Despite that, money was never a strength.
Run on a shoestring, AGS managed one of its two points finishes during the period we are looking at thanks to Gabriele Tarquini's sixth place in Mexico in '89.
But despite a strong start to that season, AGS quickly slid back into regular DNPQ obscurity before shutting its doors near the end of 1991 – far further than it really should have made it given the financial struggles.
11 MODENA LAMBORGHINI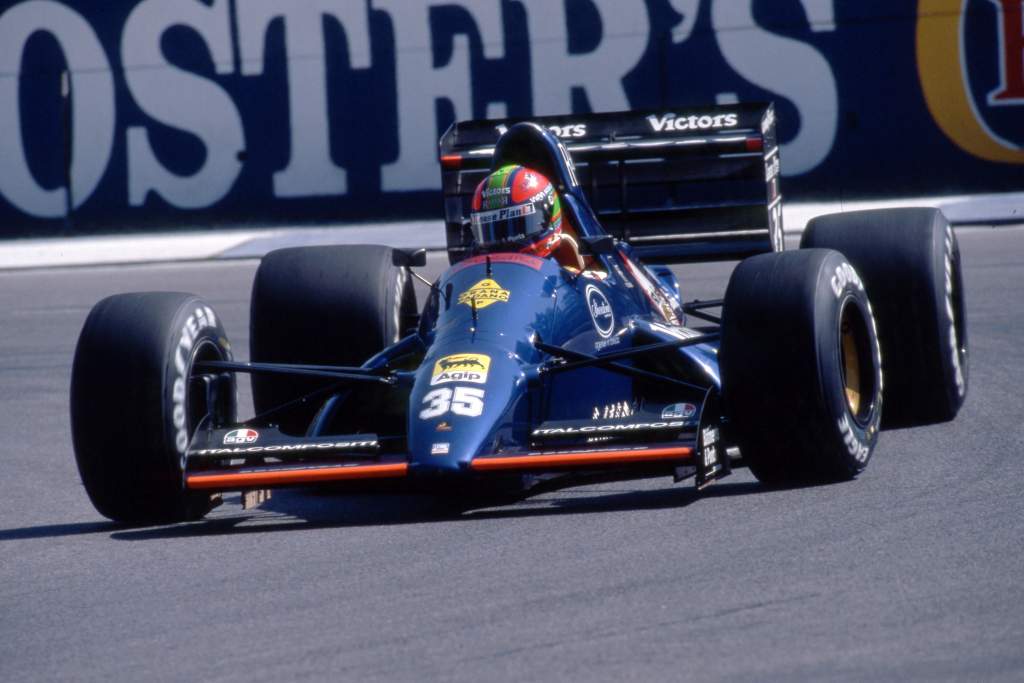 The pseudo-works Lamborghini team was headed up by legendary former Ferrari engineer Mauro Forghieri, coming into existence almost by accident.
Lamborghini was originally due to supply a car and engine to the Mexico-owned GLAS team that intended to join the grid in '91, but when the funding for that dried up a team was set up in Modena.
Nicola Larini produced its best result first time out with seventh in Phoenix, although team-mate Eric van de Poele came close to points at Imola.
In the end, the withdrawal of Lamborghini money at the end of the year forced the team to close despite attempts to find alternative funding.
10 SIMTEK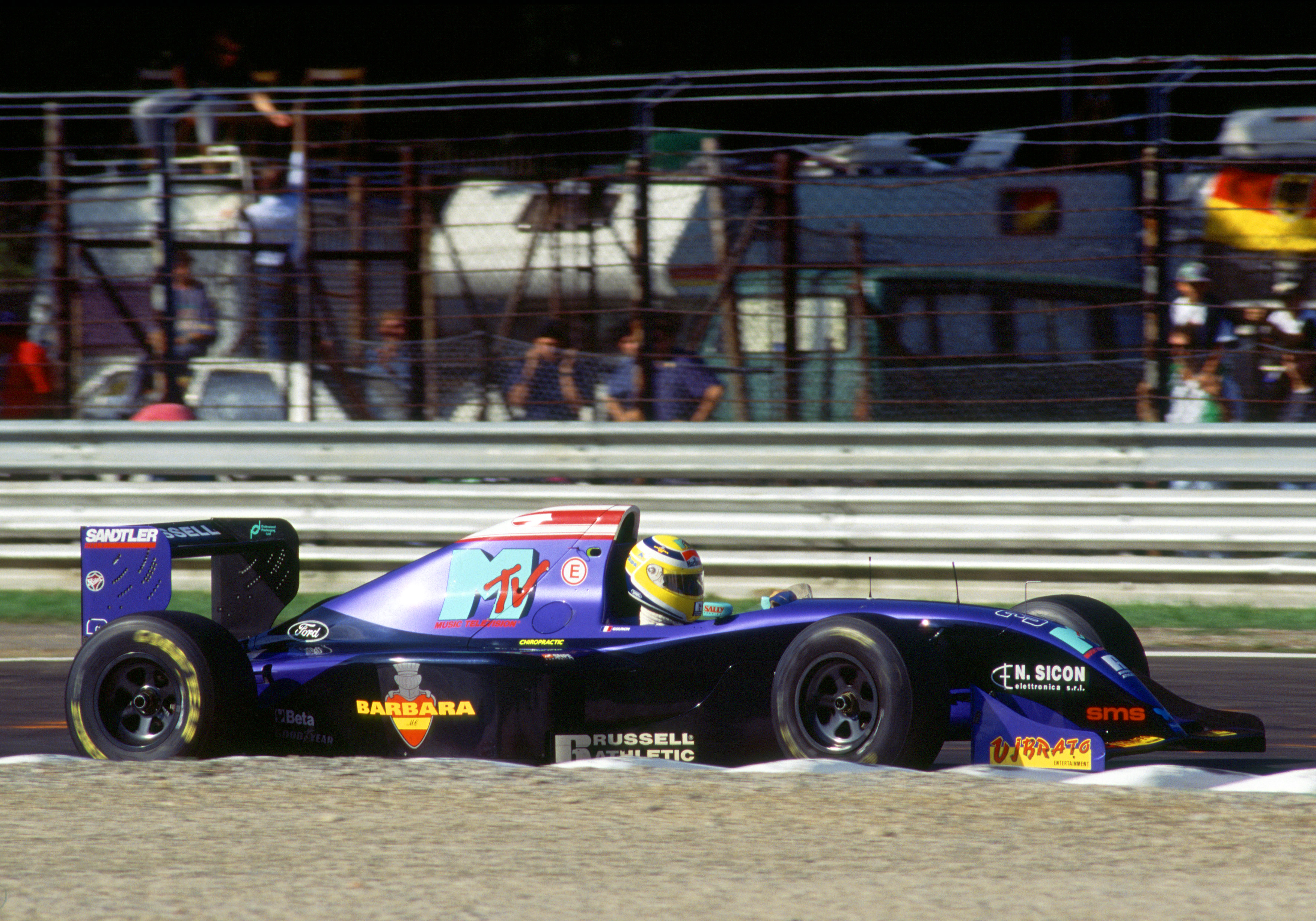 Nick Wirth's Simtek team was dealt a tragic hammer blow in only its third race when Roland Ratzenberger was killed in a qualifying crash at Imola, but battled on for the rest of the season with a car that, while uncompetitive, was at least stronger than that of fellow newcomer Pacific.
Simtek continued in '95 with a tidy car that used Benetton gearbox technology and showed an encouraging turn of pace, particular in Argentina where Jos Verstappen qualified 14th and ran as high as sixth.
But the money wasn't there and the team soon went into administration, closing its doors after five races in 1995.
9 FORTI CORSE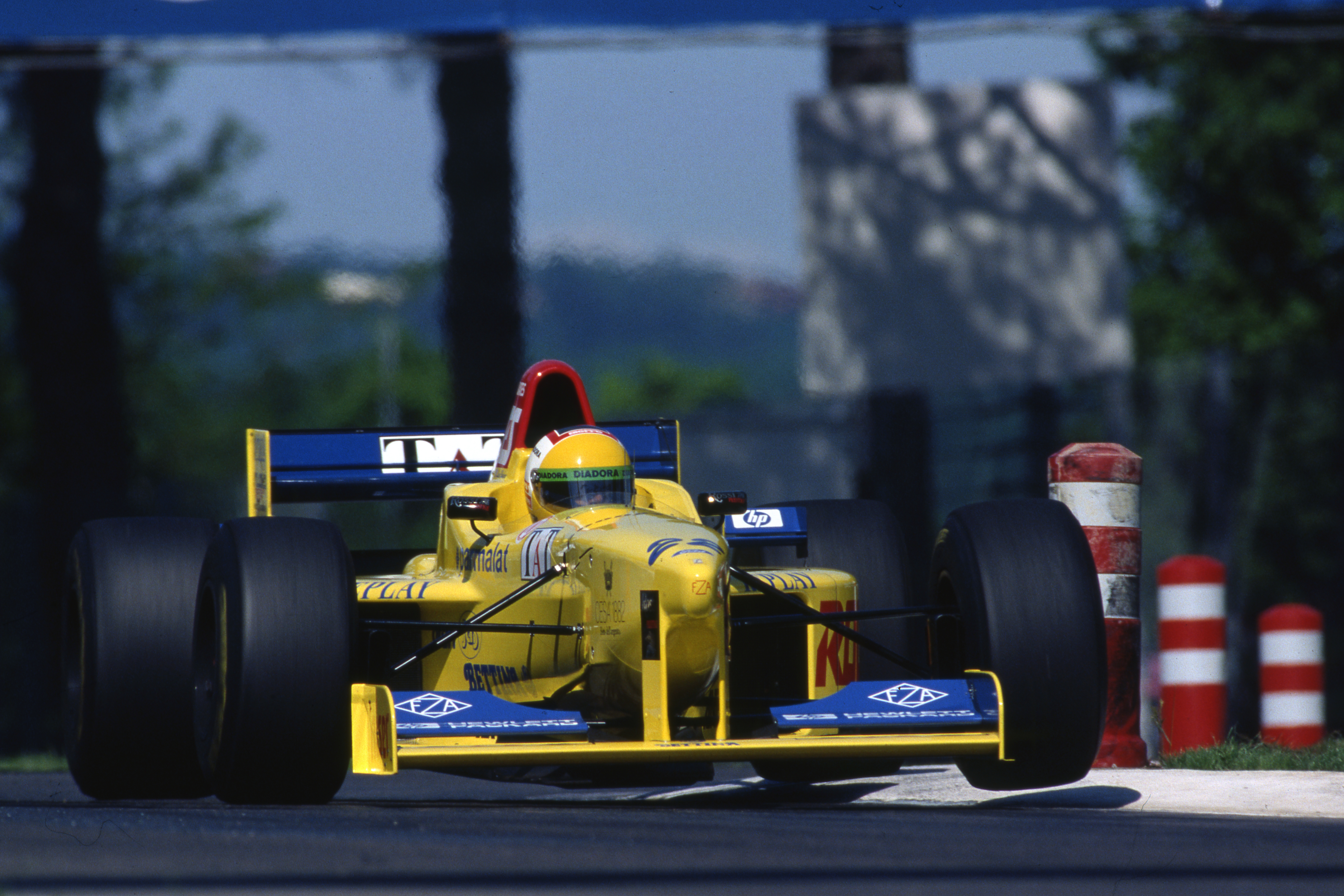 This race-winning Formula 3000 operation stepped up with big backing from driver Pedro Diniz in 1995, but struggled to make an impact.
Those difficulties led to Diniz moving to Ligier the following season, leaving Forti struggling financially and eventually led to the team shutting down in the middle of 1996 after an ownership dispute between founder Guido Forti and new partner Shannon Racing.
But Forti did make an impact with its excessive yellowness, which is always a good way to catch the eye when you're at the back of the grid.
8 EUROBRUN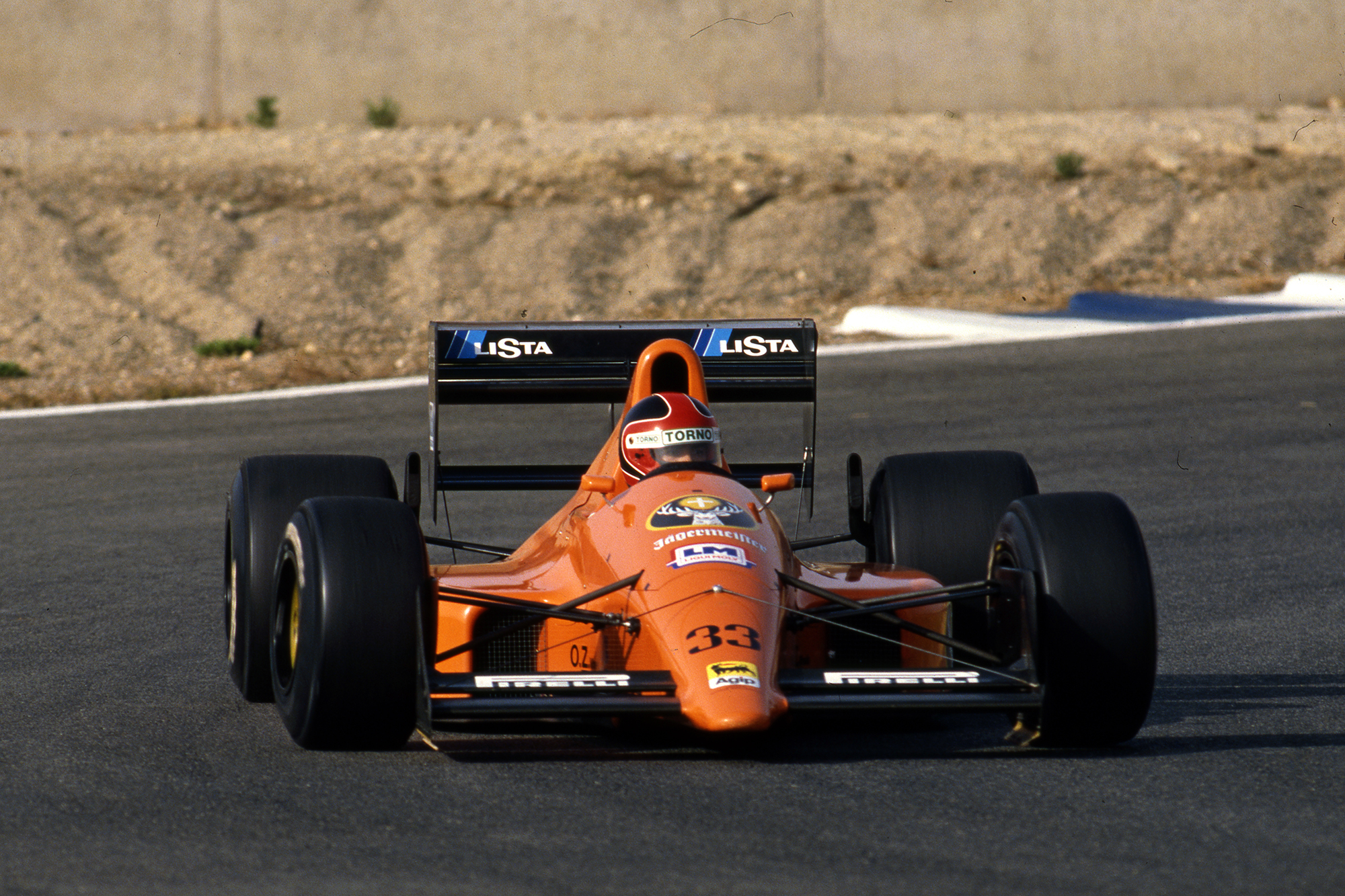 A joint effort between the Euroracing squad that previously ran the factory Alfa Romeo team and Swiss sportscar driver – and coin-operated machine magnate – Walter Brun.
Sadly, it was unconvincing from the start with money always tight – and getting tighter – driver ructions and a struggle for competitiveness. In 1989, neither of its cars ever qualified, with only two starts in 1990 thanks to Roberto Moreno heroics.
Its commitment was unconvincing from the start, making you wonder why it ever existed at all, but had faded completely by 1990 as it went through the motions before dropping off the grid.
7 OSELLA/FONDMENTAL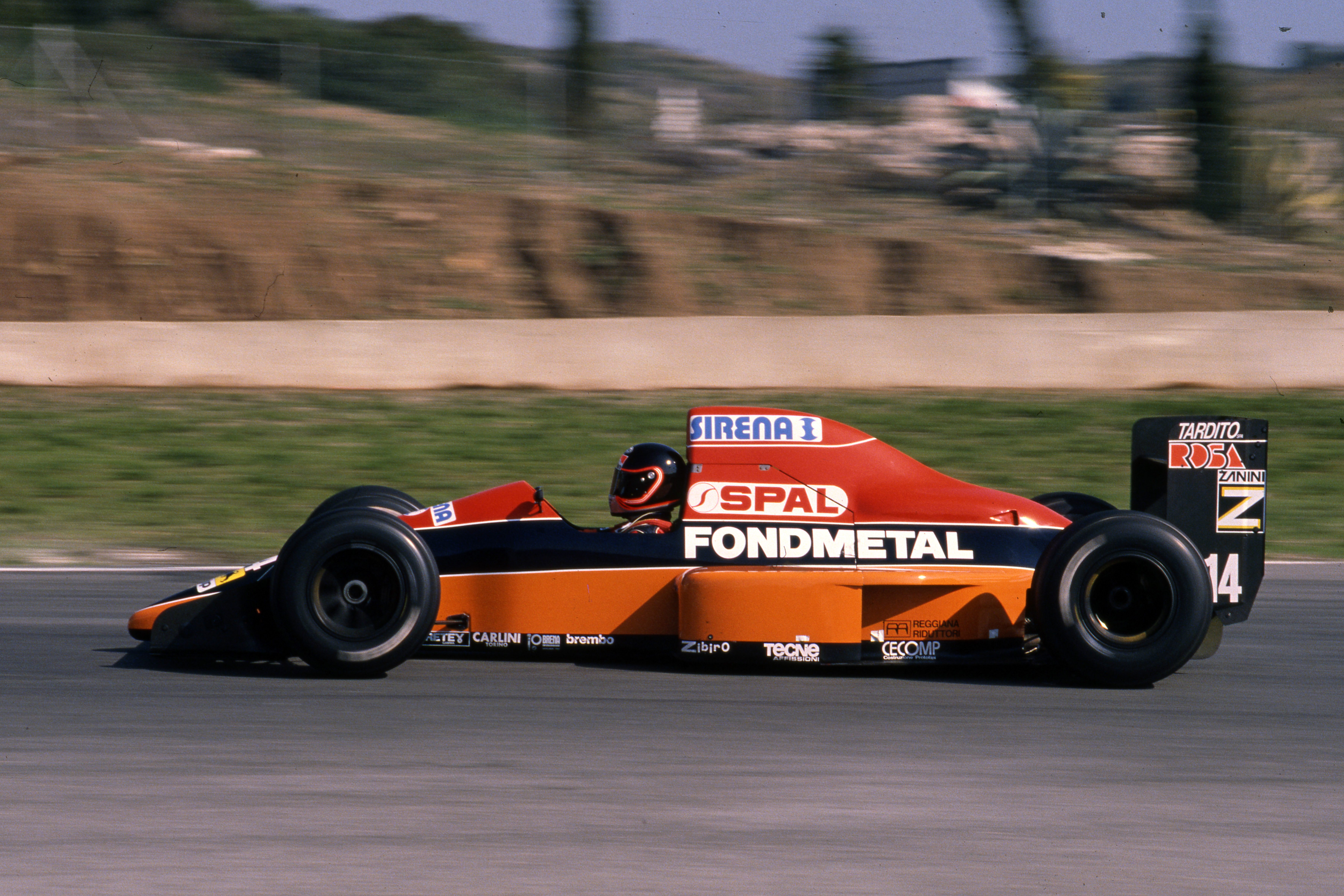 Osella is perhaps best described as a proto-Minardi, a tiny Italian team that soldiered on valiantly with only vanishingly rare points finishes to sustain it.
By 1989, it already had nine seasons of struggle under its belt and was resoundingly stuck in pre-qualifying.
But across 1989 and '90 it did make the grid semi-regularly, particularly with Nicola Larini in the first of the those years.
Founder Enzo Osella had sold a stake in the team to Gabriele Rumi in '90. Rumi took control for 1991, renaming the team Fondmetal after his wheel company.
It continued in much the same vein for the next two seasons, shutting its doors with three races of '92 remaining.
6 PACIFIC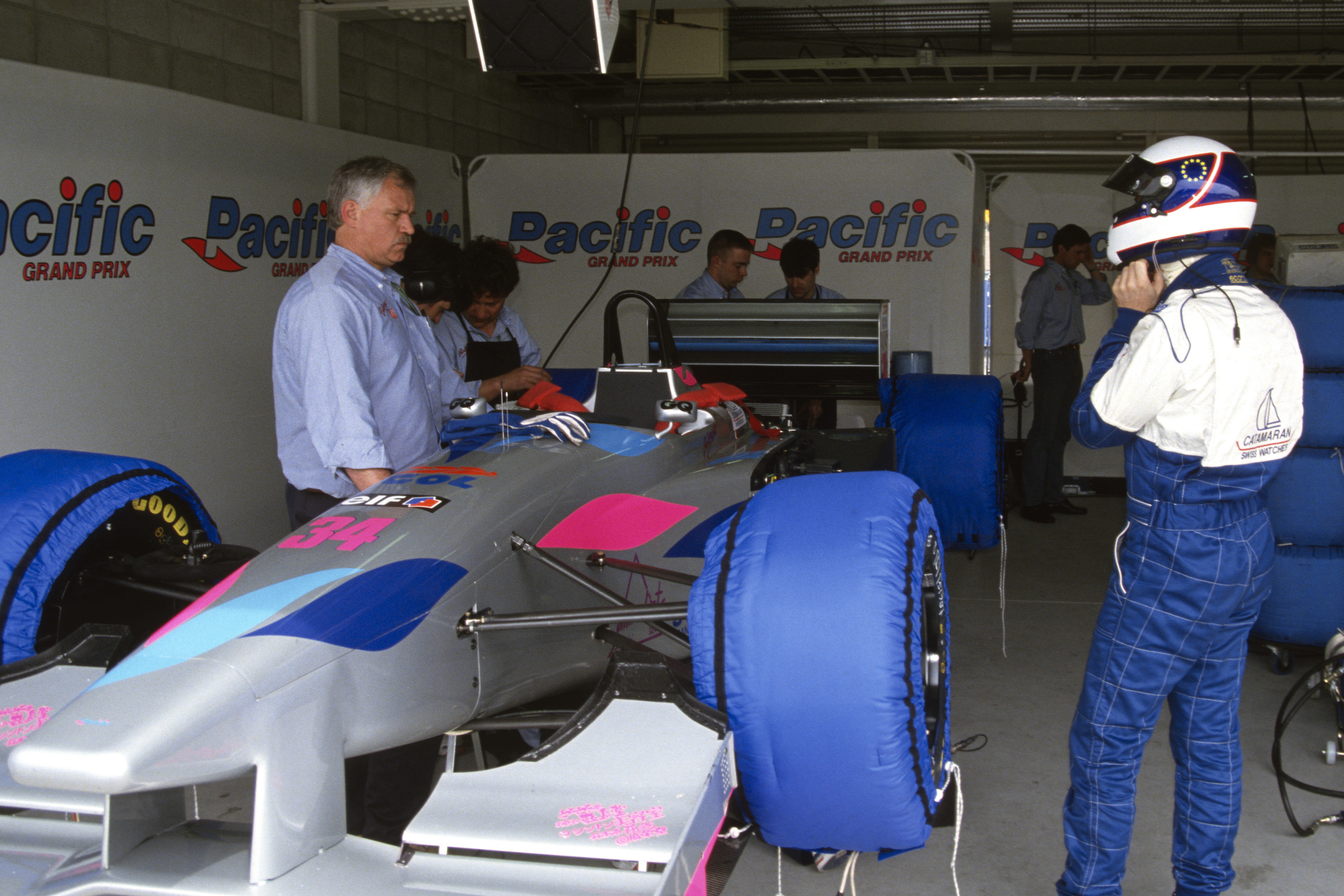 On paper, Pacific had a lot going for it given its good record in junior single-seaters that included winning British F3 with Lehto and F3000 with Christian Fittipaldi.
But it was never on strong financial footing in F1 and lasted just two seasons.
Its first season in 1994 was terrible, with what proved to be comfortably the slowest car and serial failures to qualify.
Although Gachot made the cut on its debut in Brazil on merit, this was only one of seven occasions when Pacific made the grid that season in a car that shared plenty of design DNA with the Benetton B194 Michael Schumacher took to the title given both were, at heart, the abandoned Reynard F1 design – albeit one far more developed than the other.
Things looked up in 1995 with the attractive Pacific PR02 but finishes were rare – the best being Andrea Montermini's eighth at Hockenheim – but despite taking on pay drivers Giovanni Lavaggi and Jean-Denis Deletraz later in the year, the team closed its doors at the end of the season.
5 ANDREA MODA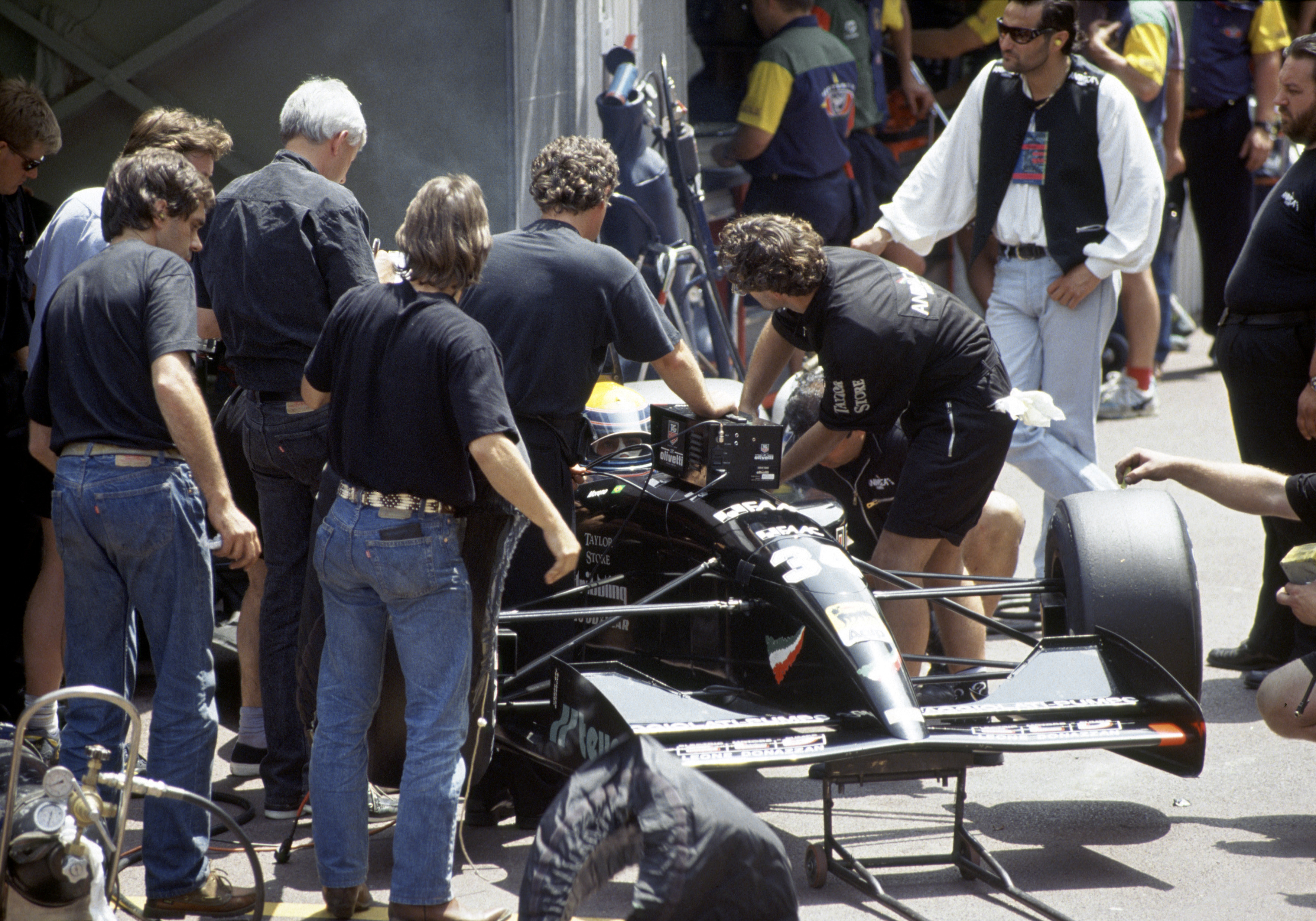 Andrea Moda was a farrago from start to finish, with its attempt to get away with running ex-Coloni machinery leading to it having to hastily engage Simtek to produce a car then desperate struggles to qualify.
Often, both rivals and the powers that be felt the team wasn't even really trying.
Almost inevitably, the team was forced out of F1 after the Belgian Grand Prix amid concerns about owner Andrea Sassetti's activities.
Just to add a comedy coda to the whole thing, he continued to try to get back on the grid and even lodged an entry for 1993, which was rejected.
But Andrea Moda's story is elevated by Moreno's day of days when he somehow hauled the Judd-engined car onto the grid in Monaco.
4 COLONI
Arguably the pluckiest of F1's minnows, the tiny Italian team first appeared in 1987, but in the era we are looking at rarely made the grid.
In fact, after making five starts in 1989 – mostly courtesy of Moreno, but with Pierre-Henri Raphanel's remarkable qualifying performance in Monaco standing out – it failed to qualify throughout '90 and '91.
Remarkably, it was briefly a 'works' team in 1990 with the Carlo Chiti-designed flat-12 Subaru engine, a project that was abandoned during the season as the team limped on towards its inevitable demise at the end of '91.
3 ZAKSPEED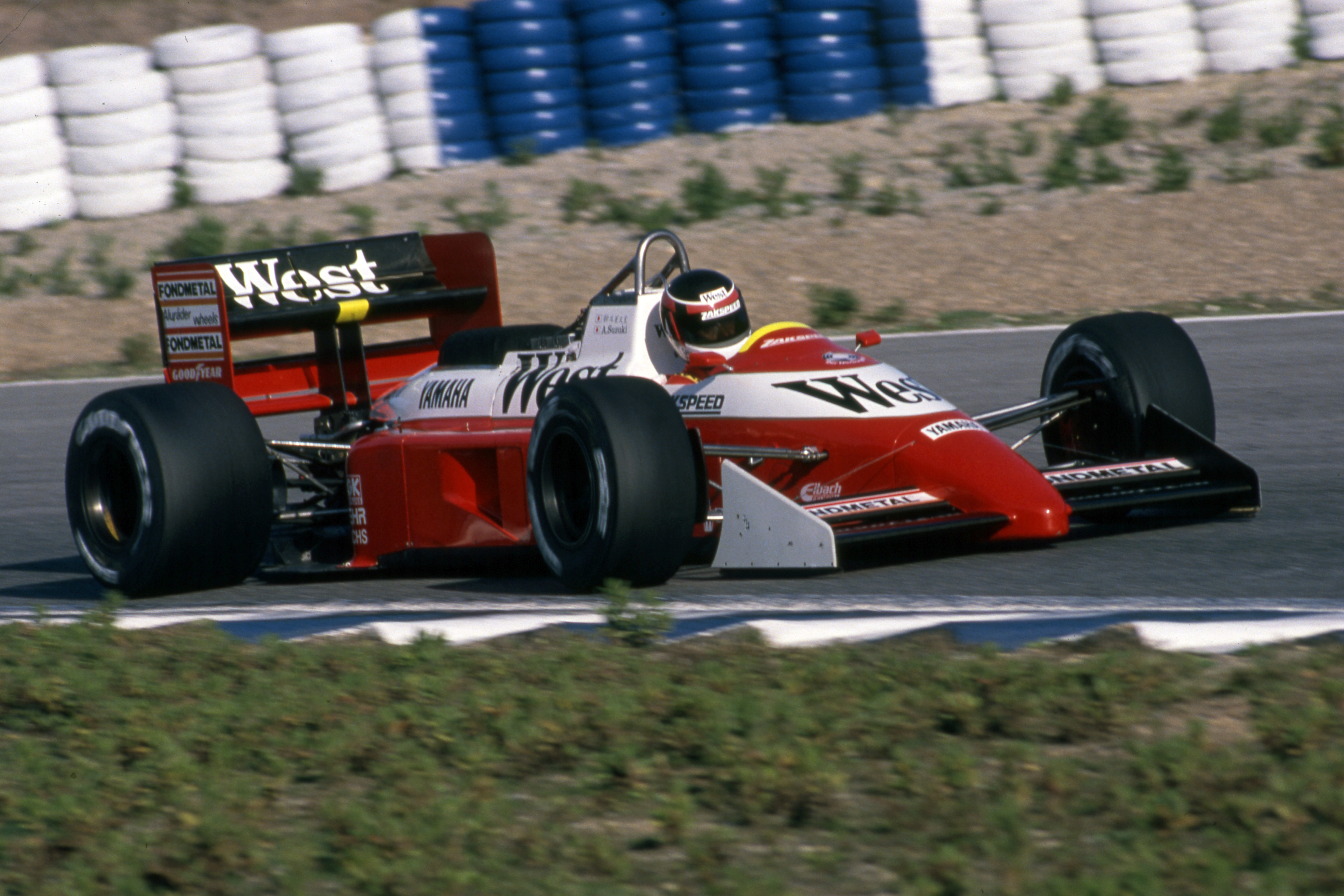 German team Zakspeed only just qualifies for this list having come into F1 in 1985 but lasted only for the first season of our qualifying period in 1989.
An alliance with Yamaha for that season ensured that the second part of the team name was less appropriate than ever given the Japanese manufacturer's first F1 foray was with an evolution of its Cosworth-based F3000 engine. This combined unreliability with a lack of power to exactly the effect you would expect.
Its success was limited to Bernd Schneider qualifying twice – first in Brazil and then Japan – while rookie team-mate Suzuki managed a full season of failures to pre-qualify.
Zakspeed quit F1 but continued to be successful in other forms of motorsport thereafter.
2 LIFE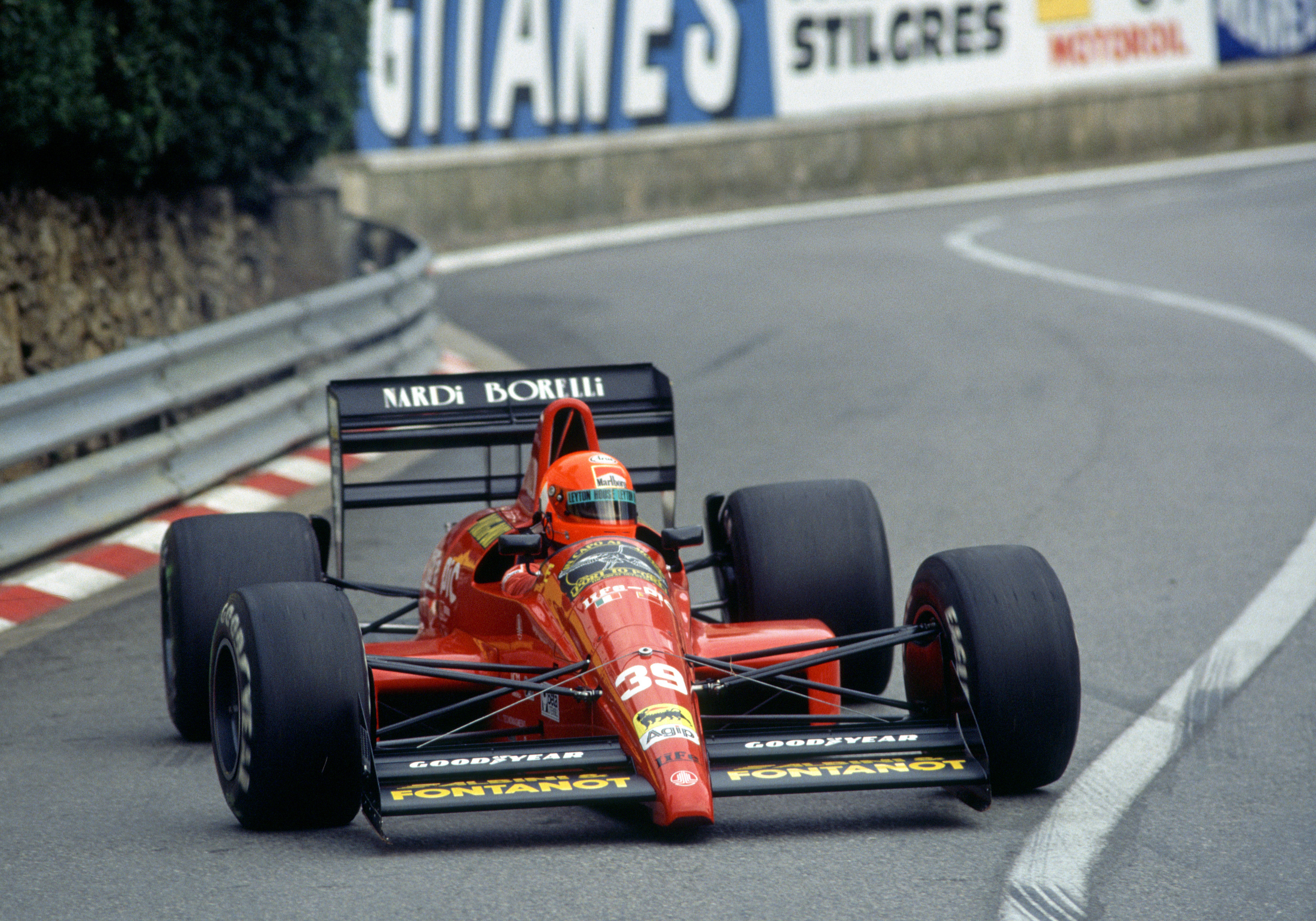 The infamous Life project had everything: consistent failure to pre-qualify, the struggle to complete even one lap, terrible pace when it did so and a bizarre W12 engine configuration.
It lasted a grand total of 14 races in 1990, with the experienced Bruno Giacomelli actually paid to wage war with futility in an attempt to qualify it for a dozen of those races.
Ernesto Vita's team was never intended to exist at all. Its creation was forced by the necessity when Vita couldn't convince any established teams to take its unique engine, penned by ex-Ferrari man Franco Rocchi.
The team was formed utilising machinery originally designed for the abortive First Racing team and even after a switch to off-the-shelf Judd engines couldn't get near pre-qualifying.
But unlike the top team in this ranking, it did at least turn up on a regular basis throughout most of its one season in F1.
1 LOLA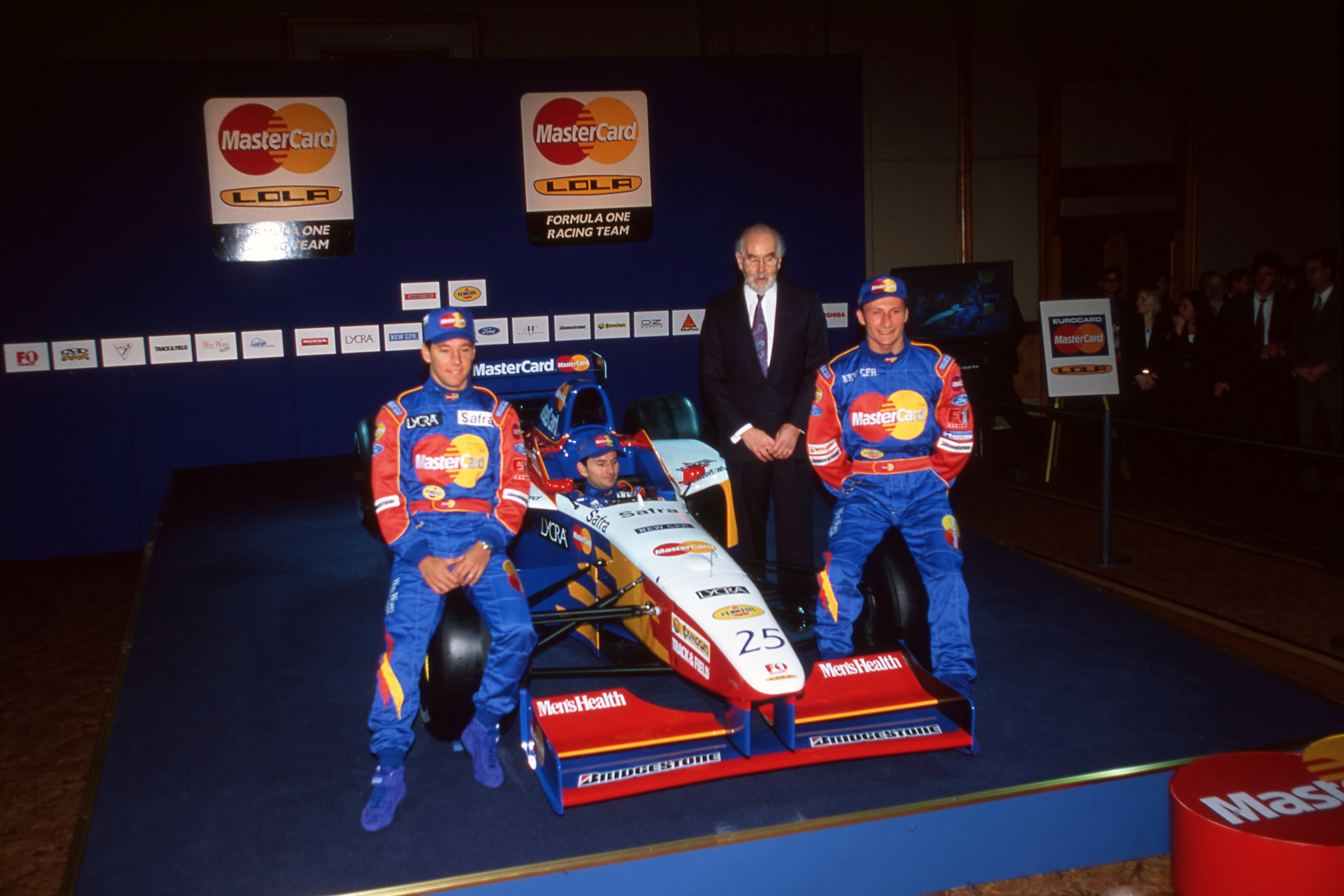 The catastrophic Mastercard-backed Lola project of 1997 turned up for just one race (actually, it also made it to Brazil but the team was in the process of collapse) and failed to qualify with both Vincenzo Sospiri and Riccardo Rosset in Melbourne on its one attempt.
There was plenty of promise, but the car was desperately undercooked, the finances unsound and the project was rushed through too quickly.
That added up to a remarkable combination of lack of pace and a blink-and-you'll miss it existence that can't be beaten.