Ferrari's Charles Leclerc said he cannot remember the last time he felt so unhappy with his own performance in qualifying after managing only seventh on the grid for the Australian Grand Prix.
Leclerc was the slower of the Ferrari drivers for the first time this season, lapping a tenth slower than Sainz in Q3.
He felt that a combination of "not driving well" and mismanagement of Q3 that led to his team-mate running ahead of him while on a prep lap contributed to his and Ferrari's worst qualifying performance of 2023.
"Q1 and Q2, clearly I wasn't on it, I wasn't driving well, I wasn't putting everything together," said Leclerc.
"[In] Q3 I managed to feel a little bit better in the car, I was quite confident I could put everything together.
"Unfortunately, I don't know what happened in the second run of Q3, whether it was a miscommunication with Carlos or whatever, but I found myself behind him for the whole first sector, which wasn't great. We'll speak at the debrief about that to try and improve those situations."
Leclerc's first run in Q3 was straightforward but unspectacular, aside from a brief snap in the penultimate corner. That put him sixth, 0.127s behind Sainz. But the seeds of his frustrating second run were then sown as he was warned that rain was expected and the idea of dropping the prep lap was floated.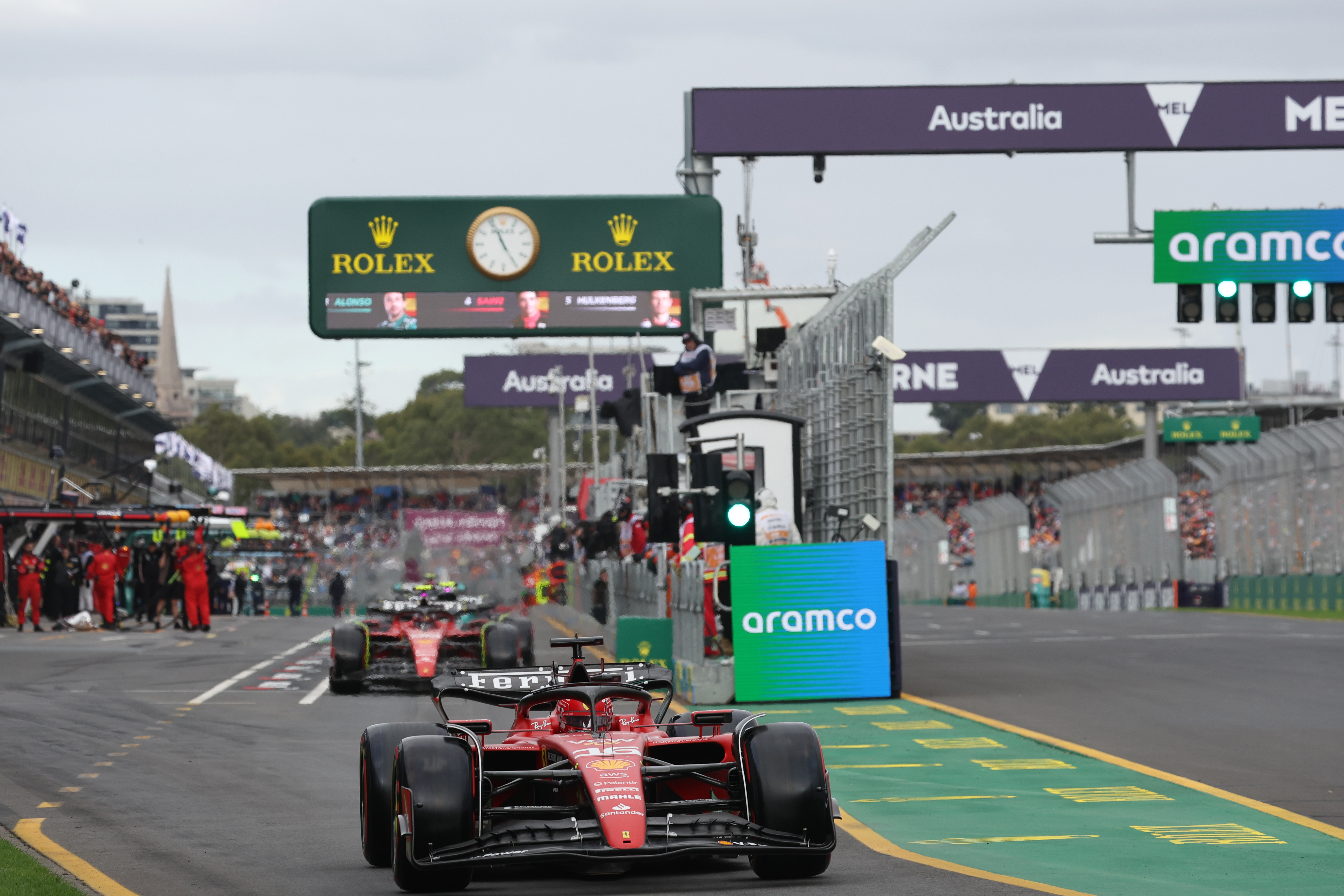 Leclerc had initially gone without a prep lap on his first run in Q1, but thereafter switched to an outlap-prep-push strategy. However, on his return to the pits he agreed the prep lap could be dropped if it was necessary because of the approaching rain.
Sainz opted to continue to run a prep lap and was running ahead of Leclerc on track. He was given a late call over the radio to give his team-mate tow "if it makes sense", to which he responded that it was "tricky here".
Leclerc began his lap, albeit with negligible tow benefit. Sainz was told on the run to Turn 3 that Leclerc was three seconds behind, responding, "Where? Repeat". He then let Leclerc through by backing off out of Turn 4 and staying to the right.
Leclerc completed his lap, which included a brief moment in the last corner that cost enough time to swing the battle in Sainz's favour, but was far from his usual confident self in terms of his steering inputs in the first sector in particular. Over the radio he complained about the lap, saying "I had no temp in the tyres and the rain is not there".
On arrival in parc ferme, he said "thanks to Carlos for the tow in Turn 3-4. It was nice, got a little extra speed, always nice to be close there".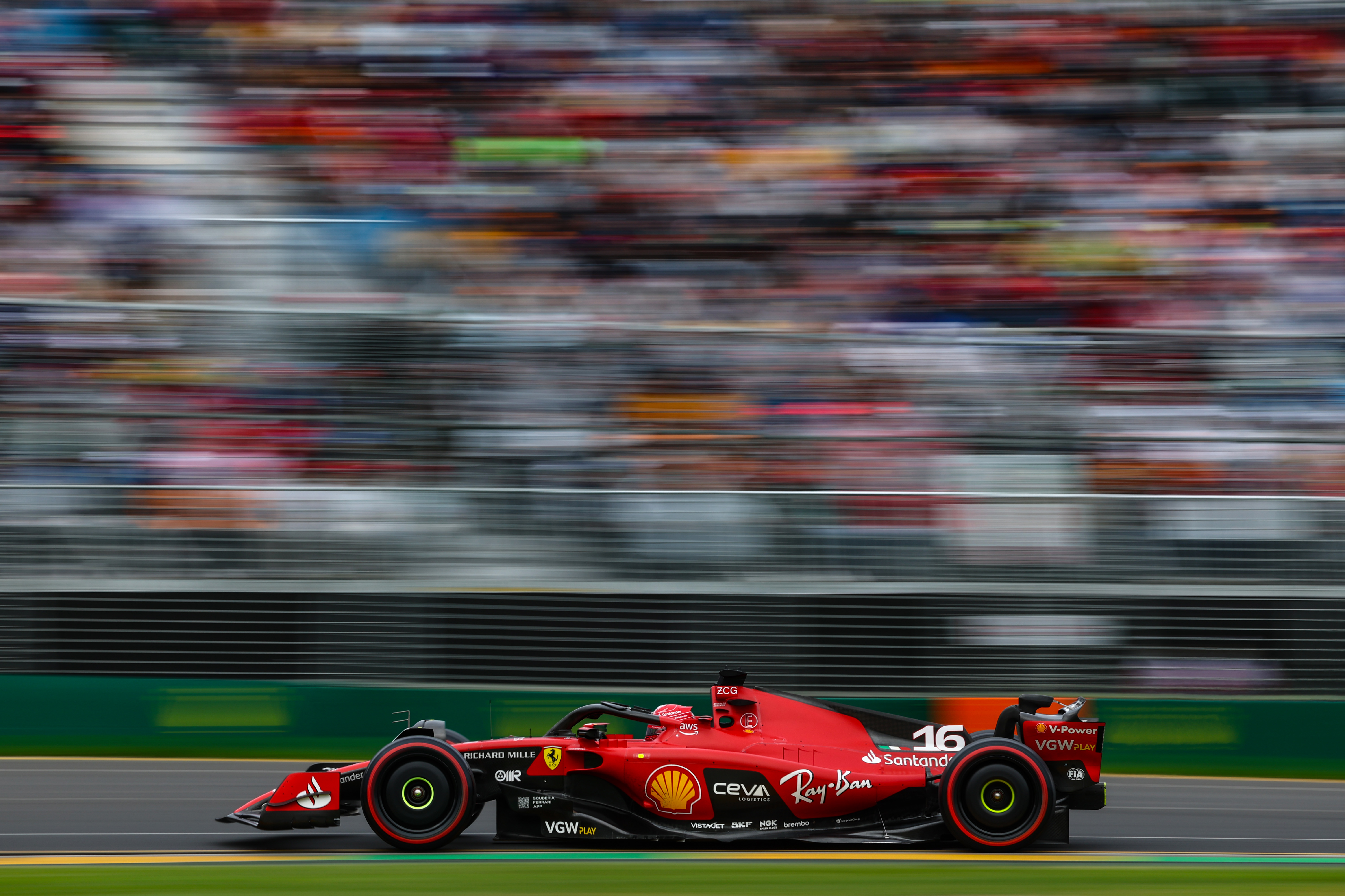 While that may have been a poorly expressed thank you, it seems more likely it was a veiled complaint given it is far from helpful to have a car in front of you in Turns 3 and 4. That's supported by his comments after the session.
But this was the consequence of Ferrari's poor management of the final run rather than Sainz deliberately causing problems, failing to see the problems posed by strategic divergence and the relative positioning of the two cars.
"It was quite tricky," said Leclerc. "I feel like we are quite competitive but I just didn't put everything together, also in the first run of Q3.
"So it's a bit my fault because when you arrive to Q3 you need to put everything together in whatever laps you do.
"We could have optimised it by having better communication but I also didn't do a great job today."
Prior to the last run problems, Leclerc did at least appear to be on course to outpace Sainz having been off his pace earlier in qualifying. As Leclerc mentioned, his run through Q1 and Q2 were far from perfect.
Leclerc was unable to set a time before the red flag in Q1, which was deployed when he was on the run out of Turn 5. A request to go to the toilet during the stoppage was rejected given the relatively straightforward recovery of Sergio Perez's Red Bull.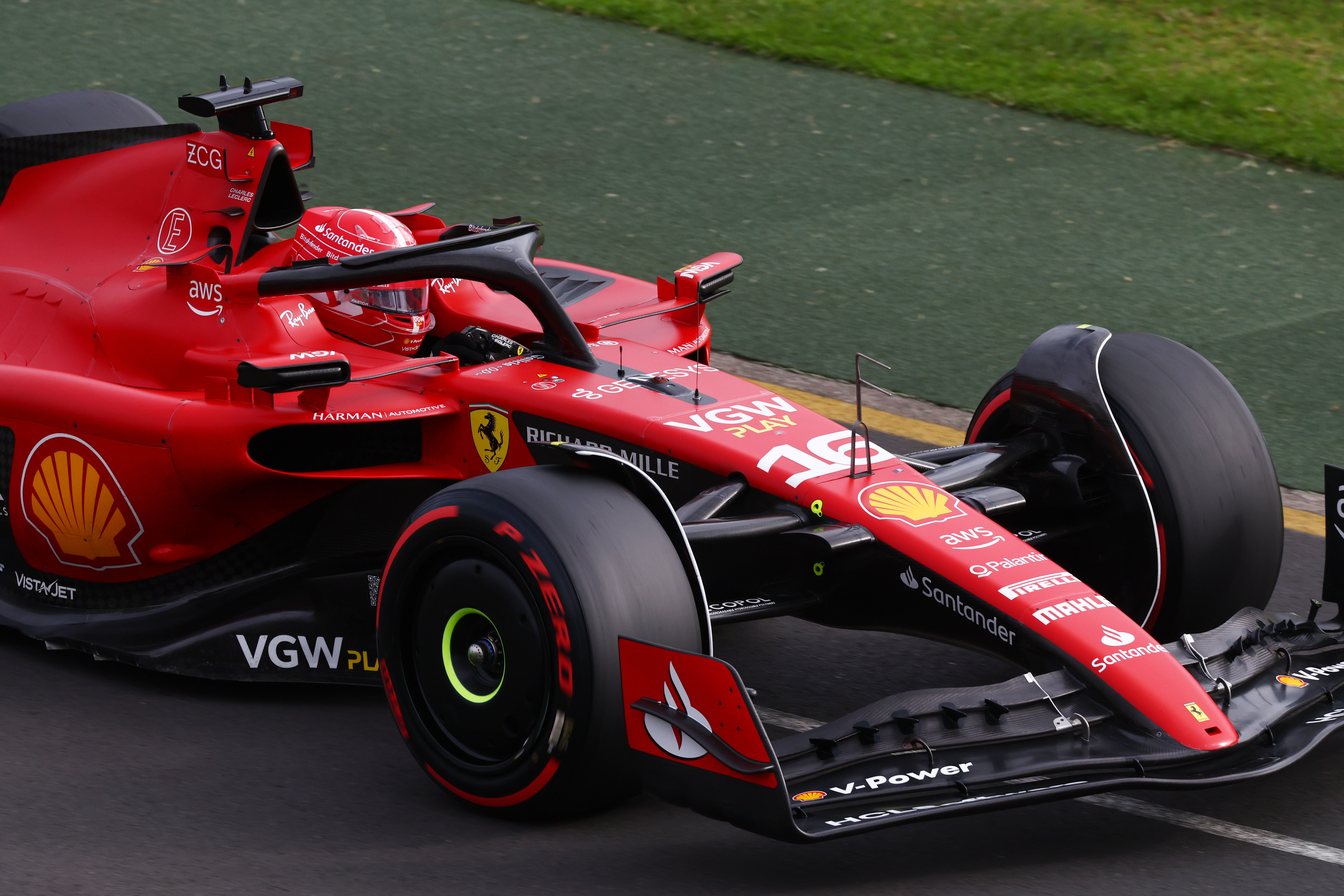 The switch to a prep lap meant he had time for three fliers on his final Q1 run. He lapped 0.468s slower than Sainz and briefly held eighth before being shuffled down to 13th. He was told the main time loss was in the first corner, the Turn 11 right-hander and the last corner, although he sent a near-identical time to Sainz in the middle sector.
He improved by six-tenths on his second lap and closed the gap to Sainz to two-tenths. But the team told asked for "better brake release" into the first corner, where he lost a tenth-and-half to Sainz.
Potentially, the attempt to improve in the first corner led to a snap there on his final push lap, although it was a wide moment at Turn 11 that led to him aborting. Fortunately, his previous lap was good enough for 11th place, but it was only 0.299s quicker than 16th-placed Oscar Piastri, which is closer to elimination than a Ferrari should be in Q1.
Having been given the OK for a trip to relieve himself in the gap between segments, Leclerc was the second driver out in Q2. On a fresh set of softs, he continued to include a prep lap. His first lap was good enough to see him through to Q3, despite the team giving him feedback about the need to brake later into Turn 11. Leclerc aborted his second lap after losing time at the start of the lap.
After a visit to the weighbridge, Leclerc reported "I would have preferred to stay out for another lap", but was told it was not possible. It was the right call given the time remaining meant he could only do one push lap on his final run given the desire to continue to include a prep lap.
Ferrari still justifiably felt he was at risk of elimination and Leclerc put in a reasonable final lap to take fourth place, 0.041s off Sainz. His lower minimum speed in Turn 1, a fraction lost in Turn 11 and the final corner were the main differences.
Leclerc warned the team to "focus on managing the traffic in the last sector" while on his in-lap at the end of Q2. Little did he know his main traffic concern would be his team-mate, as well as the rain that didn't arrive that he was warned of.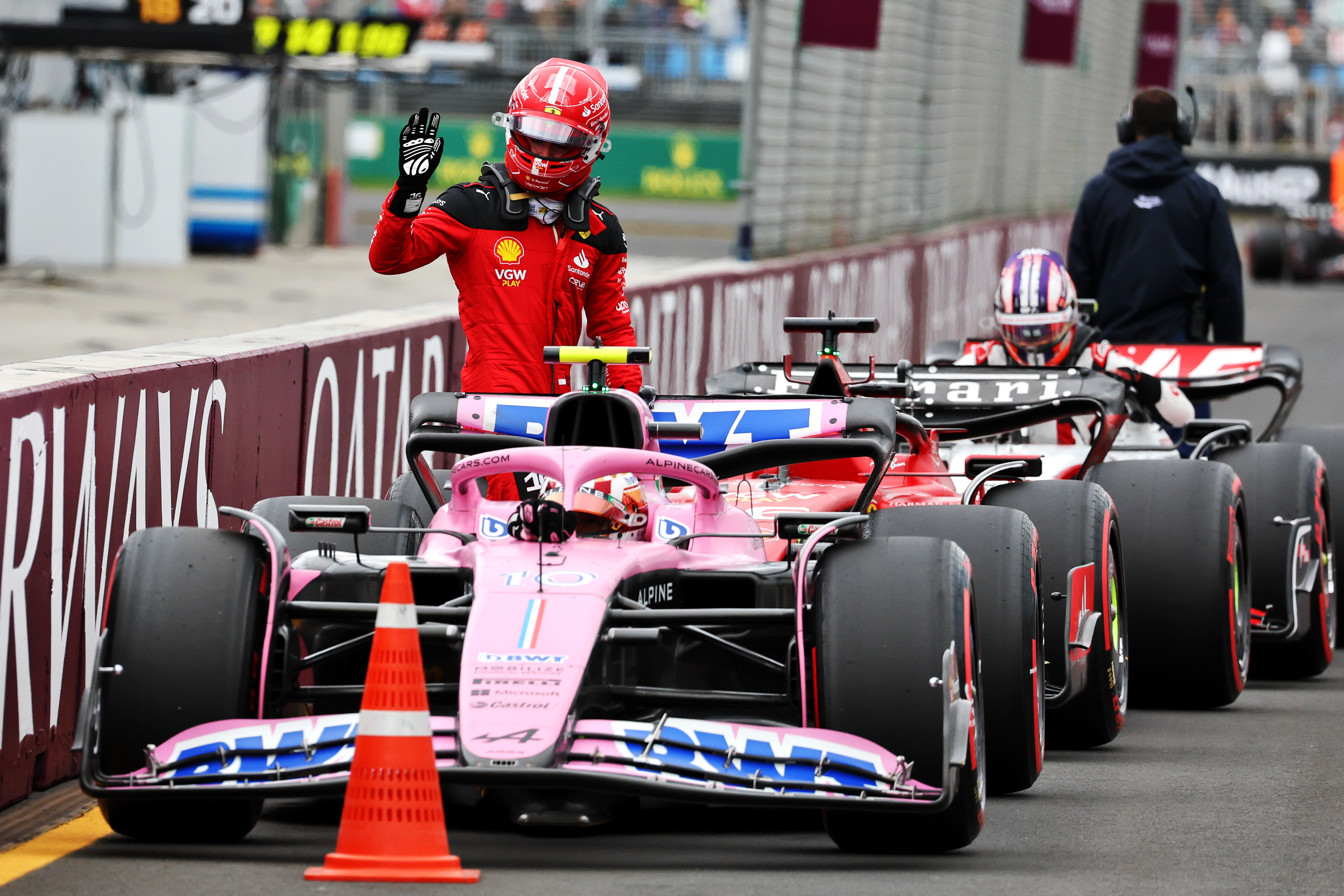 The disappointed Leclerc was asked by The Race when he last felt like this after qualifying. The answer he gave was telling.
"I don't know, I cannot remember," he said.
"Normally qualifying is going quite well. On the second lap of Q3 I didn't do a bad job, but again, the first sector was not in ideal conditions."