Lewis Hamilton described his fight with Formula 1 title rival Max Verstappen in the Brazilian Grand Prix as "what a world championship battle should look like".
Hamilton started 10th at Interlagos after being disqualified from qualifying then recovering to fifth in Saturday's sprint race, with a penalty for an engine change demoting him five places on the grand prix grid.
After rising to second he hounded Verstappen for the majority of the race. His first attempt to pass the Red Bull at Turn 4 ended with both cars taking to the run-off but he made the move stick at the second attempt.
"It was tough," Hamilton said of the contest. "In front of me he generally could match my pace. I would say more so in the last sector.
"It was very, very difficult to follow in the last sector and to get as good an exit as he did in Turn 12.
"So I kept coming up the straight and it wasn't that easy to be in his DRS. And even if I was in the DRS zone it was a bit too far away.
"But I just kept trying, just kept pushing. I had that one chance into Turn 4 but I couldn't hold it…Yeah, it didn't work out.
"Then I had that experience and just made sure that I didn't make that mistake again, but I was adamant and determined to get back into that position.
"It was fine. This is what a world championship battle should look like."
Hamilton was clearly reluctant to criticise Verstappen's defence into Turn 4 on lap 48, when he ran far too deep and forced both wide.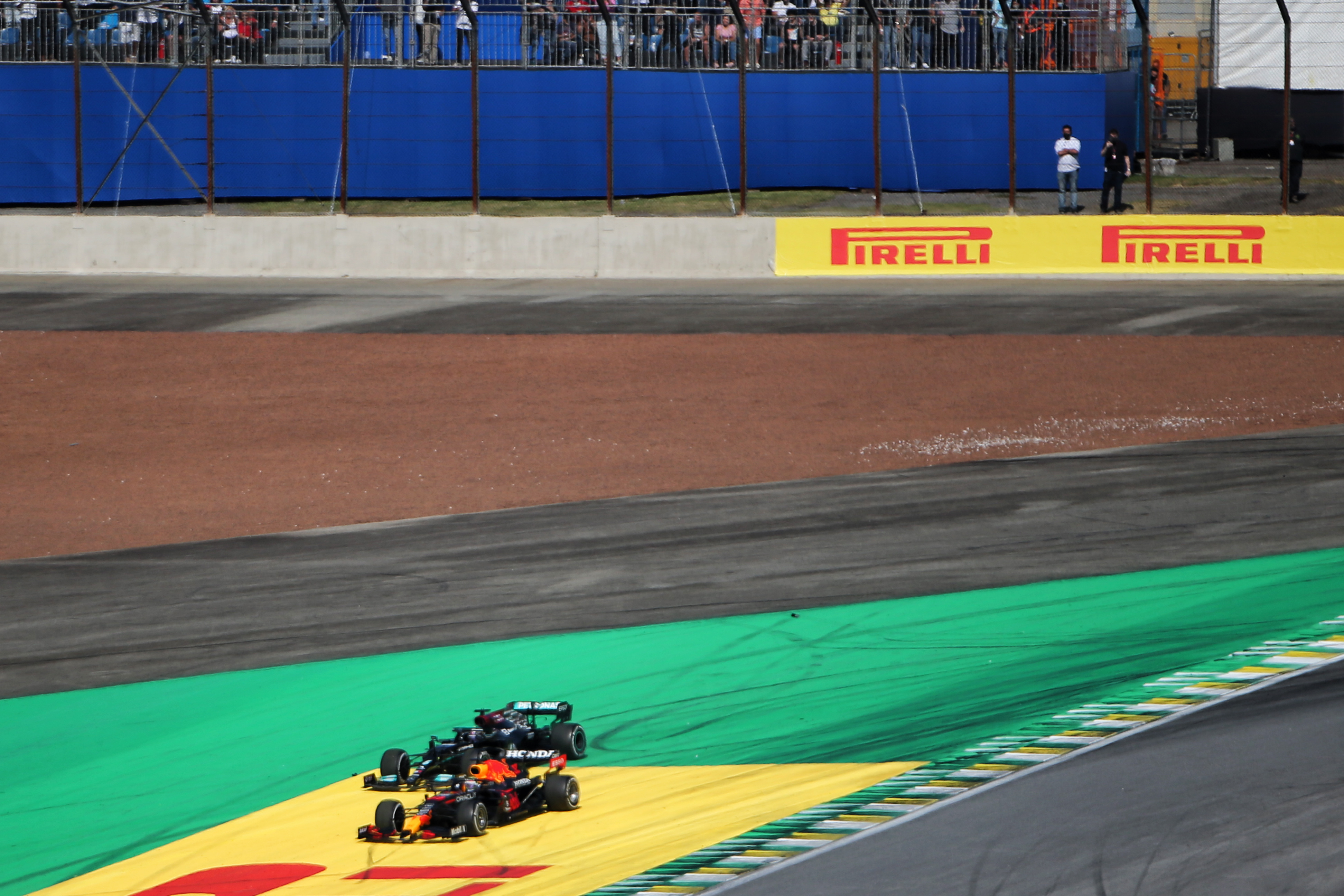 That was perhaps informed by the fact Hamilton ultimately prevailed.
"In the heat of the moment, it doesn't…I don't really know," Hamilton said.
"I think I was ahead initially, and I think he held his ground and we both ran out of road.
"Well, I think he was running out of road, so I obviously had to avoid [him] to go off road.
"But I mean, I didn't think too much of it. Obviously I'll have to watch the replay, but it's hard battling and wouldn't expect anything less really.
"We didn't touch wheels, which is good."
The incident was noted but no investigation was deemed necessary, which allowed Verstappen to keep the lead for a few laps longer.
Previous cases of a driver forcing another off the track have resulted in a five-second penalty.
Verstappen, whose championship lead has been reduced to 14 points, said: "I like to win but also you can enjoy the battle, right?
"I was a bit of a sitting duck but in a way, I just tried to do the best I could – and that's also, in a way, sometimes fun and nice for everyone watching."
Talking through the defence that could have earned him a penalty, Verstappen said: "We both, of course, tried to be ahead into the corner and so I braked a bit later to try and keep the position.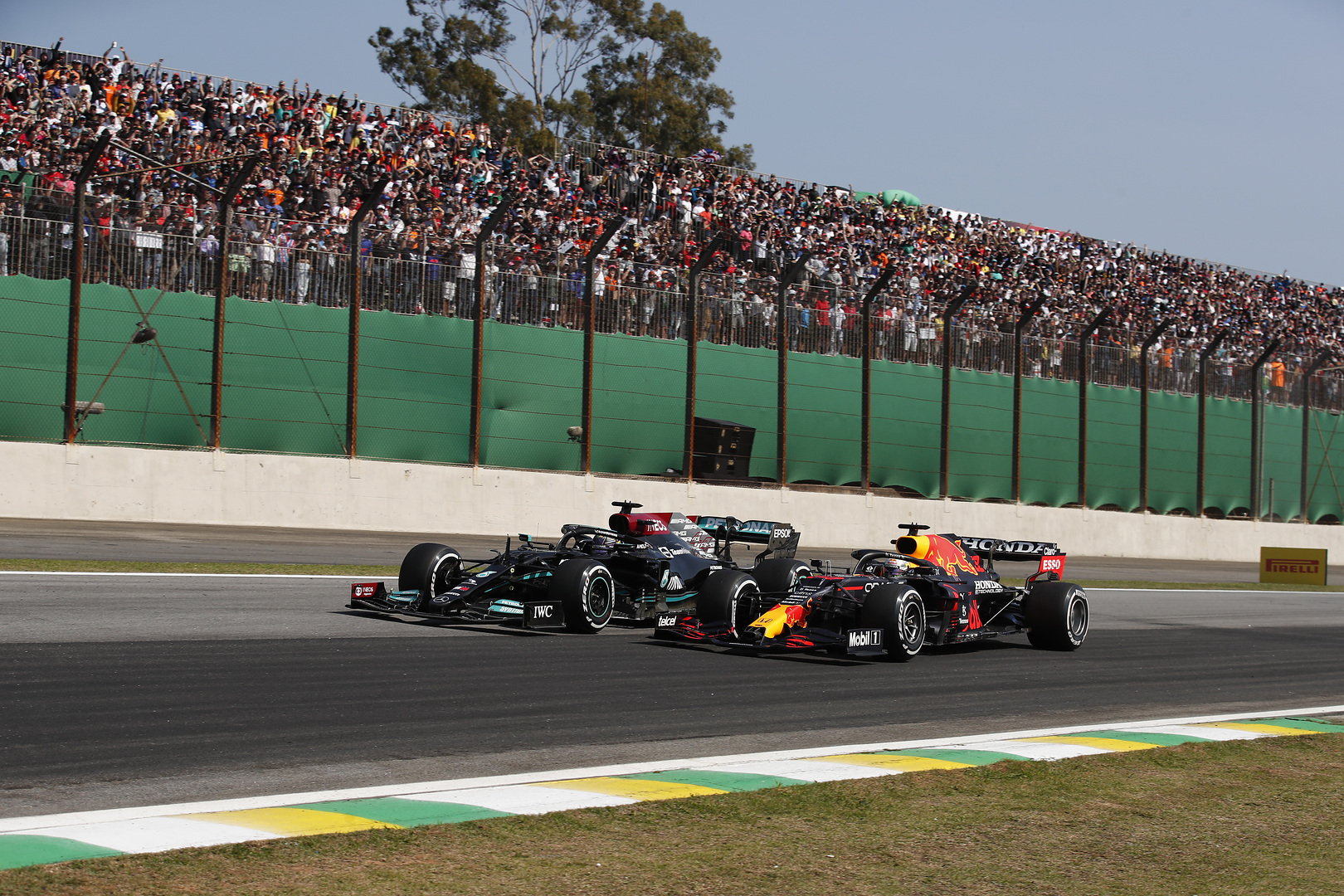 "The tyres were already a bit worn so I was really on the edge of grip so that's why I think I was already not fully on the apex so then it's a safer way of just running a bit wide there.
"In a way I was happy that the stewards decided that we could just keep on racing because I think the racing in general was really good."
Once Hamilton regrouped after that off he was able to prepare another attack and this time Verstappen was unable to fend him off.
The key difference was Hamilton came off of Turns 1 and 2 closer, which allowed him to complete the pass down the straight and cut in front of the Red Bull before Turn 4.
"I was either going to dive super-late into Turn 1, so then he had to block," said Hamilton.
"And I got to be able to position the car correctly through Turns 1 and 2, and I already knew through Turn 3 that I would have a far better slingshot past him because I was closer.
"At that point, I just knew I was ahead going into the braking zone."
Verstappen said: "The decisive moment, I knew when we went through Turn 3 that he was going to get ahead because he was super-close.
"But already, two laps before, I was really starting to struggle on traction and tyres, so I knew it was going to be really tough.
"I just tried to do the best I could and once he got by then I was hanging on with the tyres to the end."