Mercedes has finally made a key improvement with its 2022 Formula 1 car that has resulted in a breakthrough that could define its season.
A much more competitive Spanish Grand Prix followed the team finally understanding the porpoising that has held it back so badly with the 2022 technical rules.
"We've had one race out of six where the car has been well-behaved," said Mercedes' F1 strategy director James Vowles. "It was a car that was really a proper racing car for once.
"We could set it up, we could tune it, we could play around with the settings and it would respond in a way that was predictable. And the same couldn't be said for the car that we had in the first five races of the season.
"We have to temper our expectations. It's one track, a track that has suited our car for many years prior to this one. There's a lot for us to understand and learn.
"But what I can say is we've made a definite step, a step in our understanding and the deployment of what we put on track. And we can build on that. We will move forward from where we are now, but it will be a journey, it's not going to happen overnight.
"The difference now is, we have a car that's within touching distance of the front. And a car that we can fight for a championship with."
Mercedes spent the first few races compromised. The complexity of the issue was best highlighted by just how confused the reigning champion team was.
It didn't know why changes in wind speed or direction, or track grip, could suddenly make the problem better or worse.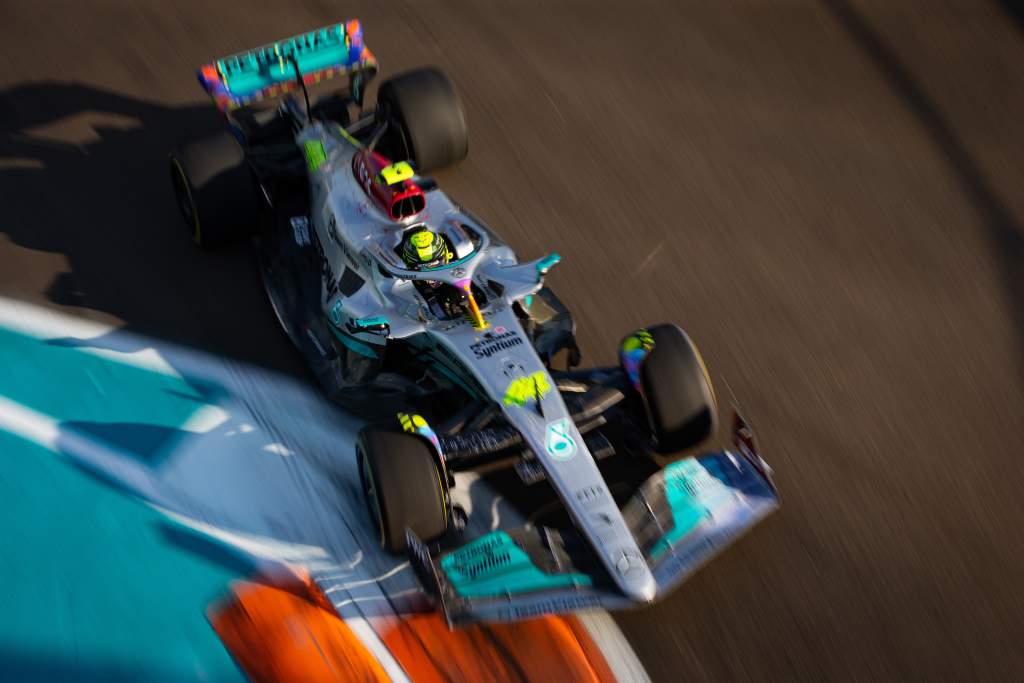 This was most evident in Miami where Mercedes shone on Friday but then small changes in the weather and track conditions over Saturday and Sunday left it back in its usual strife.
Traditional development methods were basically useless for two reasons.
First, as this was such a complex phenomenon, it couldn't be replicated in the windtunnel or on a simulator.
That meant Mercedes had to find a way to try to model the problem between the tunnel and CFD.
Eventually Mercedes was finally able to replicate it in parts, which enabled the team to see what things it could change on the car that were the most sensitive.
That allowed it to identify a development direction and this led to the parts we saw last weekend, parts Mercedes had shaken down on a filming day in France before going on to Spain.
The upgrades included a slot added to the outer edge of the floor, improving its performance when lower to the ground, and a new bib vane added to the keel in the middle of the car that had two functions: generating more load, and sending a vortex under the main floor.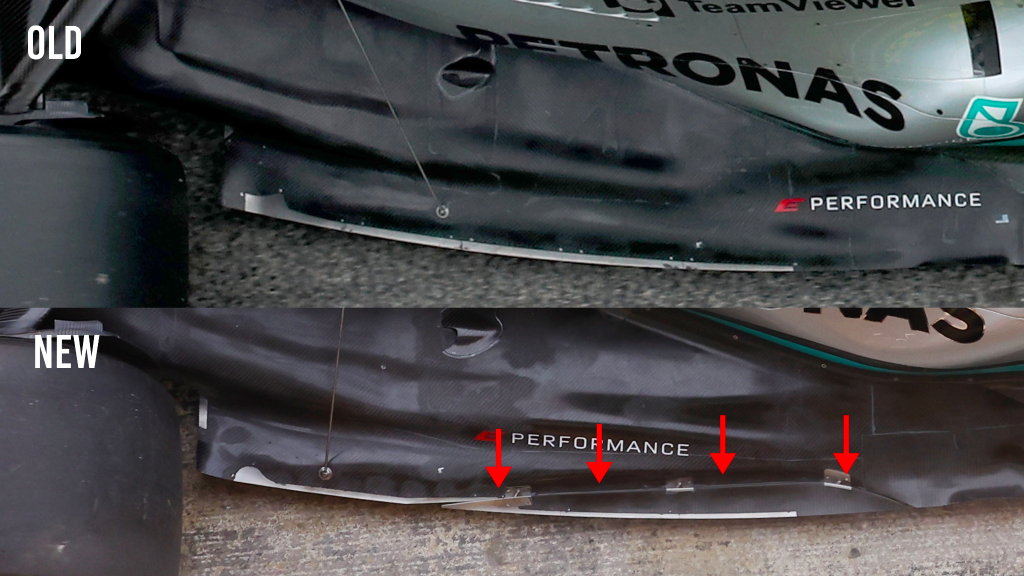 The second issue relating to the usual development process is that while this process was going on, Mercedes couldn't do anything to actually improve its car.
While the team searched for a permanent solution the W13 had to be run at a higher ride height, out of the intended set-up range, to try to minimise the bouncing as much as possible.
That meant Mercedes was unable to develop a performance package because it would effectively be a waste of time. Pretty much all of its focus was on using the tools available to resolve the bouncing as much as possible. There was no value in bringing development parts to a car that basically couldn't be run properly.
That's why it's taken so long to solve. And why it's only now that we're seeing other aerodynamic developments as well.
For instance, there was a new front wing endplate design in Spain that curved gently inboard to improve flow to the rear of the car. And Mercedes had a new lower deflector endplate at the rear to help increase performance from the diffuser.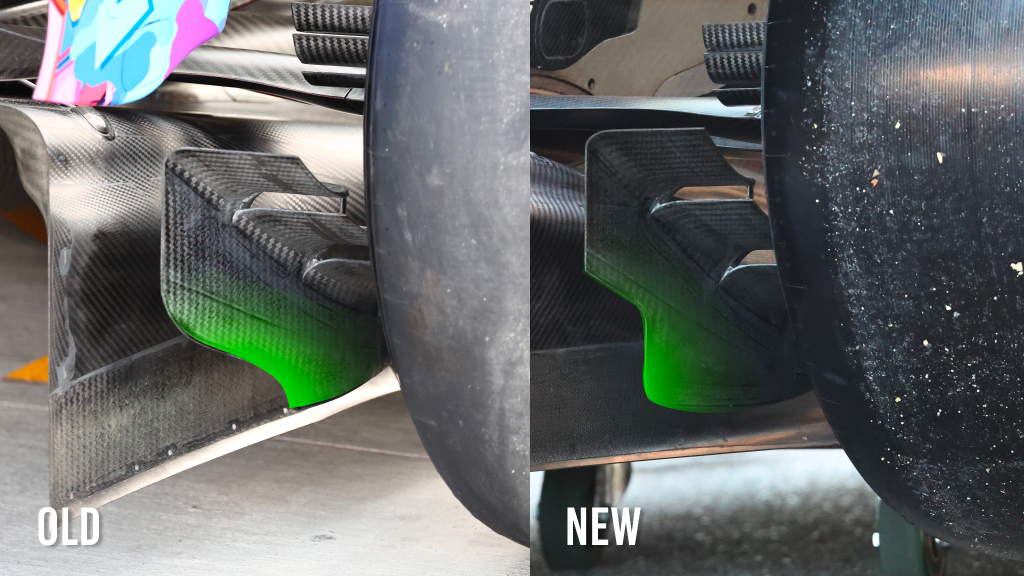 All this brought an immediate benefit. Russell outqualified the Red Bull of Sergio Perez and started fourth at the Spanish Grand Prix, the first time a Mercedes driver made it onto the first two rows of the grid this season.
Then in the race, Russell was a thorn in Red Bull's side for the first half of the grand prix and eventually scored a podium, while Lewis Hamilton showed serious frontrunning pace as he carved his way through from the back after a first-lap incident to what would have been fourth before a late water leak forced him to slow and drop a place.
But the Mercedes was still porpoising in Spain, mainly at the end of the straights and through the fastest corners – Turns 3 and 9.
If it's not eliminated the problem entirely, where's the real breakthrough in this?
It's that by understanding and resolving the worst of the porpoising Mercedes is now setting the car up properly and that means the car is also reacting to set-up changes better.
To use the favoured Mercedes terminology: it behaves like a real racing car for the first time this year. It's lower, it's working the tyres better, it's not smashing into the ground down the straights and it's producing less drag.
That makes the car faster through the corners than before and faster down the straights than before – Hamilton was fastest through the speed trap in qualifying for example and Mercedes reckons its real top speed is now finally being shown.
Mercedes can also make changes based on driver feedback that it couldn't before. It has now started to discover what the car's set-up window really is. And it seems to be quite wide – certainly not as bad as Mercedes feared it would be in the early races.
An example of this is Hamilton's claim that a slight divergence on set-up seemed to make Russell's car better suited to qualifying while his was stronger in race trim.
These are small details but before the priority with the set-up was just to make the bouncing survivable.
The significance of this no longer being the case is enormous. Team boss Toto Wolff even went as far as saying that during Hamilton's recovery drive the W13 reminded him of Mercedes' previous title-winning machinery.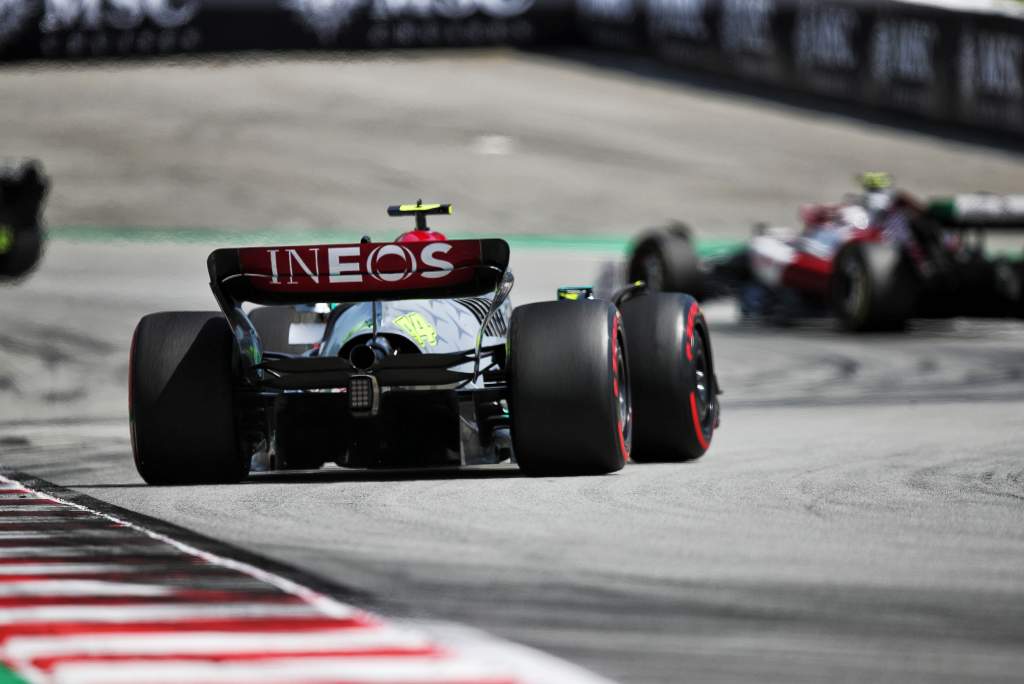 And not only does Mercedes have a faster car but it can also finally try to add performance to it as well.
There was a suggestion from Russell during the weekend that Mercedes did have to sacrifice some peak downforce to get the car into this improved porpoising window.
So now the challenge for Mercedes is to add as much performance as possible without triggering the problem again or causing new issues.
The next few races will now define how much progress it has made already with the updates it had in Spain, and whether it can do enough with the added development that's in the works to start beating Ferrari and Red Bull.
To do that, of course, it has to start matching them. Despite all the positivity of the Spanish GP weekend Mercedes' lead car still finished 33 seconds behind Max Verstappen's Red Bull and would have been even further behind Charles Leclerc's Ferrari.
So, it's valid to question exactly how much progress was made and how far Mercedes still needs to go to save its season and be a championship contender.
While Russell's pace was ultimately inferior to that of the lead Ferraris and Red Bulls in Spain it's Hamilton's second and third stints that left Mercedes so encouraged.
Mercedes reckons that, tyre and fuel corrected, Hamilton was a match for both Leclerc and Verstappen. And there were factors that held its cars back. Hamilton was going to beat the Ferrari of Carlos Sainz on merit before he lost coolant late and wasn't even able to go full throttle at the end of the race.
Meanwhile, the higher-than-expected ambient temperatures meant Russell had cooling problems early in the grand prix that made the power unit run hot, forcing him to lift-and-coast more than he was supposed to.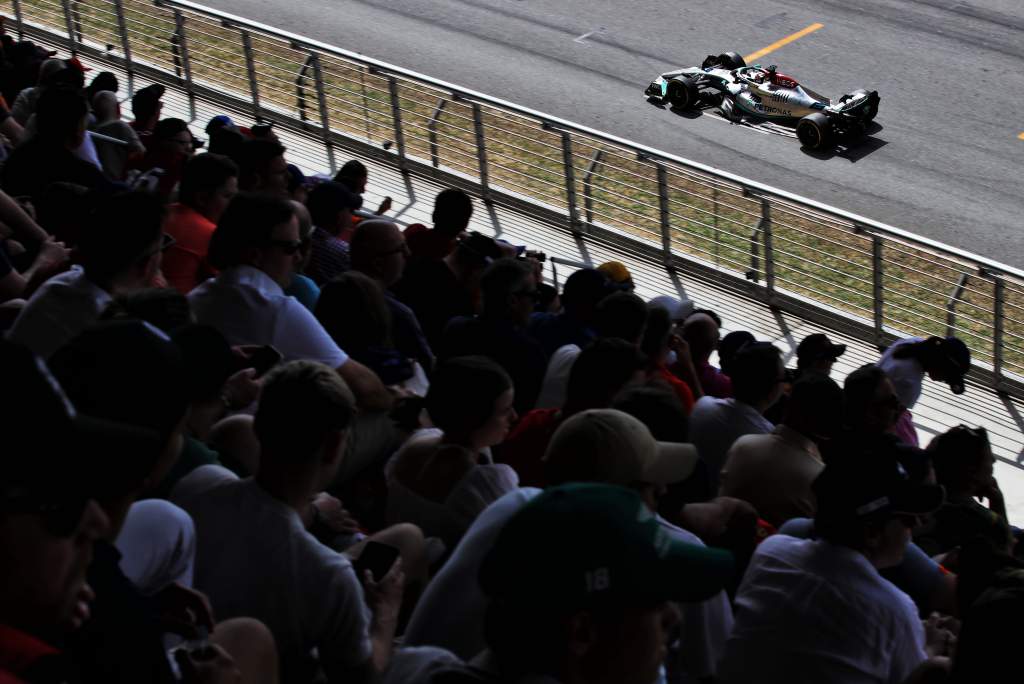 Internally, the team is aware that even a best estimate of a direct comparison is tricky, especially as Mercedes' rivals probably had something in reserve as well.
Leclerc was in a safe position before retiring so probably wasn't pushing flat out, while Verstappen was initially stuck behind Russell and then was in race management mode once he'd inherited the lead.
But Mercedes reckons that it was maybe a tenth slower than Ferrari in race trim and two or three tenths behind Red Bull. That's comfortably its best performance of the year.
Even if that is a slightly generous interpretation, there is at least finally hope within the world champion team.
It's later than anyone at Mercedes would have wanted, but it may just be that its season has finally started for real.
---
Will Mercedes' progress continue at the Monaco Grand Prix? Follow all this weekend's Formula 1 action as it happens and quiz our F1 experts on The Race Live Hub – which this weekend covers Mugello MotoGP and the Indianapolis 500 too