The 2021 Formula 1 season could hardly have been decided in more controversial circumstances and a dramatic conclusion felt inevitable given the way this year has gone.
Max Verstappen's first world championship was won on the final lap of the Abu Dhabi Grand Prix after a contentious finale that denied Lewis Hamilton a comfortable victory and his eighth title.
The road to reach this point was long and winding. Here, Edd Straw and Scott Mitchell chart the major moments that decided the outcome of the championship.
The floor rule changes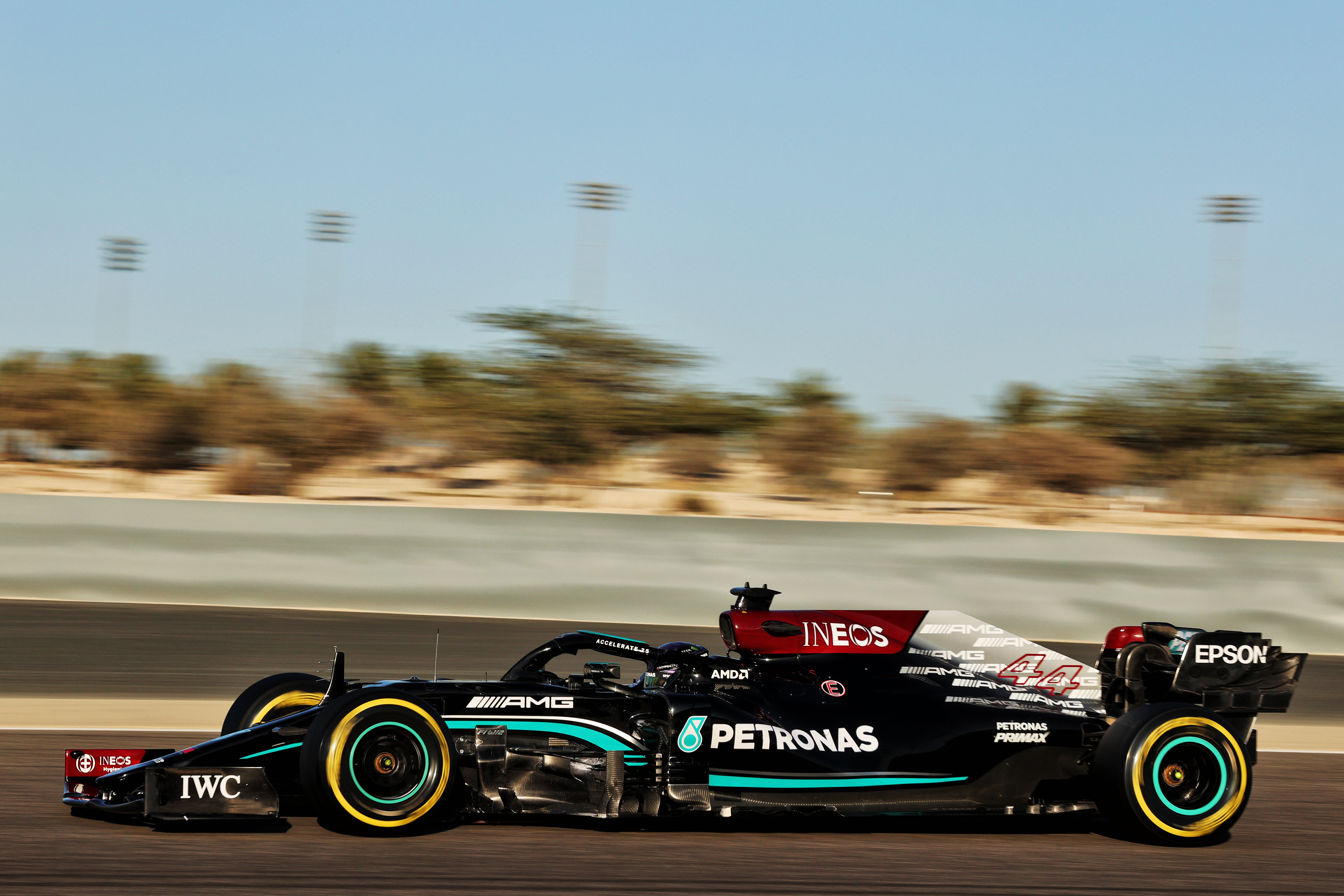 The impact of the COVID-19 pandemic that resulted in the 2021 cars being largely carried over, combined with the decision to introduce a package of four aerodynamic rule tweaks ostensibly introduced to avoid overloading the carried-over Pirelli tyres, played a big part in setting up the Hamilton vs Verstappen battle in 2021.
The rule change comprised the creation of a triangular cut in the rear part of the floor edge, the elimination of slots in the floor, the reduction in the height of the diffuser strakes and a reduction in the winglets on the lower part of the rear brake ducts.
The result was not only a reduction in downforce, hence slightly slower laptimes, but also a rules package that was difficult for the two cars running the low-rake concept – Mercedes and Aston – to make work as well as the higher-rake cars could.
Red Bull will argue that its own developments on a car that, last year, was a good concept with some fundamental limiting factors were always going to get it on terms with Mercedes, and perhaps that would have been the case. But these rule changes certainly didn't hurt its bid to take on Mercedes.
It was only really with changes made at the British Grand Prix that Mercedes came up with the best way to ameliorate the disadvantage created by this rule change, after which it had a strong second half of the year.
Without the decisions made last year, 2021 might have been very different.
Bottas/Russell crash at Imola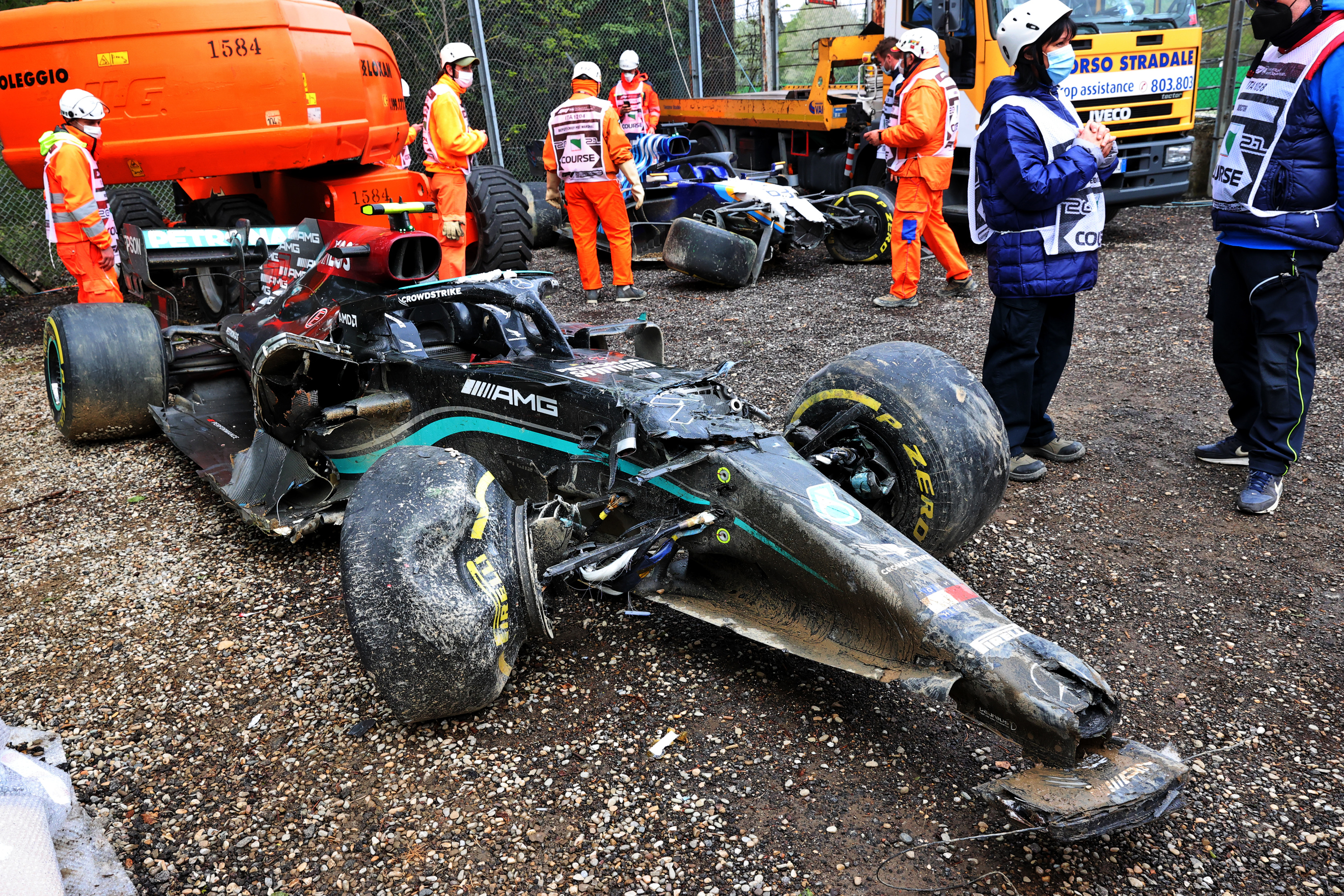 When Hamilton slid off the road chasing Verstappen at Imola, his race was looking, at best, massively compromised.
He'd been impatient trying to navigate lapped traffic after catching Verstappen and lost control on the damp part of the track into Tabac.
After what seemed like an eternity trying to reverse out after nosing into the barrier, Hamilton rejoined with a broken front wing. By the time he got back to the pits for repairs he would be a lap down and looking to finish seventh in a clean run to the finish.
Fortunately for Hamilton, his error was almost instantly followed up by an enormous crash between George Russell and Valtteri Bottas that triggered a safety car that quickly gave way to a red flag.
Lapped cars were then allowed to join the back of the queue for the restart, giving Hamilton the opportunity to recover to second.
It was a very good drive given conditions were still tricky off-line, for which Hamilton deserves credit – but the fact is it was the crash that allowed him to turn a likely six-pointer into an 18-point return.
Hamilton's Baku error
When Verstappen crashed out of a comfortable Azerbaijan Grand Prix lead after a rear tyre failure, Hamilton was looking at a big swing in his favour.
It's one he could have maximised by passing Sergio Perez at the late standing restart to win.
Unfortunately, he had accidentally engaged the 'brake magic' button on the rear left side of the steering wheel. Designed only to be used on formation and safety car laps for warm-up purposes, this wound the brake bias forward.
When Hamilton braked, he locked up, took to the runoff and came home a pointless 15th – failing to capitalise on Vertappen's bad luck.
Verstappen's triple-header hat trick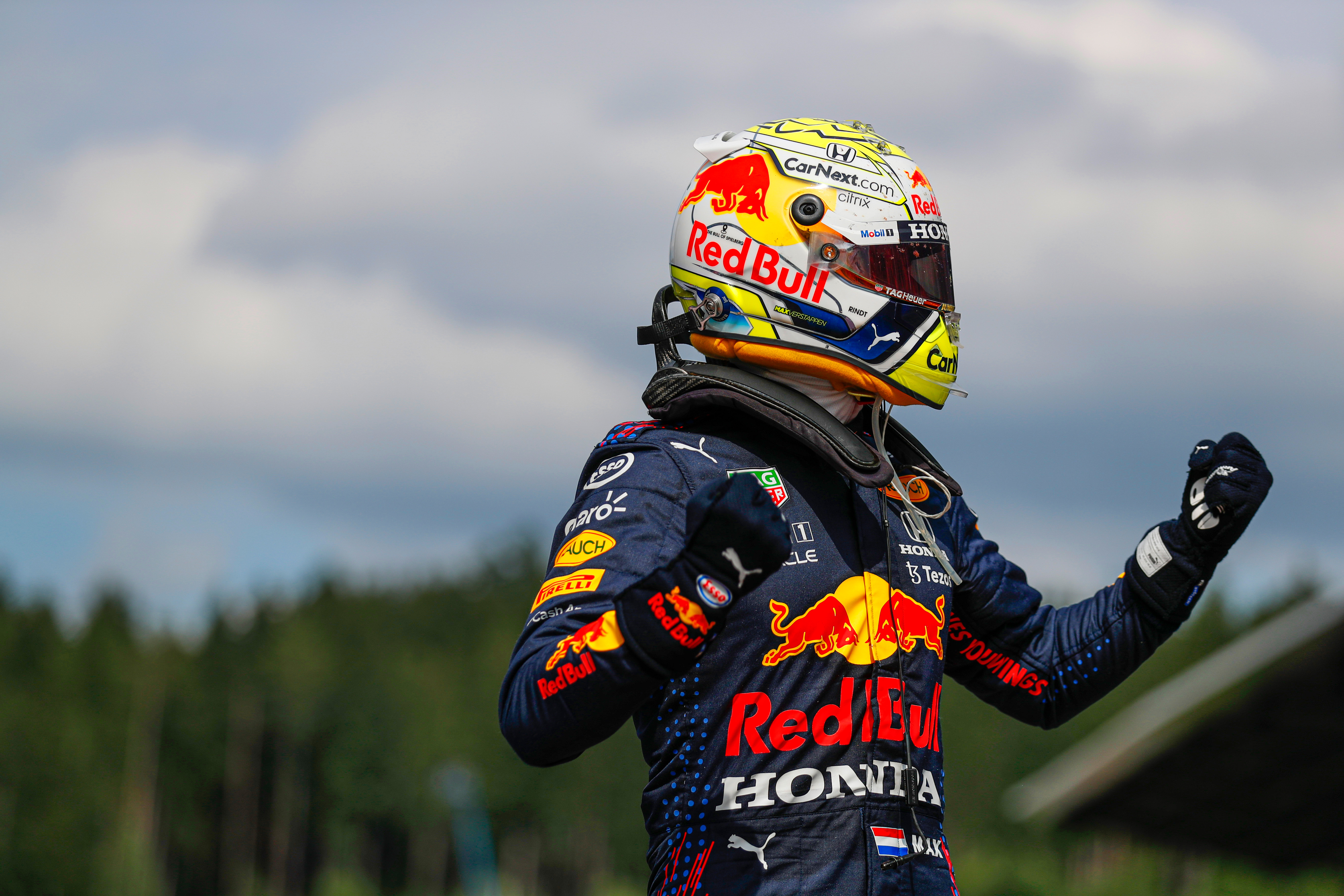 In the first half of the year there was a run of five Red Bull wins, all of which could have fallen to Verstappen were it not for that Baku puncture.
This was the Red Bull in a sweet spot while Mercedes was struggling, and Verstappen took advantage. He enjoyed a hat-trick of victories including two dominant wins at his team's home race in Austria.
Verstappen owed this partly to the calendar disruption caused by the pandemic. Canada disappeared, replaced by Turkey – which then disappeared as well, leading to France being moved forward and the Red Bull Ring getting a double-header.
Getting another grand prix at what was arguably Red Bull's best track gave Verstappen a little boost.
The lead he built over this triple-header helped insulate him against the impact of what happened next time out.
Silverstone crash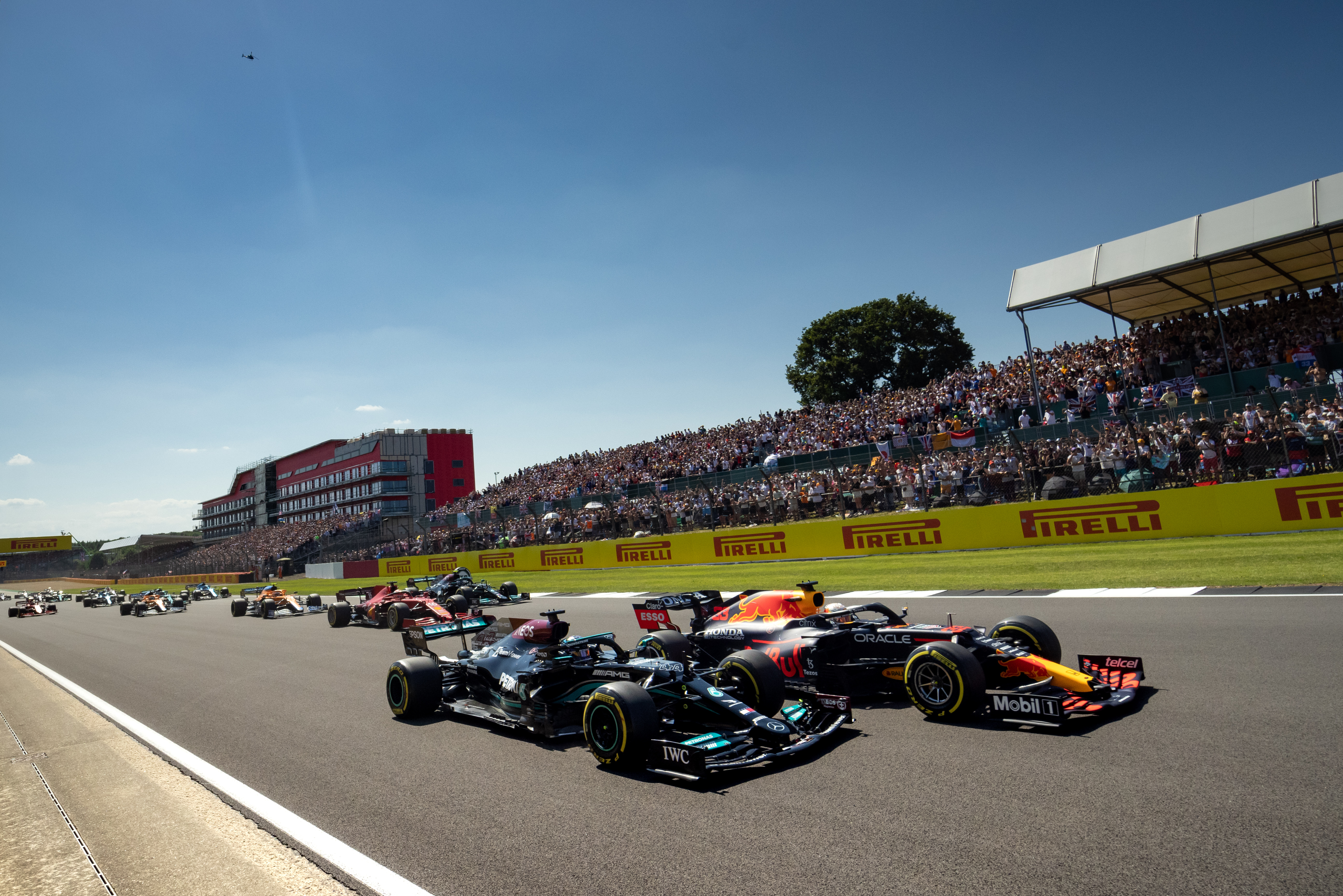 Hamilton knew that if he didn't finish the first lap of the British Grand Prix ahead of Verstappen, chances are he would finish behind.
On the run to Copse corner on the first lap, Verstappen defended the inside but not aggressively enough to prevent Hamilton getting alongside him.
They attempted to get round the corner side-by-side, Hamilton understeered slightly and they made contact, pitching Verstappen heavily into the barrier – and crucially damaging his engine.
With Verstappen out, the resulting red flag saved Hamilton and Mercedes as it allowed repairs to be made to his front-left corner. Despite a 10-second time penalty, which Hamilton served at his first pitstop, he was able to pass Ferrari driver Charles Leclerc to win with two-and-a-half laps remaining.
That slashed Verstappen's points lead from 32 to just 8 points, and left both him and the Red Bull team fuming given the damage meant the impact wasn't just felt at Silverstone.
Verstappen's Hungary wipeout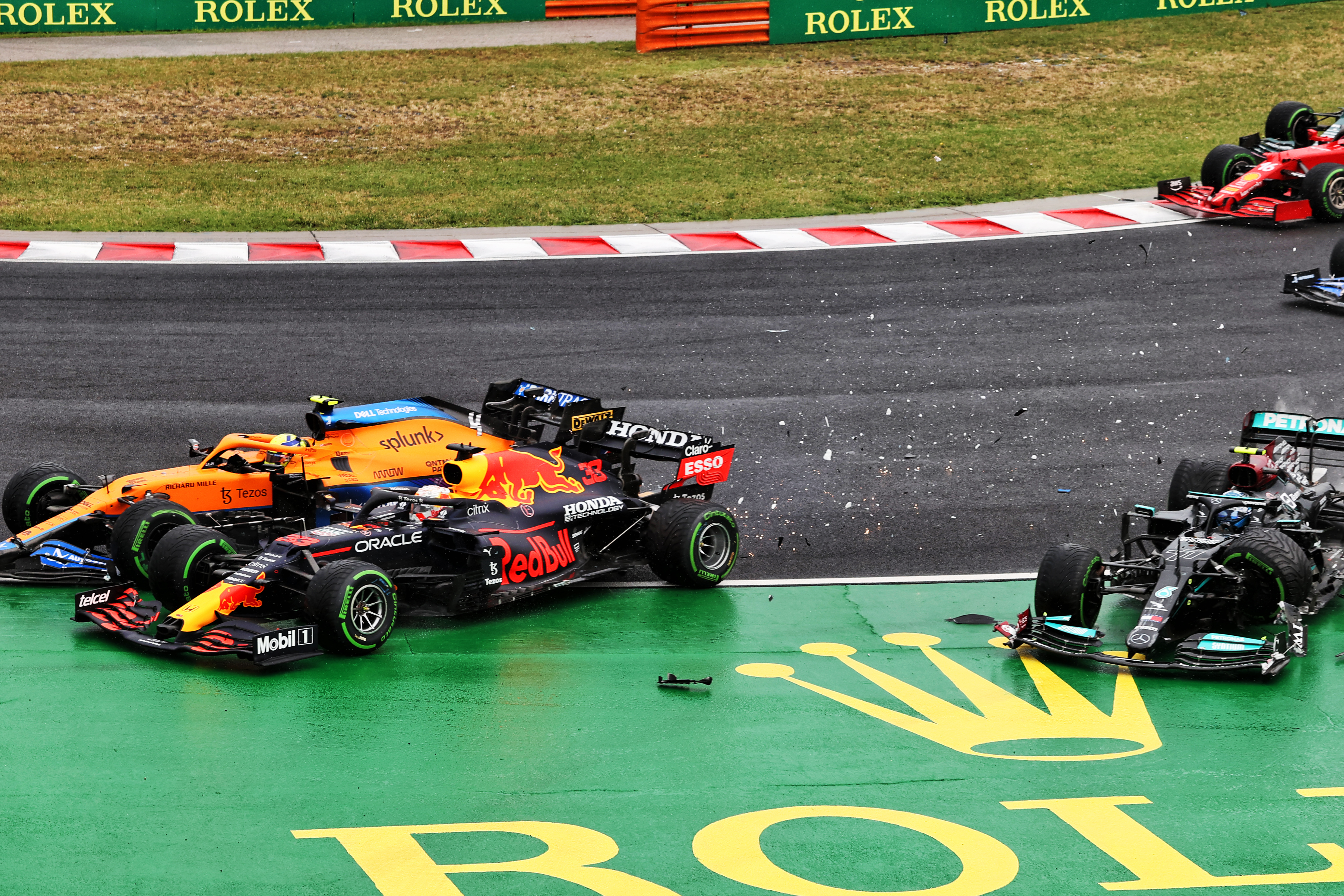 As Mercedes rebounded before the summer break and locked out the front row in Hungary, Verstappen was braced for a damage limitation job.
That metaphorical task became a literal one when he was piled into Turn 1 in the melee caused by Bottas locking up on a damp track.
Verstappen's Red Bull picked up serious damage that the team did its best to address during the ensuing red flag period.
That allowed Verstappen to take part when the race restarted with a severely compromised car.
He battled gamely to score a couple of points while Hamilton dropped seven in this grand prix, finishing second instead of winning because he was the only driver to take the restart on intermediates.
Spa farce gives Verstappen (half a) win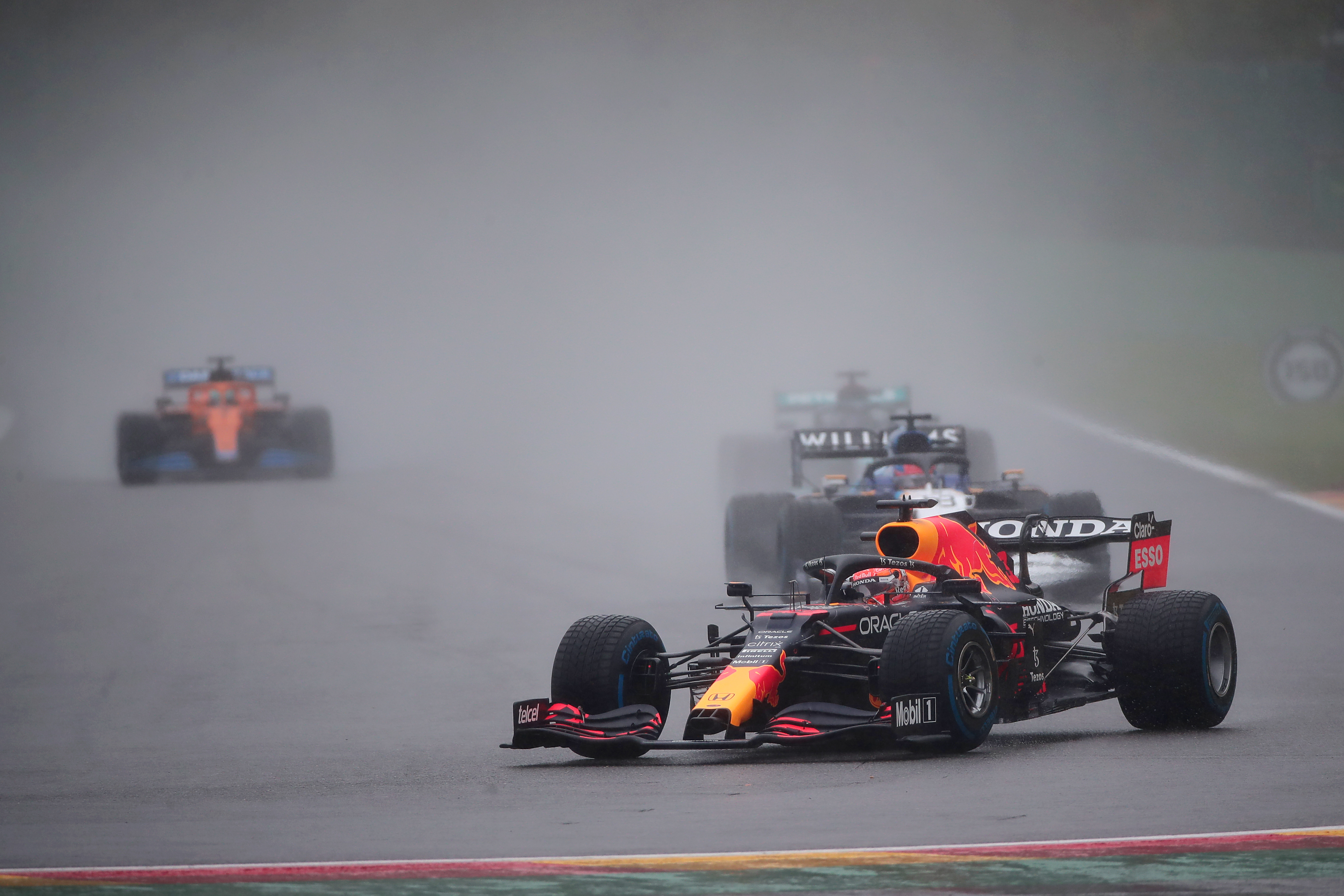 The farcical Belgian Grand Prix shouldn't have been a factor in the championship but it was, because of the extremely controversial method in which half points were awarded.
That gave poleman Verstappen 12.5 points and Hamilton 7.5, as he had qualified third.
This can easily be argued either way. Hamilton's side will contend that Verstappen should never have extended his points lead at all.
Verstappen's side will argue that in a normal grand prix he would have beaten Hamilton – and gained more points, even with Hamilton finishing second, than he did with half points awarded.
Monza crash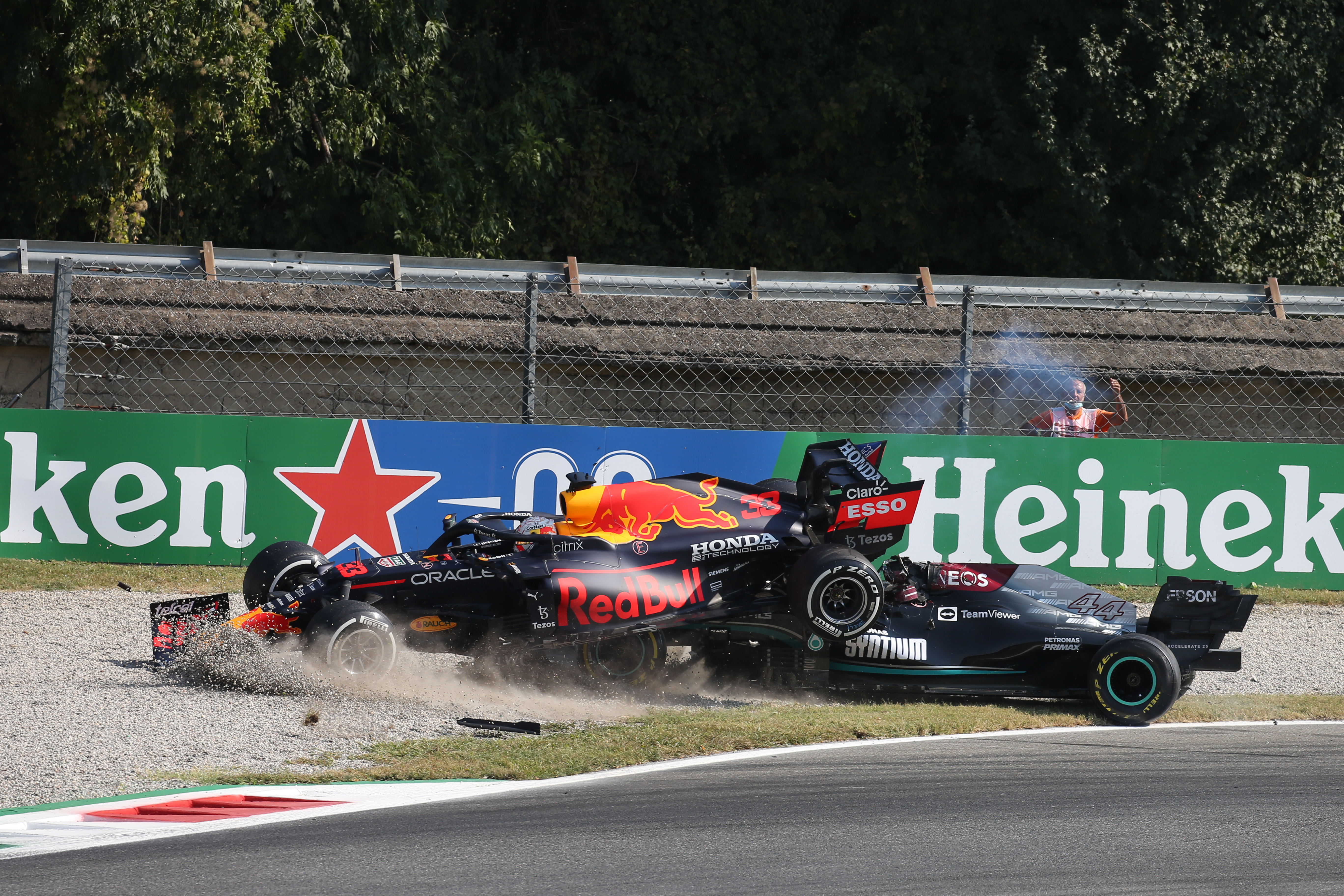 Mercedes comfortably had the fastest car at the low-drag Monza circuit but Hamilton could not take advantage.
He lost ground in the sprint race on Saturday with a poor start, which meant he would only finish fourth – outside the points-paying positions, while Verstappen grabbed a couple of points for finishing second.
That also meant Hamilton would start the grand prix third with Verstappen on pole after sprint race winner Bottas took a grid penalty.
On Sunday, Verstappen got jumped by Daniel Ricciardo's Red Bull and a slow pitstop meant he lost further ground. Hamilton pit two laps later and when he rejoined the two title rivals went into the first corner side-by-side.
Verstappen refused to lead into the first part of the chicane and tried to complete the pass into the second part despite being forced wide.
Hamilton also refused to yield, and when Verstappen bounced over the kerb he launched himself into and then over Hamilton's car, ending both their races.
Verstappen would get a three-place grid penalty for the next race at Sochi, but it meant he ended the Monza weekend actually extending his lead by two points thanks to the sprint score.
Hamilton wins yet drops points due to Sochi rain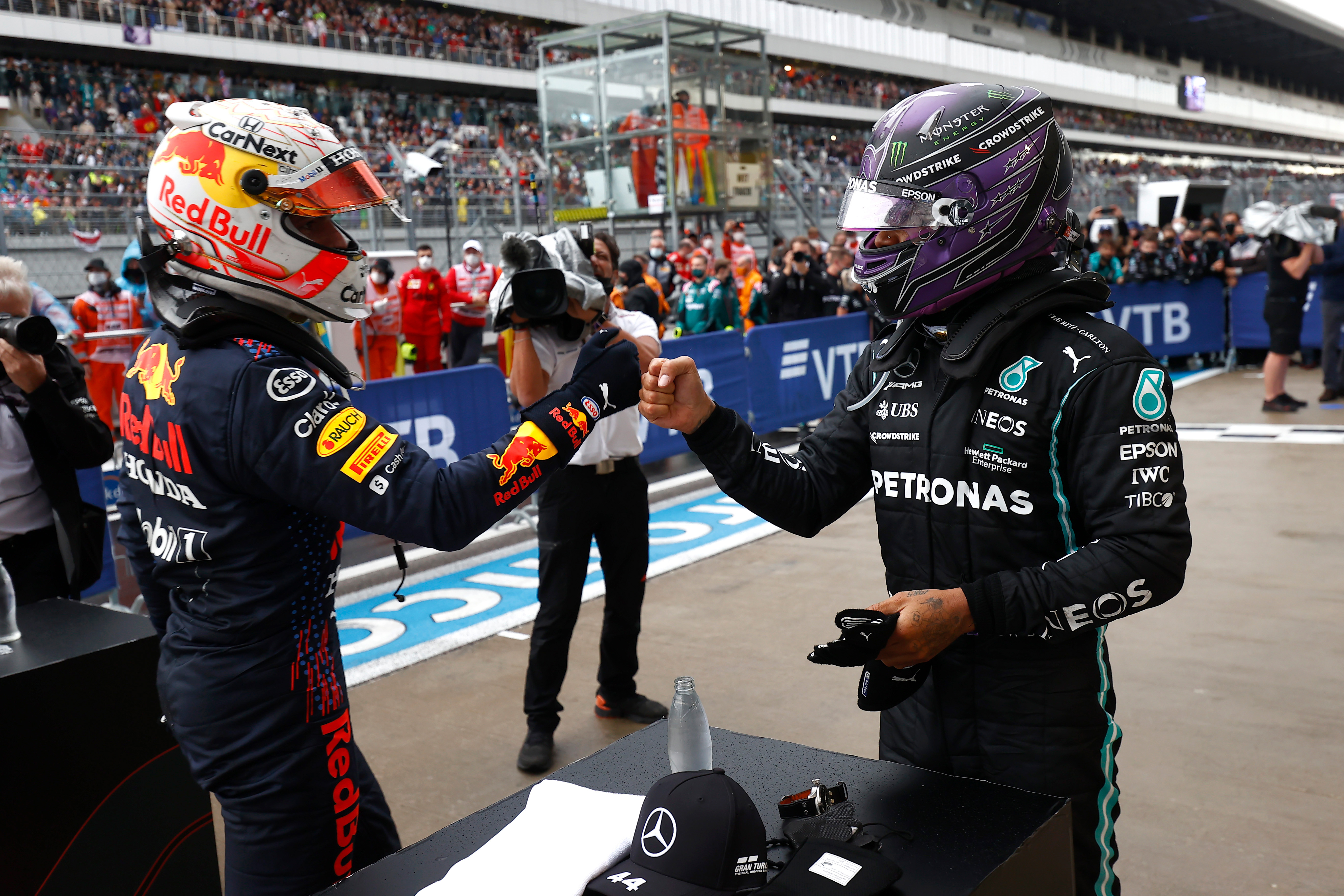 Had the rain held off at Sochi for another 20 minutes at the end of the Russian Grand Prix, Hamilton would have finished second with Verstappen seventh. That would have meant a gain of 12 points for Hamilton. But the rain changed things completely.
Verstappen immediately started gaining ground, passing Carlos Sainz and Ricciardo before diving into the pits for intermediates. This well-timed stop allowed him to climb to second, a great result given he had to start 20th thanks to fitting a fresh power unit.
Meanwhile, Hamilton closed on long-time leader Lando Norris before being called into the pits.
But while Norris was left out too long given the fact there was a second bank of rain right behind the first that McLaren failed to take into consideration, Hamilton stopped for intermediates and was able to take the lead as Norris painfully scrabbled for grip on slicks in conditions that were by now properly wet.
Yet while the rain gave Hamilton the chance to win, it also allowed Verstappen to reduce the points swing against him to seven points.
Hamilton's Brazil fightback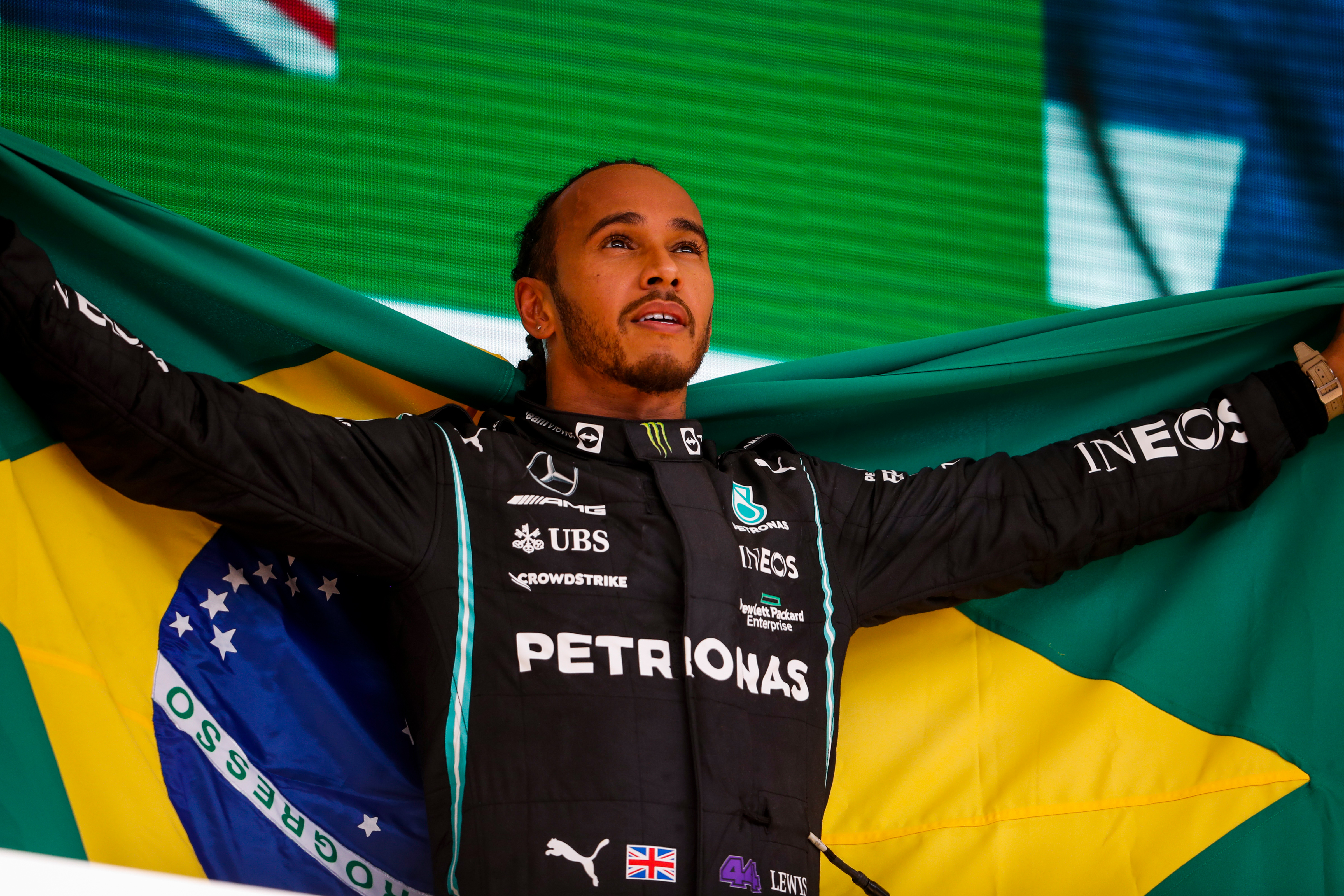 After Verstappen's back-to-back wins in the United States and Mexico, Hamilton desperately needed to fight back in Brazil.
Dominating qualifying looked a good way to do that until he was disqualified for a tiny rear wing irregularity caused by loose bolts. Verstappen inherited pole for the sprint race while Hamilton started last.
Before the sprint, it looked like Verstappen would take a decisive step towards the title that weekend. Instead Hamilton rescued his challenge back from the brink.
He overtook 15 cars to finish the sprint race in fifth, which meant he started the grand prix 10th as he had a five-place grid penalty for taking a fresh engine that weekend.
His path to an astonishing victory on Sunday was no less dramatic, as it featured a controversial run-in with Verstappen who was not penalised for a defensive move that ended with both drivers taking to the run-off area at Turn 4.
That couldn't stop Hamilton taking the lead anyway a few laps later, and it also emboldened Verstappen to try a similar tactic two races later in Saudi Arabia – but he didn't get away with it there.
Saudi Arabia controversy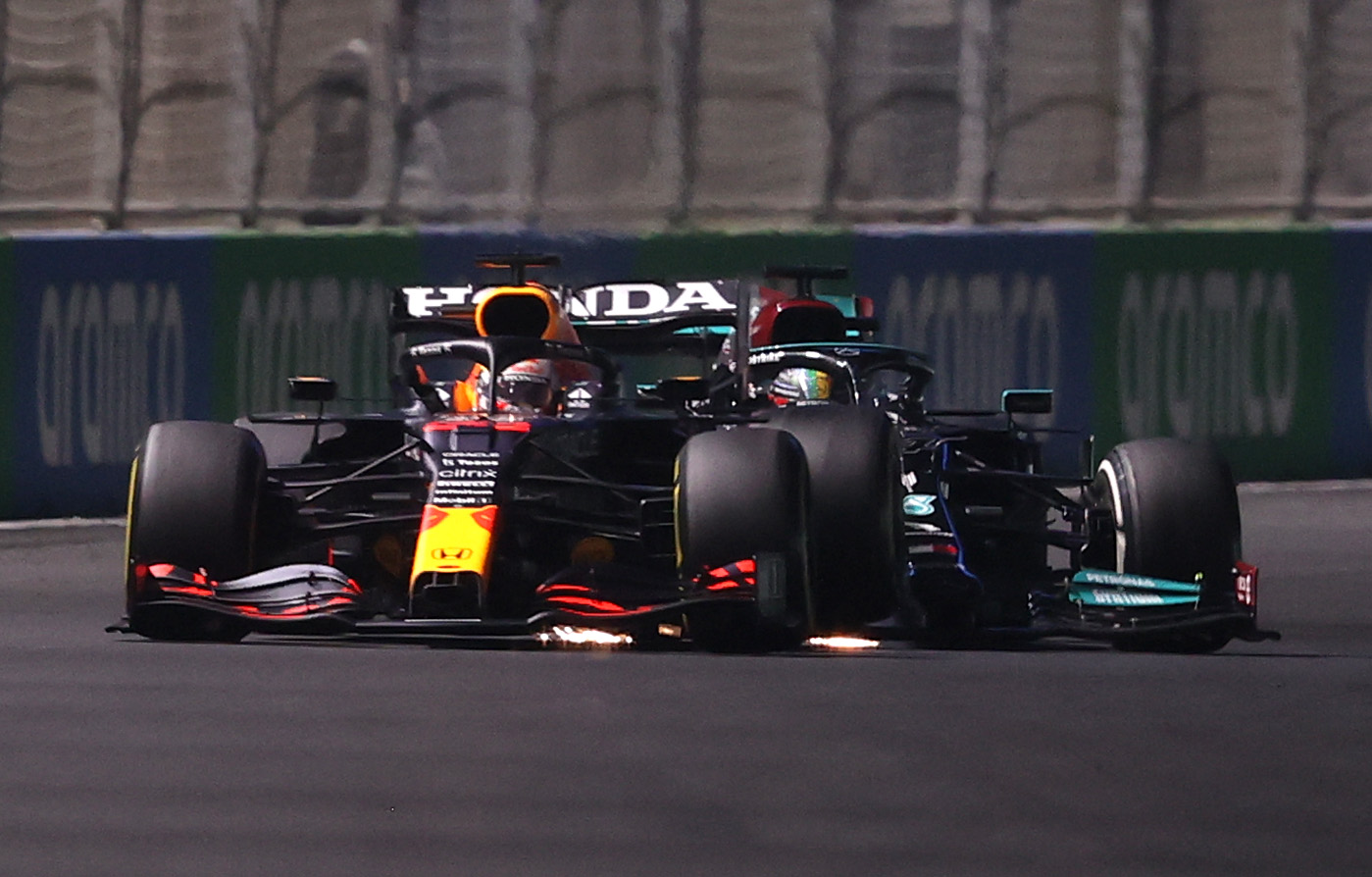 Hamilton followed up his Brazil win with another in Qatar, and had the opportunity to draw level on points with Verstappen in Saudi Arabia.
The Mercedes was the stronger car, but Verstappen so nearly took pole position with what would have been a great lap – had he not tagged the wall at the final corner. That left Hamilton to lead from Bottas early on before a red flag for barrier repairs meant the race descended into chaos.
At the standing restart, Verstappen was deemed to have overtaken outside track limits, meaning he had to drop from first to third on the grid for the second, almost immediate, restart. Having got ahead at that second restart, Verstappen was later ordered to cede the lead after it was deemed he exceeded track limits – and forced Hamilton off in doing so – while retaining the lead at Turn 1.
Eager to get to the DRS detection point second to be able to attack immediately, he slowed on the run to the final corner with Hamilton hitting the rear of the Red Bull – his front wing somehow surviving largely intact.
That incident earned Verstappen a 10s penalty after the race, which didn't impact his result. He'd also already had a five-second penalty for not letting Hamilton back through quickly enough.
Verstappen was furious after the race, having lost eight points to Hamilton. But it was a race that he could potentially have won despite the Mercedes speed advantage had things panned out different and he not done so much to catch the attention of race control.
Abu Dhabi winner-takes-all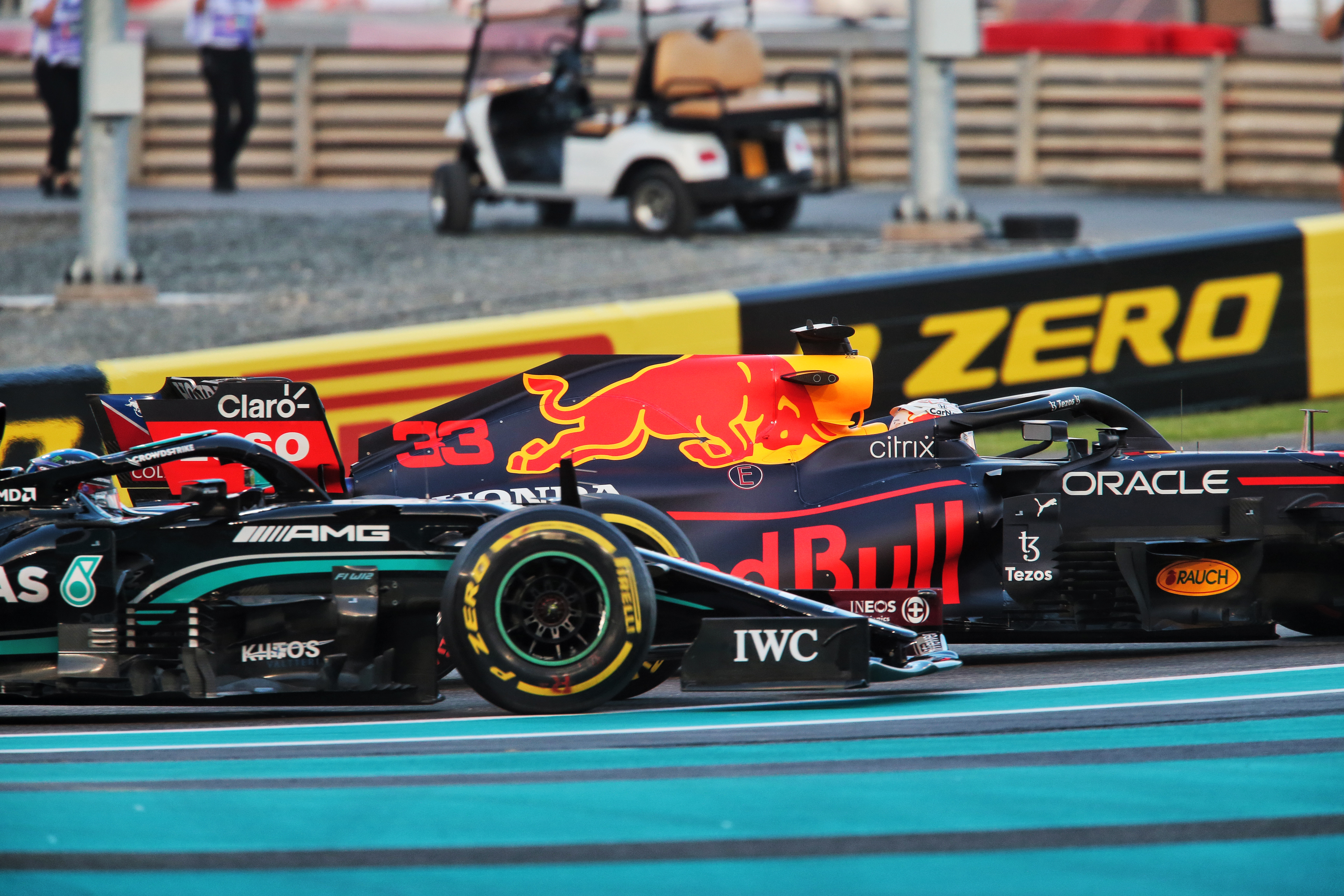 After all that, it came down to one race. And the advantage swung throughout the weekend.
Hamilton had the edge through practice but Verstappen claimed pole position with a great lap. He also opted to start on the soft tyres – this combination of track position and better tyres to help him stay there, plus the fact the poleman almost always wins in Abu Dhabi, seemed to give him a decisive advantage.
Then Hamilton got the jump at the start to regain control, and survived a wheel-to-wheel duel with Verstappen that ended with Hamilton escaping across the run-off – and being allowed to keep the place when he rejoined ahead.
From there, Hamilton dominated the grand prix. Even Perez's best effort to disrupt his race couldn't stop him. It looked like Hamilton would clinch his eighth title.
The late safety car and how it was handled put a stop to that. Had the rules been followed exactly as outlined, the race would not have restarted and Hamilton would have won the race.
Instead, Verstappen – who had pitted under the safety car, an option that Hamilton didn't have without gifting Verstappen track position with no guarantee the race would resume – had one lap to use his softer, and much newer, tyres to overtake Hamilton. Unsurprisingly, he managed it.
This interference in the winner-takes-all finale has caused an epic season to end on a very bitter note. The significance shouldn't be underestimated, given it was a zero-sum game: the outcome of this race decided the outcome of the world championship.
But the season as a whole was the sum of an awful lot more than just one race. It really was a championship destined to run to the very last lap.