As Formula 1 vies for an increased cultural footprint in the United States, some crossover with America's primary racing body NASCAR is inevitable – at the very least in terms of fandom.
As it stands right now though, the two series have so many differences you could take to the stage with a (really bad) stand-up special about it. And among those differences are that F1 and NASCAR draw from widely different driver pools.
This was always broadly true, even if you point to Mario Andretti winning NASCAR's flagship race, the Daytona 500, a year before debuting in F1. These days, drivers don't tend to have Cup starts as part of their pre-F1 CV, and it's been a while since anyone attempted to move the other way.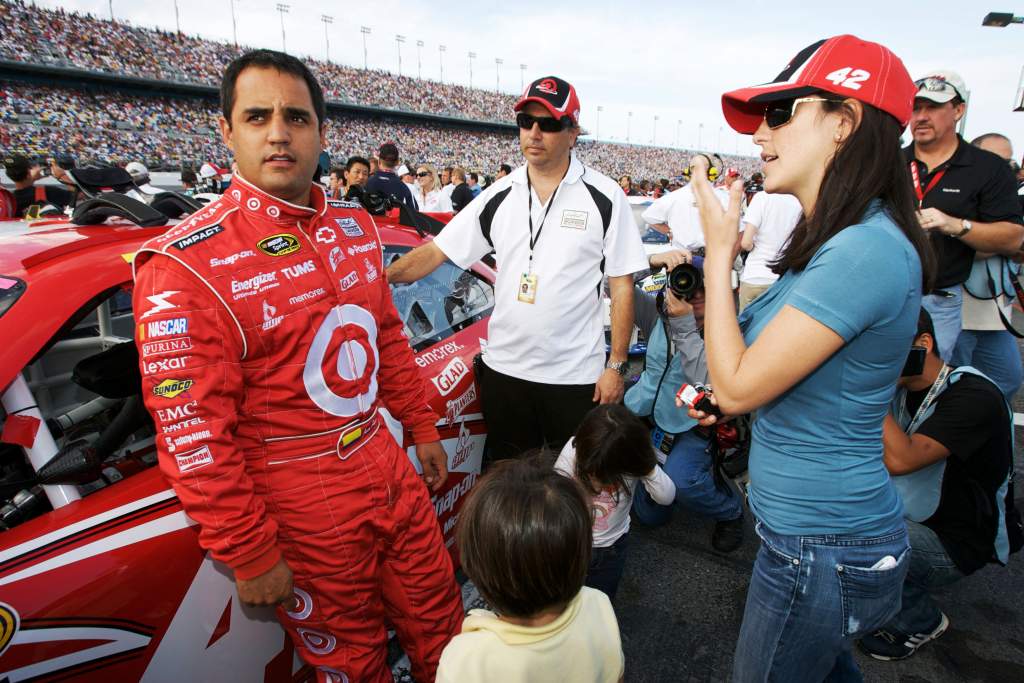 Juan Pablo Montoya and Scott Speed are the two drivers to most recently parlay an F1 exit into a full-time Cup ride, and that was over a decade ago.
Speed, of course, never got particularly far with Red Bull's NASCAR team and has since pivoted to being a standout in rallycross. And while Montoya gave it a serious, seven-season crack with Ganassi, his biggest successes came on road courses and he ultimately returned to IndyCar, where he instantly was a much more prominent force.
Otherwise, it's been fairly quiet on the F1-to-NASCAR front as of late. And it may stay that way – but it could also change, because there is a young ex-F1 driver looking for a job who both has the talent and, seemingly, the enthusiasm to give it a proper go if the opportunity presents itself.
As The Race speaks to three-time F1 podium finisher Daniil Kvyat during the Mexican GP weekend, the Russian is keen to emphasise, beyond everything else, that he wants to race somewhere next year.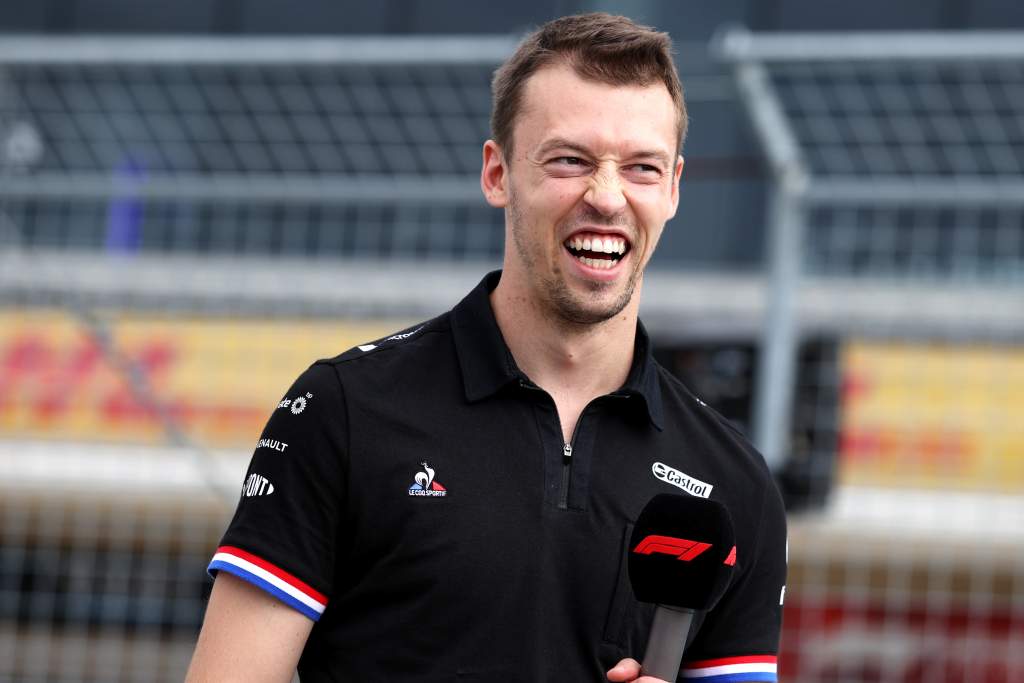 "At the end of last year I didn't have any hunger," Kvyat, who now serves as Alpine's reserve driver after losing his AlphaTauri seat for 2021, recalls.
"Formula 1 takes a lot out of you, and to be honest, I felt like – if I had to continue in F1, of course I was ready, but to race somewhere else, I wasn't really interested.
"Now I'm open to race again, the hunger is there.
"We are talking quite a lot in the background right now, there is not a lot I can say officially but pretty much every category that you can think of is on the table.
"You can't forget that all these categories are interesting – WEC, Le Mans, Formula E, IndyCar… I have a bit of contacts everywhere right now, and hopefully me and my manager [Nicolas Todt] will make the right choices going ahead."
Those are all pretty conventional post-F1 routes in the modern landscape. NASCAR is not, and yet Kvyat makes it perfectly clear – it is also on the list, in quite a major way.
That could already be surmised from the weekend before, when Kvyat made a guest appearance in the paddock at the Cup series' penultimate race of the season, at the short Martinsville oval.
👋🏼 @NASCAR pic.twitter.com/XwS3TRGcpb

— Daniil Kvyat (@kvyatofficial) October 31, 2021
"Stewart-Haas Racing was kind enough, very kind to help me organise a little tour, introduction if you want, to the NASCAR race," Kvyat says.
"So after the Austin [F1] race [I decided] to stay there a little bit in US and I always wanted to see for myself a NASCAR race, I was always curious about it. It's kind of there in the movies you watch growing up also as a kid, and I always wanted to see it [live].
"I really enjoyed seeing it, the whole process, seeing how things work from inside. It's a very specific and interesting kind of racing."
Kvyat watched the race from in and near the NASCAR equivalent to a pitwall, able to "listen to a lot of communications, see it from different screens – it's quite impressive".
He therefore doesn't concur with this author's suggestion that it must've been somewhat back-to-basics – for good and ill – compared to the absurdly high-tech world of F1.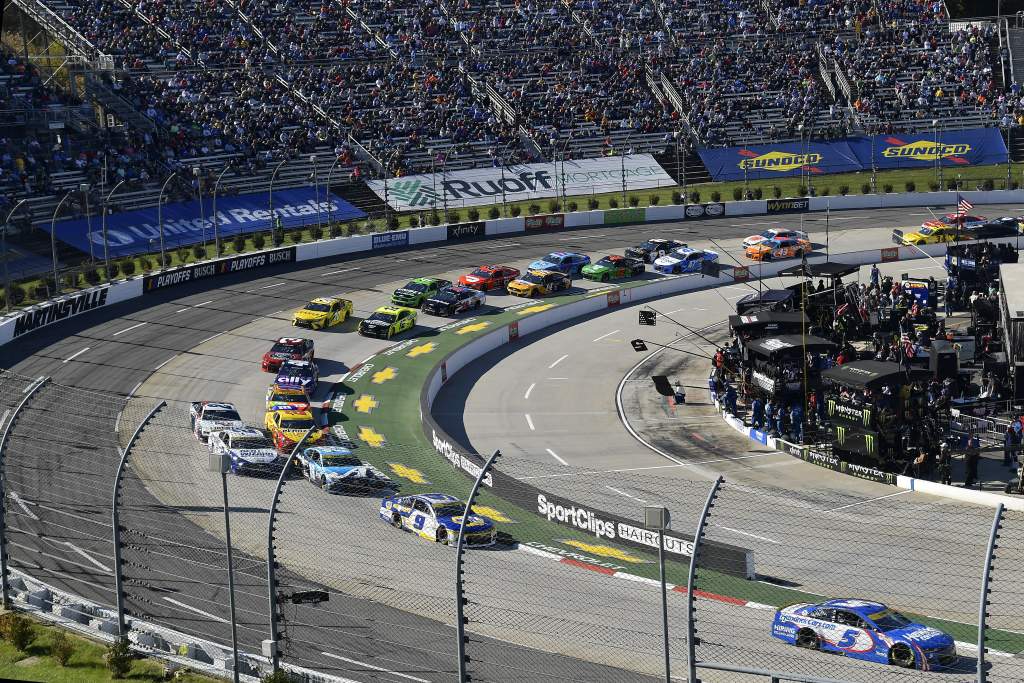 "I found a lot of similarities actually," he says. "You would be surprised, I think. Of course, there are maybe not so many sensors, I don't think they're allowed to run so many things, but generally it was extremely high technology.
"I was impressed also seeing the factory after the race – how many people work, how much effort goes into a single car."
There were many other things that impressed Kvyat – the length of the races and concentration required from drivers, the fact that "on track you are alone and in the ownership of your own race", the ostentatious driver intros – with "fireworks and stuff like that, some people cheering for drivers, some people booing some drivers, it's like a show".
And of course, there's the very particular style of racing and the laissez-faire approach to policing it. The Martinsville race Kvyat attended had two genuinely massive flashpoints – a late collision between two old rivals Brad Keselowski and Kyle Busch, and race-deciding contact between Alex Bowman and Denny Hamlin.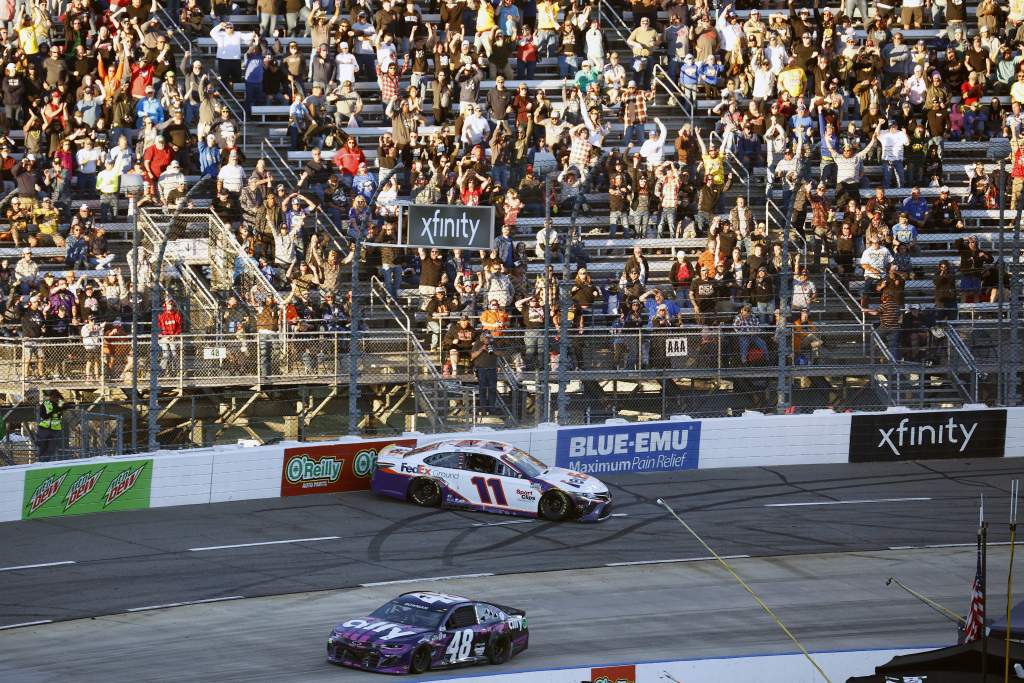 "They are not very shy in terms of how they lean on each other, even some guys just spin someone off – it's quite tough racing, I think. It's cool. It's what I like, to be honest.
"I like that it's a bit less polished. It's a bit rougher, it seems a bit more old-school. I think I always kind of liked that kind of racing, where you can say after the race what you think, and also do if necessary what you think [is necessary].
"It's a good kind of racing, I prefer, that part I kind of liked about it."
There's upsides and downsides to that kind of thing, obviously. For instance, NASCAR won't have loved that Busch used the R-word in admonishing Keselowski after the race, and rightly censured him. But Hamlin calling Bowman "just a hack" and Bowman then having merchandise made that leaned into the insult? Everyone loved that.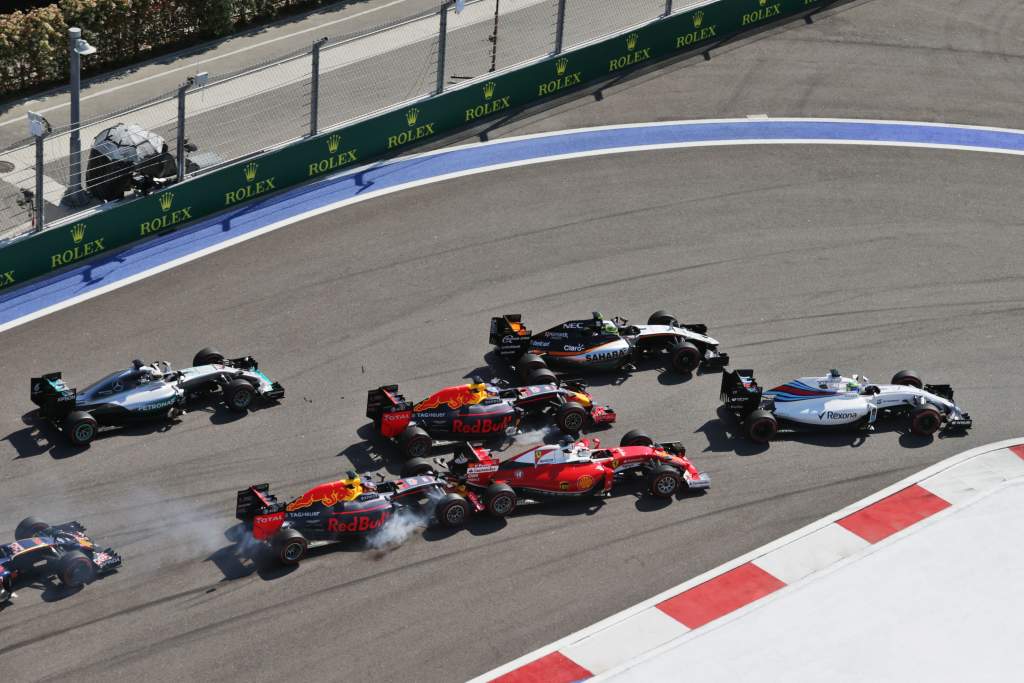 In fact, it's easy to draw a parallel to when Kvyat looked to claim ownership of his 'torpedo' moniker after his famous Sochi collision(s) with Sebastian Vettel. And, as a whole, the NASCAR way of going about your business just seems to fit him more.
Kvyat fell foul of stewards frequently in F1, and made his displeasure clear – in NASCAR, that's obviously unlikely to be a problem. Likewise, he never seemed to be massively at ease with an F1 drivers' media duties, having to face the same questions – sometimes quite dull, sometimes quite unpleasant – many a time during the weekend. For NASCAR drivers, there does genuinely seem to be a lot more control, and distance, in that regard, which, again, is for better and worse.
While NASCAR clearly has its own fair share of politics (if you're a non-fan, it's worth reading up on the 2013 team orders scandal in the regular season finale at Richmond for a massively out-there example), it's probably reasonable to assume it's not as clandestine and intricate as the F1 world, right?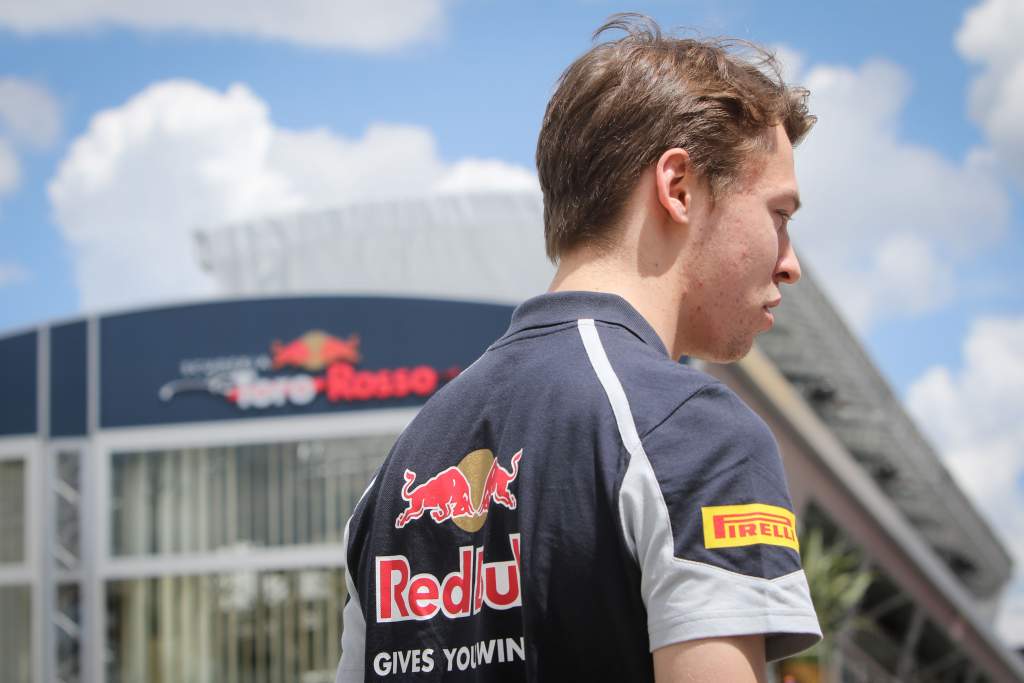 Kvyat, who went through a very particular version of the F1 experience in his time being repeatedly promoted and demoted by Red Bull, says he obviously can't compare it to what it's like being a NASCAR driver.
"But I think there is a lot going on there also, of course, because there so much is at stake," he says. "I think I got pretty used to all the Formula 1 interviews, how the world rotates here, I didn't have any issues with that any more, with the interviewing part, the politics part.
"I kind of felt comfortable already in the end of the last few years. Didn't have big problems. I think everywhere there is these kinds of things involved.
"[But] I think you can see a bit more different things [in terms of interviews]. You already know what more or less to expect, what the drivers are going to say in F1. It's all a bit more unpredictable [in NASCAR], and I think people also enjoy that a little bit more."
Of course, all of the above is part experience as a guest, part theoretical. And you'd be right to ask – beyond a single race visit, is there really any evidence that Kvyat would consider making such a dramatic career move in the near future?
"Yeah, I'm open to do something in NASCAR," is his answer. "I'm open to many things right now, NASCAR is one of them for sure, I kind of like that it's a different world, it kind of fascinated me and I think I would be able to kind of commit to it, in a way, if there will be common interest.
"I think it would also be interesting for them to have a bit more international things in the series. And also I think that if an F1 driver kind of looks at it as a possible continuation of their career, I think it also can be only a positive thing for the series.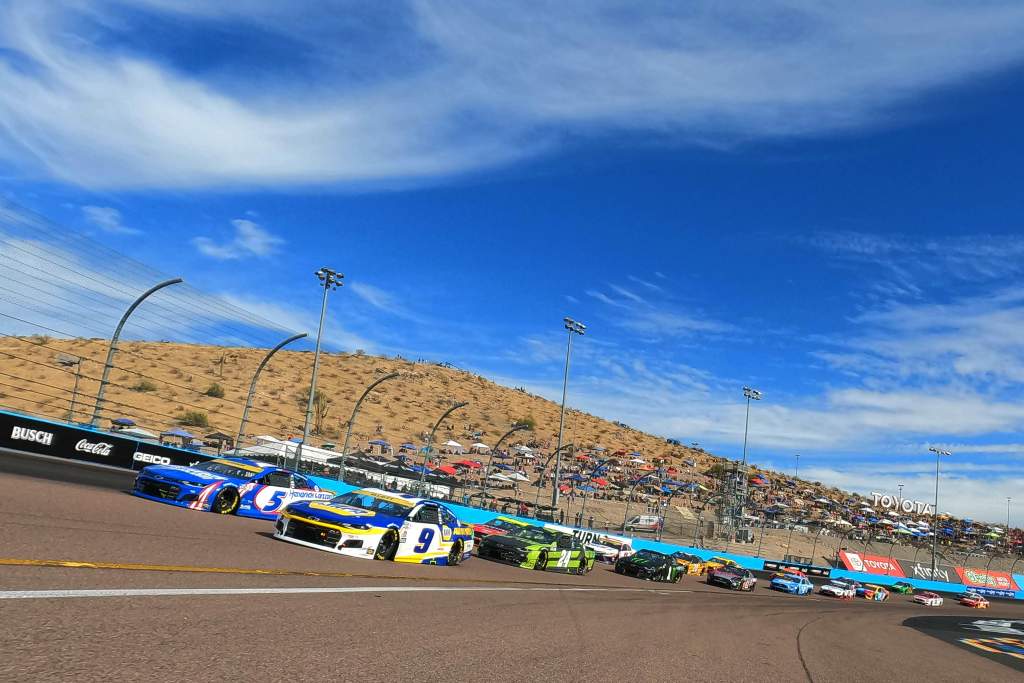 "There's a lot of positive things I could bring into NASCAR, and of course I wouldn't want to be there just to drive around, I'd want to be there to be extremely competitive, like I always do."
Kvyat had sampled a EuroNASCAR machine back in 2017, when he first found himself out at what was then Toro Rosso, but he admits that he isn't sure how much it has in common with what's in play in the Cup series (which is introducing its all-new Gen-7 car next year).
But it doesn't seem to really matter. "I think I would enjoy whatever car there is to take on the limit. At the end of the day it's my job to adapt to new circumstances and I think I wouldn't get lost anywhere." Racing on ovals, too, is "no issue at all, 100%".
Again, Kvyat stresses he currently has no "favourite" route for 2022, and is keen not to talk specifics. All that's really publicly known regarding his plans is that he was in the frame for a couple of Formula E seats – Nissan (line-up now filled) and Dragon (line-up still unfilled).
NASCAR, as Kvyat puts it, is just one of the options – but it's "the most exotic out of them all – that's why I like it, and I think it could make some good noise".
It is also worth noting that he is much more open to progressing through NASCAR's lower leagues than doing something similar with IndyCar's feeder series Indy Lights.
But is he in actual talks regarding potential NASCAR opportunities?
"Yes, I am in talks, I am in talks to some people from NASCAR. You know, there are also many different ways there, there are three divisions there, and you need to know what's the best thing to start from, how to gather the right experience there, because the ovals are particular – but I think I'm quite confident I would find my way around them, with the right approach, of course."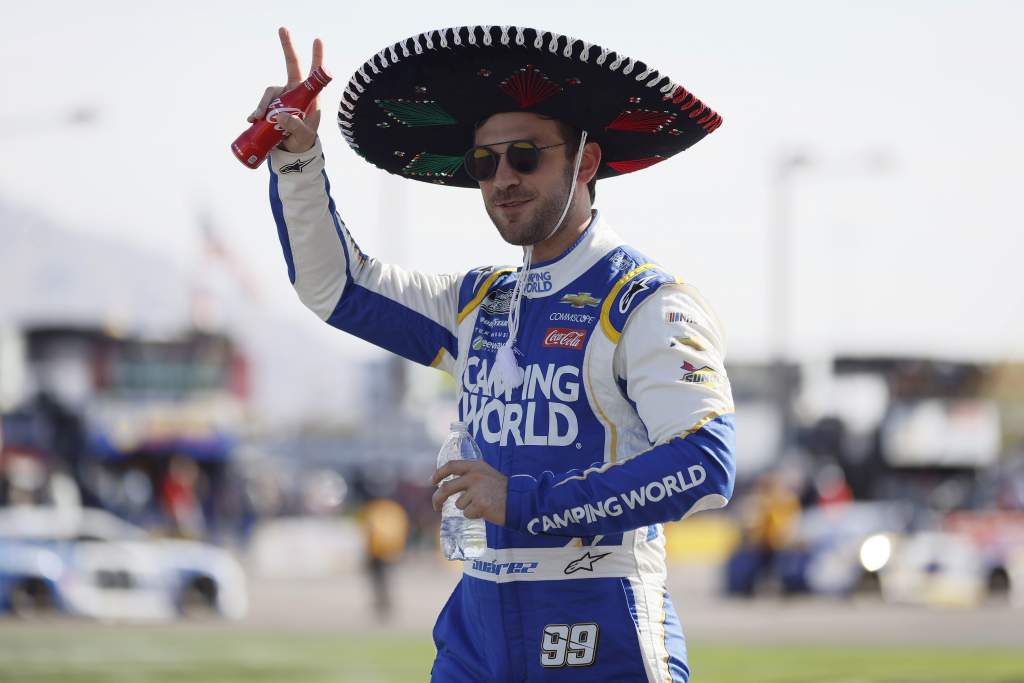 It's such a tantalising prospect that it's really hard not to get carried away. No, NASCAR is not completely devoid of international appeal – it has a Mexican full-timer in Daniel Suarez, Xfinity series champion in 2016. But Suarez is a stock car man through and through, and he's from that side of the world.
As far as European flavour goes, British prototype racer Kyle Tilley has made Cup appearances this season, and the likes of Dutchman Loris Hezemans and Swiss Giorgio Maggi have popped up in Xfinity.
But an F1 driver, with no previous connection to the American scene? Wouldn't that be something?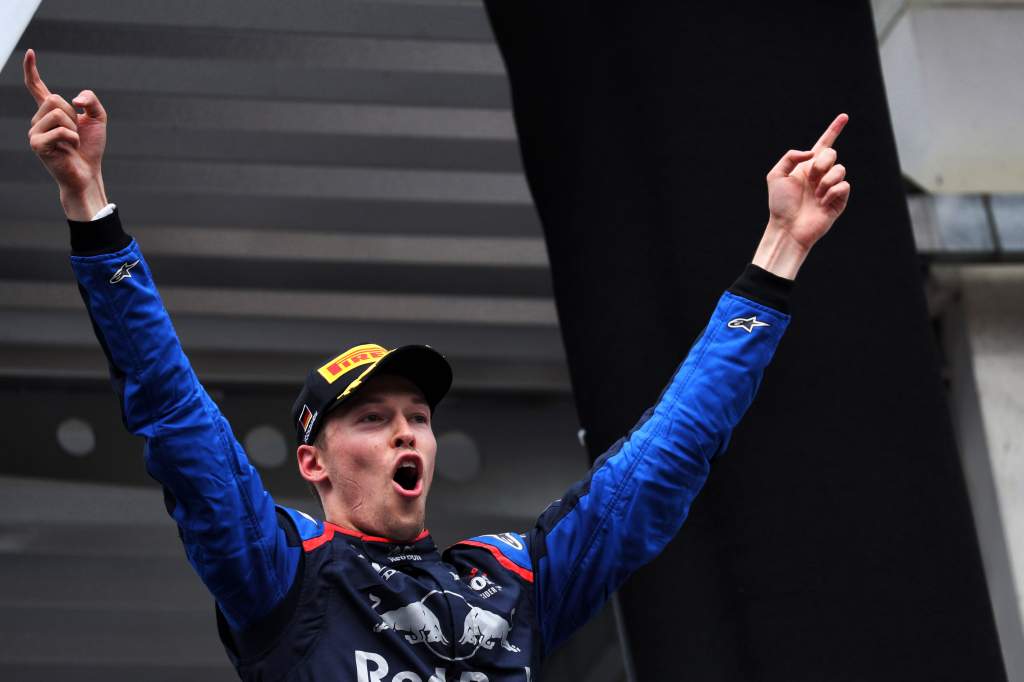 We therefore put it to Kvyat that as a Russian racer largely synonymous with the European single-seater scene he would be a big-time novelty, and maybe even something of a trailblazer.
"Yeah, it is appealing as well, yes," he admits. "Because there are some classic ways after Formula 1.
"Of course I am open to many things right now. I just came to see that [Martinsville] race, it doesn't mean that it's the only thing that I'm considering, but for sure it's one of them.
"And being the first-ever European, Russian, like you said there, would be pretty cool for me yes, of course it's part of why it could be so appealing."