Valentino Rossi protege Franco Morbidelli says he was amazed at the energy with which his mentor attacked his final ever MotoGP race today at the Valencian Grand Prix, as the nine-time world champion bowed out with what he says was his best performance of the 2021 season in 10th.
Rossi's Petronas SRT Yamaha finished just ahead of Morbidelli's factory example.
Despite his best intentions of being nowhere near Rossi in his final outing (to limit any chance of accidentally spoiling his compatriot's farewell race), Morbidelli ended up delighted with the chance to play wingman to Rossi, finishing just half a second behind him.
While you may expect a rider who owes his career to Rossi's support and who's still struggling for race fitness after mid-season surgery to give the retiring legend a bit of an easy time in his swansong race, Morbidelli was adamant Rossi earned his result on pure merit.
"It was great to have the luck to make the whole race behind him," admitted Morbidelli afterwards.
"Before the race, I just wanted to stay as far away as possible from him, I said that I didn't want to get involved in anything.
"But at one point I found myself right behind him, and I said 'OK, let's try to push him and maybe overtake him or do something'.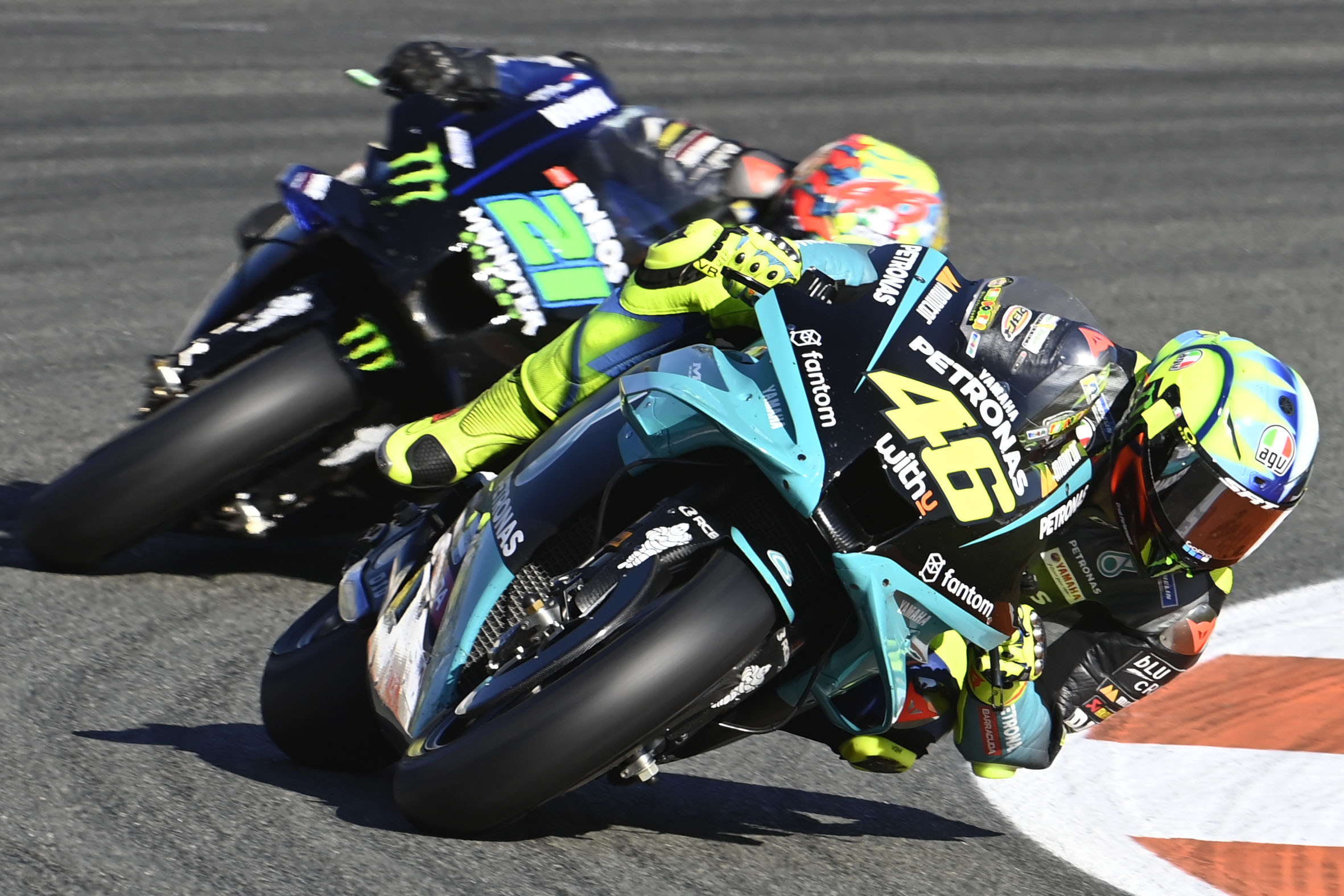 "But he was so fast and so unattackable that I needed to stay the whole race behind him.
"I thought about how lucky I was to get the chance to enjoy his last laps in MotoGP from a really special position.
"It was great, he was riding fantastically, unbelievably.
"He increased the speed in the last laps, and you could see that he was really enjoying and appreciating his last moments on a MotoGP bike."
That fits with Rossi's own admission that he was planning on going out on a high, bringing a new energy to the battle at Valencia that we've perhaps not seen much of this year, especially in the latter stages since he announced his retirement back in August.
It's perhaps proof that the main challenge faced by the 42-year-old father-to-be in the final seasons of his career has been more to do with motivation than physicality or skill level.
Rossi says he found an extra spark this weekend, but that while increased motivation played into it, the Petronas Yamaha was also more competitive and tows from another protege – the recently-dominant Pecco Bagnaia – helped ensure he both reached Q2 and then qualified well enough to have a straightforward race.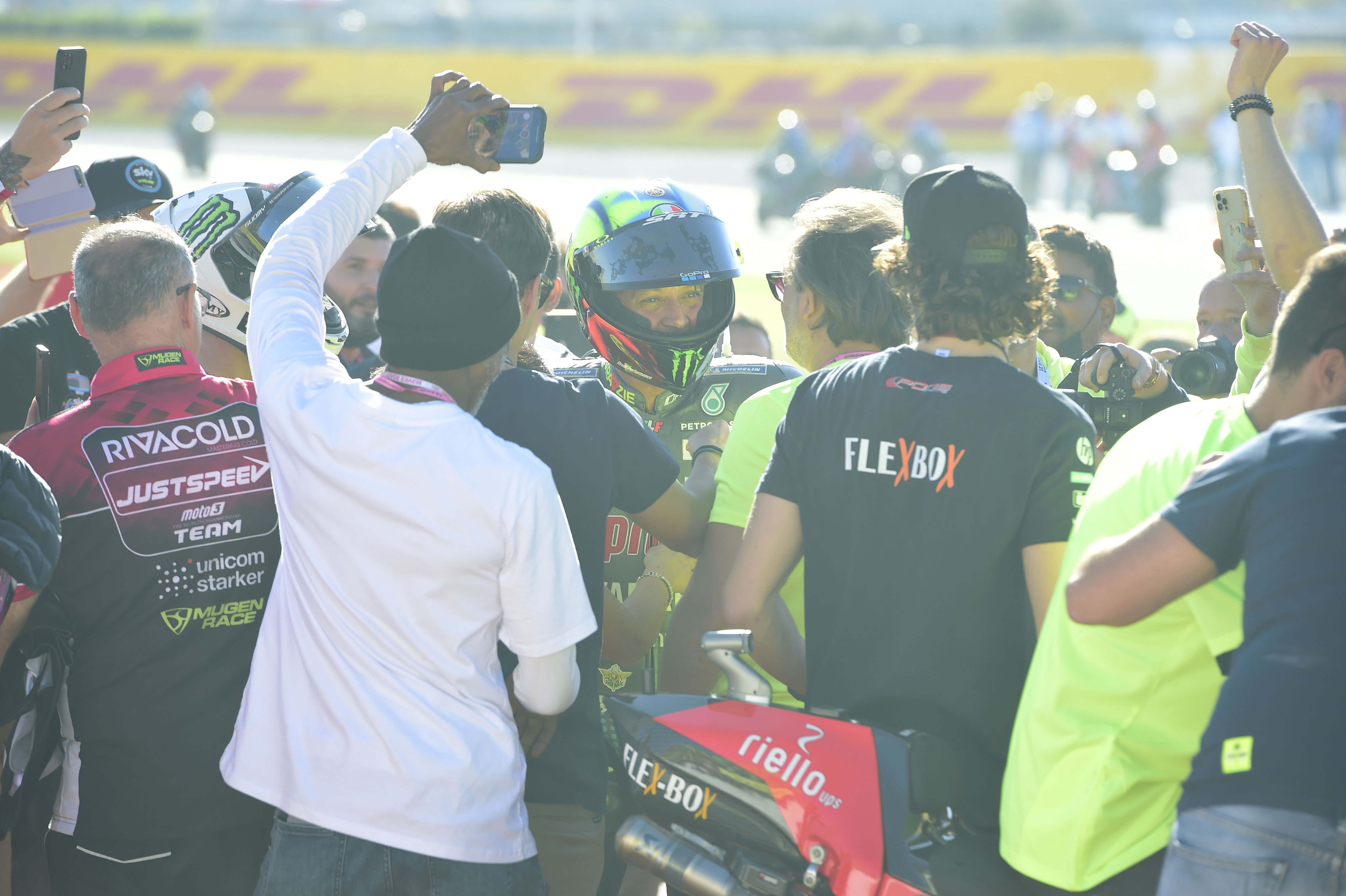 "First of all, I worked well with my team," Rossi explained, "and from yesterday morning the bike was really improved from Friday.
"I started to feel better from FP3, and from Saturday to Sunday we improved again.
"Pecco helped me to stay in the top 10 [on practice times] and to start from the top 10, and from there you can have a different race.
"But I felt the motivation and the concentration as if I had to fight for the championship.
"The last race is the last race; you'll never forget it and it's very important. But f**k, it's not easy either.
"Already from Monday I had a lot of pressure, a lot of events to do, but for me the most important thing was to try and be strong in the race because I'm still a rider.
"It was a great emotion, but I rode very well, didn't make any mistakes, and gave my maximum from the beginning to the end."
While a top 10 finish might be far removed from some of the previous highs of his 26-year career, Rossi was adamant that it was still a very important result – because after all, even seven-time MotoGP champions are only as fast as their last race.
"It means that I finished my career with a top 10," he explained jokingly, "with the top 10 riders in the world, and this is so important for me.
"It means a lot, because I can use this result for a long time, because I can always say that in my last race I finished in the top 10!"