It's hard to accuse San Marino Grand Prix podium finisher Enea Bastianini of suddenly bursting onto the MotoGP scene given that the 23-year-old Italian is the reigning Moto2 world champion.
But that doesn't mean that the Italian's impressive home third place on Sunday came as any less of a shock – and despite his success last season, his performance on Sunday did leave many people wondering; where exactly has this run of form come from?
That's something that's perhaps been made even more pertinent by the route that the Avintia Ducati rider has taken to the MotoGP podium, making for a rise that's far from that of the 'traditional' MotoGP star.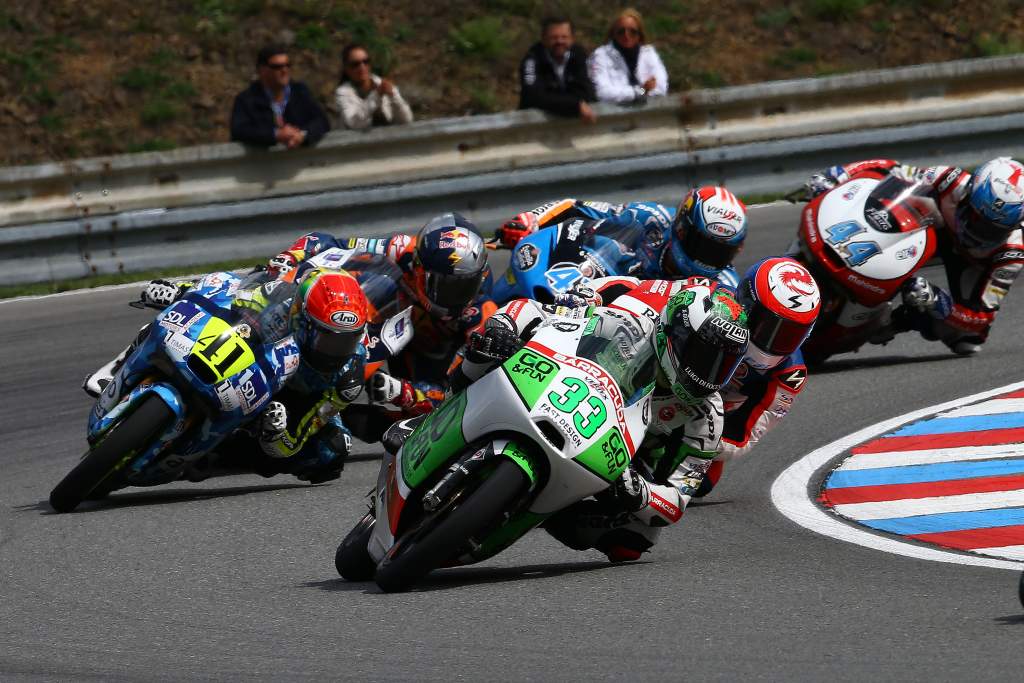 First making his grand prix debut in 2014 in the Moto3 class, he cut his teeth racing against the likes of Alex Marquez, Jack Miller and Alex Rins – all MotoGP podium finishers who topped the championship standings that year. Bastianini started strongly, too, scoring three podiums of his own as a rookie and ending the season a very impressive ninth.
That form improved even further in the following years, with a maiden win (at Misano, where else?) and third in the 2015 championship, with one better coming the year after as he finished second to Brad Binder and added another win to his record.
Looking to stay and try for the title in 2017 rather than follow the South African is where it all started to go wrong for Bastianini, though. Not able to match his form of the previous two seasons, he slumped to sixth in the standings and went all season without a win. 2018 wasn't much better, with a win making the season at least a little more palatable, but fourth in the championship with Leopard Racing still wasn't what he had stayed in the lower classes for.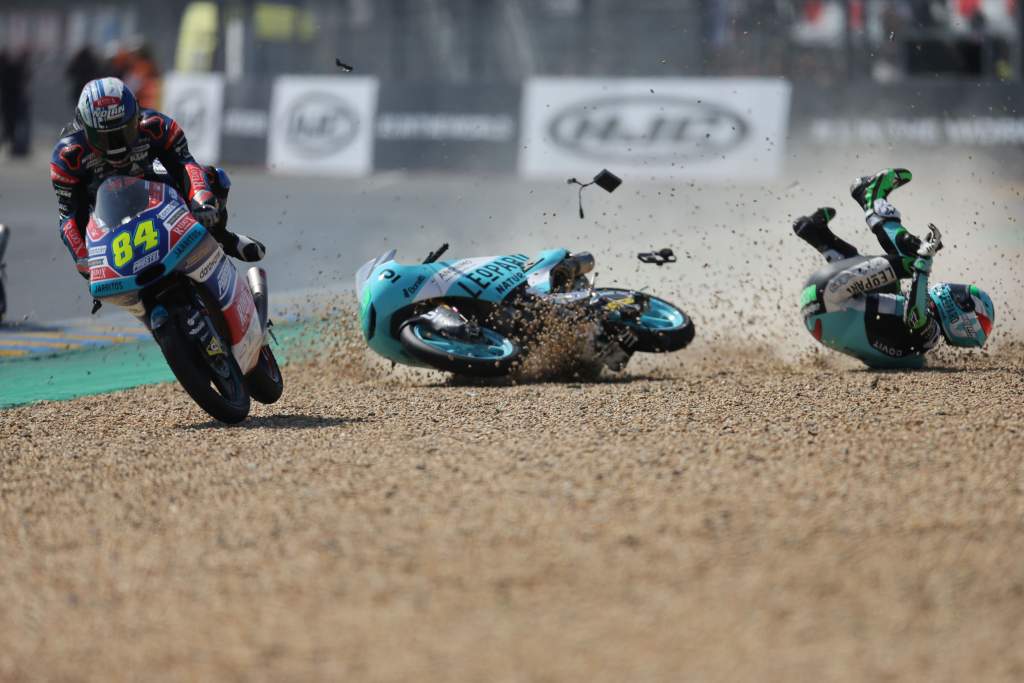 Looking very much like someone on track to not fulfil their potential and at risk of becoming a journeyman rather than a future MotoGP winner, he finally made the move to Moto2 for 2019 with Italtrans Racing; not exactly a front-running squad at that point and not carrying a huge amount of potential for him.
Yet clearly something about the middleweight class clicked for Bastianini, who was able to start showing his old Moto3 form from the beginning. Starting the year with a run of consistent top-10s, by the middle of the season he was on the podium for the first time at Brno.
That form (he finished the championship in 10th) means he went into 2020 as something of an outside bet for the title – but a podium at the first round in Qatar and wins at Jerez and Brno suddenly fired him right into title contention.
Only winning once more at Misano (again!), he nonetheless remained consistent to the end against teams and riders with bigger budgets and more resources, very much putting together a title campaign reminiscent of that of MotoGP winner Joan Mir's – and come the final round, Bastianini had the trophy wrapped up and a 2021 MotoGP promotion with the Avintia squad.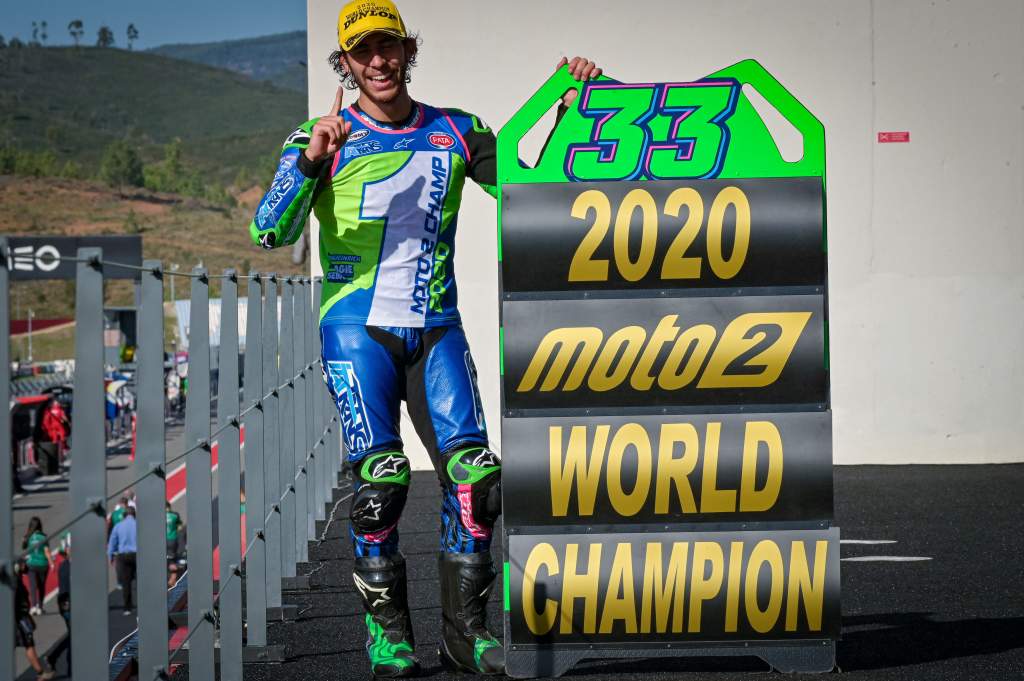 And much like his debut in Moto2, he's proven again in the premier class just how adaptable he can be, by making an impact on MotoGP right from his debut. Fast but guilty of a few rookie errors so far this year – completely acceptable given his relative inexperience – he's been getting quicker and quicker as time goes on.
That culminated in two strong results in two weeks, first with a fighting top-six finish at Motorland Aragon a week ago – and then an impressive reinforcement of his status as a future star with an amazing Misano podium on Sunday.
But it's not just Bastianini's results so far that reinforce his potential – it's his riding style as well. Low, aggressive and normally hanging off the bike, he looks more like six-time MotoGP champion Marc Marquez than anyone else on the grid; in fact, as Marquez continues to recover from injury, Bastianini arguably looks more like Marc than Marc himself right now.
That's something that even Marquez himself conceded to after Sunday's race, admitting that he had been amazed at what the young Italian was able to do on the Ducati as he came blasting past him.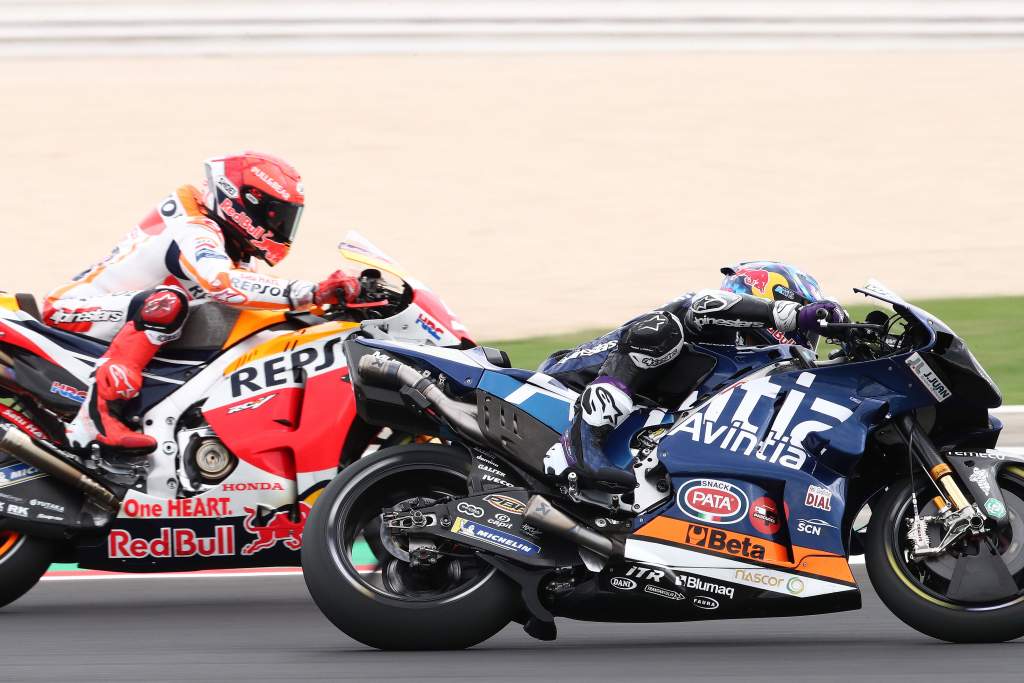 "When I was following Bastianini I understood that I was over my limit, so I said to myself, cool down and let him go," Marquez admitted. "He was riding very well and really understands how to ride the Ducati.
"He was braking late and exiting the corners with a lot of torque and grip. He was doing everything in the correct way and when you do this with a MotoGP bike the laptime arrives."
And with that Marquez style – and a reliance on front tyre over rear – comes a style that's perhaps made for the Ducati and the current spec of Michelin tyres.
There's a reason that Bastianini got faster as the race went on while everyone else was slowing – his fastest lap of the race came on lap 17 of 27; the previous fastest lap was set by Jack Miller on lap five.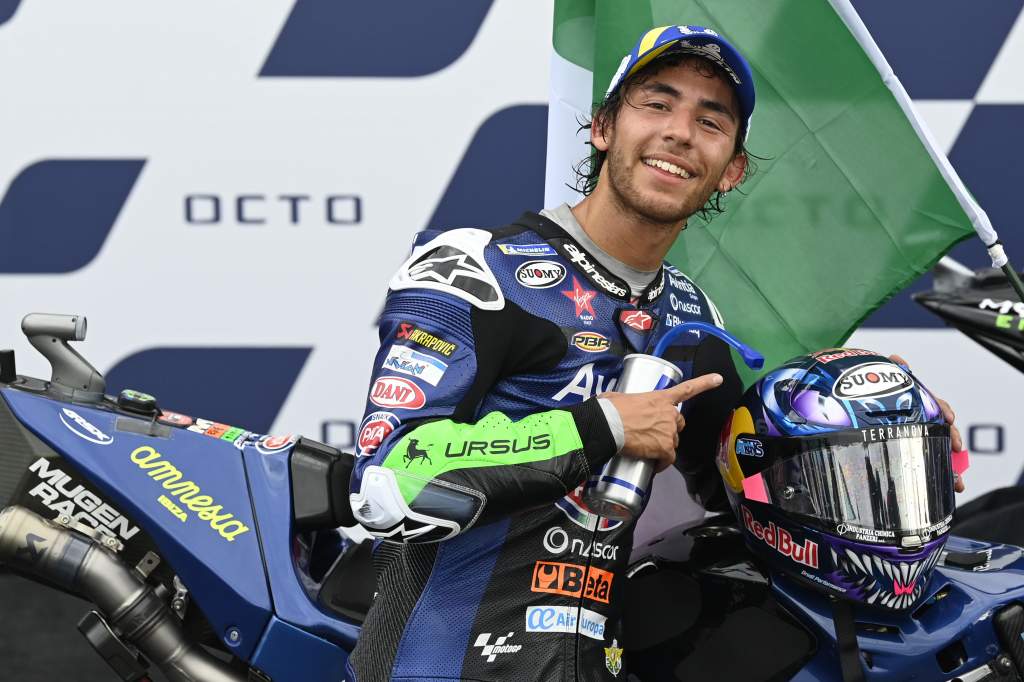 With that style comes a lot of potential once he figures out some of the other elements of MotoGP racing. Had he started further forward on Sunday, there is no doubt that he could have challenged for the win – but qualifying is often harder to get right than the race. Were he on a more modern bike rather than a 2019-spec Ducati, things would be a little easier – but that won't come until 2022.
Once those elements do fall into place for him, though, there's no doubting the reality: Ducati have unearthed a diamond in the rough and have a future Italian star on their hands.