As Valentino Rossi prepares to make the short 10-minute drive from his home in Tavullia to Misano for this weekend's Emilia Romagna Grand Prix – his last-ever MotoGP race on Italian soil – millions of fans worldwide are preparing to mark the end of an era after an incredible 26 seasons and 43 home races spread between Mugello, Misano and Imola.
Yet while he's had many triumphs in Italy, winning 14 times from those 43 starts, there have been more than a few disasters as well, prompting us to take a look back at the somewhat mixed record that Rossi has at home.
The highs
2002 Mugello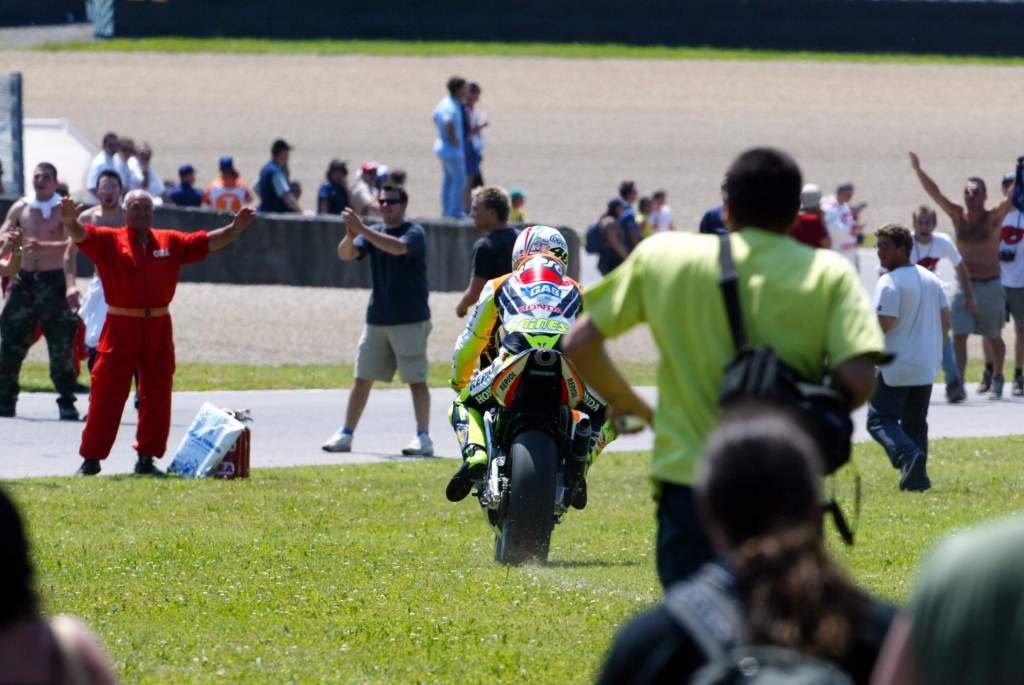 Having made his premier class debut in 2000 on a factory Honda 500 in satellite team clothing, by the following year Rossi was already champion – securing the last ever two-stroke class premier title.
As the four-stroke five-cylinder Honda RC211V arrived for 2002, it was clear that the bike was quite simply far better than everything else on the grid.
Combined with an all-conquering rider at the very height of his power, by the time MotoGP headed to round five at Mugello Rossi had already dominated the year, taking three wins and a second from the opening four races.
And, keen to play it up in front of the home crowd, Rossi did what he does best – not just put on a show on track to win from bitter rival and fellow Italian Max Biaggi by over two seconds, but also going full showman off the track as well.
At the height of his playfulness as well as his talent, he managed to get 'pulled over for speeding' by the Italian Carabinieri on the slowing down lap, thereby adding the win to his growing legend.
2006 Mugello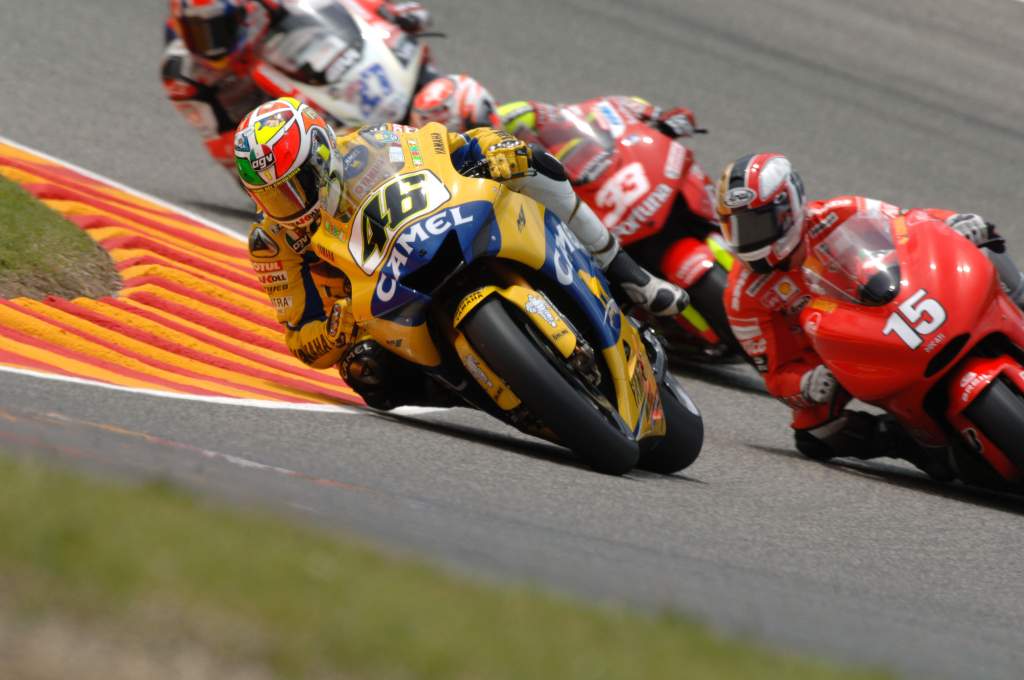 Used to dominating even after making the dramatic switch from Honda to Yamaha for 2004, the start of the 2006 season had been something of an upset for Rossi, who took only one podium (and suffered two DNFs) from the opening five races of the year.
Repsol Honda rider Nicky Hayden had appeared as a surprise title contender, and it looked like the Italian wouldn't have things all his own way.
Heading to Mugello and home soil, it was obvious that Rossi had a chance to turn things around at a track he loves.
But when the lights went out, there was a fly in the ointment – Ducati rider Loris Capirossi, who got into a breakaway at the front along with Rossi and Hayden.
What happened next was pure joy for fans of motorbike racing, as the threesome got stuck into a last-lap showdown from which Rossi emerged to take a hugely significant win.
Eventually not enough to secure the title from Hayden, it nonetheless kickstarted one of the closest championship races in history.
2008 Misano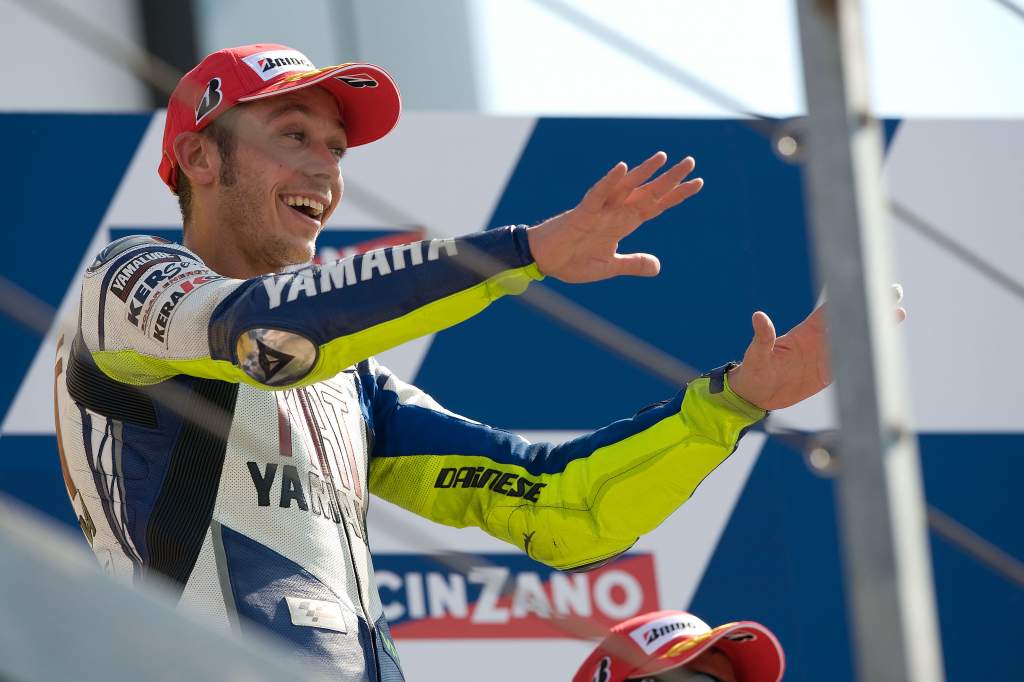 By 2008, Rossi's love affair with Mugello was well-established. The undisputed master of the beautiful Tuscan track, he had won there every single time MotoGP visited since 2002.
But while he might have been unstoppable at one Italian venue, 2007 had brought a new challenge: the return of Misano after a 20-year absence.
Because while Mugello might be a home race for Rossi, Misano is literally close enough that he has in the past walked to it from his home in Tavullia.
With Misano brought back onto the calendar in large part thanks to the local boy's success, things didn't quite work out in the opening year when he got beaten by (of all people) bitter rival Casey Stoner.
So while 2008's win was nothing spectacular on track, as Rossi took victory from Yamaha team-mate Jorge Lorenzo by three seconds, the emotional impact for Rossi quite literally winning where he grew up means that it's got to go down as one of the most significant of his wins.
2014 Misano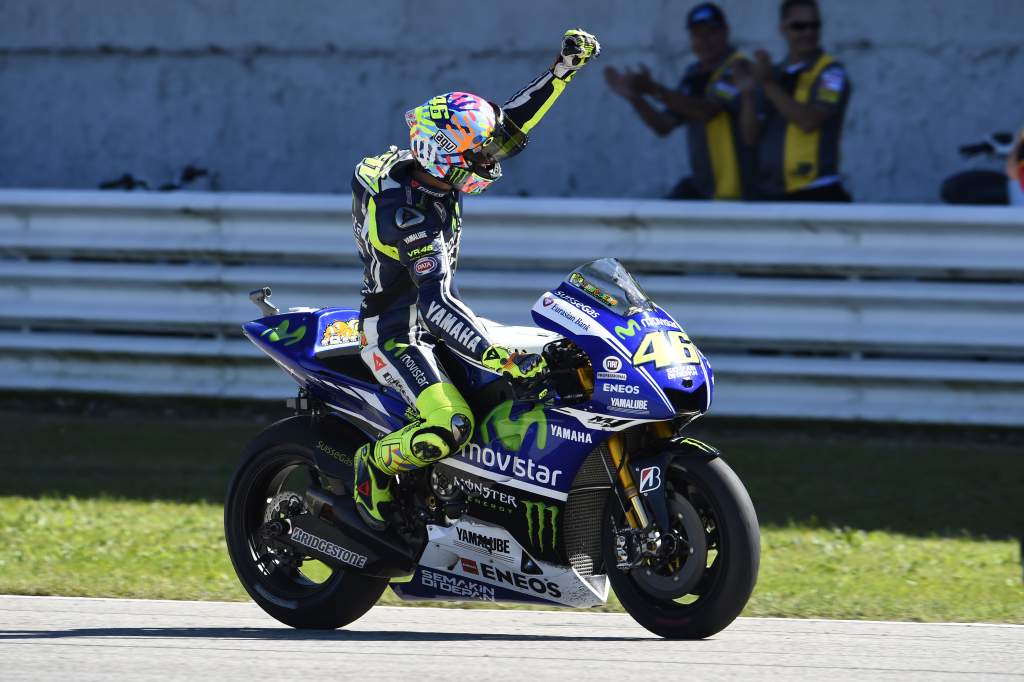 Rossi went through a very unusual period of his career in the early part of the last decade. He'd seen a title charge ended by injury (more on that later), he'd made a disastrous move to Ducati for two seasons, and upon returning to Yamaha in 2013 spent the year only flirting with his old form despite managing to win at Assen.
Yet when 2014 got underway, the momentum from his strong end to 2013 carried on, and before long he was, remarkably, almost back to his previous level.
Eight times a podium finisher in the opening 12 races of the year and building up points, the only thing looking set to keep him from title contention was the epic streak of results being delivered by reigning champion Marc Marquez, who had won the first 10 races of the season.
Team-mate Dani Pedrosa had interrupted that streak in round 11 at Brno, but it still looked like Marquez was the man to beat heading to Misano has he'd won again at Silverstone just beforehand.
Which makes what Rossi did when the lights went out all the more incredible.
Getting stuck into a fight with both the Honda rider and fellow Yamaha rider Lorenzo, Rossi first dismissed Marquez and then Lorenzo to lead – and in his haste to follow the Italian, Marquez made a rare error, crashing out of the race and leaving Rossi to send the home fans into delirium.
2020 Misano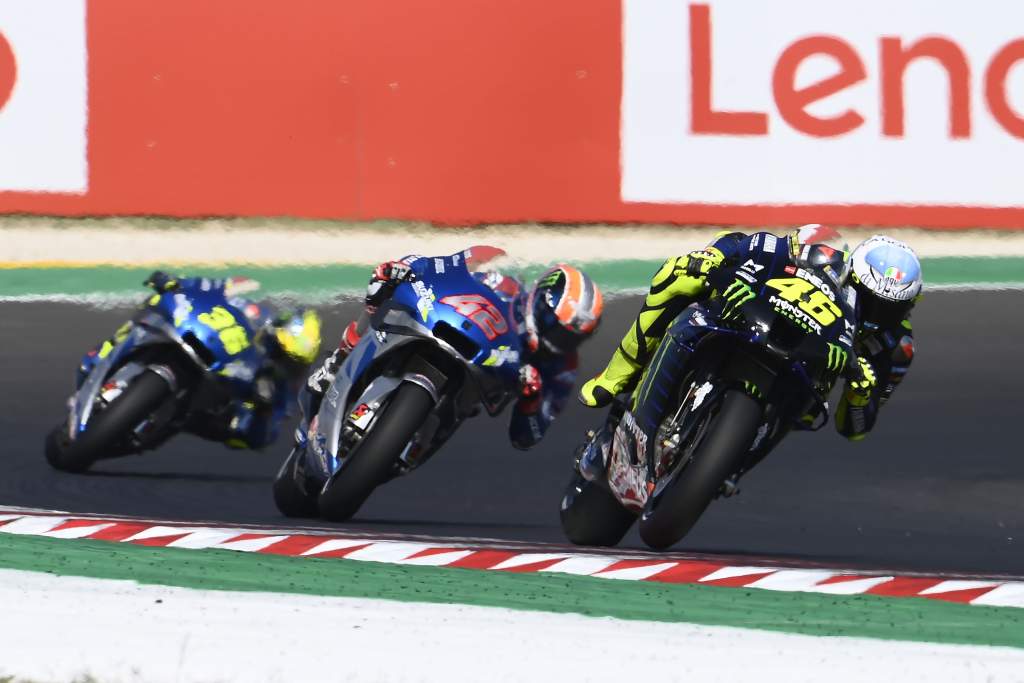 By 2020, the writing was on the wall for Valentino Rossi's career. Sacked from the factory Yamaha squad and destined for satellite status in 2021, he'd had a rocky start to the season despite a lucky podium at the second round of the COVID-hit season at Jerez.
Yet he looked strong at Misano from the beginning of the weekend, topping combined free practice times and starting the race from the second row.
Eventually missing out on a podium to eventual champion Joan Mir by only a few tenths of a second, in the end fourth was still a fine result for a racer old enough to be the father of most of his rivals.
Yet what makes the race really special now is hindsight. Racing again at Misano only a week later, Rossi crashed out, starting a string of horrendous results that he never recovered from. He either failed to finish or didn't start the next six races.
The 2020 San Marino Grand Prix looks like it'll be the last time that Rossi will ever have fought for a podium – and the last glimpse we got of his true talent.
The lows
2001 Mugello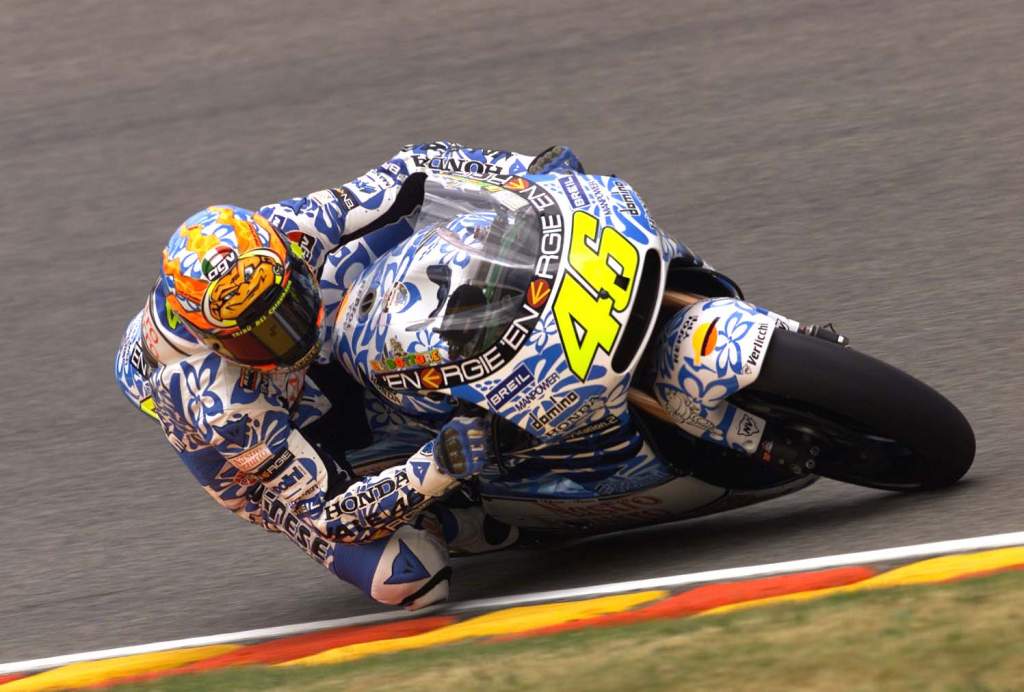 Rossi went to Mugello in 2001 not just on the crest of a wave but as Italy's next superstar, thanks to an impressive rookie season in the premier class that left him runner-up to Kenny Roberts Jr.
Starting 2001 meaning to do business, he won three of the first four races and headed home expecting to cement his status as MotoGP's new king in front of his rapidly-growing fanbase. And what did he go and do instead? He crashed!
Roberts led at the beginning of an initially-dry race but Rossi wasn't far away in the chasing pack and looked comfortable enough among the cut and thrust – until the rain came and brought out the red flags.
When things restarted for a two-part aggregate race in the wet, Rossi's day went awry as he got swallowed up in the pack – and his hopes of home triumph disappeared completely when he crashed out of sixth on the last lap.
2010 Mugello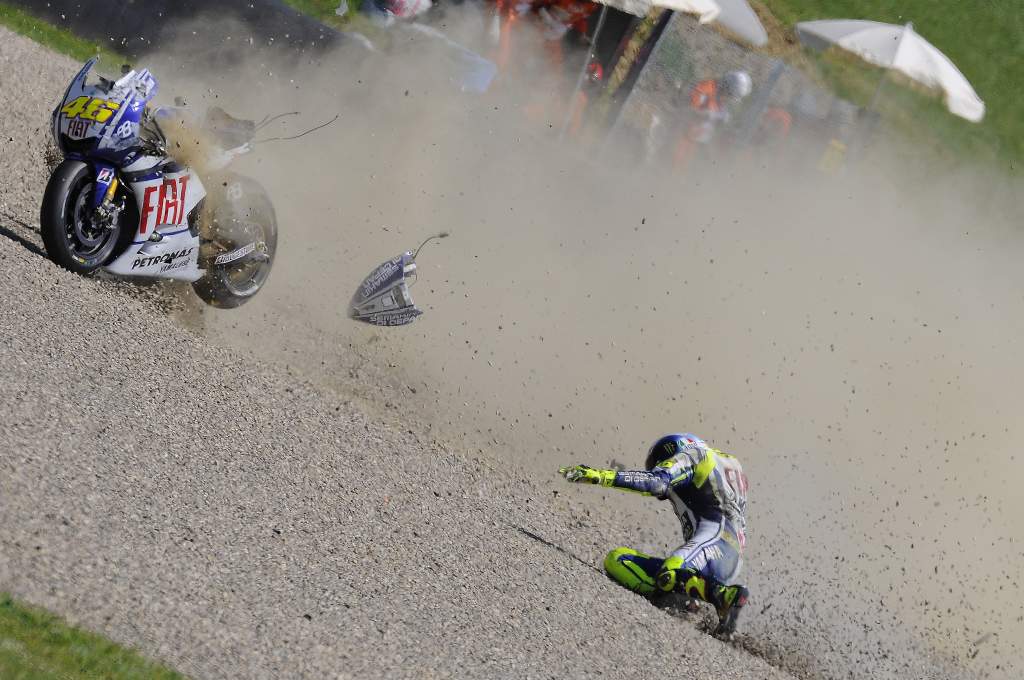 Not just Rossi's worst race weekend at Mugello, not just the worst race weekend in Italy, but maybe the worst weekend of his life – the 2010 Italian Grand Prix is arguably the one that changed his whole career, and not for the better.
Rossi headed home in 2010 very much in title contention against hotshot Yamaha team-mate Lorenzo, with a win, a second and a third from the opening three races.
Then a cold tyre in practice ended his title hopes for 2010 and, as time showed, his hopes forevermore.
Crashing and badly breaking his leg, Rossi missed not only Mugello but the subsequent three races. Eventually ending his season in third, having recovered well enough to win again at Sepang, that injury absence combined with his doomed Ducati move for 2011 ended his dominance of the series as Lorenzo and Stoner took over at the front.
2016 Mugello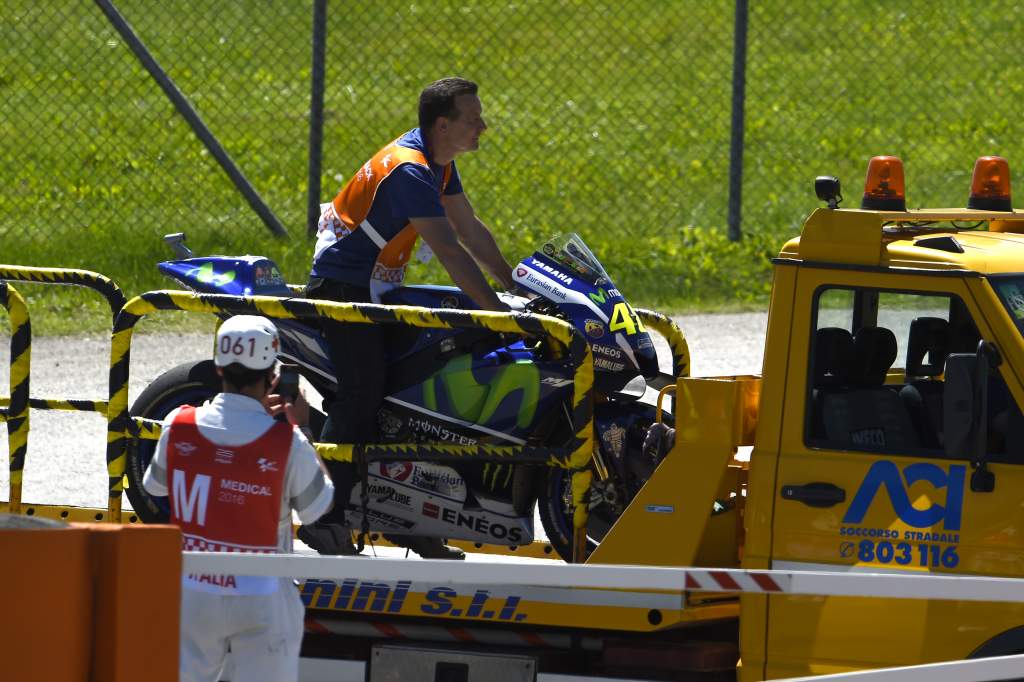 While 2010 might have ended Rossi's dominance of MotoGP, it didn't end his chances to win the title – and in 2016 he looked to have just as good a chance as any one of a handful of riders in a very close season as the championship approached the halfway point.
Heading to Italy in third, just 12 points separated Lorenzo, Marquez and Rossi, with Pedrosa and Maverick Vinales not far behind.
And then came the first big surprise of the weekend, when the veteran stuck it on pole position for Sunday's race.
Fans flooded to Tuscany late into the night, ensuring a packed crowd to hopefully see him once again win at Mugello.
Rossi made a strong start, too, getting into second behind Lorenzo and potentially looking set to take the fight to him… until a rare Yamaha engine explosion left him looking shell-shocked from the sidelines.
Caught out by Mugello's bumps, Yamaha's electronics allowed the engine to over-rev while the rear wheel was in the air. Though that for the next race, it was too late for Rossi, who feels that race was what ultimately cost him the title, even if he did eventually lose out to Marquez by 49 points.
2017 Misano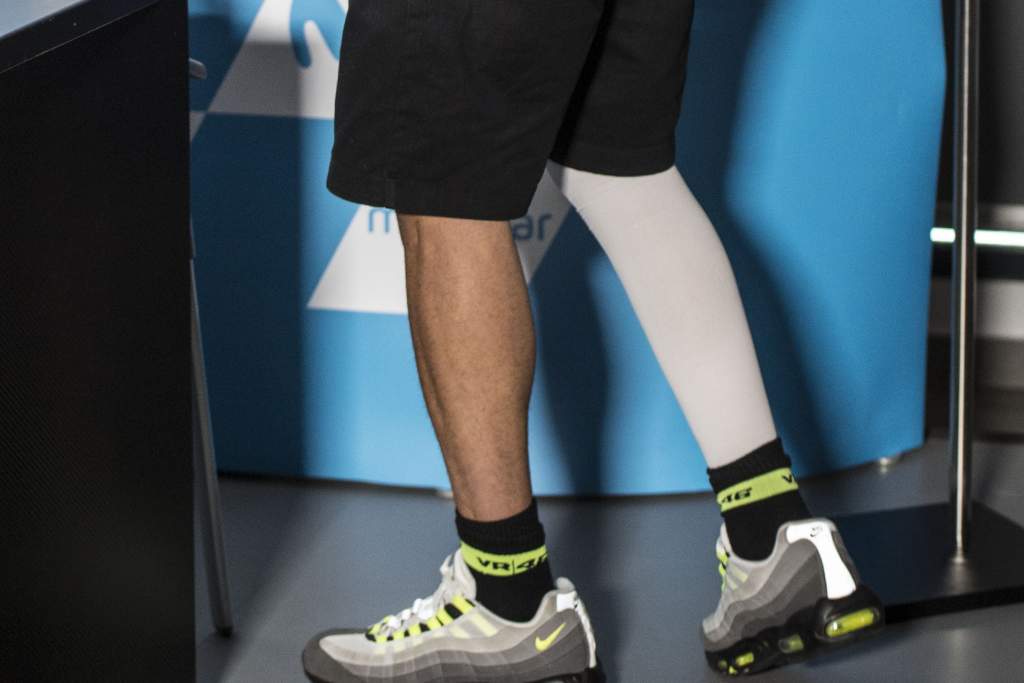 Another great what-if in the catalogue of what could have happened for Valentino Rossi, 2017's Misano race is another where if things had gone just slightly differently then this race would be on the other half of the list.
The year had seen another surprisingly strong if somewhat inconsistent championship bid from Rossi.
Starting the year out with three podiums in three races caught everyone's attention, and another win at Assen (to date his last ever victory) fired fans up even more. A podium at Silverstone just before Misano added to the hype, and it looked like there could be a surprise coming at home.
Then, riding enduro a few days before the race, Rossi awkwardly twisted his foot going over an obstacle.
Not even falling off, he still did damage, snapping the bone in his leg and needing immediate surgery to plate it.
Instead of lining up to show us he still had it at Misano, he watched from his sofa within earshot of the track – a day that must have been beyond tough to stomach.
2021 Misano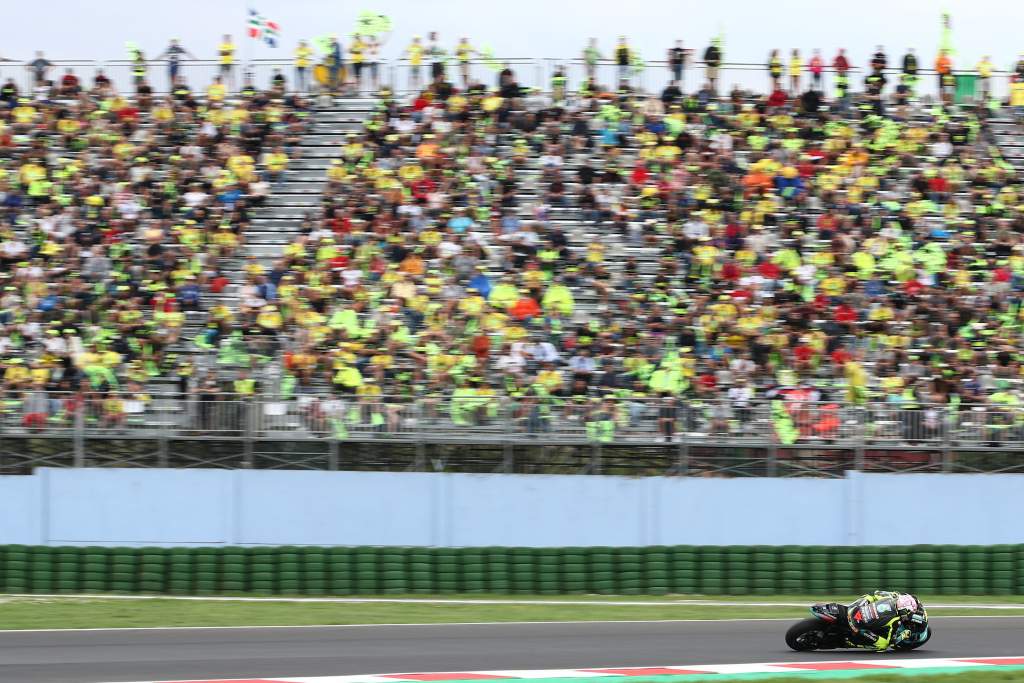 Look, let's be completely honest. This weekend is going to be a special one for Valentino Rossi, as he bids farewell to his loyal Italian fans.
But one thing isn't going to happen: any sort of miraculous return to his past form to go out in style. And all you have to do to confirm that theory is look at his performance last time out at Misano, only a few weeks ago.
The simple fact is, Rossi's MotoGP career should have probably ended as a factory rider in 2020.
But he's without doubt the sport's greatest showman, and retiring in front of empty grandstands just wouldn't have been right – so it's only normal that he's endured to see out the closed doors of the pandemic.
But while there'll be plenty of emotion this weekend, no one is going to be excited about what he's up to on track.
Battling for 17th place last time out against the likes of a struggling Danilo Petrucci and a rookie Luca Marini isn't what fans want to remember Rossi doing – so the focus will, rightly so, be elsewhere.