On paper, KTM's Emilia Romagna Grand Prix was a complete disaster.
Only one of the squad's four riders made it to the chequered flag – and after both an embarrassing pre-race crash and a long lap penalty for exceeding track limits – Brad Binder was nowhere near the sharp end of the race in 11th place, nearly 30 seconds from race winner Marc Marquez.
Yet despite the understandable upset in the Austrian manufacturer's garage post-race, there was a hint of the bittersweet to the entire endeavour, as the team and three-time winner Miguel Oliveira finally managed to return to the pointy end of dry weather MotoGP racing for the first time since Assen all the way back in June – even if he didn't manage to stay there.
And in reality, it wasn't Olivera's crash out of third place that seemed to elicit the most of the KTM management's wrath in the aftermath of the race, but rather the incident that prevented Binder from finishing much higher up the order – a highly embarrassing sighting lap crash.
It is perhaps the most unfortunate fall a rider can make in motorcycle racing (alongside crashing in pit lane, of course), and the South African left his team with extensive work to do before the race even started. And, with egg on his face and a back-of-the-grid start meaning the race build-up was fraught, he was suitably red-faced after the race.
"It was a long weekend for us," Binder admitted. "I don't know the last time I crashed three times in one weekend.
"On the sighting lap, I decided to go out with the hard front. I wanted to race that because I thought it would be the best option for us.
"I had the intention to really try and make it work a bit going to the grid, and I didn't quite get my brakes hot enough in the first braking zone. I went through Turn 8, into Turn 9, and as soon as I started to pull the front brake it bit and I just locked up the front.
"It's really not the smartest thing I've ever done, and I'm so sorry to my team for throwing that curveball at them. I really messed up; there's no other way to say it. But sometimes sh*t happens.
I started last, on my spare bike, and the first two laps my tyres were ice cold from sitting out in pitlane waiting to go."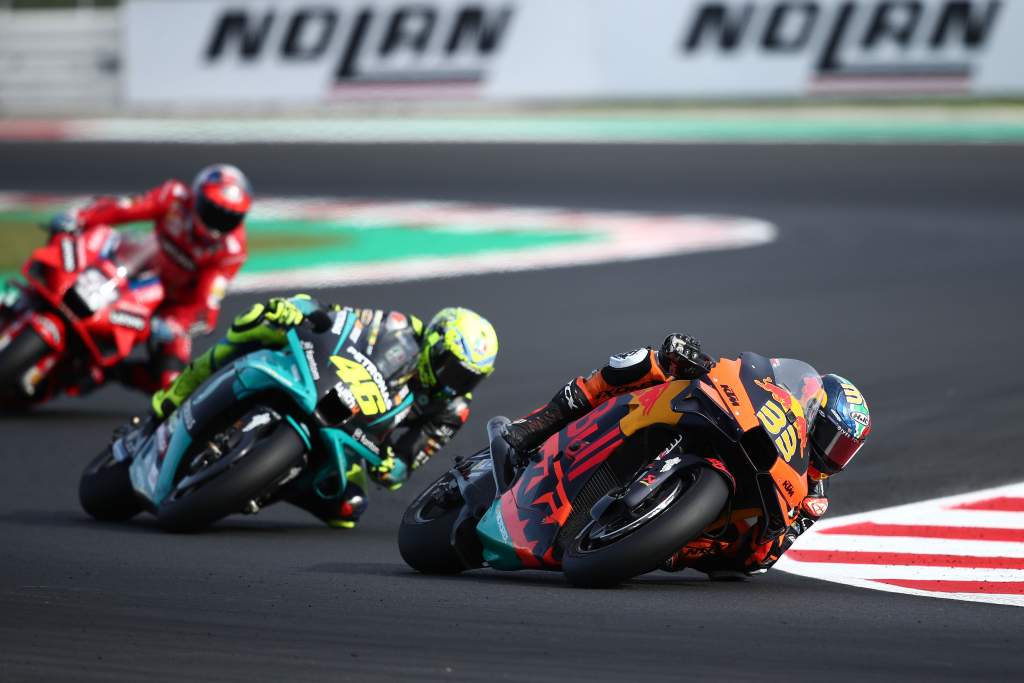 But on the other side of the garage, things were much more upbeat even after a crash that largely passed underneath the radar thanks to his fall coming at almost the exact moment as Pecco Bagnaia crashed out and ensured that Fabio Quartararo became the 2021 world champion. Ironically that Bagnaia crash was just about to hand Oliveira third place.
"It was a good weekend overall, and a good race," Oliveira insisted after his first positive performance since before the summer break, "but we just didn't manage to finish it.
"By the end of the race it was getting really complicated to get the full stroke on the front fork with an empty fuel tank, and of course in such a tight hairpin I lost the front.
"I already had a big gap and I was managing myself to get to the finish line – but it just didn't happen. It's a shame for that, but overall a very good weekend and we leave with a positive mindset to Portimao."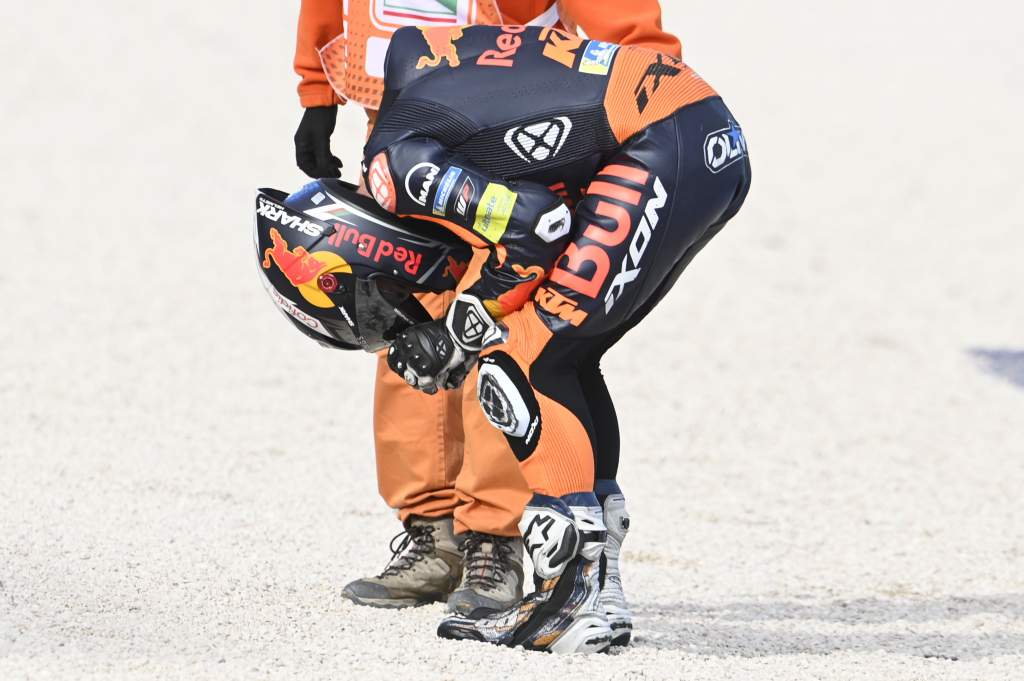 While hard work in the garage and back at the Mattighofen headquarters in recent weeks has led to a substantial improvement to the base set-up of the RC16, the real reason for Olivera's newfound performance seems to be down to a recovery from the injury which has dogged him since free practice at the Styrian Grand Prix.
Not breaking anything in the fall but bruising a bone in his wrist, he's consistently downplayed the seriousness and impact of the injury since then – but has opened up in recent weeks about how much it actually has affected him. And, now fully recovered, he says that more than anything is what has triggered a crucial return to form.
"Physically I'm back to normal and I didn't feel any problems from that side," he explained after the race.
"It's a sign already, being up there in all the practices and feeling OK with the bike that finally we've found some match between me and the bike, and hopefully we can carry that on now into the last two races.
"Looking further ahead into next season, it's important for us to be up there and to get a close look at how we can improve the bike by comparing ourselves to the other guys, to get clear information on what to do next."
However, before worrying about next season there's a more important target first for Oliveira: an unexpected second crack at repeating 2020's remarkable home race success.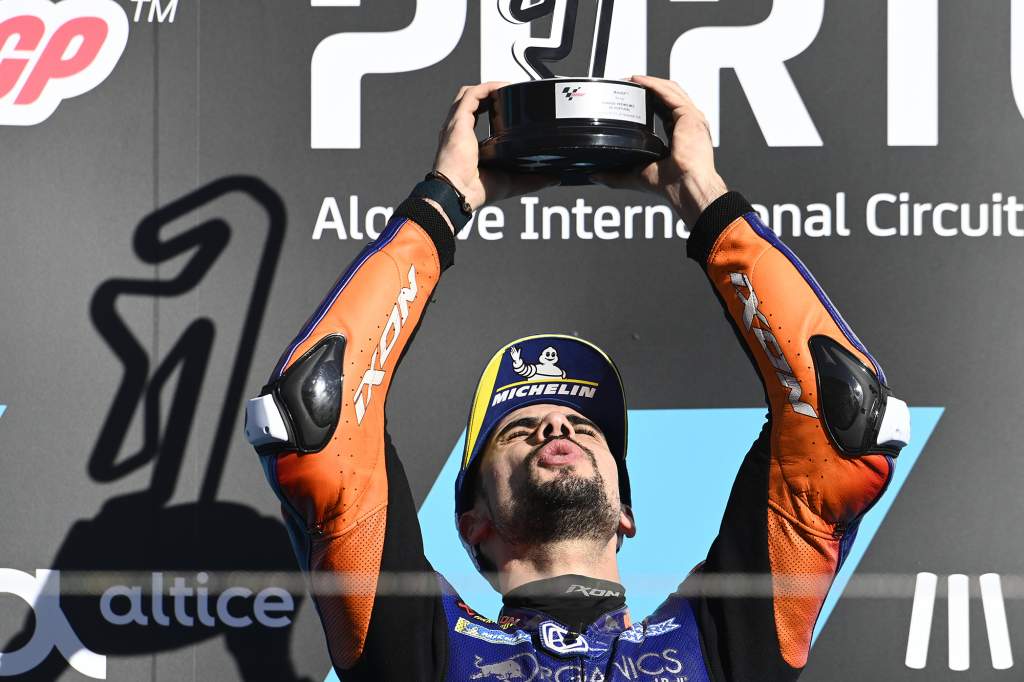 A second Portugal date is a late addition to the calendar to replace the cancelled Malaysian Grand Prix, and he's going to be hoping to make up for April's disappointment at Portimao.
With that first home race coming when KTM was still severely struggling with Michelin's new construction of front tyre – a problem that was eventually only fixed with a rushed new frame which debuted at Mugello – he's far more optimistic about his chances this time around.
"Right now the bike is different from November last season and different from April, so we just have to see what happens," Oliveira said.
"To go in, to find our difficulties and to work our way around the track.
"I just hope to enjoy a good weekend with a good atmosphere with all the fans in the grandstand, and just go into a special Grand Prix with a normal working mindset.
"We'll figure out our way around it, and hopefully I can finish the race and finish it high."