With official confirmation now arrived that veteran KTM MotoGP team boss Mike Leitner has left the squad effective immediately, it's expected to be only a matter of time before former Pramac Ducati manager Francesco Guidotti is announced as his replacement.
But with Leitner's departure coming as the sacrificial head on the chopping block for a unexpectedly dismal 2021 season for KTM, it means that there's going to be big pressure on the shoulders of Guidotti to turn things around in 2022 and return to the winning ways of last season.
And right now, that looks like something of an uphill struggle, given that the initial feedback from KTM's two factory riders at the one and only post-season test last week was that the new 2022 bike simply isn't giving them enough of the step forward they need in order to be competitive again.
KTM trying only a collection of prototype parts rather than a complete new spec of machine hints that it doesn't really have a direction to go in right now, never mind a way out of its troubles – something alluded to by Miguel Oliveira at the end of the test.
"There were a couple of things in today's programme that were quite significant," he said after two days of testing concluded at Jerez.
"We managed to take some clear conclusions, but it's clear that at the moment we don't have a final package to put together. It's just some different parts separated at different times.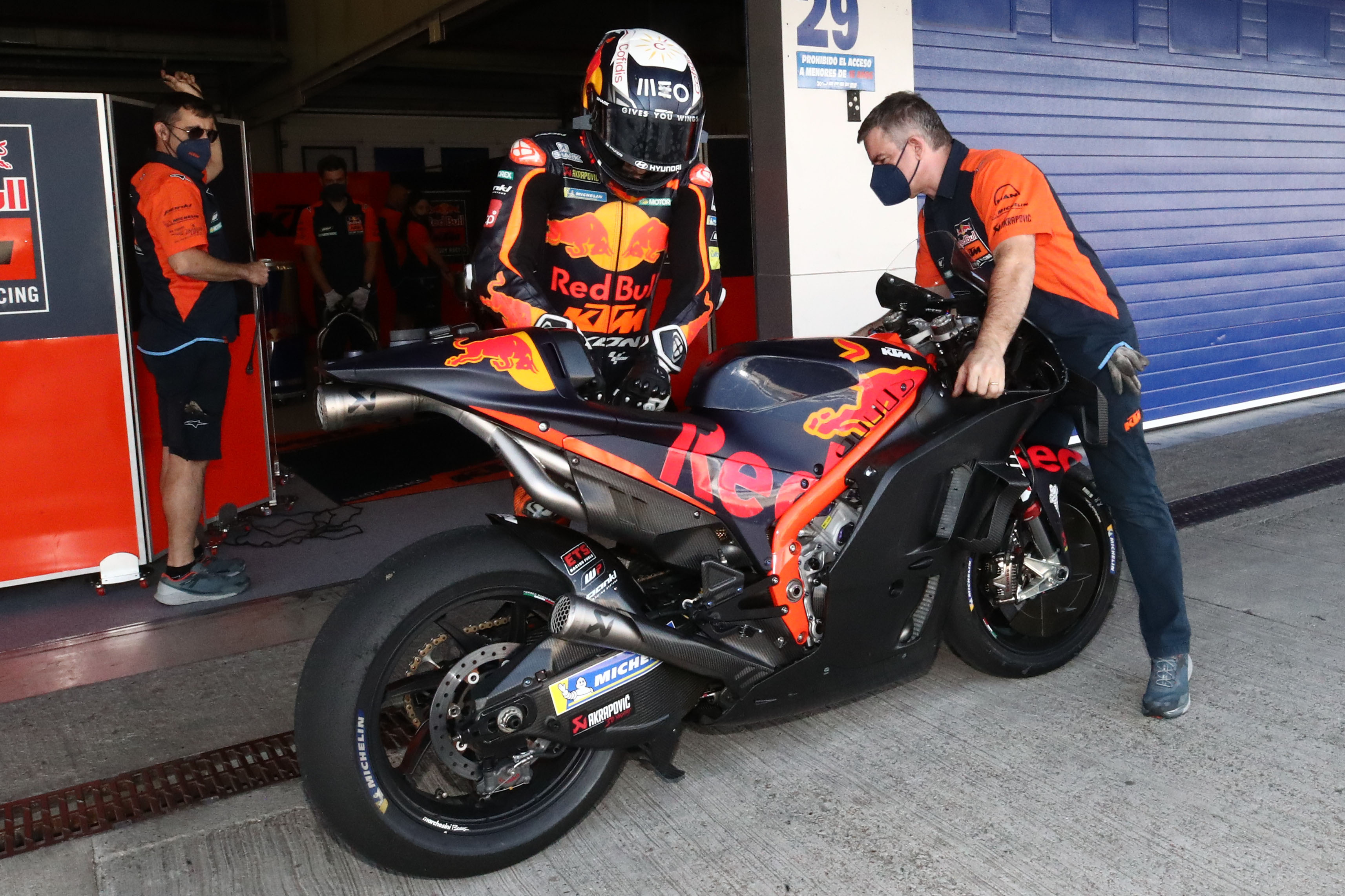 "The team did a lot of work in the garage to try to get the maximum out of each run and each part that we tried, and hopefully with this information the factory is able to make some significant changes to the current bike, so that we can come up with a good package for winter testing in Sepang.
"I think we need to come up with a bike, and then take it to the limit and see in the first few tests what we can do with it.
"This bike is still very similar to this year's bike. The character is the same, and we need to change that character to be able to compete with our opponents at the moment."
It's somewhat puzzling to hear he's been complaining about the character of the bike, given that it's largely the same machine that he's now taken to three victories between first the satellite Tech3 team in 2020 and then the factory squad this year.
Admittedly caught on the back foot at the start of this season when Michelin altered its allocation of tyres, KTM needed a new frame that was designed and produced in rapid time – in part thanks to its innovative 3D printing technology.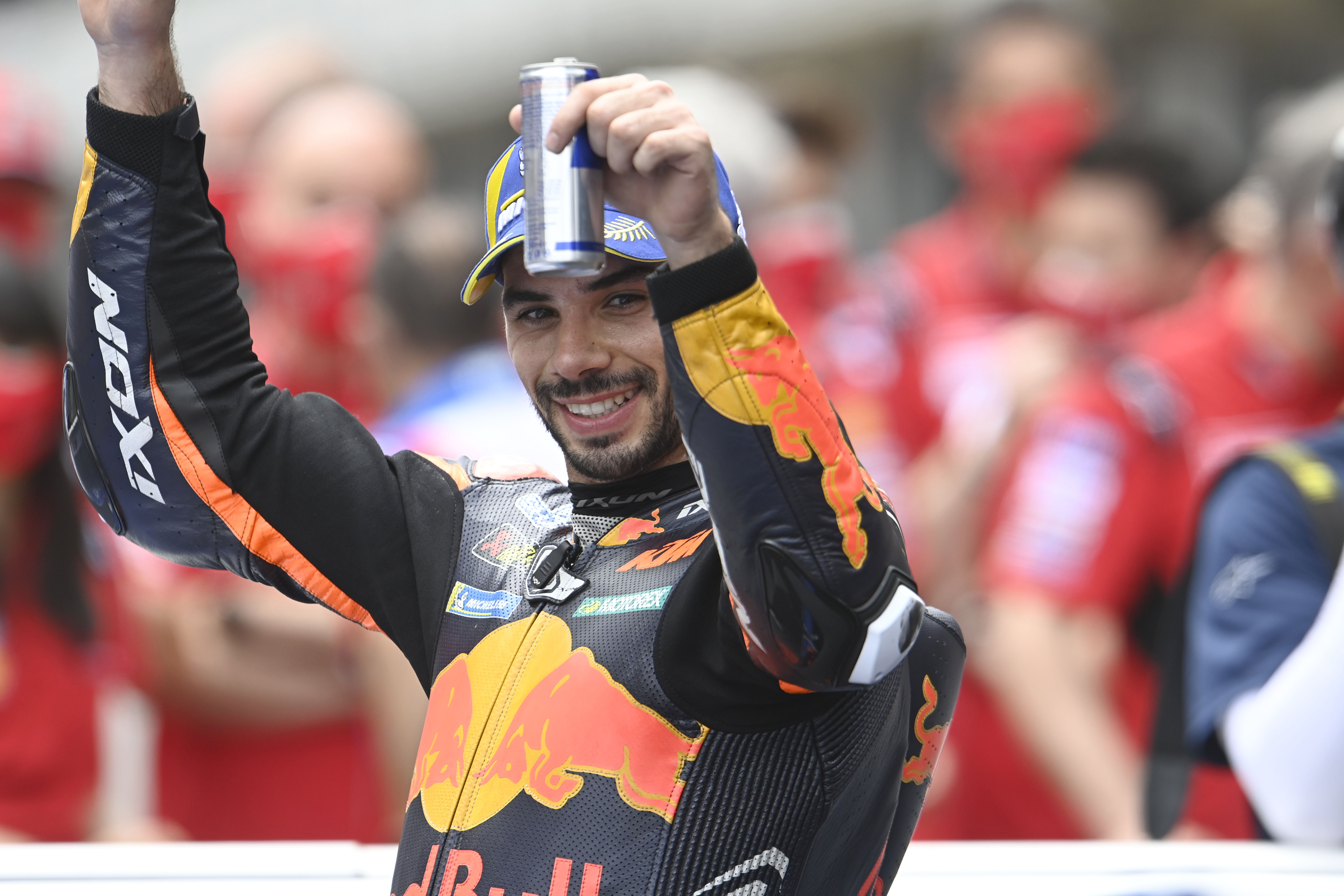 It arrived at Mugello and made an immediate impact on the team's fortunes, with Oliveira taking KTM's first podium of the season before going one better next time out at Barcelona and winning the race, then maintaining his consistency with another second in Germany to make it three top threes in a row.
Yet since then, the season has been something of a disaster for both him and team-mate Brad Binder, despite the brief blip that was Binder's incredible victory in Austria – a win more to do with bravery and confidence than technical advantage.
So where has it all gone wrong? Well, there's one argument to be made for KTM's failings in part due to its approach towards MotoGP. An Austrian brand with a somewhat-Teutonic mindset, it often feels like a team led by engineers first and foremost.
That's apparent in Leitner's appointment as team boss in the first place. He came to the squad with a background not in team management but as a crew chief, having spent the best part of a decade in Repsol Honda colours with Dani Pedrosa.
And, with engineering leading the riders rather than riders leading the engineers, it seems like KTM has somehow got lost as a result, attempting to spend and develop its way out of its issues rather than simply getting on with the job of going fast with the components it has.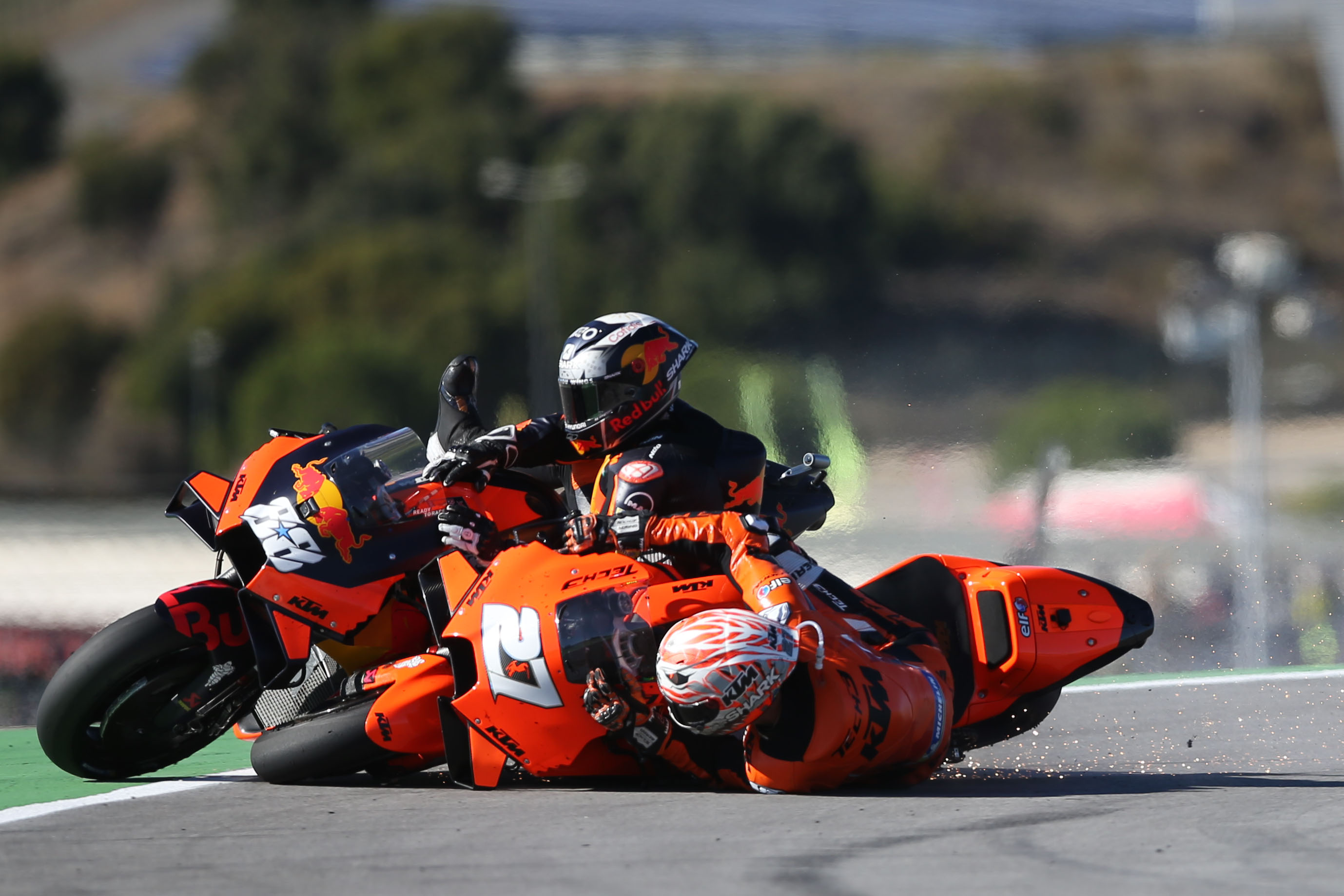 That's perhaps best represented by comparing sacked Tech3 rider Iker Lecuona's performances to Oliveira's in the latter part of the season.
KTM wouldn't be the first team to fall foul of such an issue either, with Aprilia facing a similar crisis a few years back – until the appointment of former Ferrari Formula 1 sporting director Massimo Rivola to take over many of engineering boss Romano Albesiano's duties in running the team resulted in a noticeable performance jump.
And that's where Guidotti comes in. Having run the Pramac Ducati squad since 2012, during some of the darkest and leanest days of CRT racing, he's someone well familiar with doing more with less.
Never commanding a big budget and never leading development in his role as satellite squad boss, he may well bring a different work ethic to KTM – one that it's well in need of.
He also brings a bit of latin fire into KTM's Austrian-dominated senior management team, something that was highly successful for Suzuki with the combination of conservative Japanese engineers and the free-thinking Italian brains of Davide Brivio.
Of course, it won't simply be a job of turning up and making things happen right away – but it's completely understandable why KTM, in a moment of inner reflection and self-criticism, might think that Guidotti is the way out of this particular mess.