After 20 races and a season stretching from March until November, the 2022 MotoGP world championship has finally come to a conclusion, with Ducati's Pecco Bagnaia crowned the champion over last year's victor Fabio Quartararo.
From rocky starts for both eventual title contenders to surprise appearances from underdogs with no business getting involved in the fight – but landing there anyway! – it's been a memorable season for all sorts of reasons. Narrowing it down to just the most crucial pivot points is far from an easy task, especially after a longest-ever campaign that generated plenty of drama.
Here's our attempt to pin down the most crucial moments on the road to a first Ducati riders' champion since 2007.
1. Pre-season woes for Ducati and Yamaha
Quartararo 0
Bagnaia 0
Espargaro 0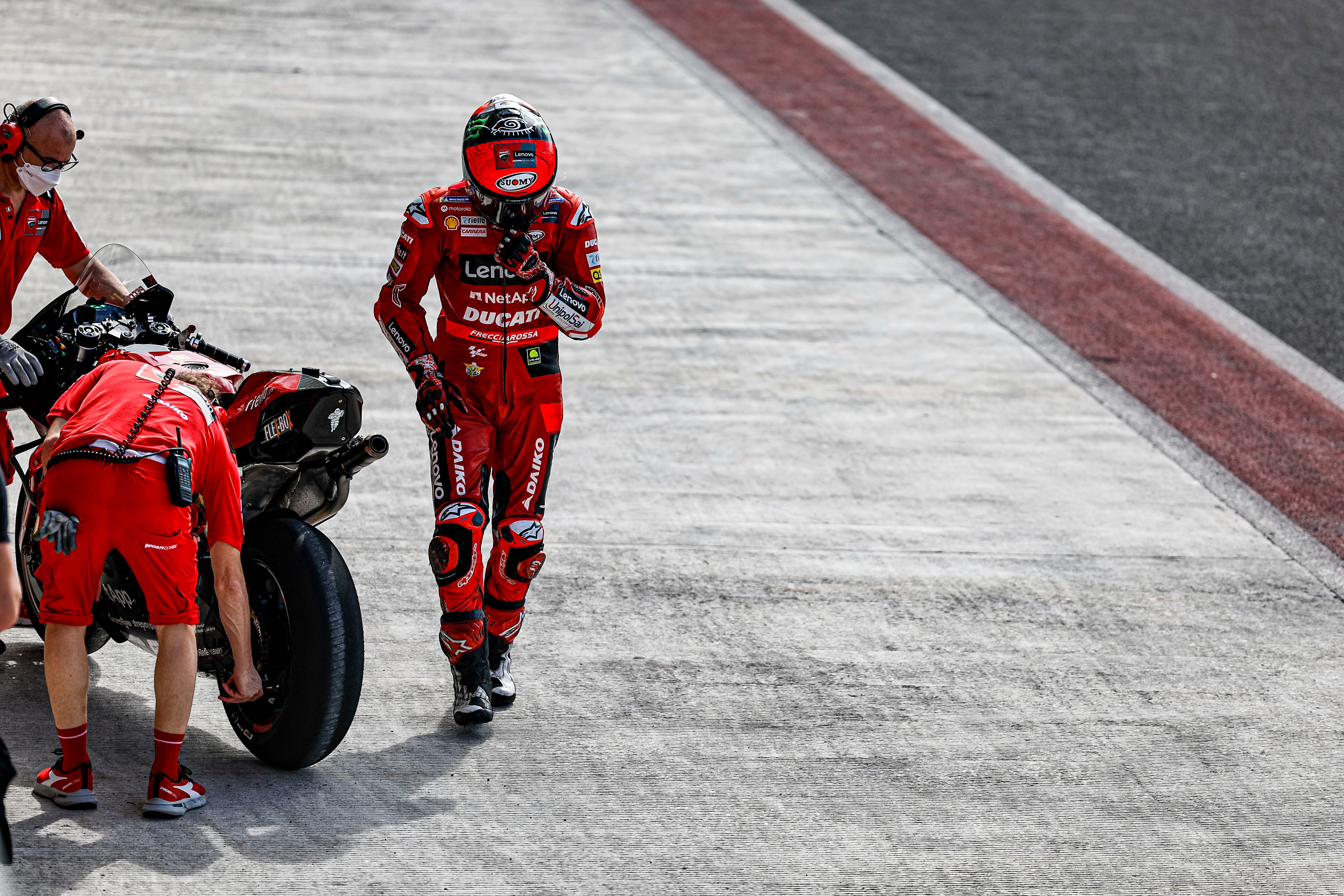 Arguably, the first drama kicked off before the season even started, when both Yamaha and Ducati turned up to pre-season testing with bikes quite different from what their riders had expected to be on board.
For Ducati, it was a new engine then revised at the very last minute to an older spec for the factory duo, after complaints from Bagnaia about the feeling on the initial touch of the throttle. It meant Ducati went into the year with three different specs in two different frames across four teams – and it paid the price by spending a long time dialling in an electronic set-up that actually allowed it to channel the new Desmosedici's full potential.
Meanwhile at Yamaha, the complaint was perhaps less of a surprise – the bike was once again not fast enough on the straights for Quartararo. Though able to improve over the course of the year by working on aerodynamic refinements and by improving electronics, his straight line speed (and subsequent ability to pass and defend) largely went on to define his year.
2. Espargaro shows Aprilia's the real deal
Espargaro 45
Quartararo 35
Bagnaia 12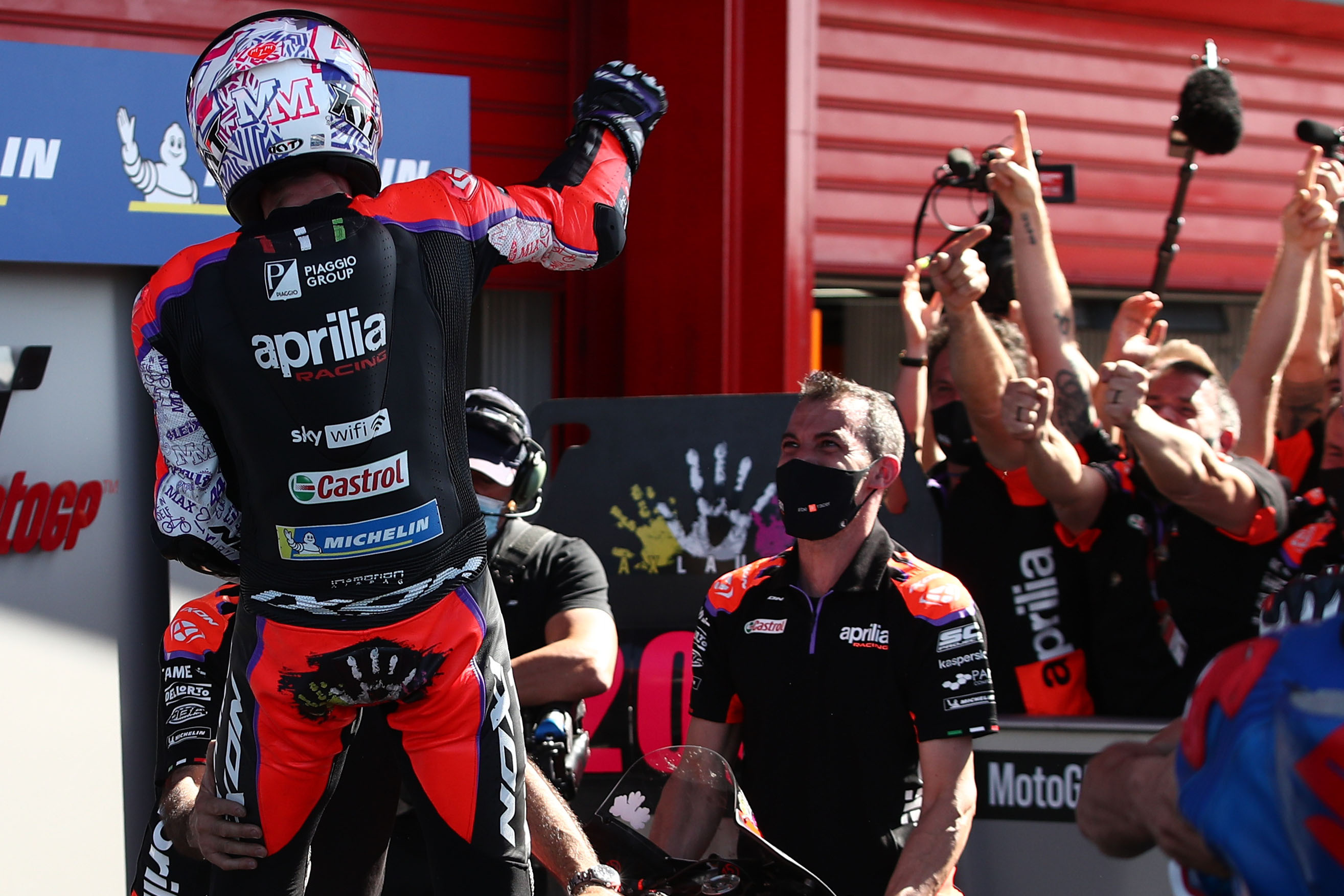 Even after a somewhat rocky opening race in Qatar for both Quartararo and Bagnaia (scoring a ninth and a DNF respectively), the two still went into the first of the series' overseas races as the title favourites. So a beautifully-crafted win for Aprilia's Aleix Espargaro at the Argentine Grand Prix blew everyone away.
Fast all through the shortened weekend and able to execute a textbook race to defeat Jorge Martin, he showed Aprilia had finally made the step to competitiveness – but it wasn't enough to convince people that the team could be a be title contender.
That came in the following weeks, though, as veteran Spaniard Espargaro continued to rack up result after result to suggest that he had if not the outright blast of pace, then the ever-important consistency that at that point was lacking from many of his biggest rivals.
3. It all clicks for Quartararo in Portugal
Quartararo 69
Espargaro 66
Bagnaia 31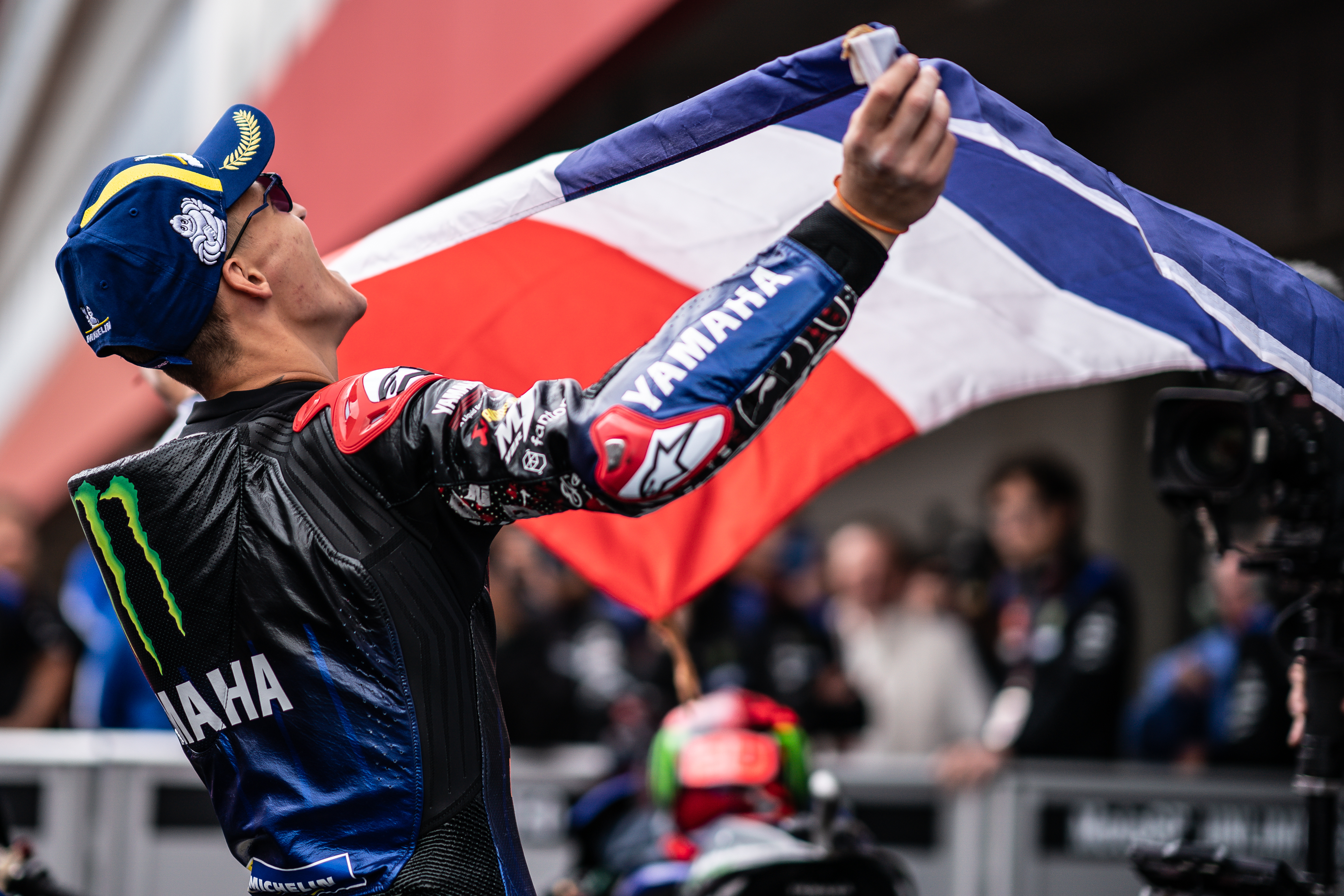 After the rocky starts for both pre-season favourites, it was Quartararo who was the first to finally get his act together and draw first blood against Bagnaia, taking a comfortable five-second victory at the Portuguese Grand Prix from fellow Frenchman Johann Zarco, at that point very much stretching his legs as Ducati's unexpected top-scoring rider.
Espargaro was third but Bagnaia was all the way back in eighth. It wasn't a convincing performance at all from the Italian at a track where he'd been on the podium the year previously – and indicated perhaps more than anything the depths of the problems that Ducati was facing at that early point of the year.
4. Nakagami error impacts title picture
Quartararo 147
Espargaro 125
Bagnaia 81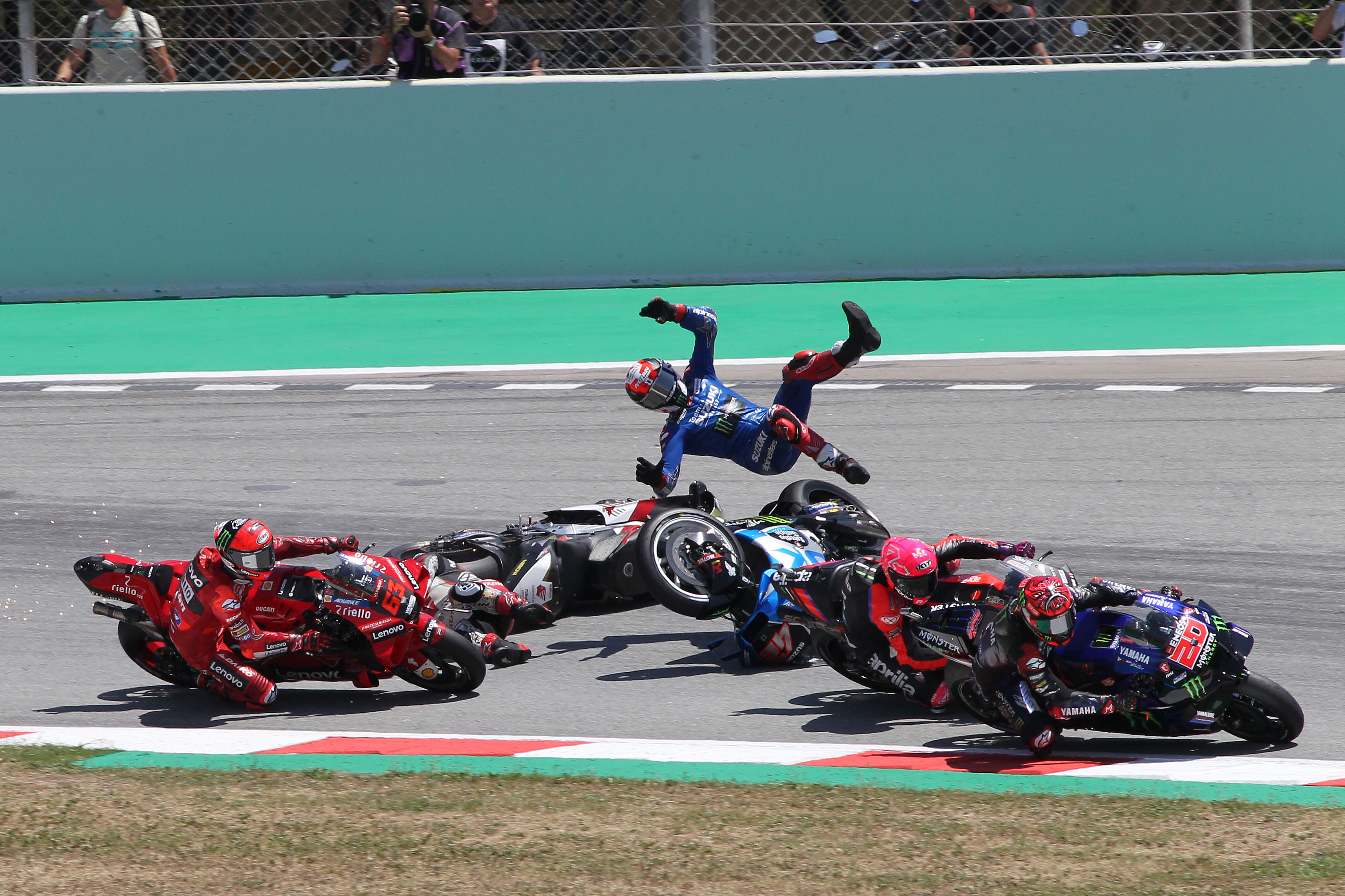 Things got worse for Bagnaia before they got better. Much worse. Recovering from Portimao to win at both Jerez and Mugello, a crash in between at Le Mans reinforced the idea that he remained too inconsistent to string together a championship campaign, and heading to Barcelona he was out to put that behind him.
And it certainly shouldn't have been an impossible ask to score his first back-to-back success even if Quartararo was among those looking strong all weekend.
That all came crashing down in Turn 1, though, when Taka Nakagami smashed into both Bagnaia and Alex Rins, wiping out all three of them and clearing the path for Bagnaia's big rival to clear off and take 25 incredibly valuable points. A mistake from Espargaro, who miscounted the number of laps left and costing himself a podium, was the only silver lining.
5. Bagnaia looks down and out after Sachsenring crash
Quartararo 172
Espargaro 138
Bagnaia 81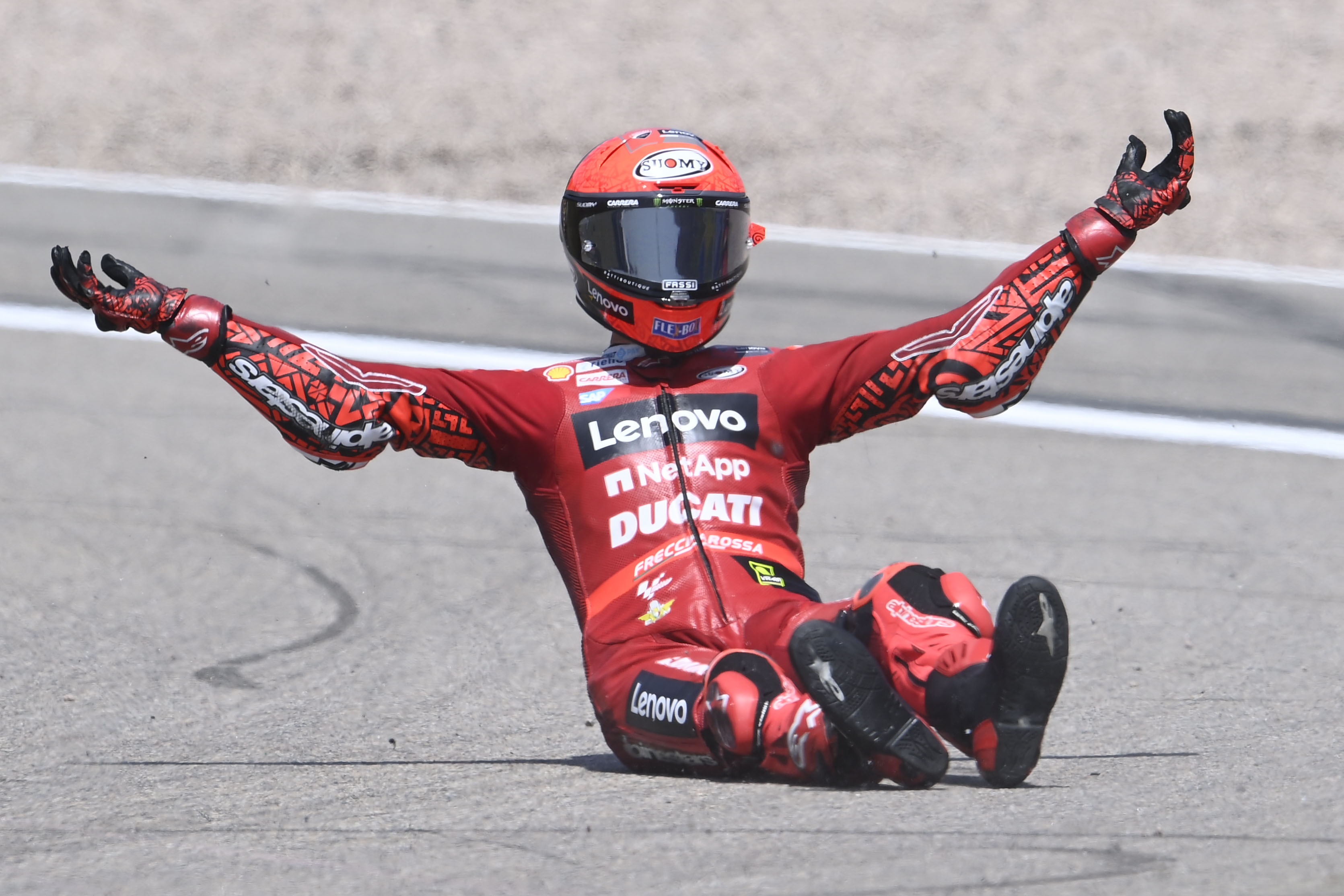 Going to the German Grand Prix, Bagnaia desperately needed to get some points back on the board, and while the Sachsenring isn't exactly Ducati territory, the absence of the usually-dominant Marc Marquez as he recovered from his latest surgery meant that there was perhaps more of a chance than there otherwise would have been to get the show back on the road.
But it didn't work out that easily. Bagnaia crashed yet again as Quartararo once again won, the race very much handing an advantage just as much psychological as mathematical to the Frenchman as MotoGP headed into a longer-than-planned (thanks to the loss of what would have been a Ducati-friendly Finnish Grand Prix) five-week summer break.
6. Assen collision halts Quartararo's momentum
Quartararo 172
Espargaro 151
Bagnaia 106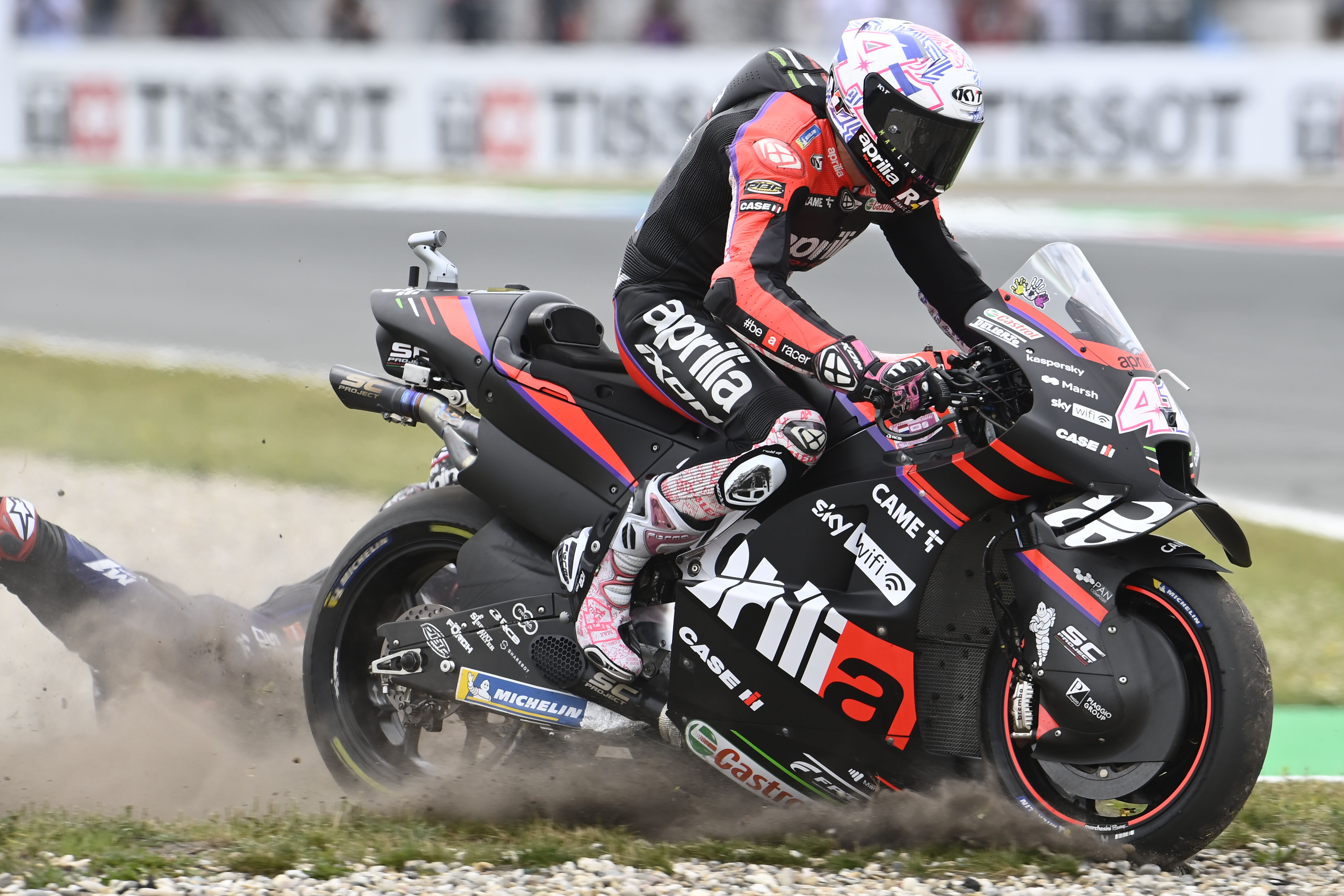 The championship battle this year has been a fickle thing, and just as soon as it looked like it had very much swung in favour of Quartararo and (to a lesser extent) Espargaro, it was slammed back in the other direction by perhaps (with the benefits of hindsight) the most important moment of the whole year at the Dutch TT.
There wasn't much need for rash moves from Quartararo given that the fast and flowing nature of Assen means it's one of the few places this year where he was able to pass with relative ease – but with the track layout also offering the chance for a breakaway win should he get to the front, he did what he thought he had to do and tried to muscle his way up there.
Making contact with Espargaro, driving his title rival onto the grass and going down himself, it was an unmitigated disaster made even worse when Bagnaia took the eventual victory and Espargaro was able to regroup for 13 valuable points in fourth.
This was very much the moment when the Bagnaia comeback started, and it's got to be Quartararo's biggest regret of the year now.
7. Quartararo's spectacular damage limitation
Quartararo 200
Espargaro 168
Bagnaia 156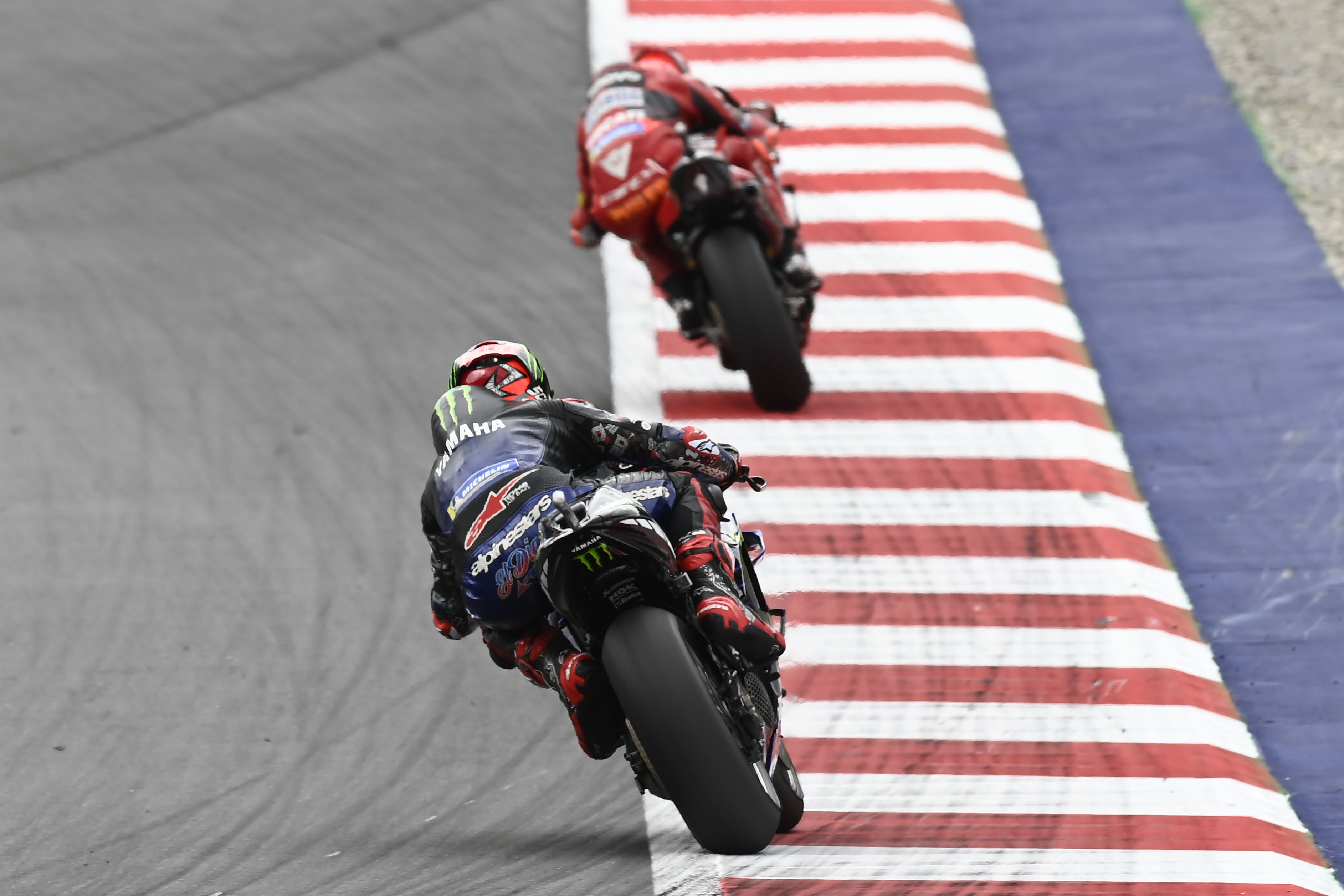 Assen success was the trigger point for Bagnaia's charge, with the Ducati rider adding back-to-back-to-back victories at Silverstone and the Red Bull Ring to his streak to start rapidly closing down what was at one point a 91-point deficit to Quartararo.
But while the momentum might have been going only one way, the defending champon delivered a performance that no one expected at the Austrian Grand Prix, suggesting that he could be too strong to lose the title after all.
At what has traditionally been a Yamaha-unfriendly venue (and somewhere where Ducati has always dominated), a podium seemed like an outside bet, but that's exactly what Quartararo managed to do to at the very least minimise the damage.
8. Bastianini comes to play as Quartararo struggles
Quartararo 211
Bagnaia 201
Espargaro 194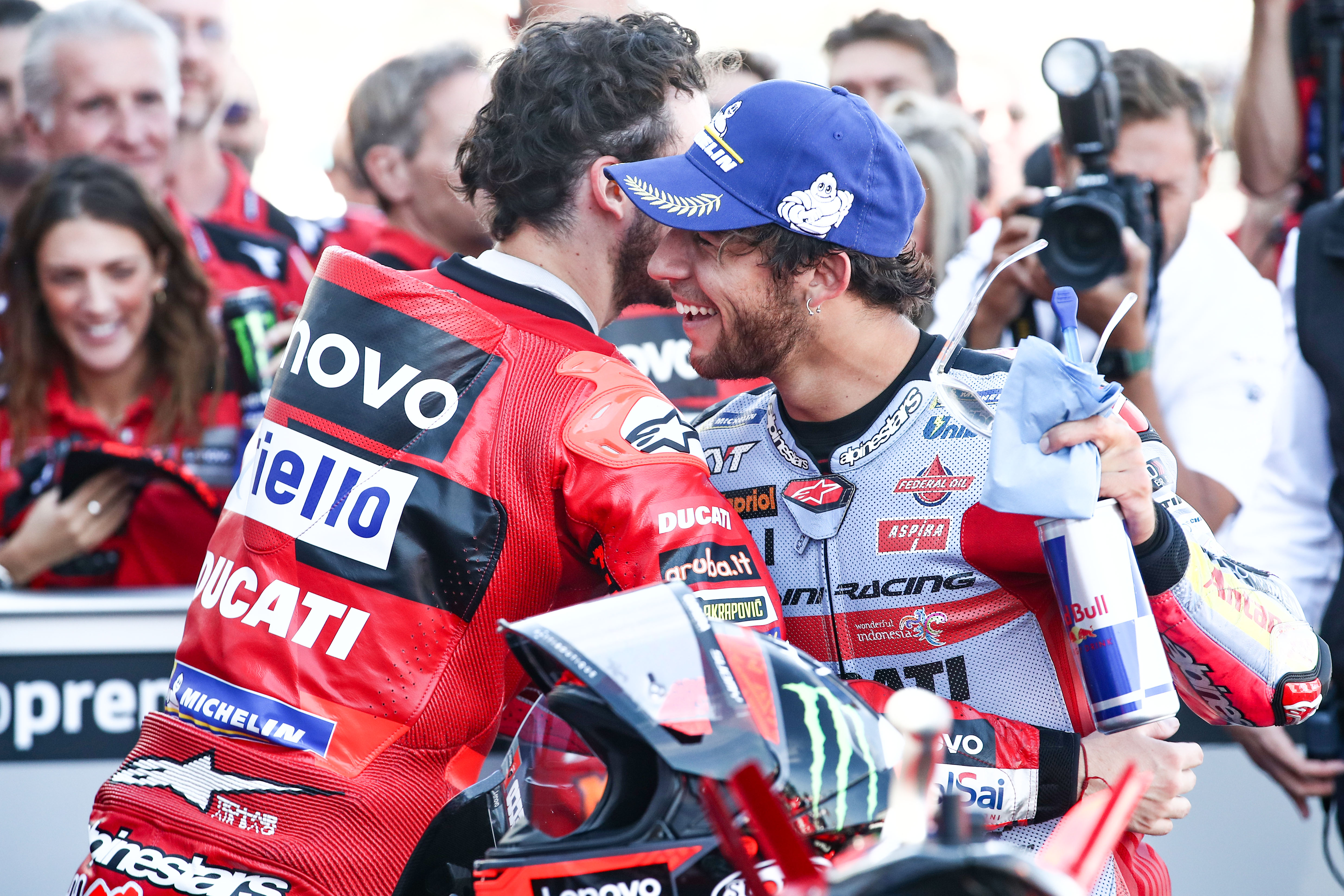 He might not have been leading the title chase just yet, but by the time the championship headed to the final few European races before a big block in Asia and Australia, it increasingly looked like Bagnaia would be the man to beat, with Quartararo ever less able to live with the Ducatis.
And that was exactly why a rather spicy intervention from Bagnaia's 2023 team-mate Enea Bastianini caused so much controversy just at the time that Ducati was already mulling the idea of team orders.
At both Aragon and Misano, Bastianini proved how little he really cared about keeping Ducati bosses relaxed by getting absolutely stuck into his countryman and rival not once but twice. Bagnaia held him off at Misano, where the Gresini rider admitted that against another rival maybe he could have tried something more aggressive, but Bastianini then didn't hold back for the win next time out at Aragon.
With his own battle to fight for at that point (a faint championship hope and, more realistically, the chance of a big win bonus for beating Espargaro to third in the championship), Bastianini definitely caused some Ducati heart palpitations in those last-lap duels. But crucially, Bagnaia still got a win and a second place.
9. Rain giveth and taketh away
Quartararo 219
Bagnaia 217
Espargaro 199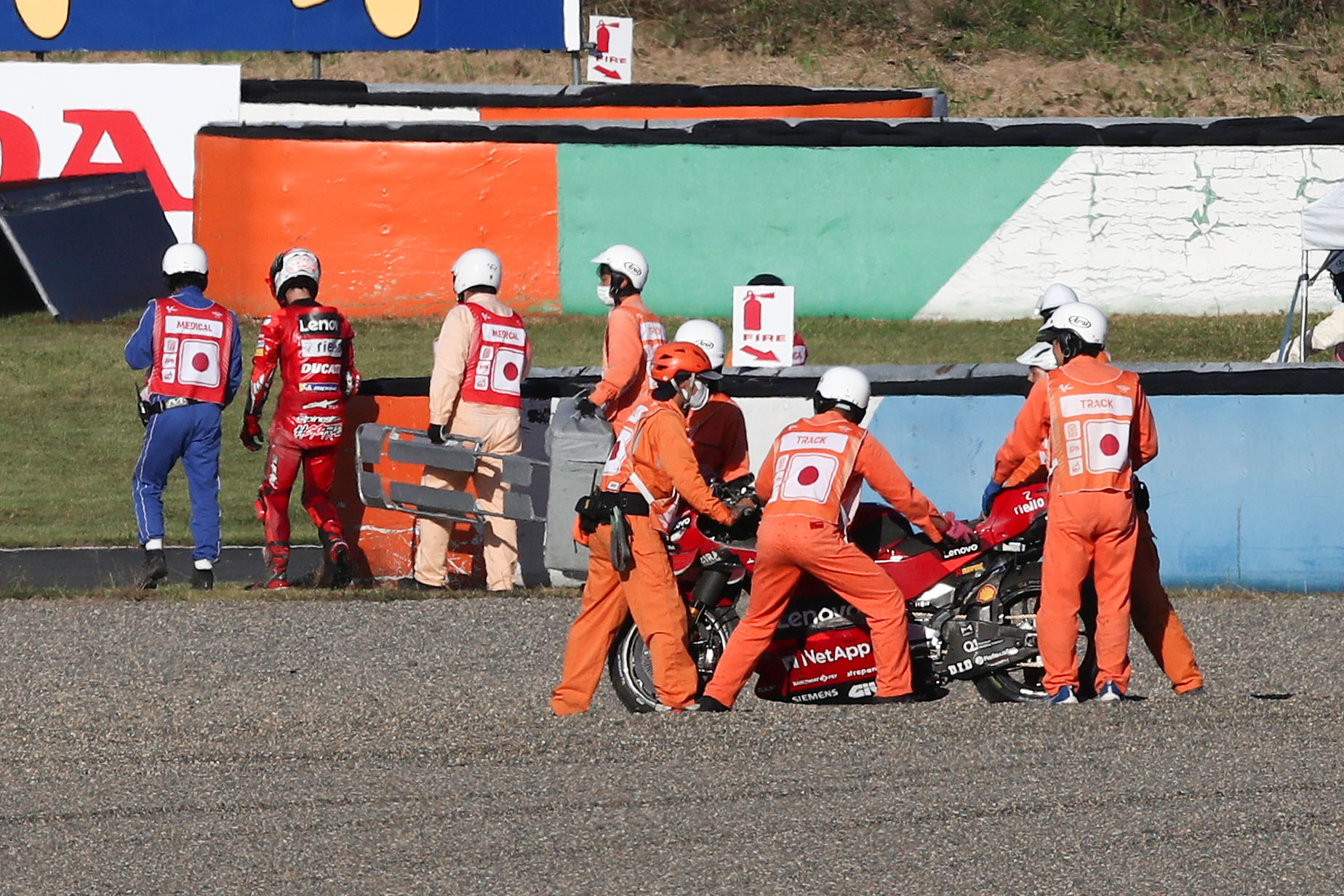 If you'd predicted that only one of the trio battling for the championship would score points at the Japanese Grand Prix let alone that none of them would even manage a top-six finish, you'd have been laughed at – yet that's exactly the chaos that welcomed MotoGP back to Motegi for the first time in three years.
A wet qualifying set up Quartararo to limp home a disappointing eighth in the race – but it was still something to celebrate as he closed down the gap to Bagnaia and Espargaro.
The Ducati rider, having qualified just 12th in the wet, fell off chasing Quartararo while Espargaro's race was sabotaged before the lights went out when an errant efficiency fuel map designed only for sighting laps was left activated on his bike, necessitating a pitlane start.
Next time out at Buriram it was wet again but on Sunday – and this time Quartararo was completely uncompetitive, suffering from high front tyre pressure, while Bagnaia clawed back all the points he'd lost at Motegi and then some.
10. Yamaha's big hope collapses
Bagnaia 233
Quartararo 219
Espargaro 206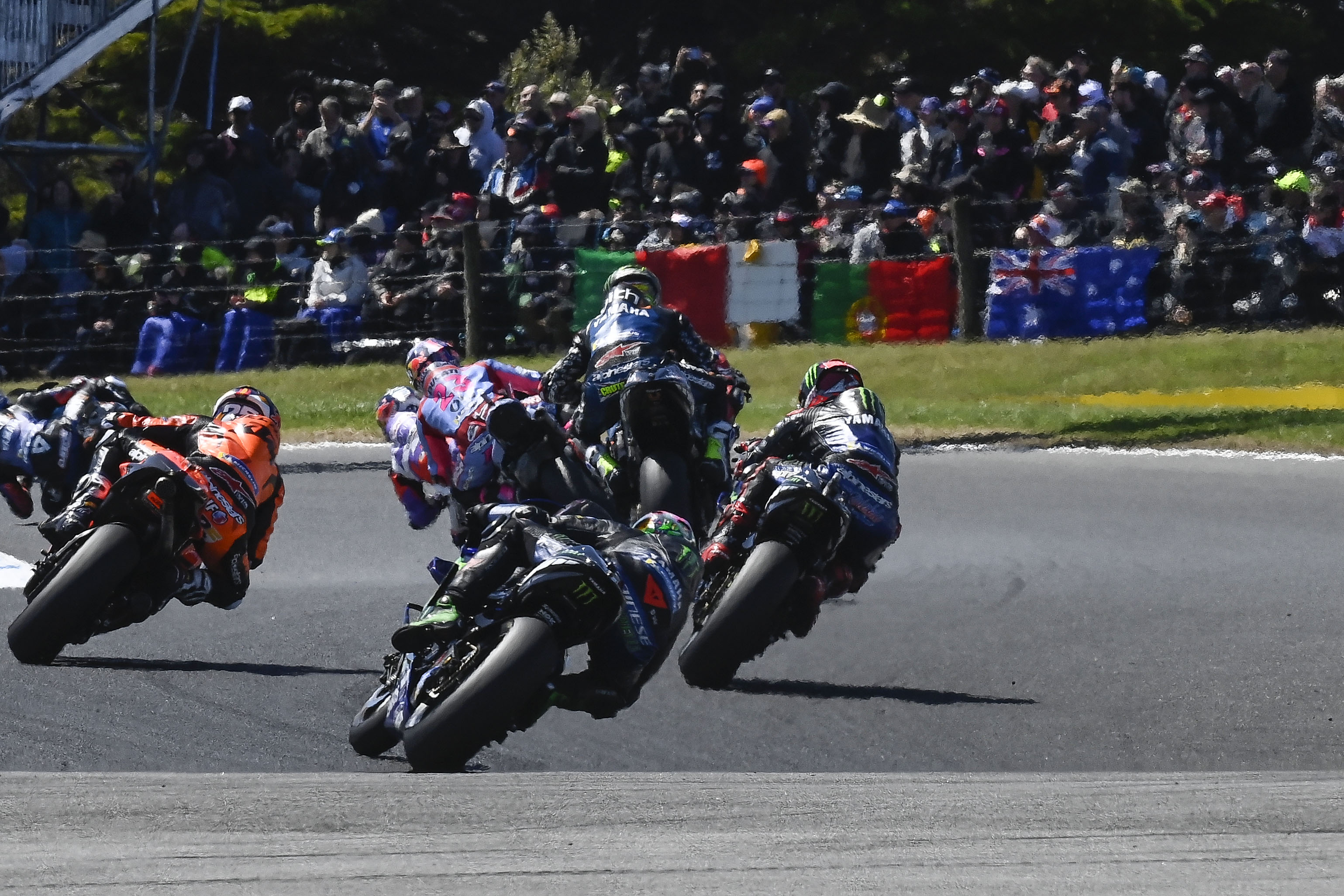 As always when it comes down to a tight title fight and the closing grands prix, it might be mathematically impossible to win a title until your lead extends to more than your rivals' potential scores – but it's certainly possible to lose a championship, or at the very least the momentum you need to get it across the line.
And, with an error that he didn't need to make on a day when at least a reasonable number of points were available to him, that's exactly what Quartararo did not once but twice at Phillip Island.
The track was on paper a favourable one for Yamaha, but Quartararo found himself on the back foot. And though a podium charge like Bagnaia's looked unlikely, he could have taken care of his title hopes by coming home in the top eight or so.
Yet he first ran wide so deep that he fell outside the top 15, and then completed the deal and fell off altogether as he rushed forward to try to regain at least a handful of points.
The flyaways were already a point-scoring disaster for Quartararo, but Phillip Island was absolutely the day where decisive damage was done. The championship lead was lost and Bagnaia's mission changed from desperate catch-up bid to controlling the points advantage he'd just been handed.