At first, it seems strange to be talking about the shape of the 2022 MotoGP grid while we're still only halfway through the 2020 season. However, with the future make-up of the championship already influencing contracts for next season, it's a valid time to look to the years ahead.
That's perhaps a point most obviously made this week by Valentino Rossi's new Petronas Yamaha deal, which commits him to the satellite squad for only one season. That's not because he's adamant he's retiring in 12 months' time, but rather because, like the rest of the grid, Petronas' contract with series organiser Dorna will expire next year.
It's a situation that looks set to create a number of interesting possibilities going forward, with Dorna's plans for the championship's future poised to shake up many teams.
All six factory teams adamant that they're staying put for at least five more years, and KTM was the first to put its money where its mouth is and added an extension until 2026 to its contract last August.
Honda, Yamaha and Ducati will for sure follow suit, and with Suzuki and Aprilia already signing up riders until the end of 2022 they too look destined to stay.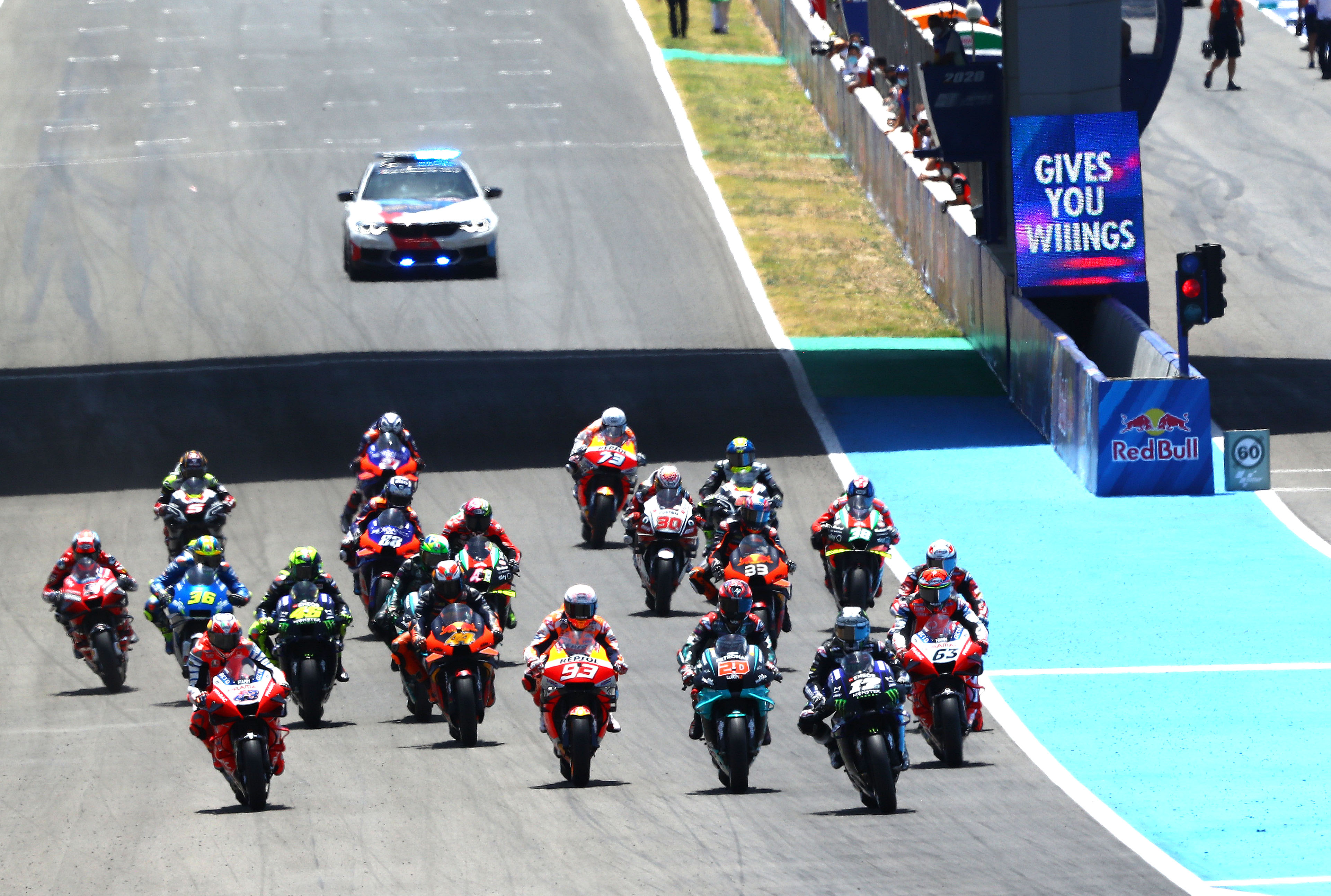 However, their continuing commitment to the series will come with a cost for some of MotoGP's newer factories, as Dorna strives for a grid comprised of six manufacturers, 12 teams and 24 bikes, with each factory team having one satellite.
That means one new team for 2022 and one fewer squad for Ducati, as Suzuki and Aprilia prepare two more machines.
But while the addition of a team and one squad moving from Ducati to Aprilia or Suzuki might look like the most straightforward solution to that, it's not the one we're most likely to see, as the independent-class teams enter their own round of frantic negotiations in the coming months.
Of all the current factory/satellite pairings, two look fairly certain to remain the way they currently are. The combination of Pramac Racing and Ducati has been the role model for every other relationship in the paddock, as the Italian marque moves resources and factory-spec machines to the satellite team and Pramac in return produces riders ready to be promoted to the factory team.
Lucio Cecchinello's LCR team has built a similarly strong relationship with Honda, as the departing Cal Crutchlow has taken on an increasingly important test rider role within the HRC project, and should be able to retain its Honda status (and funding).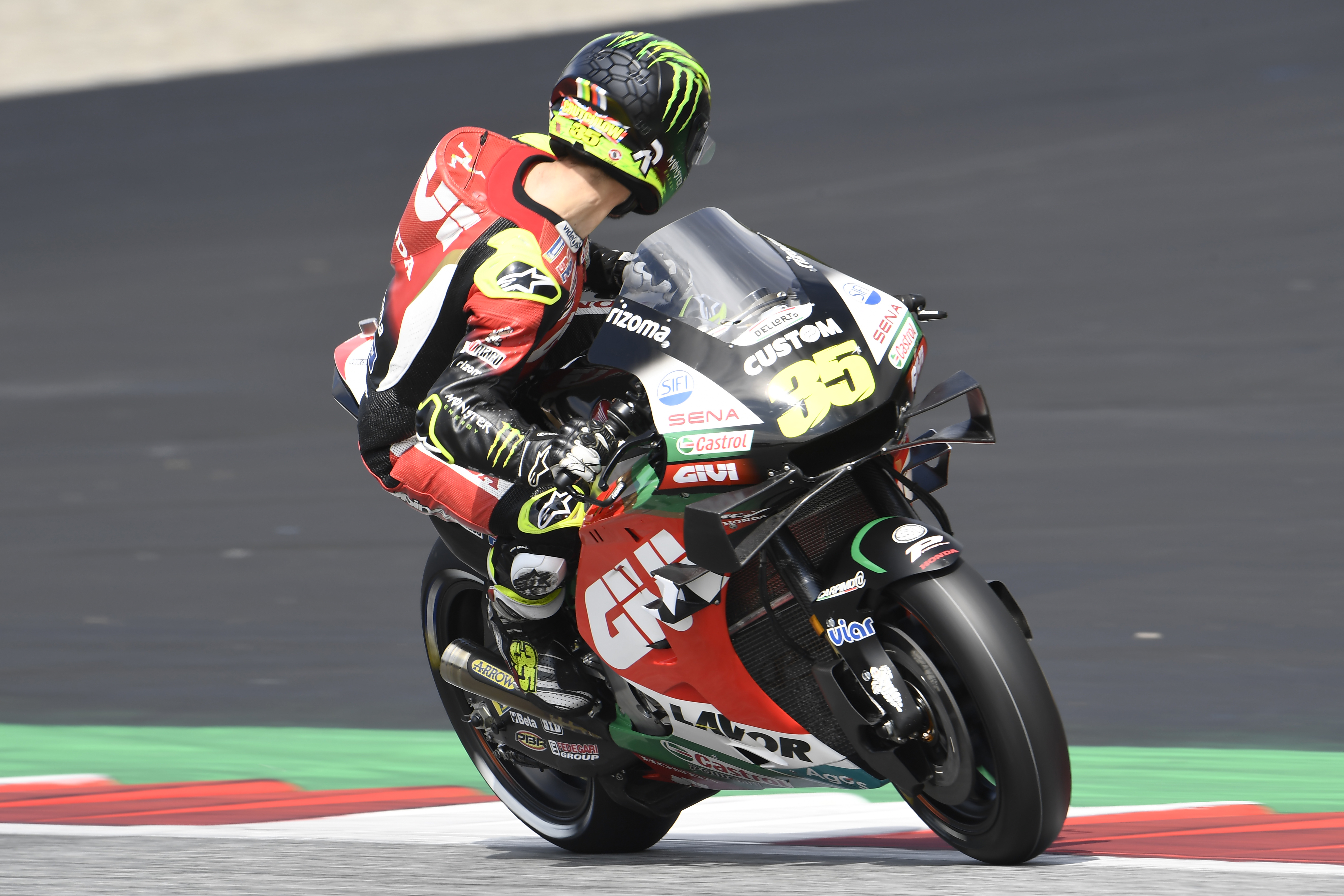 The future is perhaps less certain for the KTM and Tech3 relationship, with news that title sponsor Red Bull is pulling its funding from the junior team for next season. But, with Tech3 now an integral part of KTM's rapid rise to success and providing its second MotoGP victory earlier this season with Miguel Oliveira, it doesn't seem likely that they're going to walk away from each other soon.
That suggestion is aided by rumours that Tech3's team boss Herve Poncharal (who wears two hats as president of the International Race Team Association) is the closest of all five of MotoGP's indepedent team managers to putting pen to paper on his own deal extension.
That leaves Petronas (Yamaha), Esponsorama (Ducati) and one spare grid spot – and it's where things start to get interesting…
Right now, the Petronas Yamaha deal looks like a match made in heaven. The team is a four-time race winner this season with two different riders, is 25 points clear in the overall teams' championship never mind the independent-class one, and is set to welcome a living legend in Rossi for 2021. All seems rosy.
But according to The Race's sources within the team, things are far from the happy picture they seem from the outside. With Petronas very much being treated as a client rather than a partner, at odds with the direction other factories are moving in, it's led to a sometimes-tense relationship between the Japanese factory and MotoGP's biggest sponsor.
Add to that a rumoured change in direction in their shared R&D strategy (something Petronas has been very keen to plug) and the imposition of Rossi in the face of Petronas' belief in developing young talent, and you've got all the makings of a team and a factory looking at other options.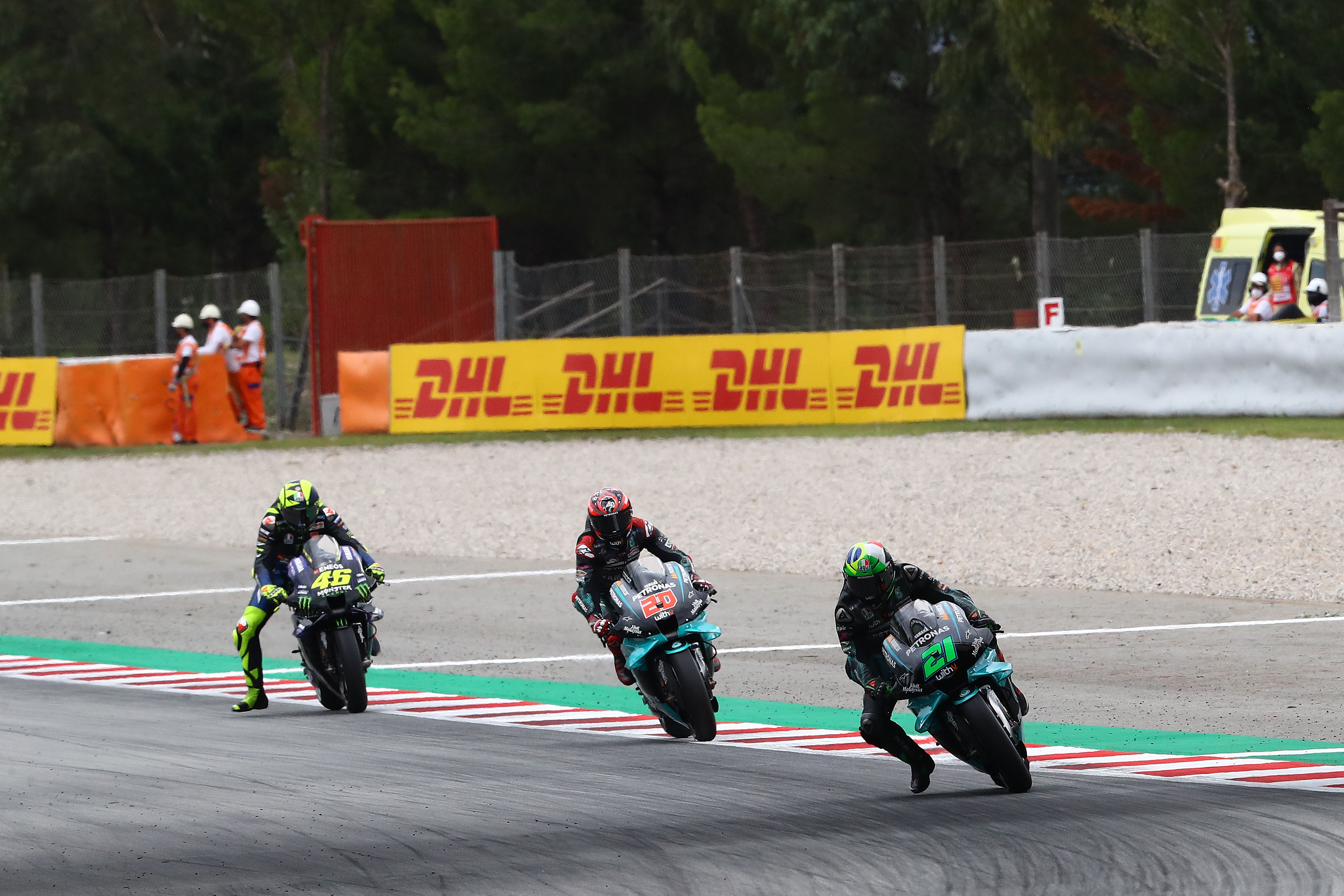 And the thing is, both have other options waiting for them, should they choose to take them. For Petronas, it's in the shape of satellite status at the team currently second to it in the championship race – Suzuki.
Team boss Davide Brivio confirmed to The Race at last weekend's Catalan Grand Prix that he sees two more bikes as all but essential to compete with MotoGP's bigger factories, and that all that is standing in the way is approval for the extra budget from Suzuki's board.
That's something that could be smoothed over with Petronas' deep pockets, and would in turn mean the Malaysian team receives full-factory bikes that start every season identical to the blue machines in the next-door garage.
And while he wouldn't confirm exactly who has been to see him so far, Brivio did admit that he's already started talking provisionally to a number of teams within the paddock. Suzuki is adamant that it will only deal with a pre-existing squad that can bring experience, making a team like Petronas the ideal solution.
It would also fit perfectly with both teams' mantra of developing young riders. Suzuki has been remarkably successful by promoting both Alex Rins and Joan Mir as rookies into its squad, and wants to continue to talent-spot in the future.
However, with both already secured on factory bikes until the end of 2022, Suzuki will need somewhere to place the next generation of young talent in 12 months' time – step forward Petronas Suzuki…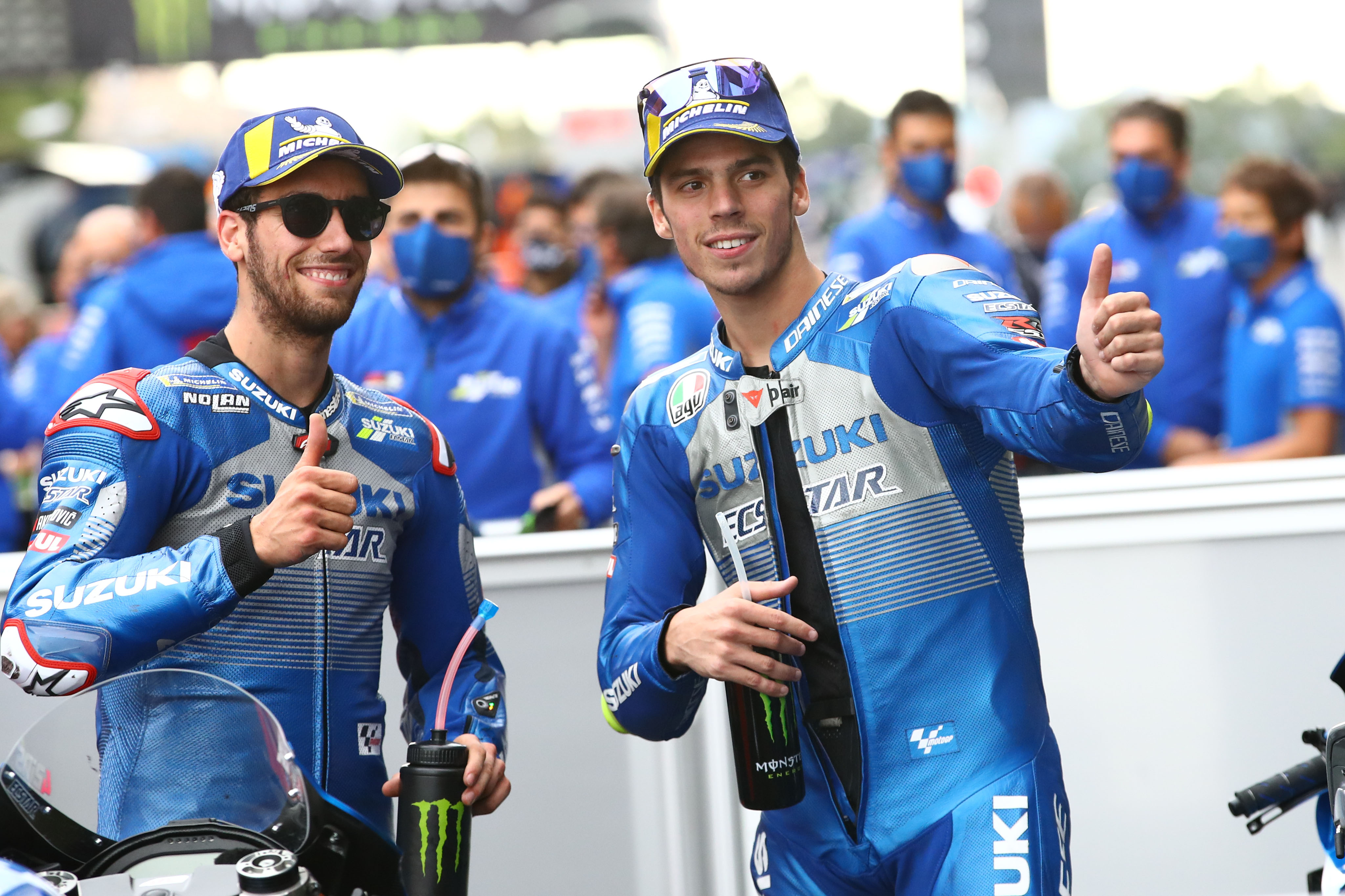 Petronas switching from M1s to GSX-RRs would also solve a headache for Yamaha, too, by freeing up its two satellite bikes for the anticipated VR46 team. All but confirmed as being in the pipeline by The Race's contacts within Valentino Rossi's camp, the squad is already making tentative preparations for a step up from Moto2 into MotoGP's spare grid spots.
Should Rossi wish to remain with his own team for 2022, at least to help launch the squad, he's likely to need Yamaha machines, too, with long-time paddock rumours hinting that the contract that brought him back to Yamaha in 2013 tied him to racing for the manufacturer for life.
There's even a get-out-of-jail-free card for Rossi protege and 2021 team-mate Franco Morbidelli should Rossi wish to bring him along, with Petronas Yamaha boss Razlan Razali confirming exclusively to The Race last weekend that Morbidelli's two-year deal with his squad is in fact a one-plus-one contract that can be broken easily.
That leaves one manufacturer-factory pairing still to sort, with the status of Aprilia's satellite team perhaps the least certain. It remains a definite Aprilia ambition for 2022, according to team boss Massimo Rivola, while it's also keen to shed its current status as technically an independent team racing under the Gresini banner and strike out on its own.
The obvious solution to that would be to maintain the Gresini partnership and simply expand the team into a four-bike set-up, but to do so Aprilia would need an additional grid spot.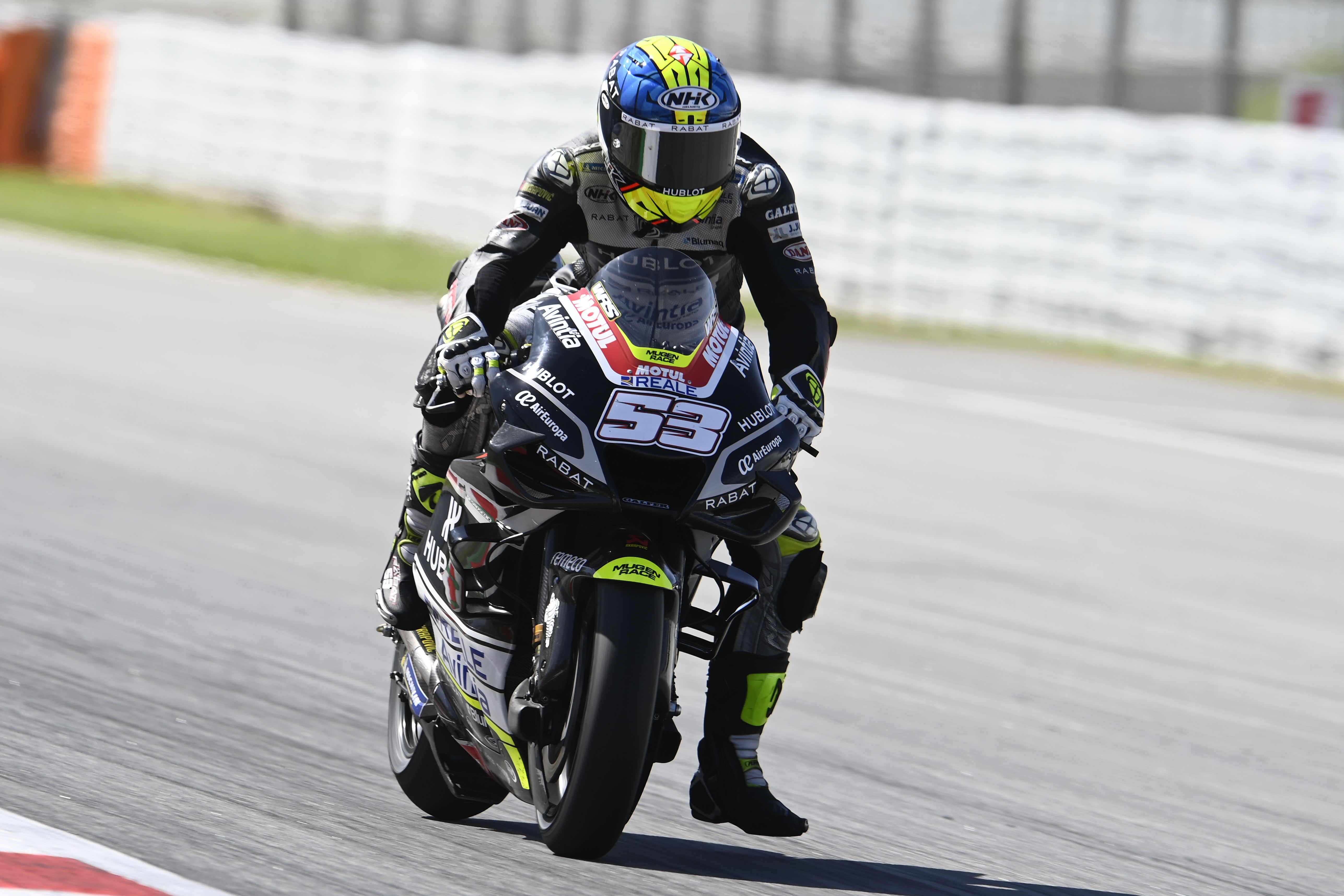 There is one available though, with The Race's spies telling us that the Esponsorama Racing team has already been told that it's losing its spots after the 2021 season.
Yet there are even rumours that that could happen sooner, with reigning Moto3 champion Leopard believed to be in discussions about buying out the Andorran squad for the coming year, thereby cementing its spot on the grid for 2022.