Three-time MotoGP championship runner-up Dani Pedrosa will make a surprise return to racing for KTM at this year's Spanish Grand Prix, in only his second wildcard appearance since joining the Austrian firm as its test rider in 2019.
Asked by the media during KTM's 2023 season launch about the importance of Pedrosa's continuing role within the team as test rider, team manager Francesco Guidotti revealed that he had been informed only minutes before joining the media that Pedrosa's wildcard appearance for Jerez had been accepted by the organisers, clearing the way for his 219th MotoGP race start.
"It shows how important he is for us," said Guidotti.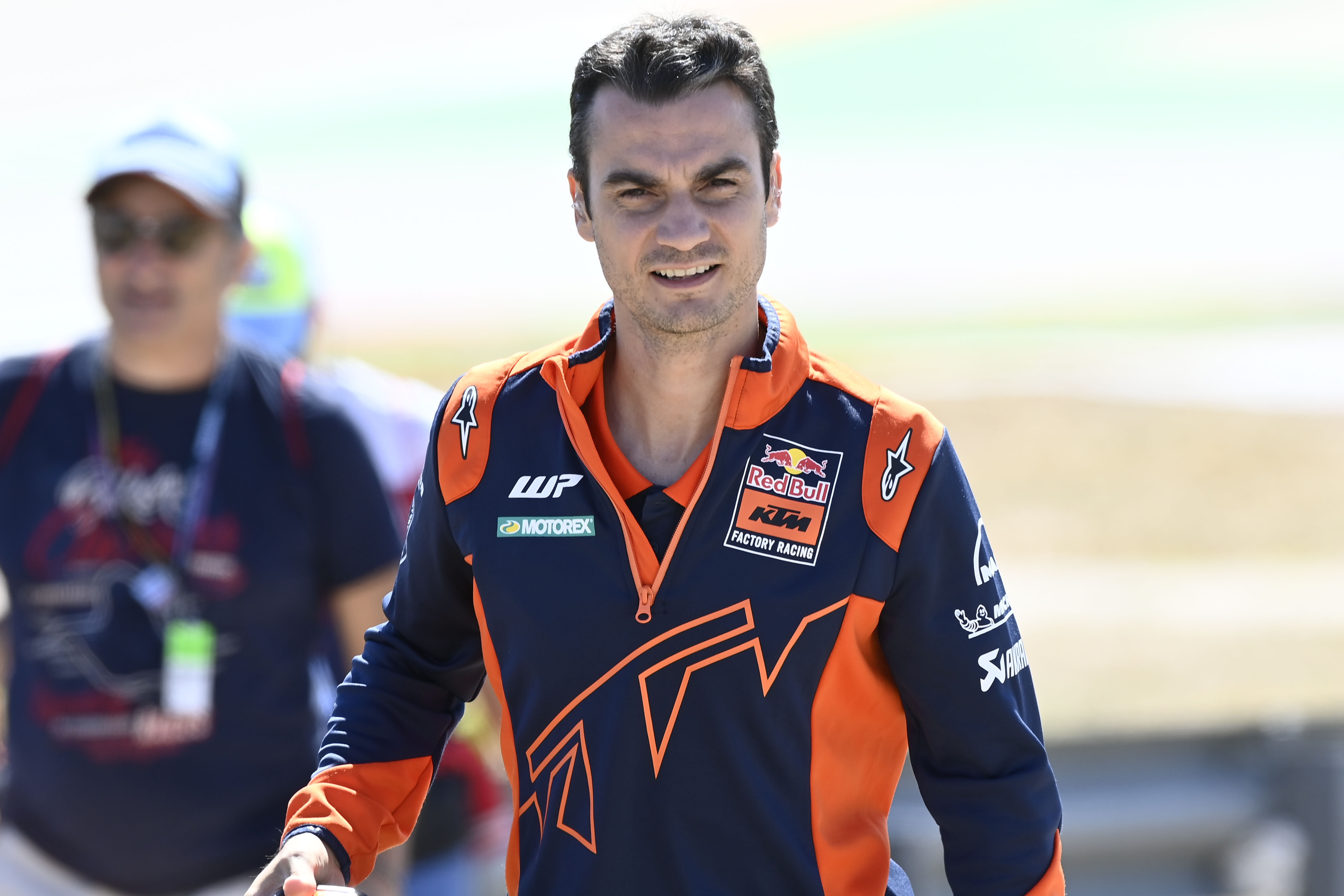 "The contribution he can give us is quite high, and we are trying to put him in the position to express his potential during the test and of course also during the wildcard."
Pedrosa was originally scheduled to appear as a wildcard for the team in 2020, until the COVID-19 pandemic meant all guest appearances were suspended for the entire season.
He then returned to action at the 2021 Styrian Grand Prix at KTM's home venue the Red Bull Ring for a brief and somewhat abortive appearance.
Pedrosa crashed at Turn 3 on the opening lap of the race, high-siding on the exit of the corner and leaving his bike in the middle of the track and in the path of Aprilia rider Lorenzo Savadori, who struck it, bringing out the red flags when his Aprilia subsequently burst into flames.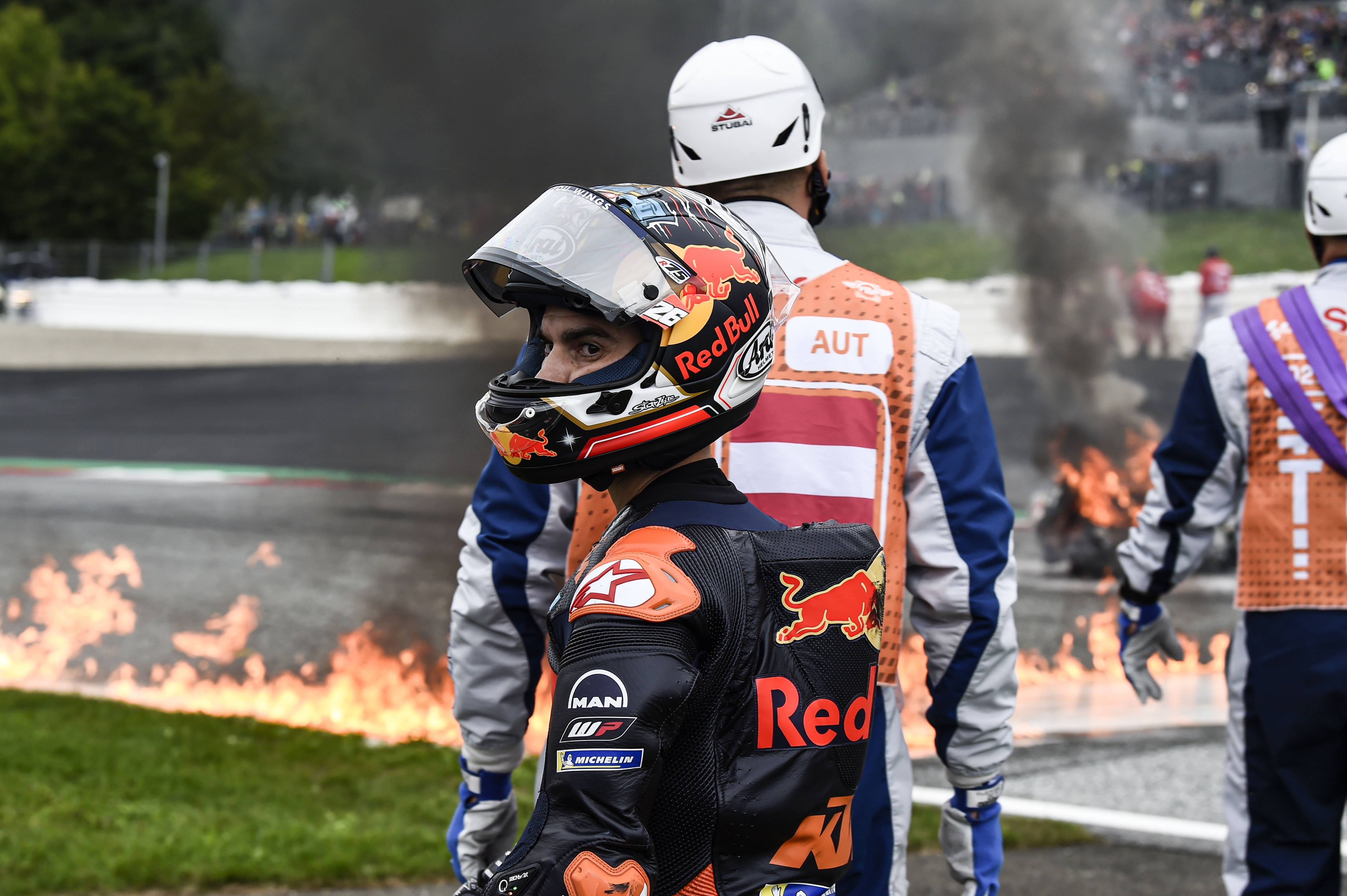 Able to restart on his second bike, Pedrosa was also able to show his talent, however, by coming home an impressive 10th, the second of KTM's five machines.
"I enjoyed it, I had fun all weekend, and I'm super satisfied with how it went all weekend," enthused Pedrosa, who had until then been notoriously reluctant to make a wildcard appearance for KTM, afterwards.
"I even think that it might click a little here and there, if I had gone a little faster in FP3 to go directly to Q2, to be one or two rows more in front.
"That would have changed the whole picture and it could have been even better – but no complaining!
"I don't think we can make anything better from here to the next wildcard date that we have.
"It's interesting to see things and to change them, but I don't think we have time to make anything different, but I'm happy and satisfied."
He was also originally set to reappear a few weeks later for the San Marino Grand Prix at Misano, but that wildcard was then withdrawn following the Red Bull Ring crash, with the team admitting that the risk of injury, as highlighted in Austria, was too high for Pedrosa at a crucial time in the development of the 2022 bike.
"Dani is basically not in our planning for Misano, we took it off [the plan]," said KTM motorsport boss Pit Beirer at the time.
"He had that one race in Spielberg and I don't think we're going to see him racing again. So, we just stopped it there."
However, after a disappointing 2022 season and with a significant change to its rider line-up following the departures of Miguel Oliveira, Remy Gardner and Raul Fernandez, KTM has clearly decided it's the right time to get input from its ultra-experienced test rider in a racing scenario again.