Newly-crowned MotoE world champion Dominique Aegerter called getting the opportunity to ride Suzuki's MotoGP bike for a handful of laps at this week's Misano test an incredible experience.
And it could lead to a MotoGP debut at the age of 31 for a rider who also may yet claim a third motorcycle racing world championship in just two years, and who's been at the centre of some big controversies in the same period.
Swiss rider Aegerter got the chance to fill in for the injured Joan Mir on the opening day of this week's MotoGP test, with Suzuki having one eye on a replacement for the 2020 world champion if his recovery doesn't go according to plan.
Mir crashed on the opening lap of the Austrian Grand Prix last month, breaking bones and doing tendon and ligament damage to his right ankle in the process, and was forced to miss the San Marino Grand Prix and subsequent test after being put on bed rest for at least 15 days by his doctors.
He was replaced at last weekend's race by Suzuka 8 Hour podium finisher Kazuki Watanabe, but the Japanese rider will be unavailable for the next round of MotoGP as he attempts to secure the endurance world title with his Yoshimura SERT Suzuki team, meaning that the factory Suzuki MotoGP squad is without an obvious Mir replacement if one is needed again.
But, with Aegerter wrapping up his MotoE season by claiming the championship last Sunday, Suzuki approached him about the chance – and after some very last minute negotiations, he was able to make his MotoGP test debut just 48 hours later.
"I have no words – it was just amazing," he told The Race after the test concluded.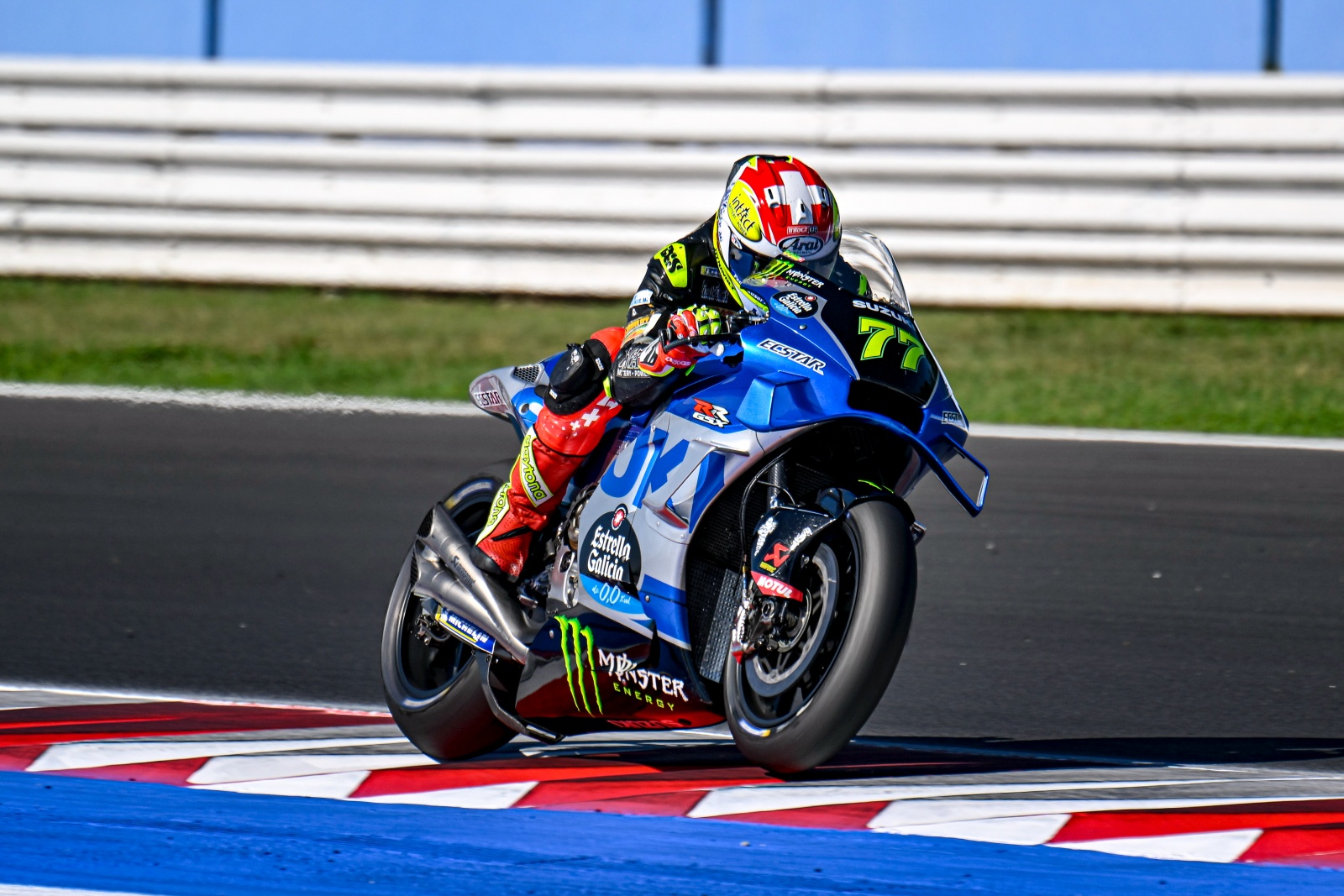 "For sure to get this opportunity from the factory Suzuki team in MotoGP is something that blew my mind off on Sunday night, and then I needed to check with all the other teams – with [World Supersport employer] Ten Kate, with Yamaha, with Yamaha Switzerland.
"It wasn't that easy to get it, but on Monday around 1200 we got the OK to ride and it's just been fantastic, a dream come true."
An opportunity to finally make his MotoGP debut would be something of a redemption story for Aegerter following his departure from Moto2 in 2019.
By then one of the most experienced racers at that level with a career stretching back to Moto2's inaugural season in 2010 (and a grand prix career that began with 2006 125cc appearances), he has a remarkable 182 race starts in the intermediate class to his name.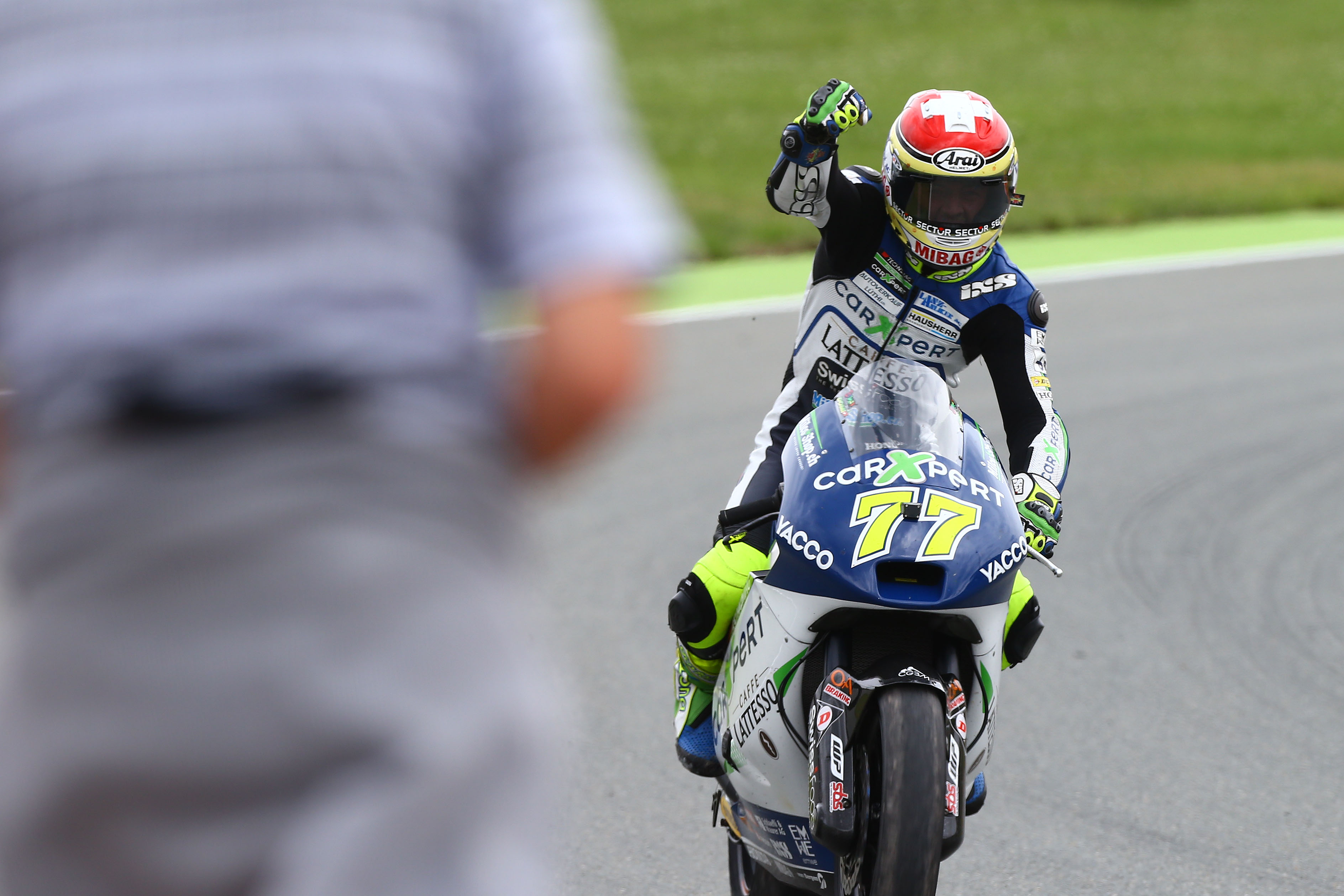 Only once a race winner, back in 2014, he departed Moto2 after a disappointing 2019 season with Forward Racing but was able to keep a toehold in the grand prix paddock by lining up in MotoE.
Finishing third overall in the electric series' second year, he went one better in 2021 as well as creating headlines at the final round at Misano when he collided with title rival Jordi Torres, briefly taking the championship until he was demoted for the incident.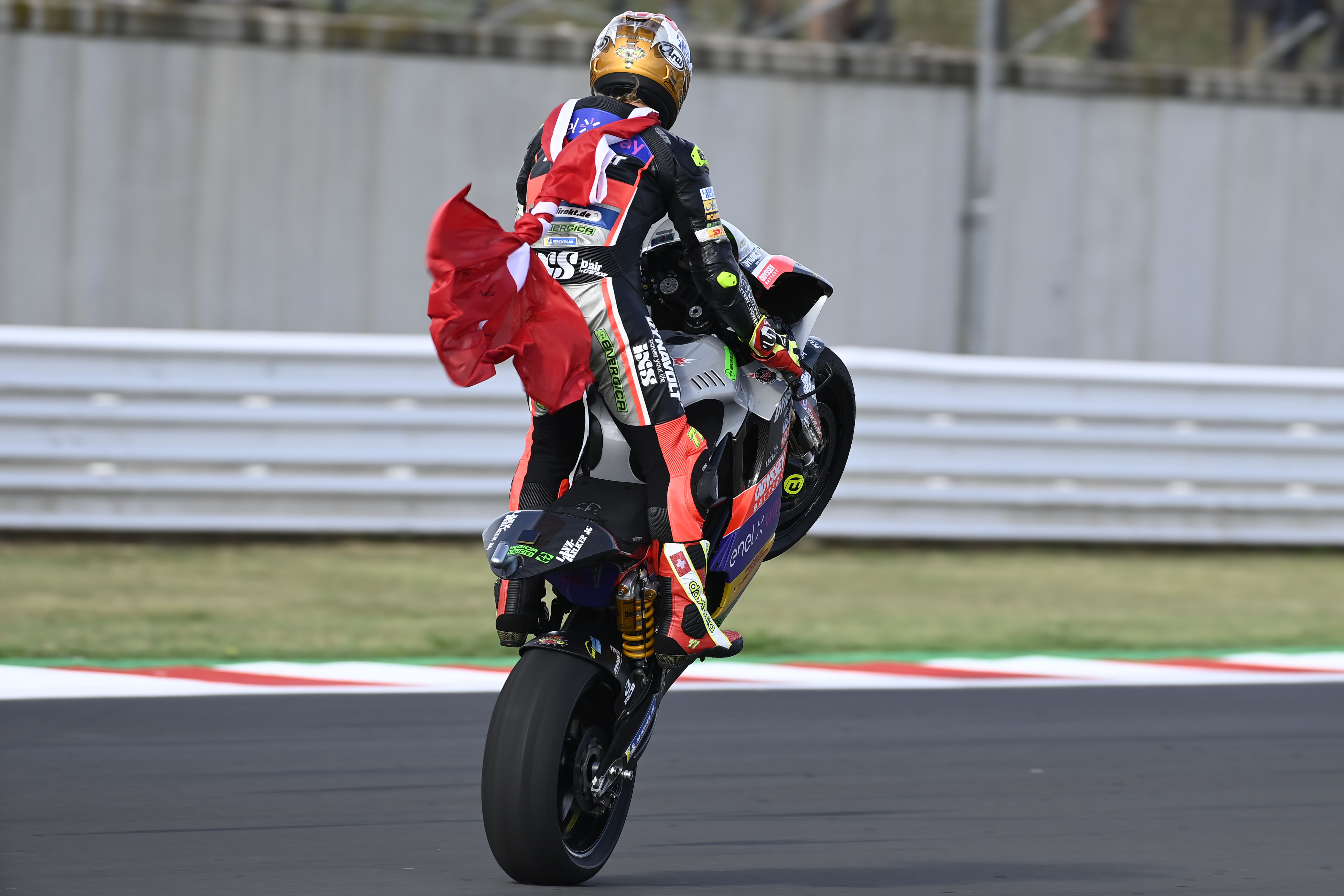 Simultaneously switching to production racing alongside MotoE, he impressively managed to win the 2021 World Supersport title as a rookie, and as well as finally clinching the MotoE championship this year, he remains in the lead of WSS despite recent drama there when he was banned for a race for faking concussion symptoms in order to force a red flag stoppage after getting taken out of the first race at Most in the Czech Republic.
Amid all that variety of experience, he had zero on a MotoGP bike – or the current Michelin tyres they run on – until the Suzuki test. And the bike still managed to surprise him in only a short amount of time onboard.
"They're very nice people, and they've helped me a lot in a very short time," he added.
"We had 33 laps and two sets of tyres, and the bike is crazy. The ride height device is woaaah! It accelerates like a rocket!
"With the Michelin tyres, you can go a lot of banking – I still need to find four or five degrees more. A lot of grip – too much grip, which is a nice thing to say as a rider.
"The brakes were OK, and I understood them quite quickly. You have to make the bike slide a little bit to turn it, then accelerate, because I always had too much grip and it wanted to push me out of the corner. This is somewhere where I need to improve as well.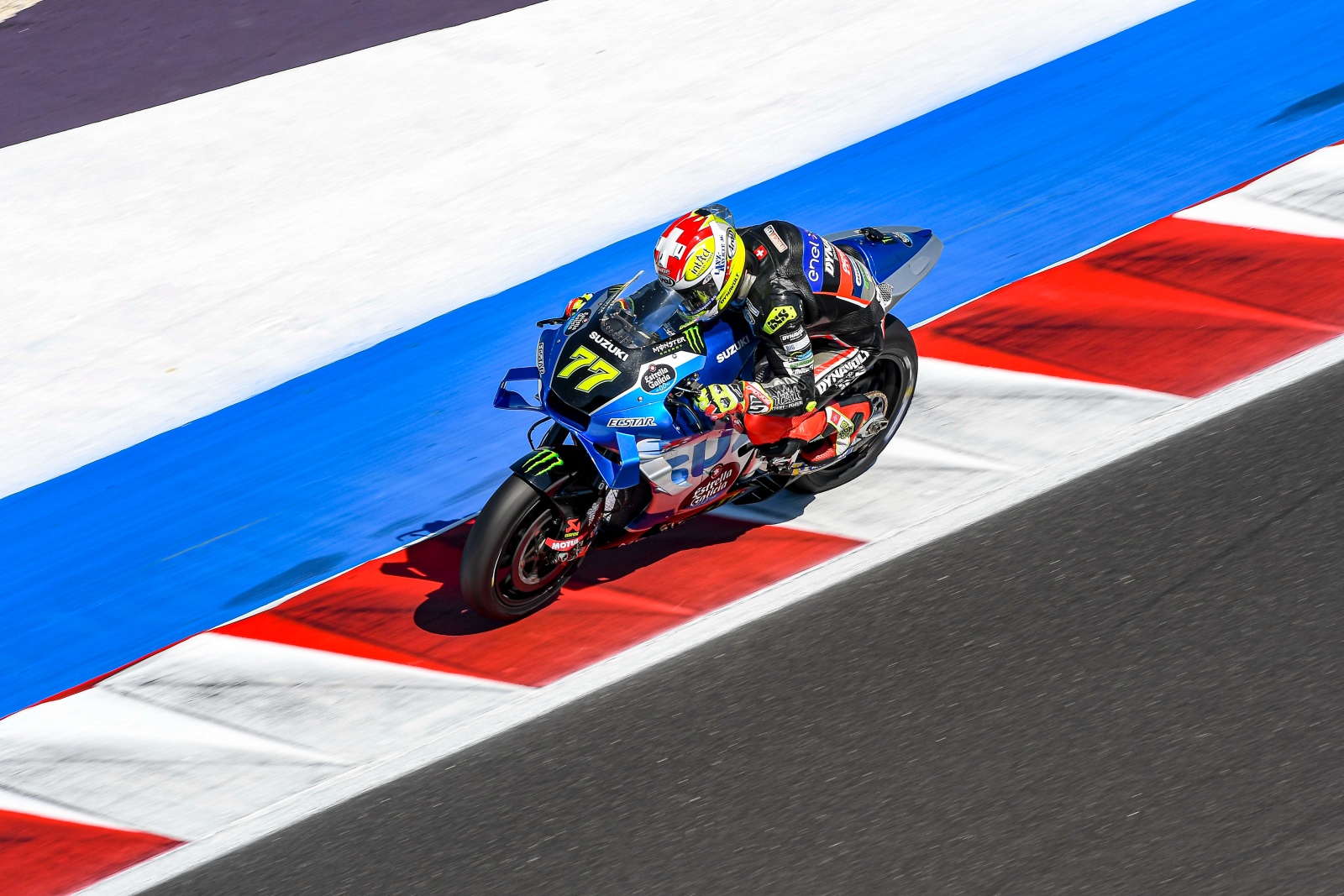 "It's a shame that I cannot do some [more] laps – I didn't know that this was the last run or maybe I would have pushed even more!
"But I think in four exits, 33 laps, to be 2.3 seconds behind the fastest guy is not so bad.
"In my first run, I was already as fast as what Watanabe did all the weekend, so I think the potential of me as a rider with this team and bike would be a good match."
While the test was definitely something of a trial should Mir need to be replaced again for Aragon, Aegerter was adamant his focus is more on trying to maintain his World Supersport championship lead and fight for another 2022 world title there.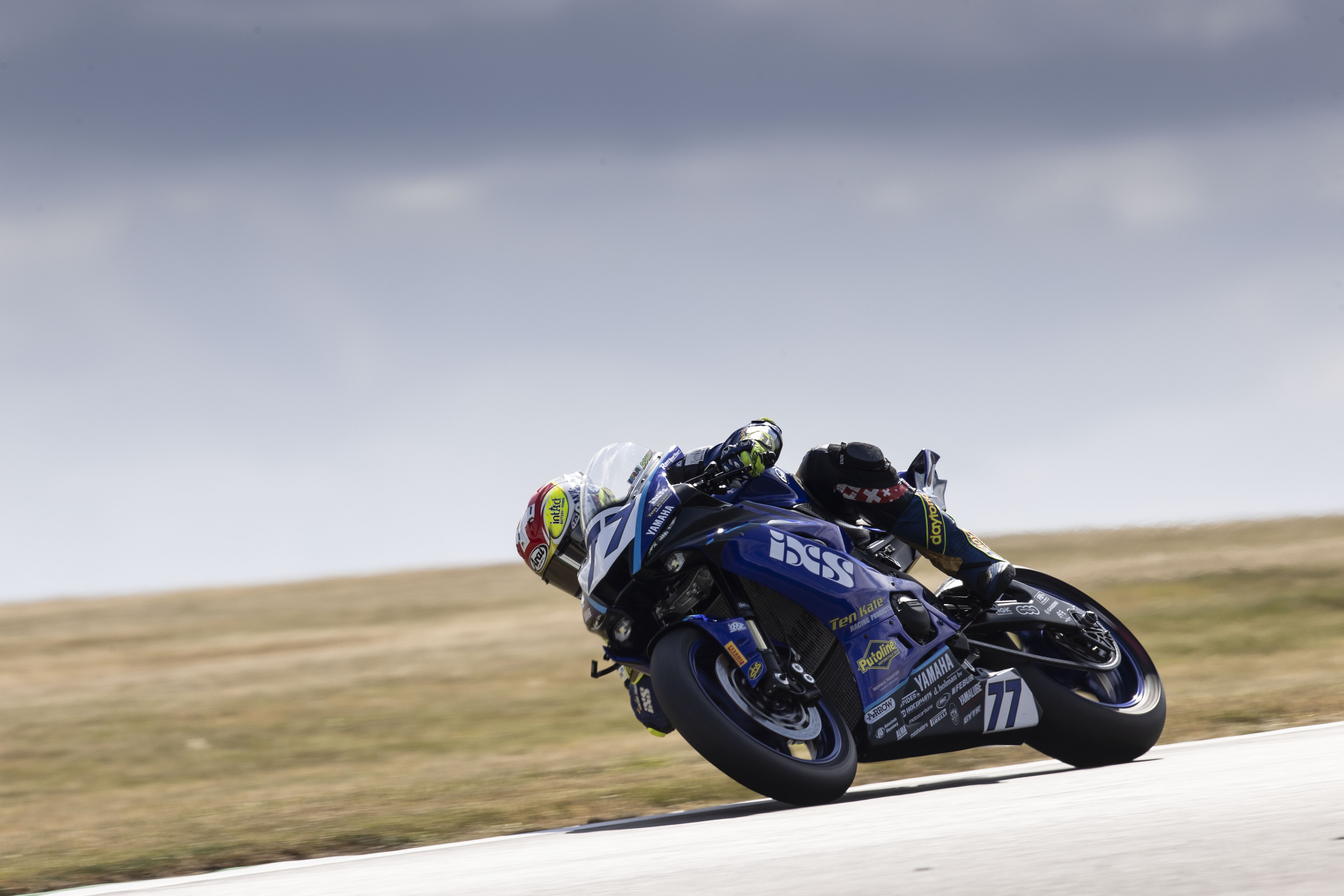 He's back in WSS action at Magny-Cours this weekend and the subsequent round is at Barcelona just a week after the Aragon MotoGP race.
"This would be another dream again," Aegerter said of getting the chance to race the Suzuki, "but I hope for Joan that he has a speedy recovery and can ride again in Aragon.
"I'm leading the championship in World Supersport, fighting for the title, and this is for sure the most important."