The MotoGP grid have detailed the minimum amount of modification work needed for them to safely return to the Circuit of the Americas in 2022, after vociferous complaints about the state of the Texan track's bumpy surface ahead of Sunday's Grand Prix of the Americas there.
With the surface having already presented an issue thanks to the nature of the underlying soil in the Austin area which swells and contracts as it retains and loses water, it seems like a particularly cold winter (which brought significant power outages across the state) followed by a wetter-than-usual spring have led to the previous problems becoming much more extensive.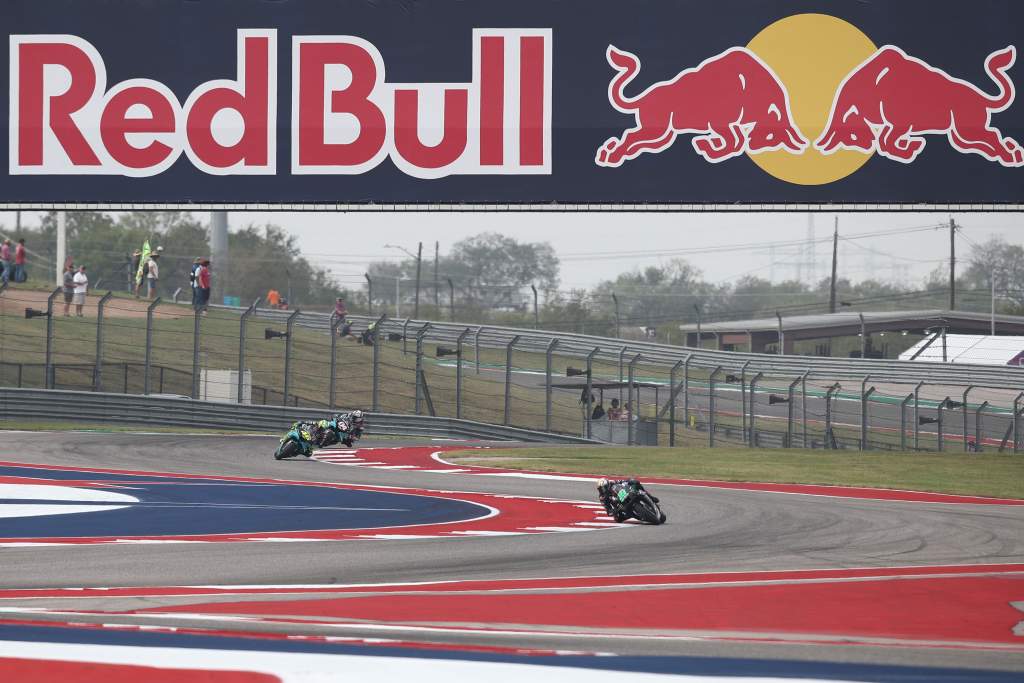 Multiple riders spoke out about the nature of the track following Friday's practice sessions, with top names like Fabio Quartararo, Pecco Bagnaia, and reigning world champion Joan Mir going as far as to suggest that the track wasn't safe enough to race on come Sunday.
Promising to air those views at Friday's safety commission meeting with MotoGP series promoters Dorna, they seem to have struck a compromise deal with the venue – laying down the very minimum amount of work needed to ensure that the championship returns in early 2022 for what is set to be the final time in the initial 10-year contract which first brought the series to Texas in 2013.
"I saw Dorna in a really good position yesterday," said Suzuki rider Mir after qualifying on Saturday. "They were critical, they understood perfectly the situation.
"Every rider complained about the asphalt, said that we cannot repeat another weekend in such conditions. It looks like everyone is getting used to them, but they are not normal.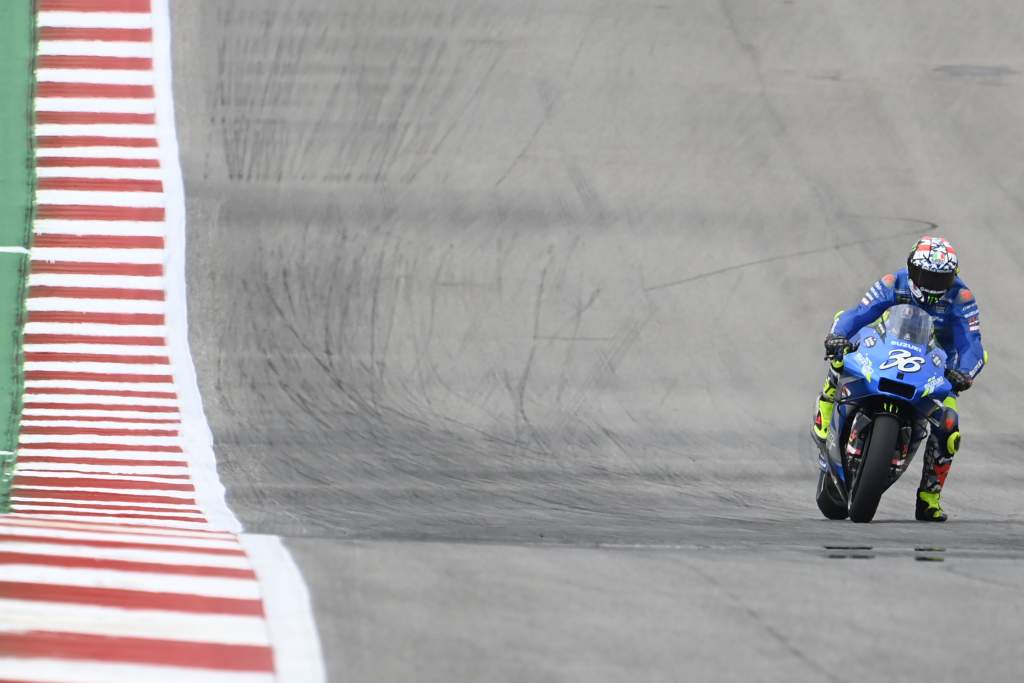 "If they don't resurface a minimum of sector one and two and part of sector three, we will not come back here.
"I hope that we will find a solution and that we can come back here because it's a really nice track. I'm not enjoying it, but it's really nice. Let's see."
That's something that's coming as a welcome relief for Aprilia rider Aleix Espargaro, who was caught out more than most during practice on the bumps. Crashing four times this weekend so far, he says that the commitment from Dorna simply has to be followed through on – but also dialled back his Friday calls for a boycott somewhat.
No sign of improvement for @AleixEspargaro yet! 😲

Turn 12 catches out the Aprilia man! 💢#AmericasGP 🇺🇸 pic.twitter.com/eybNOOe3MF

— MotoGP™🏁 (@MotoGP) October 2, 2021
"They promised us that they would resurface a minimum of from Turn 2 to Turn 10," he explained, echoing Mir's account. "We've asked for more, but they asked what is the minimum, and every rider admitted that it is Turn 2 to the end of 10, the worst part of the track. There is a big bump in the middle of Turn 2 and also in 10, but corner 6 is also bad.
"They have promised us that they will do this job for next year, and my job is just to ride the bike. I can say that this track is not safe, because it is not safe to race here, but I don't make the calendar and I have to adapt to what they organise. They always say that it's safety first and that it's very important, so let's see."
"In things that are more difficult, like re-asphalting two kilometres of the circuit, it's not that easy. We just gave our opinion, but the championship is owned by Dorna and in the end they decide."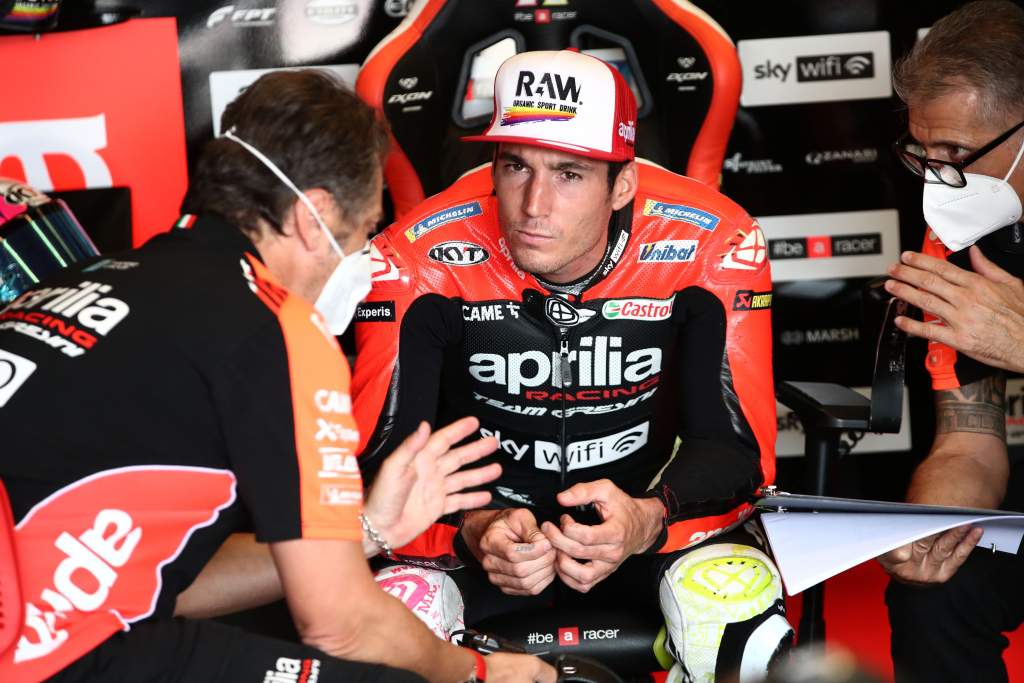 But while he might not be as insistent as he was previously about not wanting to race on the surface at all until it's subsequently modified, he says that he remains adamant that the weekend's events have highlighted just how badly the repairs are needed before something bad happens.
"Today I saw a quote from [American WSB rider] Garrett Gerloff," Espargaro added, "saying that he thought that MotoGP riders were a little bit like girls or something like this, but after he tried the bike, he'll never race one of these bikes at COTA! This was said by one of the best American riders of the past years, so you have a clear example of how this track is.
"It's clear that Dorna have to do something for next year, because it's very unsafe. We don't have to wait for something tragic to happen to modify. When you have 22 riders and 19 or 20 of them agree on the same thing, 20 of the best riders in the world, maybe we are right."