Gresini Ducati MotoGP rider Alex Marquez has received – and unsuccessfully appealed through his team – a three-place grid penalty for being "overly ambitious" on the opening lap of the French Grand Prix.
The incident in question came into the La Chapelle right-hander, as Marquez found himself seemingly braking later than Johann Zarco right ahead of him and trying to squeeze his way into the gap between Zarco and the inside kerb.
He did that, but in the process disturbed Zarco enough for the Frenchman to go wide and in turn massively compromise the line of Aprilia's Aleix Espargaro.
And, more pertinently, with KTM's Brad Binder tightening his line towards the inside of the corner right up ahead, the arriving Marquez nudged him well wide.
It dropped Zarco down to 10th, Espargaro to around 15th place and Binder to 18th.
Marquez, who had stayed in eighth place, would go on to exit the race while in a podium battle – being caught up in Luca Marini's fall through the Dunlop chicane, and having to swiftly get out of the way of multiple incoming bikes.
The initial penalty notification for Marquez said he "was observed as being overly ambitious at Turn 6, and the resulting manoeuvre with rider #33 [Binder] also disturbed #5 [Zarco]."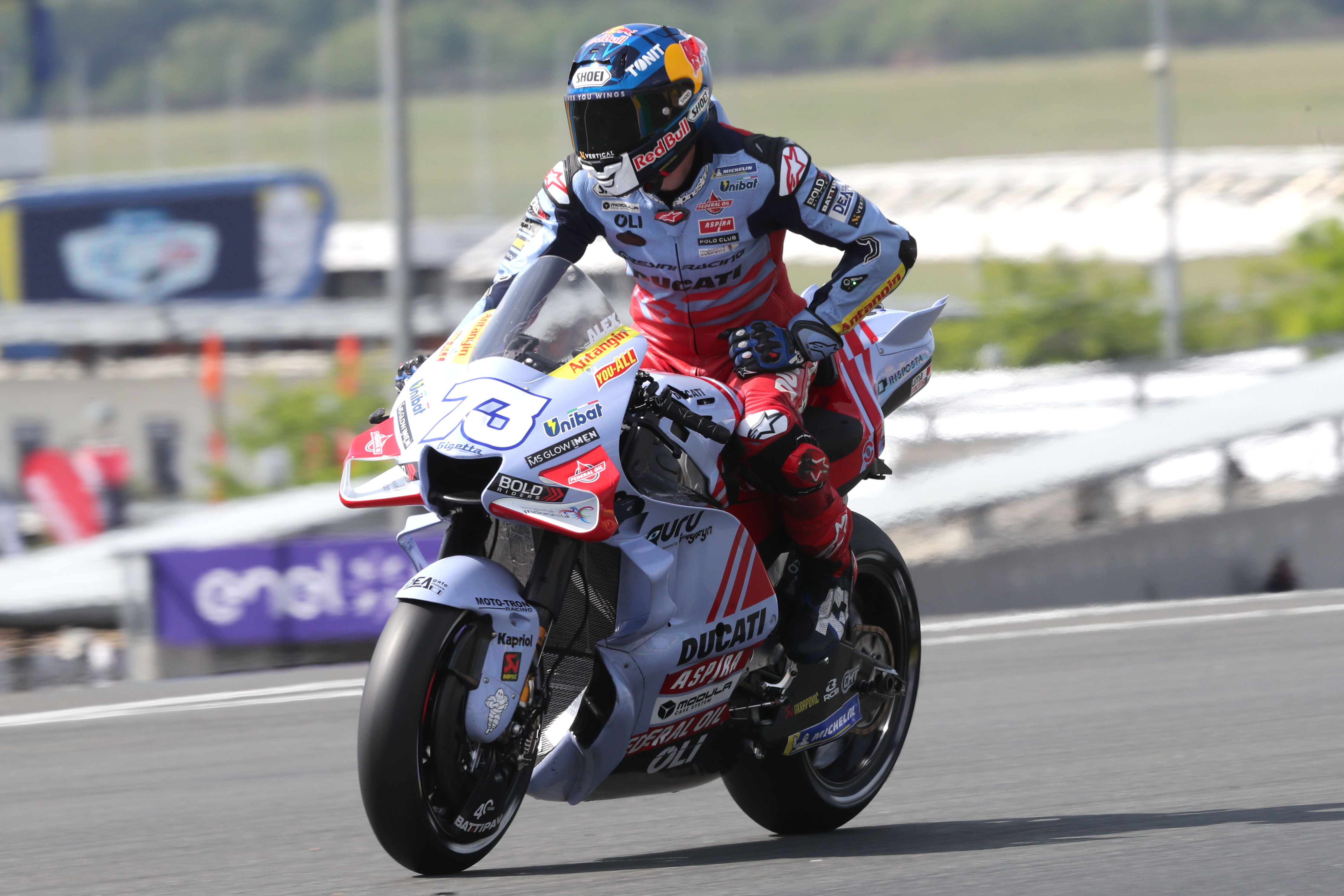 The verdict of the MotoGP Appeal Stewards Panel then shed further light on the reasoning.
Main TV footage, as well as an onboard view and helicopter camera view were analysed, and the appeals' panel said Marquez was indeed "overly ambitious" and at fault for "the resulting 'chain reaction' disturbance caused to other riders".
"The penalty applied was appropriate according to current MotoGP judicial protocols and, had the rider not suffered a DNF in the race, a 'field of play' penalty would've been pronounced of equal validity," the panel added.
Marquez is now due to serve the penalty in the next MotoGP weekend at Mugello, "unless the rider does not participate in this race for any reason related to this incident" – as will clearly not be the case as no injuries were sustained.
"I was behind Johann, and after Turn 5 I was not expecting him braking really soon," said Marquez when asked by The Race to elaborate on the incident.
"Then I was trying to avoid him on the inside, I was on the line more or less – because, you know, I was really on the inside but I was able to stop the bike.
"They closed the throttle so early and then I was touching just a little bit Brad – because Brad, his line is really inside there, and he was trying to defend, and I just touched him a little bit. I saw that he lost some positions, I'm sorry for that because was not my intention to go against Brad.
"I just touched him, just a little bit. But for him it was a big one because he went really off."
Zarco, Espargaro and Binder would all go on to pull off strong recovery rides, finishing in third, fifth and sixth respectively.
THE RACE SAYS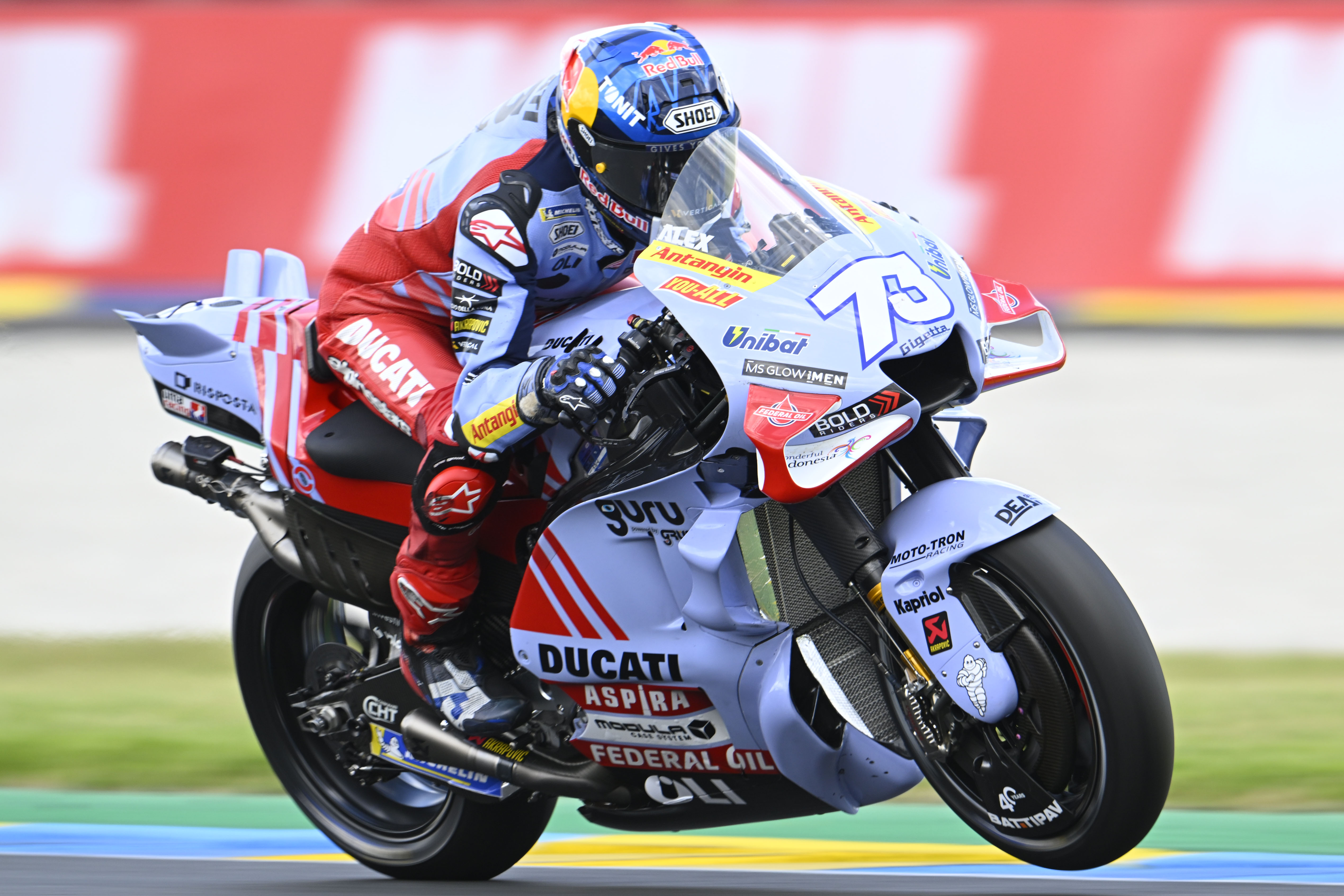 Marquez's arrival into La Chapelle on the opening lap looked clumsy in the moment and, in a vacuum, doesn't feel offensive as a sanctionable act. He is right in saying that he made the corner comfortably but it was the opening lap and there was little reason to expect that he would have the room to make that kind of manoeuvre – and indeed, with Binder not so much defensive but seemingly unaware of the possibility of getting a bike to his side, that proved the case.
A three-place grid penalty, though, feels hideously disproportionate and suggests a certain inflexibility to the available penalties – to add to the many other issues with current MotoGP stewarding.
Forget for a second the other things that were done to Alex Marquez specifically this season, whether it be Jorge Martin tucking the front and wiping him out at the Circuit of the Americas or Aleix Espargaro's Chemin aux Boeufs overtake in the Le Mans sprint that was aggressive enough to effectively ruin Marquez's race.
But look even just at race winner Marco Bezzecchi getting away with the instruction of 'drop one position' after sending Marquez's brother Marc to the long-lap loop at the same race. That was arguably a much more reckless move – Bezzecchi himself acknowledged it was a bit much – but dropping one place in the race is a lot less severe (in a vacuum, you can talk specific circumstances obviously) than a whole row on the grid.
Would Marquez have got the same penalty if it weren't the opening lap and, say, Binder's race wasn't as obviously compromised by virtue of traffic? I have my doubts.
I'm not even necessarily opposed to the idea of cracking down harsher on opening-lap contact – that's when everyone is bunched up, so that's when it's scariest – but I'm not sure that's what's happening here, and if it is, it hasn't been meaningfully communicated.