MotoGP's newly-crowned champion Pecco Bagnaia says the criticism he received in 2022 – both for on-track mistakes and the big faux pas he committed off-track – has been warranted.
The 25-year-old became the first Ducati rider to take the title since 2007 on Sunday, in the process becoming the first premier-class champion to have recorded as many as five non-scores during a season.
Though this came with the obvious caveat of 2022 having been the longest-ever MotoGP season, Bagnaia's errors did leave him in an early-season hole – he was sixth in the standings and 91 points off leader Fabio Quartararo at the halfway mark – and he had already come into the season with a reputation for being error-prone in critical moments.
Of his five non-scores, four were self-inflicted – a fall that also wiped out Jorge Martin in the Qatar opener, a crash at Le Mans while trying to stay with Enea Bastianini and shunts at the Sachsenring and Motegi while in Quartararo's wheeltracks.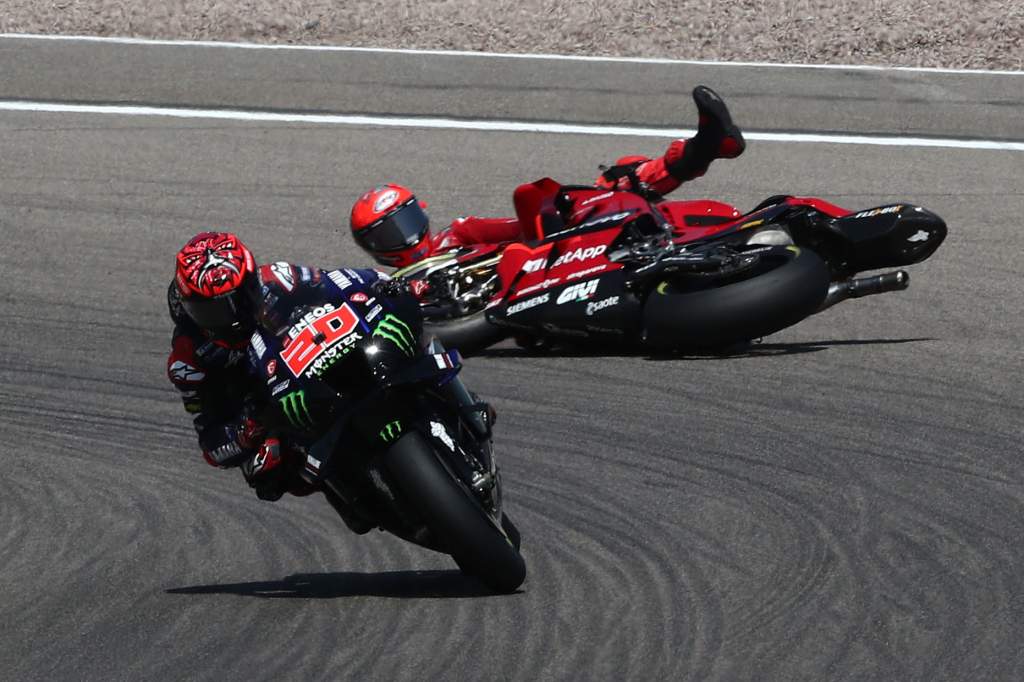 And, addressing the media after sealing his title, Bagnaia also referenced a bad crash in Q1 at a drying Portimao that nearly left him with a potentially season-ruining injury and forced him to charge from 24th on the grid.
Asked about the criticism he'd received for his errors during the season, Bagnaia said: "I think everyone can have their point of view. Everyone can say what they think, what they feel. I accept that some guys don't want to cheer for me because they prefer another rider, I can understand, and I can say also that they were saying the truth.
"When you start the season with the pressure of winning, you have to demonstrate that you have this possibility to be world champion.
"And I was losing a lot of races because I was crashing, I was committing mistakes.
"For sure at the start of the year this was not the situation because our [GP22] bike wasn't working so well, and it took a lot of time to improve.
"But then, already in Portimao I did a big mistake in Q1, I almost broke my collarbone.
"Then in Jerez we did an incredible race, it was the key to be again competitive. Then arrived Le Mans, I crashed again, I crashed in a stupid way.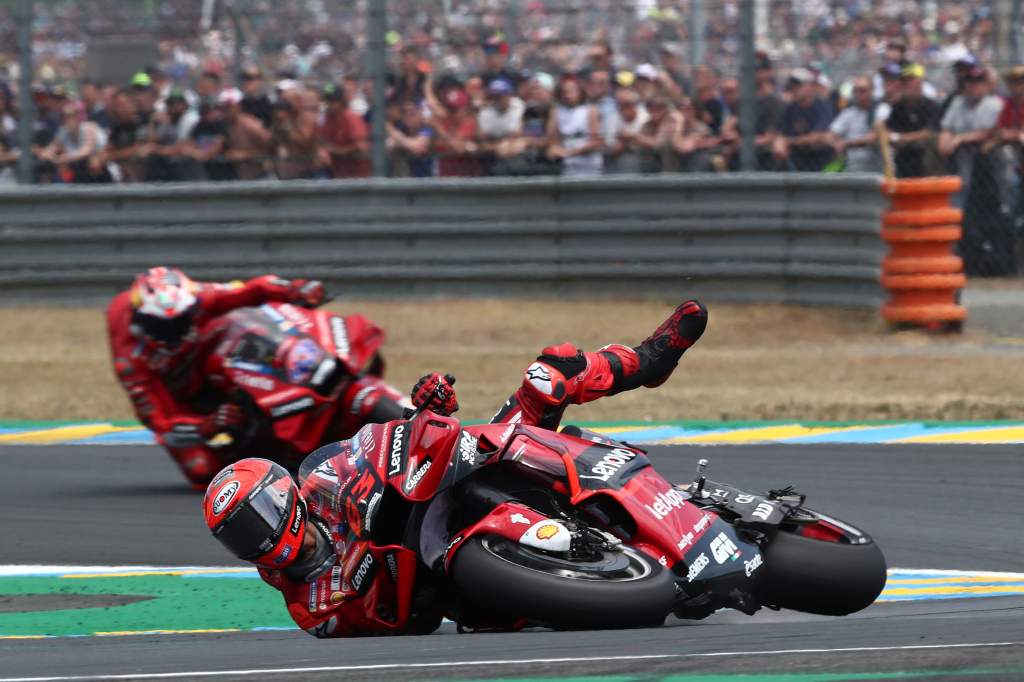 "We had bad luck in Barcelona when Taka [Nakagami] touched me, but it can happen. But the race in Sachsenring, no [it can't happen], because I was there, I was trying to follow Fabio, I didn't need to approach the race in that way, because I was sure that in the second part with the hard [rear] tyre [compared to Quartararo's medium rear] I was more competitive. And I lost again, another possibility to be in front.
"And I think after all those mistakes it's normal to receive some criticism. I accept that."
Bagnaia then also briefly referenced his Ibiza car crash and failed breathalyser test during the summer break – something that, had it yielded a sporting penalty from either his employer Ducati or MotoGP organiser Dorna, could've compromised his title comeback.
"I accept also [criticism for] when I had my mistakes during the summer, in Ibiza. I accept everything."
He then seemingly switched back to talking about on-track performance.
"It's part of my job. Everyone can have their point of view. I tried to improve myself every time, and mistakes can happen unfortunately, and without mistakes you can't learn, you can't grow. It's part of life, and you have to accept it."
Bagnaia said his Le Mans crash in particular convinced him that he had to work on his race day lapses, and that the way he'd handled late-season battles with Bastianini showed he'd improved.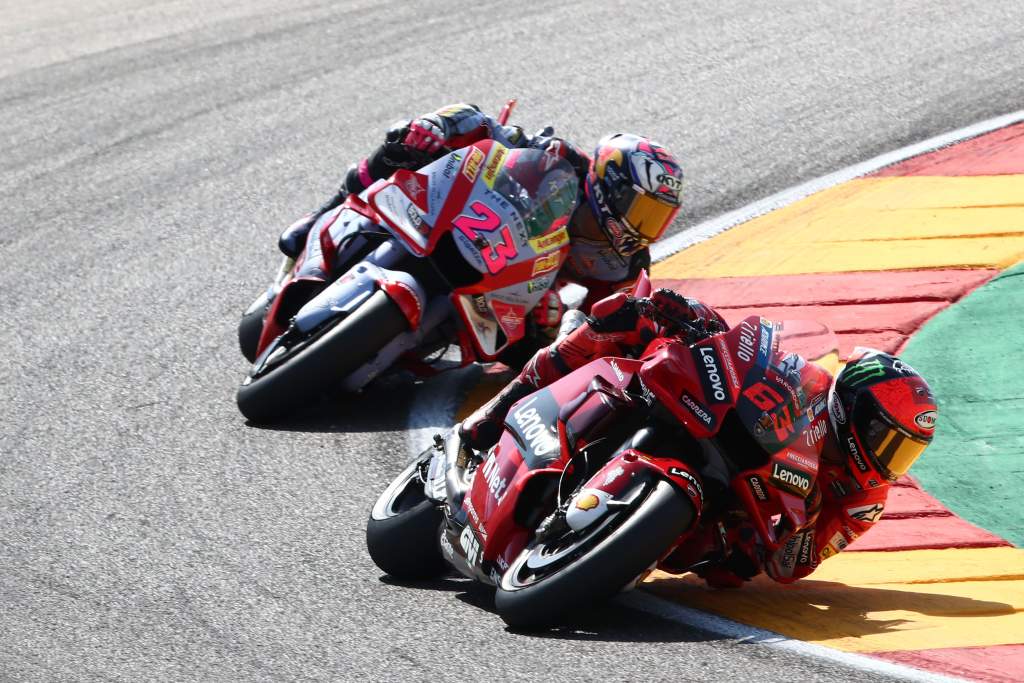 He also credited the VR46 Academy's activities at mentor Valentino Rossi's flat track Ranch in Tavullia.
"A win every Sunday at the Ranch is important to us. I never win at the Ranch but every weekend I fight with other riders and we put on us a lot of pressure. I think also this helped us."
Asked whether the process of making him more dependable in high-pressure situations involved working with a psychologist, he said: "I didn't work with a psychologist because I think that already the people that can more help you are the people around you. Not because I don't think that psychology works – for sure it can help you.
"But in my situation, I love when some people around me say what they think about me. Say what they think on what I have to improve.
"And I'm a bit of a difficult guy. Because at the start I say 'no, it's not like this'. But then I try to change my mindset, try to change myself, try to hear on that advice.
"And the people around me, the Academy guys of Uccio [Salucci, VR46 boss], Vale, Albi [Tebaldi, VR46 CEO], Babi [Mazzoni, VR46 administrative chief], my team, my girlfriend, my family, they are very important for me.
"And I tried always to hear them in that second part of the season."