MotoGP's comeback man Marc Marquez grew further in confidence after Friday practice for the Thai Grand Prix at Buriram, describing himself as an "improved Marc on the same bike".
The six-time champion crashed out early in his first race back from his latest long surgery absence at Aragon a fortnight ago but finished fourth from pole position at Motegi last week.
And while the Aragon-Motegi-Buriram triple-header has provided a major test of his fitness after the fourth surgery on his right arm originally injured at Jerez in 2020, Marquez was able to carry strong form into the start of a third straight weekend.
"On Motegi I felt better than Aragon. But today I felt better than Motegi," said Marquez, who topped first Buriram practice and was sixth-quickest in the second session.
"This is what makes me more happy. This means that with more time I will be better and better."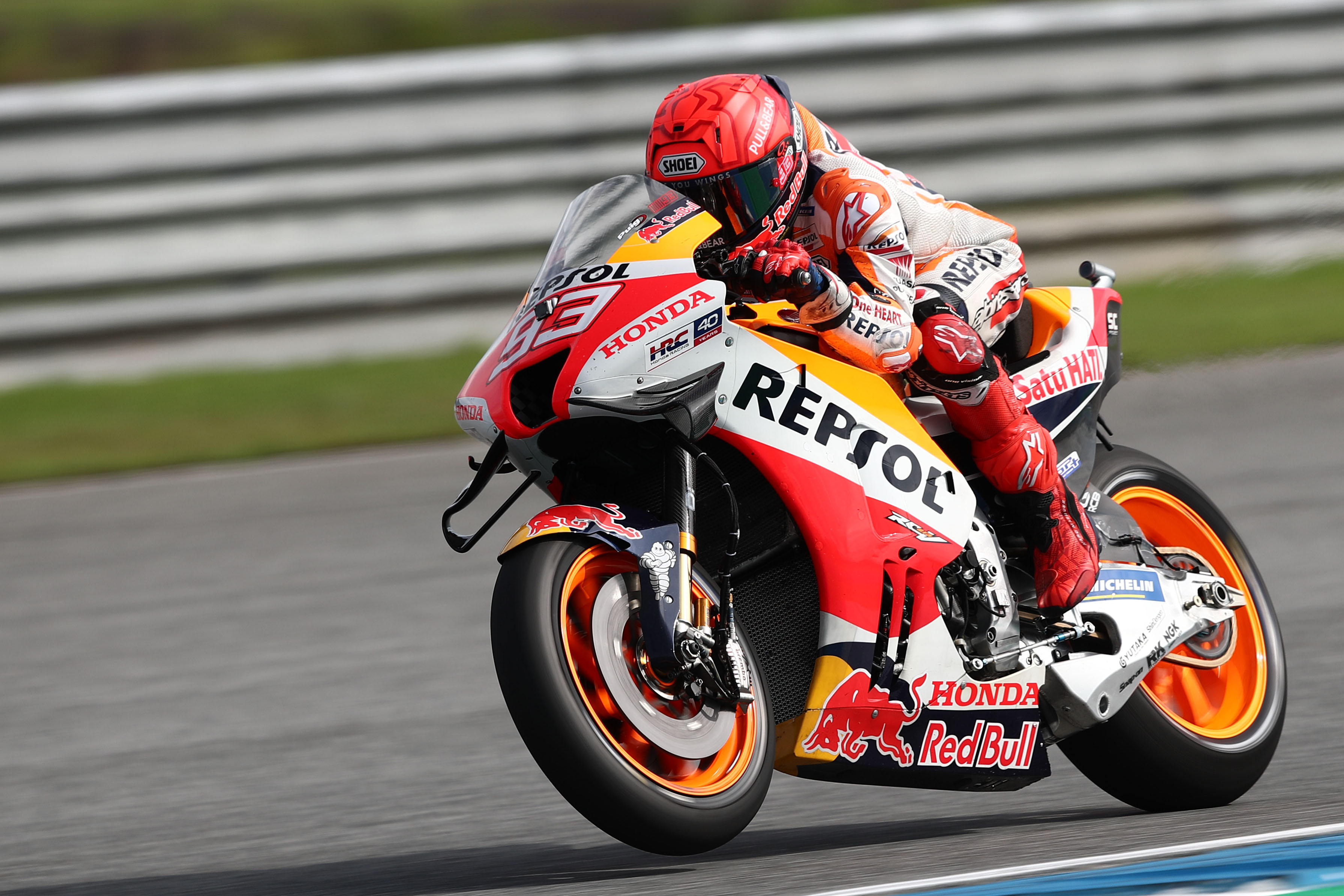 Marquez had an early crash he described as a "stupid mistake" but was extremely encouraged by his performance after, describing his pace as "close to the podium".
"The main target, when I decided to return, was to feel the steps from one race to the other one. And it's what I felt in Motegi, it's what I felt today, and it's the most important.
"It's true that still I need to find the consistency, which means the [physical] consistency during all weekend. Because already now I feel the arm lazy, because today I pushed.
"I was aggressive from FP1 to the last lap of FP2. I was pushing, working on my rhythm, working on the set-up. I started to play with the bike, understand better the set-up, understand better what I need on the bike.
"And step by step looks like it's coming better and better. Sure will have some ups and downs, sure in some parts of the circuit still I don't ride like I want. But we are improving and it's most important."
On how the Honda RC213V has evolved over the year, he said: "It's the same bike, but it's an improved Marc. It's the bike the same like I raced in Qatar, the first races."
But he also then acknowledged that work was ongoing, citing the fact that he used a carbon swingarm in the first session before pivoting to the much-noted Kalex-built aluminium unit in FP2.
Marquez following his main rivals in search of a laptime has been a common sight since his original 2020 comeback, and Marquez admitted it "was a long time ago that I was pushing in front", having actually had riders tuck in behind him on Friday. Though he will still follow somebody "if I'm in crisis", he said being able to do the right laptimes by himself is "is something that we are building what we want in the future".
The Honda rider said he benefitted from the type of physical challenge presented by Buriram – which is "physical for the [hot and humid] weather but not for the force [exerted]", unlike somewhere like Motegi.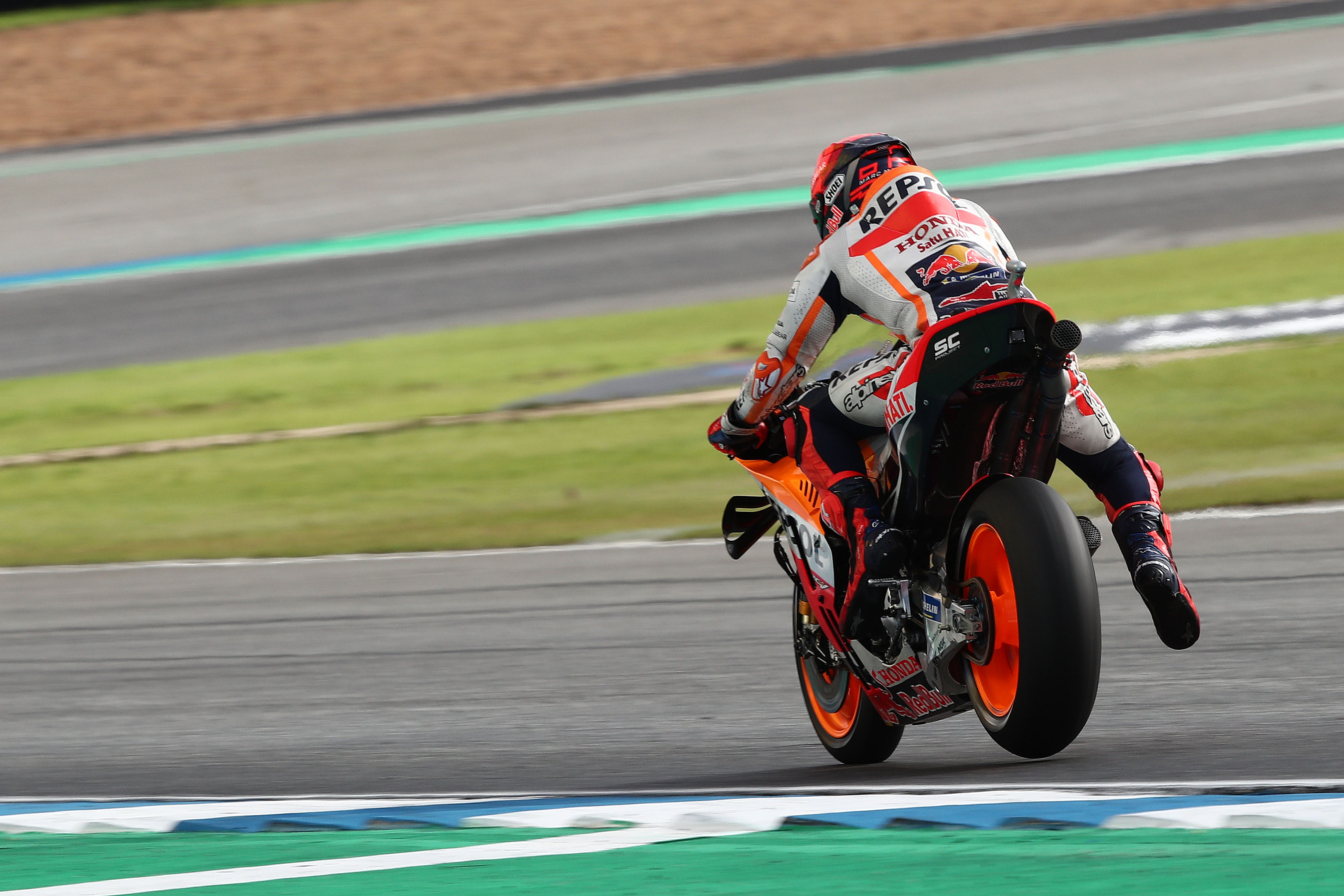 And while he ended the day tired, still noticing a drop-off in performance after a few consecutive laps and hoping for a wet Saturday, Marquez said that "every time the good riding style comes more naturally".
"Today I exactly said to the team – I said 'today, I used many lives'. And was like in '19 [the year Marquez dominated].
"I was pushing all the laps on the practice. The problem is that last two years I couldn't push all the laps, because if not I don't arrive on Sunday in a good [condition] – now, OK, maybe [this time] I won't arrive on Sunday in the best performance because of the lack of the muscles, but not because it's painful.
"So for that reason today I attacked. I went out and I attacked and my way to find the limit was in FP1 to make many mistakes and then put everything in the correct position. And then in FP2 I was already more consistent.
"It's the same riding style like in the past – still not [fully] like in the past, but coming better and better."