The Kalex-built Honda MotoGP chassis had a fast Le Mans debut in the hands of Marc Marquez – but the Honda rider says team-mate Joan Mir's struggles show it's no magic bullet.
Marquez had sampled the chassis – which Honda had commissioned from the German specialists rather than producing it in-house – for the first time in Friday practice and found that it produced a "very similar" level of performance to the available 'regular' Japanese-built version.
But he'd stuck with the Kalex through the weekend in an effort to properly assess it, getting it on the front row and fifth in the sprint before crashing out the podium battle late on in the main race.
Marquez was delighted with his Sunday performance despite the crash – but, when asked whether the chassis was pivotal to it, pointed to the struggles of team-mate Joan Mir, who had also been using it through the weekend but trundled to 14th in the sprint before crashing out from 16th in the main race.
"I mean, of course the chassis is a small difference, a small help. But it's not the solution," said Marquez.
"Mir was using the chassis, and Mir is a world champion, and you saw, he was struggling, he was on the back and he crashed, again.
"So, we need to change something for the future to be more competitive, to be more safe. Because every year, Honda riders, we are on the top of the crash rankings. And it's not only me. Mir crashed four-five times in Jerez, now here again three times."
Mir, who had endured a brutal weekend, saw a glimmer of hope from his mileage with the Kalex chassis in first practice – but never matched that laptime over the rest of the weekend.
Both he and Marquez crashed the Kalex version multiple times during the weekend, suggesting it is no less on edge than the regular version. Yet Mir's initial take on the chassis had been that it gives better feedback to the rider – and this was largely corroborated by Marquez.
"You can do a bit more mistakes, you can go more wide, come back," said Marquez of corner entry with the Kalex chassis.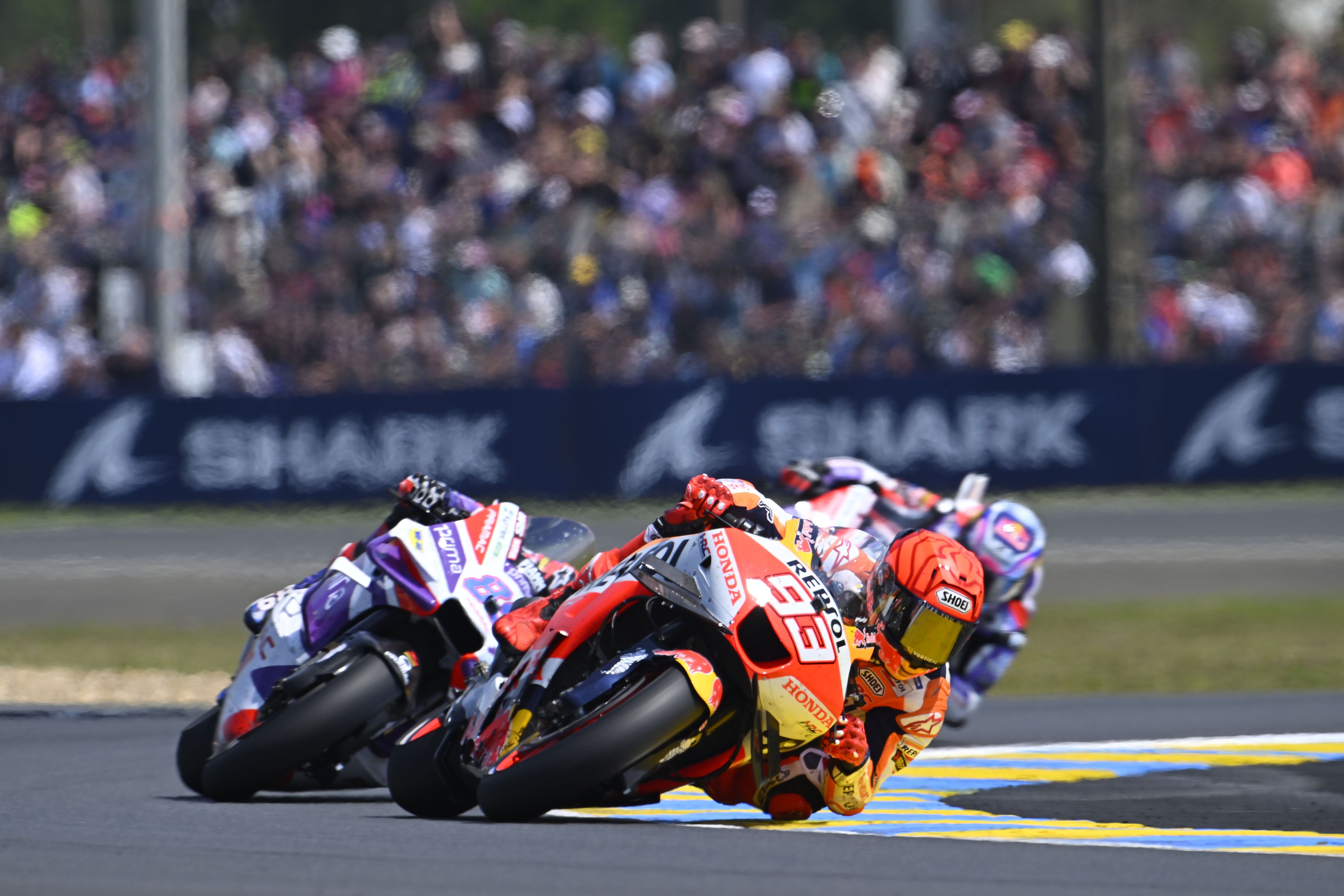 "With the other one it's so critical and it's more difficult to understand the front tyre. But with this one, looks like you have more warnings [that you're about to lose the front].
"But still we need to understand – because our weak point is still stopping on the brakes and the acceleration side."
Mir did see a minor improvement from his Sunday with a best race lap of 1m32.353s, even if that was still four tenths off Marquez's best.
"Missing a bit the consistency to repeat it but the speed was more or less there," he claimed. "Yesterday I was one second off the pace, and today, two tenths from the top.
"So… it's a huge step. When you're in a situation like this one, everything that you get is big. Happy for that, but it's true that we're still a long way [off]."
Asked whether this was down to the Kalex chassis, he said: "Not the chassis. Just we modified a bit the [bike's] geometry, trying to understand what I need. And I was able to ride better. This was the step."