MotoGP's 2021 champion Fabio Quartararo says it's not just the pacesetting Ducatis that he can't fight against with the 2023 Yamaha – it's every other manufacturer. And that's despite the power increase from Yamaha's new engine.
The new M1 has delivered a top speed boost, at least partly addressing Quartararo's biggest concern throughout his ultimately-doomed title defence of last year, and his average speed trap figure during the Portimao race on Sunday was just 3.8km/h (2.4mph) off the best – albeit with the caveat that he spent much of the race catching slipstreams.
But even if Yamaha is now more competitive, the top speed it has isn't anywhere near enough yet to blast past opposition – and overtaking in other ways is still not coming easily.
"The pace was not too bad, but the thing is, the way we are riding the bike, to fight with them right now is not possible," said Quartararo.
"We have to find a solution on the fight."
After being compromised by a reported launch control issue in the sprint, Quartararo had a reasonable getaway on Sunday from 10th on the grid – albeit he still immediately lost a place to the fast-starting KTM of Brad Binder.
He then got pounced on by LCR Honda's Alex Rins round the outside of Turn 1 and, while he described the situation as "I chose a line that was not correct", his subsequent misfortune was circumstantial. Binder launched his KTM down the inside of Aleix Espargaro at Turn 3 right ahead, making contact, and forcing Espargaro to pick up his Aprilia, with Quartararo right behind and getting slowed up.
That meant he was duelling the likes of Raul Fernandez (RNF Aprilia) and Takaaki Nakagami (LCR Honda), but Quartararo fought them off, while also gaining a handful of places when up ahead Marc Marquez clattered into Jorge Martin and Miguel Oliveira.
Quartararo then latched on to Espargaro, following him past Rins a few laps later and then doing the same with VR46 Ducati's Luca Marini. At the end, he got Espargaro, too – as the Aprilia dropped behind with a mistake in the wheeltracks of Pramac Ducati's Johann Zarco.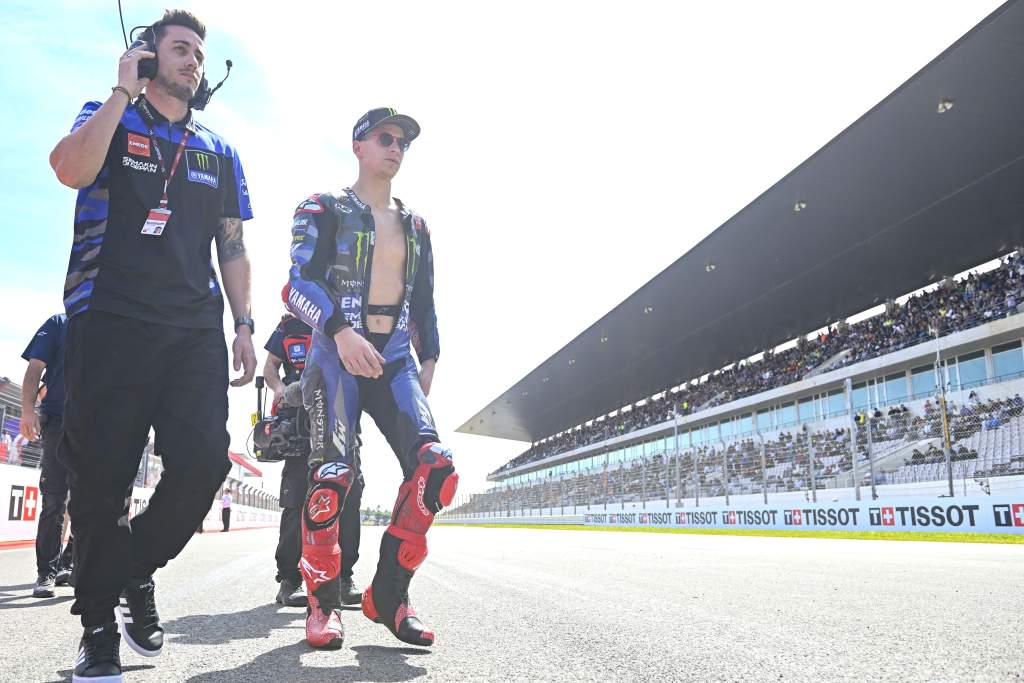 Despite the fighting race, Quartararo saw little in the way of positives, telling MotoGP.com that the biggest asset from the race was being able to follow a variety of rival bikes and understanding the deficiencies of his package.
"It's not really [just] Ducati – we have a totally different bike to the others," he told the print media.
"And when they pick up the bike [on corner exit], the grip is totally different to us. And we have no solution right now.
"You come back [towards them], you are close, but you cannot prepare an overtake. Because they go [away], then you come back, they go, then you come back. You cannot stay with them to try to overtake. So that's for me the main problem."
The Yamaha is "totally different" in that it's now the only inline-four-engined bike on the MotoGP grid following Suzuki's withdrawal. This has been translating into a different approach to cornering relative to its V4-engined rivals, and it's one that Quartararo hasn't found very conducive to overtaking.
But the inline-four Suzukis had little issue putting on moves last year, and Quartararo – who said his front tyre pressure was normal despite running in traffic, but braking was "not on the top level" – didn't indicate that his frustrations were engine-related.
"It's difficult to know what we can do. I was behind Honda, I was behind all the manufacturers today – and everywhere we had a problem with one manufacturer, it was the same with all the manufacturers," he said.
"We have great potential, we can be fast, but we can't fight, we can't stay with them.
"Then, of course, some manufacturers are much more in advance than us. But there's things- I have not the words to explain what we can do."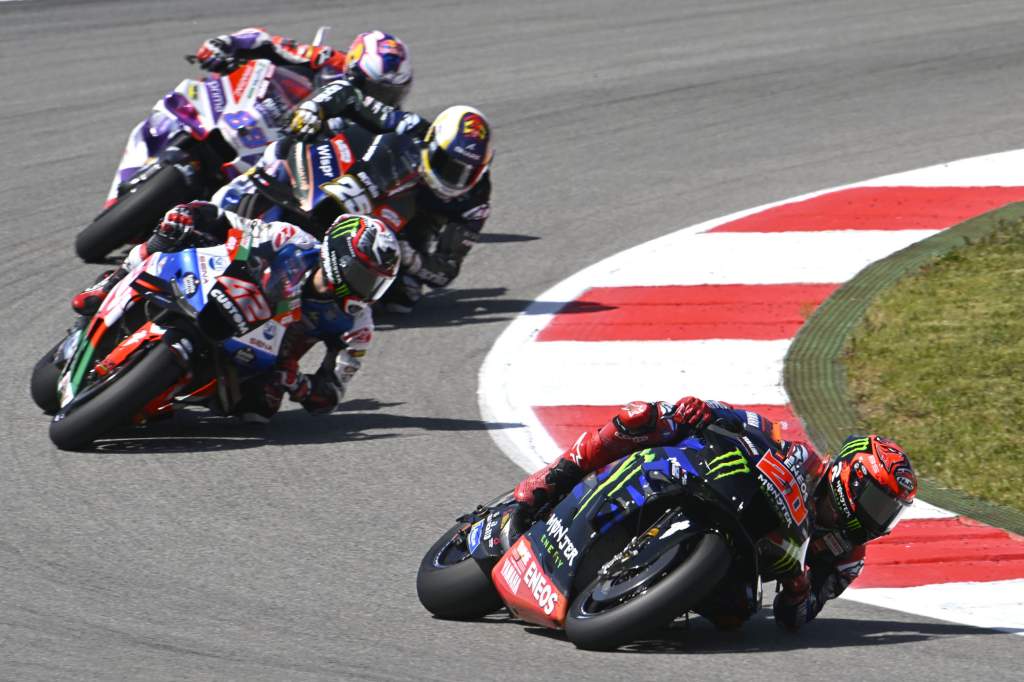 It was an even more dispiriting race for team-mate Franco Morbidelli, who was running down in 19th on the opening lap when he came under attack from Fabio Di Giannantonio in the penultimate corner, the resulting "pretty hard hit" sending them both wide and dropping them away from the pack.
From there, he only recovered to fight rookie Augusto Fernandez – and ultimately lost that battle too, bringing the bike home some five seconds behind the Tech3 Gas Gas newcomer, but picking up two attrition-aided points for 14th despite being last of the finishers.
Morbidelli joked he will "definitely have some frustration to release" further up the order when the package is more competitive, but sounded clearly dispirited. "In the test, I was six tenths off the pace. And today I was five tenths off the pace. I improved one tenth. I need to see the positives," was his summary, the pace comparison likely being to team-mate Quartararo, whose fastest lap in the race was indeed just under 0.6s better.
Of Quartararo's comments about Yamaha's deficiencies in battle, Morbidelli said: "We have a very different riding style [to those on other bikes], we are much faster in some points and much slower in some others.
"And… it really gets you when you're behind other manufacturers. It's tricky. But the bike has good potential."