Aprilia MotoGP rider Aleix Espargaro says that the newly-announced deal to take Formula 1 to Qatar spells bad news for the two-wheeled series, as the high-downforce cars are unleashed onto one of the best surfaces on the motorcycle grand prix calendar.
Complaints of F1 cars producing bumps and ripples on otherwise smooth track surfaces – bumps that are seemingly much easier to work around on four wheels – have long been a staple in MotoGP.
And Espargaro was quick to voice his concern that the Losail track looks set to become the latest victim when F1 heads there for the first time later this year.
"Bad news," he replied when asked for his opinion on the announcement. "I love Qatar, I love the circuit, and Formula 1 cars destroy everything with their downforce. Let's see what happens.
"I'm happy for the Qatari people because they'll be able to enjoy MotoGP and F1, which is fantastic, but regarding the track it is very flat and very good right now, and I hope that they won't destroy it so much."
However, if 2020 is anything to go by, there is a chance that Qatar might escape the sort of issues that have plagued other venues that traditionally host both series, such as Espargaro's home track at Barcelona.
Last season the likes of Portimao and Mugello were visited by both series as they reacted to the coronavirus pandemic and used new venues as planned races had to be cancelled.
Yet despite MotoGP sharing track time with F1 at those venues, there have yet to be the traditional complaints about the surface at either track, suggesting perhaps that while it is an issue, it's one that is formed over time rather than in a single season or two.
That point is partially reinforced by a lack of complaints at Silverstone since its controversial second resurfacing in 2019, with the track hosting four F1 races since then but without significant concern about the asphalt's flatness during 2021's MotoGP race.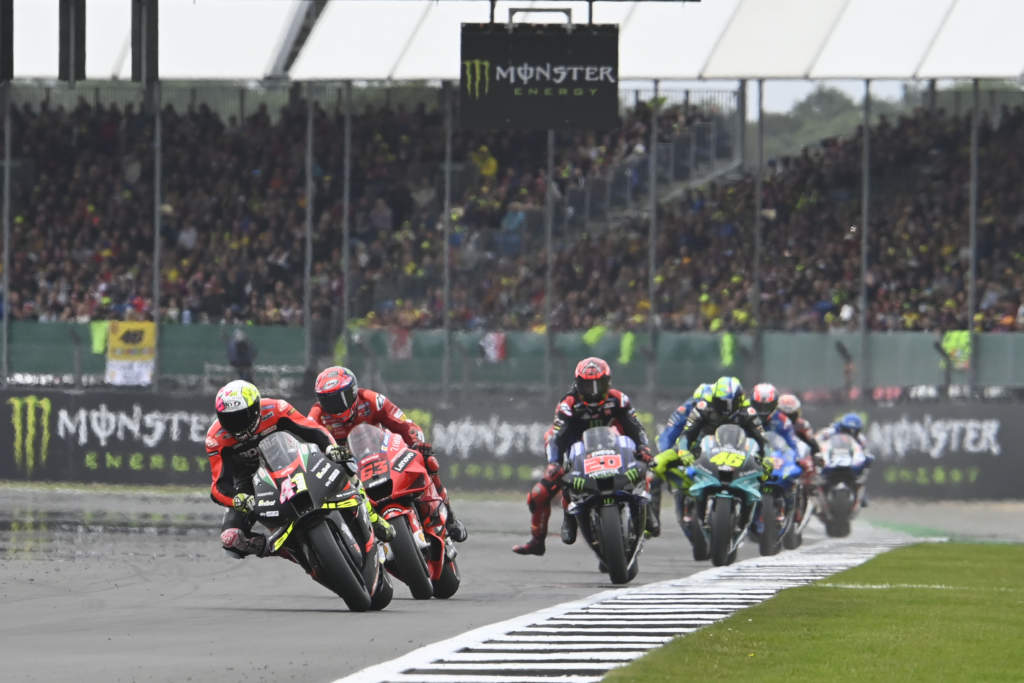 While the 2021 F1 race will be held at Losail, it seems like Qatar's longer-term plans involve F1 moving to its own purpose-built facility, leaving the existing track, first used in 2004, to two wheels.
Whether that move comes in time for the track to be saved from extensive damage remains to be seen – but it could well be the lifeline that Espargaro is searching for in order to retain the smooth surface last resurfaced ahead of the 2018 race there.
There's also the reality of the situation in Qatar, though, where huge surpluses of natural gas money mean that the state-owned track doesn't have the same financial hurdles as other venues on the calendar.
Considering a multi-million pound state-of-the-art floodlight system was introduced to allow it to become MotoGP's first night race after riders complained about racing in the heat of the Qatari summer, it's not unreasonable to expect that should riders have issues with the track post-F1, a solution will rapidly be found.