Valentino Rossi has admitted that losing close friend Marco Simoncelli 10 years ago today was "one of the worst moments" of his life but also the trigger for the creation of the VR46 Academy.
Rossi's project to mentor Italian riders looks set to ensure that his and Simoncelli's intertwined legacies will live on far beyond their racing careers.
MotoGP title contender Pecco Bagnaia is the most successful VR46 graduate so far, while Franco Morbidelli is also a premier class race-winner.
The project has grown into a MotoGP team that this year runs Luca Marini in partnership with Avintia but next season will field two Ducatis itself.
Speaking on a weekend that already has high emotion for him as he prepares for his final MotoGP start in Italy – fittingly at the Misano World Circuit Marco Simoncelli – Rossi spoke openly about the impact that losing not just a MotoGP rival but a good friend had on him when Simoncelli's fatal crash happened at Sepang in 2011.
"F**k, it's already 10 years," the nine-time world champion reflected when asked by The Race.
"But I feel like it was a long time ago.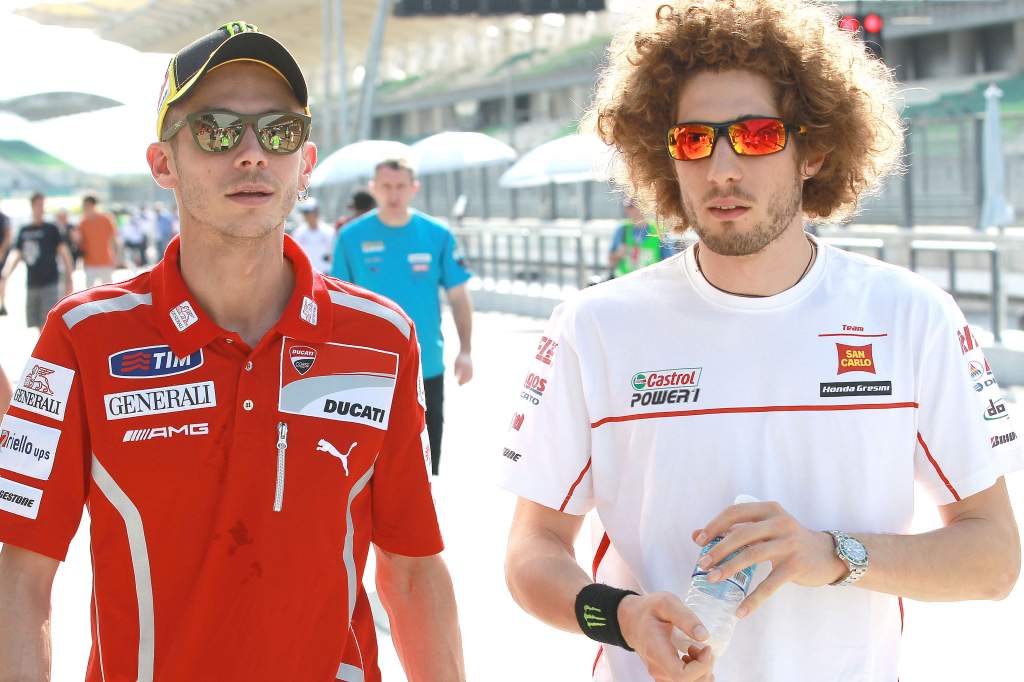 "I still remember the moment after the race in Malaysia like one of the worst moments of my life.
"I went back into my office with Uccio [Salucci] and Max [Montanari], in Sepang, right after the race.
"I was desperate. It was one of those moments where you don't know what you have to do to try to continue. It was unfortunately an unforgettable feeling.
"But afterwards was worse. We lost a great rider, that for sure could have made a great career and had great battles with the modern guys, the modern riders.
"But also I lost a good friend, because I shared a lot of time together with Marco, especially in the last years, from 2006 to 2011. There remained a big hole."
Rossi's business mentor Albi Terbaldi sees Simoncelli as not just the inspiration for the VR46 Academy, but the whole reason for it existing – as Rossi struggled to fill the hole left in his life.
"After the loss of Marco, something was missing from Vale's life," the VR46 CEO explained to The Race.
"Marco was the one guy who could train with Valentino at the same level, and the Academy came in part from the loss of Marco.
"In a way, we started the Academy in reverse, because first we were friends with these riders and then we started working with them.
"It's strange the things that life can give us, because it can be very cruel at times and can be great at times. The Academy is in a way a tribute to Marco."
Rossi agreed that while Simoncelli might have passed away before the Academy idea ever crossed his mind, Simoncelli was in retrospect the school's very first attendee.
"I always say that Marco was the first rider of the Academy," Rossi explained, "even if the Academy didn't exist.
"We started for the first time with Marco, to help some other riders with training, with support, with my experience, and when I see the riders now I always remember Marco."
There are many components to Simoncelli's legacy thanks in large part to the excellent work being done by his father Pablo's SIC58 team in Moto3, perhaps the most under-the-radar impact has been the way that the Academy has extended Rossi's own career.
"For me it is very important that I have the Academy," he admitted previously.
"To train every day when you're alone is very heavy, and so I started with one person alone 10 years ago, and it was more of a challenge and more fun.
"Now there are 10 or 15 of us every day so you can imagine how much fun it is!
"Sometimes they make me feel old, sometimes they make me feel very young.
"But the level of training that we have together is unbelievably different, and f**k, every time we jump on a bike the challenge is so high. I can always ride with professional riders.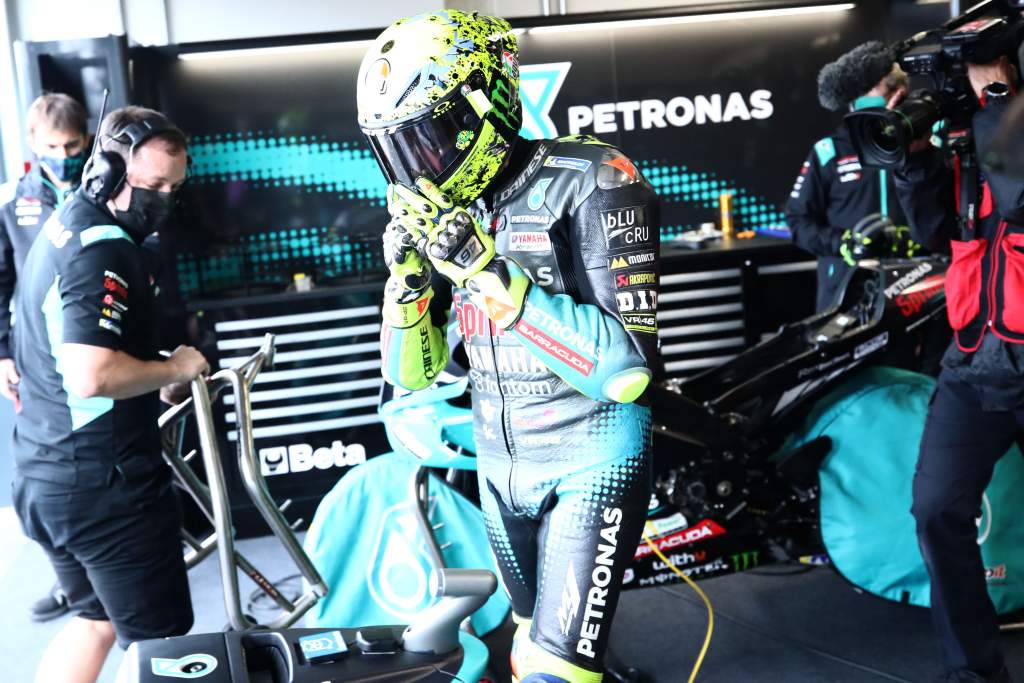 "If I had the Ranch and didn't have the Academy riders, I can do the same fast time every lap but I never improve.
"There was a moment during a race at the Ranch where I asked myself – who the hell's idea was it to make the Academy?!"
And that possibly means that today has even more emotional significance, as Rossi, who finished the day's damp qualifying in last, got to witness two of the Academy's products qualifying on the front row, as Pecco Bagnaia took pole position and Rossi's own brother Luca Marini finished in third.
"Luca today was fantastic, and I am very proud of him and for his front row," said a happy big brother.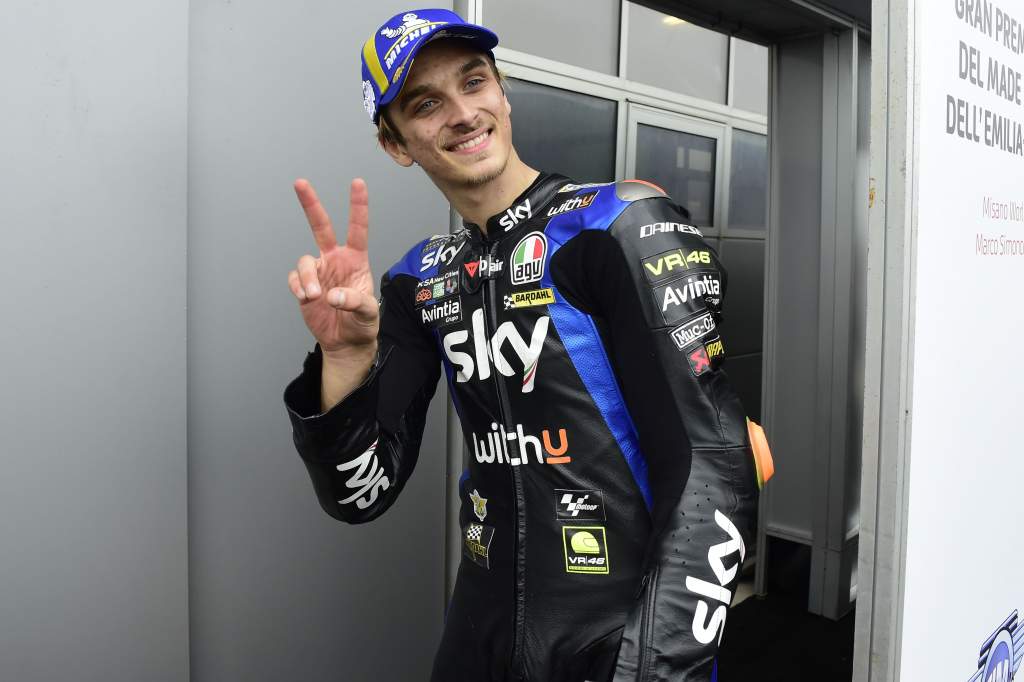 "He rode very well, from Friday morning always in front, and with the difficult conditions he was able to make a fantastic result.
"Front row for a rookie is a great result, and he was very close to the pole position too.
"It's difficult from one side because it's a difficult moment, and tomorrow will be emotional.
"I need to stay concentrated and try to make the race, but I am happy to say that we can race in Misano and say ciao to all my fans."