MotoGP's newest race winner Aleix Espargaro says his quest to bring a first premier-class victory to Aprilia was aided by riders rejecting the opportunity to join the project.
Aprilia had spent the first few years since its return to MotoGP in 2015 either in the midfield or at the back, and its status as something of an odd one out among MotoGP's manufacturers was accentuated with its struggles to sign some of the riders it had its eye on.
This was particularly pronounced after Andrea Iannone, who only ended up at Aprilia after being dropped by Ducati and then Suzuki, picked up a doping ban and left the manufacturer searching for a long-term replacement.
After using Bradley Smith as something of a stopgap, Aprilia at various points approached the likes of Jorge Lorenzo, Andrea Dovizioso and Cal Crutchlow to join it for 2021 – but while Dovizioso did have test outings, none of the trio ended up racing the RS-GP.
But the opportunity to join was also turned down by a number of riders who were at that point in Moto2, among them Marco Bezzecchi and Fabio Di Giannantonio (now in MotoGP as satellite Ducati riders) and Joe Roberts (currently in Moto2).
It is not clear whether these are the riders Espargaro referred to, considering he has long publicly courted various prospective team-mates at different points in time – including Moto2 hotshot Raul Fernandez last year – before succeeding in helping attract his former Suzuki team-mate Maverick Vinales, a true franchise signing for the marque.
However, it was Espargaro, rather than Vinales, who wound up delivering Aprilia's first MotoGP podium, first MotoGP pole, and now first MotoGP win.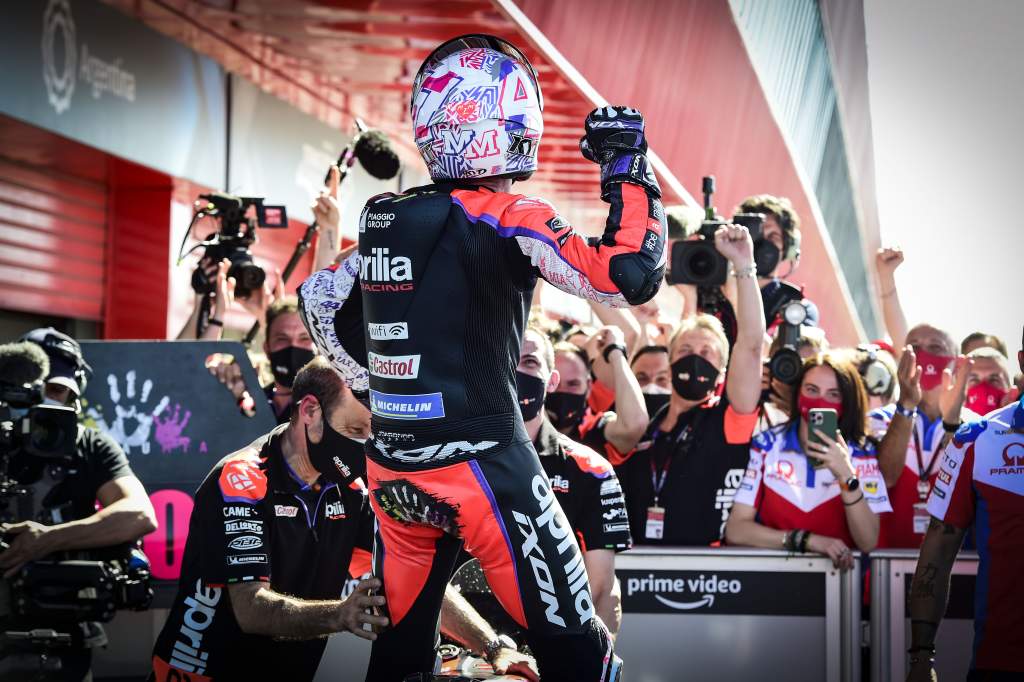 "I remember perfectly, when I was in Suzuki with Maverick and then I finished there [after 2016] because I was not competitive enough, and Aprilia called me," he said, "I was obviously not on the top of the list of fast riders at all but nobody was going there, the fast riders didn't want to go there, nobody believed in the project…
"From the first day I said I will try to put this bike on top. I never expected that it'll take me so long, but finally we are achieving [it]. Even three years ago we tried to convince some young riders to come, who are now in Moto2, and they say 'we prefer to wait for another bike'… so this gave me actually more hunger, gave me extra motivation, because I said 'okay, you will remember this day as not a good day in your life, when you said no to Aprilia'. And now I'm happy.
"And yesterday I was very happy because [former Aprilia team-mates] Sam Lowes, Scott Redding, Iannone, all of the riders who I raced with, texted me and they were very very happy for me, for Aprilia, because they know how hard it has been, they know how far [off] the bike was in the past, and the level that we are showing now.
"Still a lot of work to do but I think now the people, especially the young riders in Moto2 and Moto3, start to see the project of Aprilia a little bit more serious, like an option for the future, and I think this is also great for the sport, for the championship."
Espargaro did also acknowledge, however, that it has been quite the turnaround from where Aprilia was just a few years back, with him regularly cutting a dejected and frustrated figure back then before the arrival of a revised RS-GP for 2020 – alongside new CEO Massimo Rivola – slowly but surely restored his faith.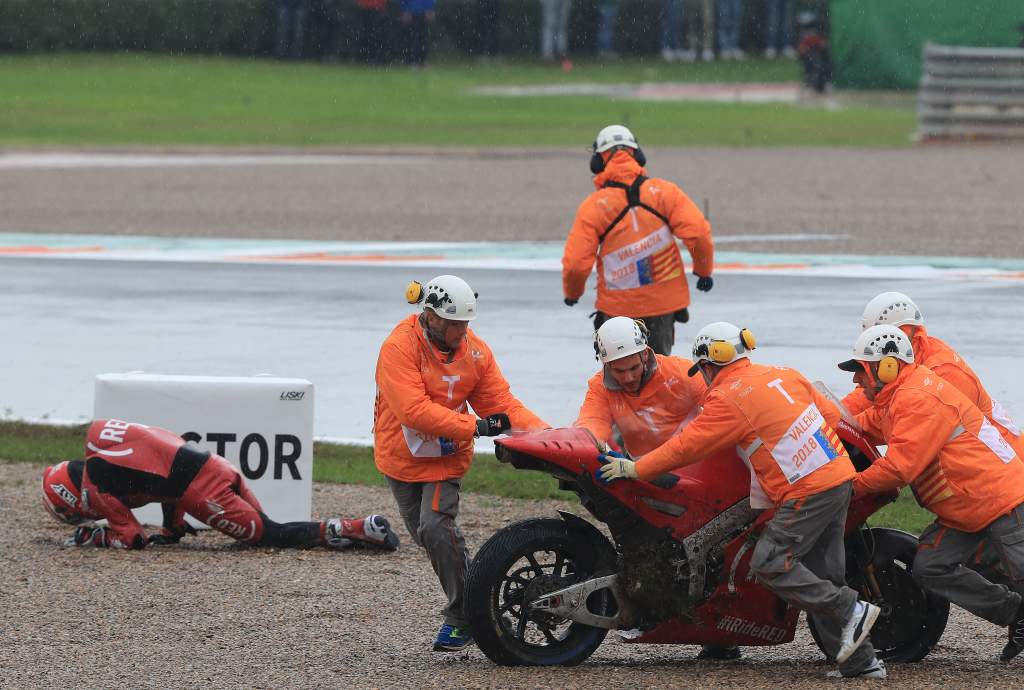 "I had no energy, the tank was completely empty," he recalled, speaking to MotoGP.com's After The Flag.
"I talked to my wife and I said 'Laura, I can't continue, I'm not enjoying [this], I'm still young, let's try to do another thing'. And she helped me a lot, a lot, and also with the arrival of Massimo Rivola everything started to change so I still believed in the project, and finally I think that we deserve this because we worked very very hard.
"To win a race and lead the championship, doesn't matter the bike you have, it's always fantastic, but if you do with Aprilia, it's even better."