This year's French Grand Prix wasn't just any other MotoGP weekend: it was grand prix racing's 1000th race weekend – and, credit to the guys at the front end of the main event on Sunday afternoon, they absolutely delivered for the historic occasion with a phenomenally entertaining race that has fair claim to be the best of the season so far.
It produced some epic battles as VR46 Ducati rider Marco Bezzecchi carved his way through the pack to take his second premier-class win, and there was plenty of chaos ahead and behind the Italian as Le Mans delivered a rather predictably crash-fuelled race.
With some achieving results that don't show their true potential while others fell but still showed off some unexpected pace that bodes well for the rest of the year, you might find a few riders are not where you'd expect in this weekend's rider rankings.
Placing the grid in order based on their performances not just in the main event but also Saturday's sprint race, it's obviously all subjective – but comes not just from their final race result but takes into account things like the machinery they're on and the pre-race expectations.
1 Jorge Martin
Qualified: 5th
Sprint: 1st
Race: 2nd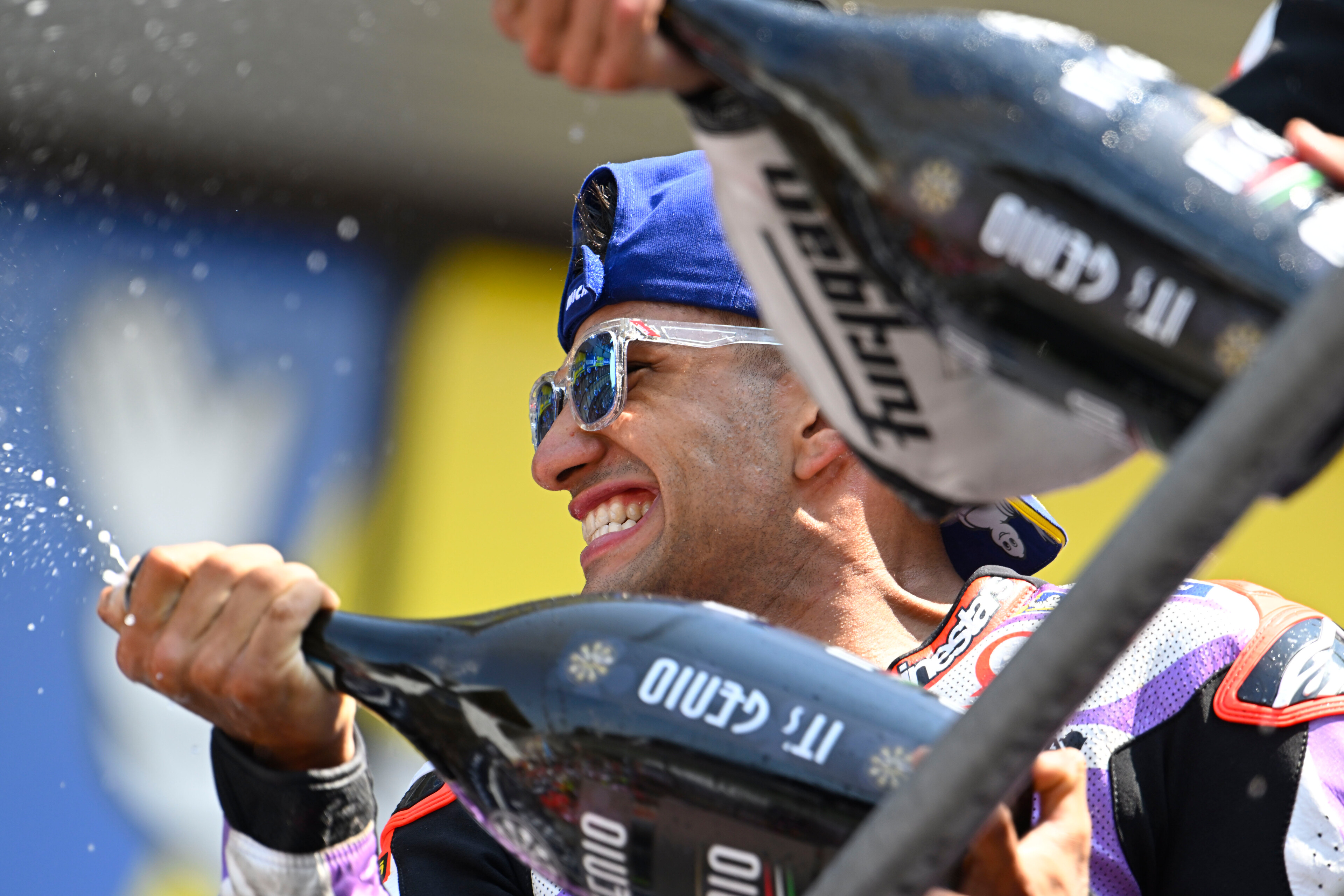 Not all that long ago, Jorge Martin would have been the rider that you'd have expected to crack when put under severe pressure – yet this weekend, it was him dishing it out, forcing a late error from Marc Marquez to ensure a pretty perfect end to the weekend for the Pramac Racing rider.
Back on the podium in the main event and a winner again in the sprint, it's exactly the confidence boost that he needed after an up-and-down start to the year.
2 Marco Bezzecchi
Qualified: 7th
Sprint: 7th
Race: 1st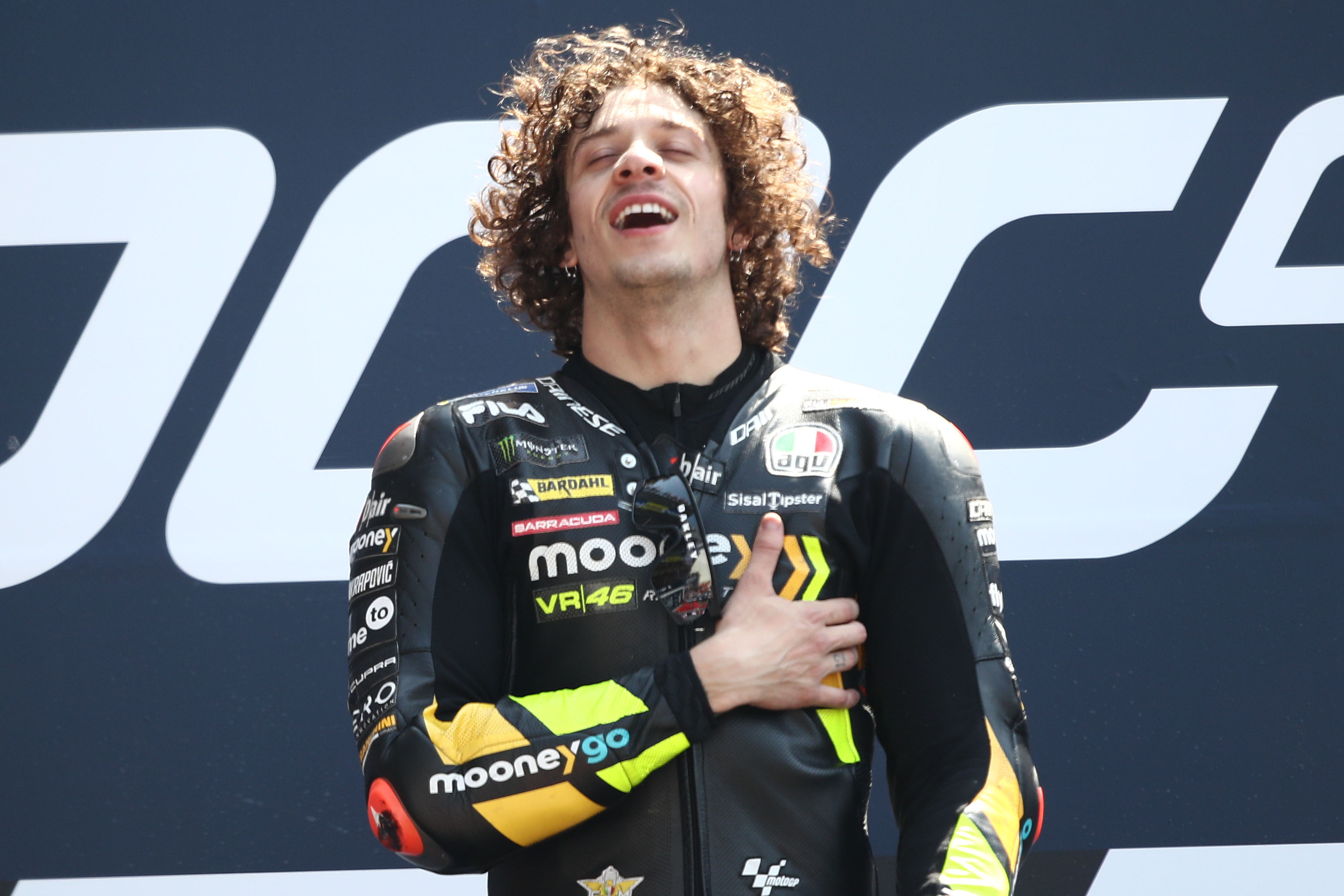 Another class act from the young Italian, as he took his second win from this season's five races and moved himself right back into title contention after a tough weekend at Jerez last time out.
It's all coming together nicely for Bezzecchi in only his second season in the premier class, with exactly the shades of Enea Bastianini's 2022 that we thought he'd be capable of.
Plenty to celebrate at Valentino Rossi's ranch this week!
3 Augusto Fernandez
Qualified: 12th
Sprint: DNF
Race: 4th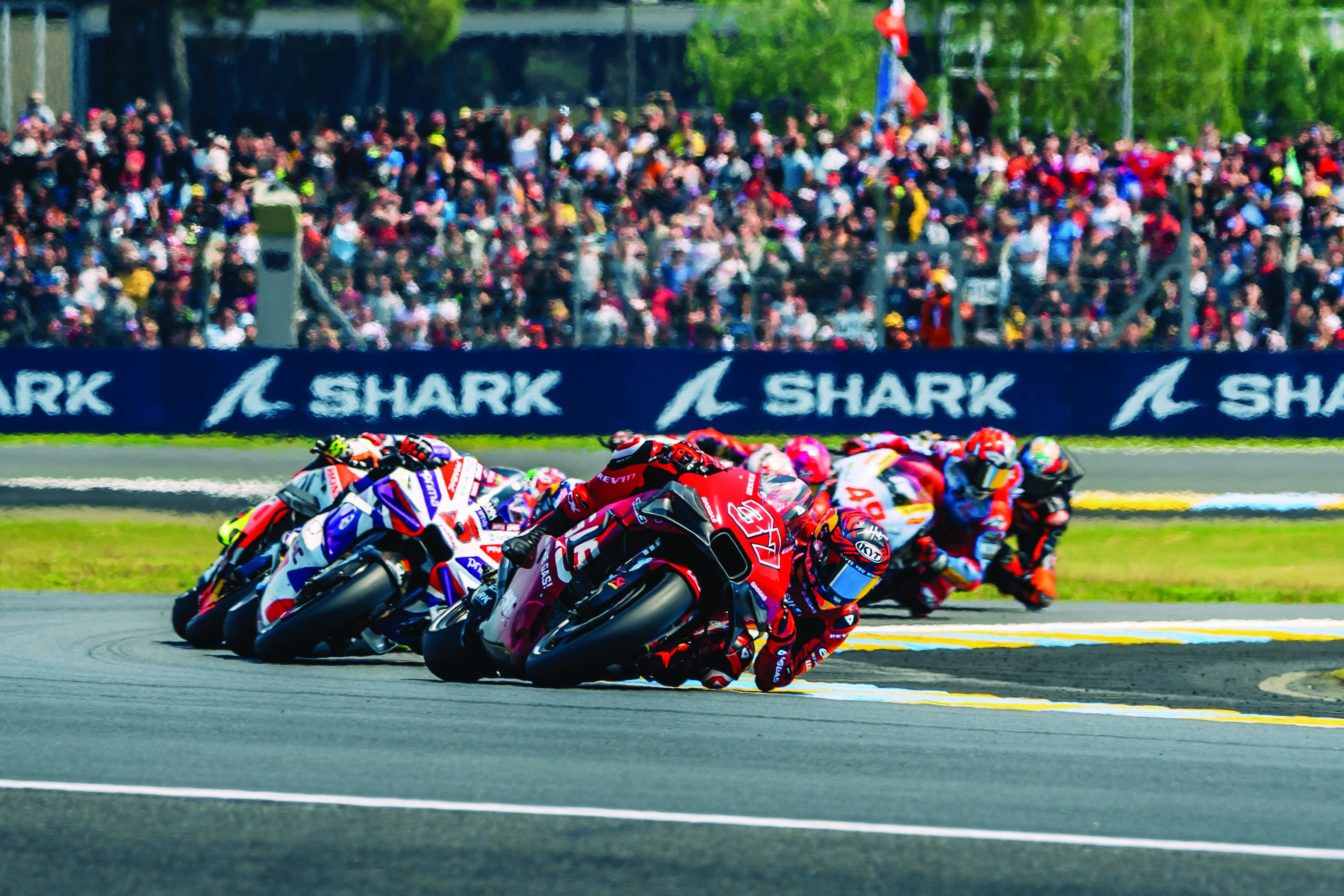 For a rider who entered the championship with little fanfare and who has had a challenging start to the year in a team that's essentially leaderless without Pol Espargaro, Augusto Fernandez has been doing stellar work all season so far – and that all finally paid off on Sunday with an absolutely exceptional performance from the rookie.
If this is a sign of an important step forward, then it's going to be an even better end to the year for him as he finally gets closer to par with the orange KTM RC16 bikes on a more regular basis.
4 Marc Marquez
Qualified: 2nd
Sprint: 5th
Race: DNF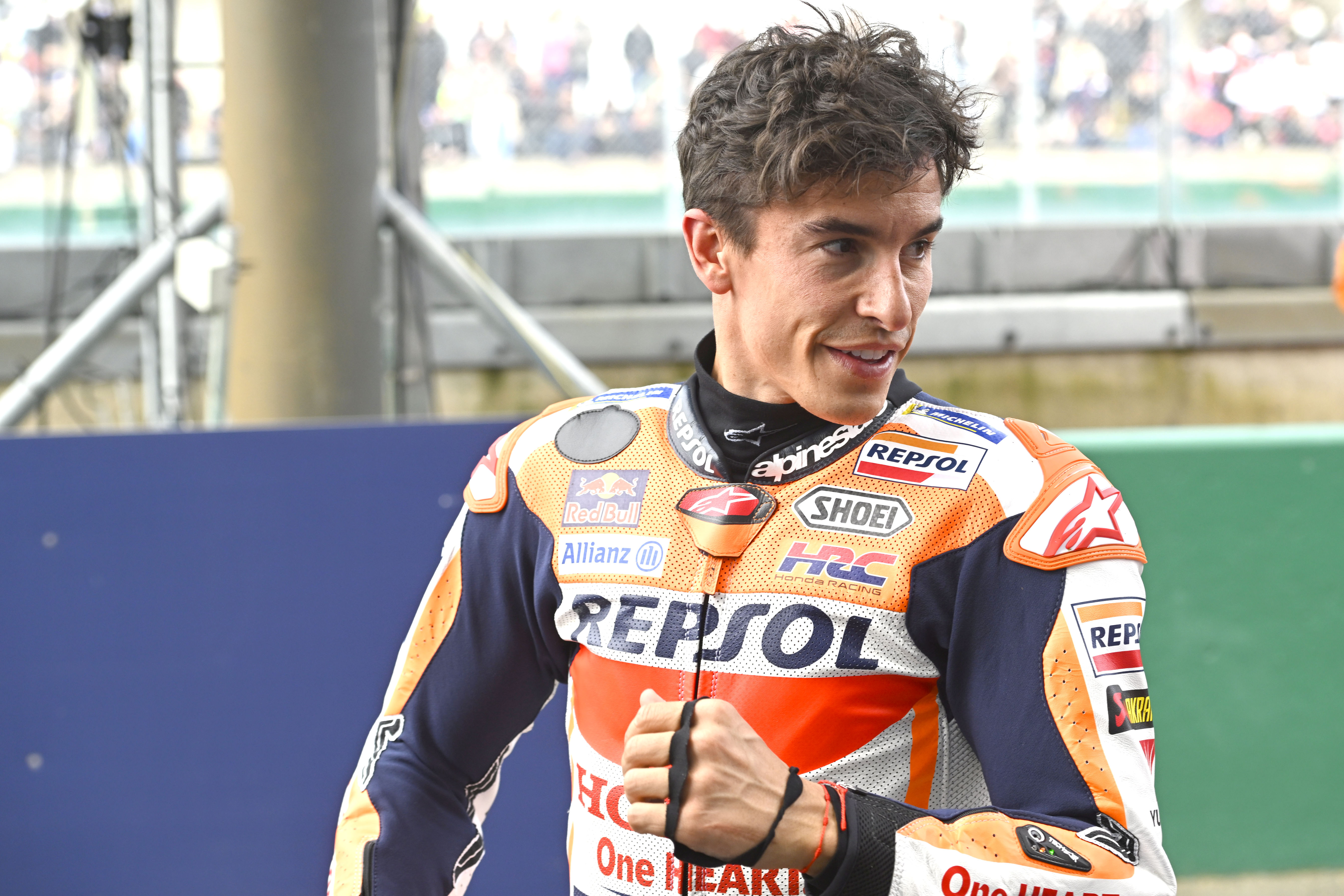 A crash out of the main race should, in theory, mean a lower score for Marquez.
But, as the man himself was quite adamant afterwards, the fact that he was there at the sharp end at all means that there's plenty to be positive about.
Seven weeks off the bike, on a machine that's very difficult to ride (just look at the others on Hondas!), and pushing a little too much for the podium is exactly where he needed to be, and it bodes really well for places like Sachsenring and his chances of a win there next month.
5 Johann Zarco
Qualified: 9th
Sprint: 6th
Race: 3rd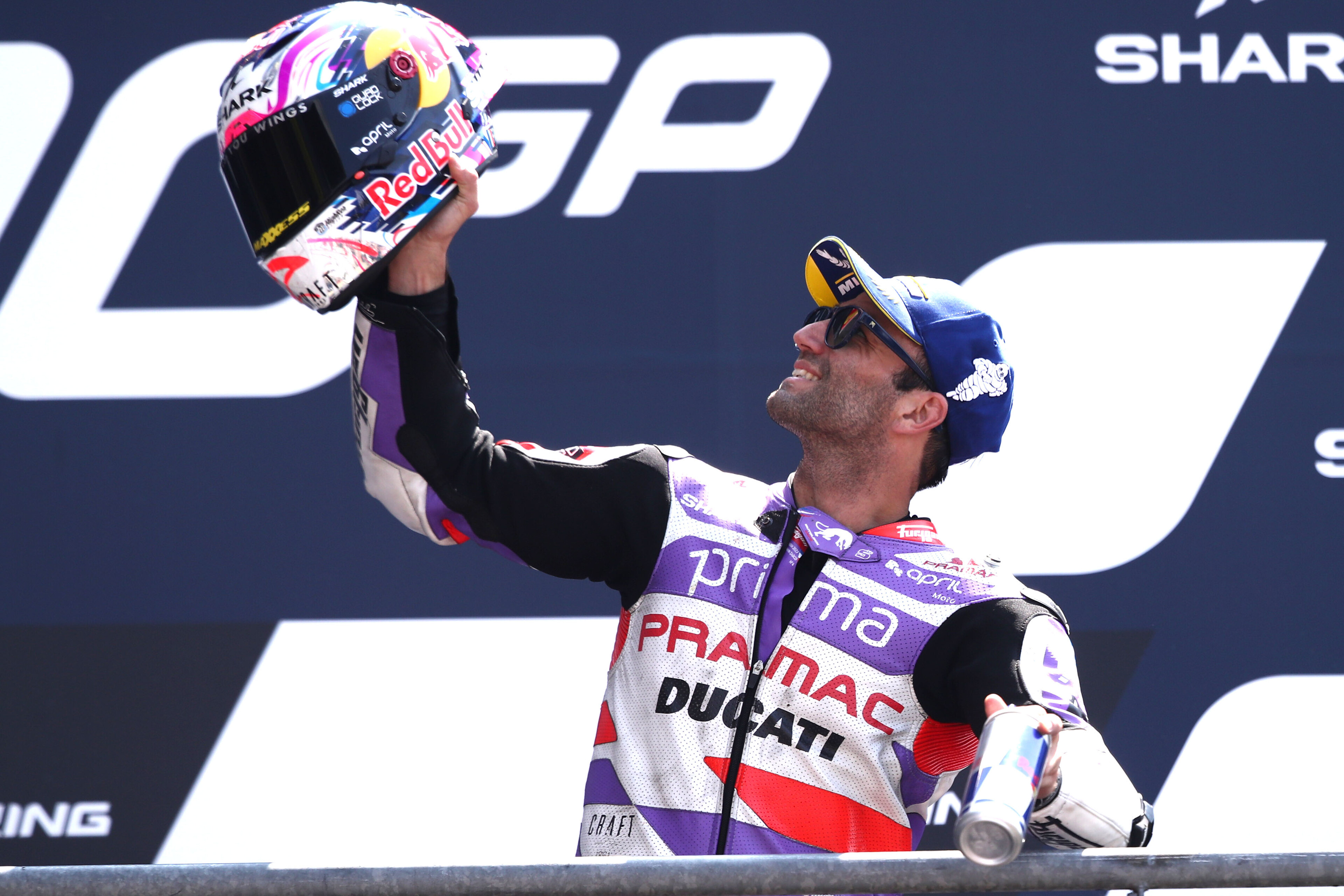 There's a lot to be said for the added bonus given by a home race, and Johann Zarco demonstrated that in fine form on Sunday in particular as he carved his way through the field after an early run-in with Alex Marquez.
The Frenchman's third time on the box at Le Mans is perhaps not an unexpected result but it's still a very popular one.
6 Brad Binder
Qualified: 10th
Sprint: 2nd
Race: 6th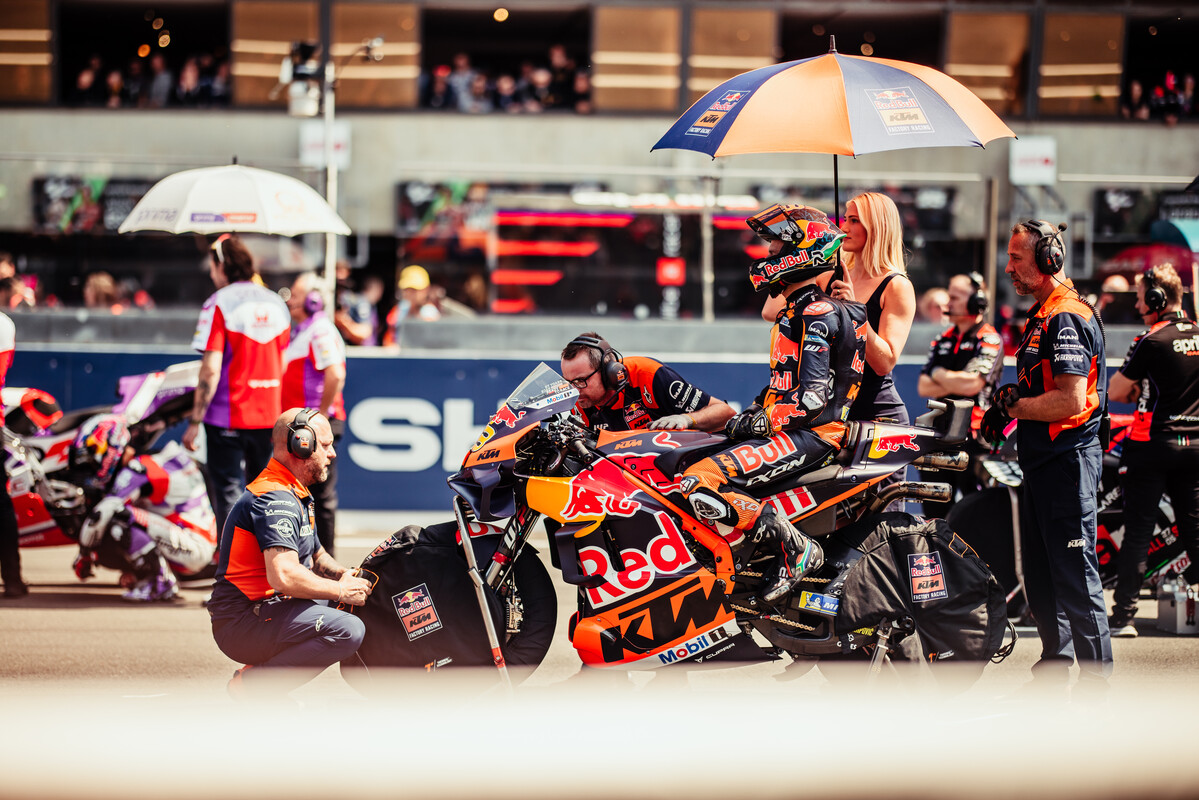 It's obvious now that the 2023 KTM is working well everywhere, and Brad Binder demonstrated that again on Saturday with yet another sprint podium.
But his qualifying still needs some work, and while Sunday was damaged by contact early on with Alex Marquez that demoted him down the field, better starting positions would mitigate that risk. It's the one chink in his armour right now that's preventing Binder from being a very obvious title contender.
7 Fabio Di Giannantonio
Qualified: 15th
Sprint: 12th
Race: 8th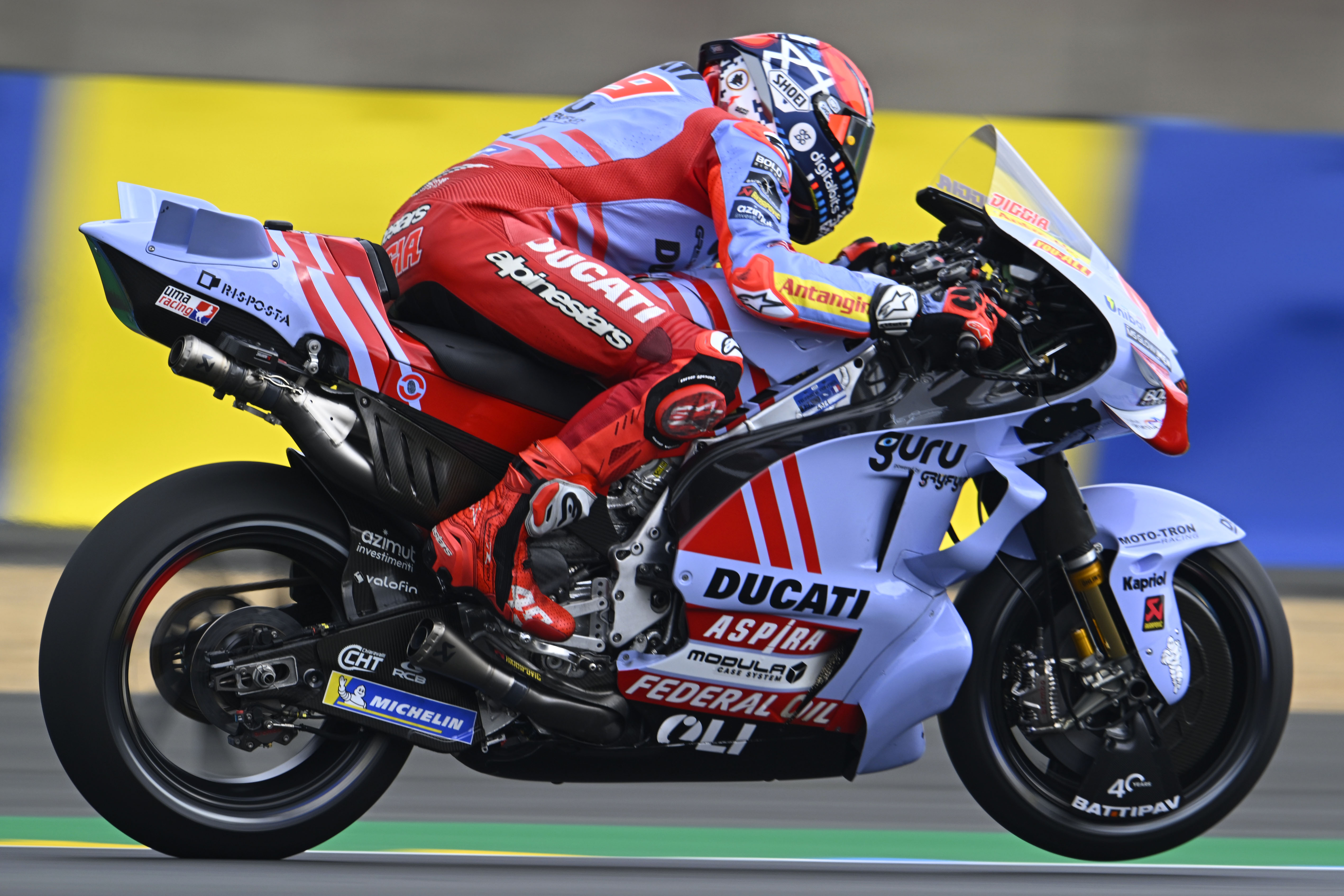 On paper not the greatest Sunday result ever for the Italian given the number of riders who had crashed out in front of him  – but Fabio di Giannantonio was left delighted with his performance thanks to a different metric than position: the time gap from the front.
Only 15 seconds from the win and less than 10 away from podium contention, it's proof that his delayed second year learning process is paying off. Whether it's happening quick enough is another question, but for now there's plenty to be optimistic about as the series heads to his home race.
8 Aleix Espargaro
Qualified: 11th
Sprint: 8th
Race: 5th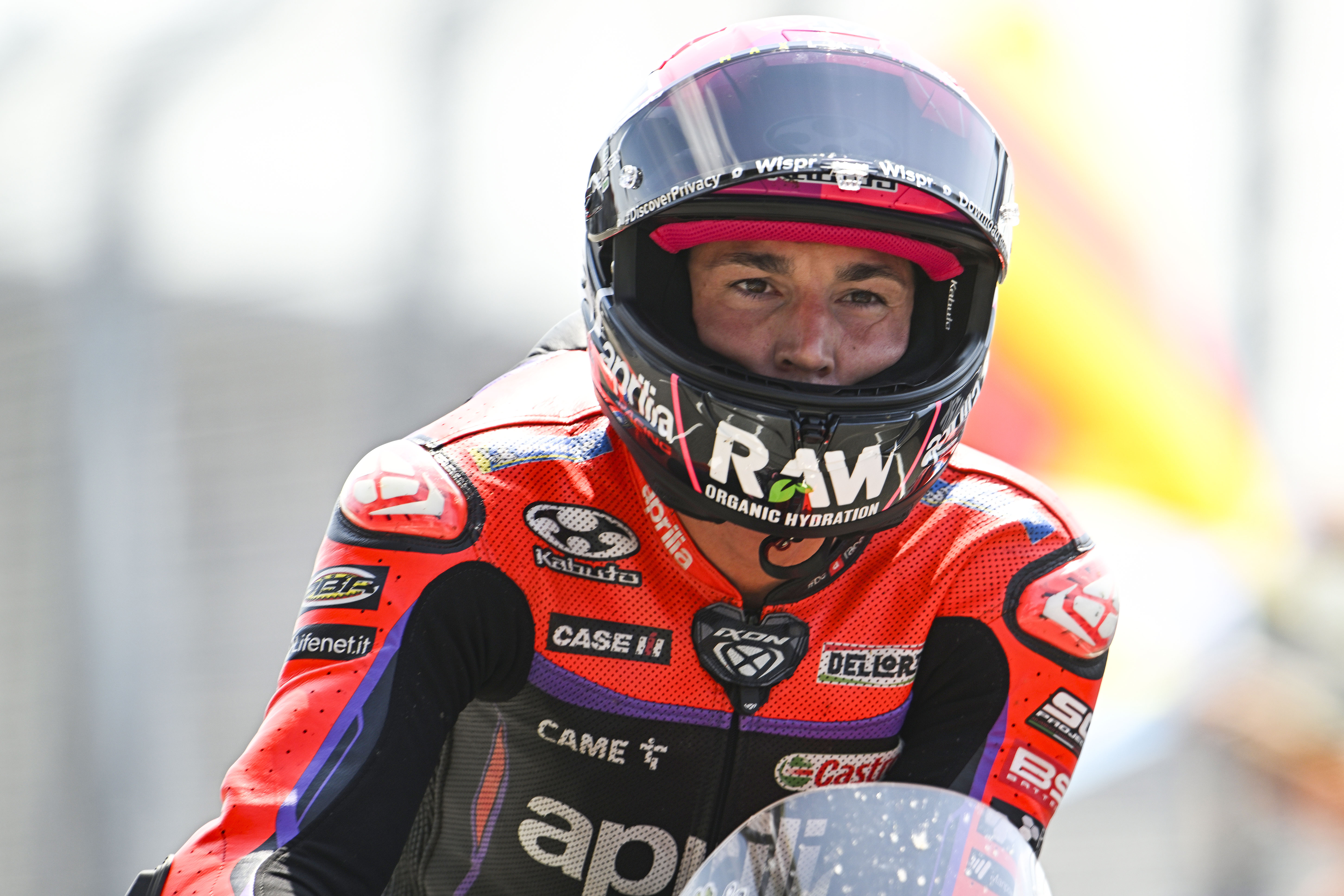 Not great but also not terrible for last year's title contender aiming to regain some momentum.
Self-sabotaged by a qualifying crash and still clearly missing something from the RS-GP, it was a weekend more than anything of damage limitation for Aprilia's team leader.
However, it's not the sort of one that's going to help him get back into his status from last year, and his side of the garage needs to work better both on Saturday morning and when the lights go out twice a weekend to change that.
9 Lorenzo Savadori
Qualified: 20th
Sprint: 17th
Race: 12th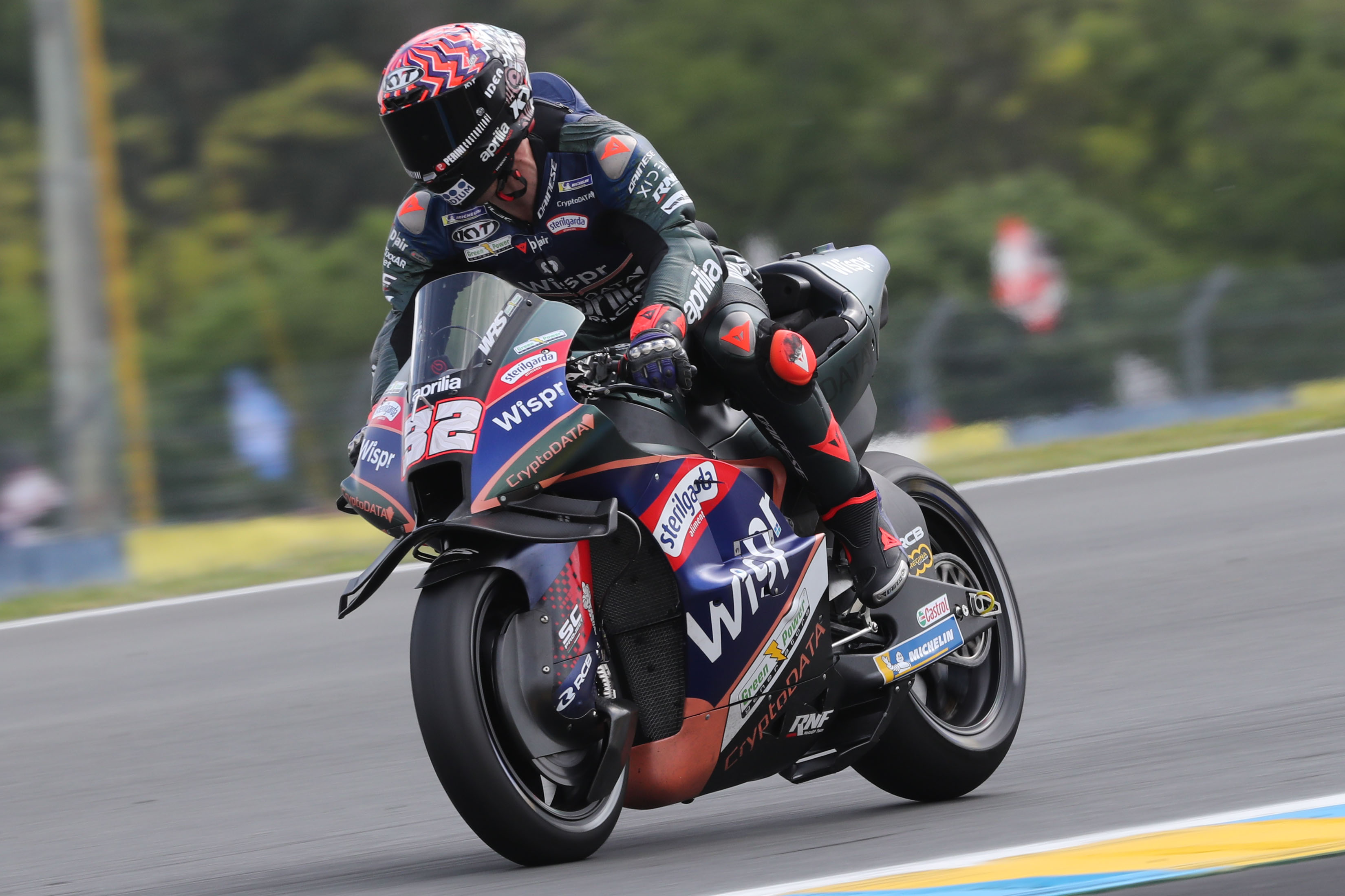 Being thrown into the deep end of MotoGP is never an easy task, and it's credit to Aprilia test rider Lorenzo Savadori that he rose to the job quite impressively at Le Mans.
His first race since August last year as he replaced the injured Miguel Oliveira, the fact that he was able to take his best-ever MotoGP finish hints at the potential that awaits the sidelined Portuguese racer on the satellite RNF machine when he returns to full fitness.
10 Maverick Vinales
Qualified: 6th
Sprint: 9th
Race: DNF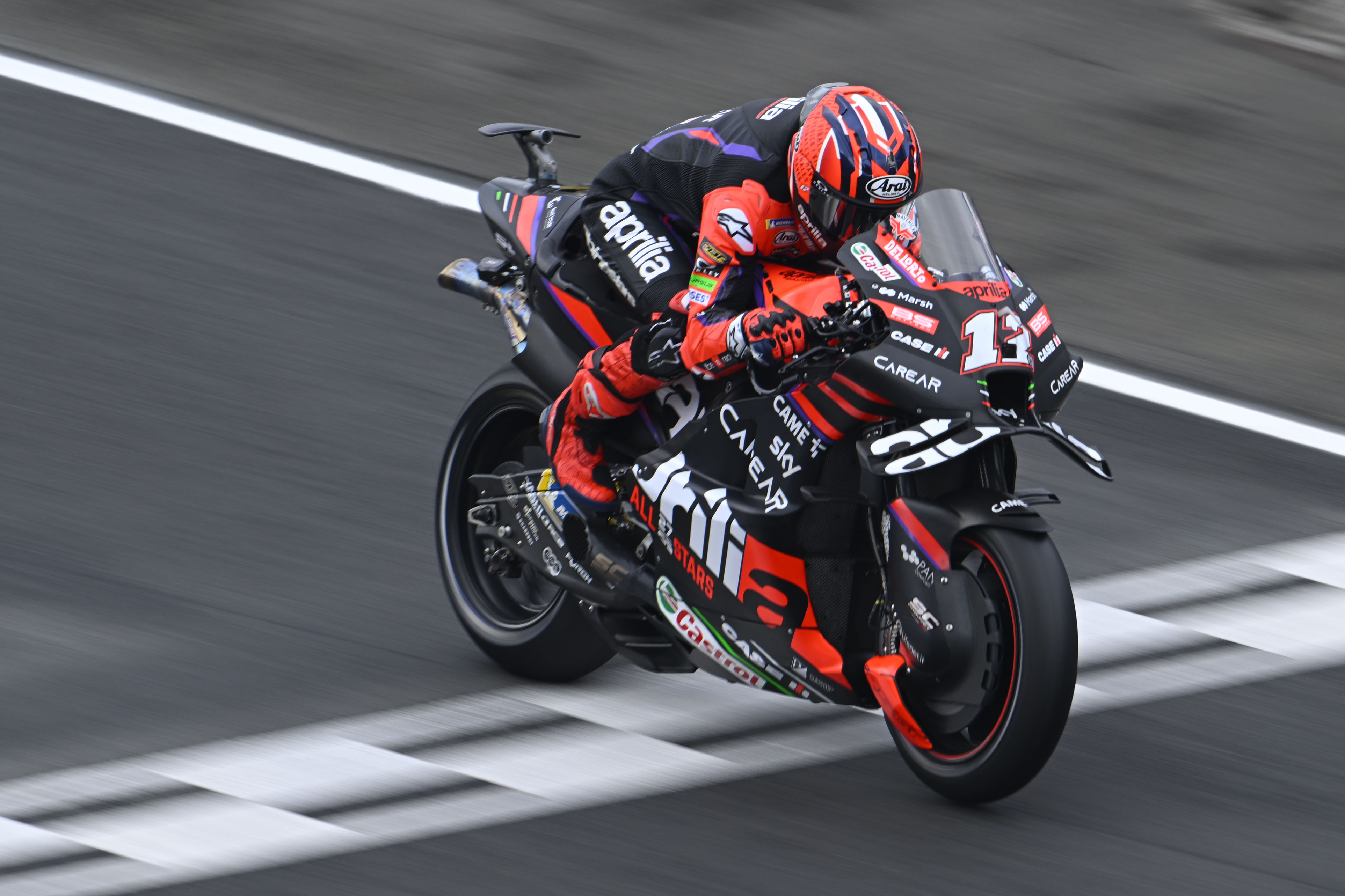 Another weekend of failure to deliver for Maverick Vinales on the Aprilia, even if it briefly looked on Sunday like he was set for a personal-best result.
Unimpressive in the sprint, he finally made a good start on Sunday and was right in the mix – but being at the wrong place at the wrong time meant contact with Pecco Bagnaia ended what could well have been his best chance at victory since his Yamaha days.
11 Danilo Petrucci
Qualified: 19th
Sprint: 16th
Race: 11th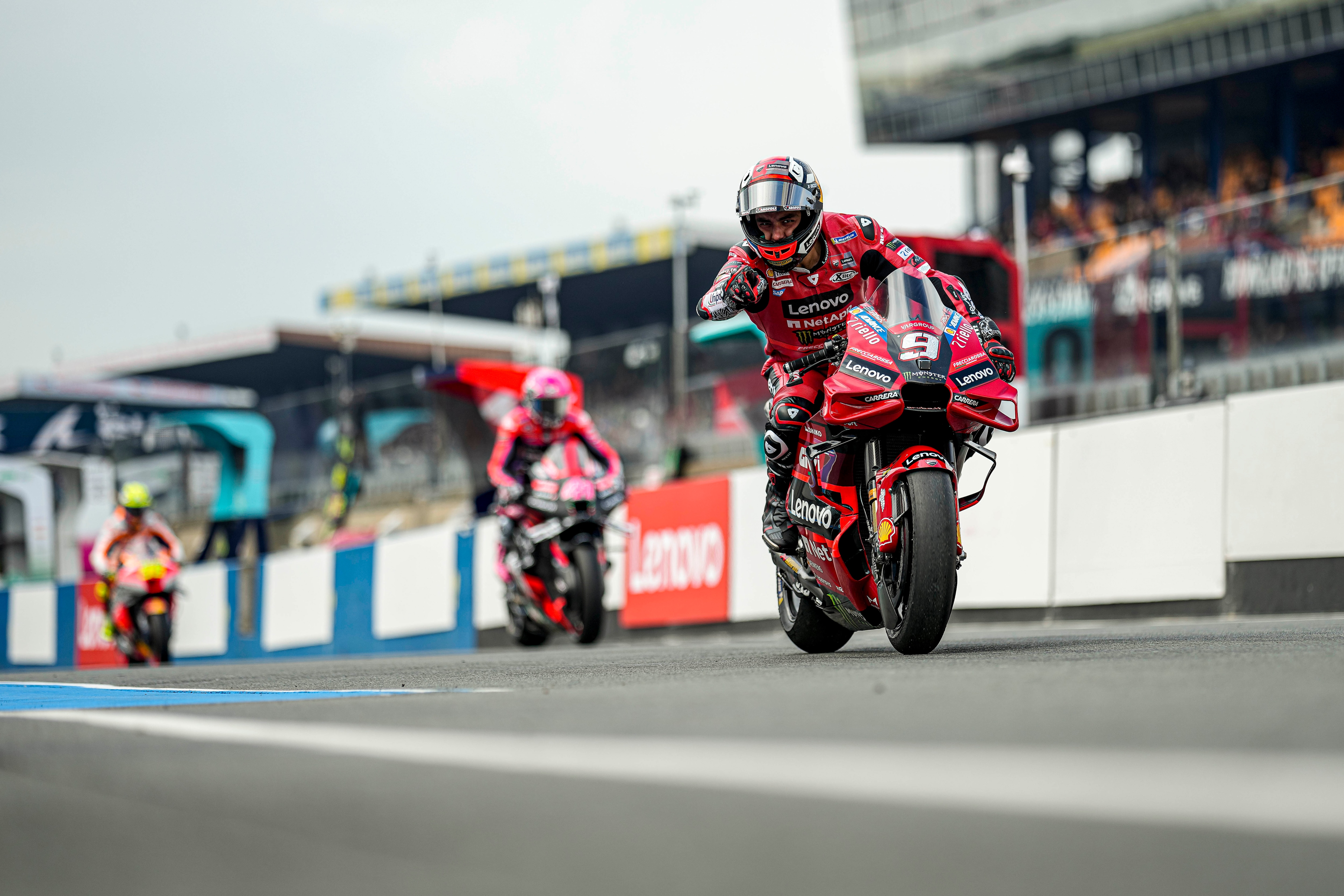 Given that he hasn't ridden a MotoGP bike in nearly a year and a Ducati example in considerably longer, expectations were low for 2020 Le Mans winner Danilo Petrucci as he stepped in to replace Enea Bastianini on the factory bike.
So to come away with a points-scoring finish that was very nearly a top 10 makes the weekend an unequivocal success – and another reminder that the likeable Italian's time in the premier class came to an end perhaps a little too soon.
12 Pecco Bagnaia
Qualified: 1st
Sprint: 3rd
Race: DNF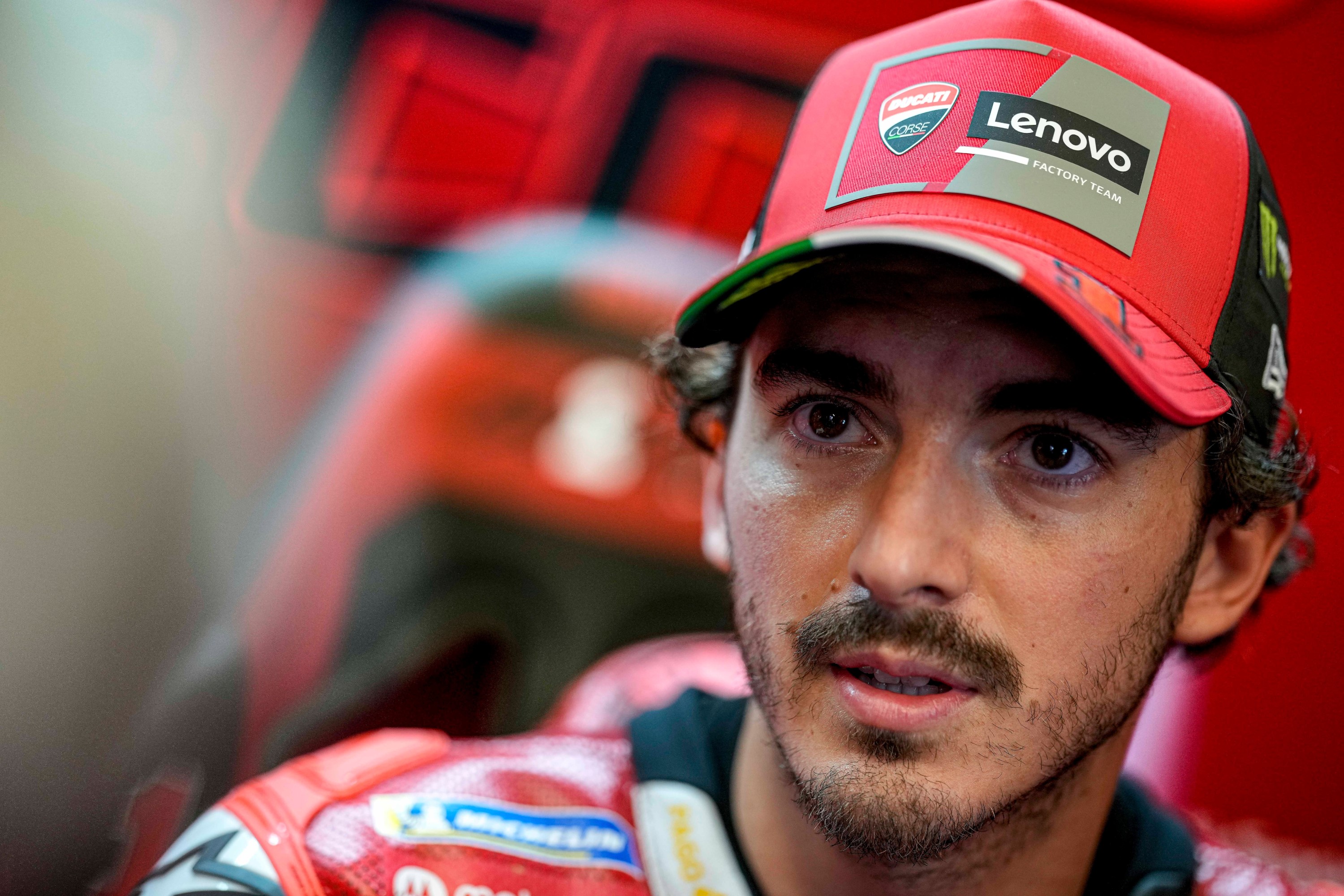 On one hand, the reigning champion's sprint podium on Saturday means that he leaves Le Mans with the title lead still in hand.
But on the other, an unnecessary crash on Sunday while aggressively (maybe even too aggressively) fighting with Vinales means that that lead has shrunk down to only a single point – a situation that there's absolutely no need for the factory Ducati rider to have found himself in.
Discretion is the better part of valour, and there was no need to take the fight to Vinales just as hard as he did.
13 Luca Marini
Qualified: 3rd
Sprint: 4th
Race: DNF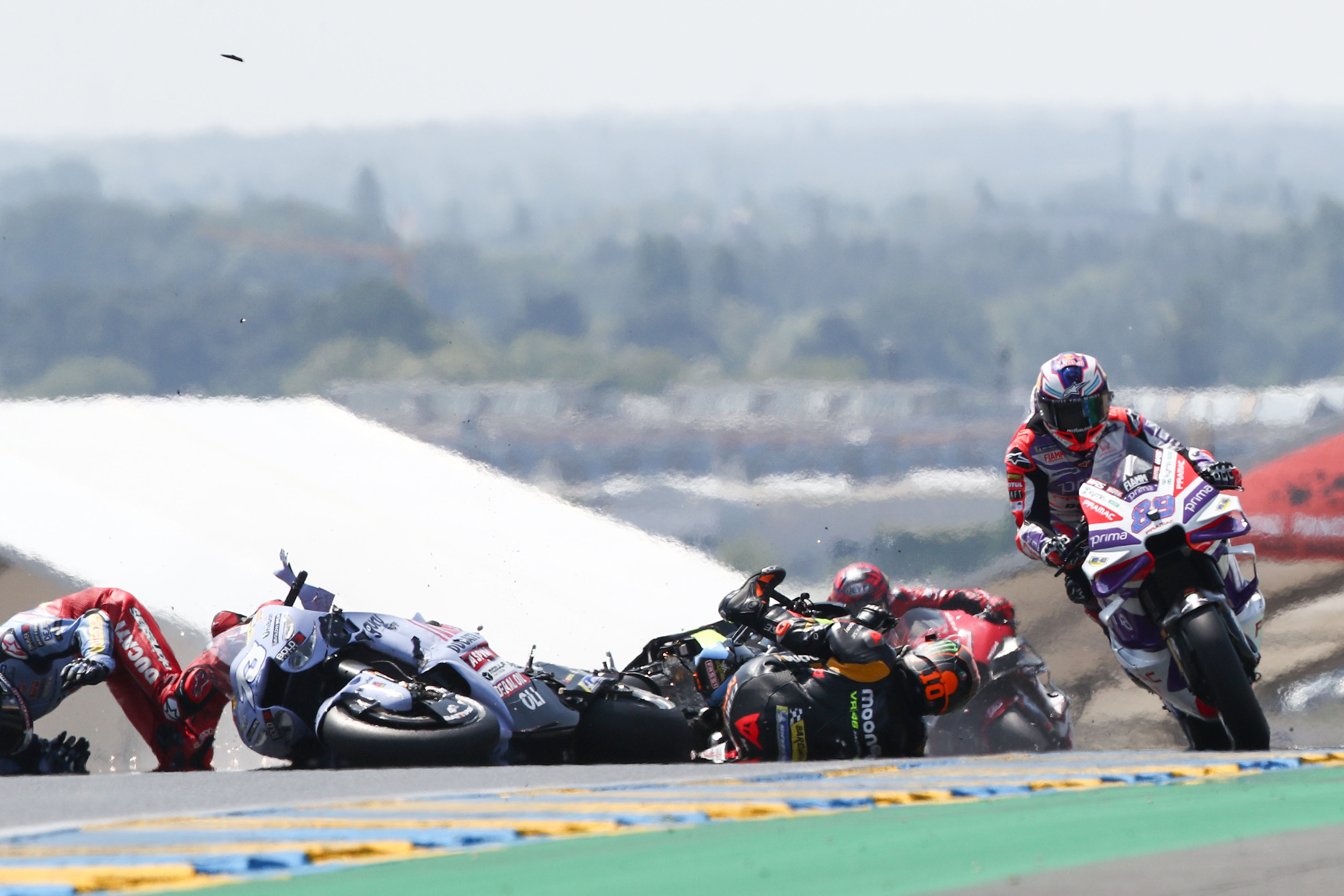 VR46 Ducati rider Luca Marini went into the two races this weekend full of potential after yet another strong qualifying – but despite a strong fourth place in the sprint, it's hard to argue that he fulfilled that potential.
He crashed out in dramatic style on Sunday, and the success of team-mate Marco Bezzecchi really drives home that this should've been a better weekend for Marini.
14 Taka Nakagami
Qualified: 14th
Sprint: 10th
Race: 9th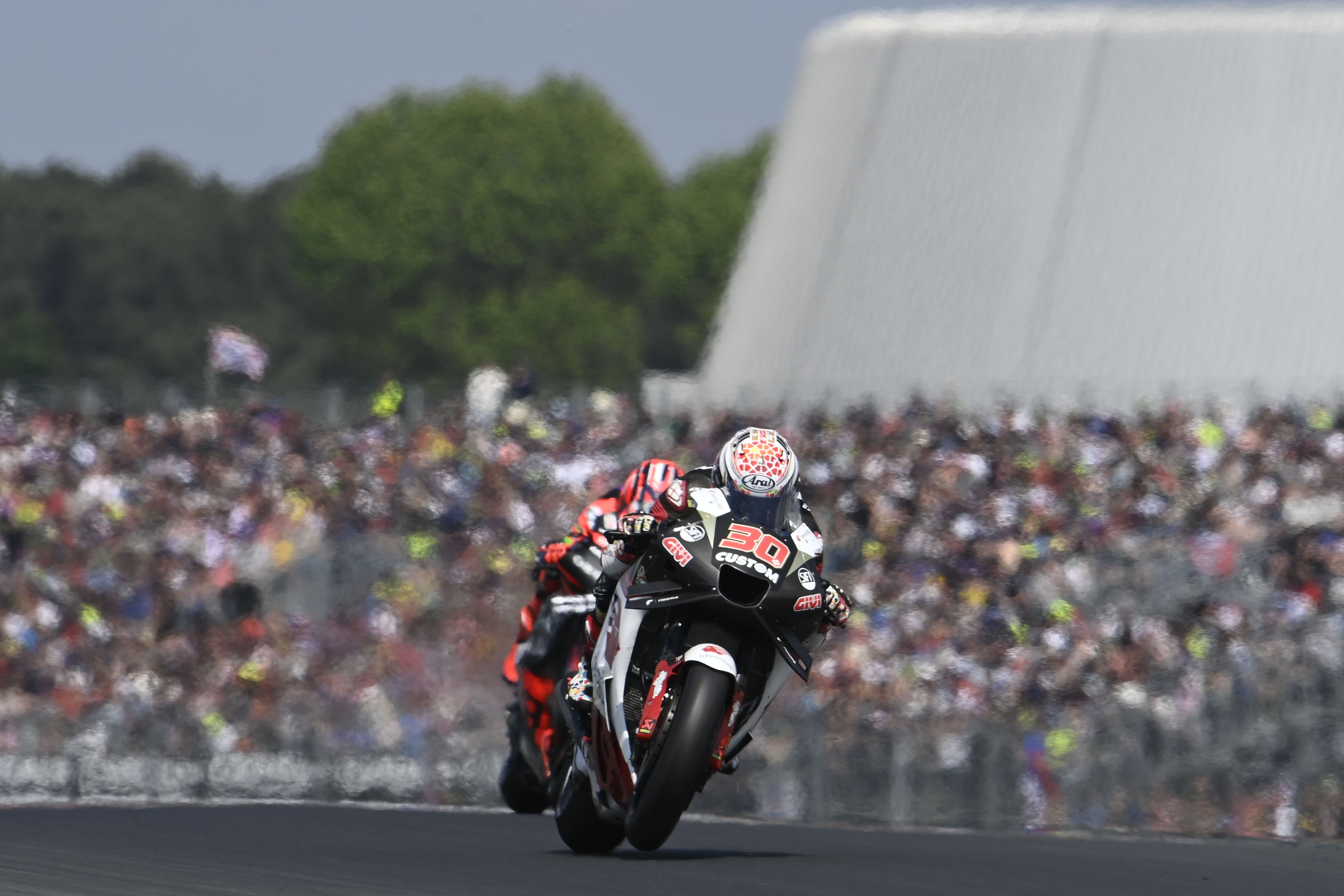 Not the fastest Honda in Sunday's main event but the only one to see the chequered flag – and there was logic to Taka Nakagami's strategy, as he'd seen what happened to LCR team-mate Alex Rins and backed off a little bit to ensure that he didn't become yet another victim of Honda's front end feeling woes.
Ninth place is not exactly a strong result though, with crashes ahead of him inflating his actual finishing position significantly.
15 Alex Marquez
Qualified: 8th
Sprint: 15th
Race: DNF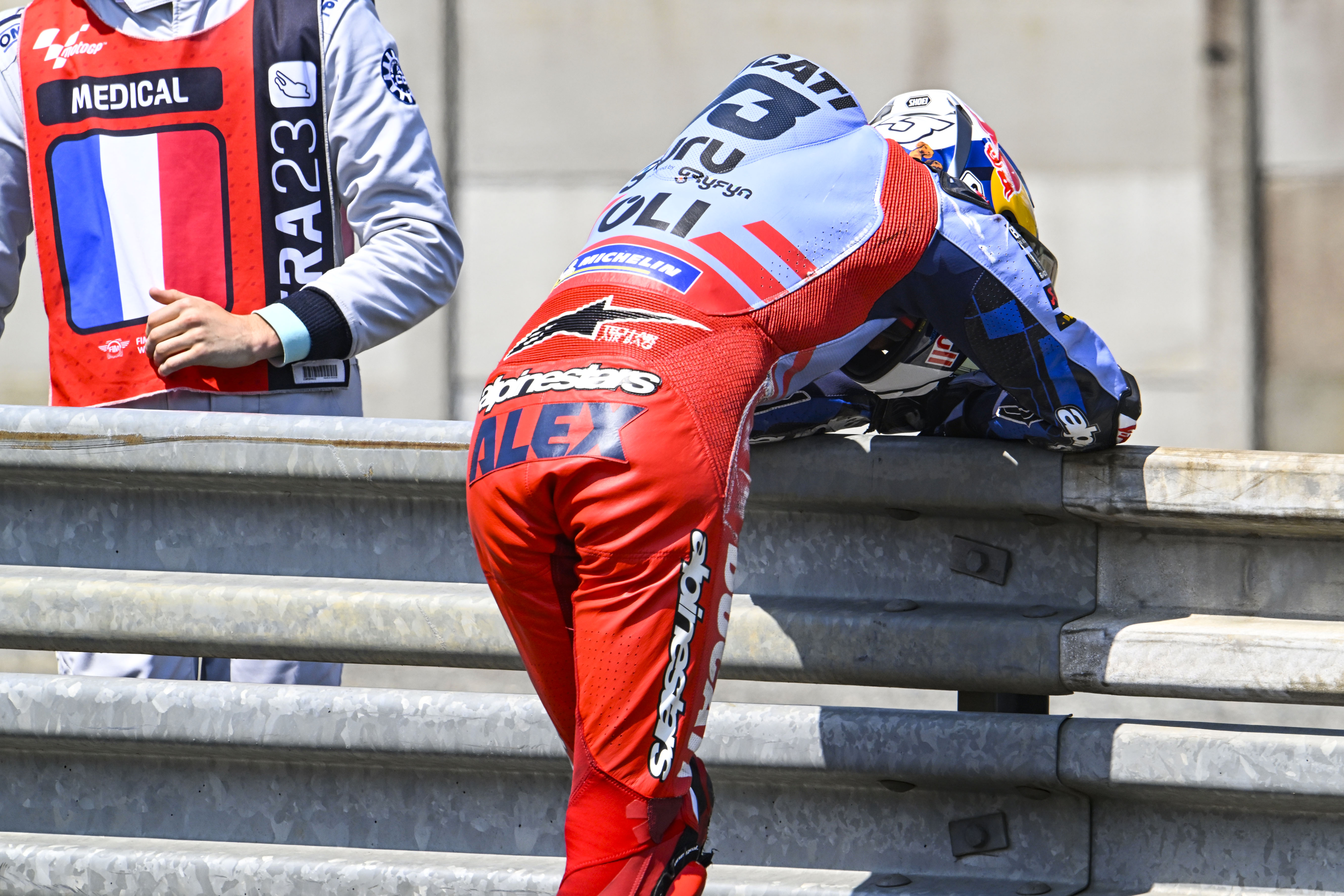 Not exactly an easy rider to rate seeing as we never actually got to see his potential in either race due to various circumstances.
It's hardly the first time this year that Alex Marquez has been sabotaged by bad luck. However, there's a point where repeated bad luck becomes something with a root cause to address.
The Gresini rider, penalised for Mugello for a Sunday incident separate to his crash with Marini, needs to figure out why he's seemingly always in the wrong place at the wrong time and fix it.
16 Jonas Folger
Qualified: 21st
Sprint: DNF
Race: 13th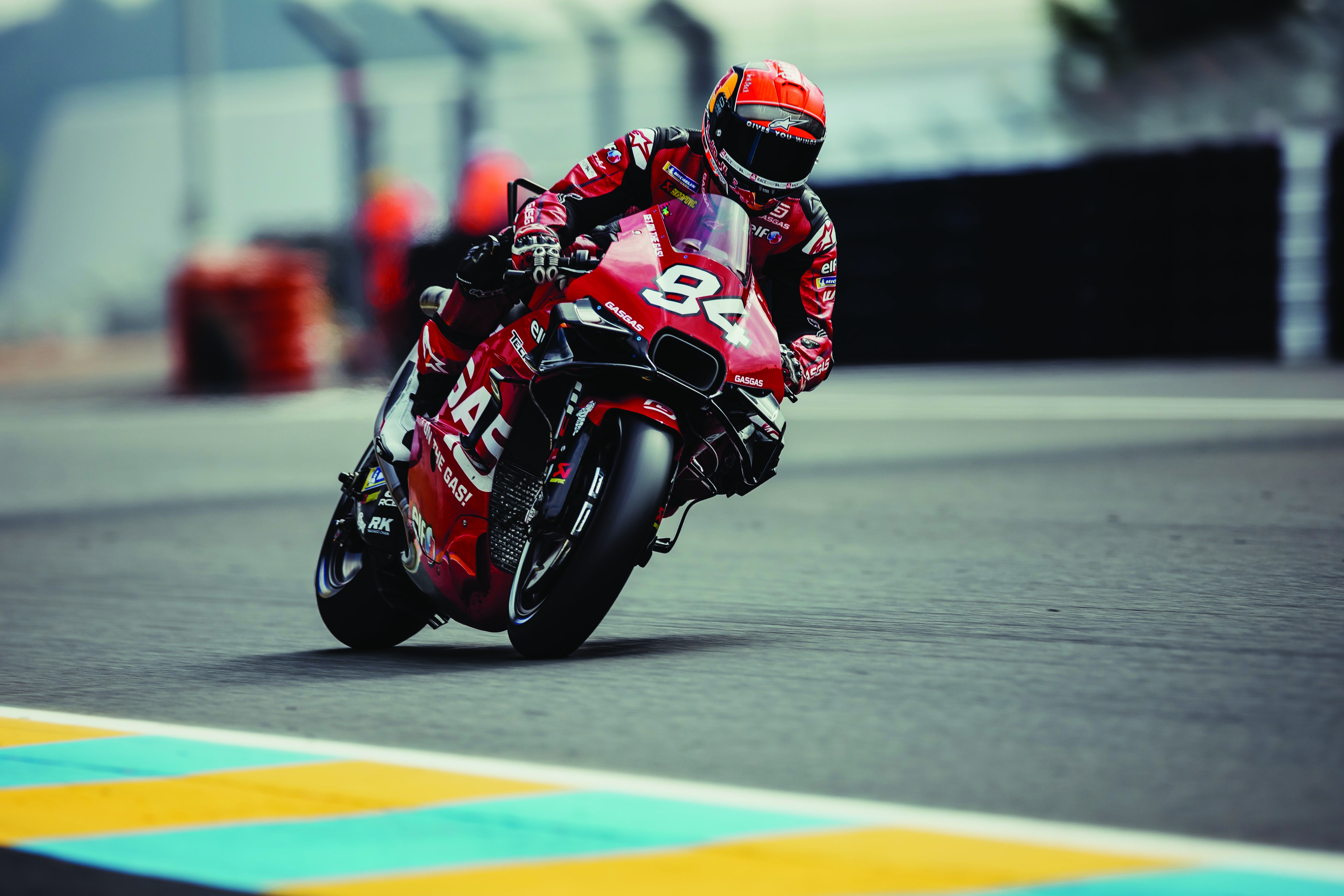 Jonas Folger might not exactly have made waves in Sunday's race, and a crash out of the sprint was a poor start to the weekend's action proper, but nonetheless the points-scoring finish when many others couldn't stay on the bike (as well as a race full of data for testing purposes) means that actually the weekend very much finished on a high for him.
17 Fabio Quartararo
Qualified: 13th
Sprint: DNF
Race: 7th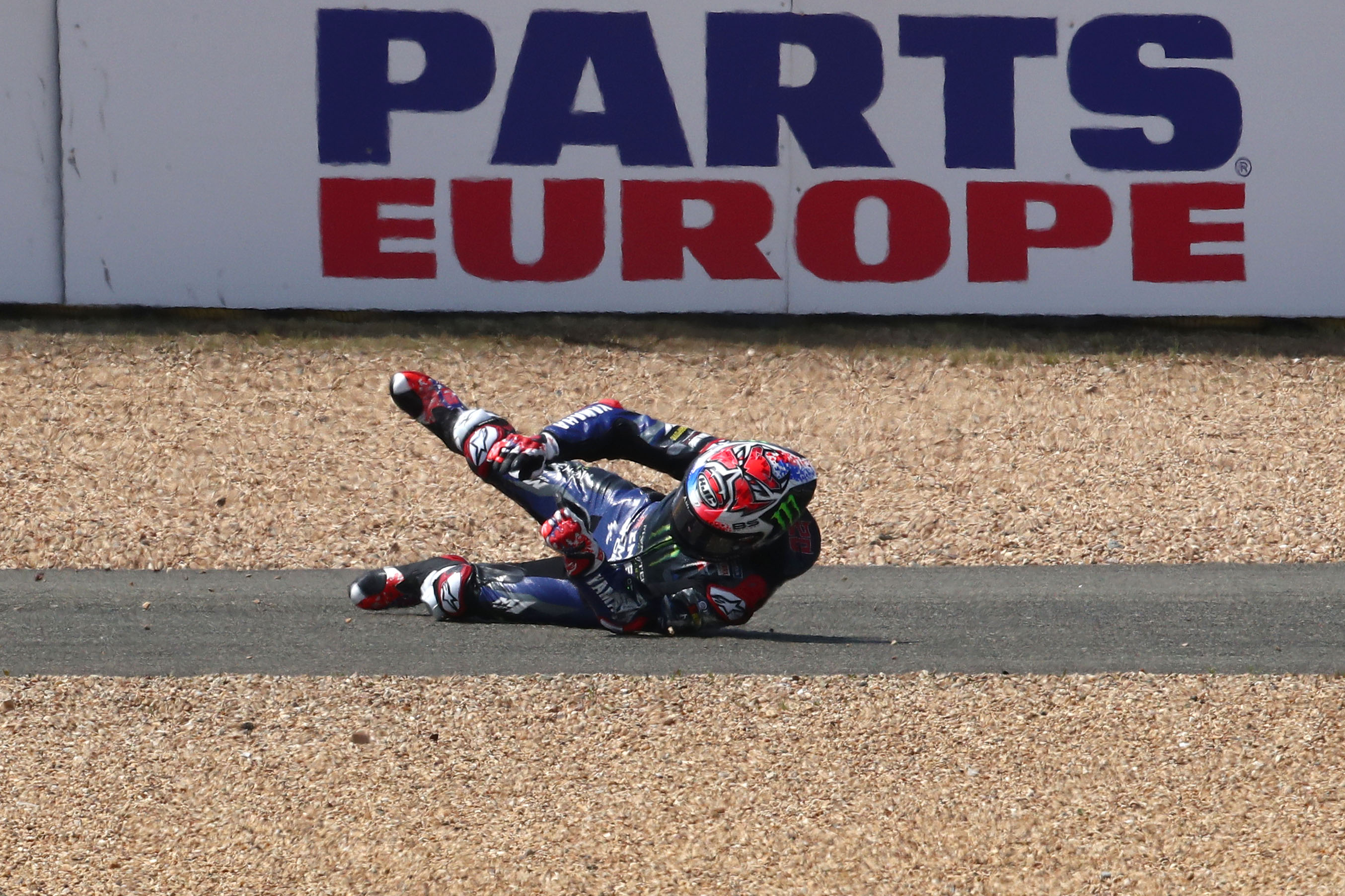 Yet another tough weekend for Fabio Quartararo carries even more of a sting in its tail this time around considering it came at his home race. But there was simply not much else for the Frenchman to give.
His qualifying performance perhaps best exemplified that, taking the Yamaha to the limit early on in Q1 and simply unable to improve.
From there on, it was an uphill struggle, and with no improvements coming on the bike and no real understanding even of his issues, it's promising to be a long year.
18 Jack Miller
Qualified: 4th
Sprint: DNF
Race: DNF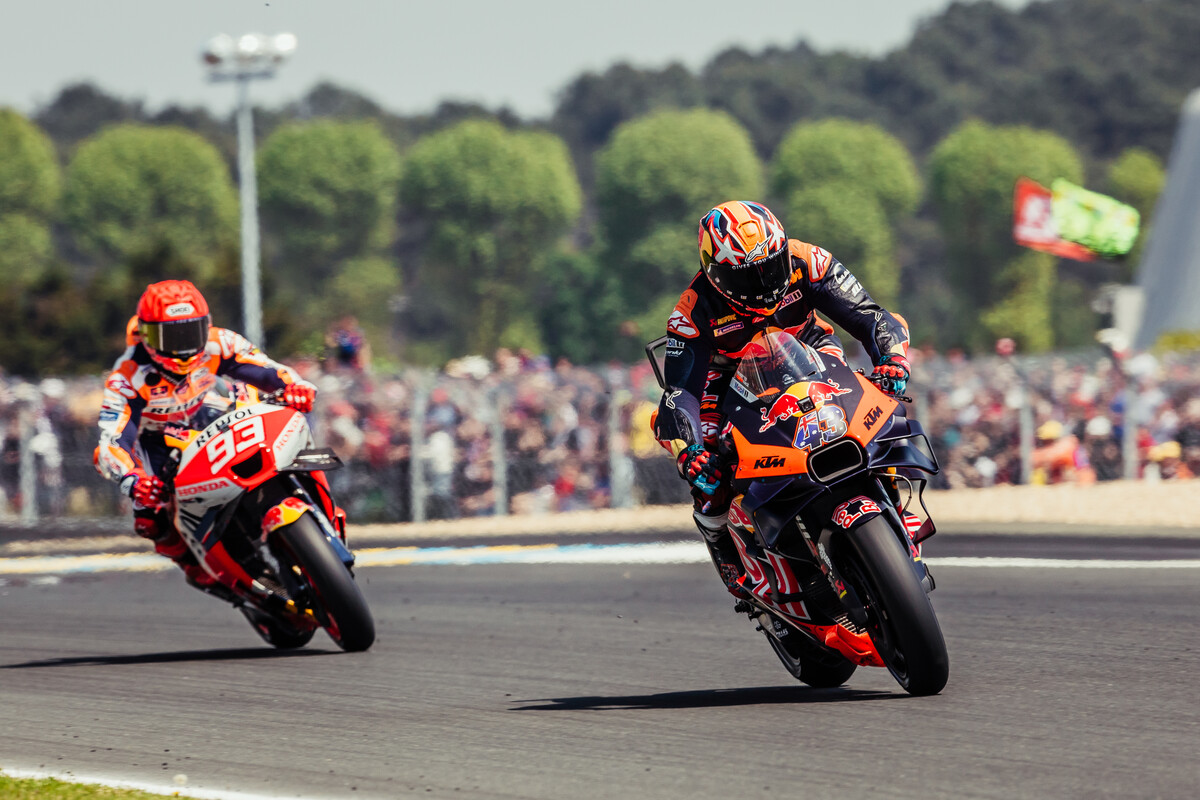 Two races, two crashes, despite a fair amount of potential and even a bit of time leading the race on Sunday for Miller.
Maybe not the end of the world given his start to the season and at least reaffirming that the pace of KTM is something that seems to translate universally at this point, but there was more on offer if he'd managed the situation.
Still, he heads into the short spring break maybe more relaxed about his situation than would've been expected.
19 Alex Rins
Qualified: 18th
Sprint: 11th
Race: DNF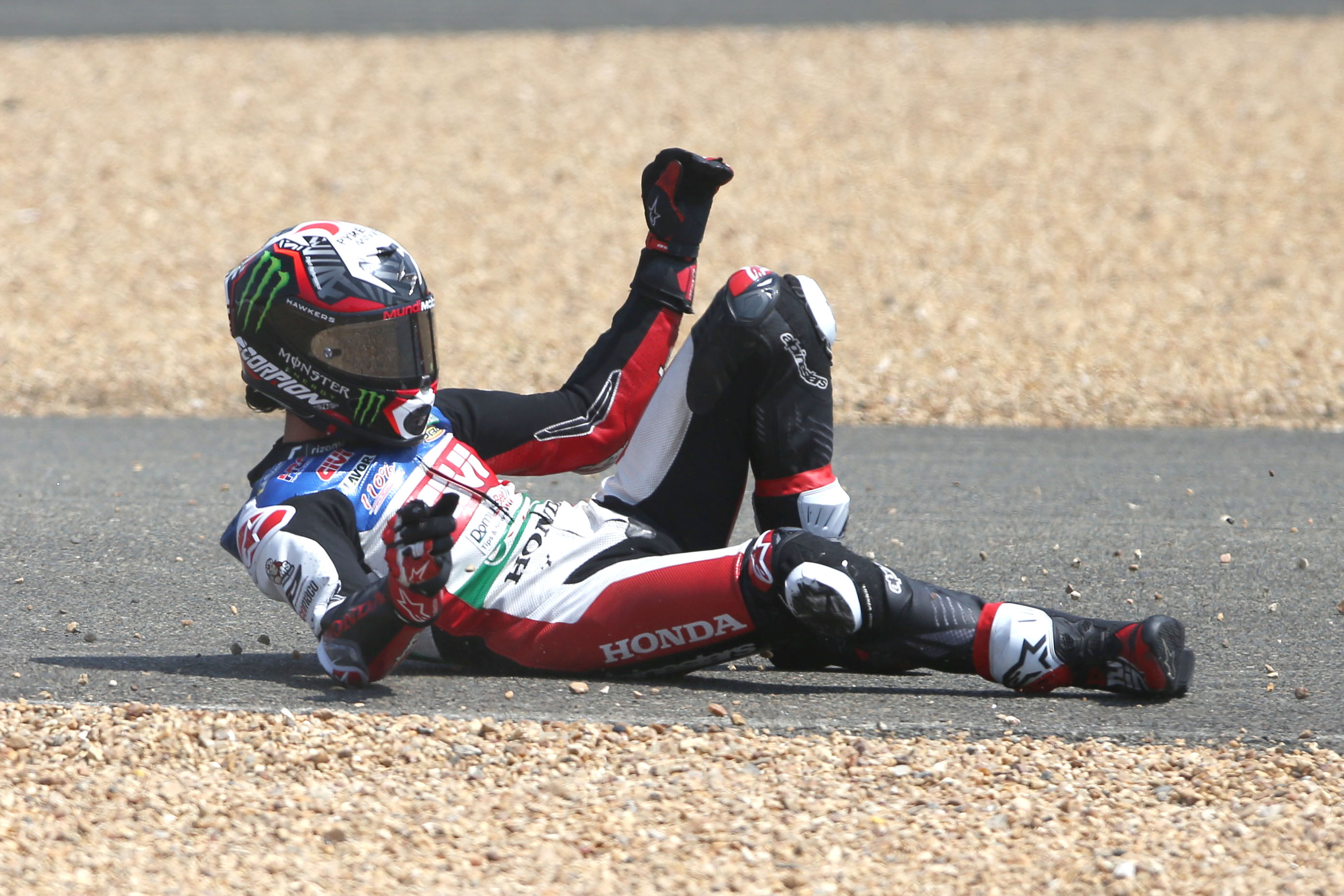 Both LCR Honda riders found themselves in the same situation at Le Mans, struggling with a bike that was right on the knife edge between crashing and not having any performance at all.
Unfortunately for Rins, he didn't do what team-mate Nakagami managed and instead extended himself beyond the limit, paying the price by ending up in the gravel. The end result is a weekend with zero points to show for his efforts – a long way away from Austin race-winning form a month ago.
20 Franco Morbidelli
Qualified: 17th
Sprint: 13th
Race: 10th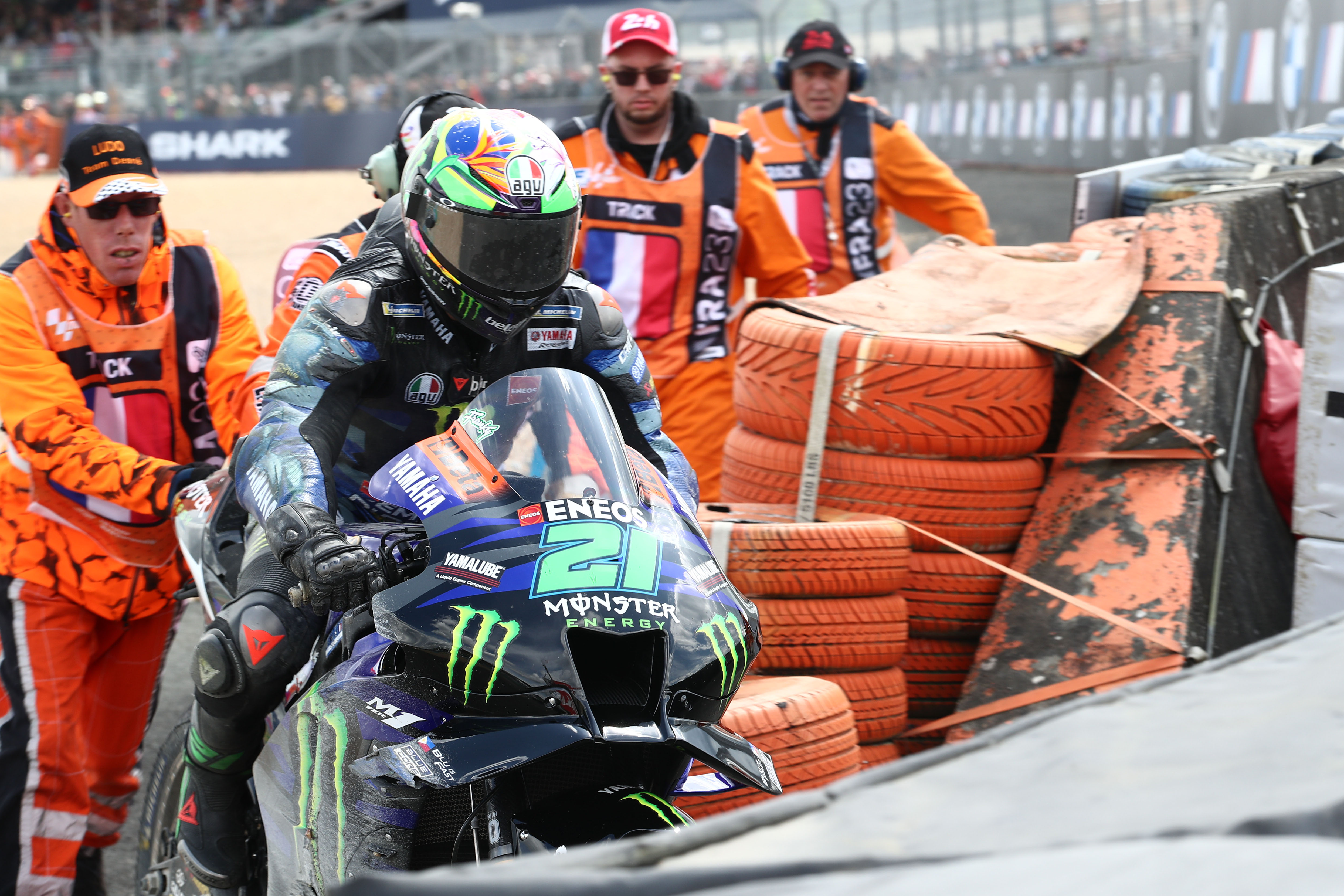 Same old, same old for Franco Morbidelli in Sunday's race: a cooked front tyre early on in the race, a result of getting bogged down in the pack after a mediocre qualifying, followed by very little in the way of opportunity for improvement once the problems got too hard to manage.
From that point on, it was only a case of bringing it home safely – and in the end, crashes in front of him meant that his final position flattered him substantially, with his qualifying and sprint performances perhaps more indicative of his real potential.
21 Joan Mir
Qualified: 16th
Sprint: 14th
Race: DNF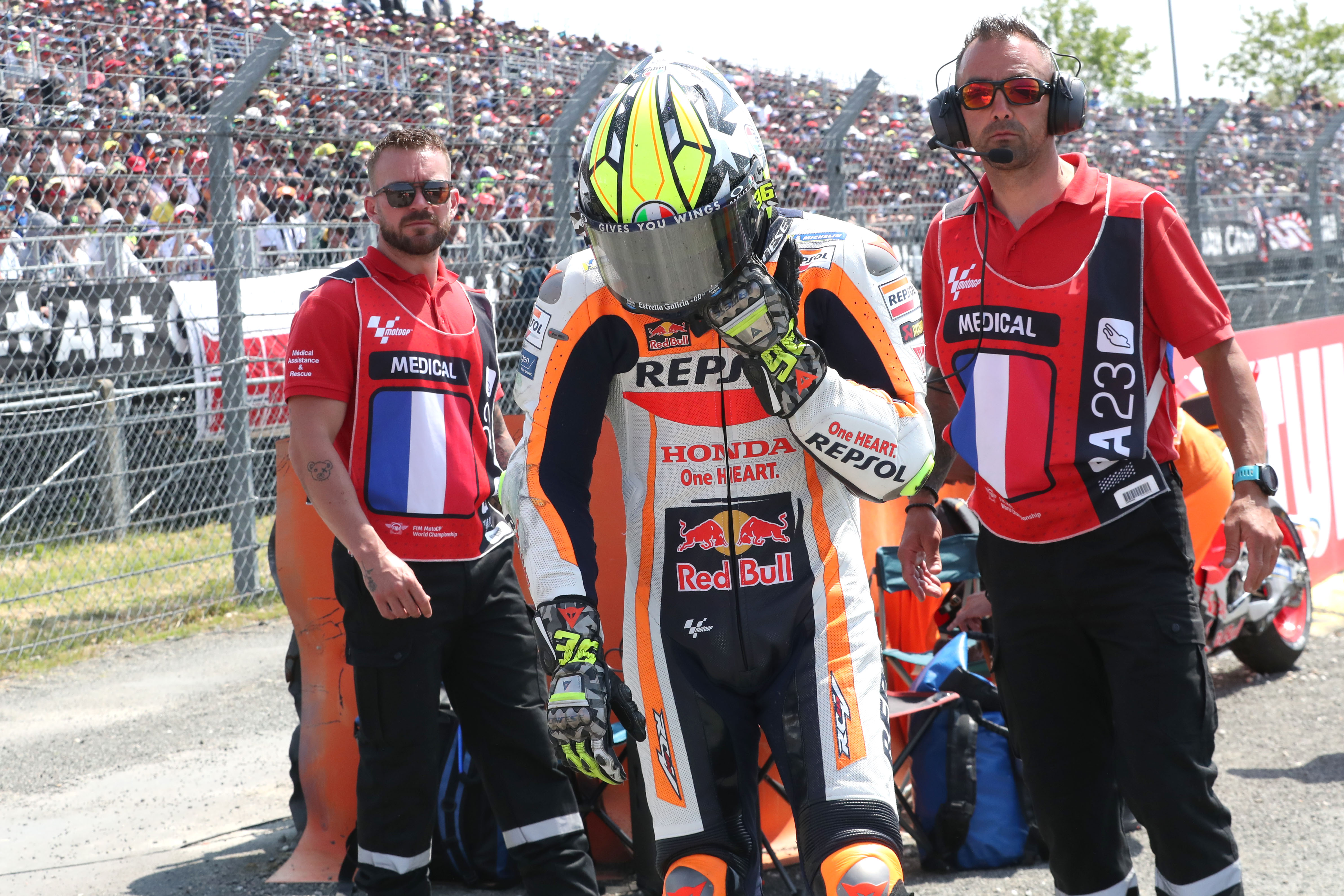 Another weekend, another disappointing crash for Repsol Honda rider Joan Mir: his fourth fall in a row in Sunday's main events.
Coming as it did on his first race using Honda's new and improved Kalex chassis and given that it's clearly working well for team-mate Marquez, it makes his difficult situation all the more tough, and means that there's even less chance of seeing even the faintest light at the end of the tunnel.
No points in the sprint (not even close) compounds the misery.