Sunday's Spanish Grand Prix at Jerez should have been another strong day for Suzuki duo Alex Rins and Joan Mir as the then-joint points leader and the 2020 world champion had finally started to show some of the consistency in recent races that had helped Mir take his crown two seasons ago.
However, the day turned into a disappointment instead, as Mir limped home in sixth, 13 seconds behind eventual race winner Pecco Bagnaia, while his team-mate had an even worse outing, running off the track early in the race and not managing to even make it back into the points in time for the chequered flag.
Of course things got worse still just over 24 hours later, with the shock news that 2022 will be Suzuki's last season in MotoGP.
That surely has to reduce the chance of Mir and Rins getting solutions to the problems that caused their Jerez weekend to go wrong.
The circuit's mix of a tight nature and fast corners should have played into the hands of their GSX-RR the same way it did for reigning champion Fabio Quartararo's Yamaha M1.
But Mir and Rins encountered one of the most common complaints of riders in modern-day MotoGP. When faced with hot track temperatures and the even hotter exhaust gases that come from following another machine on track, the front tyre temperature gets driven up, and with increased temperature comes higher pressure, changing the whole feeling from the Michelin tyre.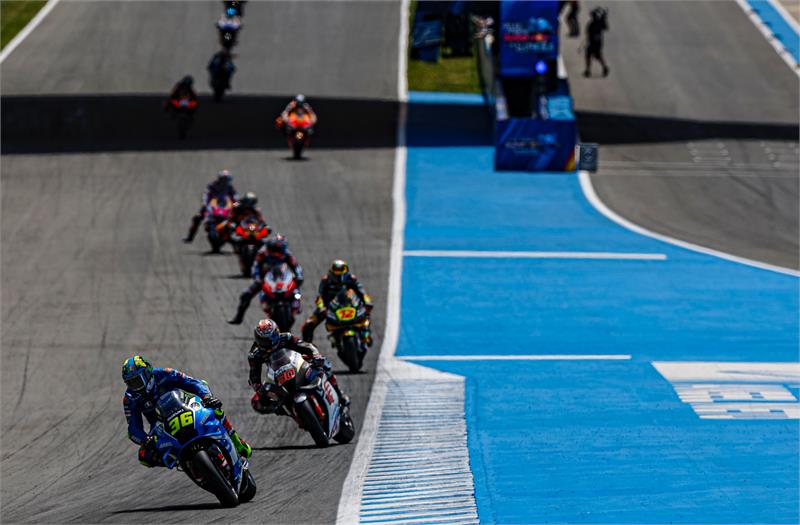 "The last races have been disappointing for me and this one wasn't an exception," Mir admitted. "The temperature was higher, and I was having a lot of trouble with the front. I wasn't able to push with this temperature.
"We have to work on that, because I cannot do anything to avoid this problem. Something similar happened last year – when I have my pace, I start to arrive, and when I start to feel the slipstream of the other bikes it gets worse and worse. I couldn't attack here.
"In the races with hot temperatures it's always the same, but we have to find a solution if we want to fight in tracks where it is hot, because there will be a lot of them."
Asked during Monday's test day if Suzuki needed upgrades to tackle that problem, Mir replied: "To cool down the front tyre, yes, I think we will need something".
The shattering news of their employer's impending exit may well galvanise the Suzuki personnel to go out on a high. But it's far less likely to mean extra investment in a project that is all over in six months' time. Upgrades that aren't already in the pipeline are surely unlikely to be green-lit.
Mir believes he knows the root cause of the front-tyre problems (something that has never been a particularly big issue for Suzuki in the past), but is not quite sure what the secret to overcoming it is.
All MotoGP bikes are very different from only a few years ago thanks to the addition of a rear ride height device in particular (now a standard must-have accessory for all manufacturers), and Mir says just how much that adds extra stress to the front is shown in how the tyre allocation has morphed.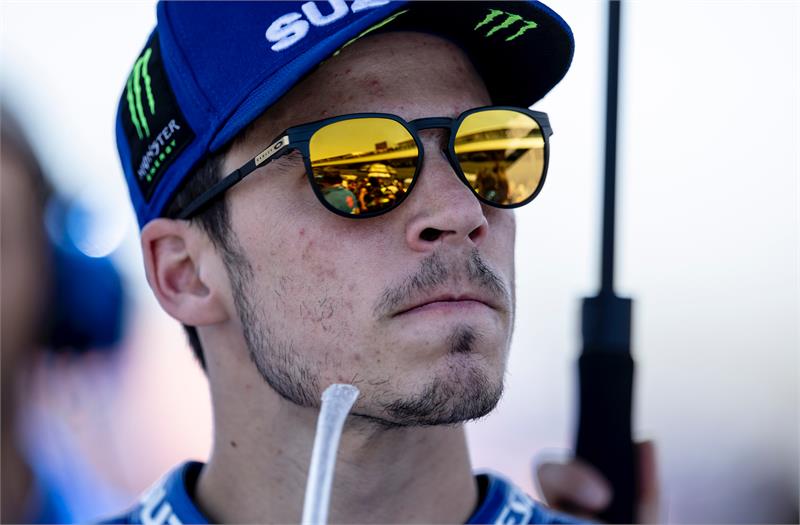 "The wings, the devices, all these things are putting more load on the front. Some teams know how to make the bike better, but in our case we haven't found any solution to this," he explained.
"Some years ago we were able to race here with the [softer] K tyre without problems, but now we are riding with the [harder] H, everyone, and even for me it's getting soft. It means that we are loading the front a lot more."
That hints at a need for fundamental rethinking – not the kind of project an exiting manufacturer is likely to tackle.
But on the other side of the garage, while it was an unwelcome return to 2021 form for Rins, who broke what has been an impressive turn of consistency so far this year by launching himself deep into the gravel trap on lap nine when already well outside the fight for the top 10, he did hint at something that might be more positive for Suzuki.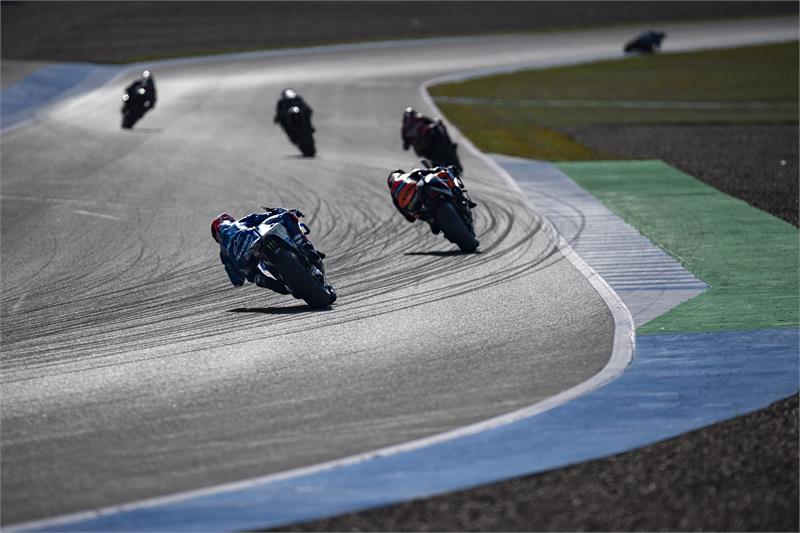 His description of the problems that preceded his exit made clear he was in similar front-end plight to Mir.
"In the race it was so difficult for me to keep the front stable. I was entering into corners, I was touching the throttle and I was losing the front, in every corner. In corner 11 we've already analysed the data and it's very strange. I was entering a little slower than the lap before and I lost completely the front. I don't know how I picked up the bike in the gravel.
BIG save from @Rins42! 😮

But that moment sees him slip to 22nd! 😢#SpanishGP 🇪🇸 pic.twitter.com/ievVFgxcmn

— MotoGP™🏁 (@MotoGP) May 1, 2022
"After that the pace was OK, not the best one but I was riding comfortably.
"Like when you go to go-karting and you rent one that doesn't really turn, it was that same feeling all the race. It was so strange."
But he clarified later that his struggle was not tyre temperature-related but something different, which he reckoned was already fixed in Monday's test.
Rins said Suzuki changed just one setting from the race weekend in the test and "the feeling came back", adding that he believes the bike – which was substantially redesigned for 2022 – needs only small changes to access its maximum potential.
And while Mir feels upgrades are required to sort the particular front tyre temperature issue that struck at Jerez, he agrees that in other areas "we can improve the bike much more" without going beyond the existing package.
That does feel more achievable for a proven championship-winning team that may be relying on its determination and ingenuity a lot more for the rest of the year.
Suzuki, ironically, continues to lead the teams' championship after Jerez, but Rins and Mir are now trailing riders' standings leader Quartararo by 20 and 33 points respectively.