KTM MotoGP rider Pol Espargaro has expressed indignation and disappointment with the fallout from his clash with Miguel Oliveira in the Austrian Grand Prix, accusing Oliveira of a lack of respect and hitting back against media criticism.
Espargaro led much of the Austrian GP, but faded after the red flag restart and ultimately retired in a crash with fellow KTM rider Oliveira, after he ran wide at Turn 4 and Oliveira tried to pass him on the inside of the corner.
Though Espargaro thought a post-race discussion with Oliveira left both riders in agreement that it had been a racing incident, Oliveira's comments were critical of his approach, the Portuguese rider bringing up Espargaro's similar clash with Johann Zarco from a week prior.
In the lead-up to MotoGP's second race at the Red Bull Ring, Espargaro said he was puzzled by the amount of criticism he faced due to the incident, and launched a spirited defence of himself.
"Obviously, I was a little bit surprised how much people know about motorbikes and how easily people talk about something they don't know exactly," Espargaro said. "When I talk about something, I at least try to be informed about what was going on.
"I was just seeing a lot of things due to one reaction – in Miguel's side, he was complaining, so it means that because one rider is complaining, the other one has the fault, instead of thinking 'maybe the other one doesn't want to fight against a team-mate' inside KTM Factory Racing, which is the most intelligent thing.
"I didn't want [a public spat with Oliveira], we are team-mates, and the first thing you learn in this MotoGP world is you cannot fight against your team-mate, because the factory is paying you, it doesn't want it, it's a very bad image.
"And apart from that, I have talked with him after the crash, just after he did a Canal+ [interview] thing, and we arrived to one agreement – he said sorry, I said sorry, we arrived to an agreement that it was a racing incident.
"After it I saw many things, his comments everywhere, and I was surprised, and especially journalist comments where they didn't know anything about the crash. I didn't want to explode on social media because it's not the place where you need to explode, because I felt a little bit frustrated, because nobody knows the situation, nobody has talked to me to ask technically what happened, everyone was just seeing the reaction of Miguel and from that taking their own decision."
'Really shocked' by Oliveira's 'intelligence' comment
Prior to speaking Espargaro after the Sunday race, Oliveira did an interview with Canal+ in which he made a comment that would subsequently incense his KTM stablemate.
"I don't want to attack anyone or Pol but I think he either gets too emotional and doesn't think so much," Oliveira said then. "Unfortunately not everyone is born with the same intelligence, and sometime it's hard to have this and to think during the race, and when we are on the bike we are competing and we have a lot of adrenaline but at the same time we have to manage what we think. It is not something that is given to everyone."
When asked whether hearing Oliveira's comments surprised him given they seemed to have settled the issue, Espargaro said: "I was really shocked. Because I thought our relationship with Miguel was good and yeah, I've been in that situation many times where maybe sometimes it was my fault and I was really hot[-headed] but I never missed the respect to my rivals, even to my team-mate.
"Those were not good words. And I heard him just a few minutes ago with the press, and he was not even saying sorry for these words. Saying 'we are not all born with the same intelligence' is pretty hard, and especially because the bike he's riding is the bike I've made.
"So, imagine if I would have his intelligence to make a bike, we would've been winning last year as well already.
"It's not good . A huge miss of respect, which nobody was talking about, after the race till now. We had a full week, nobody said 'what a miss of respect' from Miguel.
"Anyway, I think he was in a hot moment, and I'm pretty sure he didn't take the best words to explain the situation. Especially that one, which was not exactly my fault."
Oliveira crash mystery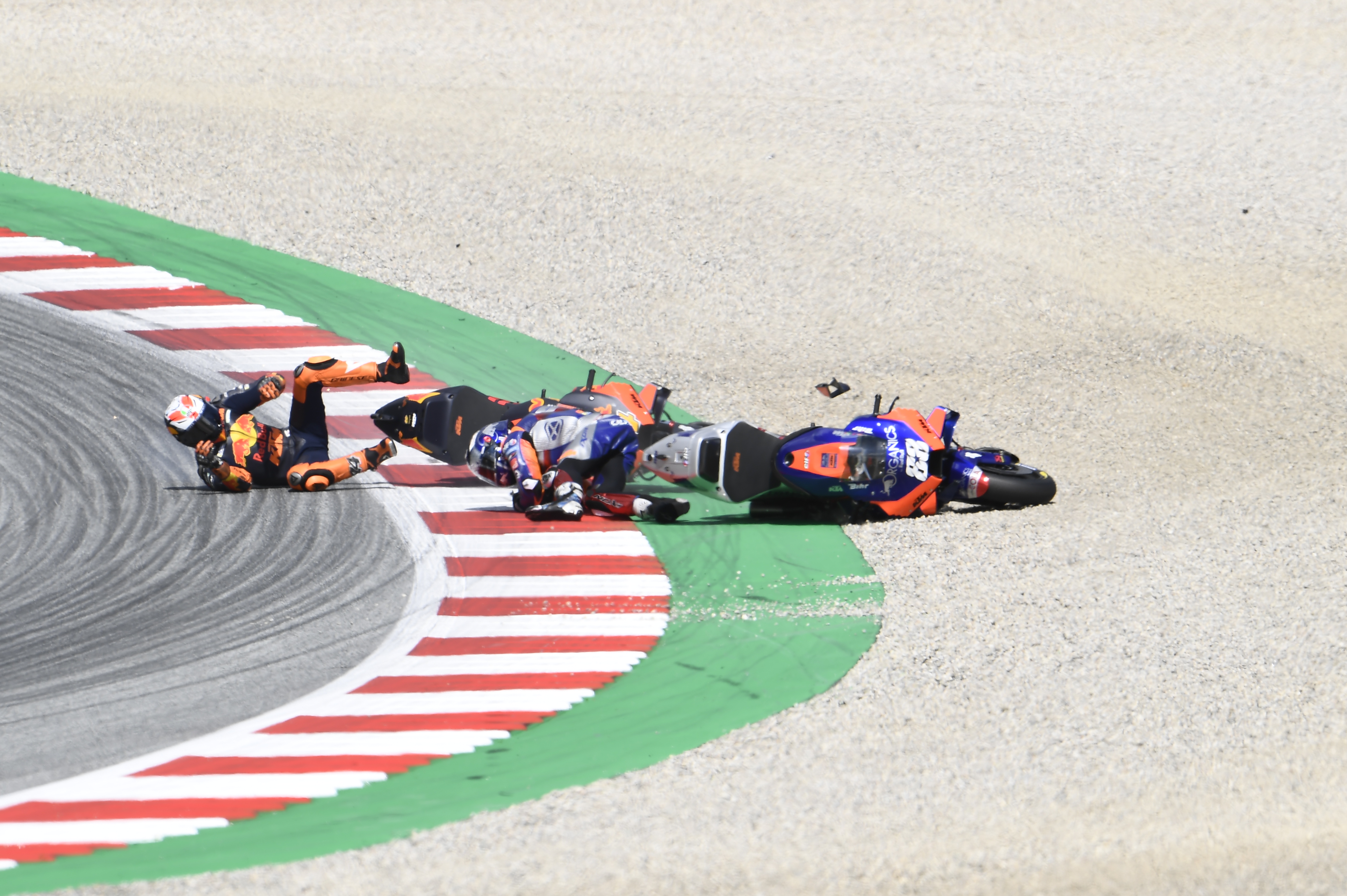 Espargaro and Oliveira both stood in front of race direction this Thursday as the accident was explored further.
"We kind of talked about the prevention side of things, what can be avoided or not," Oliveira said. "It's a bit hard, we want to have a certain level of aggression because we want to make up places, but at the same time we need to respect spaces, we need to respect the lines.
"This is the main thing, the main topic of the meeting. And basically to get my side of the story."
No penalty was handed out, and the two KTM riders' comments after the meeting suggested neither was swayed from their original interpretation of the clash.
And while the matter of whether Oliveira may have been in the process of crashing before he'd made contact with Espargaro's RC16 was raised, the riders had two opposing views – and both said they had the data to prove it.
"We've been in the FIM [stewards' room], I've been [in] with Mike Leitner, the team manager of KTM Factory Racing, and we showed all the data that we have, also they showed videos, we showed videos to them, they were agreeing with me," Espargaro said. "As I said, it was a racing incident.
"I would say to you that Miguel was slightly crashing before he hit me, there is an image where you can see my bike completely almost straight, and his bike is completely on the floor before we crashed. This is what the data says as well.
"[The image was] easy to check, but I'm surprised that nobody could see it and I didn't want to put more fire on during that day."
Yet Oliveira claimed the opposite, saying: "The doubt was if I had crashed before I hit him or not, if he crashed because of that, and in the data it's clearly showing the opposite."
Why Espargaro was running wide
The clash was triggered by Espargaro going wide at the corner, which he had done in the previous lap as well, ceding a position to Joan Mir.
"The line that Pol did was not his normal line. He did the same in the lap before, he went wide, same story, and Mir overtook him on the inside," Oliveira said.
"And my opinion is that if you are racing and you go wide, you need to at least expect that someone is going to take advantage of your mistake.
"My point of view is I don't need to cross my fingers, if I'm doing a corner to the inside, to really try to look to the other side of the bike and see if someone is there."
But Espargaro emphasised that after the red flag, with riders switching to new tyres en masse, he'd been forced to equip the soft rear that none of the other KTMs were using – because his side of the garage had made the "huge mistake" of not hanging on to a back-up medium rear.
"There is a reason," Espargaro said. "I'm a not a crazy guy, an idiot guy riding a MotoGP.
"It was not a gamble. It was the only thing I could do. That's why I was going wide, because there's a technical problem on it – I had no more tyres remaining so I was going wide. But going wide doesn't mean everyone can go in [on the inside] and not care who the fuck… sorry, who is out of the line.
"People, when overtaking, as we saw with Mir when he overtook me or Rins when he overtook me, need to really think that there's another guy on the track that cannot check behind.
"I saw so many many comments saying 'ah, Pol should look behind' – we are racing! I was on the white line – so when I'm on the white line, I need to just get up, put my hand up, look behind, [ask] 'ah, who is coming? OK, come on! everyone goes?' and then I go?
"We are racing. What happened here can be a racing incident, but I don't have a button to disappear from the track.
"Many comments were saying that I was going wide like crazy, but nobody was seeing the first race, how everything was going with the proper tyres on the bike, and the proper bike, that we had the best bike of the grid. I promise you that.
"The bike was unbelievably good. I could overtake [race winner Andrea] Dovizioso in whatever place I wanted – braking, acceleration, changing direction.
"The bike was unbelievable. So that's what pissed me off – the bike was so good at a very high level, I didn't take profit of it. Exactly the same as in Czech Republic."