The start to the 2022 MotoGP championship has been nothing short of a disaster for pre-season favourite Pecco Bagnaia.
A more-different-than-expected new factory Ducati turned out to be changed enough to completely upset the confidence that took him to four wins in the final six races of 2021 and an impressive if eventually unsuccessful title charge.
Since the start of this year, Bagnaia's been nowhere near his old form, struggling to a best of fifth place, never looking like returning to race-winning ways and so far only really drawing attention to himself by wiping out compatriot Jorge Martin in the first race and with a punishing high-side during qualifying last weekend at the Portuguese Grand Prix.
However, there were hints of something showing at the Algarve International Circuit in the way Bagnaia charged through the pack to come from last to eighth despite a shoulder injury that meant he was even in doubt for the race altogether on Saturday evening.
And that form has carried over to this weekend's Spanish Grand Prix at Jerez, too, as demonstrated by a blistering time attack lap in qualifying to become the first person to deny pole position to Fabio Quartararo at the track since the Yamaha rider made his MotoGP debut in 2019.
Ending the day nearly half a second faster than the Frenchman at a tight track where only a second separated the other 11 riders in Q2 with him, Bagnaia described it afterwards as possibly the best lap of his career – and says it's further confirmation that what he saw in Portugal has carried over.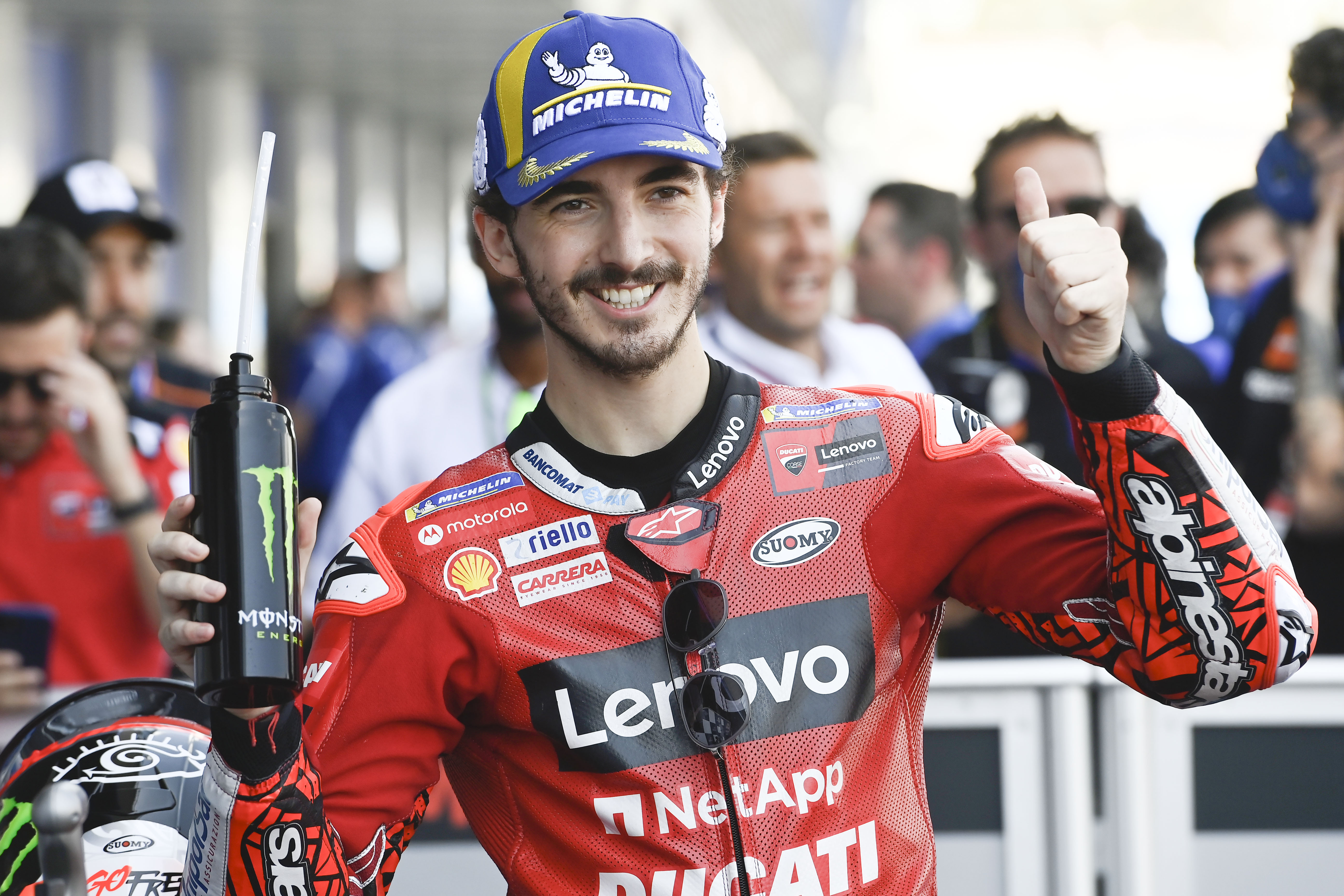 "The truth is that I think it is my best lap time ever," he said, "because I tried to push and I didn't do any mistakes.
"Normally when you try like this it is easy to make mistakes, to run wide in a corner, but today everything was perfect.
"The lap came from Portimao because I was feeling great again with my bike, and we started this weekend well again. Every session, I was improving a bit."
With that feeling, it means that it's now time to finally get his title challenge underway despite a couple of false starts.
But missing out on fighting for podiums or victories in what's already added up to 25% of the season means Bagnaia's got a big task ahead of him – sitting 38 points behind Quartararo in 10th in the championship.
Asked by The Race if his title fight would effectively start at Jerez, Bagnaia replied: "If I wasn't in the first races then yes, but I was there and I was losing points.
"For sure we've worked a lot since the first test of the season, and it hasn't been easy, but in Portimao I finally found it again – my feeling with the front.
"In this track from the start of the weekend I've felt it again, my strong point in the braking, and I'm very happy about that. But for sure it's time now to think on points."
With that newfound confidence, it should mean that Jerez is going to be a two-horse race with Bagnaia likely the only person able to challenge what looked like unbeatable pace from Quartararo early in the weekend – an advantage he's slowly worn down since then.
"For sure this is Fabio's track," Bagnaia said of his rival. "He's always competitive, always strong, but compared to yesterday we've closed the gap a bit in terms of pace.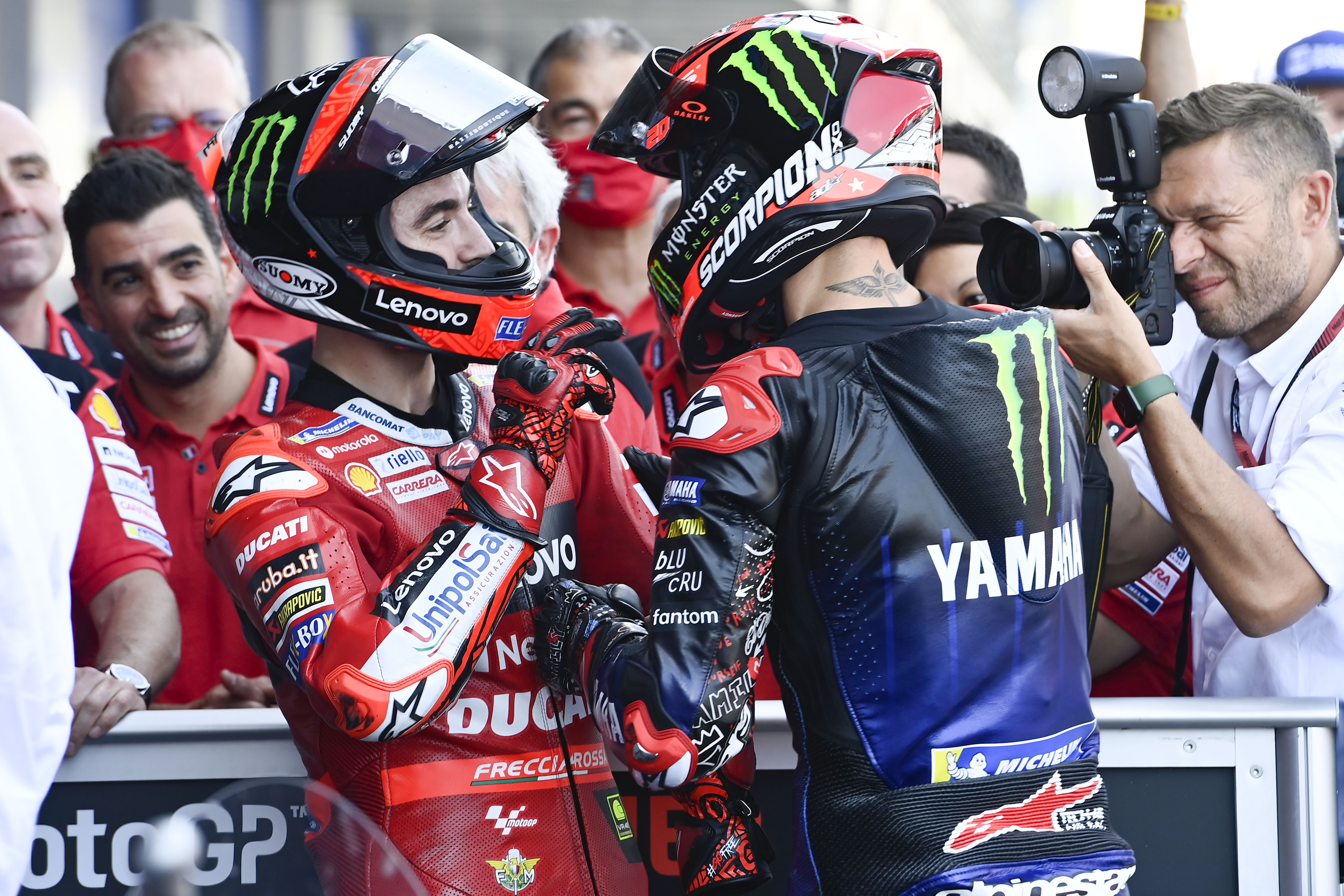 "FP4 was really good for me in terms of speed and constancy, and I think we can have a good fight [in the race].
"It's too soon to predict, because Fabio has been very fast and constant all weekend and the conditions for the race are always a bit different so we have to wait and see.
"For sure it'll be very important to finish the race in front, but the most important thing will be to fight with him.
"I don't want to say that I want to win even though it is true, because it will be more important for me to stay at the front and fight. It'll be the first opportunity this year to do this.
"Aleix Espargaro and Joan Mir also has a good pace, but I think me and Fabio have done more or less the same work with used tyres and our pace is quite similar.
"It's true that Fabio was able to do more laps, but I was trying to be more calm for the shoulder. But in any case, I think four riders have the pace."
There's only one thing that might prevent him from getting stuck into a battle with Quartararo: the state of his shoulder.
Still nursing injuries from Portugal and admittedly bruised and hurting, Bagnaia's hoping that painkillers on Sunday morning will allow him to make it to the chequered flag still competitive.
"The shoulder is coming back," he explained after qualifying. "It's true that compared to yesterday it was a bit worse, but that's normal when you push.
"It won't be a limitation, I hope. For the time attack it wasn't. It's true that doing more laps can be worse, but I hope for the race the Clinica Mobile will be able to give me something good."