Another Ducati victory at the 15th round of the 2023 MotoGP season – but this time with a different rider onboard, as Enea Bastianini finally broke his 2023 team-mate Pecco Bagnaia's streak of impressive win.
Behind the duo fighting for victory, chaos raged as early contact between Marc Marquez and defending champion Fabio Quartararo took the points leader out of the race, split the field in two, and ruined lots of peoples' hopes of successful Sundays.
Far from ideal, of course, but it meant a big shake up in the standings as Aprilia rider Aleix Espargaro returned to the podium in third to close down the once-healthy lead that Quartararo enjoyed over him and Bagnaia – who gained plenty of ground too.
That also, of course, means plenty of performances to judge in this week's rider ratings.
Our MotoGP ranking system is simple: the riders who we believe performed the best in every race are at the top, and the ones who underperformed are at the bottom and scored appropriately.
It isn't just about the end result though, with pre-race expectation and form going into a race and a weekend heavily influencing their eventual score, not just the points they scored every Sunday afternoon.
Enea Bastianini – 10
Started 3rd Finished 1st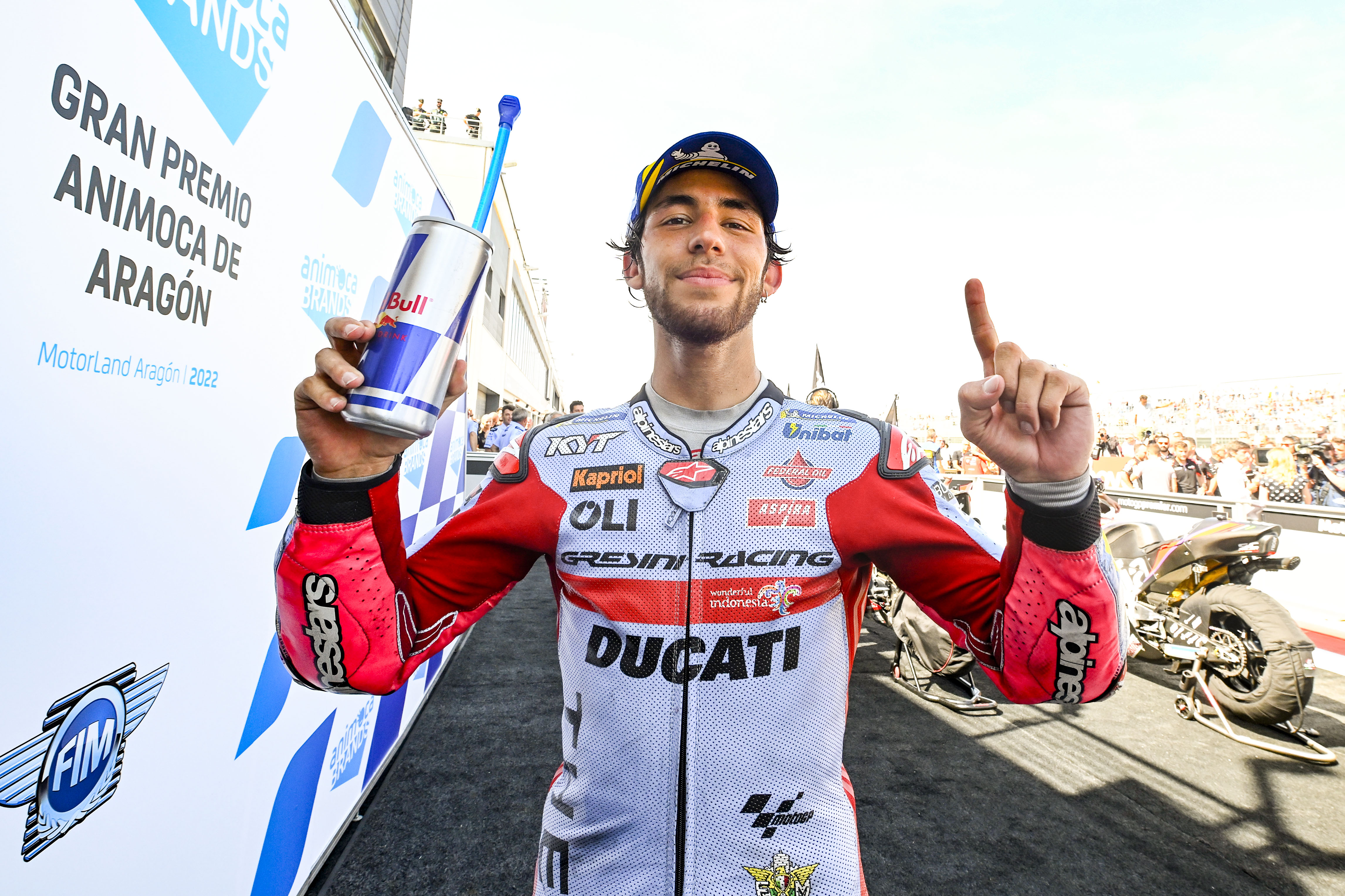 Despite a couple of little mistakes here and there that made him regroup and re-attack, Enea Bastianini rode a flawless race on Sunday.
It was the thinking rider's victory, and it's hard to imagine that he hasn't studied previous Aragon final laps to know when and where he had to make his move. In the end, he got one shot and it worked.
Brad Binder – 9
Started 10th Finished 4th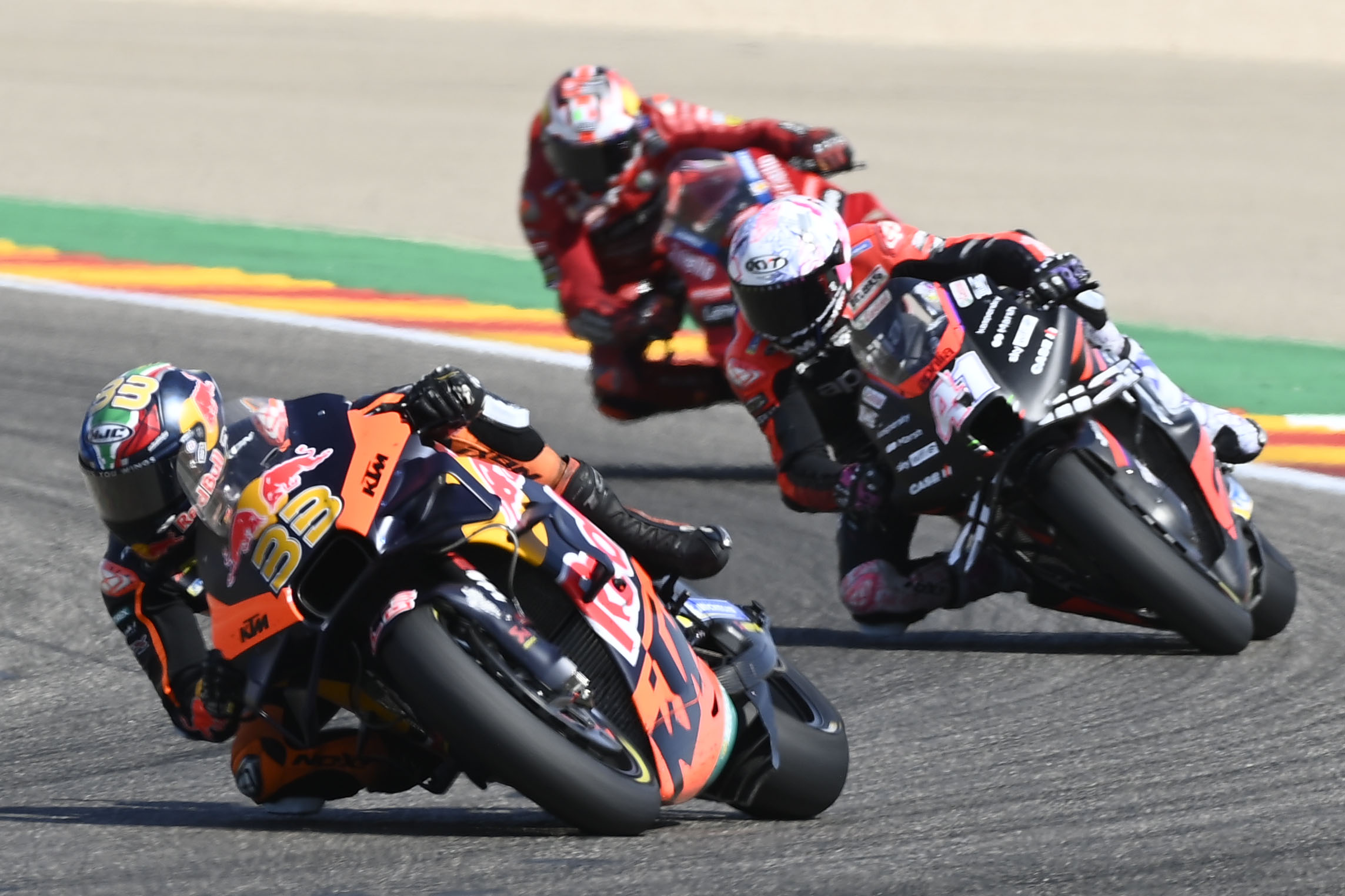 There are good race starts, and then there is the one that Brad Binder made on Sunday to absolutely launch himself from the fourth row of the grid to second place in the space of one corner.
Looking the strongest he has all season, his only problem in the end was the lingering effects of a huge crash earlier in the weekend that left him fading as the race went on – and eventually just about handed the advantage back to podium rival Aleix Espargaro. Nonetheless, it remains a successful day out for the South African.
Alex Rins – 8.5
Started 9th Finished 9th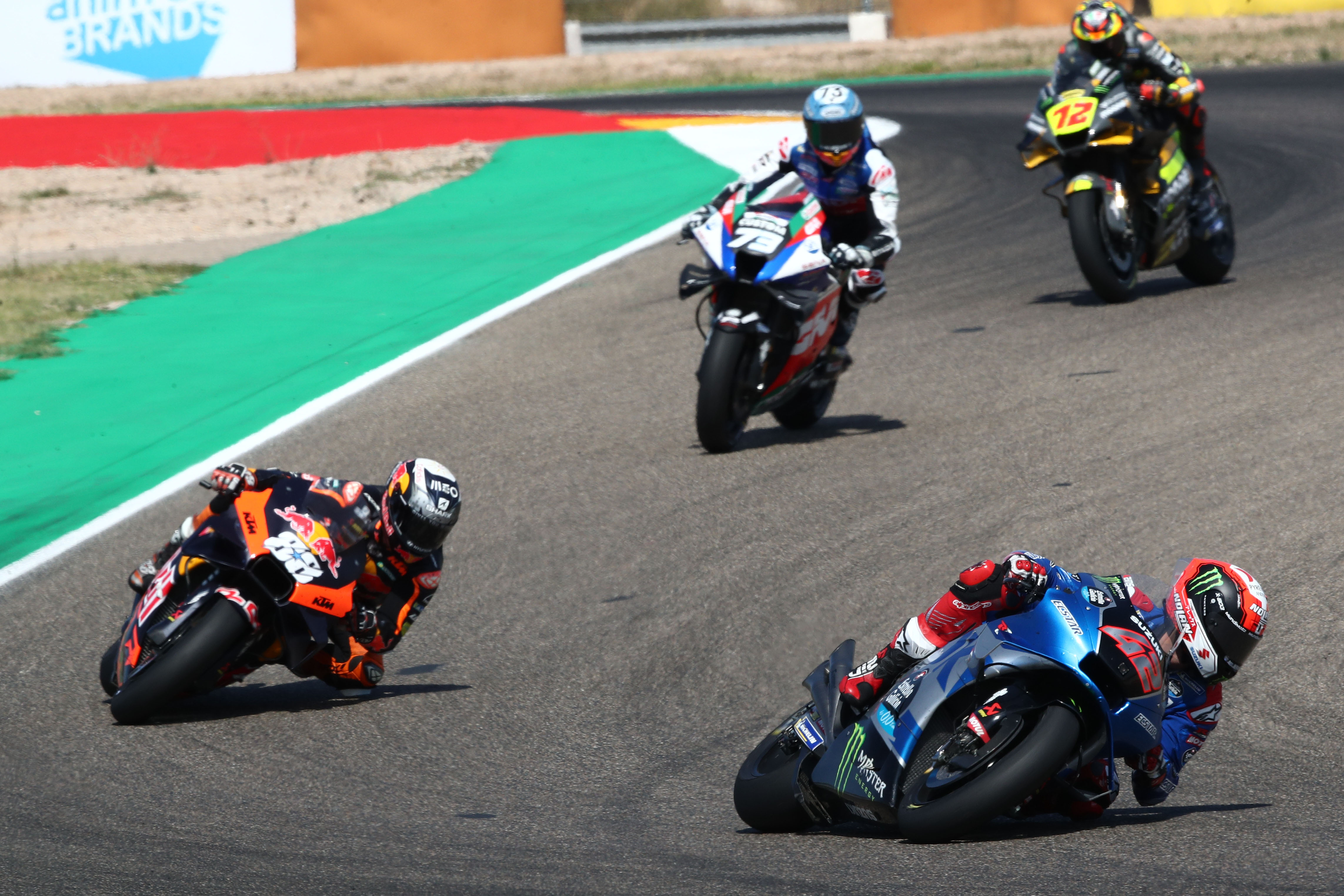 It's hard not to feel more than a little sorry for Alex Rins after Aragon, with the local hero's best chance of late to secure a farewell podium for Suzuki very much on the cards – at least, until he had to take severe evasive action not once but twice on the opening lap.
Having the pace for a top three finish and one of the few guys with tyre life left at the end, he salvaged a good result – but was still left disappointed.
Pecco Bagnaia – 8
Started 1st Finished 2nd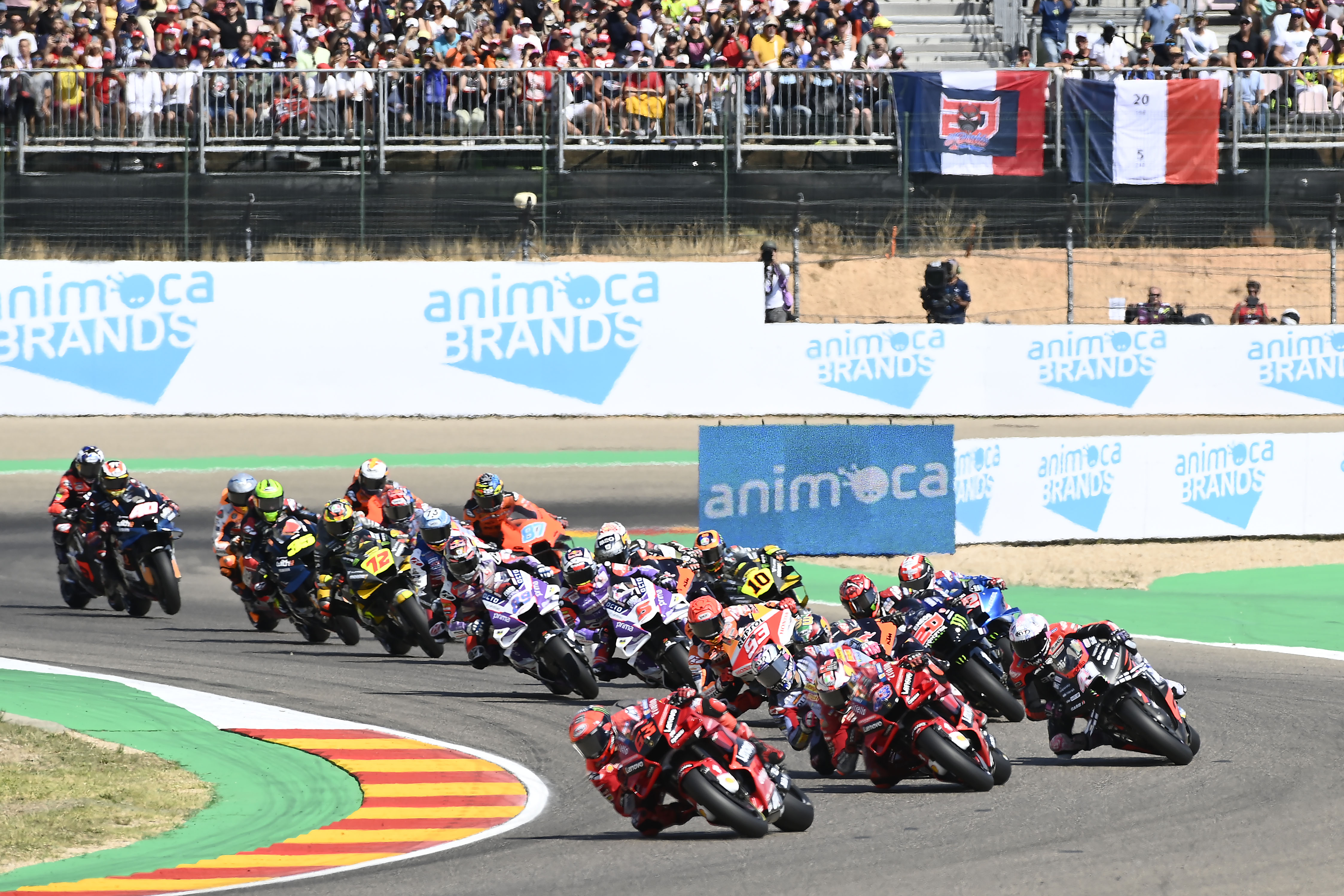 It's perhaps not surprising that second was the best available on the day for championship contender Bagnaia given that there are clearly no team orders in place at Ducati (at least for now).
His 2023 team-mate Bastianini was clearly able to risk more on the final lap, especially given Quartararo's departure from the race early on, and Bagnaia had to play it safe.
That's not to say he wouldn't have defended if he had the chance, but given that Bastianini didn't give him much room to counter either, Bagnaia should be pleased for once to come home second best.
Aleix Espargaro – 8
Started 4th Finished 3rd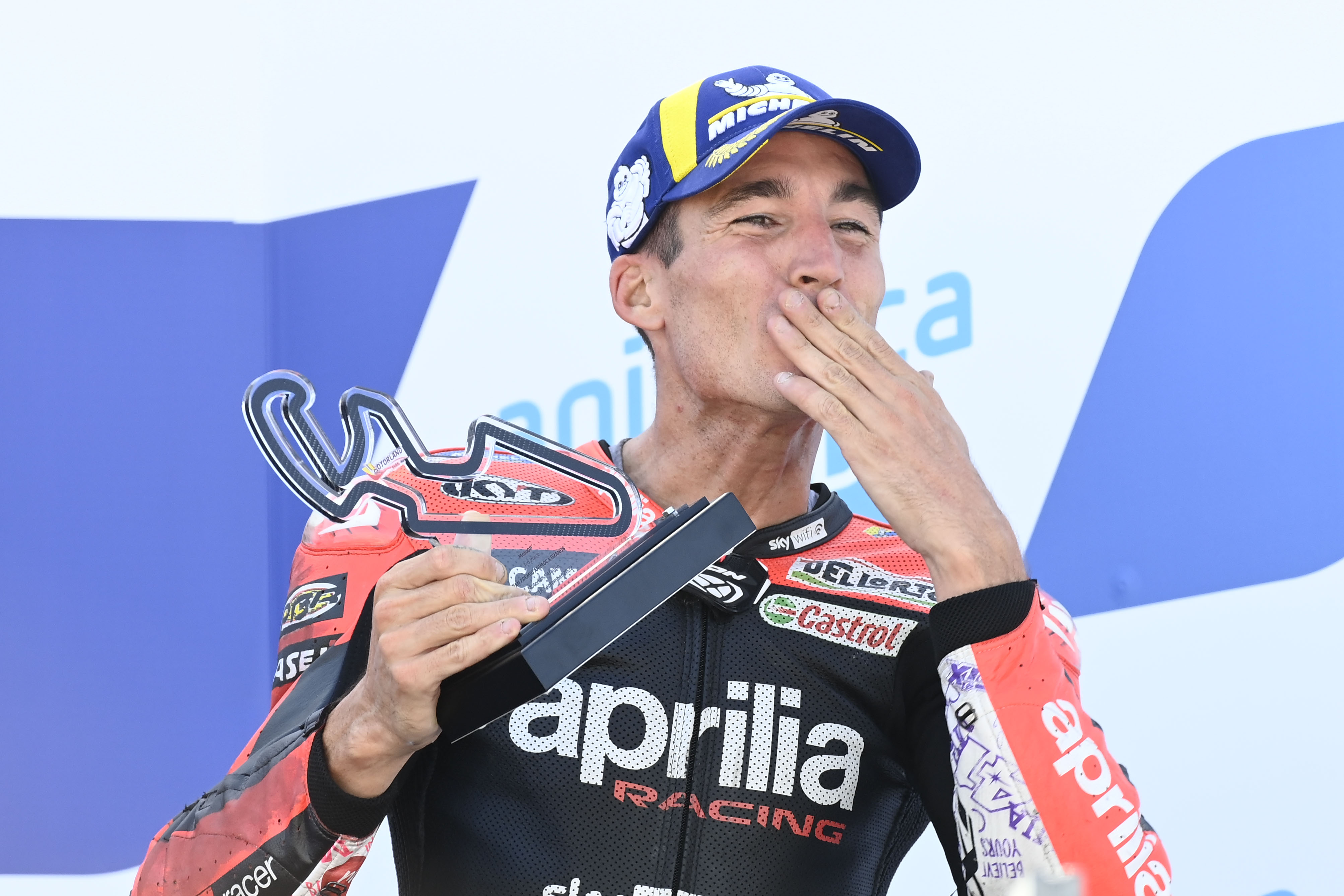 Credit to Aleix Espargaro: on a day when he absolutely needed a podium to fully exploit his rivals' mistakes, he delivered on it, reinvigorating his own title challenge by finding his mojo again at a crucial time.
Admitting afterwards that he knew he had to go all in the minute he saw Quartararo was out, he fully delivered with his best performance of late.
Cal Crutchlow – 8
Started 19th Finished 14th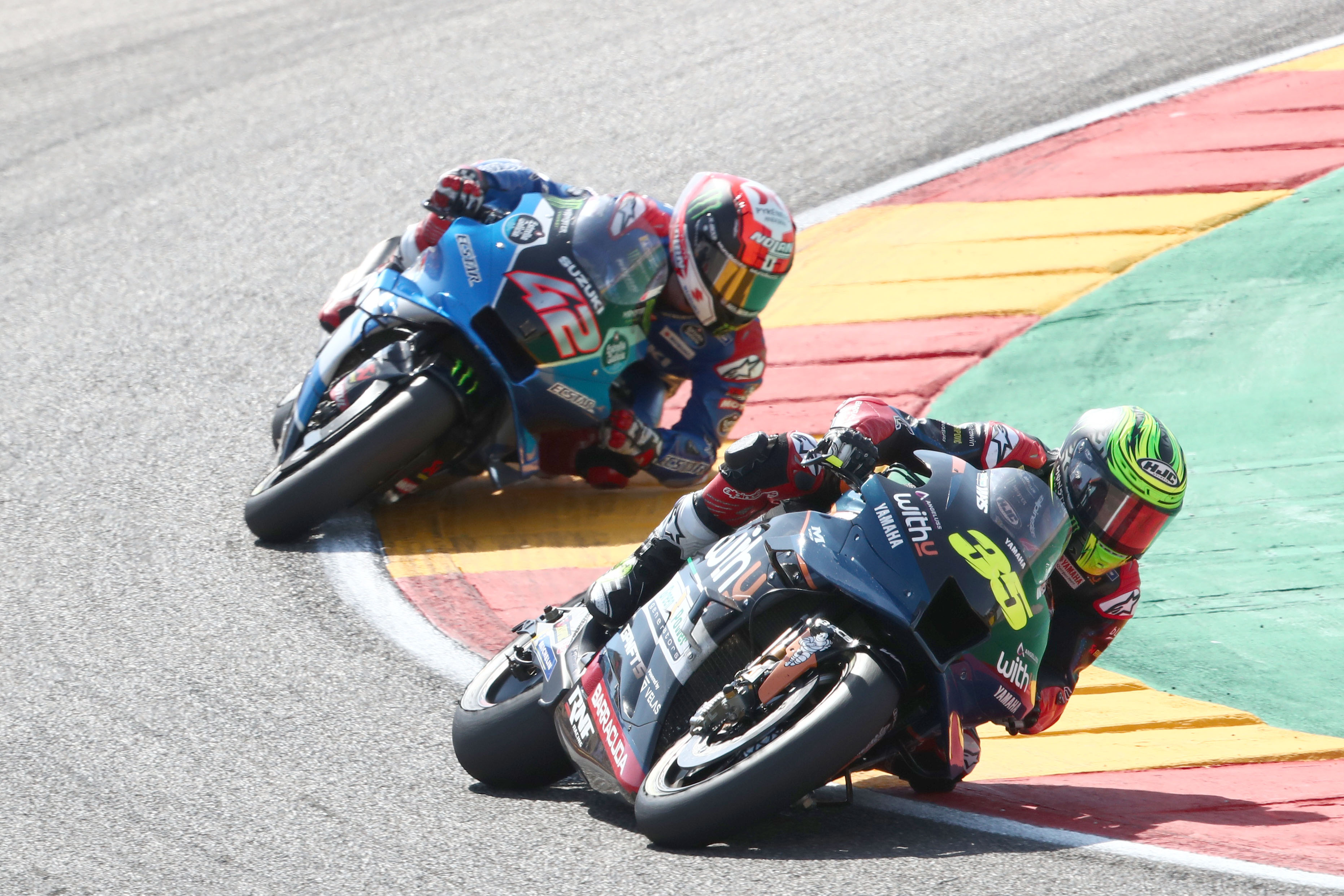 From a certain perspective, Cal Crutchlow's MotoGP return made a lot of people look quite bad, given that he ended his first race back as top Yamaha and with a comfortable points-scoring finish.
Very much back in the competitive groove even if he was slowed on the first lap by getting tangled up in the chaos, it bodes well for the rest of his season replacing Andrea Dovizioso.
Alex Marquez – 7.5
Started 17th Finished 12th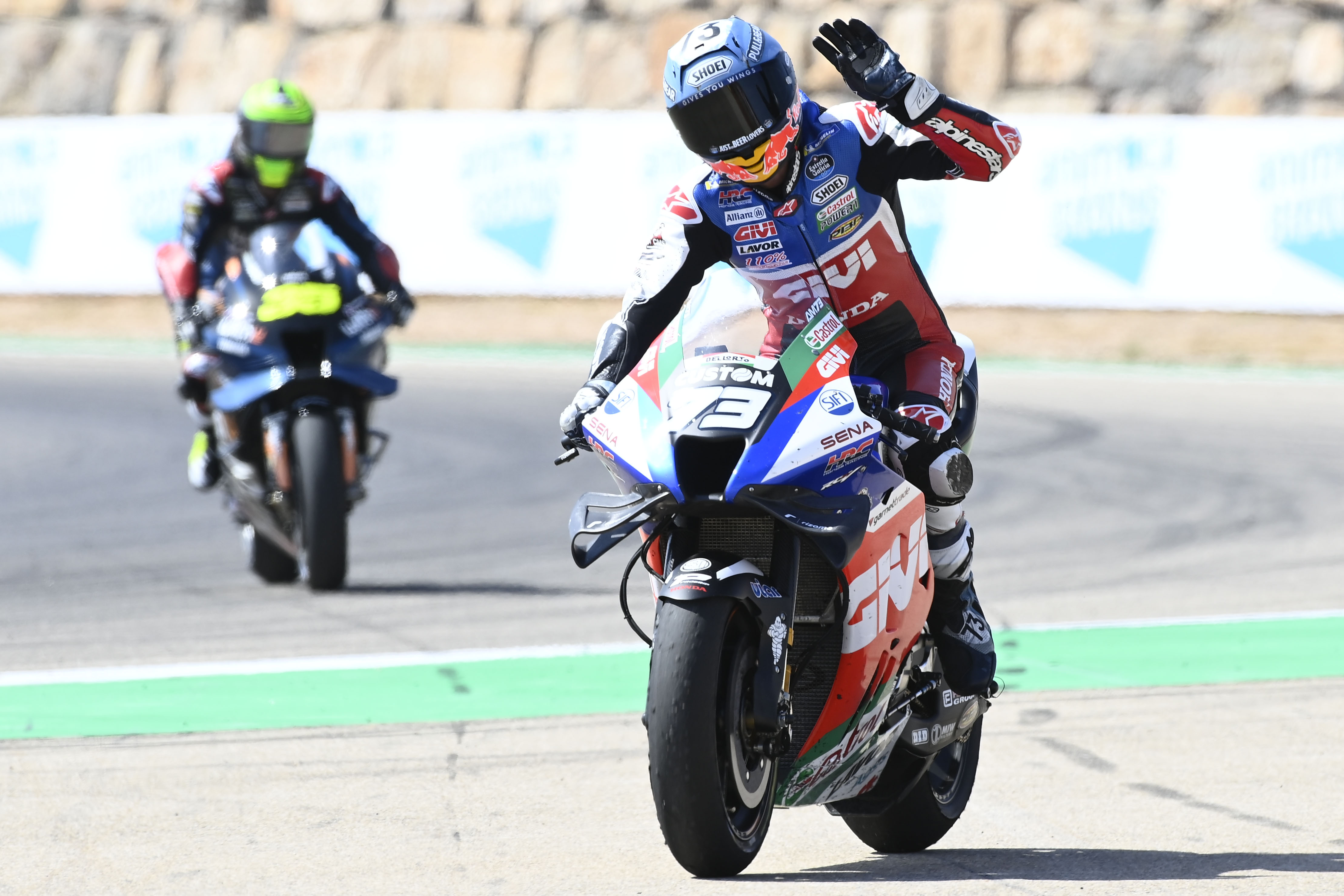 Another solid ride from Honda's forgotten son. It's starting to become standard issue that the LCR Honda rider is the one best placed to survive the chaos and take home the troubled factory's only points.
Making up some solid places, albeit partly at the expense of some Honda-on-Honda violence in front of him, it was another weekend where he can perhaps be quite smug.
Luca Marini – 7.5
Started 14th Finished 7th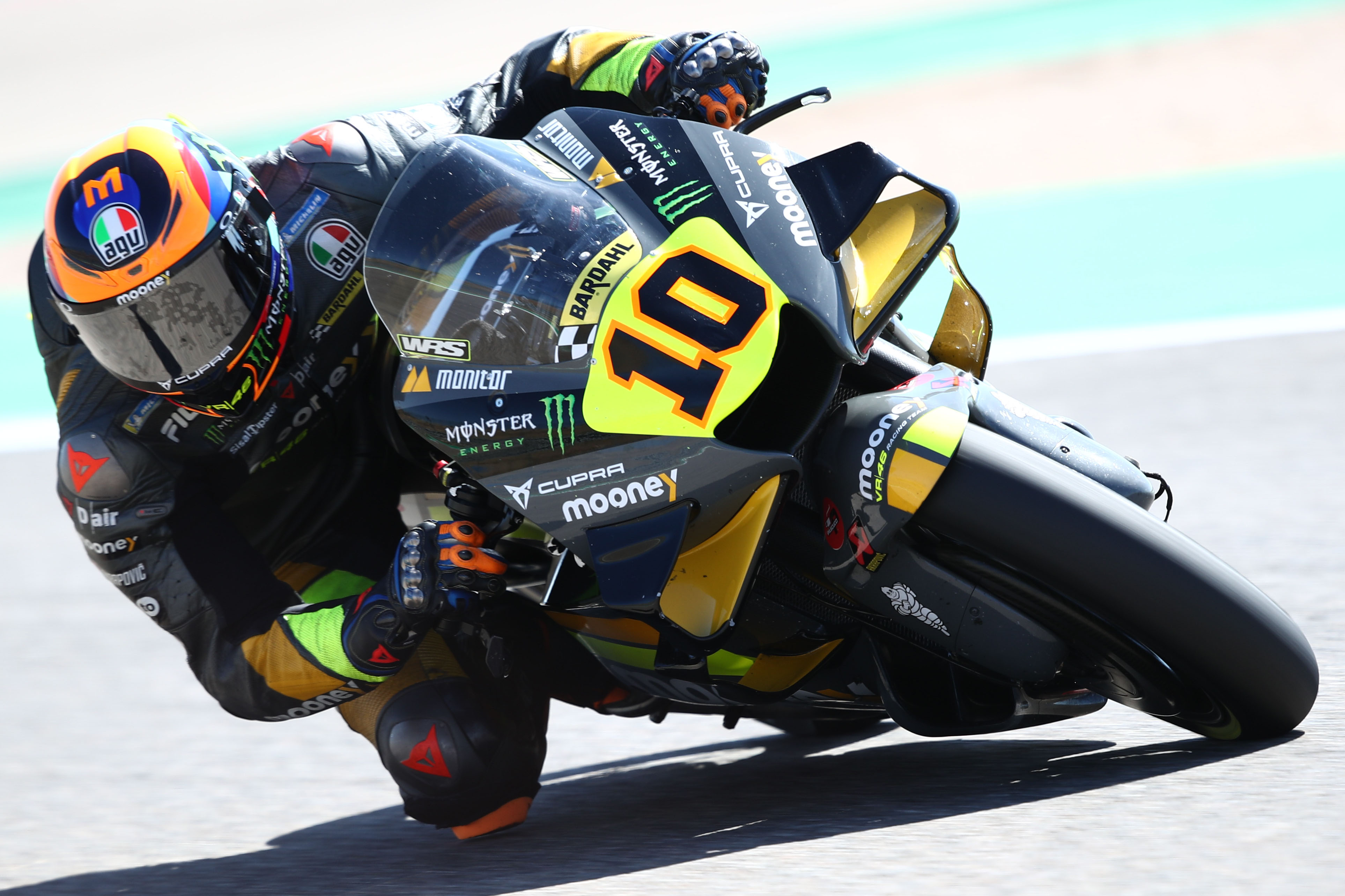 A much stronger result for the VR46 Ducati rider than it perhaps seems, he was delighted with himself after the race given the progress he made from 14th on the grid. He even set the fastest lap of the race (a new record).
Marini just had the unfortunate situation of being on the other side of the Turn 1 chaos, losing too much time early on to make any more of an impact.
Maverick Vinales – 7
Started 16th Finished 13th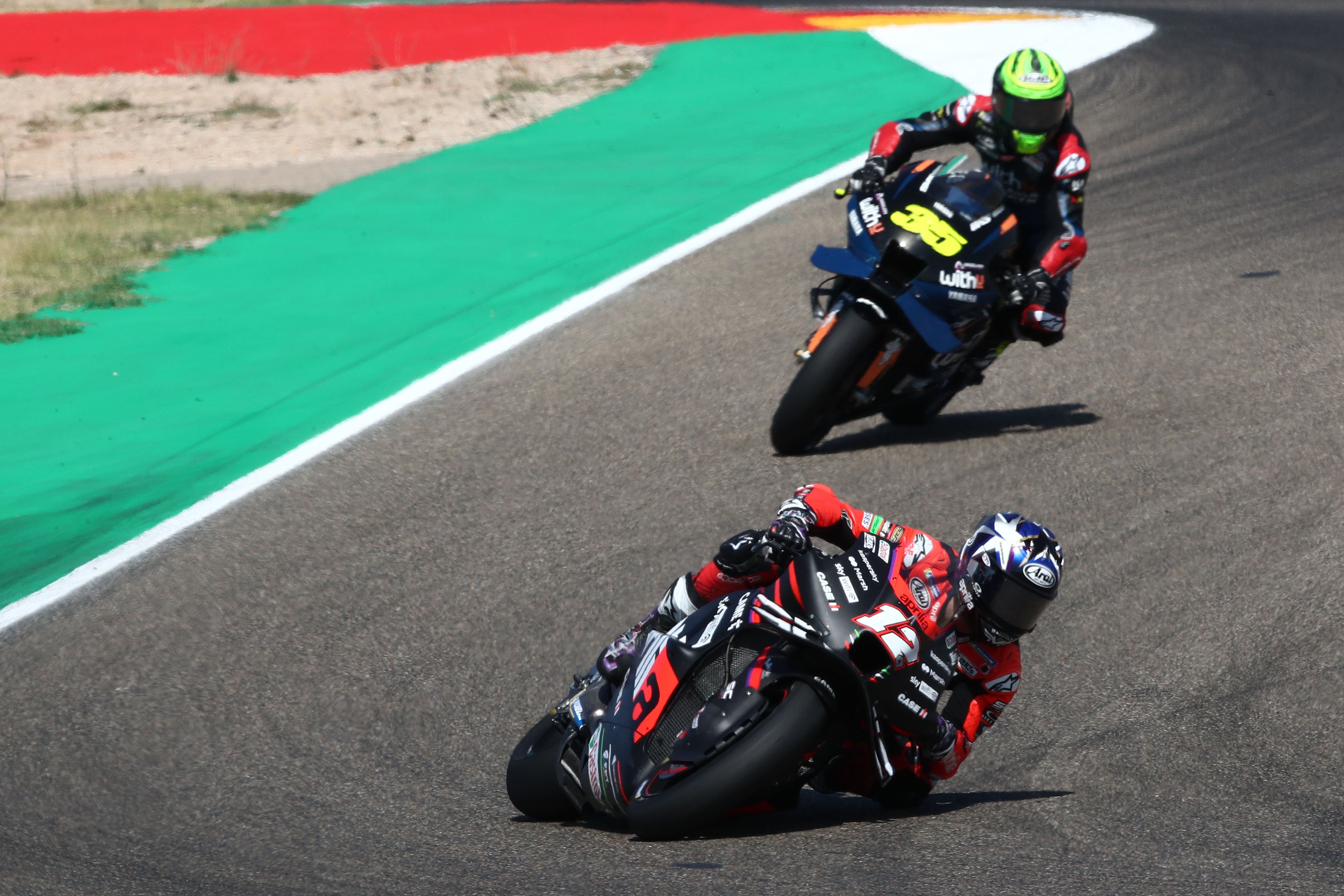 Vinales was perhaps the least happy rider on Sunday evening, not just because the crash that split the field brought his podium run to an end, but also because he really felt that he had a point to prove at Aragon this year after a slow debut there for Aprilia 12 months ago.
As he had the pace for the podium, it's no wonder he was frustrated – but it was his own poor qualifying more than anything else that did the damage to his race.
Jorge Martin – 6.5
Started 8th Finished 6th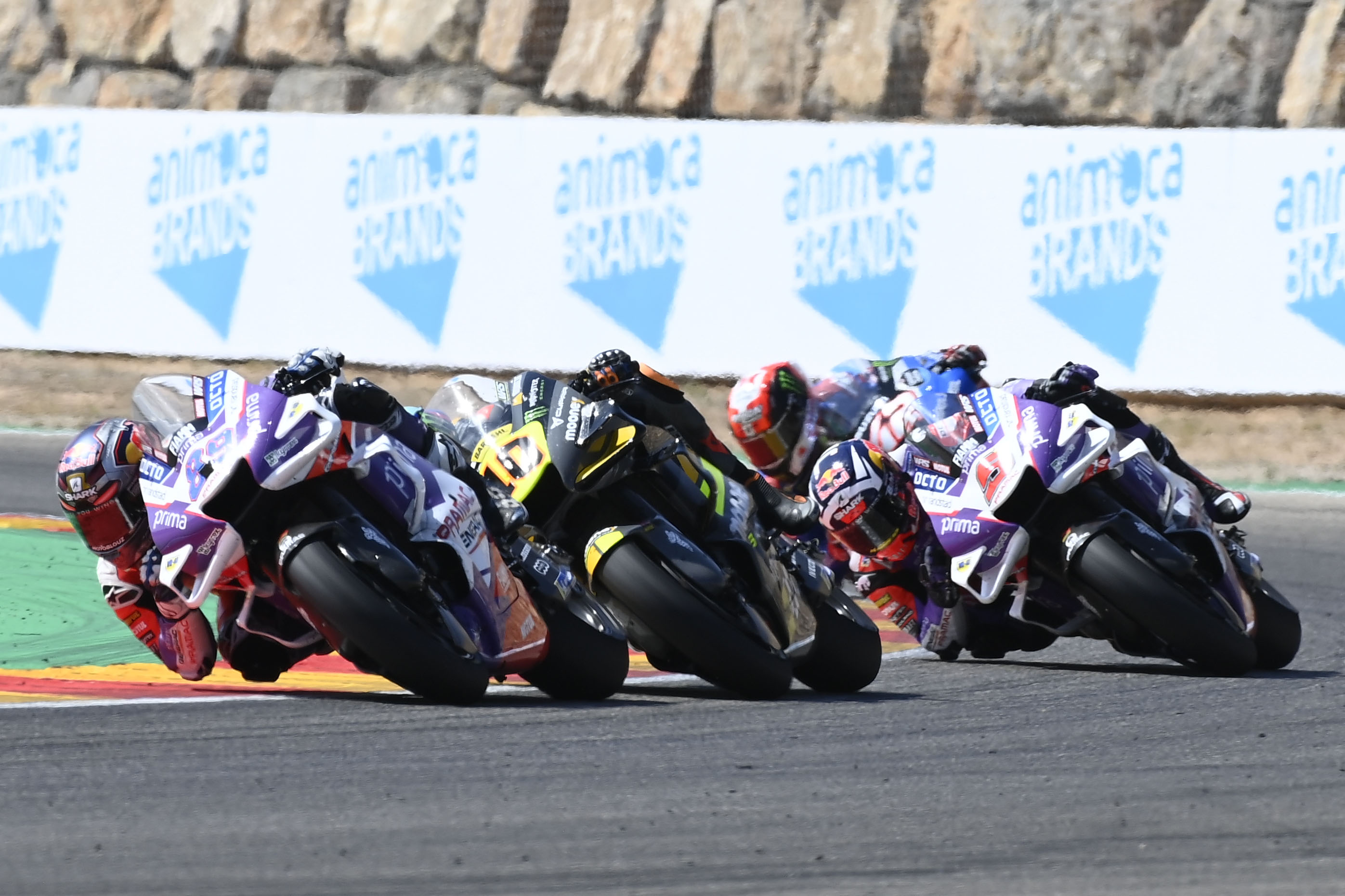 There's no denying it has been a difficult few weeks for Jorge Martin as he managed the shock of not winning the battle for 2023 Ducati factory status against Bastianini.
And while the Italian's stunning victory on Sunday showed Ducati had made the right choice, Martin's performance was nonetheless a welcome step back towards the sort of form we know he's capable of.
Johann Zarco – 6
Started 5th Finished 8th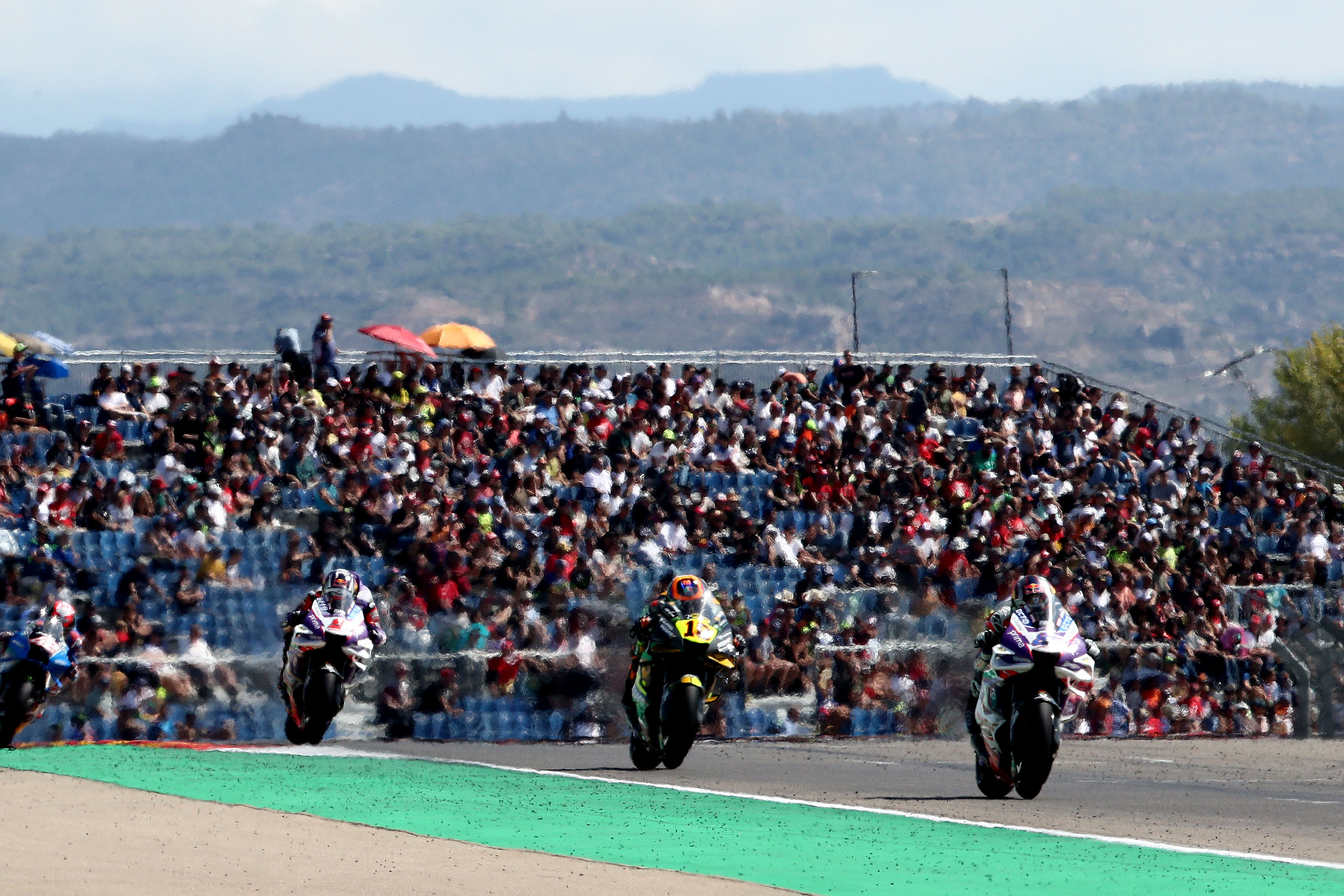 Another standard issue performance from the ghost of MotoGP. Zarco was, as he seemingly usually is these days, quite invisible.
It wasn't an amazing result by any stretch of the imagination, but it also wasn't a total disaster. Solid points in the bag on a weekend where a mistake would have been easy to make.
Marco Bezzecchi – 6
Started 7th Finished 10th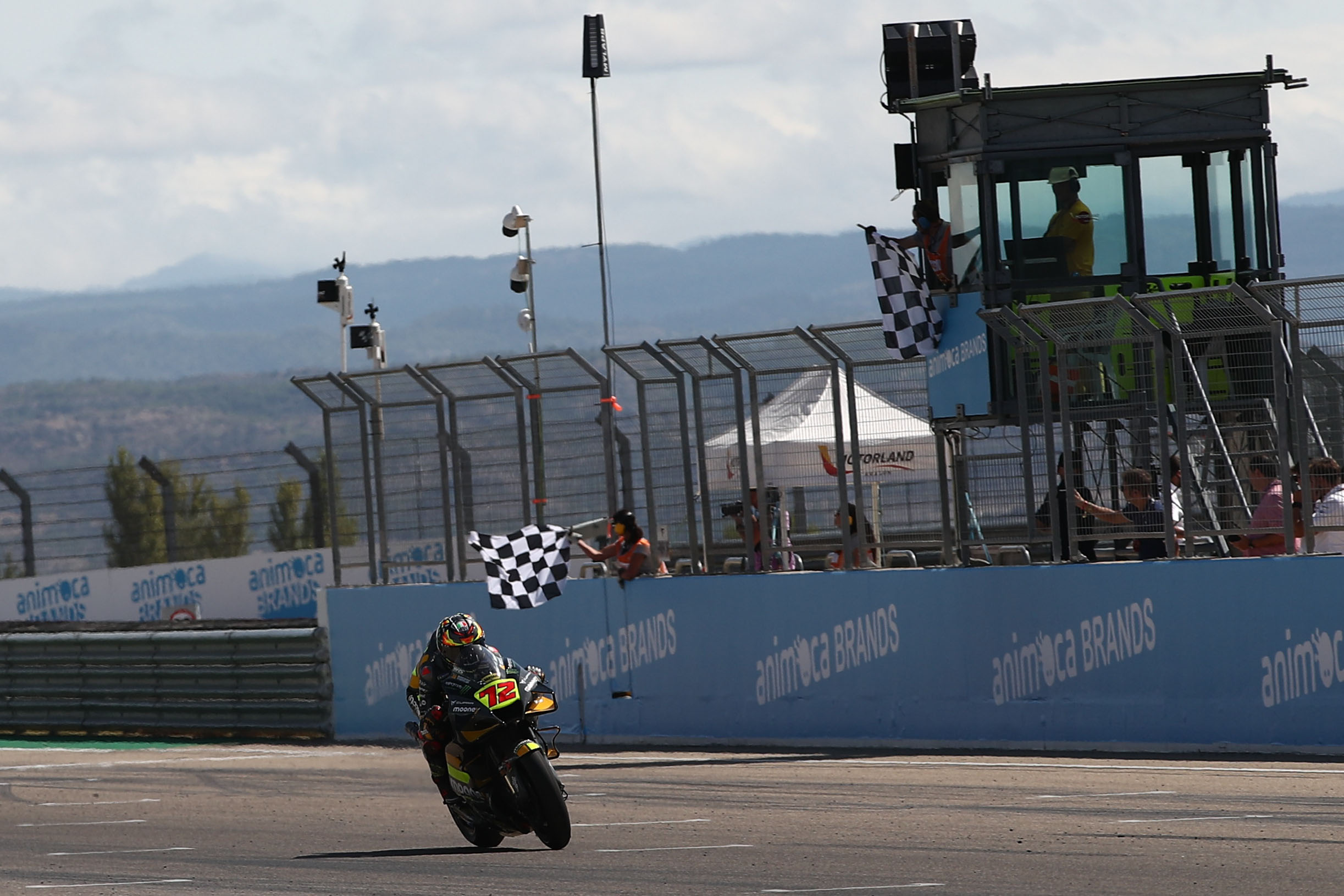 Penalised by the crash ahead of him but able to regroup stronger than others once he got back into the swing of things, this wasn't a disappointing race for the rookie at all, even if he wasn't particularly happy with the result at the end.
He was able to stay in contention with more experienced team-mate Marini – and learned lots after going toe to toe with him in the middle of the race. It's all part of year one in the premier class.
Jack Miller – 6
Started 2nd Finished 5th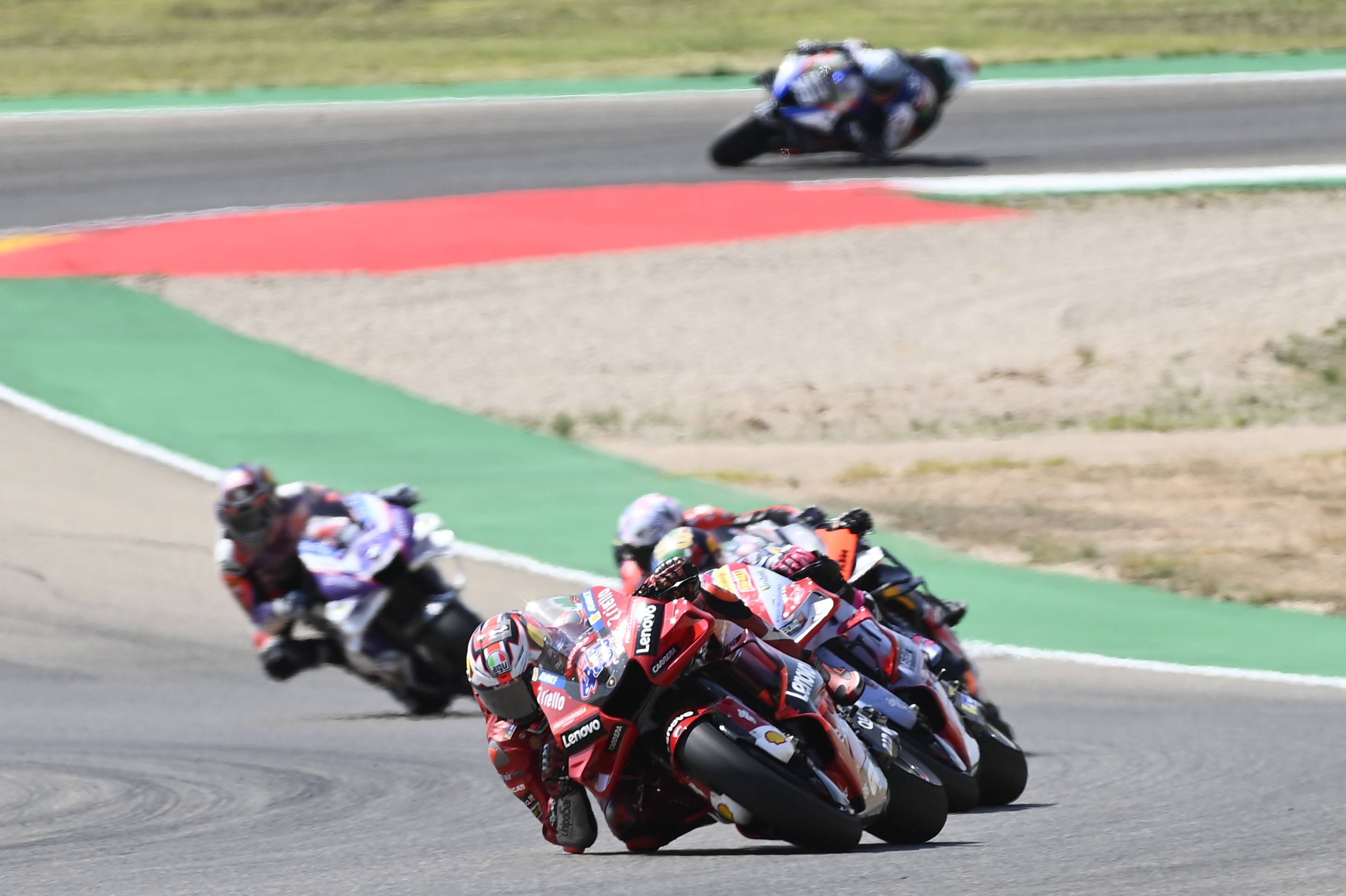 As soon as it became clear early in the weekend that Sunday's race would be an attritional battle of tyre life, it became equally obvious that, despite ultra fast time attack pace, Jack Miller probably wasn't going to be a factor in the podium fight.
However, he was able to fulfil his regular role of Bagnaia's tail gunner and given the severity of the drop in tyre performance in the closing laps, it could have been worse than his eventual fifth.
Remy Gardner – 5.5
Started 22nd Finished 16th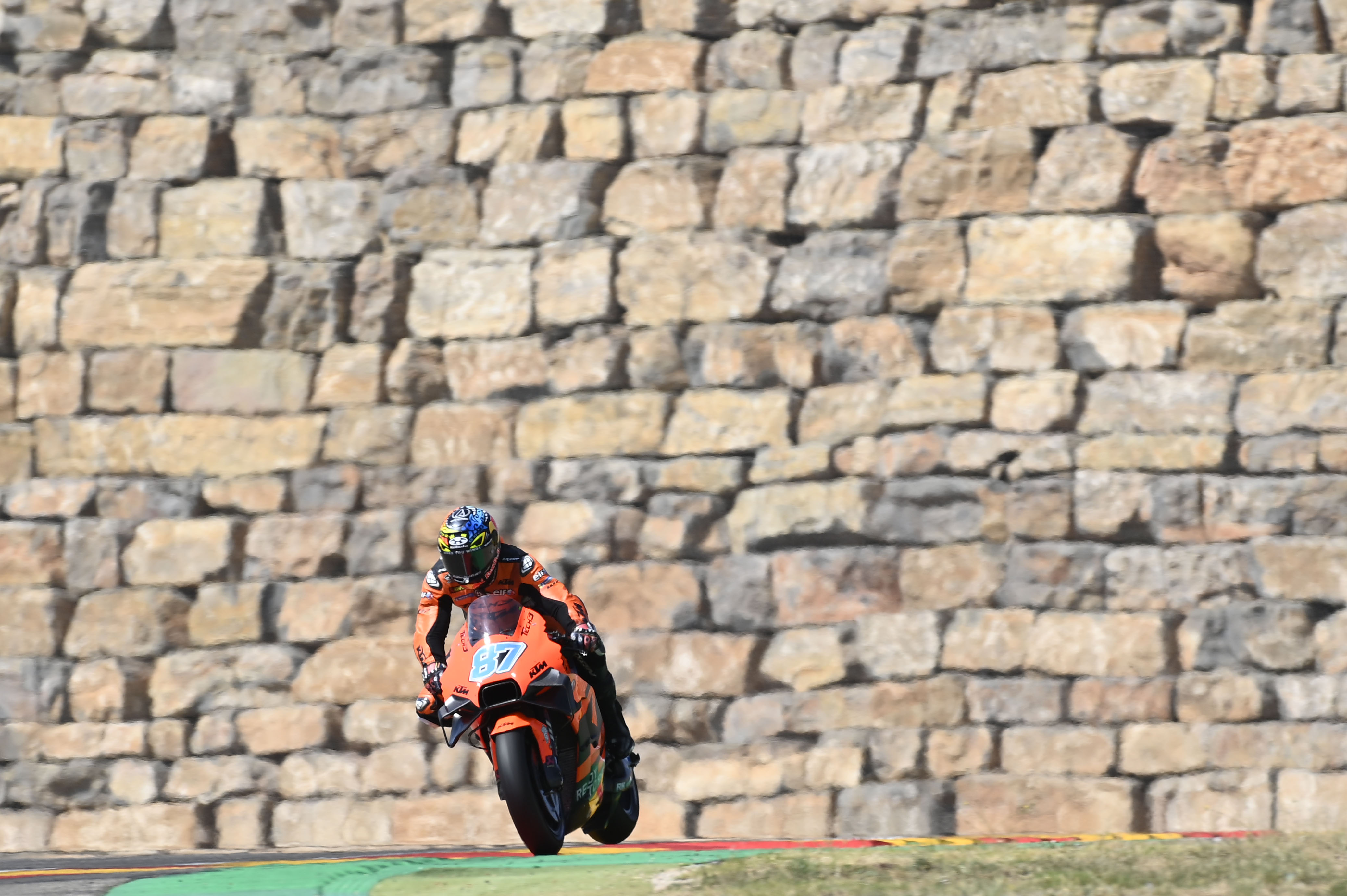 You've got to give Remy Gardner credit for one thing: he might have been chewed up and spit out by the KTM machine this year, but it hasn't dented his motivation to go out of MotoGP on a high.
Sunday's race was another hard-charging (if ultimately non-scoring) ride. Unlucky to not have taken home at least a single point for his efforts, he's at least building nicely to what will be his first and (for now) last home MotoGP race at Phillip Island in a few weeks' time.
Fabio Di Giannantonio – 5
Started 15th Finished 19th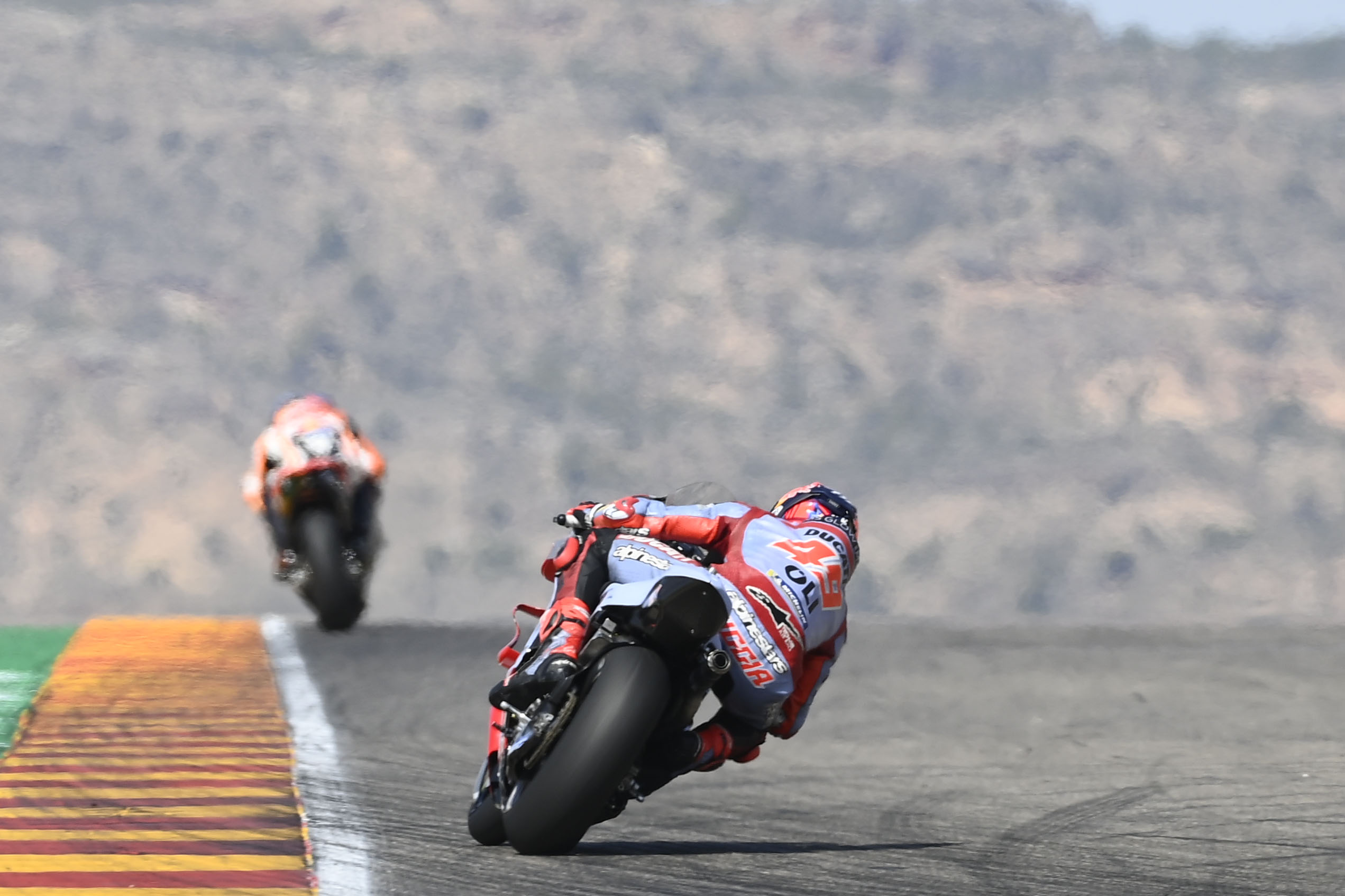 One of the few people to slide a bit backwards on Sunday afternoon, he was first unlucky in qualifying to miss out on Q2 progression and then again to perhaps come off the worst of the big crashes when he had to take major avoiding action to not hit a dismounted Taka Nakagami. It simply wasn't the Gresini rookie's weekend.
Taka Nakagami – 5
Started 12th Finished DNF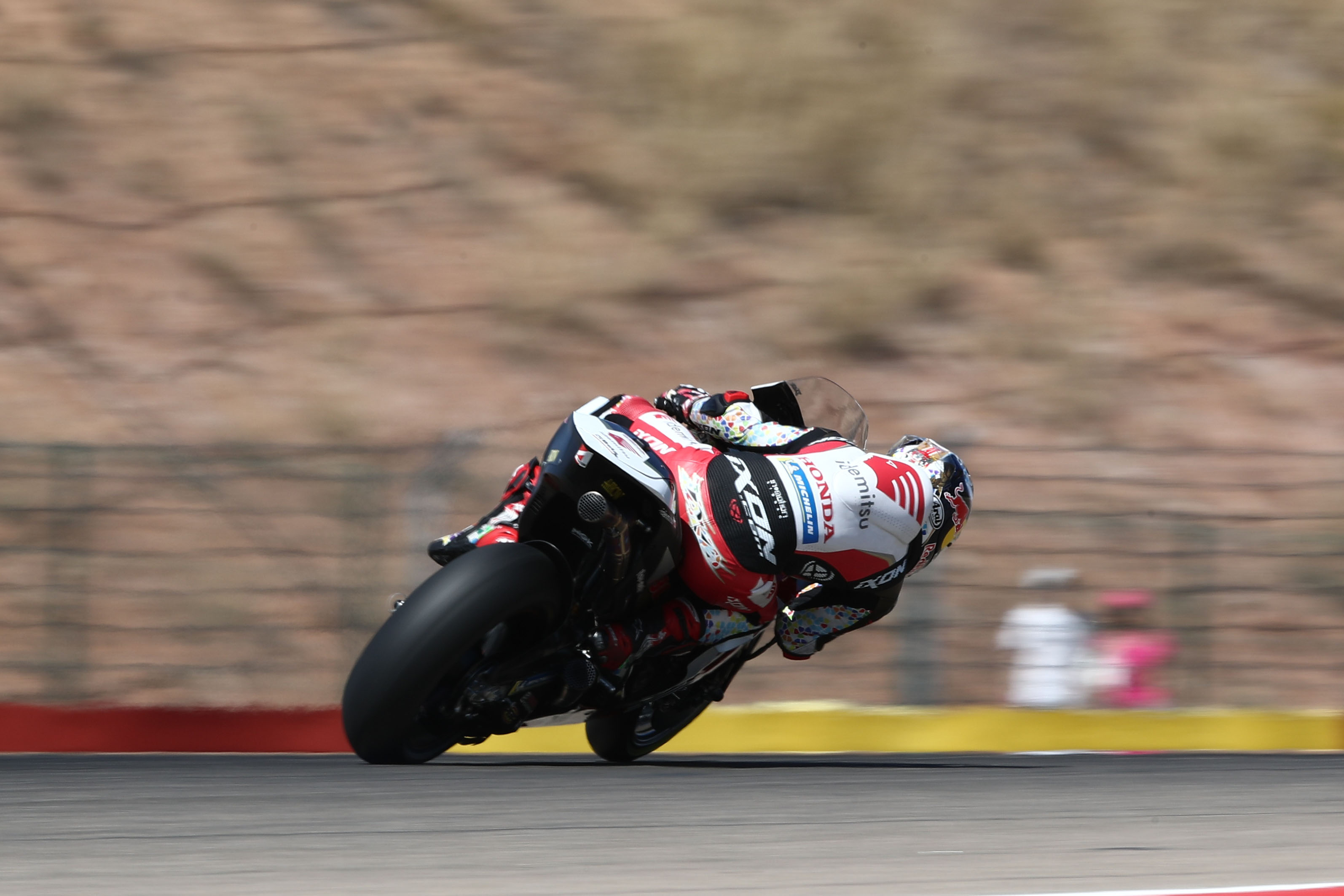 There wasn't too much to judge the luckless Taka Nakagami's Sunday performance on, after a good start was rendered null and void by contact with Marc Marquez and a subsequent huge crash.
Nakagami wasn't exactly faultless in the tumble either, though, with a few of his rivals pointing out that the LCR Honda rider's aggressive line didn't make things better for him.
Fabio Quartararo – 5
Started 6th Finished DNF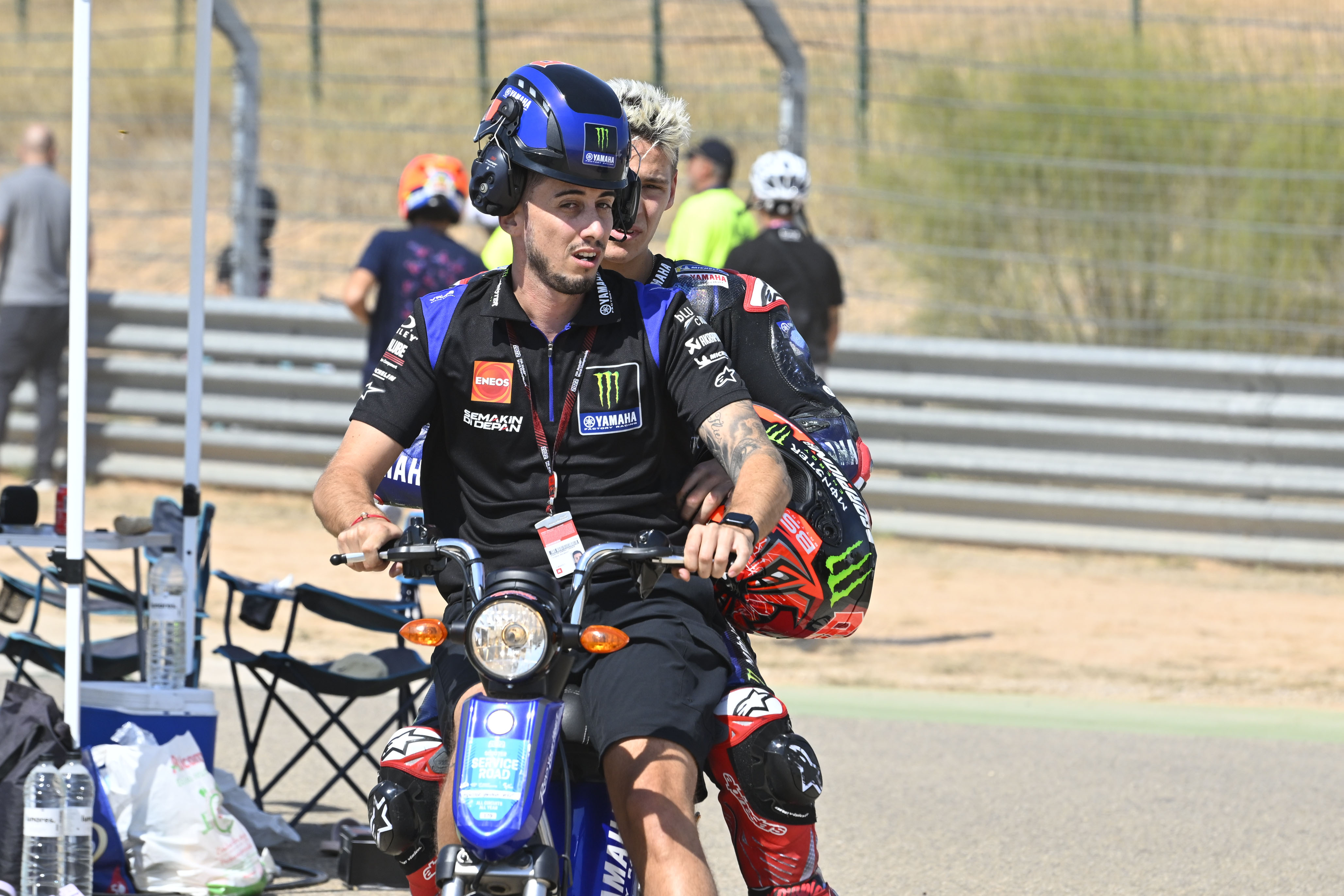 There was nothing that Quartararo could have done to avoid meeting an early demise on Sunday, caught up entirely in Marc Marquez's mistake.
Arguably, yes, a better qualifying would have helped – but up against the might of Ducati he did the best he could on Saturday, and, consequently stuck mid-pack when the lights went out, back luck and contact was unavoidable for him.
Raul Fernandez – 4
Started 21st Finished 20th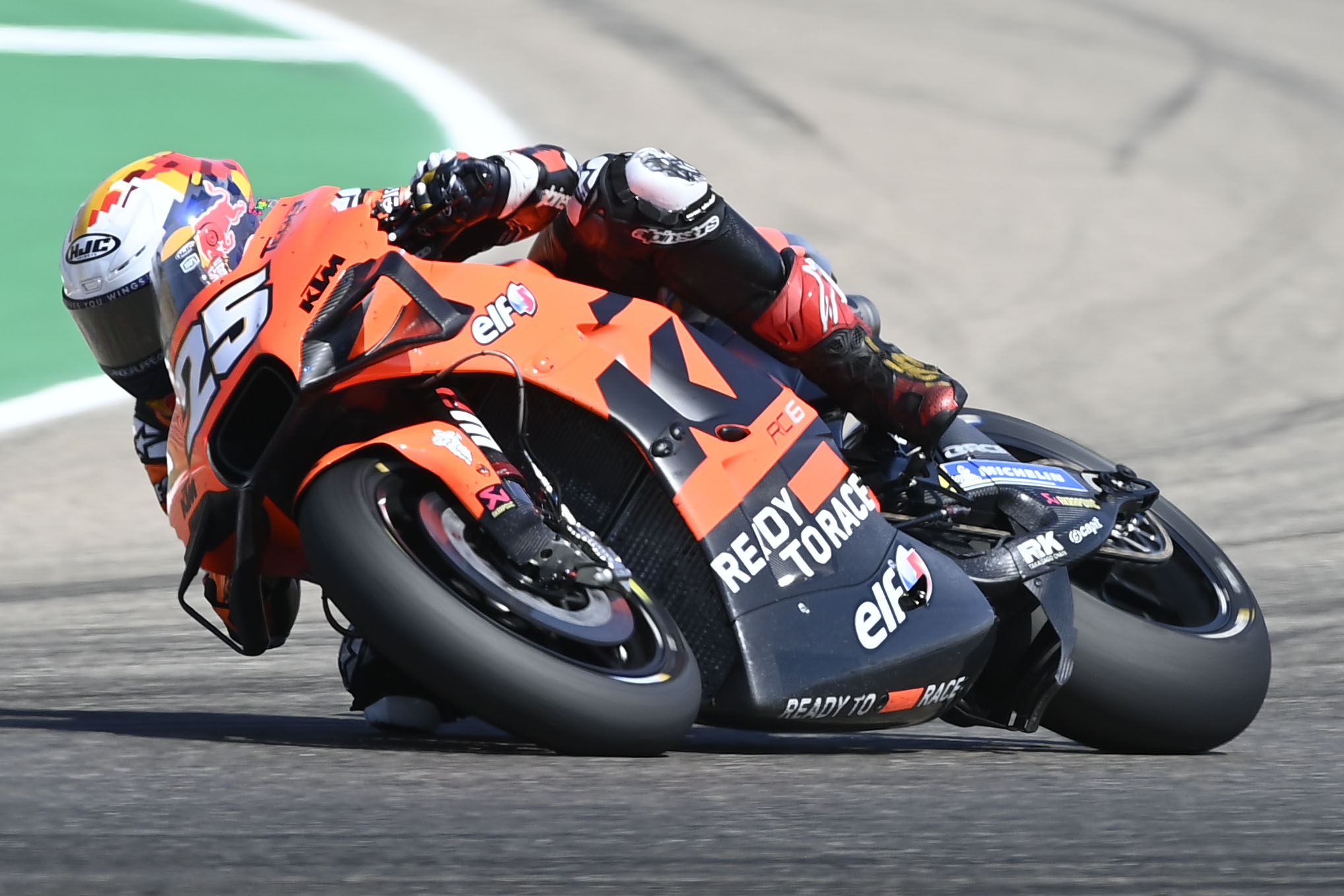 Feeling good in the morning warm-up, he was yet another racer who felt hard done by by the need to take evasive action on lap one.
But, with a lot of work to do even before he had to go wide to avoid Nakagami, it feels a little unrealistic to think that he would have been able to achieve much more than he did or, even, to match team-mate Remy Gardner after a stronger weekend for the Australian.
Darryn Binder – 4
Started 23rd Finished 18th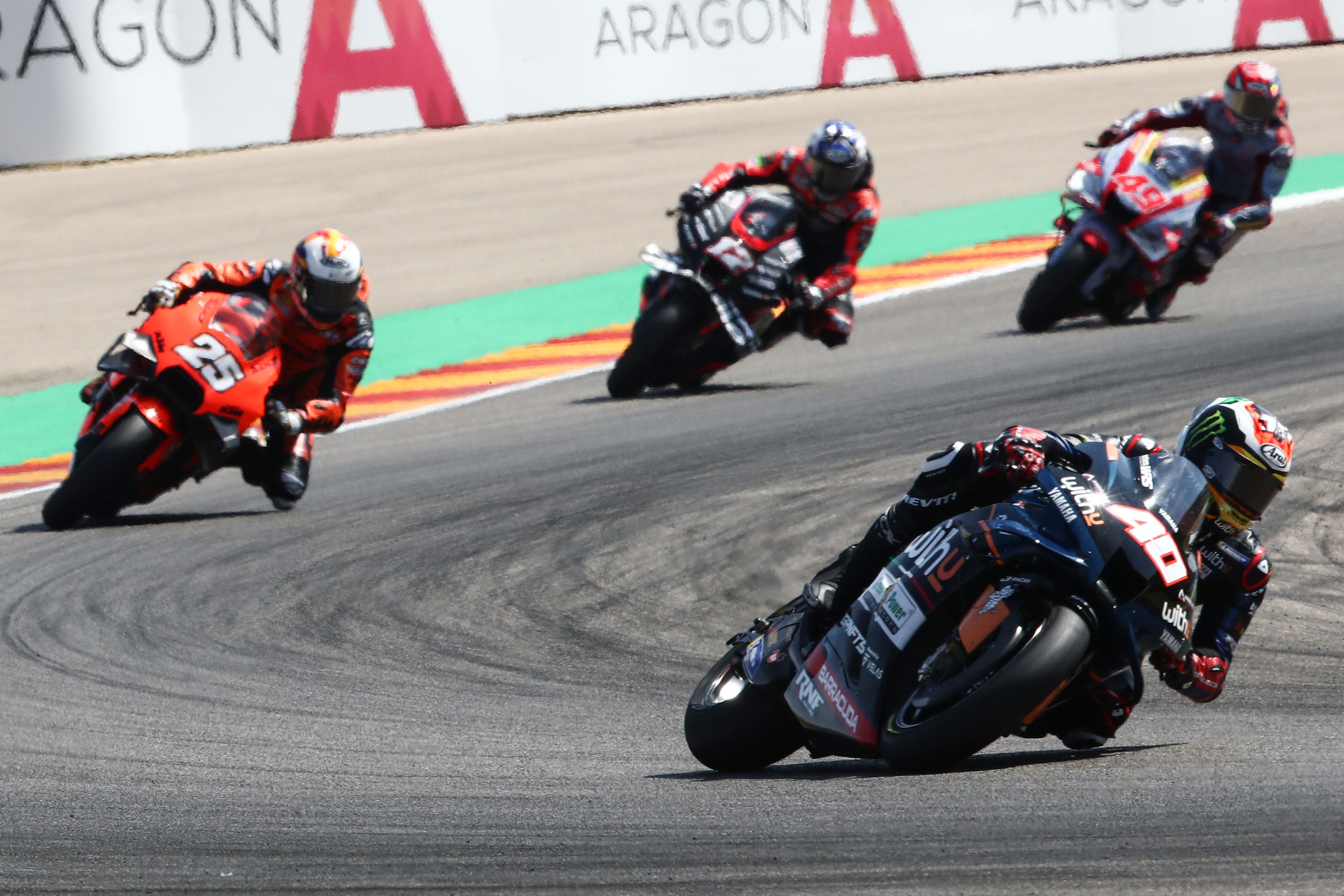 A steady if unadventurous ride for rookie Darryn Binder, and one that gains a little more kudos for the South African for being just one spot behind factory Yamaha rider Franco Morbidelli.
He admitted he struggled with the big (and sudden) drop in tyre performance, but learning to control situations like that is all part of the rookie learning curve.
Pol Espargaro – 3
Started 18th Finished 15th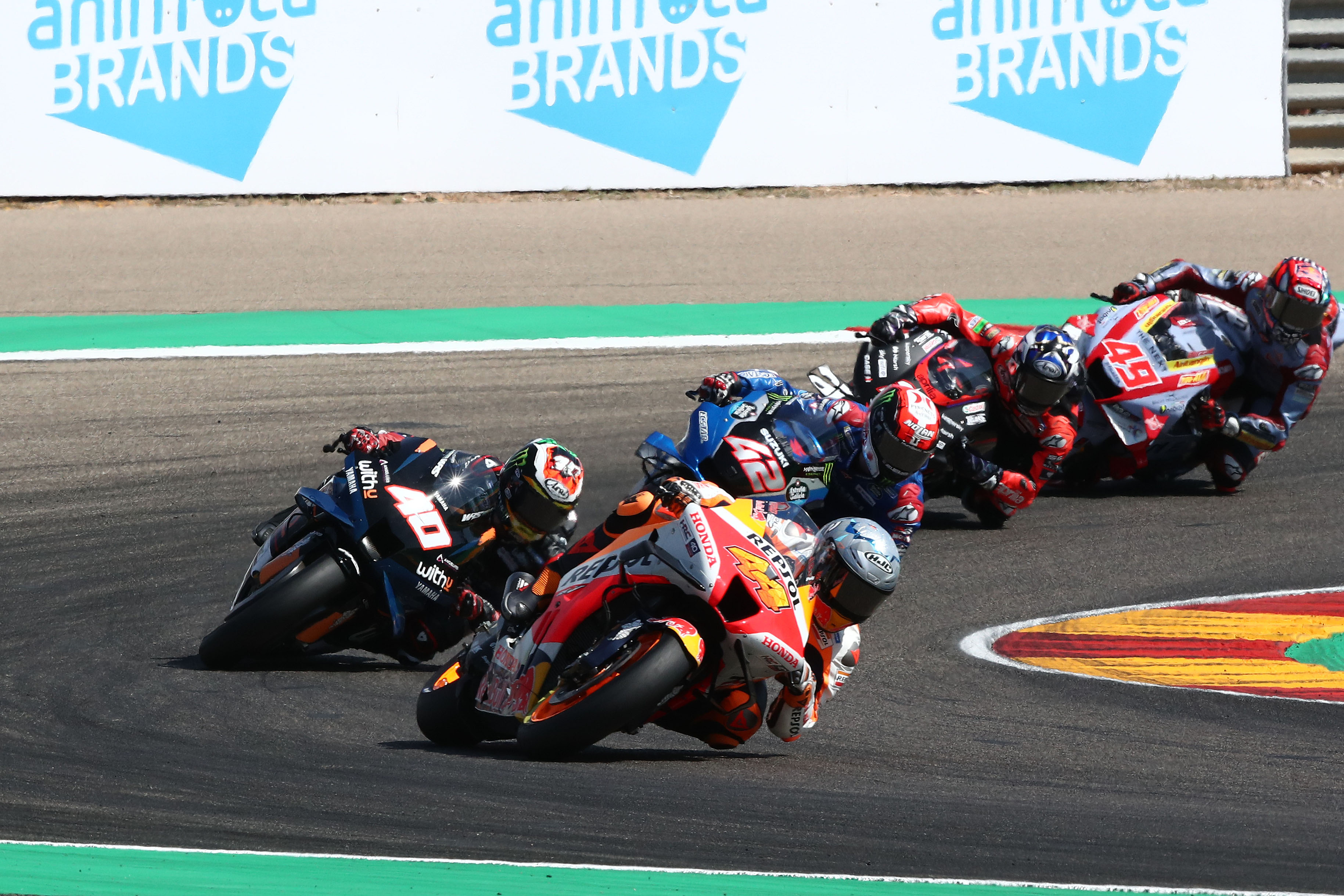 It feels a little like second Repsol Honda rider Pol Espargaro is phoning in his performances at the minute.
Completely unable to extract anything from the RC213V, he once again got outclassed not just by satellite rider Alex Marquez but even by returning team-mate Marc Marquez (at least until they lined up on the grid).
Marc Marquez – 3
Started 13th Finished DNF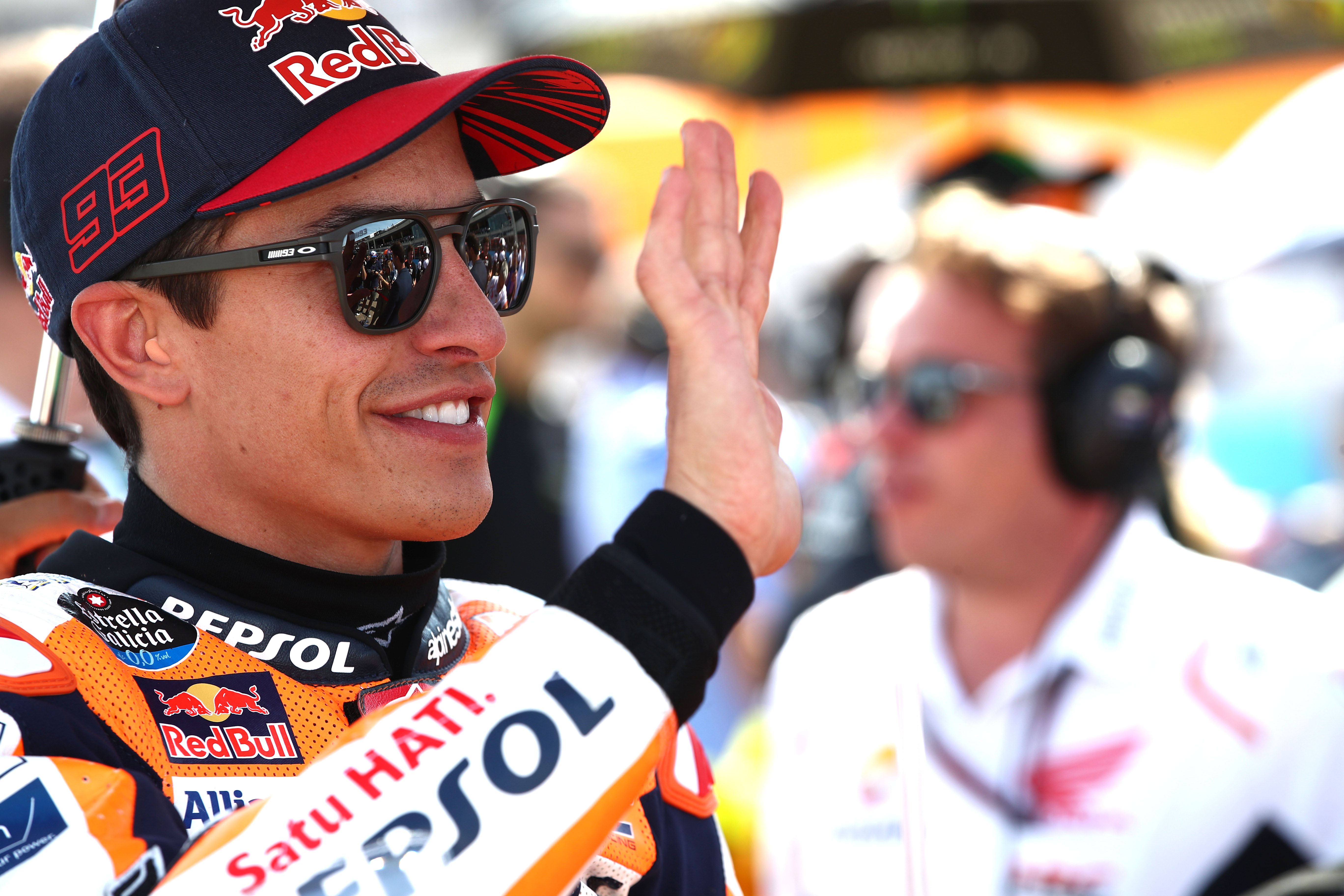 There was one question answered conclusively at the weekend: whether Marc Marquez still has the hunger to win.
However, with the six-time MotoGP champion perhaps a little rusty after a long absence, that hunger might have contributed to a rather rookie mistake on a cold tyre that triggered the catastrophe that Sunday's race will be remembered for.
Nothing more than a racing incident, it nonetheless highlights that there's perhaps still some work to do before the old Marc is back in business.
Miguel Oliveira – 3
Started 11th Finished 11th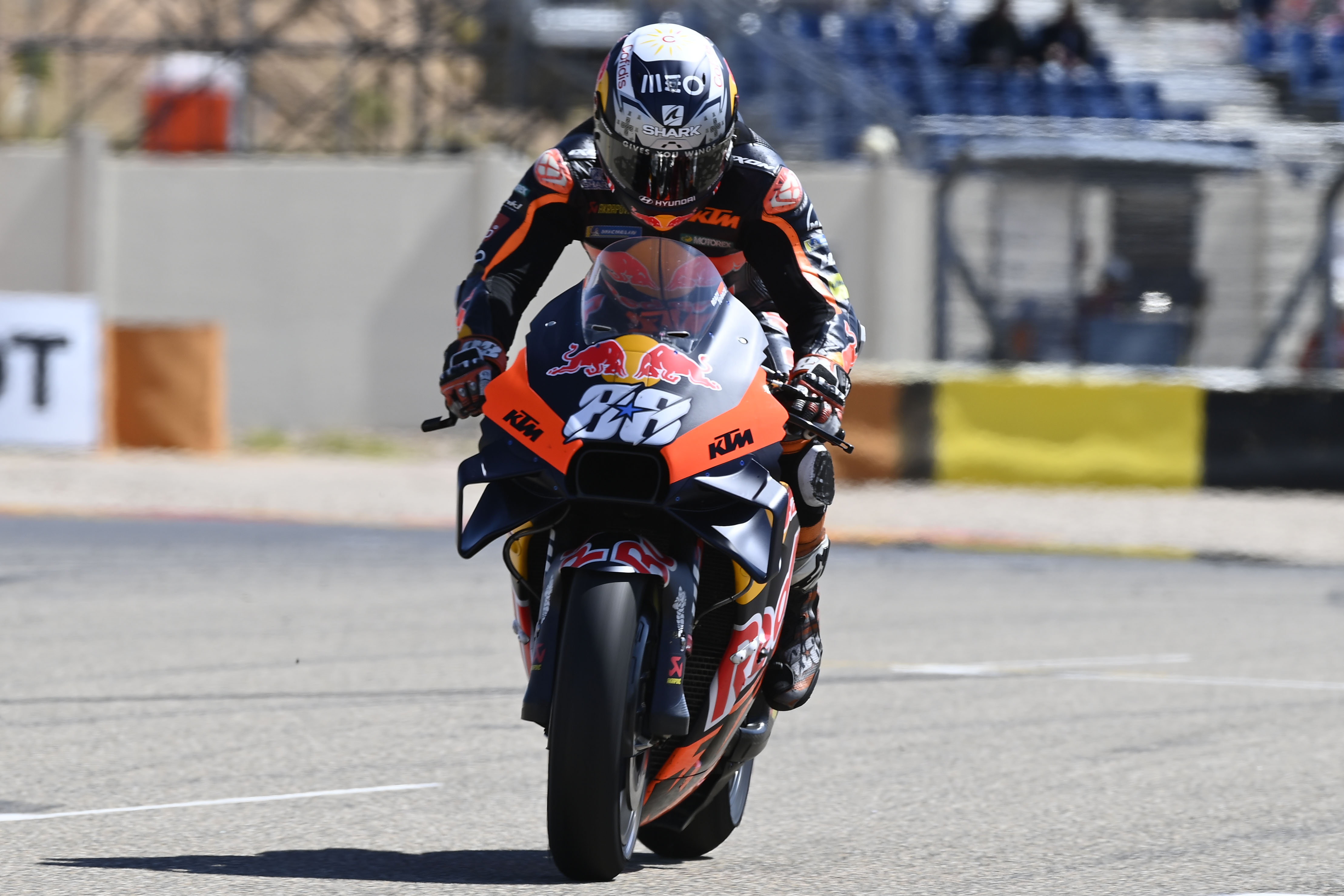 It's hard to argue Miguel Oliveira is being made to look anything but distinctly average by team-mate Brad Binder right now.
Perhaps it's slipping motivation with the news that he won't be on a KTM next year, but the results simply aren't coming – and cruising around outside the top 10 (even if he did get separated from the lead group by the first lap crash) while your team-mate is outperforming you on every metric makes KTM's decision look like the right one.
Franco Morbidelli – 2
Started 20th Finished 17th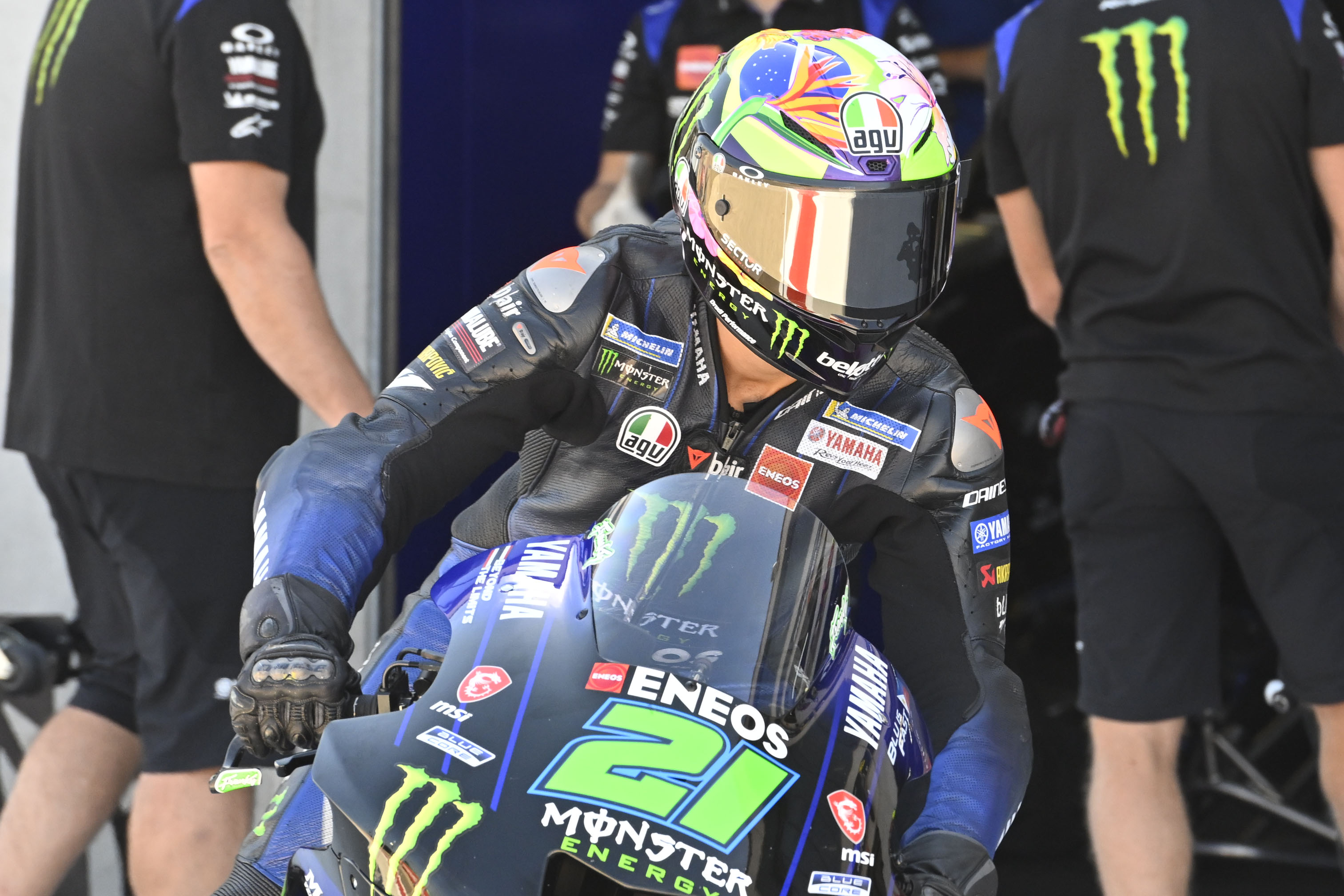 Another rider rendered luckless by being on the wrong side of lap one chaos, part of Franco Morbidelli's problem was undoubtedly a result of a terrible qualifying.
But, unable to make progress despite once again being fast at times on the Yamaha, it really doesn't look good for him that he was considerably outperformed by Crutchlow in the returnee's first race of the year.