In the build-up to Valentino Rossi's final MotoGP race, we've been revisiting some of our favourite Rossi articles published on The Race so far.
We finish with Simon Patterson's ranking of Rossi's fiercest rivalries, first published when Rossi brought up Marc Marquez and 2015 yet again back in February this year:
There are many things that have helped define Valentino Rossi's long and storied career in grand prix motorcycle racing over the past two decades.
From his victory celebrations to his iconic number 46, 'The Doctor' has built up a complete mythos around him as he's raced to nine world championship titles.
However, there's another key part of his career that has helped cement him in public opinion as the biggest name in the history of two-wheeled racing: his fierce rivalries and feuds. They're as much a part of his history as his iconic first victory with Yamaha at Welkom.
They say that every hero needs a villain, and there's been no shortage of those in Rossi's career.
But there's more to it than even that for Rossi, it seems. The king of the MotoGP castle for so long, he seemingly needs someone to push him in order to motivate and get the best from himself.
That's the only reason, perhaps, that he's dedicated so much time over the years to pissing off some of his fellow riders!
After Rossi himself chose to re-stoke his enmity with Marc Marquez by bringing up their 2015 Sepang clash in a recent pre-season interview, we decided to rank his most significant MotoGP feuds – from most trivial to most seismic.
5 Jorge Lorenzo
It's fair to say that Rossi's relationship with his long-term Yamaha team-mate was less overt war against each other and more a simmering bitterness that managed to persist for the best part of a decade.
It was first triggered in 2008 by Rossi's demand that the factory Yamaha team move to Bridgestone tyres to help him defeat Casey Stoner and Ducati, and by team newcomer Lorenzo's subsequent refusal to leave Michelin.
That led to a literal wall being constructed between the pair, ostensibly to keep rival tyre technicians apart but helping to ensure Rossi's rookie team-mate didn't learn much about what was going on on the other side of the box either.
Things didn't get any better when Lorenzo started winning – especially when he took full advantage of Rossi's broken leg in 2010 to lift his first title.
There was an easing of sorts during Rossi's disastrous years at Ducati, though, and tensions weren't quite the same when Rossi returned to Yamaha – at least, not until a fateful day at Sepang 2015.
Lorenzo became embroiled in the Rossi/Marquez drama via Rossi's belief that Marquez was trying to help Lorenzo win the title, an impression that Marquez sitting behind Lorenzo and seemingly being his bodyguard in the title decider didn't help. It further soured what had until then been a fairly placid relationship.
However, since Lorenzo's own move to Ducati, things have improved. They're not exactly best friends yet, but the pair have nonetheless been able to let bygones be bygones and act civilly around each other, especially in the past year thanks to Lorenzo's (brief) role as Yamaha test rider.
4 Sete Gibernau
One of the reasons that a feud a couple of places further up this list faded away was the arrival of a new Rossi foe in the shape of Sete Gibernau.
Gibernau inherited Rossi's factory Honda RC211V when he went to Yamaha, albeit in satellite Gresini colours.
The pair were initially friends until a series of incidents that all came to a head in Qatar in 2004.
With Gibernau three times a winner that season and fighting Rossi for the title, things stepped up a notch at the Losail circuit, when Rossi's Yamaha team was accused of modifying his starting position by using a burnout from a paddock scooter to lay down rubber and blow away the desert dust from Rossi's grid spot.
A protest – which Rossi was convinced Gibernau and his team were behind – led to Rossi being sent to the back of the grid, and he crashed out while charging through the field. Gibernau won the race.
Rossi allegedly swore afterwards that Gibernau would never win a race again. It was an ominous prediction that came true, with Gibernau going winless throughout the 2005 season before injury forced early retirement upon him in 2006.
And one of the races where he came closest to victory served to make things worse too, when Rossi showed just how seriously he was taking his pledge as the pair came together in the last corner at Jerez in 2005. The mid-corner collision left Gibernau in the gravel and Rossi being booed from the top step of the podium by the home crowd.
Admitting afterwards that the move was a hard one, Rossi simply laughed off a fuming Gibernau by reminding him that "sometimes motorbike races are like this".
3 Casey Stoner
Once again the end of one feud brought about the origins of another, as Casey Stoner arrived on the scene in 2006 just as Gibernau was disappearing from Rossi's attention.
The next year Stoner was lining up on a factory Ducati that was perfectly paired with Bridgestone tyres against a Rossi struggling on a Michelin-clad Yamaha.
No one expected the young Aussie to take the fight to Rossi – but he did just that, defeating him in the 2007 title fight.
The feud's most spectacular on-track clash, though, came a year later at Laguna Seca, where the pair went head to head.
They made contact multiple times and Rossi pulled off an audacious overtake on the gravel on the inside of the famous Corkscrew. The battle ended when Stoner outbraked himself and went down, leaving Rossi to ride away to the win and a spewing Stoner to get back up and finish second. Blunt words were exchanged in parc ferme afterwards.
Things cooled slightly after that, amid Rossi's return to form at Yamaha as Stoner struggled at Ducati.
However, there was one final dig before Stoner unexpectedly retired at the end of 2012 – and this time it wasn't Rossi who got the last laugh.
Now the one struggling on a Ducati, Rossi wiped out his rival's Honda at Jerez in 2011, leading Stoner to politely enquire afterwards (on live TV, of course) if perhaps Rossi's "ambition had outweighed his talent".
2 Max Biaggi
The Biaggi rivalry is one that started even before the pair were racing together, when Rossi was still in 250cc duelling with another Italian, Loris Capirossi, and Biaggi had already graduated to the 500cc class.
In fact, Rossi was taking digs at Biaggi as far back as 1997, when he celebrated his first-ever home win in the 125cc class with an inflatable sex doll christened Claudia Schiffer – a direct dig at Biaggi and his then-girlfriend Naomi Campbell.
Chalk and cheese in their approach, the easy-going clown that Rossi is was never going to get along with Biaggi and his more reserved and blunt personality – and it showed from almost as soon as they shared a track, with the 2001 season, in particular, leading to a whole host of high profile incidents on and off the circuit.
Before that season had even started, there had been public spats between the pair, with Biaggi allegedly telling Rossi in a Suzuka restaurant to 'wash your mouth out before saying my name.'
However, it was Rossi who would get the last laugh on that occasion when Biaggi forced him wide during the race – only to watch Rossi overtake him, finger raised, en route to winning.
Things came to a head in style two races later at the Catalan Grand Prix, when the pair descended into fisticuffs en route to the podium.
It supposedly happened after Biaggi bumped Rossi's manager and Rossi smacked him in return. A petulant Biaggi told journalists at the subsequent press conference that the mark on his face "must have been caused by a mosquito bite".
That was very much the culmination of the battle, and a Honda press conference organised at the next race to defuse the situation worked. The pair had a few more encounters, but as Rossi became the dominant force in MotoGP and Biaggi failed to find success, they eventually ended up as not quite friends but at least with more respect between them.
1 Marc Marquez
Ironically, when Marquez was a child, one of his biggest heroes was none other than Rossi. That's perhaps not a surprise, as the pair share many qualities: an air of showmanship, a flair for the dramatic and outstanding talent on a motorbike.
Indeed, in Marquez's early years they were even friends, with the Italian inviting his fellow flat-tracker along to the famous VR46 Ranch – a day where, according to eyewitnesses, things started to change.
Marquez turned up with a full team of Honda Racing Corporation engineers and a factory-prepared bike rather than riding one of Rossi's supplied machines. The pair "raced like they were ready to die" according to AMA Supercross legend Chad Reed, who was also along to hang out with them.
Things sank from there on, but it was Sepang at the end of 2015 where it all went nuclear.
Rossi, incensed by what he saw as Marquez interfering in the Rossi/Lorenzo title battle the week before at Phillip Island, hit out at his Honda rival – only for Marquez to respond in Malaysia by doing just what Rossi had accused him of.
They came to blows (literally) on track, and the race ended with Marquez in the gravel and Rossi in the stewards' room.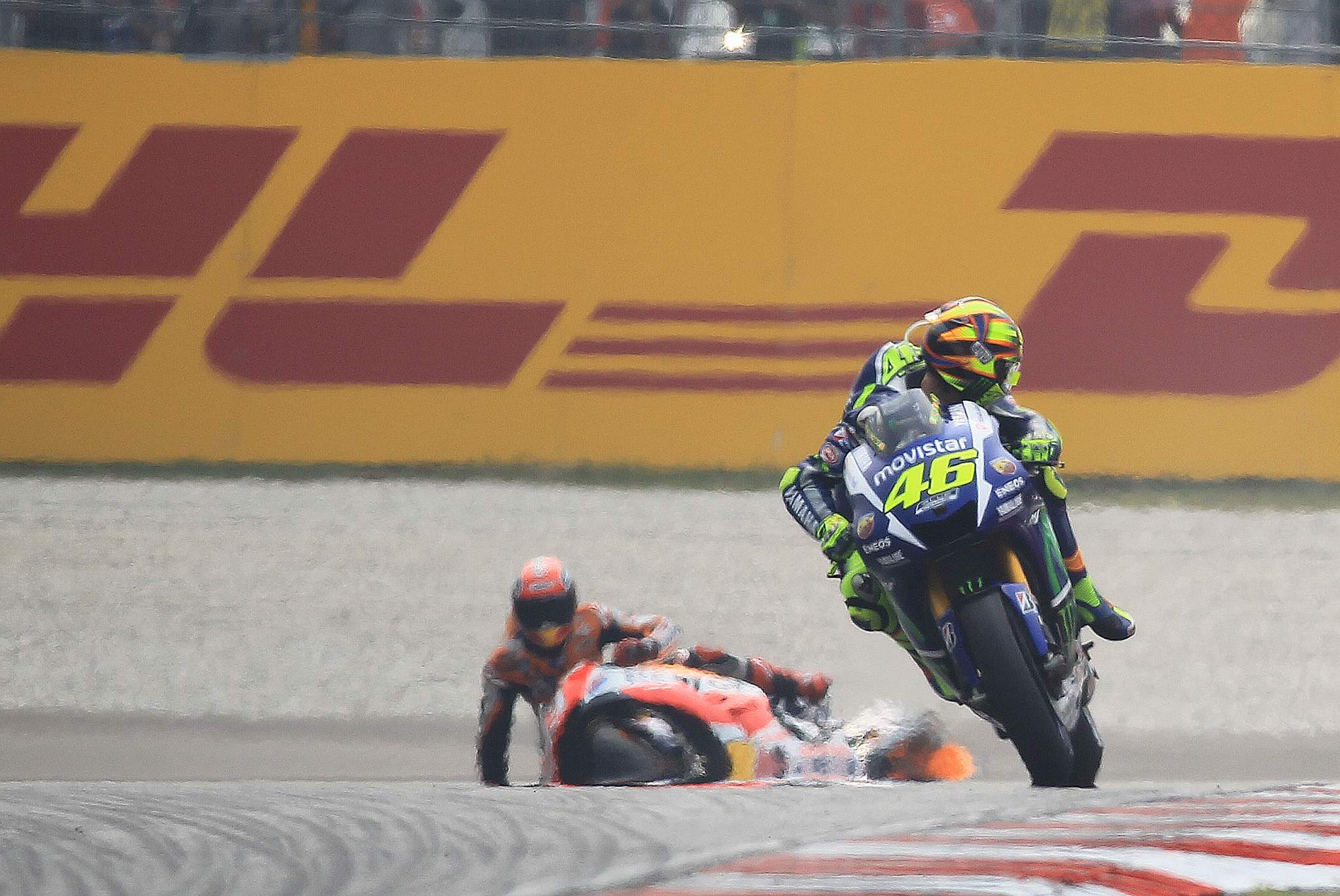 Rossi was sent to the back of the grid for the final race of the year, and that ended what slim hopes of the title he had left and spawned the grudge match to end all grudge matches.
Heated scenes in the immediate aftermath of Sepang and the subsequent race at Valencia that included Marquez's family being harassed by Italian television shows at their homes in Spain, didn't set a good tone for any hope of rebuilding a relationship.
There was a small chance following the death of Luis Salom during practice for the Moto2 race at the Catalan Grand Prix the following year, where the pair begrudgingly seemed to admit that life was too short and the sport too dangerous for such grudges and that they were best put behind them, shaking hands in the post-race press conference after Rossi beat Marquez for the win.
That detente wasn't to last, though, after Marquez and Rossi once again became embroiled in on-track antics at the Argentine Grand Prix in 2018, with another collision between the duo reigniting the war and once again leaving them fuming at each other.
Since then, there's been no attempt whatsoever from the Rossi camp in particular to forgive and forget. He very clearly still holds a monumental grudge and has no desire to give up on it.
As time has passed, some of the heat has gone from even that feud, in large part as Rossi's declining results have left him less able to fight with Marquez on a regular basis.
He's more likely to find himself well behind Marquez than alongside him, and it's made for fewer on-track incidents.
But don't be fooled into thinking it's not a bomb waiting to be detonated should the circumstances arise.