When W Series arrives on the Formula 1 support bill at this weekend's Styrian Grand Prix, more eyes will be on the all-female series than ever before.
With that added viewership will come increasing pressure and more scrutiny than even its much-anticipated maiden season received in 2019.
Almost two years later, a field of 18 drivers – comprised of 12 returnees and six debutants – will battle it out at the Red Bull Ring for the first of eight rounds, usually taking place after F1 qualifying.
We assess the key challenges and hurdles W Series will have to overcome as it joins the likes of Formula 2 and FIA F3 in racing alongside F1.
Has the series lost momentum with its year off?
There are 685 days between W Series' inaugural season-closer in August 2019 and its opening round this Saturday.
That's the longest break of any international motorsport championship in recent times and the immediate concern of a gap like that is if the momentum is lost after a solid debut season?
Only time will tell if that's the case, but with a slew of worldwide TV deals – including a free-to-air spot on Channel 4 in the UK – and the crucial addition of a place on the F1 support bill should allow the series a solid foundation to effectively 'relaunch' after its 2020 hiatus.
However, it's not as if W Series has been dormant since its Brands Hatch finale. Last year, it ran a 10-round esports series that promoted many of its new drivers – including 17-year-old Irina Sidorkova, who won a handful of races.
Perhaps more importantly, it's made big moves behind the scenes to secure the championship's future, in part so it can continue to ensure all 18 drivers don't need to bring any budget to compete in W Series.
Will the teams structure work?
One of the pillars of that long-term financial security in the series is the introduction of the teams structure for season two.
It doesn't mean we're now going to see the likes of junior single-seater behemoths Prema and ART Grand Prix nor any of the F1 teams on the grid this year, but it does mark the key differentiator from its first season.
---
W Series 2021 teams and drivers
Bunker Racing: Fabienne Wohlwend and Sabre Cook
Ecurie W: Emma Kimilainen and Abbie Eaton
M. Forbes Motorsport: Beitske Visser and Ayla Agren
Puma W Series Team: Marta Garcia and Gosia Rdest
Racing X: Alice Powell and Jess Hawkins
Scuderia W: Sarah Moore and Belen Garcia
Sirin Racing: Miki Koyama and Vicky Piria
Veloce Racing: Jamie Chadwick and Bruna Tomaselli
W Series Academy: Irina Sidorkova and Nerea Marti
---
W Series says 2021 is marked as a "transition year" and the move essentially allows more commercial flexibility whilst also creating a team element to the championship – one that won't be officially counted as a teams' championship until 2022 although unofficial points standings will be kept this year.
"The difference between this year and next year is that we will be both a drivers' and teams' championship next year," W Series CEO Catherine Bond Muir told The Race.
"We're not going to be a constructors' championship because at the heart of the DNA of W Series is that all the cars are going to be identical, it's a one-make series. That is important for us, because what we're about is finding out who the fastest drivers are.
"Another part of our DNA is the fact that we support the drivers financially i.e they bring no money to us, we pay all of the expenses. That is going to be the same going forward.
"In our contracts with the teams, they're not allowed to charge the drivers for their seats.
"For me, it's of crucial importance that we don't discriminate against poorer drivers."
There shouldn't be performance differentials between the teams, with W Series supplying the engineers to all teams, but when asked if traditional motorsport teams could join the series from 2022, Bond Muir said "who knows what will happen in the future".
And will fans be aware of the true nature of the teams structure, and will it made be clear that the drivers are still making the difference, not the teams?
Is there enough track time?
With F2, FIA F3 and Porsche Supercup all regularly jostling for position on the F1 support bill, W Series has to fit in somewhere.
It has ended up with one practice and one qualifying session on Friday, both 30 minutes in length, and its race on Saturday – 30 minutes plus one lap.
This totals to just over 90 minutes of track time across the weekend. Compare this to FIA F3, which has just under 200 minutes of track time – the main difference being that FIA F3 has three races per weekend while W Series has one.
---
W Series 2021 calendar
June 25-26: Styrian GP
July 2-3: Austrian GP
July 16-17: British GP
July 30-31: Hungarian GP
August 27-28: Belgian GP
September 3-4: Dutch GP
October 22-23: United States GP
October 29-30: Mexican GP
---
The Formula Regional European Championship, which uses the same Regional F3 car as W Series, has just over 200 minutes of track time including two races, so W Series has less than half of the track time of its fellow Regional F3 series and with two fewer rounds.
It's far from ideal as W Series features numerous drivers who have never driven F3-level machinery before stepping up to the championship.
It also inevitably skews the championship in favour of those with Regional F3 experience and the limited track time doesn't allow much time for the rest of the pack to overcome their inexperience deficit.
However, that's the price paid by having a place on the F1 support bill, and you could argue that's a price worth paying for W Series. If it instead featured on, say, the GT World Challenge Europe support bill, it may get double the track time, but the series would have a fraction of the exposure.
Ultimately, it's that exposure that allows the drivers to race for free and has led to the introduction of the commercially beneficial teams structure.
The limited mileage means it be difficult for those graduating W Series and moving up the motorsport ladder, and the majority will likely have to spend more time in other Regional F3 series before they can successfully tackle the likes of FIA F3 – at least W Series' prize money and added exposure of racing alongside F1 will help to fund that, though they may not arrive in FIA F3 and other series as well prepared as those who have been racing in other Regional F3 championships.
What if Chadwick is champion again?
Jamie Chadwick has been very busy since she won the inaugural W Series season. She far from dominated the championship (with two wins from six races) but she was the favourite from beginning to end.
She had a rocky FREC season with single-seater titan Prema last year, that featured just one podium in a field that rarely exceeded 12 cars.
It inevitably, fairly or unfairly, led people to call into question the quality of the W Series field which she had conquered the year before.
And they will inevitably do the same this year if Chadwick is to beat the new and returning drivers and reclaim her crown.
You'd presume the best storyline for W Series' perspective would be for a new champion to emerge and become the most notable name in the championship like Chadwick did in 2019.
There's a myriad of factors behind Chadwick's troubled 2020 season, and she was able to begin to get her career back on track with a podium in only her second race in the all-electric off-road Extreme E series last month.
But Chadwick winning W Series again should not discredit the field. Sshe's compared well to strong opposition previously in the likes of BRDC British F3 and Asian F3 and impressed with Williams F1 as its development driver.
She has time (and the backing) to prove last year was a blip and it would still be a significant career achievement to win W Series again, especially considering the field is more experienced with the car and thusly more competitive.
There's plenty of talent throughout W Series and the limited track time and single-seater experience of some of the drivers doesn't always make direct comparisons fair, and it would certainly be unfair to dismiss their respective prospects even if they don't beat Chadwick to the title.
Will it provide Formula 1 with its first female driver in almost 30 years?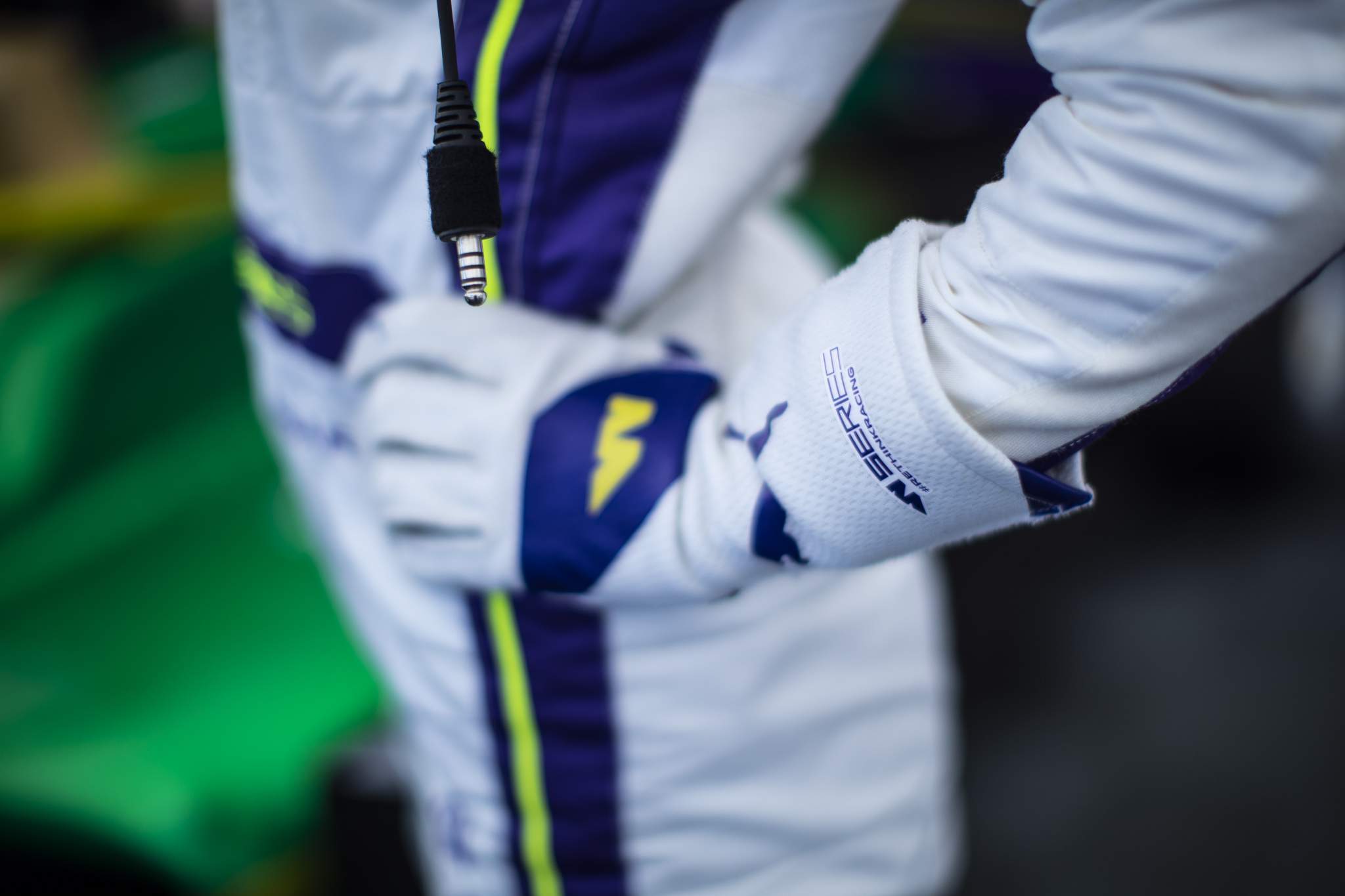 The obvious question of any F1 feeder series is how many graduates to the premier class is it producing?
At the moment, Chadwick is the closest to a race seat in her role with Williams, but realistically none of the 18 drivers are knocking on the door of F1 for now.
And it will understandably take a while before that happens. Successful graduates to F2 and FIA F3 from W Series (or elsewhere) are required before the possibility of a driver becoming the first female since Giovanna Amati to attempt to qualify for an F1 race in 29 years can even be entertained.
There's also plenty of promising signs in regional Formula 4 and karting from drivers yet to join W Series (sometimes because of the age limit), but it's impossible to put a number on just how long it will take because as with any driver male or female, early-career promise rarely translates to an F1 seat.
What W Series can be and is, is a feeder series to all forms of professional motorsport. Even one of its drivers who didn't make the top 12 in 2019 and thusly didn't book her place in the 2021 field, Esmee Hawkey, made her DTM debut alongside F1 exile Alex Albon last weekend at Monza.
She told The Race that racing in W Series, who supported DTM in 2019, provided a big leg up to join the new era of the GT3 series.
Chadwick is racing in Extreme E, Alice Powell raced in the Formula E-supporting Jaguar I-PACE eTrophy and Beitske Visser is dovetailing her W Series season with a full-time LMP2 World Endurance Championship gig.
While W Series cannot and doesn't claim full responsibility for any of those programmes, it undeniable helps those drivers and will do so even more by racing on the F1 support bill this year.
So talk of W Series graduating to F1 may be a while off yet, but it has already shown it can propel its drivers sideways and upwards to other destinations.