Victor Martins has followed his former Formula Renault Eurocup title rival Oscar Piastri in becoming the second Alpine Formula 1 junior to win the FIA Formula 3 title in the last three years.
Much like Piastri, Martins earned the title via consistency as he won only two races in one of the most wide-open title fights the championship has ever seen since its creation as GP3.
Six drivers headed into the final race with a chance of winning the title and it took over 25 minutes post-race for a champion to be declared after a red flag for a crash at the second Lesmo prematurely ended proceedings just as a series of penalties were coming through.
It was a fittingly bizarre way to end a wild season that featured 11 different winners in 18 races.
But what of champion Martins' F1 prospects and how about those of his rivals? Our writers give their verdict:
Martins couldn't afford to lose this
Valentin Khorounzhiy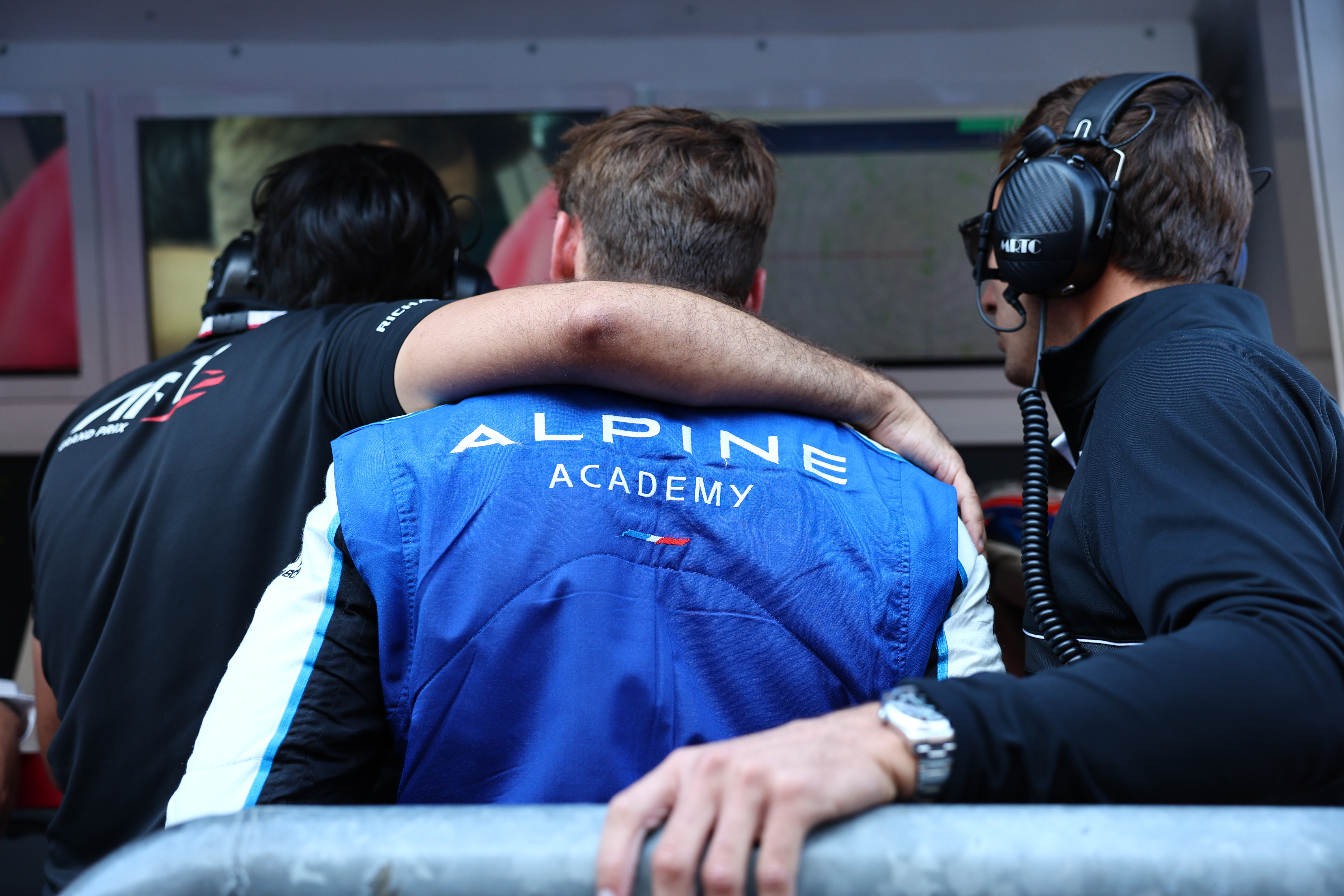 Martins looked like he'd seen a ghost when stood next to the ART pit gantry waiting for the fate of the title to be resolved – and it's easy to understand why. This was not a championship race he could particularly afford to lose.
The operative number here is six – this is Martins' sixth year on the single-seater scene. But in each of those he finished at least in the top five in whatever championship he was contesting – in that sense, it's been a Nyck de Vries-ian (how topical) career.
Since joining formula racing in 2017 after becoming world karting champion in the Junior class, Martins was never bad or particularly struggling – just never quite dominant. He certainly wasn't dominant here.
This was an exceptionally weird F3 season in which consistent scoring seemed out of the question for every driver on the grid, and the fact six drivers entered the final race with a chance at the title reflected that. Martins, who himself admitted that there was a stretch of the season where he was flat out "bad", was by far the most experienced of said six in open-wheel terms – so he really had to win.
As a qualifier, he was probably third-best in the series this season, with an average of 7.1 skewed by an aberration of a wet-dry qualifying at Spa, and a more representative median of 5 – but still behind Roman Stanek and late-season sensation Zane Maloney.
---
Victor Martins in junior single-seaters
2017 – 2nd in French F4, 4 points behind champion Arthur Rougier
2018 – 5th in Formula Renault Eurocup, 89.5 points behind champion Max Fewtrell
2019 – 2nd in Formula Renault Eurocup, 7.5 points behind champion Oscar Piastri
2020 – Formula Renault Eurocup champion, 44 points clear of nearest rival Caio Collet
2021 – 5th in FIA F3, 74 points behind champion Dennis Hauger
2022 – FIA F3 champion, 5 points clear of nearest rival Zane Maloney
---
As a driver for ART, once by far the best team in F3's predecessor GP3, he was its standard-bearer by a serious margin – which was not nothing given the line-up included the returning and still clearly quick Juan Manuel Correa and last year's runaway Formula Regional European champion Gregoire Saucy.
Jack Doohan seems to have leapfrogged Martins in the Alpine F1 junior team's pecking order, that much seems clear. A title secured by the tiniest of margins over a pair of rookies won't change that.
But there's surely enough here for Alpine to take a punt in a bigger car, to see if Martins can thrive in more powerful machinery the way Doohan and Piastri have.
The champion's not the most exciting prospect
Scott Mitchell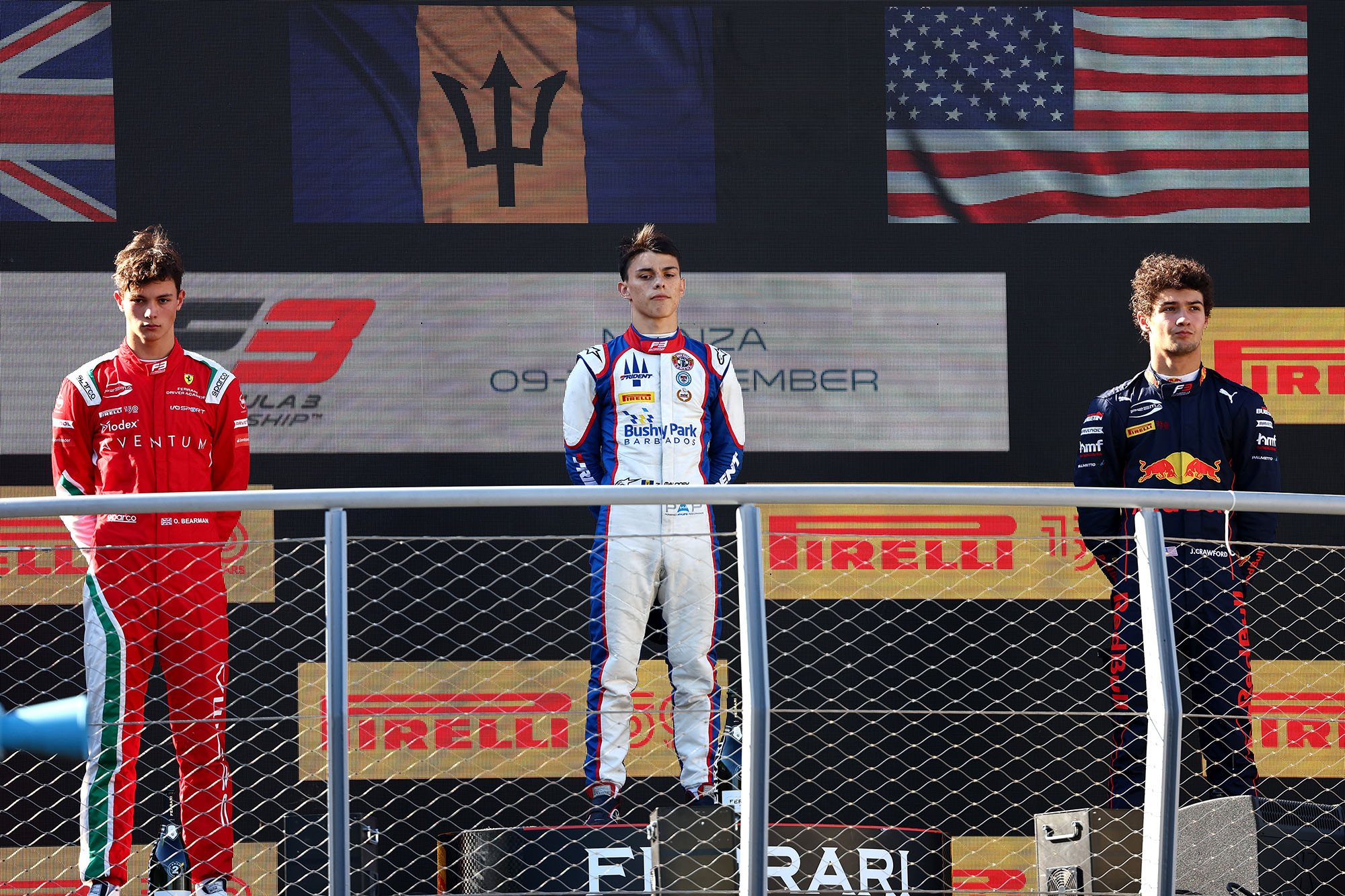 I'm told Martins is highly regarded within the Alpine set-up and now he has two junior single-seater titles to his name, meaning he's among the most decorated drivers on the Formula 1 ladder.
It will be interesting to watch his progress in Formula 2, although I must admit rookie talents Zane Maloney, Ollie Bearman and even Isack Hadjar impressed me more this season in Formula 3 and have marked themselves out as more explosive prospects.
Martins did the best job over the season, that's why he's champion, but he has still been very inconsistent. It was not the kind of dominant performance from a second-year driver that convincingly outshines the exciting rookies.
What's more, Maloney and Bearman trended much more impressively. Maloney ended his season with a hat-trick of feature race victories, Bearman with six podiums in the final nine races.
It felt quite fitting that while Martins slipped back and did just enough to win the title, Maloney and Bearman scrapped it out for the final win of the season.
LAP 14/22

BEARMAN MAKES A MOVE ON MALONEY INTO T1

He runs wide and rejoins in P1, but he later hands back the lead to Maloney #ItalianGP #F3Finale pic.twitter.com/4sGoXusvk6

— Formula 3 (@FIAFormula3) September 11, 2022
Maloney's only 18 years old (and surely due a call from an F1 team to join a junior programme) while Bearman is younger still at 17.
Martins is hardly over the hill – he's still only 21! – but if I'm identifying graduates from F3 to monitor next season, it's these rookies that catch the eye.
Ferrari's future is safe
Josh Suttill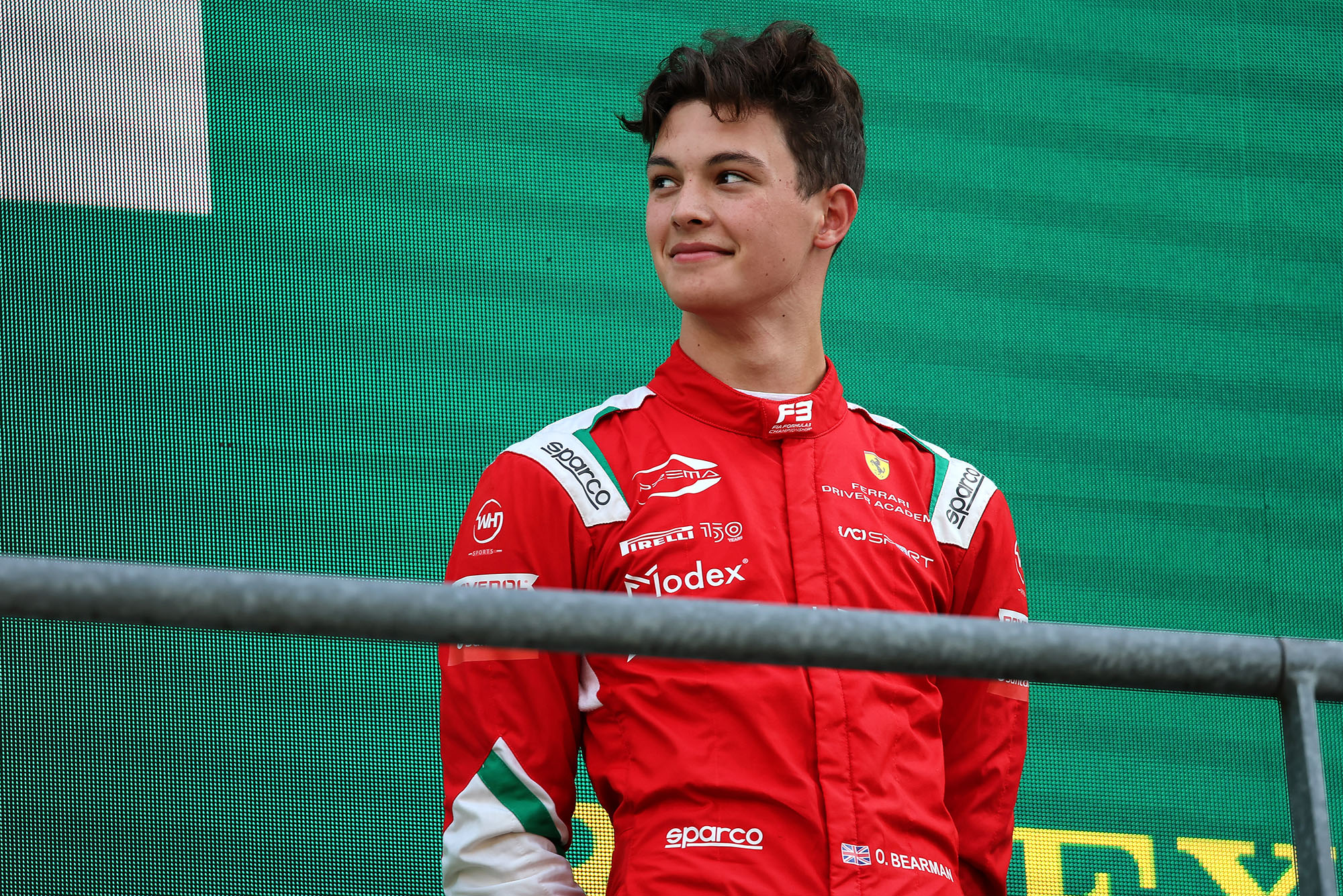 At just 17 years old, Bearman is the brightest F1 prospect among this field and a driver Ferrari should be very excited about.
Only a track limits penalty prevented him from winning on his debut in Bahrain and that maiden win finally came in style at Spa.
He's got the better of his two F1 junior Prema team-mates Arthur Leclerc (Ferrari) and Jak Crawford (Red Bull) despite both of them having a year of FIA F3 experience.
His sublime double overtake in the Monza sprint race with all of the title pressure on his shoulders was evidence of a driver who thrives under pressure.
Every title contender can point to at least one weekend of bad luck but had Bearman's qualifying at Zandvoort not been ruined by a red flag, the end championship result might look very different now.
A switch to Formula 2 feels an inevitability, as does staying in the Prema family that has previously taken Ferrari juniors Charles Leclerc and Mick Schumacher to the crown.
Transitioning to F2 won't be easy for such a young driver and as Theo Pourchaire has shown over the last two years, your 'future F1 driver' tag can quickly be called into question even after such a strong year in FIA F3.
Another team can that be pleased with the performance of its lead junior is Red Bull.
Isack Hadjar appeared to be the title favourite after a strong first half of the year that featured his maiden feature race win in a chaotic wet race in Austria.
But a string of incidents and lowly grid positions derailed his charge and a crash in qualifying at the Monza finale was the final nail in the coffin of his title bid.
He's still proven himself to be arguably Red Bull's most exciting junior after its F2 contingent failed to prevent Red Bull from looking outside its driver pool to replace Pierre Gasly at AlphaTauri.
Elsewhere in the field, fifth in the championship Roman Stanek rebuilt his reputation nicely with Trident after a couple of troubled years in FIA F3 where he'd amassed just five points finishes.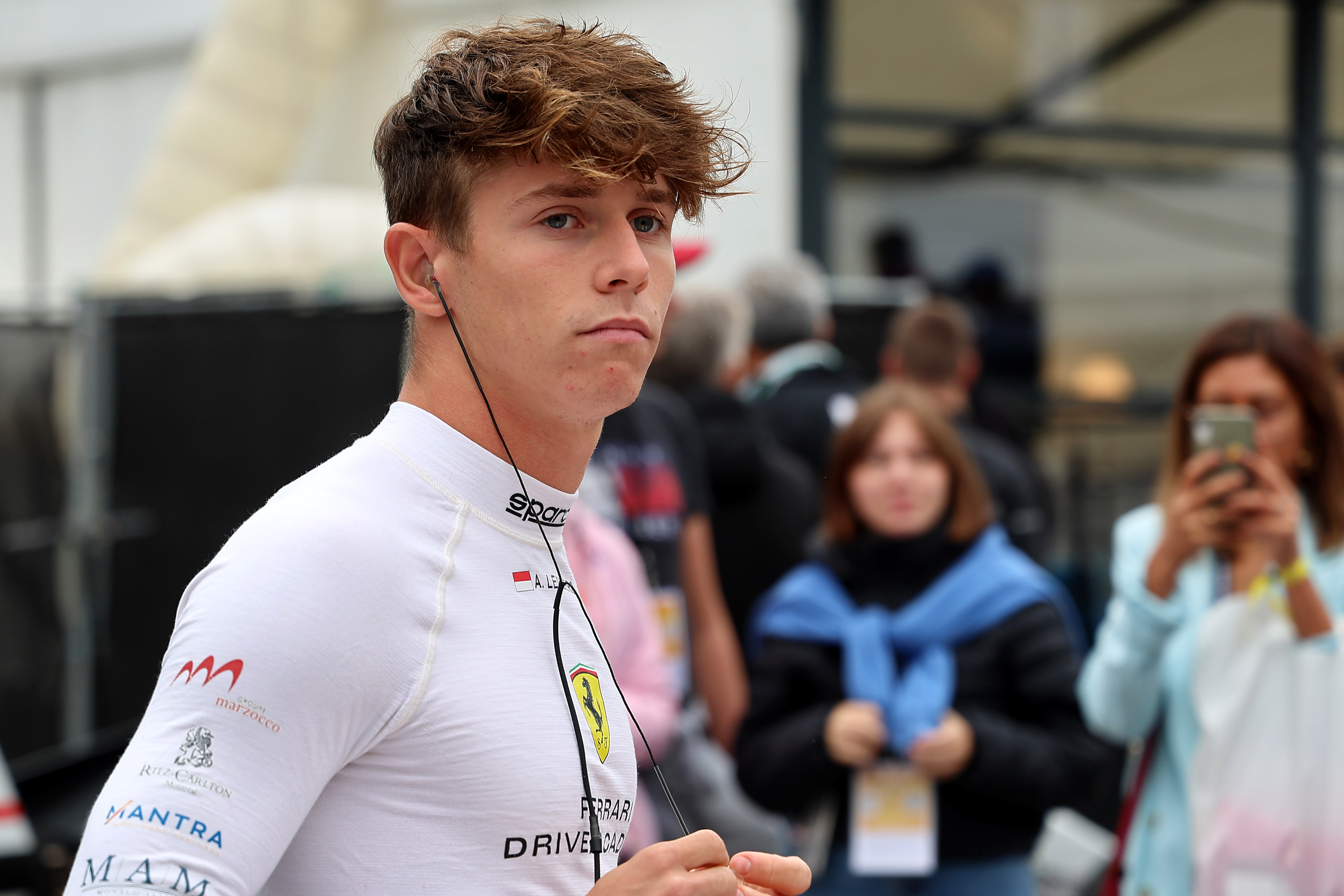 Leclerc struggled to push on his second year in the series and a realistic title charge never emerged even though he was in mathematical contention until the end.
Similarly, second-year drivers Red Bull junior Crawford and Alpine junior Caio Collet were overshadowed by their respective team-mates Bearman and Martins.
Franco Colapinto took a brace of wins for Max Verstappen's former Van Amersfoort Racing team that rightfully got its place back in F3 this year.
There was also great resilience shown by Jonny Edgar to bounce back from his Crohn's disease diagnosis and end the year with a consistent points run.
And Correa deserves the final mention for taking to the FIA F3 podium at Zandvoort three years on from the horrifying Spa crash in the 2019 Formula 2 feature race.